I love summer…I may complain about the heat but I love sunshine, the long days and happiness that summer brings. These summer drinks will help you beat the heat and help you enjoy summer just a little more and a little longer!
Cocktails
Strawberry Mojito Slushies
Cucumber Gin & Tonic
Red Berry Wine Spritzer
Rhubarb Mojitos
Berry Burst
Blackberry Pomegranate Sangria
Blood Orange Mojito
Blood Orange Vodka Cocktail
Blueberry Margaritas
Blueberry Mint Spritzers
Blueberry Mojito
Fresh Blackberry Shooters
Creamsicle Sipper
Frozen Strawberry Colada
Lemon Drop Martini
Malibu Sunset
Mango Jalapeño Margaritas
Margaritas with Lemon and Basil
Strawberry Mint Julep
Peaches and Cream Gin Fizz
Peach Mango Pineapple White Sangria
Blushing Grapefruit Collins
Peach Sorbet Bellini and Spritzers
Perfect Summer Sangria
Plum-Blackberry Cobbler
Rhubarb Margarita
Saturday Sangria
Spiked Raspberry Lemonade
Strawberry Fizz
Strawberry Margarita
Strawberry Margarita Jell-O Shooters
Raspberry Shrub


Strawberry Rhubarb Shrub
Strawberry Wine Punch
Very Berry Bellini
Watermelon and Lemon White Wine Slush
Watermelon Meyer Lemon Slushies
Herb Sangrias
Blueberry Hibiscus Margarita Punch
Strawberry Basil Mint Summer Cocktail
Berry-Infused Champagne Cocktail
Shakes
Brown Butter Peach Milkshakes
Black Raspberry Pie Milkshakes with Black Raspberry Fudge
Banana Caramel and Sea Salt Milkshake
Brooklyn Bourbon Shake
Grasshopper
Krispie Treat Milkshake
Mexican Chocolate Breakfast Shake
Boozy Peaches and Cream Milkshake
Mint Chocolate Chip Milkshake
Cappuccino Milkshakes
Peach Melba Shake
Peach Milkshakes
Toasted Coconut Milkshakes
Roasted Strawberry Milkshakes with Chocolate Pistachio Brittle
Smoothies
Avocado Smoothie
Vietnamese Ice Coffee Smoothies with Boba
Banana Avocado Smoothie
Aloha Smoothies
Banana Smoothie
Banana Berry Smoothie
Blackberry Lassi
Blueberry Almond Butter Smoothies
Blueberry Smoothie
Blueberry Green Smoothie
Blueberry Lemon Smoothies
Cantaloupe Smoothie
Cherry Lime Smoothie
Fresh Fig and Banana Smoothie
Fruity Greek Yogurt Smoothie
Mocha Strawberry Yogurt Smoothie
Orange Smoothies
Pina Colada Smoothie
Strawberry-Banana Colada Smoothie
Strawberry Ginger Banana Smoothie
Strawberry Mango Fizz Smoothie
Tropical Avocado Smoothie
Lemon Smoothie
Banana and Coconut Butter Smoothie
Tropical Smoothie
Lemonades
Strawberry Pink Lemonade
Lavender Lemonade
Basil Lemonade
Blueberry Lemonade Spritzer
Blueberry Honey Vodka Lemonade
Brooklyn Lemonade
Cherry Mint Lemonade
Fresh Strawberry Mint Lemonade
Fruit and Herb Lemonade
Frozen Strawberry Lemonade
Honey Bourbon Lemonade
Italian Basil Sparkling Lemonade
Jacked-Up Raspberry Lemonade
Blackberry Lemonade
Lavender Lemonade
Lemonade Concentrate Recipe
Honey Sweetened Lemonade
Bourbon Peach Lemonade Punch
Homemade Blueberry Lemonade
Lemon Shake Up
Limeade Green Smoothie
Mint Muddled Lemonade
Pineapple Lemonade
Rhubarb & Strawberry Limeade
Sparkling Blueberry Lemonade
Sparkling Mango Lemonade
Strawberry Lemonade
Passion Fruit Meyer Lemonade
Other Fruit Drinks
Blood Orange-Raspberry Spritzer
Super Powered Orange Juice
Blueberry Limeade
Cherry Citrus-Ade
Easy Party Punch
Fresh Peach & Lemon Verbena Soda
Hatti's Strawberry Chiller
Jalapeño Watermelon Limeade
Lemon Cream Soda
Mixed Berry Mint Slushies
Non Alcoholic Berry Spritzer
Peach-Berry Juice
Pomegranate Blueberry Floats
Sparkling Party Punch
Strawberry Basil Agua Fresca
Orange Dreamsicle
Virgin Peach & Raspberry Bellinis
Watermelon Cooler
Watermelon + Mango Agua Fresca
Blueberry Lassi
Hibiscus Tea
Sweet Tea
Strawberry Green Tea with Boba
Raspberry Iced Tea
Sparkling Key Lime Fruit Punch
Pineapple Party Punch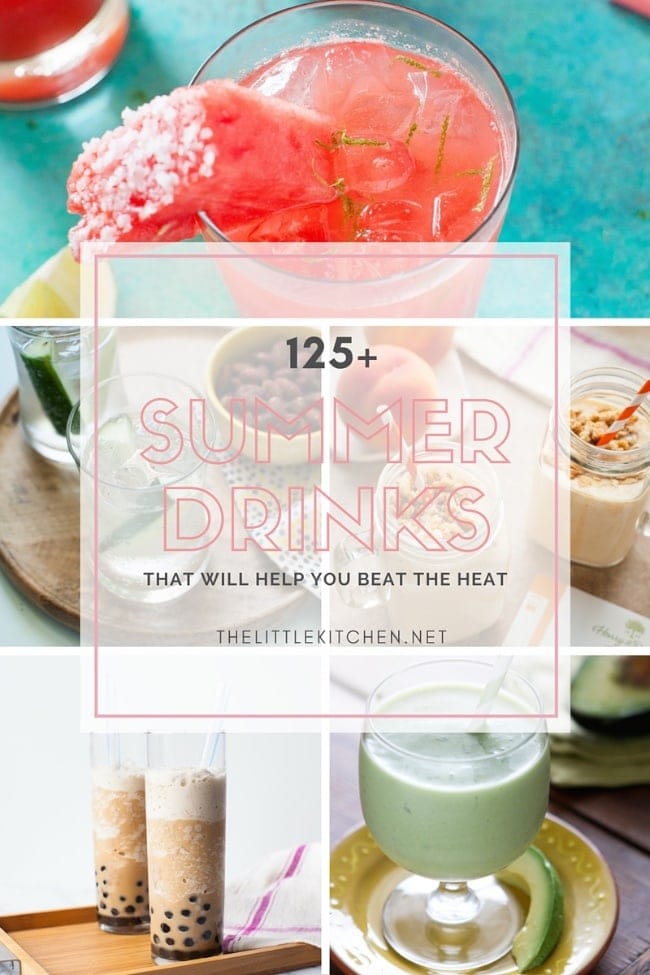 Looking for more drinks? Check out my other drink recipes and my Drinks board on Pinterest.