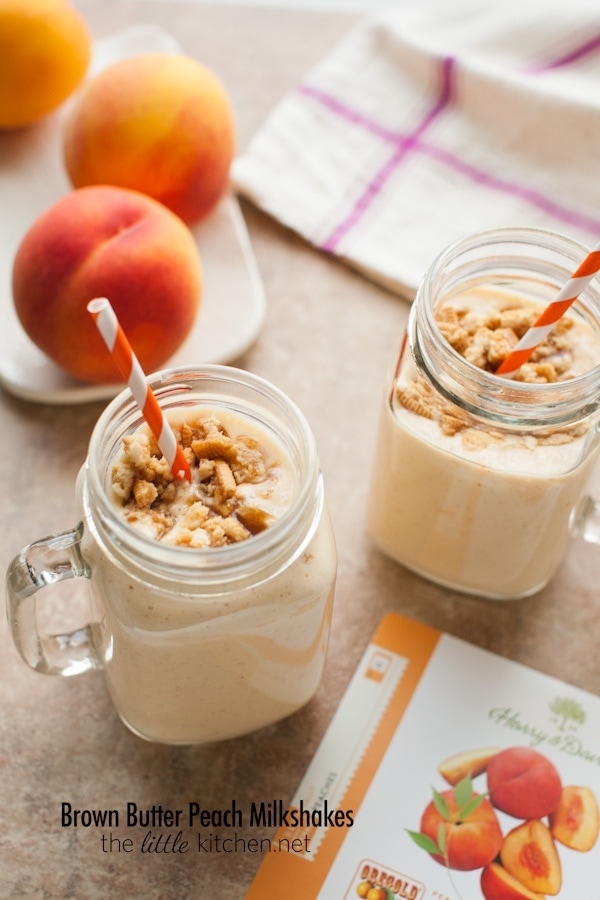 Growing up, my siblings and I loved to eat fresh fruit. When I was a little girl, I would bring a mango, an apple or a peach to my Mom and ask her to cut it up for me to eat. Gone in 20 seconds is exactly what happened because there are six kids in my family!
Fast forward to today, we love fresh fruit. I love cooking and baking with it, Curtis is like me when I was a kid, he likes cutting it up and enjoying it. And shockingly enough, our dogs like to enjoy fresh fruit too. Angel knows when I'm cutting up fresh fruit or vegetables, she comes over and begs for it. I probably squealed like a pig when a box of Oregold® peaches arrived from Harry & David.
Why? Because I love the Harry & David brand. I remember my Mom would get these wonderful packages during the holidays with pears, gifts from her clients. Those were like gold to us! And their guarantee, the best in the business. Your complete satisfaction is guaranteed. Last year, I surprised Curtis when I ordered a ham & turkey from Harry & David. It was one of his Christmas presents. Why? Because he loves ham and I don't eat it so it was perfect for him!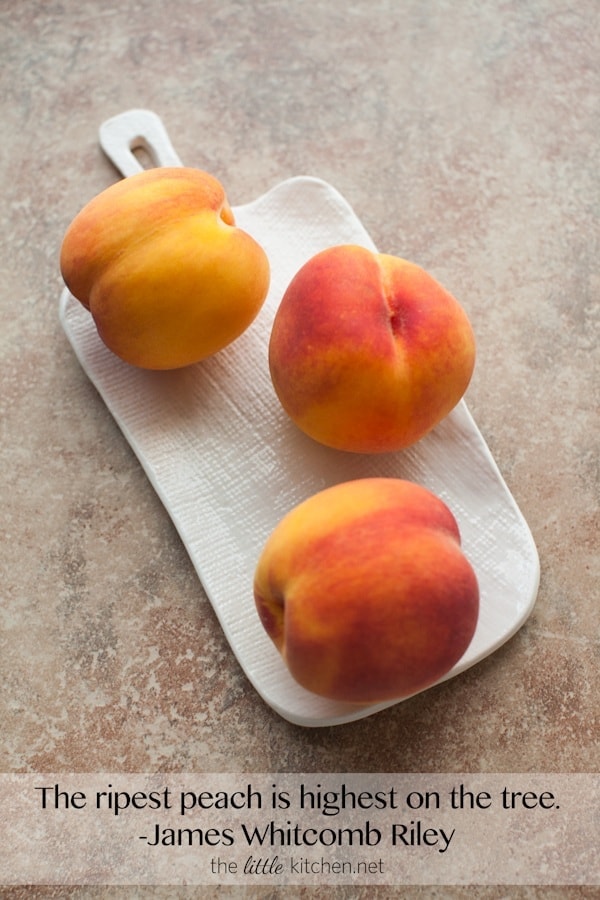 The quotation: the ripest peach is highest on the tree…is so true isn't it? Low hanging fruit might be easy to attain but it might not be the best. A great motto for life.
Aren't they pretty? Almost too perfect to eat. They taste amazing and just melt in your mouth. I told Curtis I want to make peach milkshakes with these peaches. He said just put them on ice cream and enjoy them. I can't let it be. And I couldn't just do a regular peach milkshake.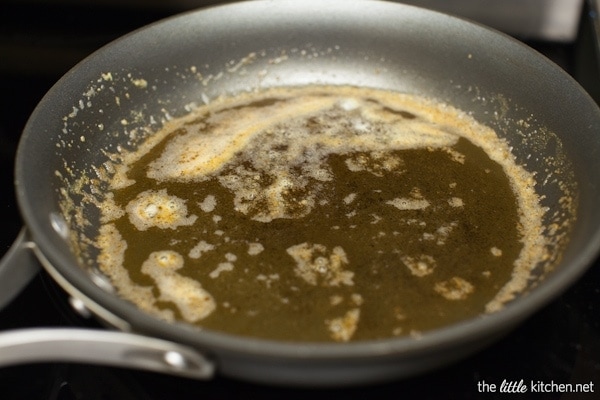 I browned some butter. It only takes a few minutes to brown them.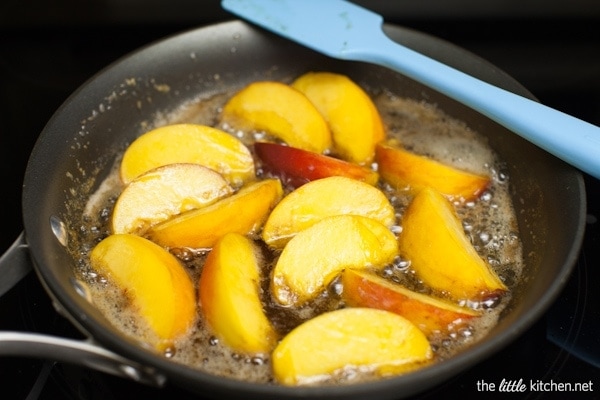 Add brown sugar and the peaches.
Cook them for a few more minutes and then let them cool before making your milkshake. Save that brown butter-sugar sauce and…
add that to the top of your milkshake along with some cookie crumbs. Makes me feel like I'm drinking a peach pie!
Recipe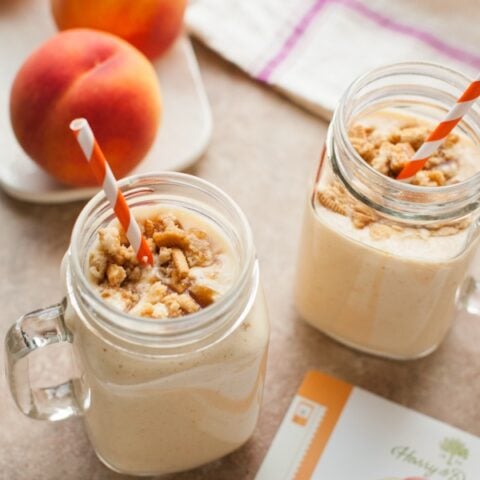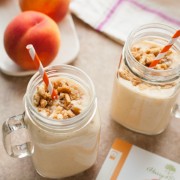 Print
Pin
Save
Brown Butter Peach Milkshakes Recipe
Servings
2
12 ounce milkshakes
Ingredients
3

Tablespoons

unsalted butter

2

Harry & David Oregold® Peaches,

sliced into wedges

2

Tablespoons

light brown sugar

1

cup

milk

4

large scoops of vanilla ice cream

4

vanilla cookies

,

crushed (I used Golden Oreos)
Instructions
Add butter to a non-stick pan and melt on medium. Cook butter until it's browned, about 3 to 5 minutes. Add brown sugar and mix. Add Oregold® peach wedges and allow to cook for 5 to 10 minutes, flipping over peaches halfway through. Set aside and allow to cool for about 20 to 25 minutes.

Add milk, ice cream and peaches to a blender and pulse until well blended. Pour into two glasses and top with cookie crumbs and the remaining brown butter from the pan. Serve with straws and enjoy!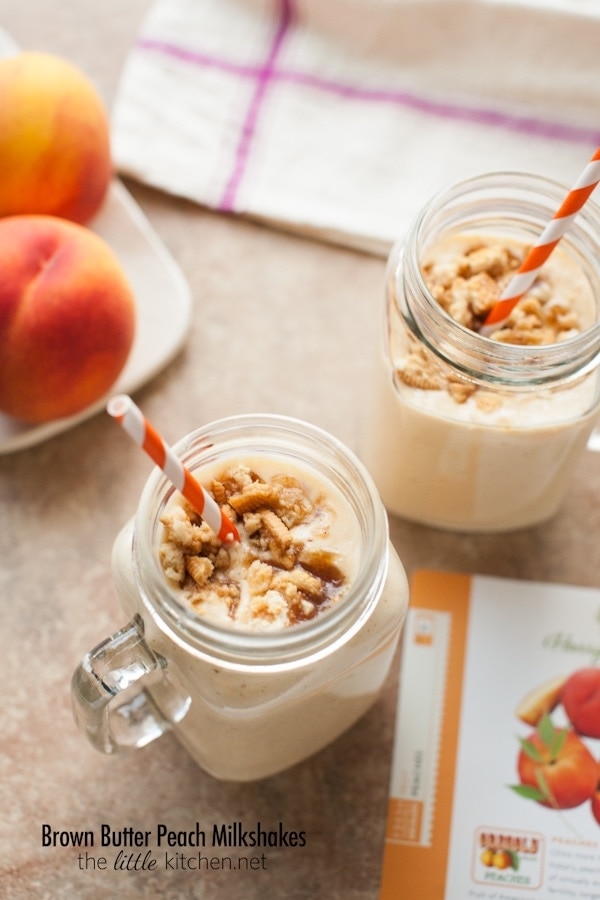 And if you want to skip the milkshakes, add those brown butter peaches on top of ice cream. Ooooh to die for!
Oregold® peaches are in season right now and are available from Harry & David…they are also a part of their fruit of the month club…a club I so need to join.
I want to know…what do you like to make with peaches?
Other peach recipes for you to try!
Peach Cobbler with Raspberries
Peach Lavender Jam
Peach Thyme Syrup
Spinach Salad with Fresh Late Summer Peaches, Gorgonzola and Almonds
Peachy Bread Pudding
Disclosure: This post is sponsored by Harry & David. I'm a huge fan of H&D and like always I only share with you my honest opinions and only brands that I love!