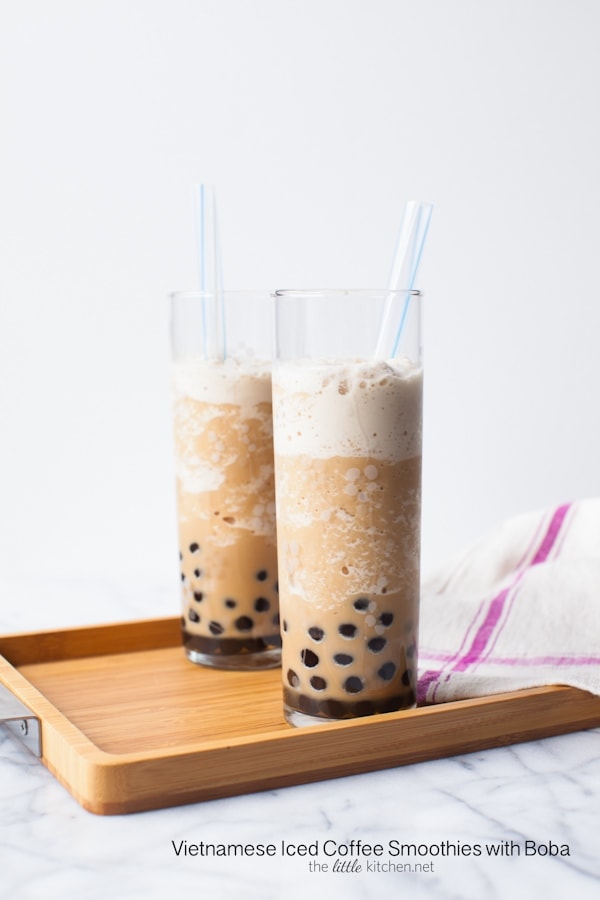 I have an obsession with boba milk teas otherwise known as bubble teas. I remember the first time I heard about them, my brother, Eric, mentioned them to me. He told me about them after a visit with family in either Texas for California (I forget which one). I remember vividly trying to ask him to explain them to me over and over again, I didn't get it. So there's a fat straw and you suck up the tapioca and you chew on it? That's weird. I don't think I'm interested.
Fast forward to when I visited family in California with him and he MADE me try it. It was all over then. He didn't tell me that the chewy tapioca kind of reminds you of chewing a gummy bear. And the drinks, the teas, the slushies and smoothies, you can order…all sorts of great stuff. My avocado smoothie that I love was inspired by one I had a boba tea shop in Orlando!
My best friend, Lindsay, has an obsession with passion fruit…she's posting her version of a bubble tea today too! Passion Fruit Bubble Tea. Now that I want to try!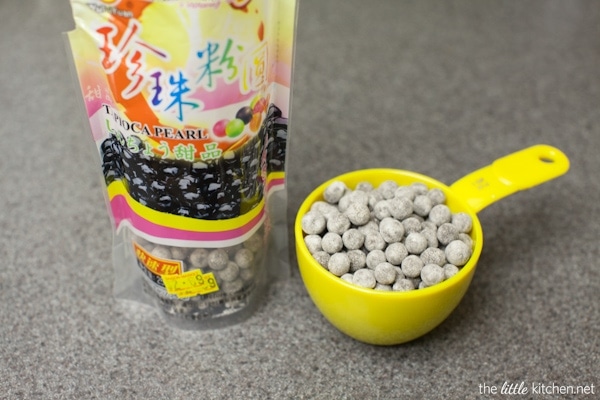 I use these black dried tapioca pearls you can find at your local Asian grocery store or online. You also need the fat boba straws too!
I did make a video to show you how easy it is to make the boba, it just takes a little bit of patience but it's totally worth it!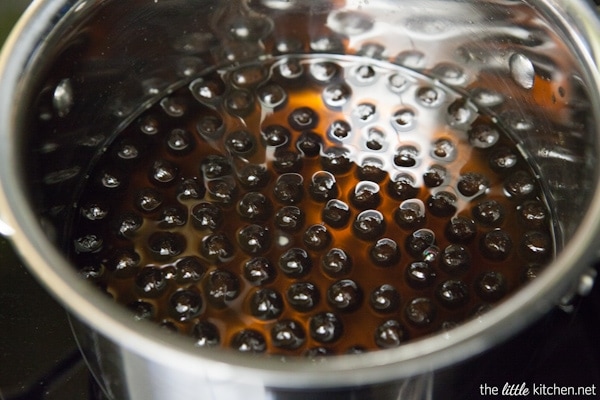 That's the boba or tapioca pearls soaking in the sugar water. I like to use all light brown sugar or a half granulated sugar and half light brown sugar.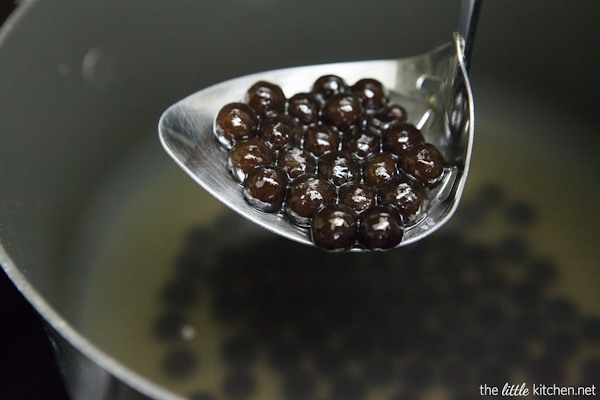 Funny story about this slotted spoon. We have had it for years and a long time ago, Curtis decided to bend it…it's perfect bent…super ergonomic to use! Ha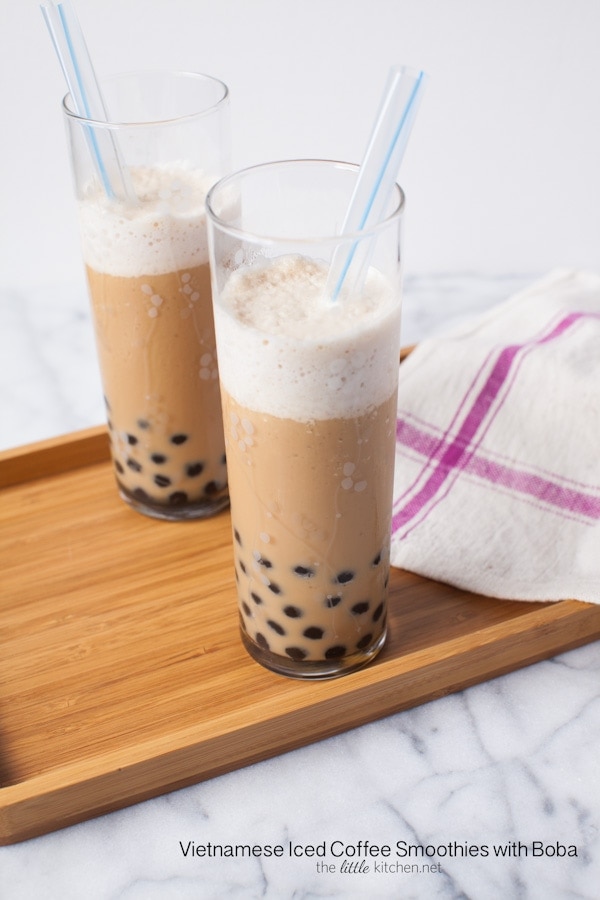 While these are not completely authentic Vietnamese Iced Coffees…they are a great stand in and making them into a smoothie…out of this world! I seriously made these smoothies three times and the boba…five million times. To test it, to make sure I got it right just for you. Who am I kidding? I'm addicted!
I have to drive an hour for the closest bubble tea shop and now I make them at home. I still go to the tea shops when I'm out and about but you can't beat being able to make these at home! So tell me, have you tried boba tea or bubble tea before?
Be sure to check out Lindsay's Passion Fruit Bubble Tea while you're at it!
Recipe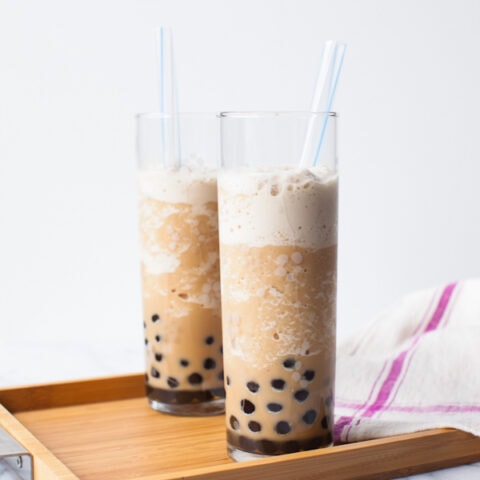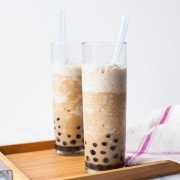 Print
Pin
Save
Vietnamese Iced Coffee Smoothie with Boba Recipe
Ingredients
1

shot of espresso

2

Tablespoons

sweetened condensed milk

3

cups

ice

1/2

cup

dried black boba,

tapioca pearls; if making one drink use 1/4 to 1/3 cup

1/2

cup

granulated sugar

1/2

cup

light brown sugar
Instructions
First things first, make the espresso and set aside and allow to cool.

Bring a pot of boiling water (at least 5 cups) and then add boba (tapioca pearls), stir every so often. Boil for 5 minutes. Turn off heat and allow the boba to sit in the pot for about 10 minutes.

While you're bringing the water to a boil, in a smaller separate pot, add sugar (you can use a mix or all light brown sugar) and 1 cup of water. Bring to a boil and allow to boil for 5 minutes, until reduced. Mix every so often.

Using a slotted spoon, add the cooked boba to the sugar water and allow to sit for at least 10 minutes.

Add boba to two glasses.

Add espresso to a measuring cup and add enough water to make 1 1/2 cups. Add sweetened condensed milk and mix thoroughly. Add to blender with ice and blend until smooth.

Pour coffee smoothie over boba and serve with

boba straws

.
Notes
Tips: Unfortunately, cooked boba does not keep well in the refrigerator, it's best to serve it the same day you make it.
Boba instructions modified from Food52. Smoothie Recipe from the little kitchen.
Disclosure: There are affiliate links in this post.