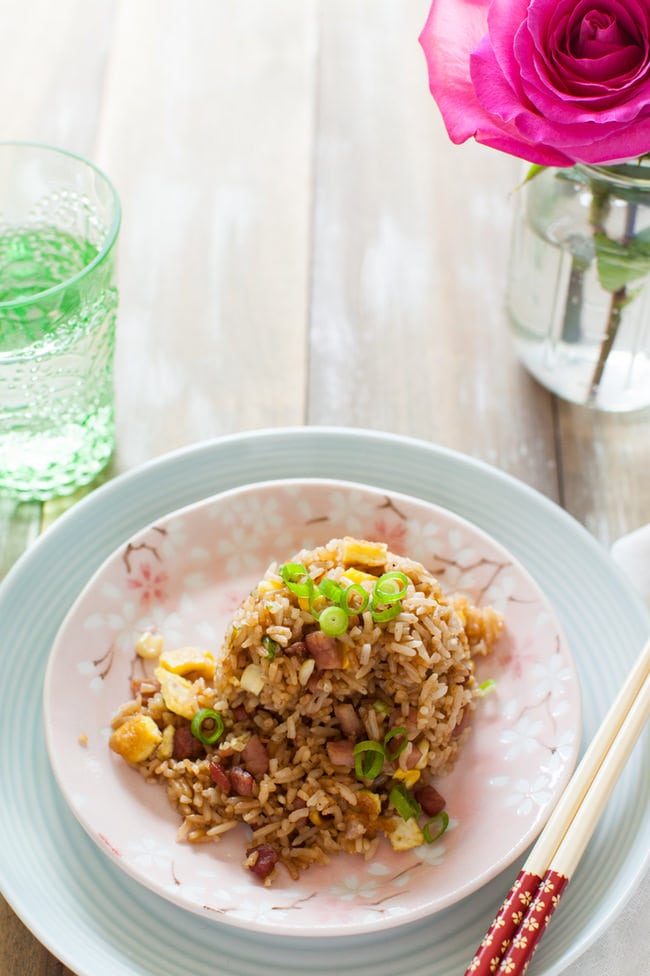 I recently updated this post from April 2014 with a new video!
I love making fried rice at home. Growing up, my mom and my sister would make fried rice for us. I wanted to come up with a version that rivals take out and I did! It's an easy fried rice recipe that uses leftover ham and I know you'll love it! Check out the video!
Last Friday, I started getting a series of texts from Curtis while he was at work. I want ham for Easter dinner. I responded with no, we should have turkey breast like we do every year. Because before Italy last year, I hadn't eaten pork in over 15 years.
I resisted getting a ham because I hadn't had ham in a long time and because there's only the two of us. A little bit later, I looked at the calendar and saw that Sunday was going to be April 20th and then counted the years. April 20, 1999 is the day Curtis and I started dating…it's been 15 years!! That's when I texted back, okay go ahead and pick up that ham.
He responded by saying, why are you agreeing to ham? And why are you being so nice? Haha I wasn't going to tell him because then he would think he would have to get me a gift but I told him why.
Later that night, he came home with a nine pound ham for the two of us. He insisted that's the smallest one they had. Oh boy. On Sunday, we cut it up before we even baked the portion we would eat for dinner and froze it. We are going to have ham for a very longggg time.
This ham or pork fried rice we had was the second of three meals we have had with the leftovers from Sunday's dinner…we haven't even touched what we froze yet. I have to give credit to Curtis, this was fried rice using the leftover ham was Curtis' idea. I say he made me do it!
I have been trying to perfect my own fried rice recipe for a while now and I have to say this is the best fried rice I have ever made…you'll have to keep reading to see what the secret ingredient is!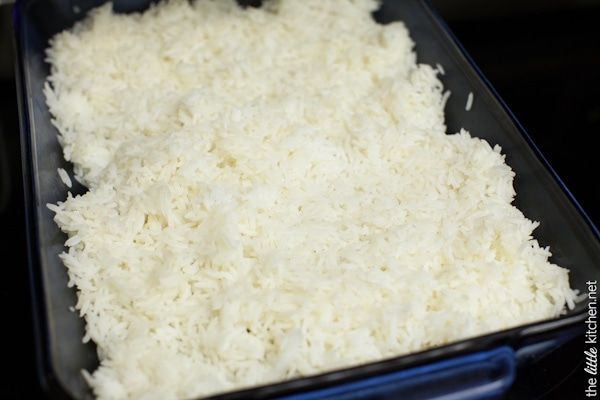 I didn't make the rice the day before like you should so in the morning, I made the rice in my rice cooker. As soon as it was finished, I poured the rice onto a baking dish and spread it out. I flipped over and mixed the rice a couple of times, let it cool and let it sit out for a while– maybe 30 minutes. Then covered it and stuck it in the fridge until I was ready to make fried rice!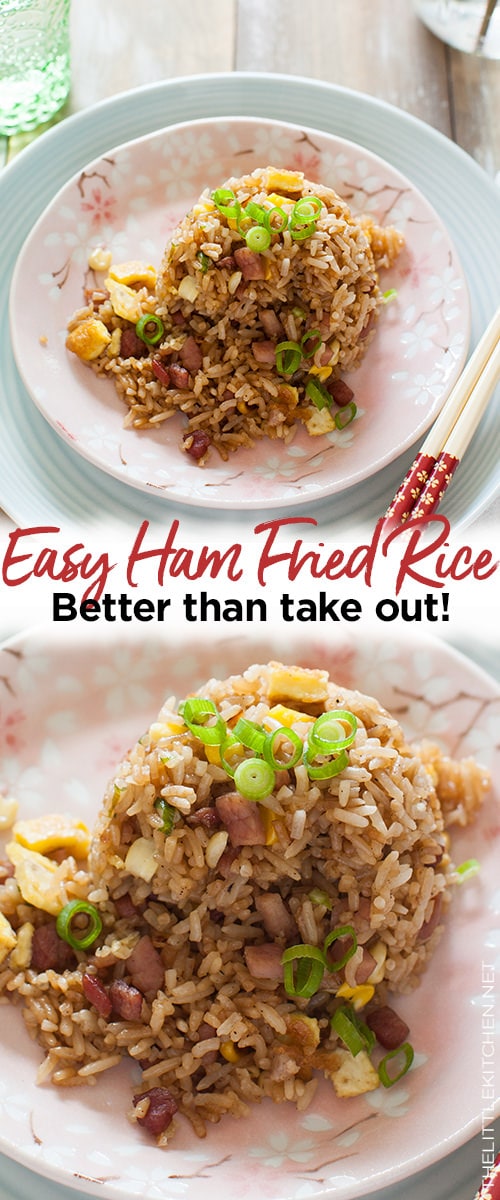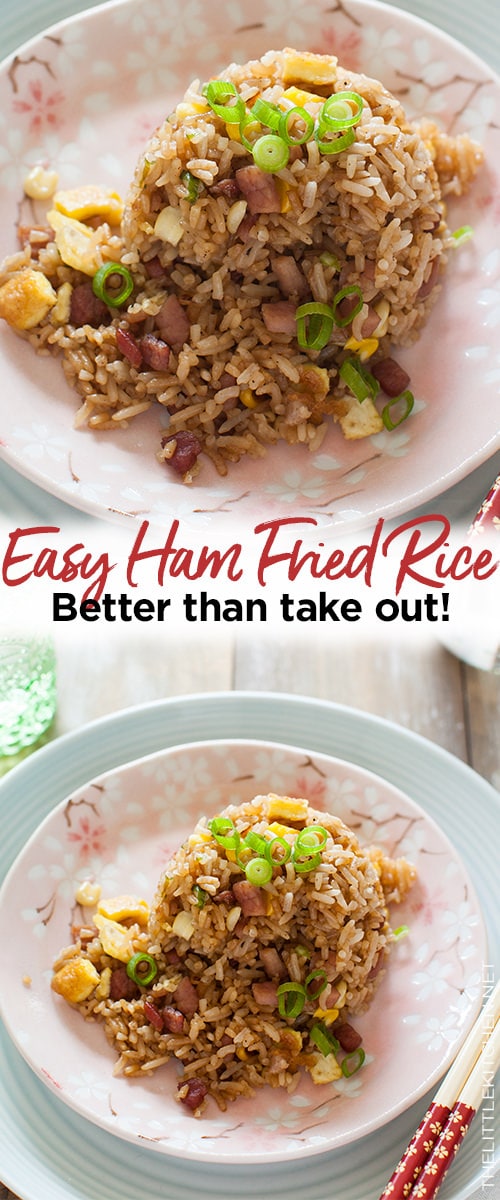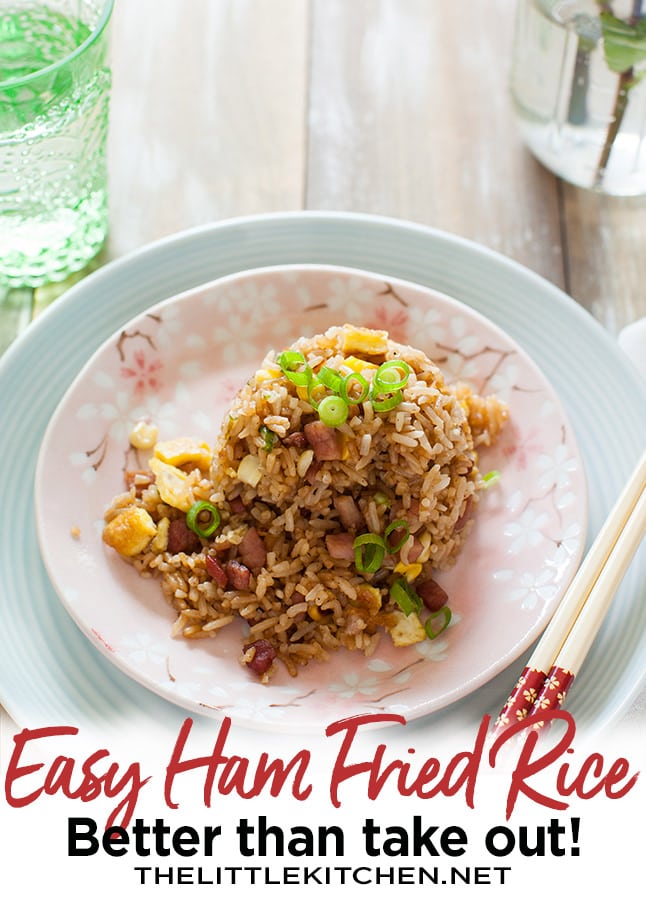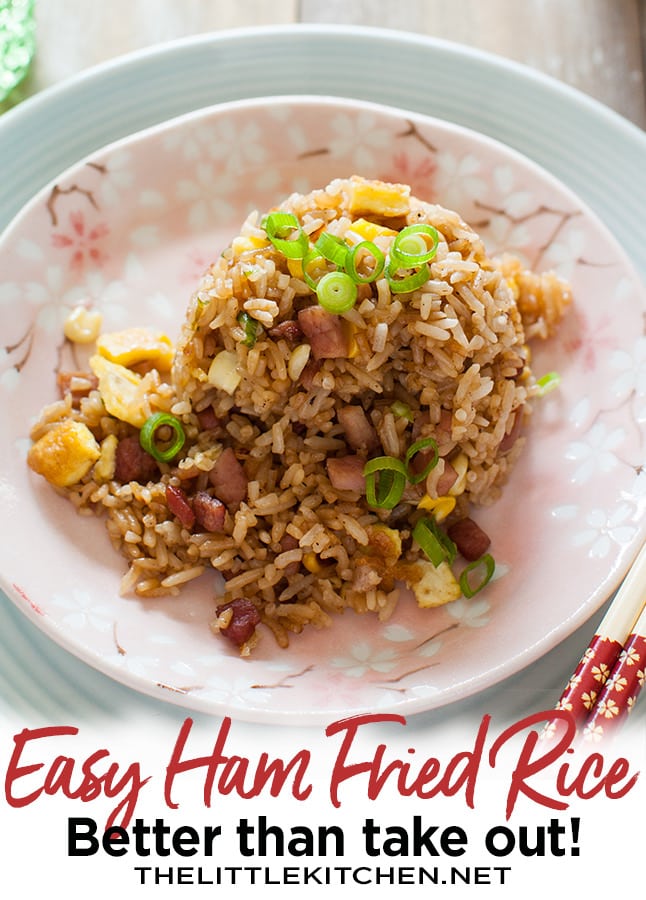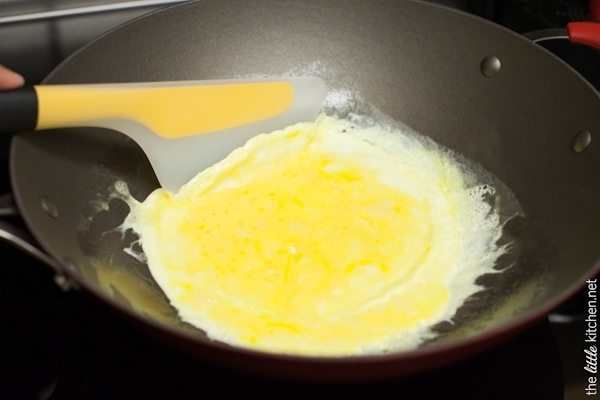 You have to make the eggs first for fried rice. I always feel like I'm making an omelet. (I love using OXO's omelet turner when I'm making eggs.)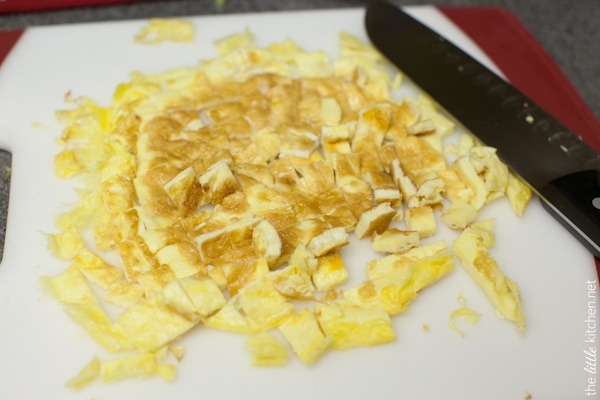 Cut it up.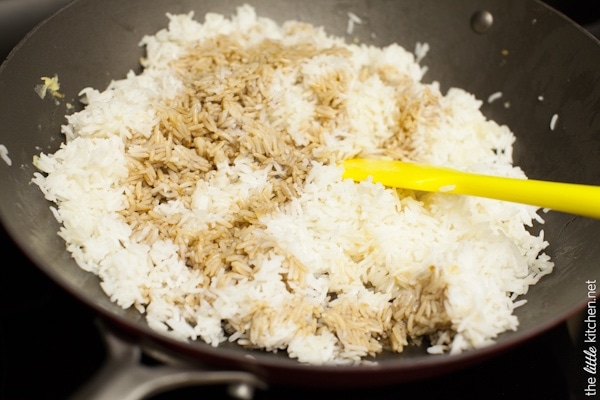 Then, make the rice. After adding the rice, mix in the soy sauce and the sesame oil really good. Cook for 5 to 8 minutes on medium high.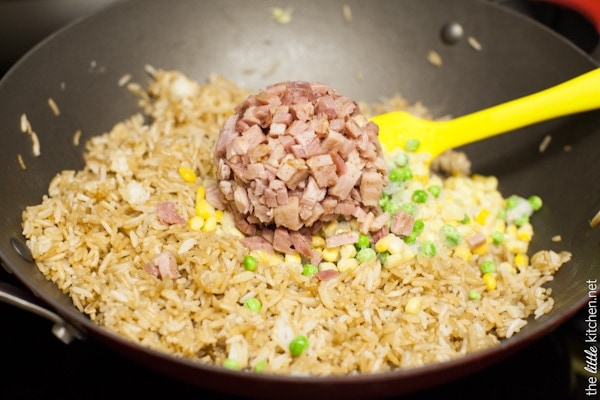 Add the ham, peas and corn. You can add carrots, broccoli, whatever you want.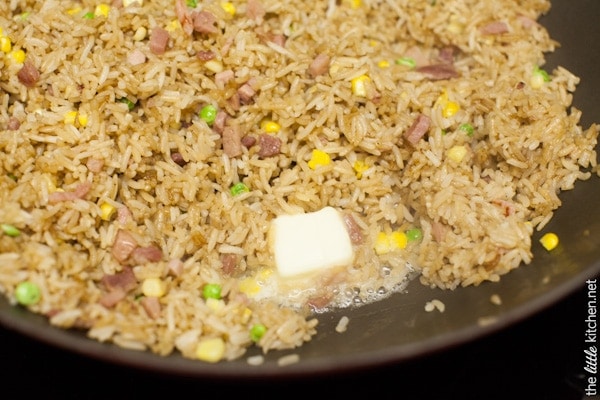 There's the secret ingredient…butter. 2 Tablespoons of butter heaven. There's a Japanese hibachi grill place I used to go to a lot when I worked across the street from them and I would watch them put butter in the fried rice…near the end. I had to try it and it makes this fried rice so good. Curtis would argue it's the ham that makes it so good.
Now, add the eggs and sliced green onions.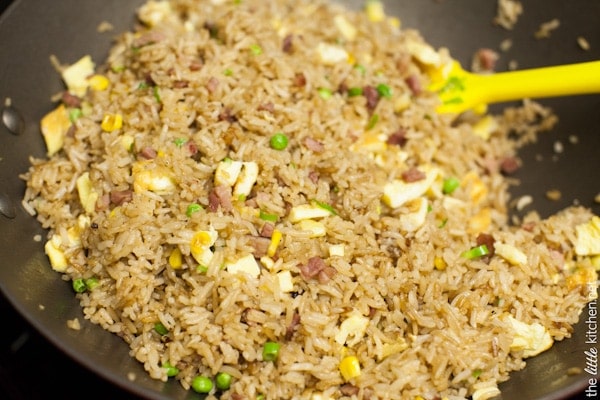 And you're done. Seriously…amazing. The ham still has the sugary cinnamony glaze which adds a nice sweetness sometimes. The soy sauce is a must have for fried rice and the butter…yes please. Makes great leftovers too!
As long as you have the rice made ahead of time, it doesn't take that long to put this dish together!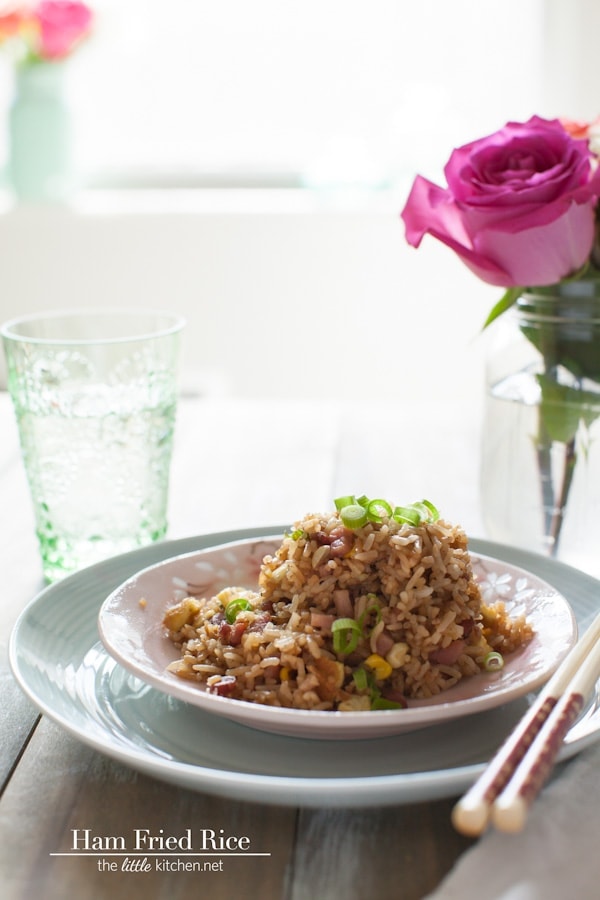 PS Curtis absolutely loved this fried rice recipe…we will be making this again and again! Hope you enjoy it with your family if you try it!
Recipe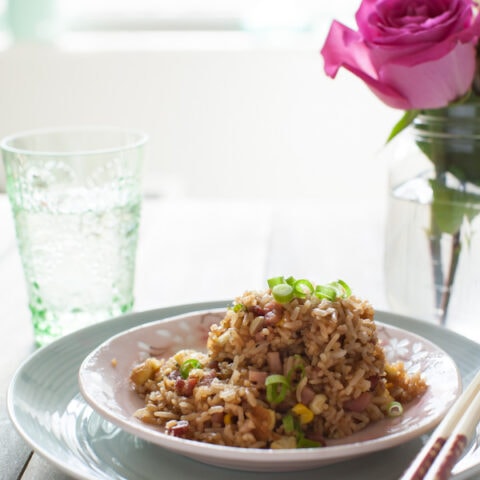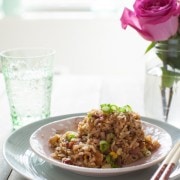 Print
Pin
Secret Ingredient Ham Fried Rice Recipe
Day old rice, rice that's cooked the day before and refrigerated overnight makes the best fried rice. If it's freshly made, you may get mushy results. There are ways around it if you want to make fried rice the same day you make the rice. Omit ham or sub with crispy fried tofu to make this dish vegetarian or feel free to sub with shrimp or chicken!
Ingredients
3

cups

uncooked Jasmine rice

,

cooked (preferably the day before)

3

Tablespoons

grape seed oil

3

eggs

,

beaten

2

teaspoons

sesame oil

3

Tablespoons

soy sauce

1

cup

diced cooked ham

3/4

cup

frozen corn

1/3

cup

frozen peas

2

Tablespoons

unsalted butter

2

green onions

,

sliced thin
Instructions
Cook rice. If you didn't make it the day before. As soon as it's done, lay it out on a 9x13 baking dish or a baking sheet. Allow to cool. Mix and spread out several times. Place in the refrigerator for at least 30 to 60 minutes.

Add 1 tablespoon of grape seed oil into a wok or a large skillet, heat on medium for at least 3 minutes. Swirl the oil to cover the pan. Pour in beaten eggs and allow to cook for 2 to 3 minutes and flip and cook for another minute. Remove from skillet and allow to cool. Cut into strips and then into smaller pieces, set aside.

Add 2 Tablespoons of grape seed oil to the wok and add the rice and cook for 2 minutes. Add soy sauce and sesame oil and mix the rice thoroughly. Season with salt and pepper. Increase heat to medium high and cook for 5 to 8 minutes, until rice is completely heated through, be sure to mix occasionally so the rice does not burn.

Add ham, corn and peas and cook for another 3 to 4 minutes, mixing occasionally. Lower heat and add butter, allow to melt, and mix thoroughly. Add eggs and green onions and stir gently. Season with salt & pepper. Serve immediately.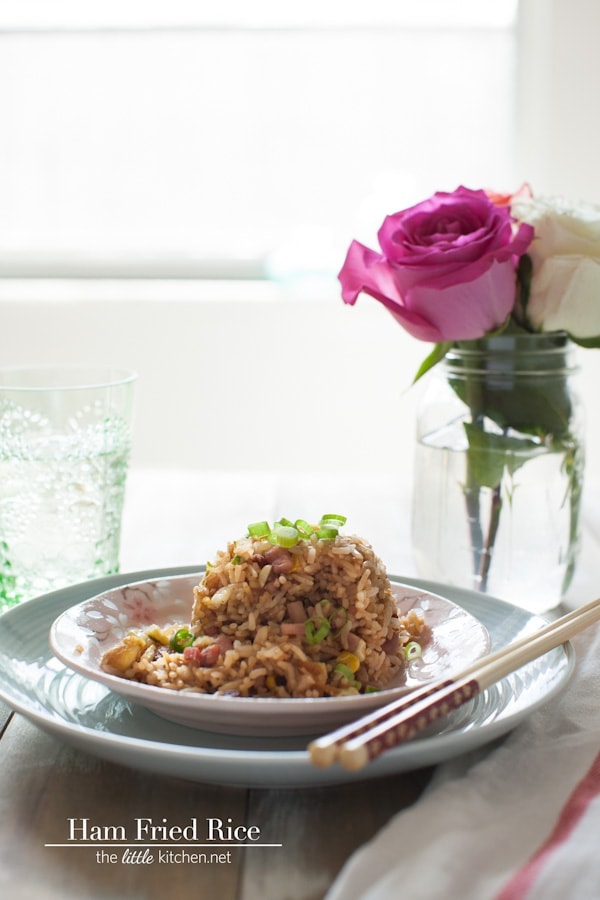 Disclosure: There's an affiliate link in this post.