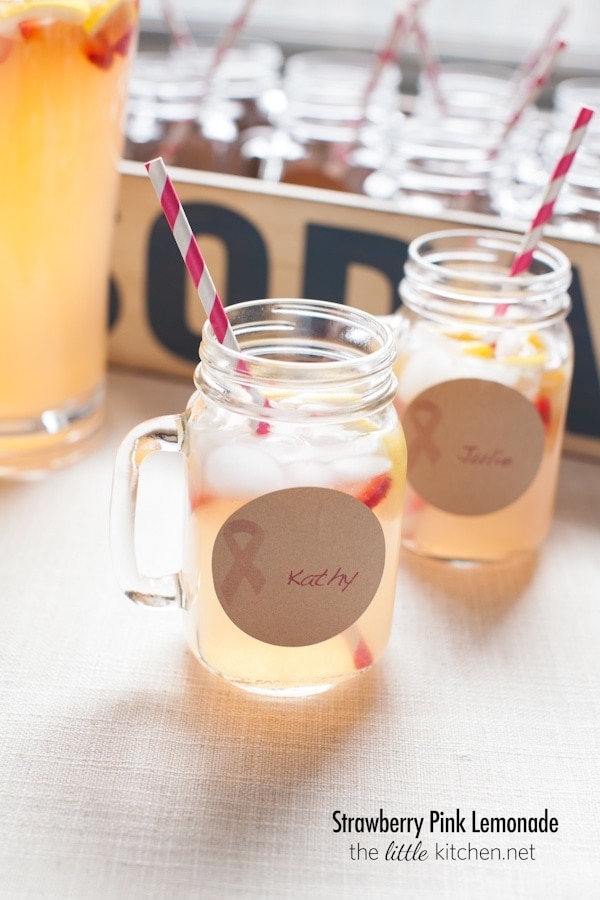 Do you like lemonade? I love lemonade and I don't make it as much as I should. When I was a kid, I would crave lemonade like crazy. If I found one lemon in our kitchen, I would make lemonade for all of my sisters. Whether I had 5 lemons or 1 lemon, I found a way to make a good lemonade, of course with tons and tons of sugar. When I was a kid, I liked my lemonade super sweet and as I got older, I like it more tart. The funny thing is, my Mom would come home and get ready to make dinner and ask what happened to her lemons.
This week, I threw a Bunko party and for the 3rd year in a row, made it a 1,000 Cooks for the Cure® party. I'm in a Bunko group and we all take turns to host throughout the year. I have been asking to host in July so I can combine it! Everyone brings a dish to share and we play Bunko and when it's my turn, I ask everyone to bring a donation to go towards breast cancer.
My grandmother is a breast cancer survivor, she's been in remission and going strong for seven years since her diagnosis & treatment. I feel so strongly and passionate about the breast cancer cause because I cannot imagine what she went through and what other countless men and women go through. Starting today until July 28th, KitchenAid is asking people like me and you to host a party – it can be a Bunko party, book club meeting, a potluck, a get together or whatever and ask your family and friends to donate money to Susan G. Komen for the Cure® (United States residents) or The Canadian Breast Cancer Foundation (Canada residents). It's a little thing we can do since the money goes to helping breast cancer patients every day. For more information on 1,000 Cooks for the Cure, how to sign up and for party ideas, visit KitchenAid's website.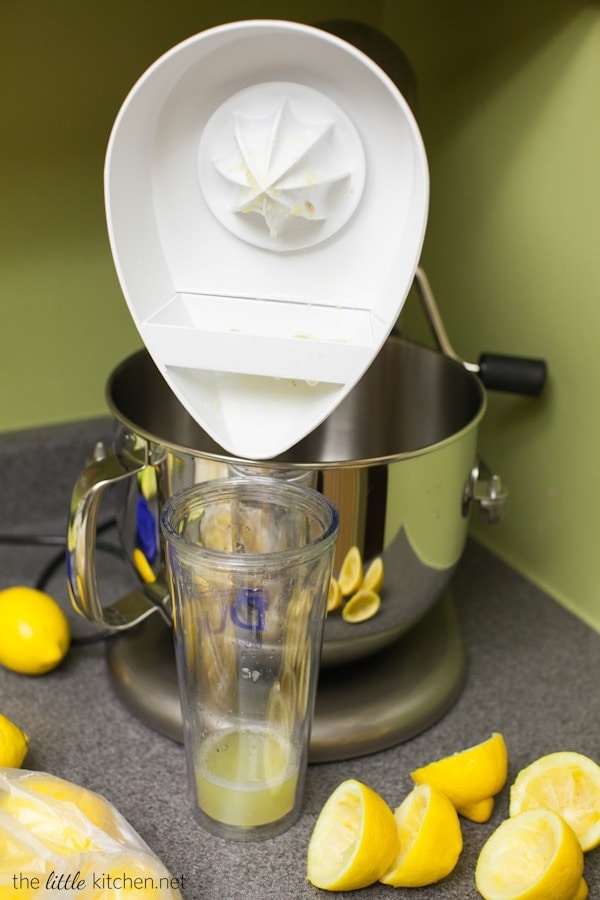 I knew I wanted to make a pink lemonade for my Bunko party and my juicer attachment made it super simple. I juiced 10 lemons in no time. I also used it to "juice" a few strawberries. The strawberries are more to "dye" the lemonade to a pinkish color. If you want more for flavoring, I would use more!
I found a cute pink ribbon icon and made labels for everyone attending to put on these cute little jar mugs. I love these. World Market carries them.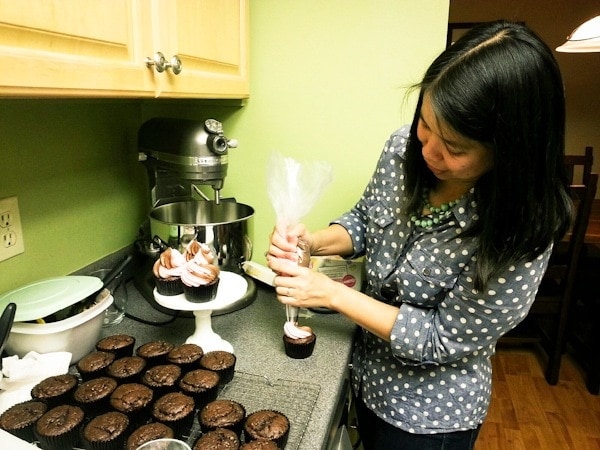 As requested by friends, I made my triple chocolate cupcakes with pink & chocolate swirl frosting! Thanks to Kelly for taking this picture!
My Bunko friends brought over pink-dyed deviled eggs, a pink cake and pink cookies. As always, the food was awesome and I was stuffed by the end of the night!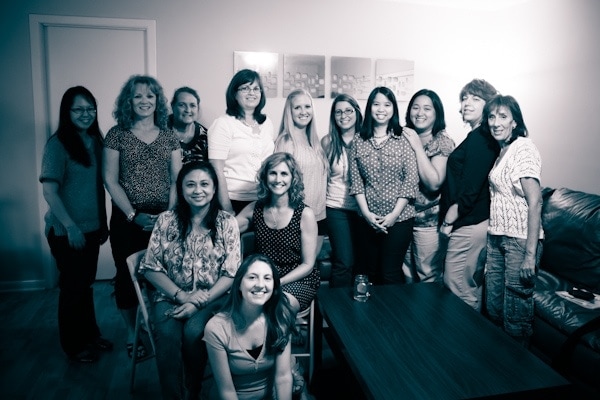 There's our group, or some of our group. A few ladies couldn't make it this month because of vacations, etc. So I asked some friends to sub in. We had a great night!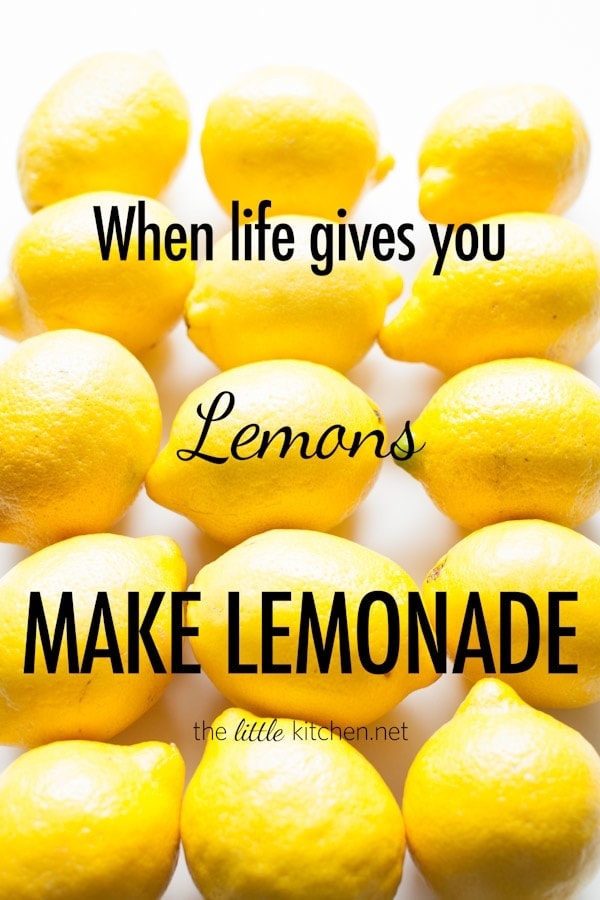 I wanted to also take a moment to talk about something. The other day, I realized that tomorrow it will be one entire year since I started blogging and freelancing full-time. Early last year, I received an awesome opportunity at a new company but it was not meant to be and I was laid off in the summer. I took the plunge and most of you have been with me along the way. It's surreal talking about this every. single. time. I'm humbled and thankful for every single person who visits The Little Kitchen and for the amazing comments and the wonderful people I get to work with each and every day. Thanks for all of your support!
Now go make some lemonade!
Recipe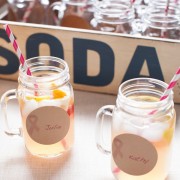 Print
Pin
Strawberry Pink Lemonade Recipe
Ingredients
1

cup

sugar

8

cups

water

,

divided

10

lemons

,

washed and cut in half

2-3

strawberries

,

washed and halved

4-5

strawberries

,

washed, hulled and sliced

4

cups

ice
Instructions
Add sugar and 4 cups of water to a boil in a medium-sized pot. Stir and reduce heat. Stir until the sugar has completely dissolved. Remove from heat and allow to cool.

Using a juicer, juice 10 lemons. Makes about 1 1/4 cups of lemon juice. Using the juicer, "juice" the strawberries into the lemon juice. If needed, strain the lemon & strawberry juice into a large drink container. Add sugar water mixture (from above), 4 cups of cold water and ice. Mix with a large spatula or chopstick.

Cut up 4 to 5 of the lemon rinds and add along with the sliced strawberries for garnishing. Refrigerate until ready to serve. Serve with ice and pink straws.
Tip:
If you let the lemons and strawberries sit in the lemonade overnight (refrigerated), you'll get a more pink of a lemonade.
Disclosure: Although I regularly work with KitchenAid, this is not a sponsored post nor was I asked to do this post. I purchased the KitchenAid juicer attachment myself. All opinions are always my own and I of course only share brands and products that I love. There are affiliate links in this post.