Curtis and I have some dinners that we make again and again and this cheesesteak recipe is one of them. Is there anything better than tender steak and cheese tucked into oven-warmed rolls? Bliss!
There are affiliate links in this post. I get commissions for purchases made through these types of links in this post. As an Amazon Associate I earn from qualifying purchases.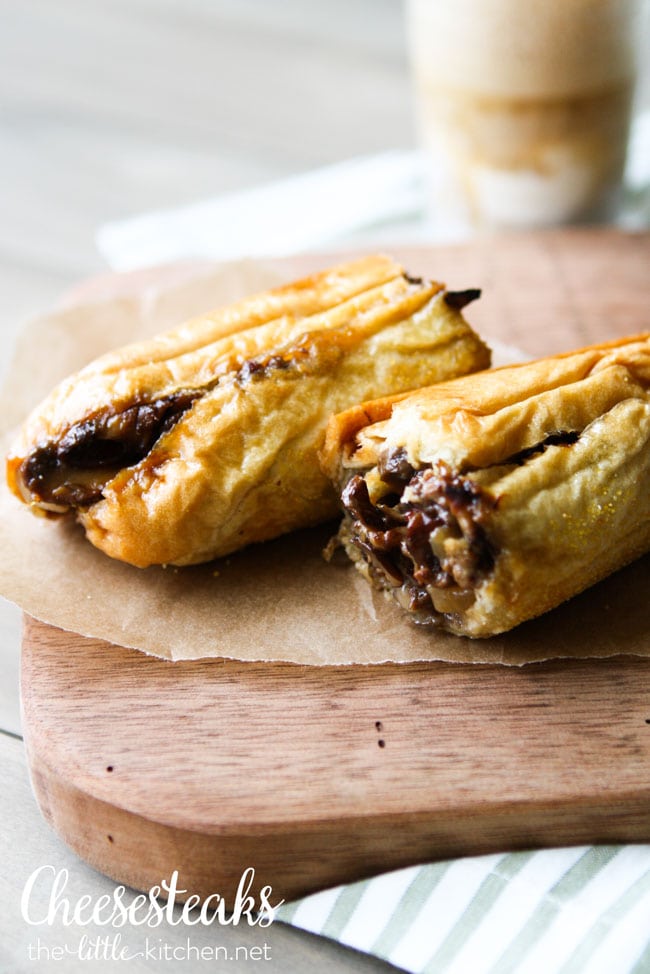 Last week I was in Portland and for a few days the week before that I was in Seattle. Portland was for work. It was really good to see some of my co-workers and even meet a few for the very first time. Since I work from home, I hadn't gotten to meet some members of my team. It was awesome to get to hang out with them and I ate very well and even hung out with an awesome friend.
I was in Seattle before Portland for the BlogHer Food conference. I had a lot of fun eating, meeting new friends and seeing old friends.
While I was in Seattle, I got these panic texts from Curtis, the washer was broken or he actually said "I broke the washer". He thought he had overloaded it but I kept texting back saying I'm sure it's just old. It was really really old.
Fast forward to last week (or wait rewind), and I get a text message from Curtis with a photograph of some chicken lo mein. He had made a frozen dinner and he said he couldn't wait for me to come home to make dinner again.
It was so sweet and before you go thinking, he should be able to make his own dinner. He should and he would but he is currently beyond stressed out halfway through a year-long online certificate program for GIS (he makes maps for a living). All his idea and his company is covering the costs. He regrets it about every other day because he remembers how much he disliked school. I can go on and on about this.
I felt terrible, I left for a week and a half and he has to deal with the puppy, a broken washer, work and school on top of all of it. I promised I would make this cheese steak sandwich recipe and DoubleTree cookies when I came home.
But not the day I came home though; it was a red eye flight. NO MORE red eyes for me. I just can't hack it. I don't sleep very well on planes due to my sleep apnea…I don't know why I tried it for so long but no more.
What Steak for Cheesesteak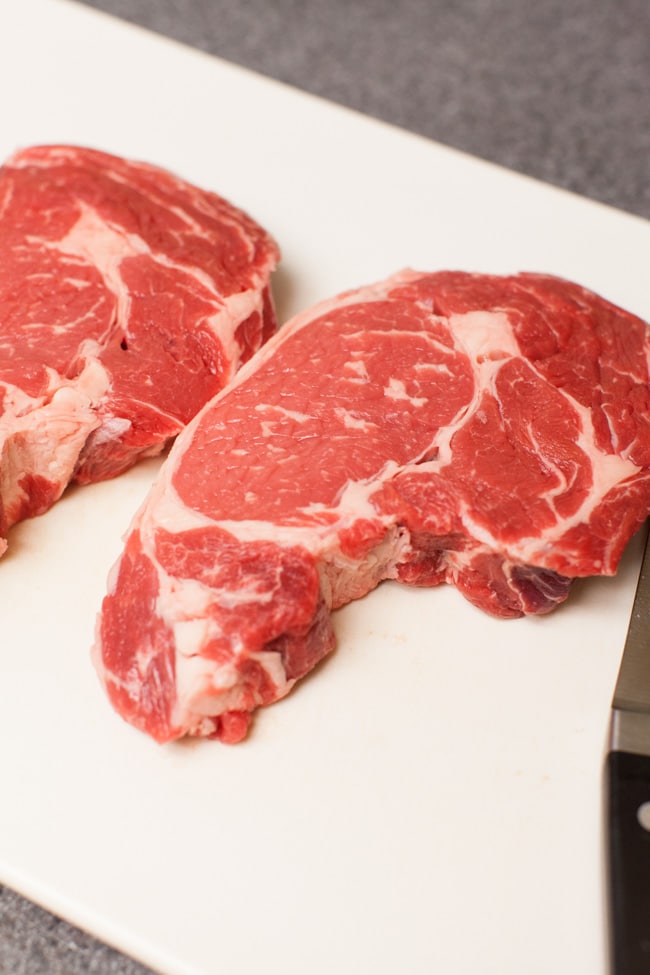 The second day after I came home, I made these cheesesteaks. This is Curtis' perfected recipe. We have been making this for a few years now. We used to make it with sliced roast beef and one day, my former co-worker Kevin, said that Philly cheesesteaks were made with ribeye…that was enough for Curtis to want to give it a try.
And perfection.
If you don't want to leave your house and have amazing ribeye steaks delivered to you. You should check out this deal on Perdue Farms!

Deal alert: check out this Niman Ranch Bundle from Perdue Farms that's 40% off!

They offer free shipping for orders over $159.99 too!
How to Make Philly Cheese Steak
Slice the beef ribeye steaks across the grain in thin slices. Once sliced, rough chop all of the beef several times going in rows and then columns. You want to have small pieces of beef when you're done so your cheese steaks are easy to eat!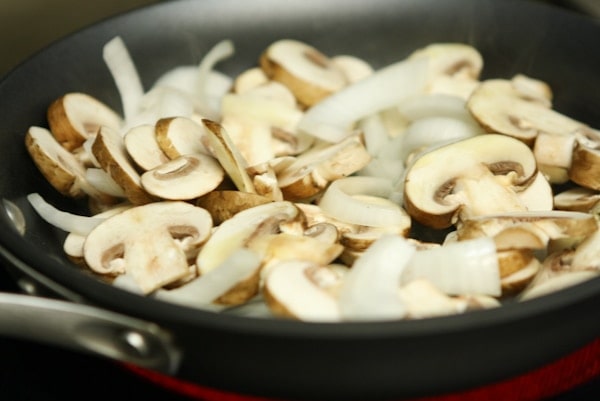 In a heated non-stick skillet with 1 tablespoon butter, cook the mushrooms and half of the onions.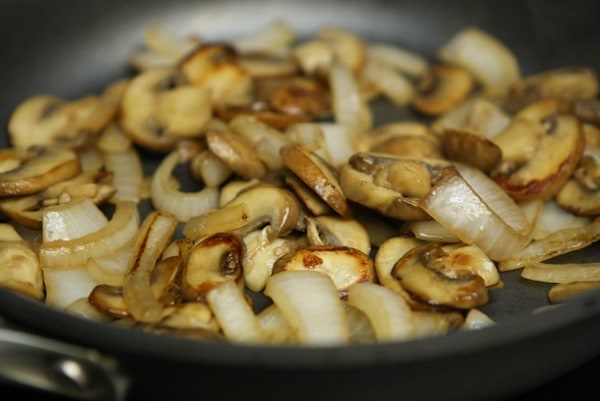 All done! Remove mushrooms and onions from the pan and put them on a plate for now.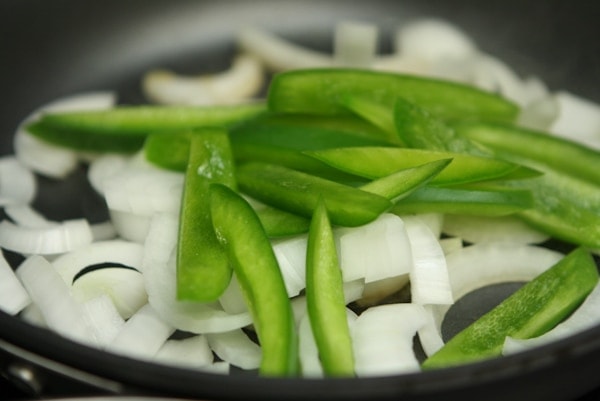 I wipe the pan out with a paper towel and add 1/2 tablespoon of butter and saute the peppers and onions.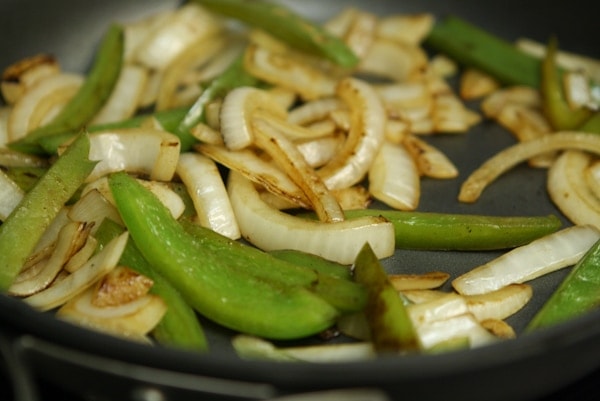 All done! Remove the onions and peppers from the pan and add to the plate with mushrooms & onions or onto a separate plate depending on preference.
Once again, I wipe the pan with a paper towel and add 1 tablespoon of butter. Add half of the ribeye steak and cook just 2-4 minutes.
Cheesesteak Sandwich for Pepper Lovers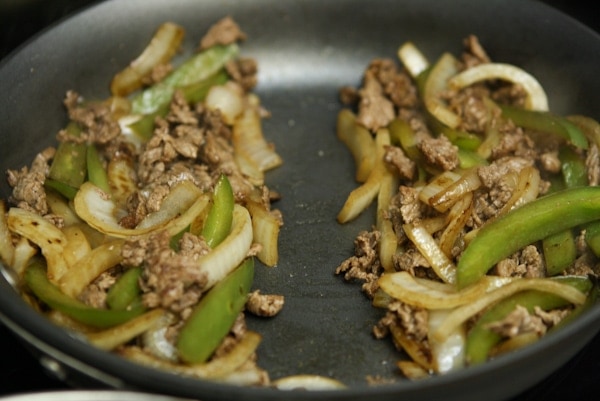 Then, add the onions & peppers or if using all of the ingredients – half of the onions/peppers/mushrooms mixture. Cook for 1-2 minutes and then divide in half.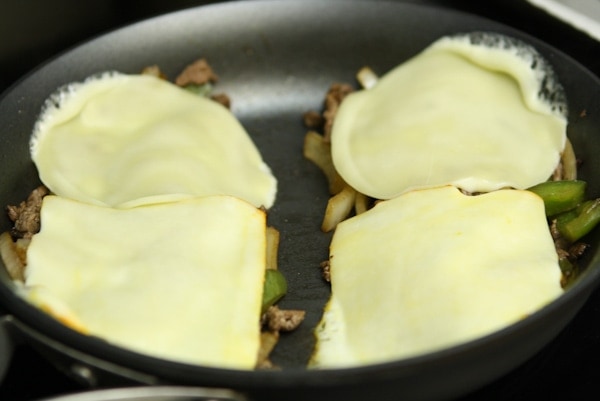 Now the cheesesteak magic happens! Add cheese on top. Curtis likes to mix up Provolone and Muenster cheeses so you'll see them above.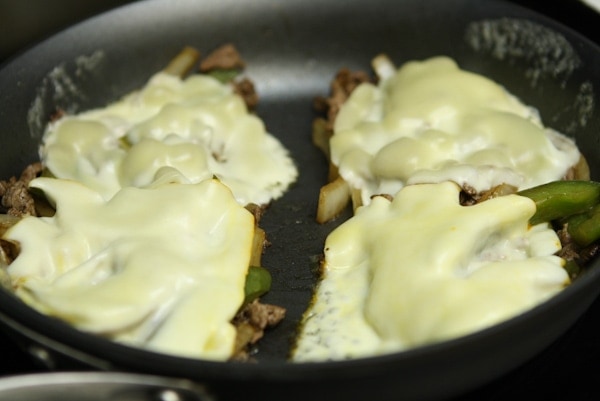 Allow the cheese to melt and add to sliced hoagie rolls. More pictures on that below!
Cheesesteak for Mushroom Lovers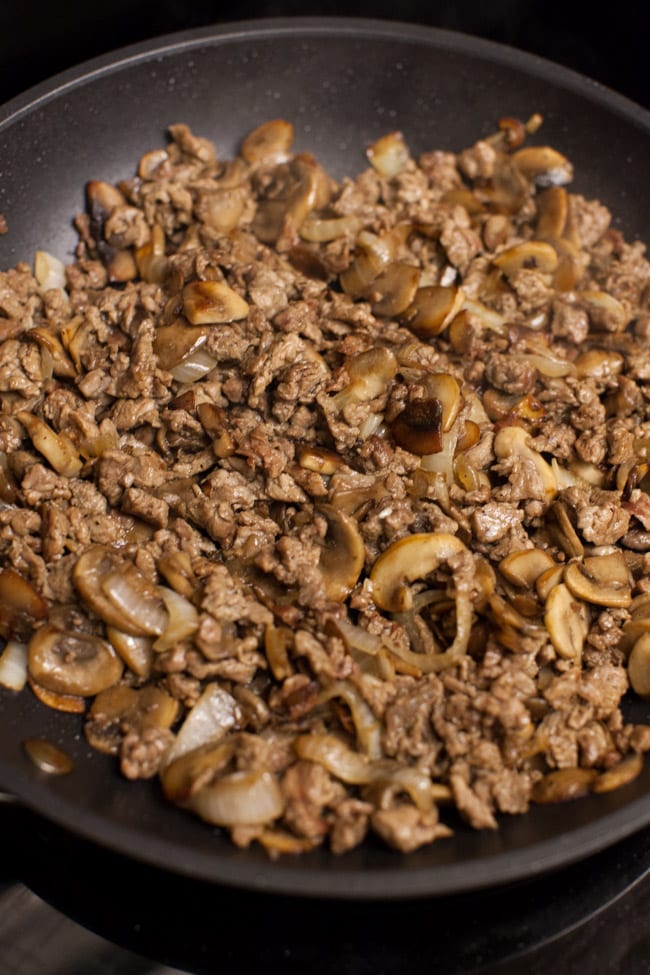 Once again, I wipe the pan thoroughly especially the cheese so it doesn't burn. Add 1 tablespoon of butter and the 2nd half of the ribeye to the pan. Cook for 2-4 minutes and then add back the onions and mushrooms or the remaining veggies. Divide in half as pictured above.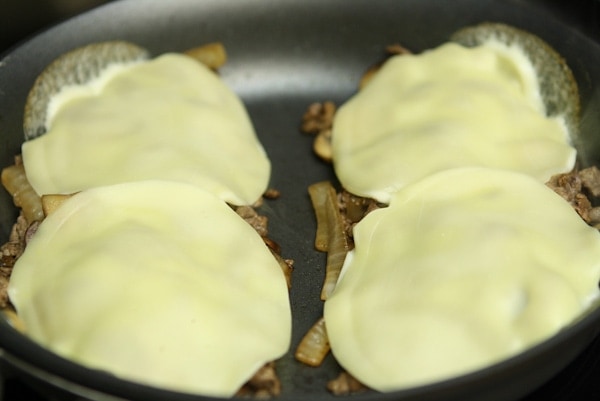 I prefer provolone only. Add the cheese on top!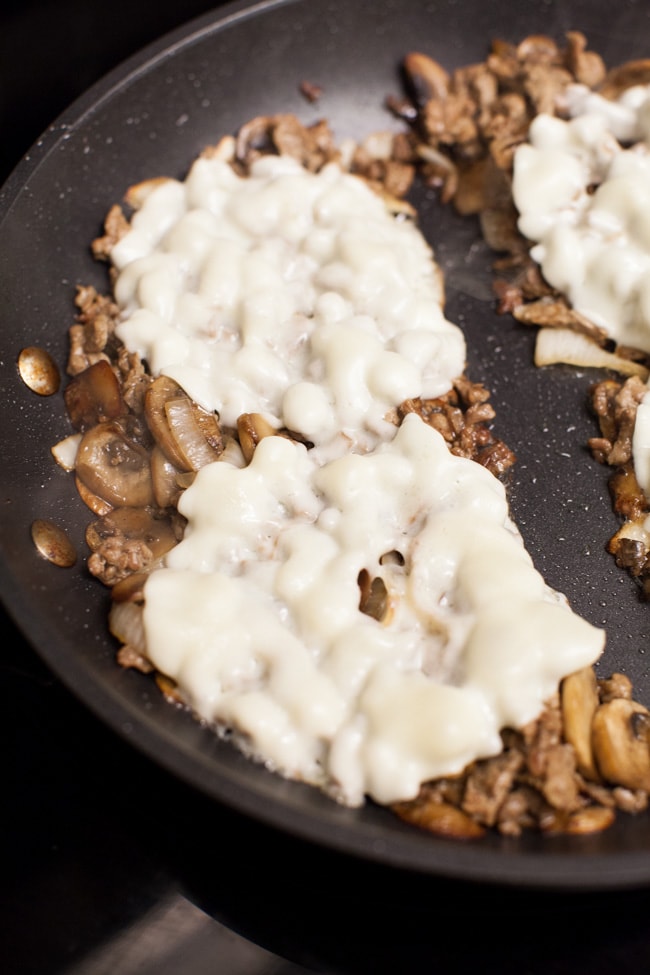 Allow the cheese to melt for 1-2 minutes.
Assemble the Cheesesteak Sandwich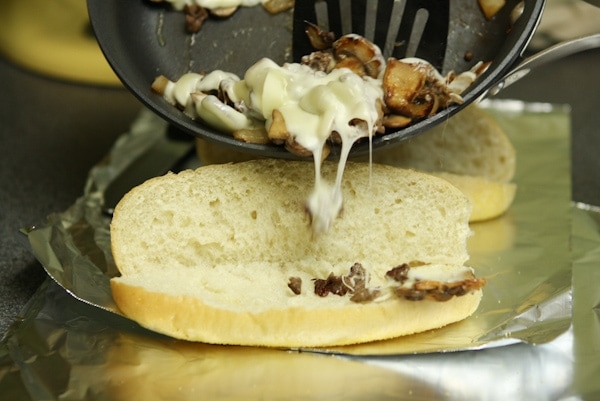 And now the fun part, place beef & cheese & veggies onto hoagie rolls.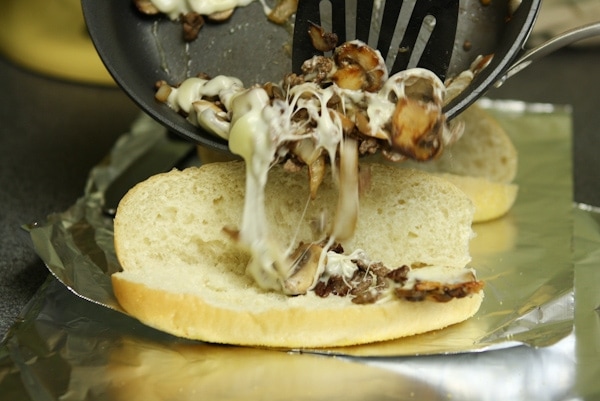 Doesn't the steak and cheese look amazing? Now I'm craving another one of these.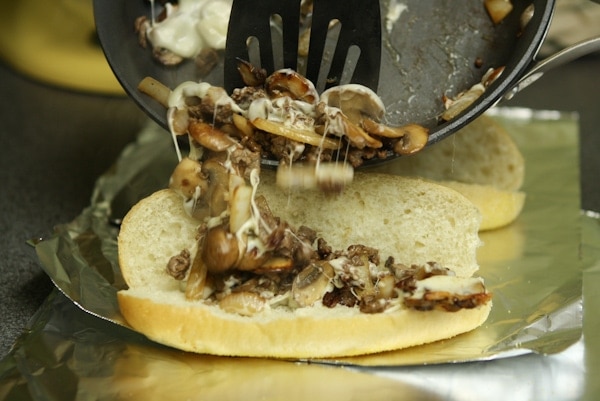 I love how the cheese gets mixed in completely so every bite has melty, irresistible cheese in it.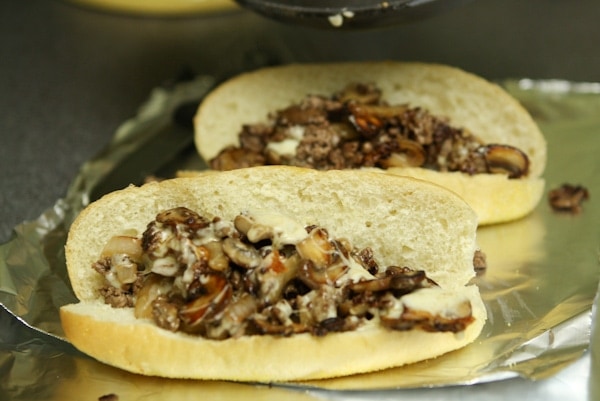 And we're ready to roll the cheesesteak sandwiches up.
How to Reheat Cheesesteak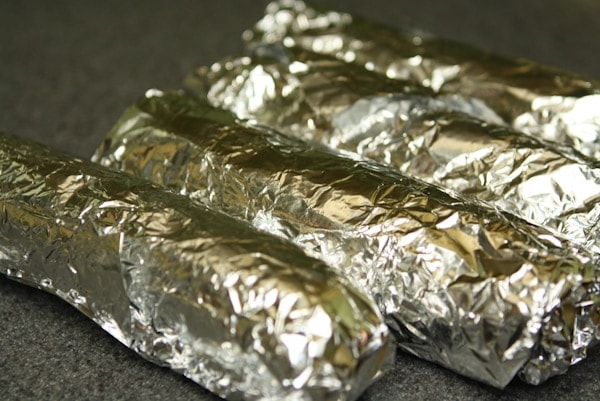 Roll them up tightly in foil. These pictures don't really show you how small we roll them up. The diameter of the cheesesteak ends up being almost half of the diameter of the hoagie roll originally.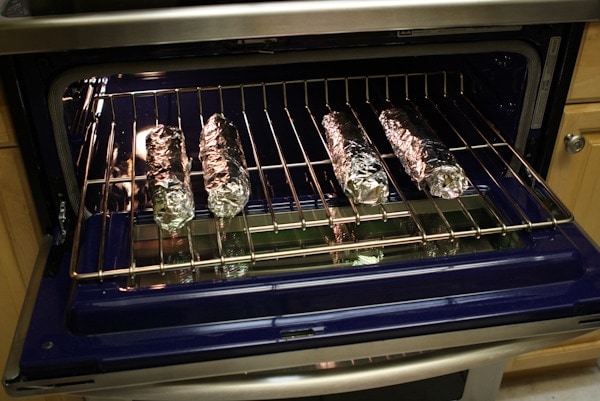 Put them into the oven at 250 degrees and allow the meld to happen for about 10-15 minutes. (Don't you just love my blue oven? I had no ideas that ovens could be different colors inside. For the record, I'm using the top oven of my KitchenAid double oven range.) To reheat cheesesteak sandwiches, you'll pop them in the oven for just a little bit longer.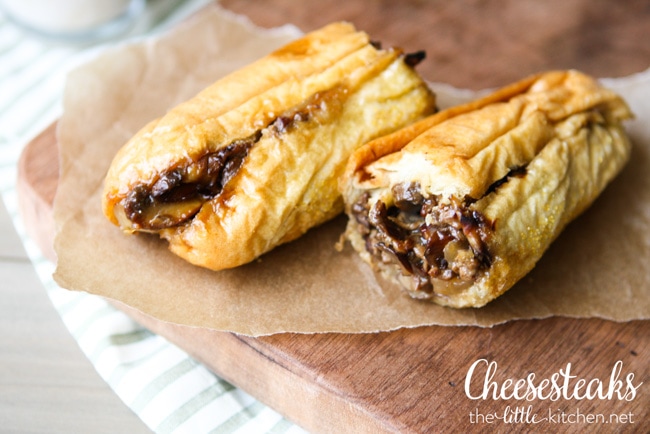 What you end up having is cheesy, greasy goodness. The hoagie is not too soggy but wet enough from the juices from the meat and beat up looking from being tightly rolled. It is perfect. Oh and I had my cheesesteak with a root beer float and some chips. Total perfection.
I like to give Curtis a hard time for what he likes to cook (hot dogs, chili and chili cheese dogs, see the pattern?) – he doesn't cook much and he said the other day, never in a million years did he think I was ever going to blog one of his recipes. I guess I need to do it more often, huh?
Check out the video I made, it shows you how easy this recipe is!
*Just a note: this recipe is based on both of our preferences. I prefer mushrooms and onions on my cheesesteaks and Curtis prefers green peppers and onions. If you want green peppers in all four cheesesteaks – increase the amount of bell peppers to a whole bell pepper. The amount of mushrooms can stay the same or be increased just as well.
Recipe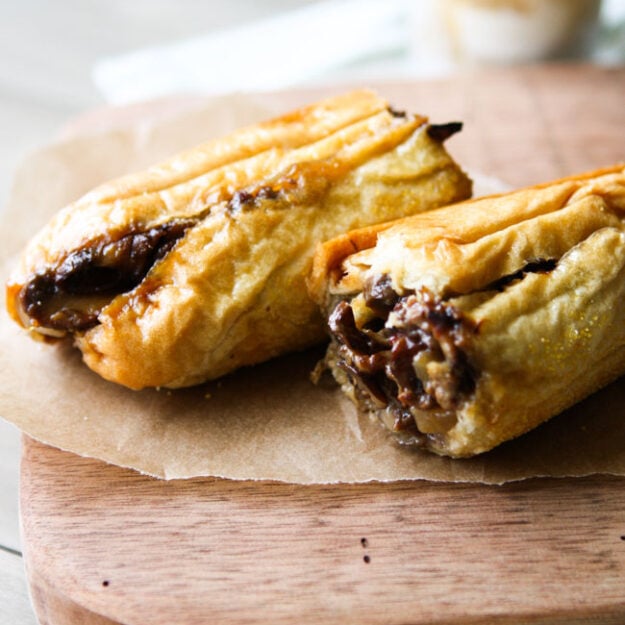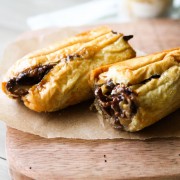 Print
Pin
Cheesesteaks
Use two ribeye steaks for this cheesesteak recipe and you can't go wrong.
Ingredients
4

hoagie rolls

,

sliced (We love the Publix hoagie rolls!)

1/2

green pepper

,

sliced

1

large white onion

,

cut in half and sliced thick

8

oz

mushrooms

,

sliced

1.25 to 1.5

pounds

beef ribeye steaks,

sliced thinly across the grain and then chopped roughly again so they are small pieces

salt & pepper

3 1/2

Tablespoons

salted butter

8

slices

of cheese

,

Provolone or Muenster
Instructions
Prepare 4 sheets of foil and slice the hoagie rolls and set aside. Preheat oven to 250 degrees.

Heat a non-stick skillet with 1 Tbsp butter on medium high heat. Add mushrooms and half of the onions and cook 5-8 minutes or until mushrooms are browned and onions are cooked down. Remove and place on a plate.

Wipe the skillet with a paper towel and add 1/2 Tbsp of butter and return to the stove. Cook remaining onions and bell peppers for 5-8 minutes or until peppers start to brown and blister and the onions are cooked down. Add to a separate plate (unless everyone likes peppers/onions/mushrooms then add to the plate with mushrooms & onions).

Wipe the skillet again with a paper towel and add 1 Tbsp butter and return to stove again. Season half of the steak with salt & pepper and add to the skillet. Reduce to medium heat and cook for 2-4 minutes. Add in peppers & onions or half of the veggie mixture and cook for 1-2 minutes. Divide the meat & veggies in half as pictured above. Add 4 slices of cheese on top and allow the cheese to melt for 1-2 minutes.

Add the cooked meat & veggies and melted cheese to two hoagie rolls. Inside one sheet of foil, roll the hoagie roll tightly and place inside the oven for 10-15 minutes.

Repeat the process with the remaining steak & veggies or like I did with the mushrooms and onions - for the last two hoagie rolls. Serve fresh out of the oven with chips or your favorite French fries.
Notes
Notes: If you have leftovers (if that's possible), refrigerate inside a zippered plastic bag inside (don't remove it from the foil). Reheat the cheesesteaks in the foil in a 350 degree oven for 20-25 minutes.
*Okay another note, I didn't call these Philly cheesesteaks okay? I have never had a cheesesteak in Philly even though I have been to Philly before (as a kid). I have only tasted a cheesesteak made at supposedly authentic shops here in Florida. Hope these are close but I know it's inevitable someone will say, these aren't anything like the original! And there's no way they can be since we don't have access to those amazing Amoroso rolls.
Edited to add: I am able to purchase Amoroso rolls at Aldi and it's the best way to make this cheesesteak recipe!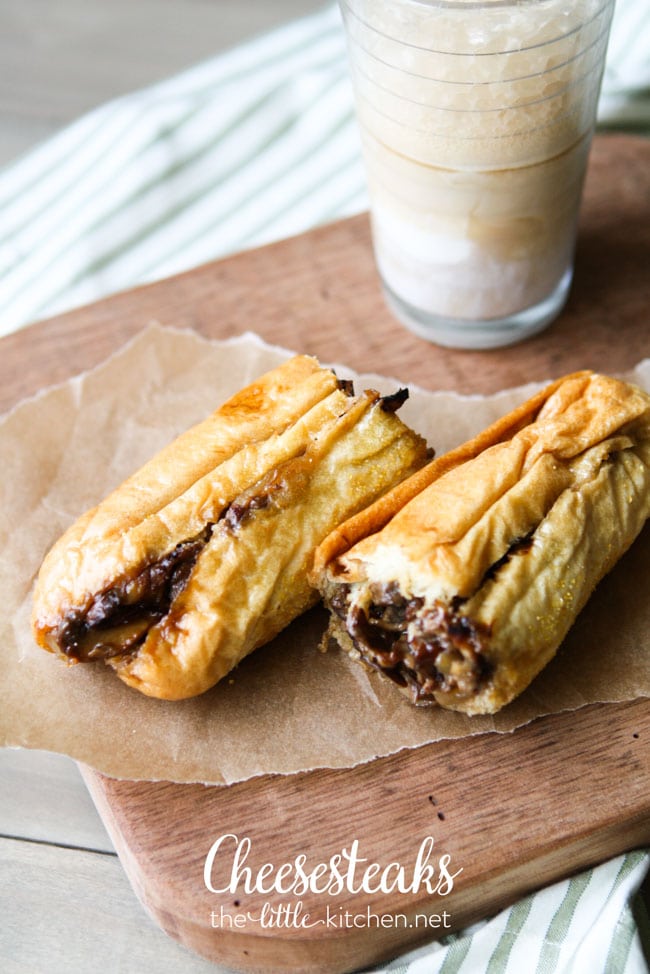 Pin it for Later
Originally shared on June 19, 2012. Was updated in 2019.