This Vietnamese peanut sauce recipe is so easy to make and it only has six ingredients (five if you don't count the water)! You can use this peanut sauce as a dipping sauce for spring rolls, to go over noodles or serve it over a salad as a salad dressing!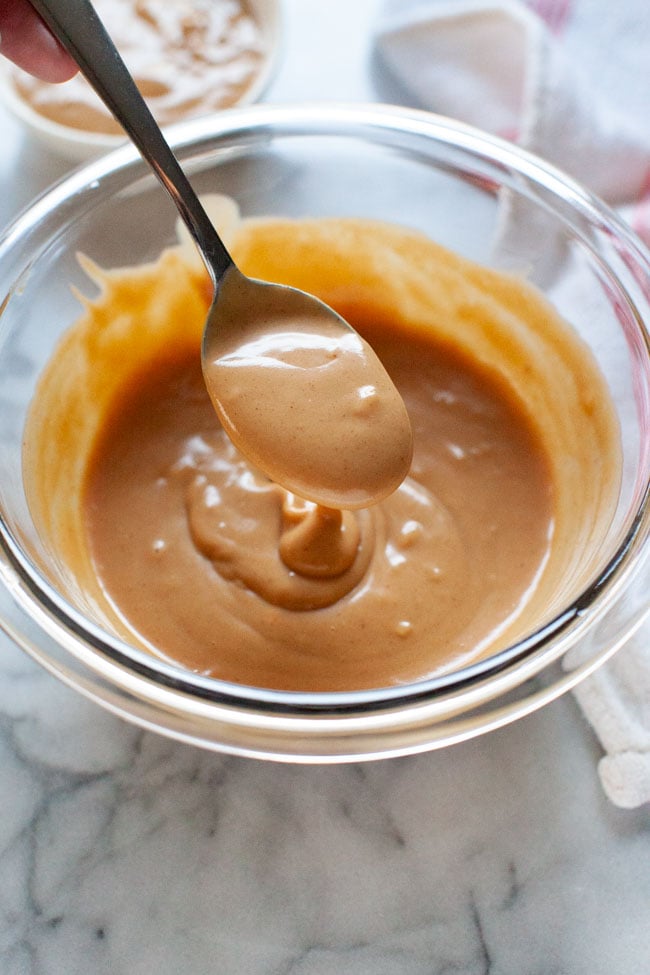 This is Vietnamese Mom's recipe for peanut sauce that I'm sharing with you today! She makes it with her Vietnamese spring rolls and they go together so well!
There are affiliate links in this post. I get commissions for purchases made through these types of links in this post. As an Amazon Associate I earn from qualifying purchases.
Growing up as a Vietnamese-American girl in California and Florida, we loved making spring rolls and having this peanut dipping sauce. It's literally the best peanut sauce recipe for spring rolls!
Peanut sauce as known as tương đậu phộng in Vietnamese is commonly served with shrimp spring rolls. While someone else's Vietnamese mom might make it differently, I'm sharing with you my Mom's recipe!
Peanut Sauce Ingredients
My Mom makes peanut sauce with creamy peanut butter, hoisin sauce, a splash of fish sauce, garlic, granulated sugar and water.
I know some peanut sauce recipes don't use hoisin sauce but I think it's perfect. It provides the right amount of sweetness. If you want to make your sauce a little less sweet, you can omit the sugar.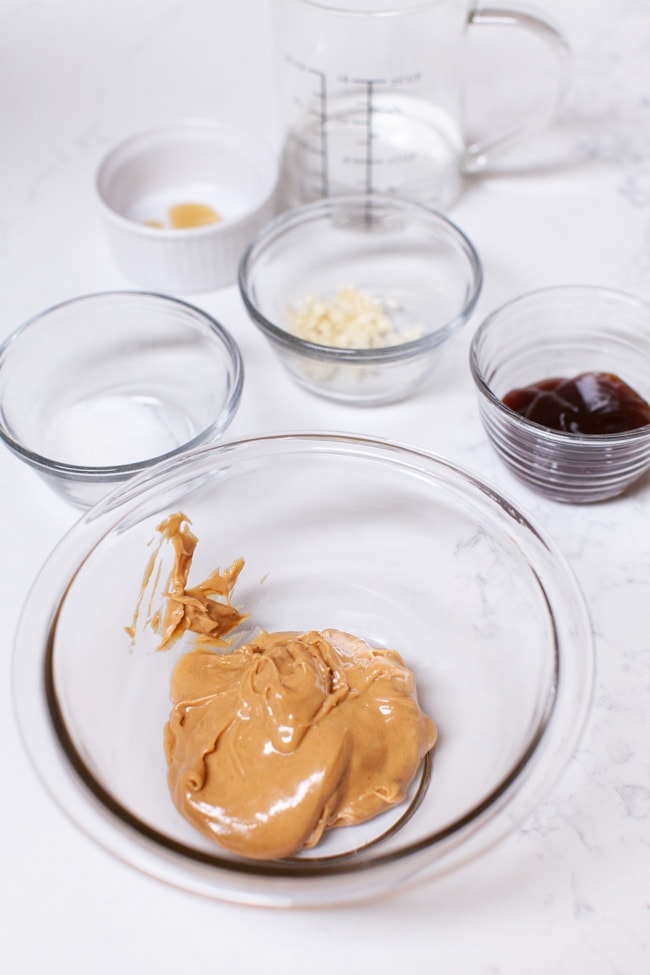 Kitchen Tools for making Peanut Sauce
How to make Peanut Sauce
It's actually really easy to make peanut sauce! It's only a handful of ingredients and it comes together so quickly! You can even make it ahead of time and store it in the fridge for about a week.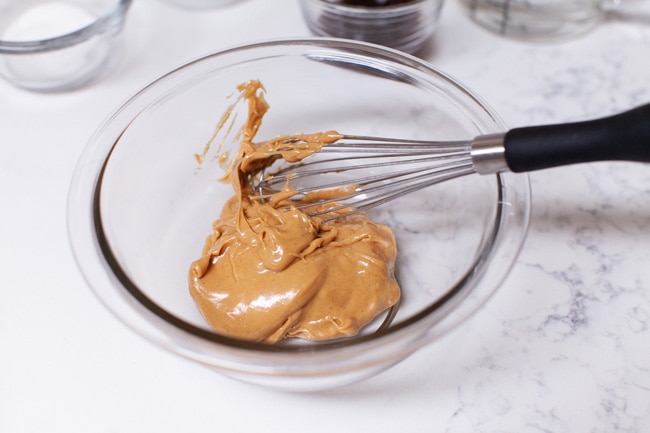 Measure the creamy peanut butter and place into a small mixing bowl.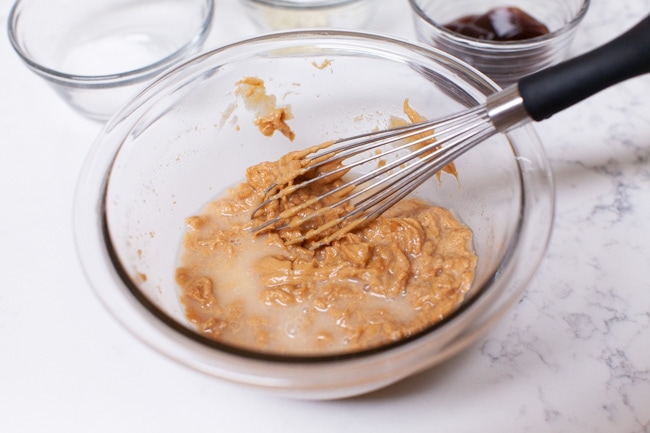 Add 1/3 cup of water. Whisk a little bit. The mixture will look a little bit curdled at this point.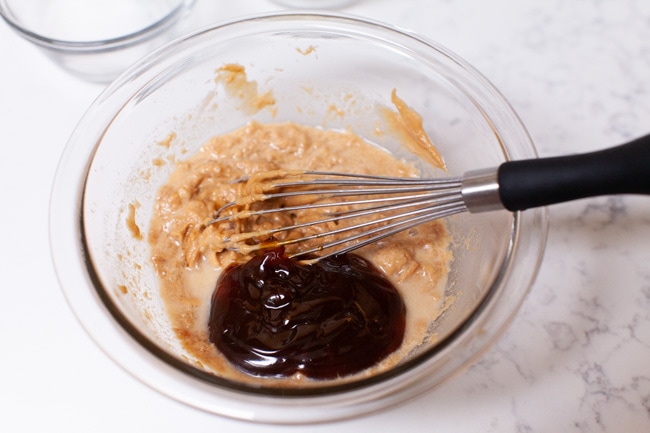 Add the hoisin sauce (I used TanTan Foods hoisin sauce, which I love!) and splash of fish sauce and whisk together. (The fish sauce is optional!)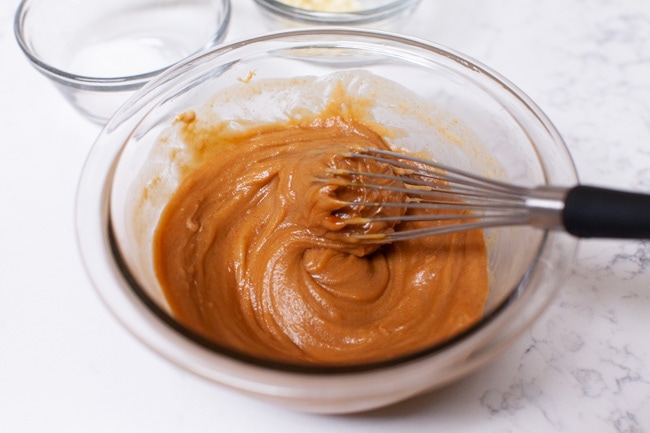 It will look darker because of the hoisin sauce but will lighten up once you add more water.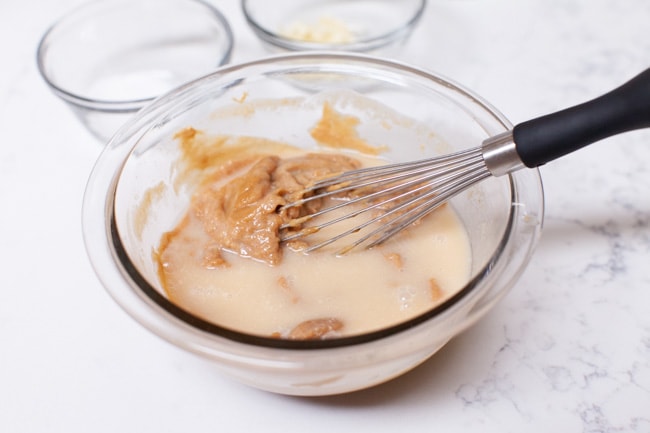 Add the remaining water and whisk for a little bit, it will be nice and creamy.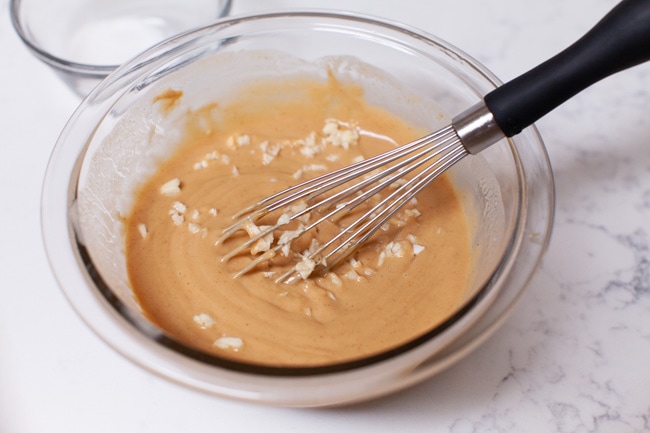 Add the minced garlic and sugar and mix again. Your sauce is now ready!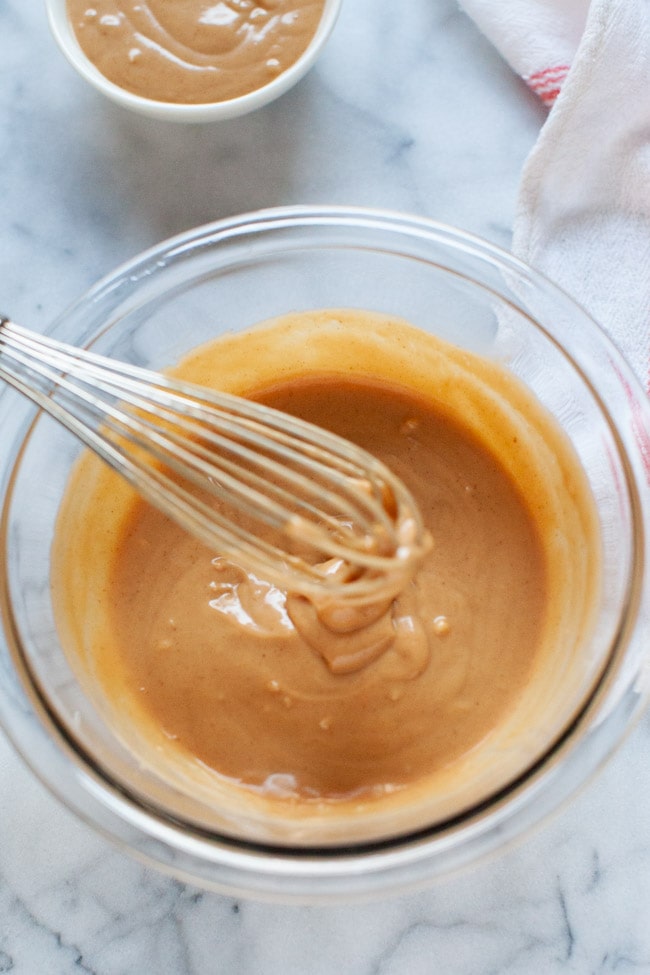 It's that simple to make this amazing peanut sauce recipe! In conclusion, don't forget that you can serve it with my Mom's Vietnamese spring rolls, on top of noodles or as a salad dressing. I know you and your family will love this sauce!
Recipe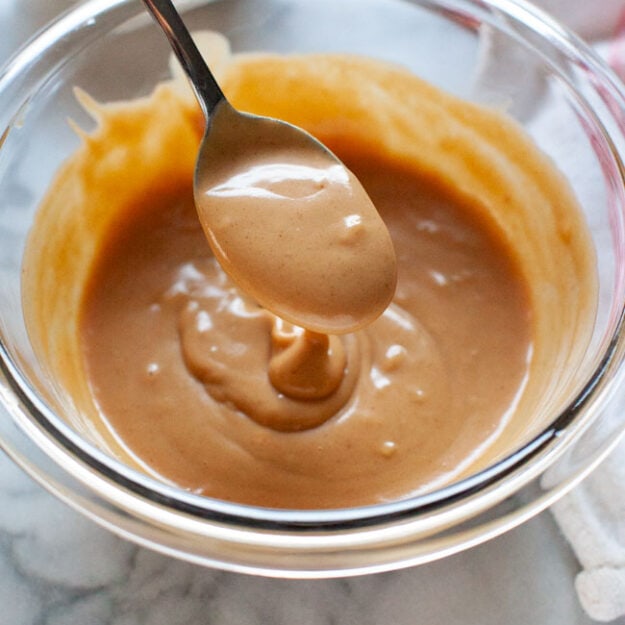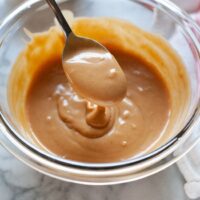 Print
Pin
Vietnamese Peanut Sauce
Ingredients
1/2

cup

creamy peanut butter

2/3

cup

water

,

divided in half

2

Tablespoons

hoisin sauce

1

splash

fish sauce

,

optional

1

garlic clove

,

peeled and minced

1

teaspoon

granulated sugar
Instructions
Using a measuring cup, measure the 1/2 cup peanut butter and place into a mixing bowl. Add 1/3 cup (half of the total water) into the bowl and carefully whisk a little bit. (It will look curdled).

Add the remaining 1/3 cup of water and whisk together. It will be nice and smooth and creamy. If not, add a little bit more water (this will depend on how creamy or thick your peanut butter is to begin with).

Add minced garlic and the teaspoon of sugar and whisk again.

Serve immediately with spring rolls or store in a fridge in a sealed container for about a week. (Makes about 1 cup and 2+ Tablespoons of peanut sauce.)
Notes
Just a little note about creamy peanut butters, some are thicker than others, towards the end, you might need to add a little more water to thin out the sauce a little bit. You will be able to tell by the thickness & creaminess of your peanut butter.