Making the most perfect mashed potatoes for any holiday or for a Sunday dinner isn't hard. I give you the step by step instructions on how to make the best homemade perfect mashed potatoes every time!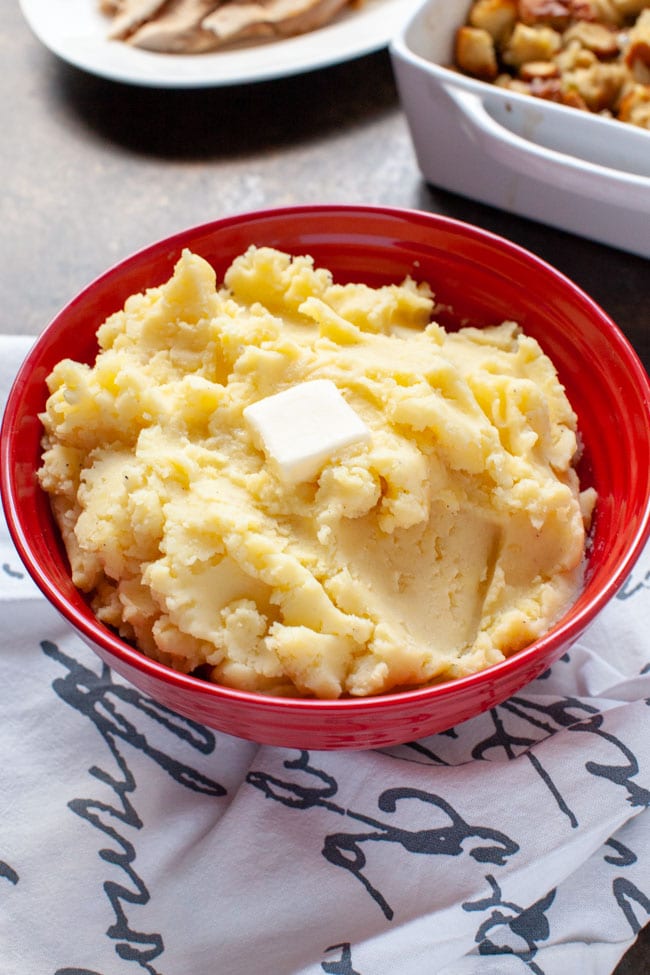 There are affiliate links in this post. I get commissions for purchases made through these types of links in this post. As an Amazon Associate I earn from qualifying purchases.
After years and years of making mashed potatoes, I have perfected the method on how to make creamy mashed potatoes that everyone loves!
I'm here to tell you, it's not that hard and if you follow my steps, you will be beaming with success. Because who doesn't love perfect mashed potatoes?
How do you like your mashed potatoes? Super creamy? Or do you like them creamy with some chunks of potatoes?
Perfectly creamy with some potato chunks is the way I like to make mine.
What I love about mashed potatoes is, you can make them to your liking. I use a potato masher. Mash the potatoes until they are as creamy as you like them.
Should I soak my potatoes before making mashed potatoes?
Soaking your mashed potatoes will help them be more creamy. I often will add some water a pot and as I'm chopping up my potatoes, I'll add them to the pot. As I'm peeling and chopping, they are soaking!
If you like to prep ahead especially for holidays like Thanksgiving, you can put the whole pot into the refrigerator the night before. Put the pot on the stove (don't forget to add salt to the pot) and turn it on high and bring to a boil to start cooking.
What to add to mashed potatoes for flavor
There are so many things you can add to your mashed potatoes to add flavor. First, you want to make sure you add salt to the pot of water with the potatoes. Bland potatoes are not good potatoes.
I love to add pepper and a dash of nutmeg to my potatoes. You can add shredded cheese to your potatoes if you like cheesy potatoes. You can also add roasted garlic to your potatoes!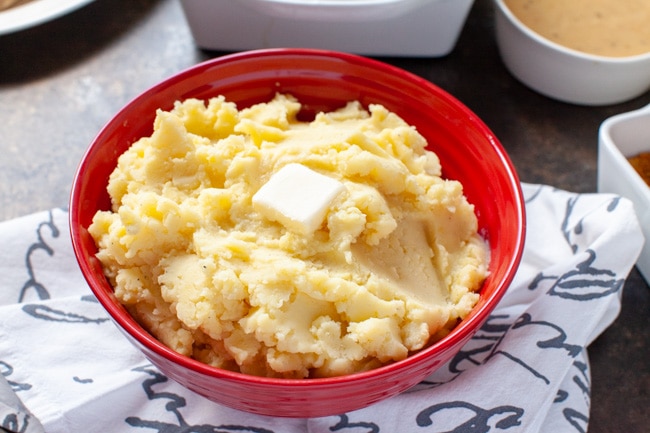 Can I use almond milk in place of regular milk for mashed potatoes?
If you're asking if you can use almond milk to make mashed potatoes. The answer is yes! I have done it many times. Just be sure to use unsweetened almond milk.
Alright, I'm going to share with you how to make the best mashed potatoes from scratch!
What are the best kind of potato to use for mashed potatoes?
Picking the right potatoes for your perfect mashed potatoes is very important. For the best texture mashed potatoes, I like to use white potatoes or Yukon Gold potatoes.
You can use red potatoes too! When I use red potatoes, I leave some of the peel on for a more rustic texture.
For Thanksgiving, I use white potatoes.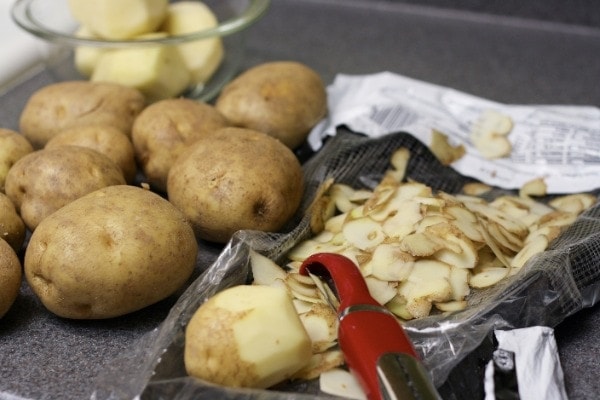 The Essential Tool for Perfect Mashed Potatoes
A very good vegetable peeler is necessary for making the perfect mashed potatoes. I know you what it's like to work with a dull peeler or a non-efficient one…it takes forever to peel potatoes!
With a good peeler, it should only take 10-15 minutes to peel a 5-pound bag of potatoes.
How to make the most perfect mashed potatoes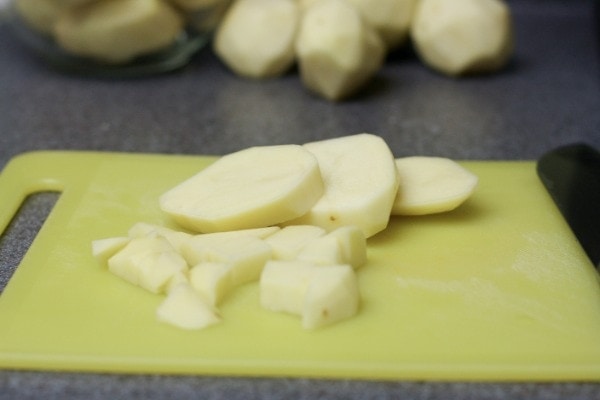 After you have peeled your potatoes, rinse and then dice your potatoes.
I try to get most of them cut in a uniform size. Use a good knife and make sure it's sharp.
If you haven't already, add potatoes to a pot and fill it with water. Make sure the potatoes are covered. Add two teaspoons table salt.
How long to boil potatoes for mashed potatoes?
Turn the heat on high and bring the potatoes to a boil. This will take a few minutes to for the potatoes to start boiling.
Once they are boiling, you want to boil the potatoes for at least 8 to 10 minutes.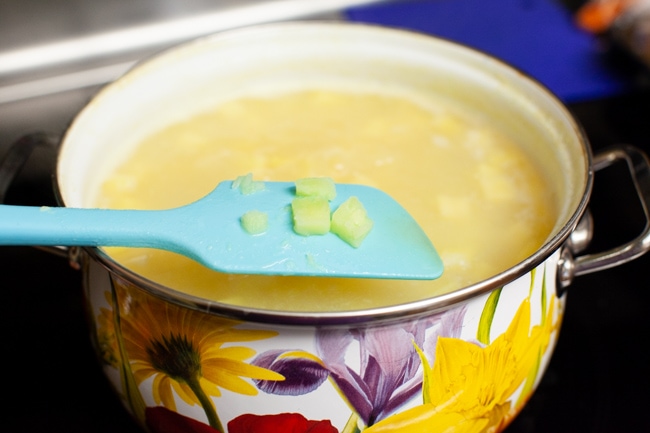 Test the potatoes for doneness. I remove a couple of pieces and stab it with a fork. Once it breaks in half easily, they are done.
If they just turn to mush, you have overcooked the potatoes.
This next step is a crucial step. If you don't want watery mashed potatoes, you'll be sure to follow this step.
Drain the potatoes thoroughly. The burner you previously use, turn it down to very low. Cover the potatoes and put them back on this burner for at least 15 minutes before mashing them.
This will ensure there is no liquid left in the pot of potatoes, so no more watery mashed potatoes.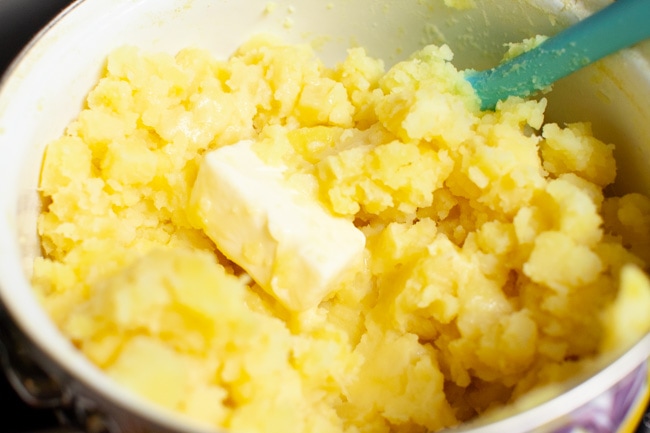 Add butter and milk. Be sure to add the liquid in gradually.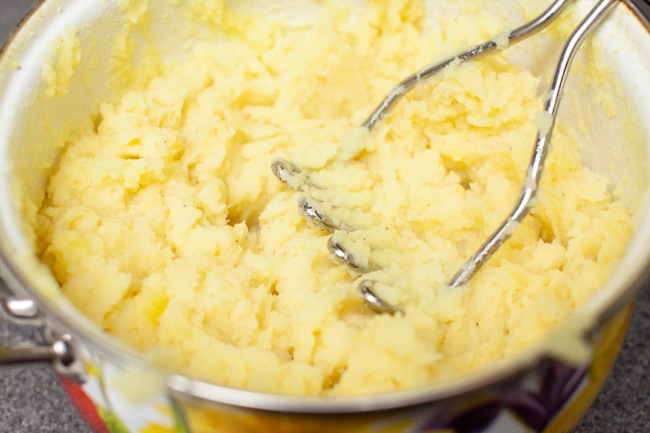 And then mash them.
If they are too dry, add more milk. This is where it's totally up to you and how much potatoes you used. Sometimes you need more liquid and sometimes you need less.
Mash the potatoes until they are perfect.
Add pepper and ground nutmeg if you wish.
And add more butter if you'd like!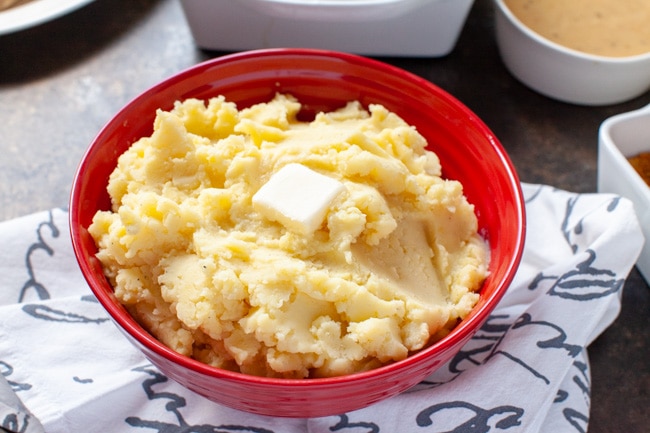 Mashed potatoes is my absolute favorite Thanksgiving side. I don't want to play favorites because I love stuffing and vegetables too but if I had to, you know what I mean.
I only add the nutmeg for Thanksgiving mashed potatoes. It adds a really nice, unexpected flavor and makes it that more special. This Thanksgiving, I'm looking forward to spending time with my family. I hope you enjoy yours this holiday season.
I love eating mashed potatoes as leftovers too! I top them with yellow sharp cheddar and make sure the cheese melts, it's sooo good!
Recipe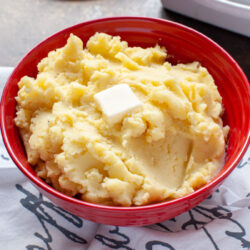 Print
Pin
Save
Perfect Mashed Potatoes Recipe
An easy recipe with some great tips to make the most perfect mashed potatoes. This recipe goes well with either white potatoes, Yukon golds or red potatoes.
Ingredients
5

pounds

of white potatoes

,

or Yukon Gold or red, peeled and diced

2

teaspoons

salt

4

Tablespoons

unsalted butter

3/4 to 1

cup

whole milk

coarse sea salt & freshly ground pepper

pinch

of ground nutmeg

,

optional
Instructions
In a heavy-bottomed pot, add peeled potatoes, enough water to cover the potatoes (about 1 to 2 inches above the potatoes) and salt. Bring to a boil on high heat.

Allow potatoes to boil for 8-10 minutes or soft enough to stab with a fork.

Drain potatoes and return to the burner, turn heat down to warm, and cover potatoes. Allow to sit on the burner for at least 15-20 minutes, to allow the moisture to dry off.

Add butter and mix with a wooden spoon. Using a potato masher, mash the potatoes.

Add milk and mix well, for creamier potatoes, add more milk. Season with salt and pepper to taste. Add a pinch of nutmeg to taste.
Cook's Notes:
Potatoes can be peeled and added to your pot along with the water the day before. Often, I will boil my potatoes and allow them to sit on the burner with it turned off for a couple of hours. When you're ready, turn the burner back on warm for 15-20 minutes and start mashing.

I use a potato masher because I like mine a combination of creamy and chunky. If you like them completely creamy, use a potato ricer or even a blender.

When adding milk, add a little bit at a time, you can always add more but you can't take away.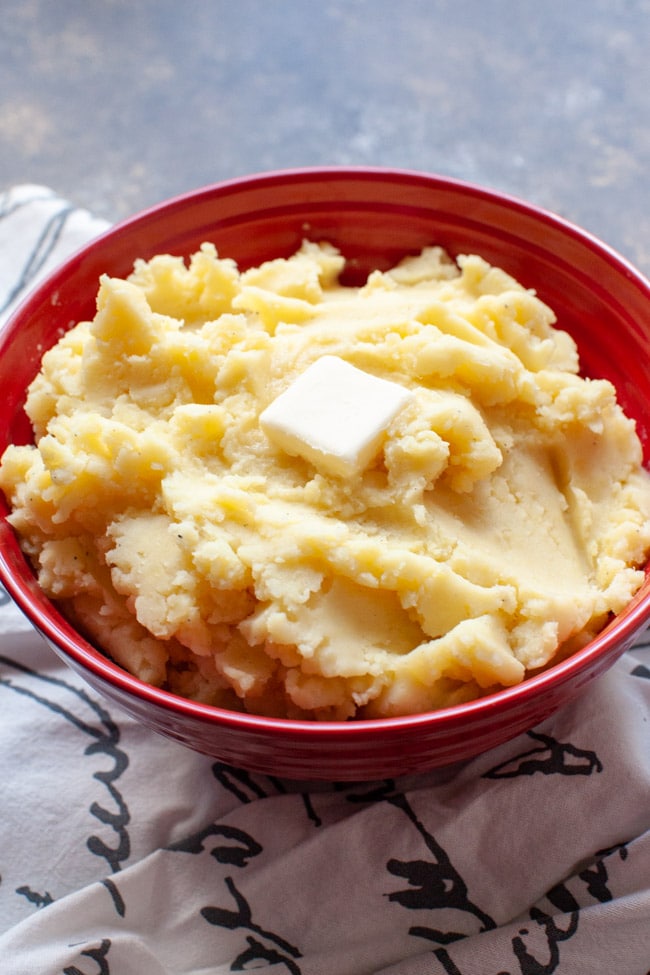 Other Dishes to have with perfect mashed potatoes
Crockpot Turkey
Crockpot Whole Chicken
French Onion Pot Roast
Other Potato Recipes
Potato Casserole
Slow Cooker Mashed Potatoes
This post was originally published in November 2011. It was edited in November 2020.