The Best Whole Chicken in a Slow Cooker Recipe
My friend piqued my curiosity when she told me about her co-worker bringing in a slow cooker to work with just a whole chicken and slow cooking it for an entire day. She often brought her slow cooker in with some kind of concoction so she could bring dinner over to her friend's house who was going through chemotherapy treatment. What a great friend, I'm sure her friend appreciated it. My friend told me their office often smelled really good during these days.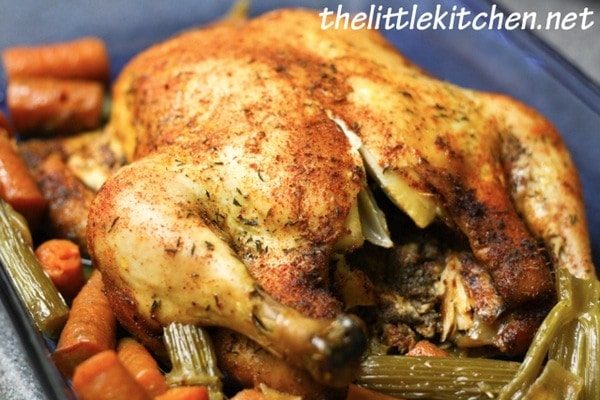 So when I was on the hunt for a chicken slow cooker recipe, I googled and found this one. It's incredibly simple and the chicken goes into the crockpot in minutes. I added my own twist to it and guess what? The chicken is wonderfully moist and it's very simple. After the chicken is done, you can throw it in your broiler to crisp up the skin. Carving the chicken is so easy because it just wants to fall apart. The breast comes right off the bone and is very easy to cut up. The chicken is really tender and flavorful and much easier than roasting a chicken in the oven.
I use a 3 1/2 to 4 1/2 pound chicken and it fits just fine in my slow cooker. I added the carrots and vegetables and the chicken rests nicely on them. Also, I added garlic and lemon. My favorite roast chicken recipe calls for garlic and lemon inside the chicken so I do the same when I make it in the slow cooker.
This makes a wonderfully easy meal you can serve with mashed potatoes or rice and your favorite vegetable alongside the carrots and celery if you wish. And  wait until you see what I make I make chicken pot pies with the leftover chicken.
Updated: I recently did a lemon pepper version of this recipe & put together a video just to show you how easy it is to put together!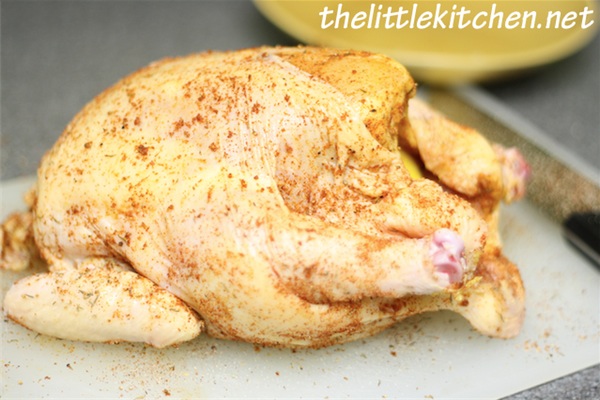 Add the rub to the outside and inside of the chicken.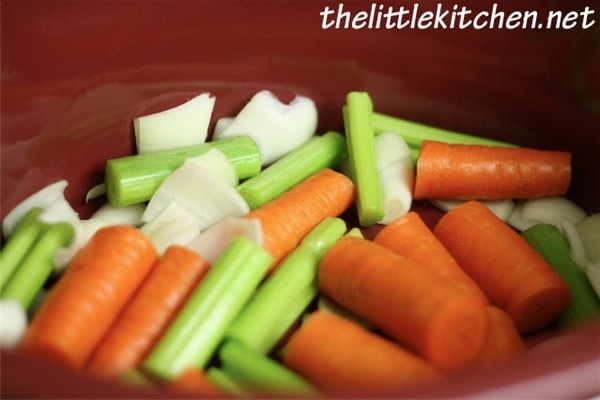 I put the vegetables in the slow cooker first before laying the chicken on top.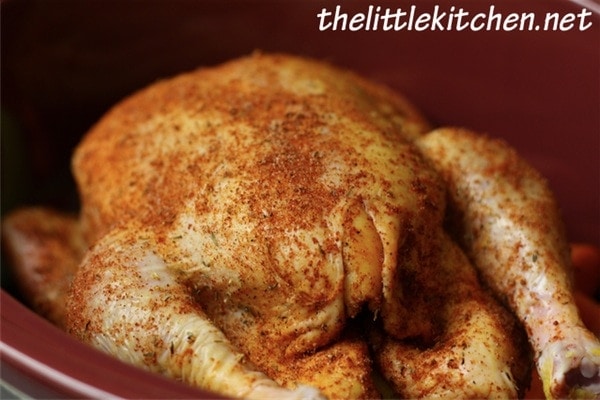 I use turkey lifters to remove the chicken from the slow cooker carefully. Place chicken in an oven safe dish or roasting pan & in the broiler for just about 4-5 minutes.
Whole Chicken in a Slow Cooker
Yield: 6
Prep Time: 10 min
Cook Time: 8 hours
Total Time: 8 hours 10 min
It's incredibly simple and the chicken goes into the crockpot in minutes.
Ingredients:
Rub Ingredients
4 tsp salt
2 tsp paprika
1 tsp cayenne pepper
1 tsp onion powder
1 tsp thyme
1 tsp white pepper
1/2 tsp garlic powder
1/2 tsp black pepper
3 1/2 to 4 1/2 lbs roasting or fryer chicken
1 cup chopped onion, approx 1 medium to large onion
4-5 carrots, scrubbed, no need to peel, chopped in halves or thirds
4 celery stalks, cut in thirds
2 garlic cloves, peeled and smashed
1 lemon quartered
Directions:
Combine rub ingredients in a small bowl.
Remove chicken from packaging and remove neck and pouch with organs. Discard or reserve for later use in another recipe. Rinse chicken and pat dry with paper towels.
Rub garlic all over outside of the chicken. Put garlic inside the chicken. Rub the rub all over the outside and inside the chicken. Add quartered lemon to the inside of the chicken.
Place onions, carrots and celery inside the slow cooker. Place chicken on top of the vegetables. Cover slow cooker and cook chicken on low for 4-8 hours. (When I used a 4 lb chicken, it took about 6 hours. The time will depend on the size of the chicken and your slow cooker.) Cook until the internal temperature of the leg is at 160 degrees F or use a pop-up thermometer as the original recipe calls for.
Remove chicken and place in a 9x13 glass baking dish. Place baking dish in the oven under the broiler for about 4-5 minutes. Allow chicken to rest after removing it from the broiler for 5-10 minutes.
Please do not republish our recipes and images without prior permission. We ask that you do not copy & paste recipes and share them elsewhere. If you liked the recipe and would like to share it, we just ask that you REWRITE the instructions entirely and provide a link back to give us credit and be sure to use your own images when doing so. Here's a great article on how to properly attribute a recipe.
I have made this recipe so many times now that I can't even count. It seriously is the best recipe for making a whole chicken in a crockpot! I can't believe it's taken me this long to blog about it. Be sure to check out next week what I do with the leftovers!
Disclosure: There are a couple of affiliate links in this post – that means if you click on the link and make a purchase, I make enough for a cup of coffee or two. Thanks!
Sign up today to receive exclusive content and news from The Little Kitchen:
261 Responses to "The Best Whole Chicken in a Slow Cooker Recipe"
Leave a Comment