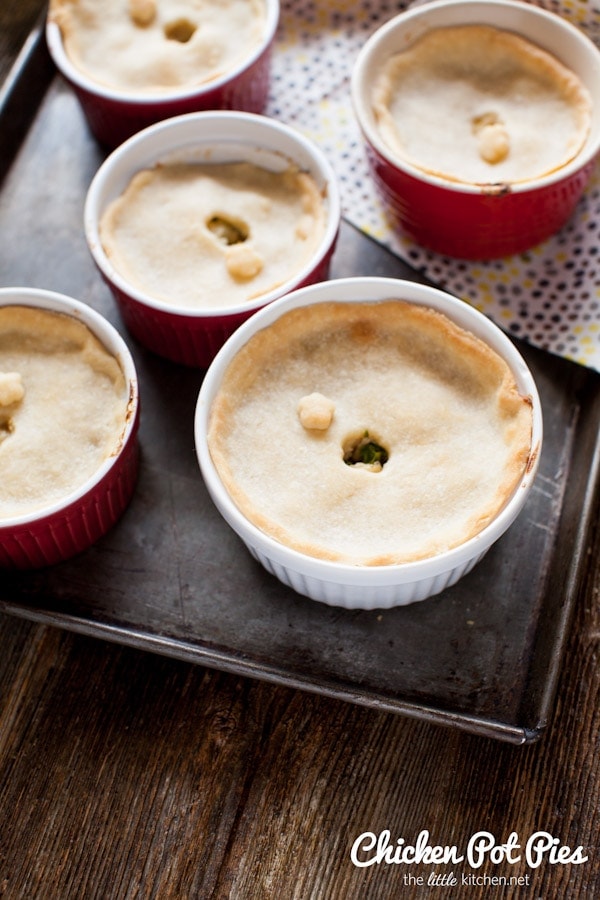 This post was originally published on February 12, 2011 and was updated recently with photos and updated text. We love this recipe and make it at least once a month…it's a tried and true & very tasty recipe, I know you'll love it!
Last week I shared with you this wonderful Whole Chicken in a Slow Cooker recipe and now I'm going to show you what I did the leftovers. I made chicken pot pie. And what better way to find a recipe than to tweet about it and see what other food bloggers say their favorite recipe is.
I actually put a call out to twitter asking about people's favorite chicken pot pie recipes.
I received a few replies including one from (my now dear friend) Lindsay. I love Lindsay and her blog so I went investigating. The recipe seemed relatively simple and the bulk of the work is the prepping of the ingredients.
The only problem was that I didn't have a whole set of ramekins nor do they match. But oh well, that didn't stop me. I had to go out and get two more ramekins and it ended up working out. The recipe she used is based on Chef Emeril's recipe for turkey pot pie but it was easily changeable to be a chicken pot pie.
After we had the slow cooker chicken recipe, I took the rest of the chicken left over and cut into smaller than bite size pieces and put into a plastic container – you need about 2 cups. This chicken pot pie was so amazing. It's going to be our regular after we make the slow cooker chicken recipe, always.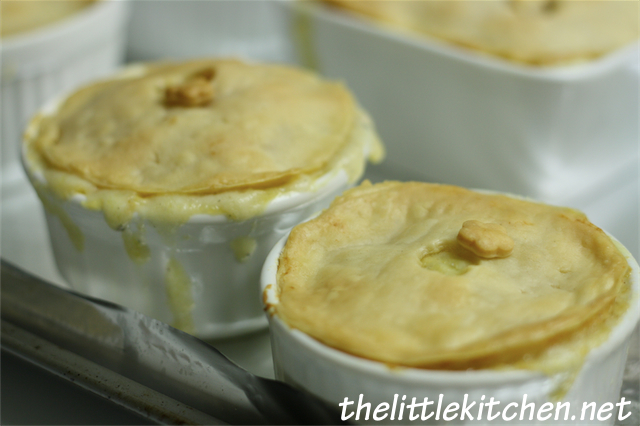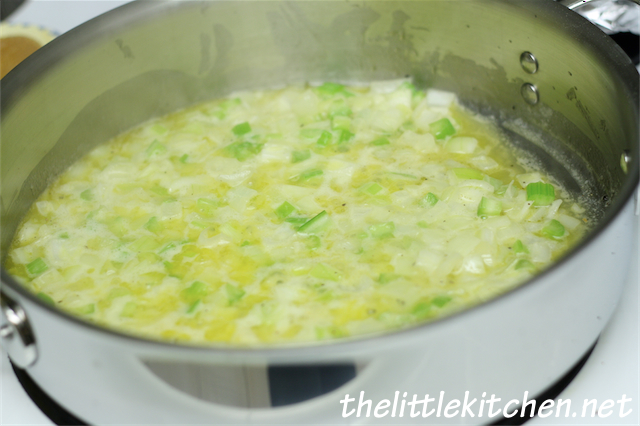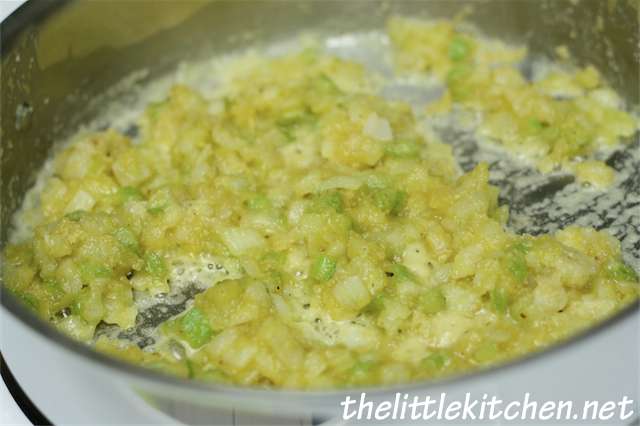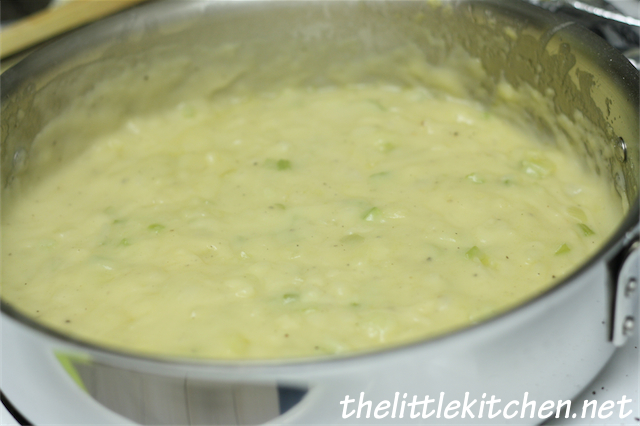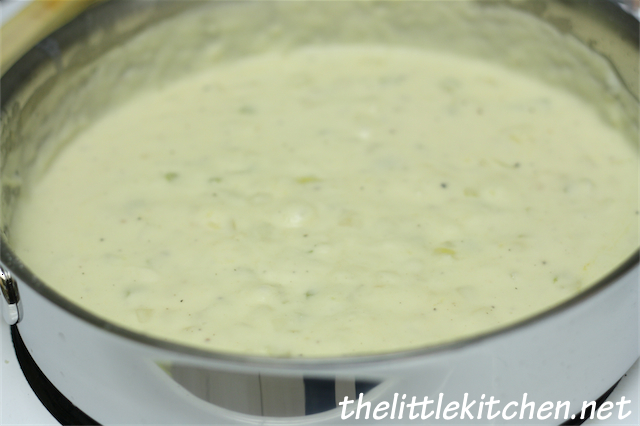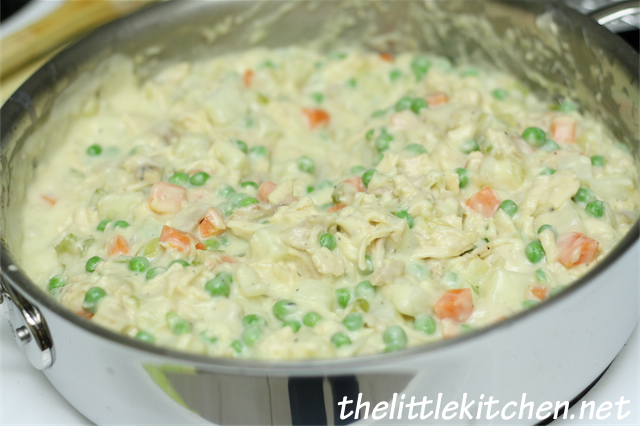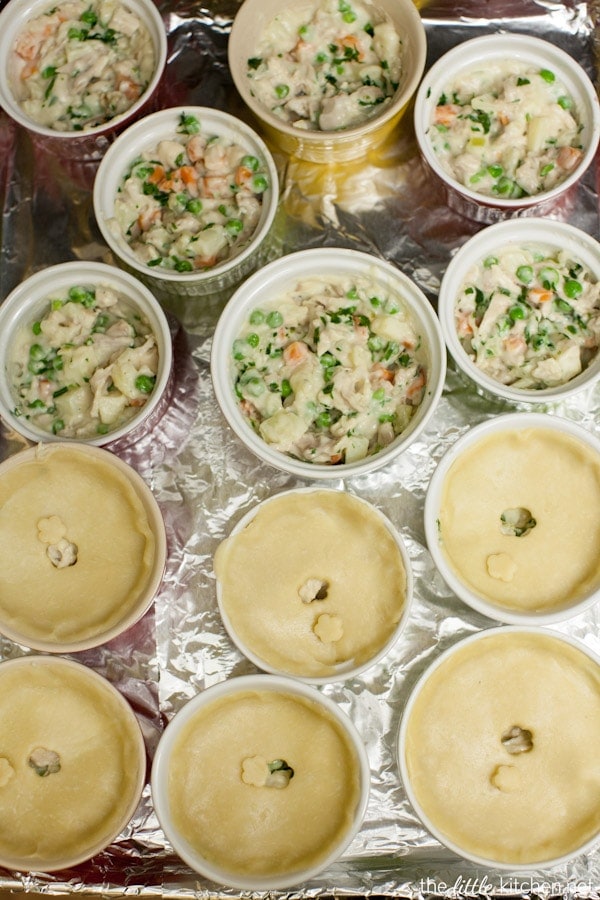 When I first made this recipe back in 2011, I had different size ramekins, some bigger than the ones I have bought since then. So depending on how many you have and the size, you might get the filling into a less number of ramekins or a larger number!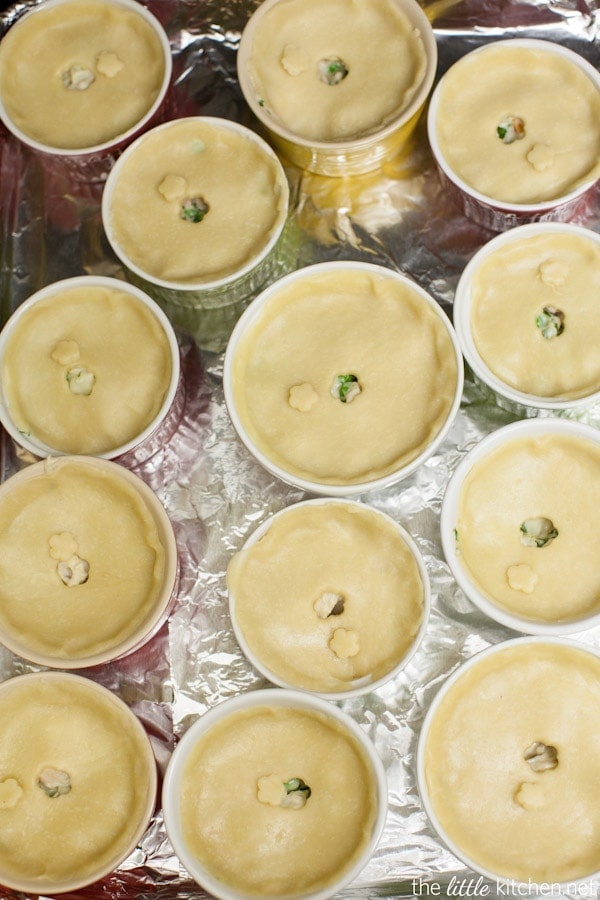 I pinch the pie dough against the sides of the ramekin and don't you like the little mini blossom flower cut outs? I use a similar to this one made by Wilton. Mine is also made by Wilton but it doesn't have the super convenient push tab to push out the shape. You want to cut a little vent hole whether it's with a knife or even another shape before baking.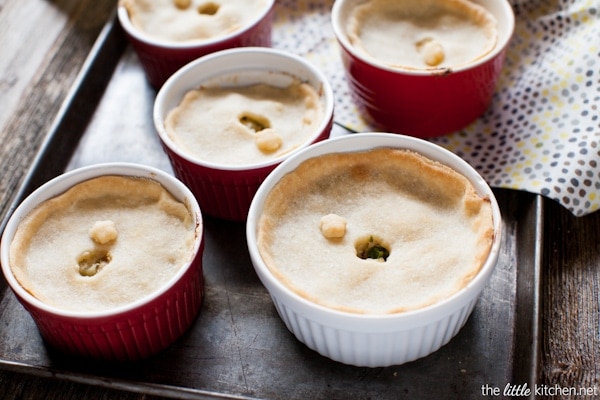 This recipe takes a little bit of prep work but everyone I know who has made it, says it's worth it. Curtis and I love this recipe to pieces. Serve it with a salad and you have a complete dinner!
Recipe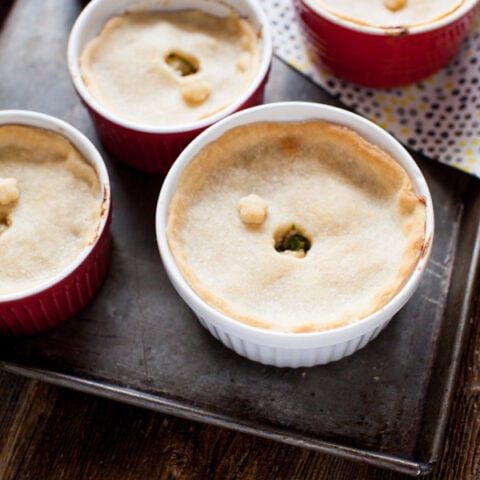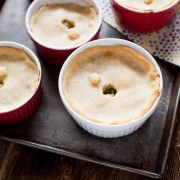 Print
Pin
Chicken Pot Pie Recipe
Servings
1
9x9 pan or 7 to 12 ramekins
Ingredients
1

cup

peeled and diced red potatoes

1

cup

diced carrots

6

Tablespoons

unsalted butter

Salt and freshly ground black pepper to taste

1

cup

chopped yellow onions

,

approx 2 small onions

1/2

cup

chopped celery

,

approx 1 celery stalk

6

Tablespoons

unbleached all-purpose flour

2

cups

canned low sodium chicken broth

1

cup

half and half

1

cup

frozen peas

2

cups

shredded cooked chicken

,

white and dark meat

2

Tablespoons

finely chopped fresh parsley leaves

,

optional

2

homemade or pre-made pie crusts,

room temperature
Instructions
Turn on oven to preheat at 400 degrees F. If using a baking pan (such as a 9x9x2), grease it. Or if using ramekins, ready your ramekins (I generally use 7 to 12, all different sizes). Place baking pan or ramekins on a baking sheet covered in foil (the ramekins do not need to be greased).

Bring a small pot of water to a boil. Add diced potatoes and carrots and boil for about 4 to 5 minutes. Drain and set aside.

Melt butter in a large saute pan over medium heat. Add onions and celery as well as salt and pepper. Allow the onions and celery to for 2 minutes, stirring constantly.

Add flour and stir constantly for 3-4 minutes to make a blond roux.

Add chicken broth while stirring constantly. Bring it to a boil then turn the heat down to medium-low. Allow it simmer until the sauce thickens, about 4 to 6 minutes.

Add half and half while stirring. Allow filling mixture to cook for 4 minutes and stirring occasionally. Add salt and pepper to taste.

Add the rest of the vegetables (potatoes, carrots, peas), the chicken and parsley. Add salt and pepper to taste and make sure all vegetables and chicken are incorporated well.

If using a baking pan, line it with one of the rolled out pie crusts. Pour the filling into the prepared pan or divide equally into ramekins. If using a baking pan, cut vent holes and place the second crust on top of the filling.

If using ramekins, roll out and cut out dough (I used the ramekins, flipped them upside and used them as a cutter) and cut out vents (I used a Wilton flower blossom cutter). Fill the ramekin with filling and then add the pie crust on top. Tuck in crust(s) into the pan or ramekins and pinch the edges against the sides of the ramekins.

Place into oven on covered baking sheet. Bake until the crust is golden brown and crusty, 25 to 30 minutes (18-20 minutes if using ramekins). Let cool for 5 minutes before serving.
Cook's Notes:
Preparing the filling on the stove doesn't take that much time, the prepping of the ingredients does though. So it's very important to prep everything before you heat the pan on the stove!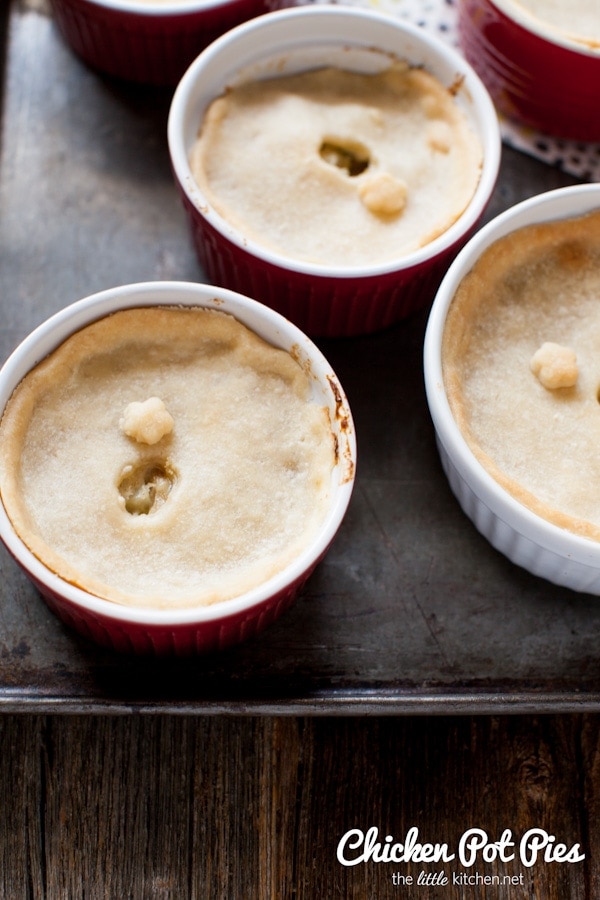 I just adore this recipe for chicken pot pie and it's going on regular rotation in our house. It's one of the perfect comfort foods. So what do you like to make with your leftover chicken when making recipes like the slow cooker chicken, roast chicken or rotisserie chicken?
Disclosure: There's an affiliate link in this post.