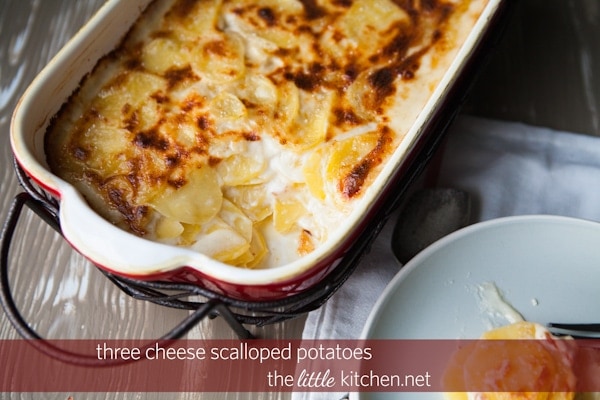 Food is how a lot of us show love, that's definitely true in my family. When we come together, we cook, when there's tragedy, we cook and feed each other. The weekend after my friend, Keith, passed away and my sister arrived from Germany, I went over to visit her and Keith's wife, Carolyn, a lot. We cooked and I baked. I love having my sister here and using her as a guinea pig to help me test out recipes. One of the things I made were these three cheese scalloped potatoes. They turned out amazingly well and now I call these my ultimate cheesy potato dish.
The holidays aren't the same without cookies, butter (a given right?) and potatoes – the three main food groups. 😉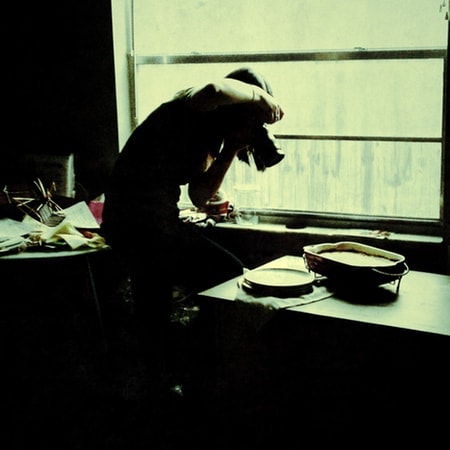 Yesterday, I remade the recipe to test it as well as photograph it and it happened to be the same day that Carolyn and Quyen came over for dinner. Carolyn captured this shot of me photographing these glorious potatoes.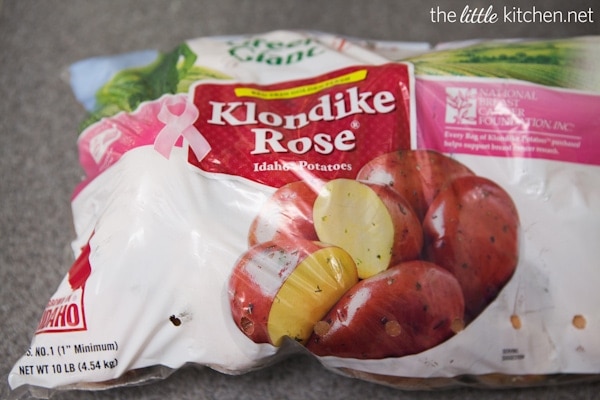 I told you all about my trip to Idaho a little while back and one of the farms we visited was Potandon Produce. We were introduced to these wonderful babies called Klondike Rose – they are red potatoes with a yellow center. They are so good! And I love using them in recipes that call for Yukon golds.
That's where I found this heart-shaped red potato – right on the potato field.
I got so giddy when I found these potatoes at my local Sam's Club. And notice the little grown in Idaho seal on the left side of the bag. I can honestly tell you I truly believe that Idaho potatoes just taste better and I'm constantly looking for the grown in Idaho seal or I won't buy it.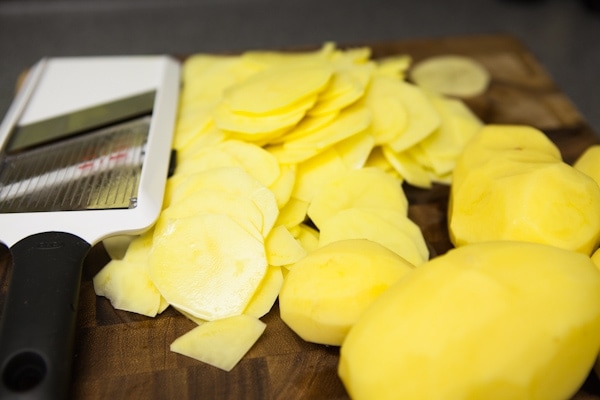 I use this handheld mandoline slicer to cut up all of the potatoes in just five minutes!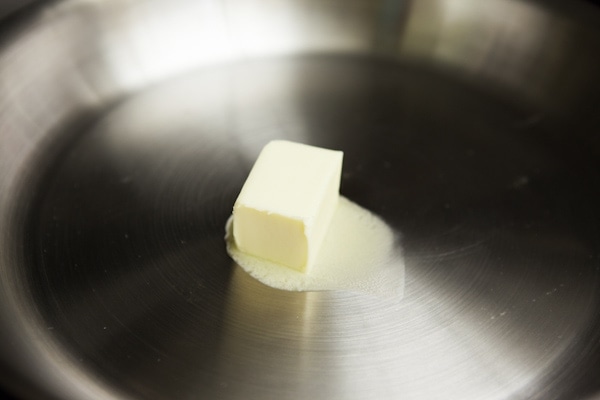 Next, melt butter in a stainless steel skillet or pan. I don't use nonstick because I need to use my whisk, I guess if you have a silicon whisk you could use a nonstick pan.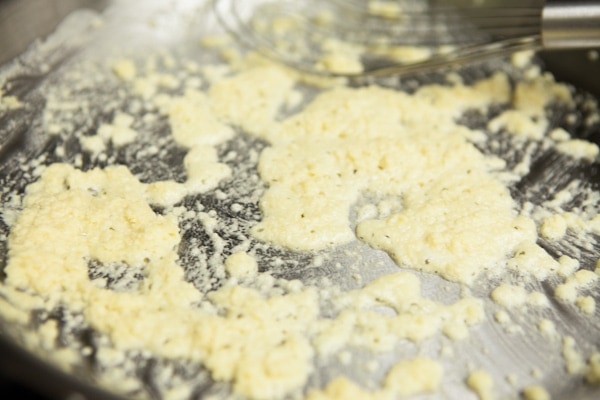 Add flour and whisk it and constantly stir – cook the flour and make a little blond roux.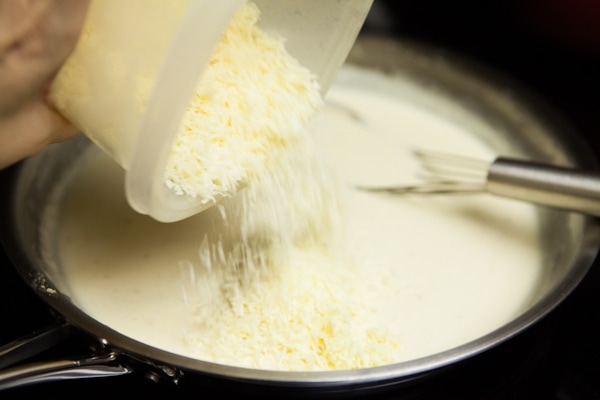 Slowly whisk in the heavy cream and milk and cook for a few minutes. Add salt, pepper and white pepper and then add the cheese until it melts. Constantly whisk the cheese mixture.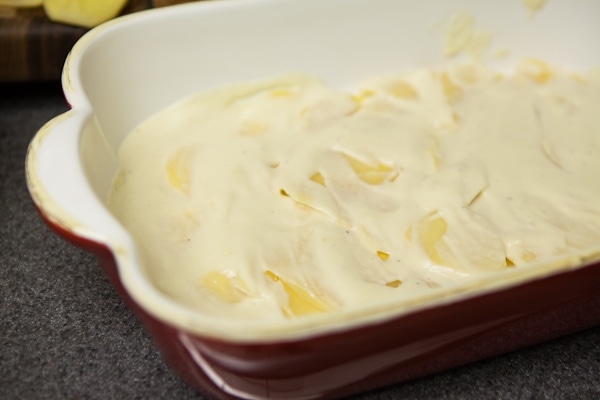 I pour all of the cheese mixture into a four cup measuring cup (with a spout) and then start layering the potatoes and cheese mixture.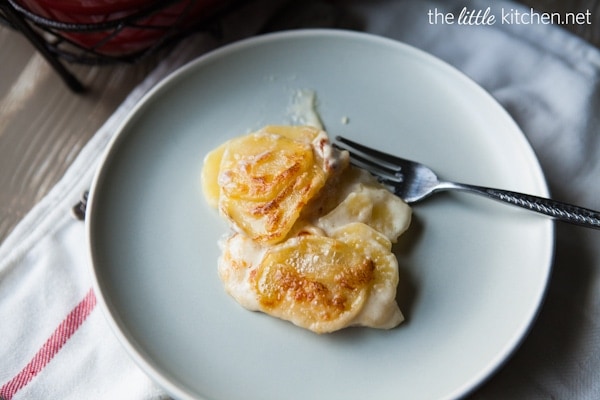 And yep, there they are.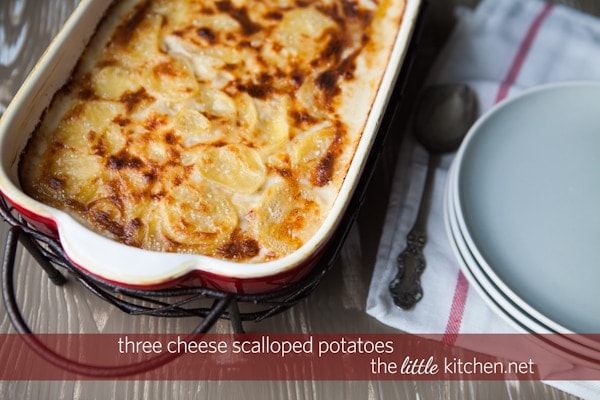 I made these potatoes with both manchego and asiago. I prefer the manchego but both are equally tasty. I had to try it with asiago because my sister said she can't find manchego in Germany. It's the combo of three cheeses (sharp white cheddar, parmesan, and manchego) that makes this scalloped potato dish to die for. And guess what? They taste even better the next day. I heard some of my family members even had it for breakfast the first time I made them. 🙂
I baked them in this 14.5 by 8 baker. I'm giving away the same baker pictured above, check out my giveaway thanks to Idaho Potatoes!
Recipe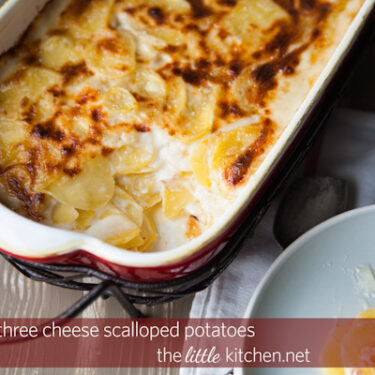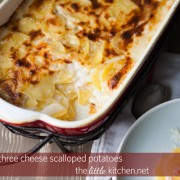 Print
Pin
Save
Three Cheese Scalloped Potatoes Recipe
Ingredients
8

Klondike Rose or Yukon Gold potatoes

,

about 3 to 3.5 pounds, peeled and sliced thinly or with a mandolin slicer

2

cups

sharp white cheddar cheese

,

grated

1 1/2

cups

manchego or asiago cheese

,

grated

3/4

cup

parmesan cheese

,

grated

3

Tablespoons

salted butter

1/4

cup

unbleached all-purpose flour

1

cup

heavy cream

1 1/2

cups

milk

salt & pepper

pinch

or two of white pepper

,

optional
Instructions
Heat oven to 375 degrees F. Prep potatoes and cheese.

Heat a stainless steel skillet on medium heat. Melt butter and add flour. Using a whisk, mix and whisk the flour constantly for 3 to 4 minutes. Whisk in heavy cream and milk slowly and cook for 4-6 minutes, whisking the entire time. Add salt, pepper and white pepper to taste. Whisk in cheese until completely melted. Remove from heat and pour the cheese sauce into a measuring cup with a spout.

Pour about 1/4 cup of the cheese sauce into the bottom of a baking dish (I used a 14.5 by 8 inch one). Layer overlapping slices of potatoes on top the cheese sauce and pour some cheese sauce on top. Spread with a spoon and continue layering potatoes and cheese sauce until you have no more sauce. I had about 5 or 6 layers of potatoes in mine - it may different for you depending on how big your baking dish is.

Bake at 375 degrees F covered with foil for about 20 minutes. Remove foil and continue baking for about 45-60 minutes or until potatoes are cooked through (use a butter knife or fork and poke through the potatoes, if it's soft, they're ready). If needed, turn on the broiler to brown the top of the potatoes.

These potatoes reheat very well and taste even better the next day. Store in a tightly sealed container for 2-3 days.
Disclosure: I'm proud to be sponsored by the Idaho Potato Commission, who made these experiences possible. I only share with you my favorite brands and all opinions expressed are always my own. And there are affiliate links included in this post.