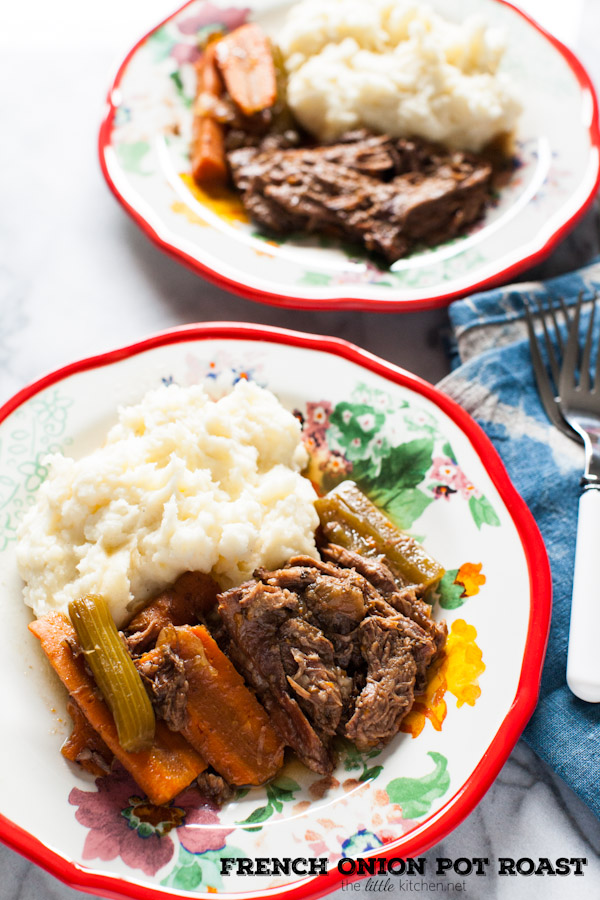 This recipe was originally published on July 27, 2011, I recently updated it along with the photos. We love this recipe and make it all the time during the winter months, I know you'll enjoy it!

I love my slow cooker. Lately, it's been my most favorite appliance because it's so nice to come home with dinner almost ready. On really busy nights and nights I work late, the slow cooker is my friend.
This French onion pot roast recipe is something I have been making for at least a couple of years now. I have adapted the original recipe and changed it up several times but this is how I make it now. My favorite cut of beef for this recipe is a boneless chuck roast that my grocery store calls a California roast. I love adding celery, carrots and onions and even using them as a side dish when serving it.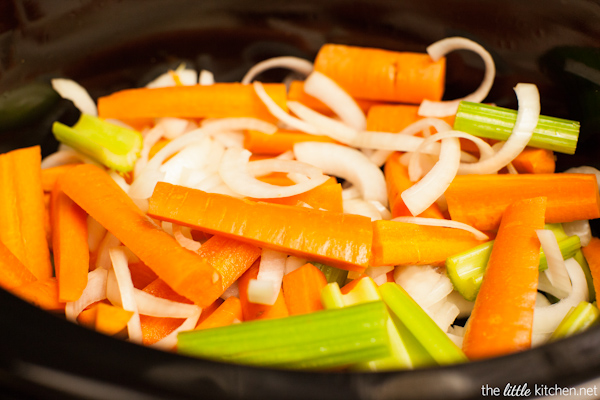 Add the vegetables to the bottom of your slow cooker.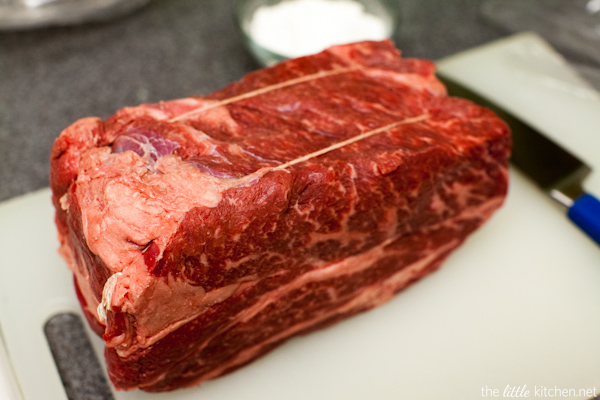 This is what a California roast looks like. It's flat unlike the chuck roast. I trim some of the fat off from the edges and pat it dry with a paper towel.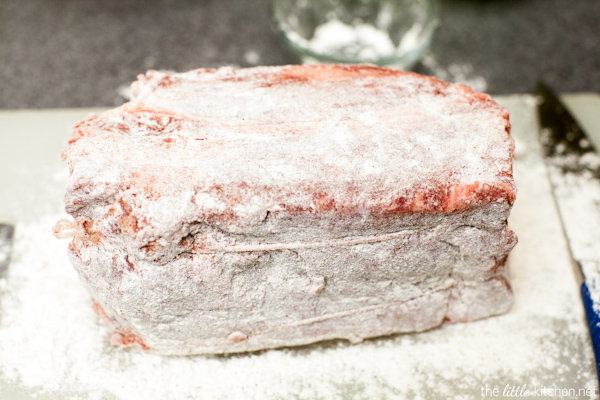 Cover the roast in flour, salt and pepper.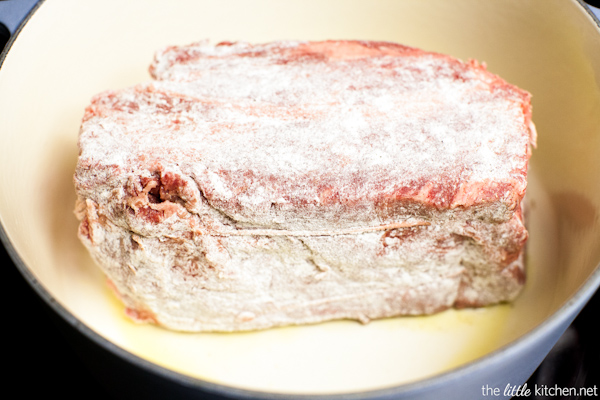 Add to a dutch oven on  brown in a pan 2-4 minutes on each side at medium to medium high heat.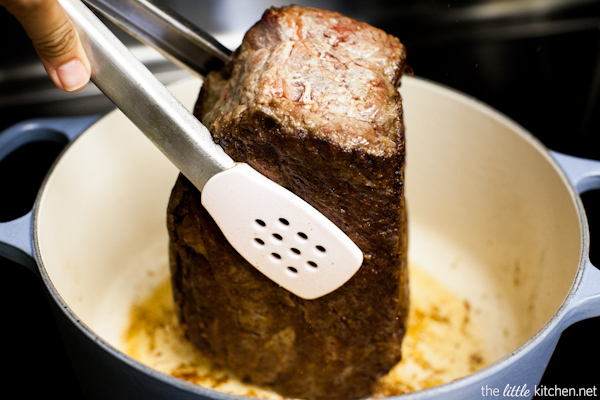 I use tongs to stand the roast on its ends to sear the ends too!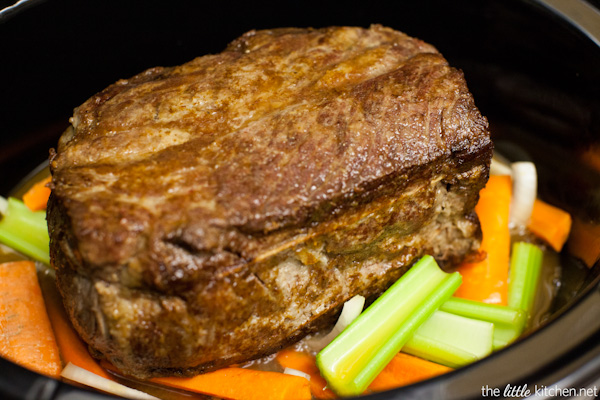 Place the roast in the slow cooker and add the french onion soup along with water. After 5 hours on high or 10 hours on low, you'll have a wonderfully moist and tender roast. I like to serve it in chunks and then shred it up on my plate. If you prefer, you can shred up the meat and put back into the slow cooker. I use the sauce from the slow cooker and serve it over the meat as well as my potatoes.

I'm a huge fan of comfort food, can you tell? This is a great dish for an easy Sunday dinner or just a quick weeknight meal and it's not too heavy for a summer dinner.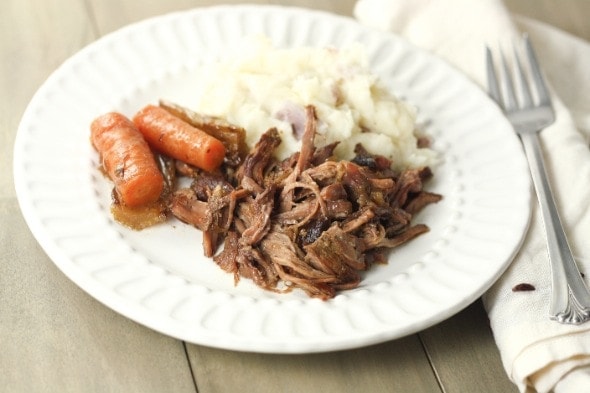 The original photo from when this post was published in July 2011.
Aren't these plates so lovely? They are from Ree (The Pioneer Woman's new collection). You can buy them here.
We love this recipe…our family and friends do too! I just love being able to have a little bit of prep and dinner is ready in the evening. When I make this French onion pot roast recipe…when Curtis comes home and opens the garage door, he can usually smell it all the way in the garage…he gets so excited!
Recipe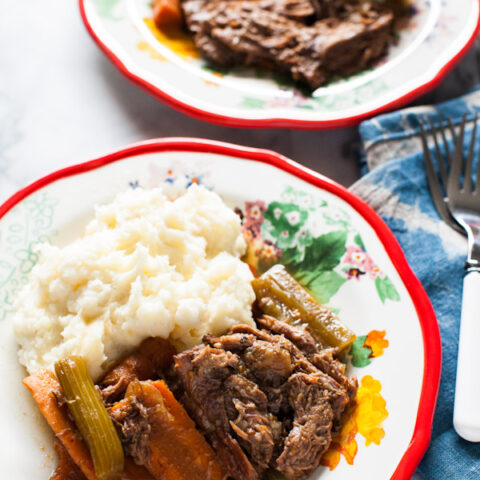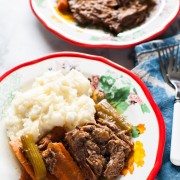 Print
Pin
Save
French Onion Pot Roast (Slow Cooker Recipe)
Ingredients
3

celery stalks

,

trimmed & cut into 3-inch pieces

4

large carrots

,

washed, ends trimmed & cut into thirds (if really thick, cut in half length-wise)

1

large onion

,

thinly sliced

1

teaspoon

salt

1/2

teaspoon

pepper

3 to 4

pound

boneless beef chuck roast

,

also known as a California roast

3

Tablespoons

unbleached all-purpose flour

1 to 2

Tablespoons

vegetable or olive oil

homemade or canned french onion soup

,

if using condensed, use 10.5-ounce can or 3 cups non-condensed
Instructions
Add carrots, celery and onions to the bottom of the slow cooker.

Mix flour, salt and pepper together in a small bowl.

(Optional) Trim any fat on the sides off of the roast and rinse with water.

Pat the beef dry with paper towels. Using your fingers, add flour mixture to cover the roast. (My roast this time was taller than I usually get it and it was tied for me. You can tie yours with kitchen twine if you want.)

Heat 1-2 tablespoons of oil in a large dutch oven on medium to medium high heat for  to 4 minutes. Add roast to heated pan and heat to sear for 2 to 4 minutes on each side. (Add more oil if needed and lower heat if necessary.) Use tongs to flip the roast and to hold the roast on its ends and sear for one minute.

Add the seared beef roast on top of the vegetables. Add french onion soup to the slow cooker. (If using condensed soup, add 1 cup of water to the slow cooker.)

Cook roast in slow cooker on low for 8 to 9 hours or high for 5 hours.

Serve with vegetables from the slow cooker and mashed potatoes or noodles.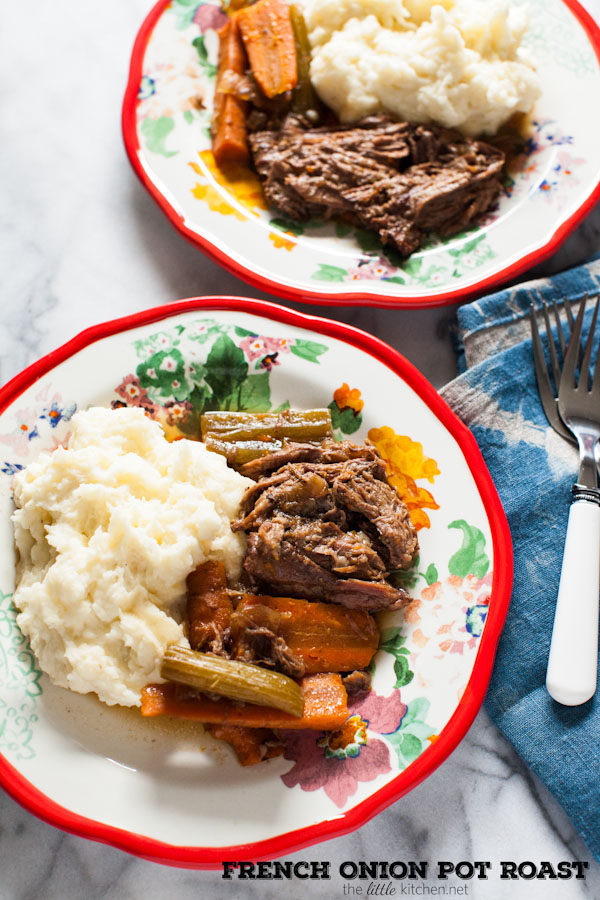 Disclosure: There are a couple of affiliate links in this post.