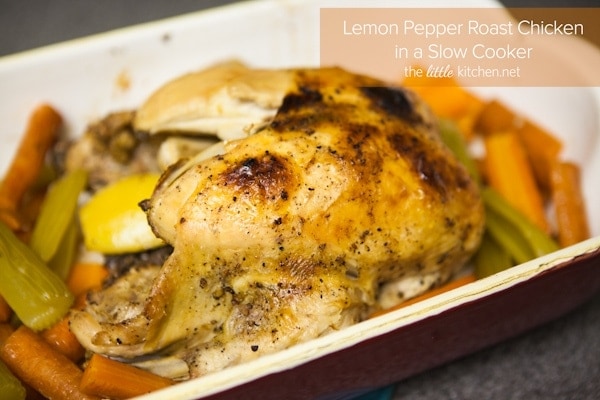 There are affiliate links in this post.
One of our all-time favorites is making a roast chicken in a slow cooker, it happens to be the most popular recipe here on The Little Kitchen as well. I have been making a lemon pepper variation for the last couple of years and I'm finally sharing it. It took a few tries — one time I made it for my family and went lemon crazy, using 4 lemons…they complained and said it was too lemony. I have even used Meyer lemons in this recipe…it's so good if you can still get them right now!
I even put a quick video together to show you just how easy it is to put this recipe together.
Chop up your veggies and they go into the slow cooker first. They form a little bed for your chicken.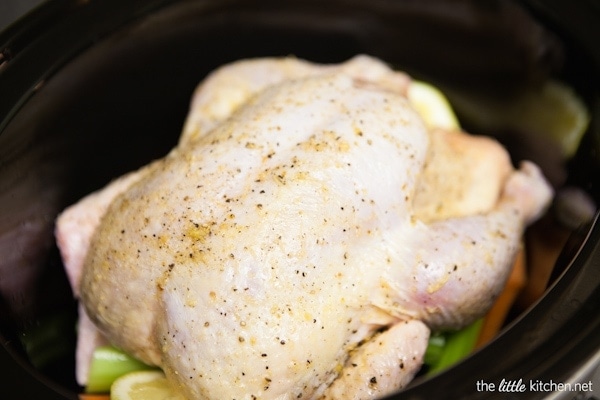 Add the spices to the chicken, stuff it with a quartered lemon. Sprinkle some lemon juice on the chicken and over the veggies. A halved lemon goes into the slow cooker and then the chicken itself.
And no, you don't have to add water or broth to the crockpot. Look at the broth this recipe made. The longer the chicken cooks, the more broth it makes. I used the broth to make a gravy for this recipe. (My favorite fat separator.)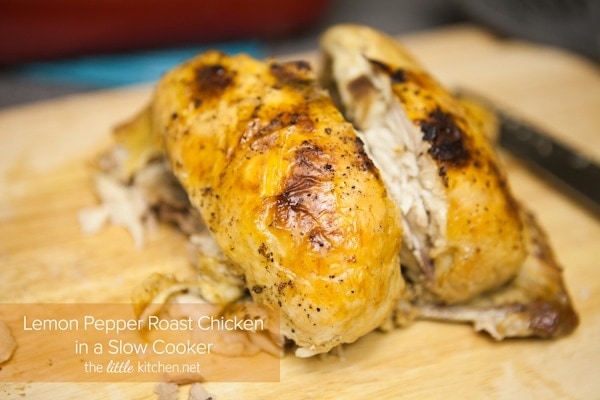 The results? There's a nice hint of lemon but it's not overpowering. I love this recipe and it's kinda tied with the original whole chicken in a slow cooker recipe for us now. Be careful removing the chicken from the crockpot, it may fall apart on you, I use my turkey lifters or you can use a couple of big spatulas to do this. Broil the chicken to crisp the skin and you won't miss roast chicken ever again.
Serve this with mashed potatoes and the veggies from the crockpot and you're golden!
Recipe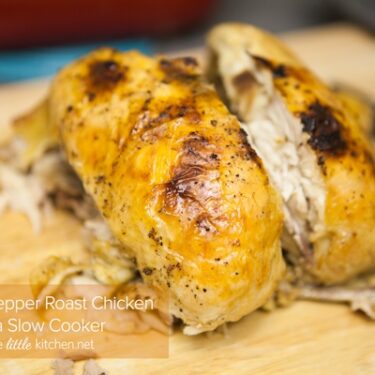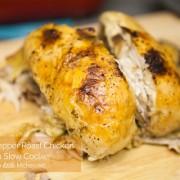 Print
Pin
Save
Lemon Pepper Roast Chicken in a Slow Cooker Recipe
Ingredients
1/2

Tablespoon

lemon pepper seasoning

3

teaspoons

salt

2

pinches

cayenne pepper

pinch

onion powder

1/4

teaspoon

freshly ground pepper

zest of one lemon

,

then take the lemon & cut in half

4

carrots

,

cut into thirds

4

celery

,

cut into thirds or quarters

1

lemon

,

quartered

4 to 5

pound

whole chicken

,

rinsed and patted dry with a paper towel, neck & gizzards removed (if any)
Gravy (optional)
1

Tablespoon

unsalted butter

2

Tablespoons

all-purpose unbleached flour

1/4

white wine

salt & pepper
Instructions
Mix lemon pepper, salt, cayenne pepper, onion powder, ground pepper and lemon pepper together in a small bowl and set aside.

Chop vegetables and add to a 6 to 7 quart slow cooker.
Prep the chicken
Fold wings back below the chicken. Put lemon pepper spices inside and all over the skin of the chicken. Add the quartered lemon pieces to the inside cavity of the chicken. Taking the lemon you halved, squeeze one-half over the chicken and over the vegetables. Add the two halves on top of the vegetables in the slow cooker.

Lay the chicken inside the slow cooker on top of the vegetables. (No need to add water or broth). Turn slow cooker on high for 3 to 4 hours or on low for 4 to 6 hours until chicken is thoroughly cooked through to an internal temperature of 160 degrees F.

Remove chicken with turkey lifters and place into a baking dish and broil for 4 to 6 minutes or until the skin is crisp.

Carve the chicken and serve with the vegetables from the slow cooker if desired.
Gravy
Remove vegetables and pour chicken broth from the bottom of the slow cooker into a fat separator or use a spoon to remove any extra fat. Strain the liquid.

In skillet, melt butter on medium heat. Add flour and mix with a wooden spoon to cook the flour. Whisk in 1 to 1.5 cups of the strained chicken broth. Bring to a boil and allow to boil for 30 to 60 seconds. Add in white wine and stir. Simmer for 2 to 3 minutes and season to taste.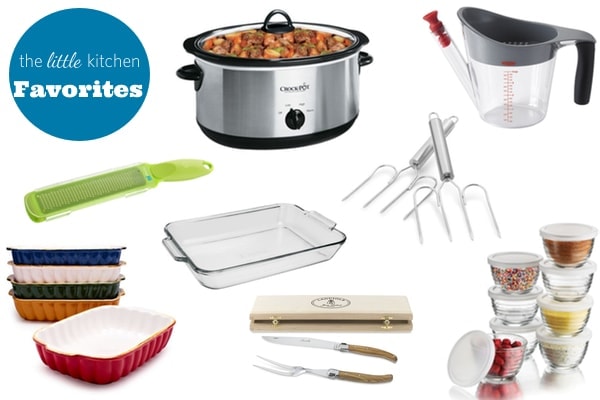 Tools I use for this recipe:
PS There are affiliate links in this post and I did mention McCormick in the video but I wanted you to know this isn't a sponsored post. I like to mention brands that I love using!