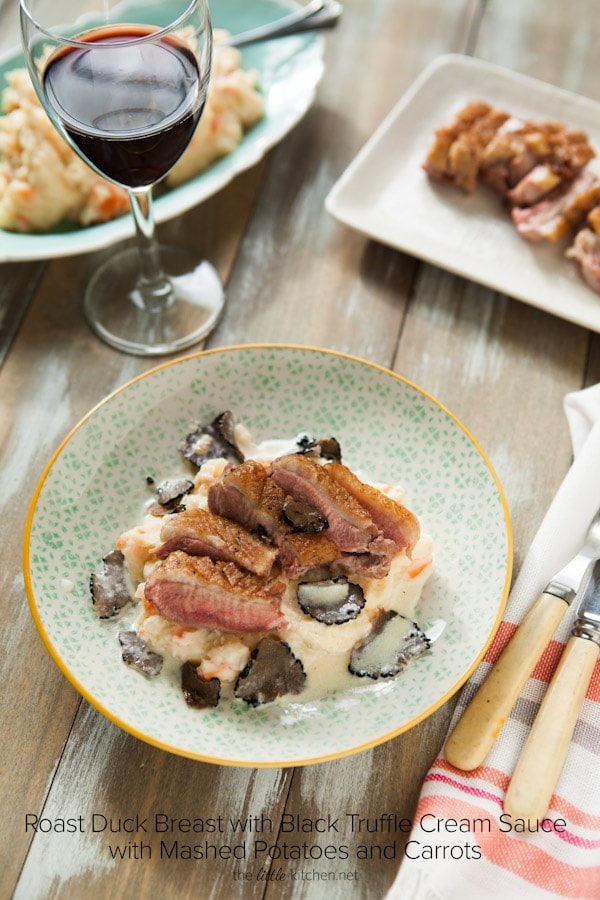 I can shout it from the rooftops! I made roast duck breast! And it wasn't that hard! Sorry for the many exclamation points. KitchenAid® recently put me up to the challenge again. I love their Kitchen Challenges because each one I have done, they are actually challenges for me. This one was no different but it was a matter of just trying it and seeing how easy it really is. I felt so gourmet and it was such a luxurious meal, cooked at home!
Get the Recipe –> Roast Duck Breast with Black Truffle Cream Sauce.
It was oh so good and the side I made to along with the roast duck breast…oh man, you have to make it! Mashed potatoes and carrots. The idea came from my Italy trip. Actually, on the way back. One of our flights with Delta was actually on an Air France plane and their airplane food is actually good! They had this carrot puree side dish that was so wonderful and creamy…I knew I wanted to try my hand at a version of it.
It's no secret I love soup. Doesn't matter what time of year it is, I will eat it! When Christine and I were...
Things have been a little crazy around here. Charley, our 10-year old Shepherd mix was supposed to have surgery on his right hip...
How about some cash? One lucky winner will win $500 PayPal Cash! The Little Kitchen along with some other awesome blogs have teamed...