This tofu & edamame bowl is so tasty and filling, you'll want to go back for seconds.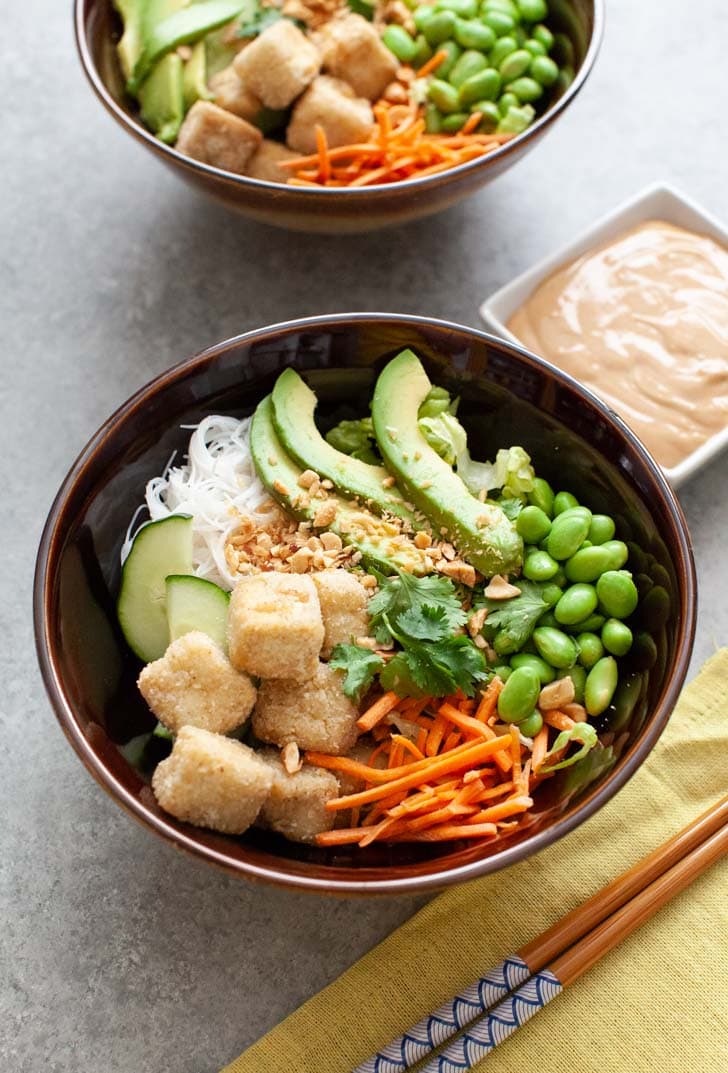 Some might call this a tofu buddha bowl but it's not exactly and not exactly a traditional Vietnamese noodle bowl because I served it with peanut sauce instead of fish sauce. I know you'll still love it as much as me!
This post is sponsored by Best Food Facts.
Tofu Bowl Ingredients
firm tofu
cornstarch
salt & pepper
garlic powder
onion powder
rice noodles
edamame
cucumber
lettuce
avocado
shredded carrots
cilantro
peanut butter
hoisin sauce
garlic
sugar
vegetable oil
sesame oil
peanuts
It looks like a long list of ingredients but feel free to substitute for different vegetables or herbs. You can also prep these ingredients and add them to meal prep containers so you have a nice filling meal for lunches for the week!
My Trip to Iowa
I recently had the amazing opportunity to visit Des Moines, Iowa and visit a soybean farm as well as visit the World Food Prize Hall of Laureates and visit the National Pork Board where we learned all about soybeans and we even cooked together!
I learned so much, especially at the World Food Prize. Did you know the World Food Foundation awards a prize for people who help to fight world hunger and bring us forward and innovate in food and agriculture? The World Food Prize is given out by the World Food Prize Foundation and it's located in Des Moines.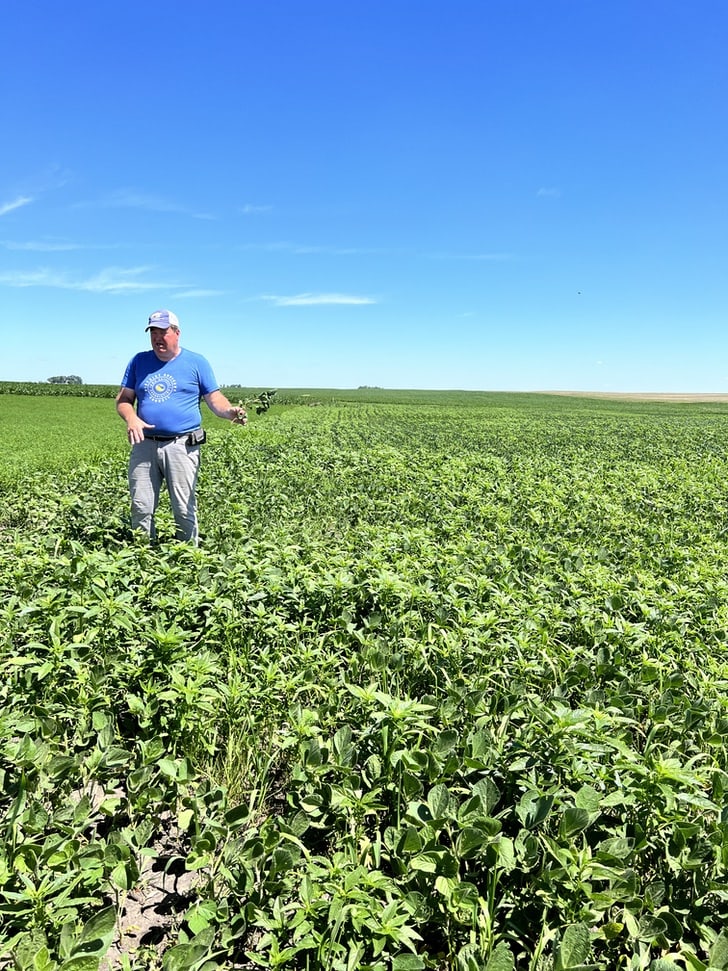 Talking to Farmers
Have you visited a farm before? If not, I highly recommend that you do visit at least one. If you have a kid, bring your kid too. We have so much to learn from our nation's farmers and we have so much to be grateful for.
Farmers feed us all. Whether you buy organic produce or not, your purchases affect family farms across this country and the world. Did you know that 97% of farms in the United States are family owned and operated?
That number was astounding to me and I wish more people knew this.
I'm grateful that I have had the opportunity to visit farms over the years because of what I do here on The Little Kitchen. From Maryland to Iowa, to Idaho to California and Minnesota and more, I always find it so awe-inspiring when I meet a farmer.
All of the farmers I have met care about these things:
sustainability – actually farmers practiced sustainability even before it became a buzz word. Why? Because they care about leaving the land to the next generation and beyond so they can raise more crops and livestock on that same land.
most farms I have visited span generations, that means the farms have been in the family for generations. It's all in the family!
profitability – oh my goodness, I know this might sound funny but it needs to be profitable. Think about any business that is run, if it doesn't turn a profit and it's not sustainable for the people who run it, it will go out of business. The same thing can happen with farms. Economics are also a key part of sustainability.
they care about what they grow because they feed it to their children. Farmers often live right next to or right on the land they are farming. What they use in the soil and what they spray on the crops needs to be safe for their kids too.
Sustainability is a way of life for farmers.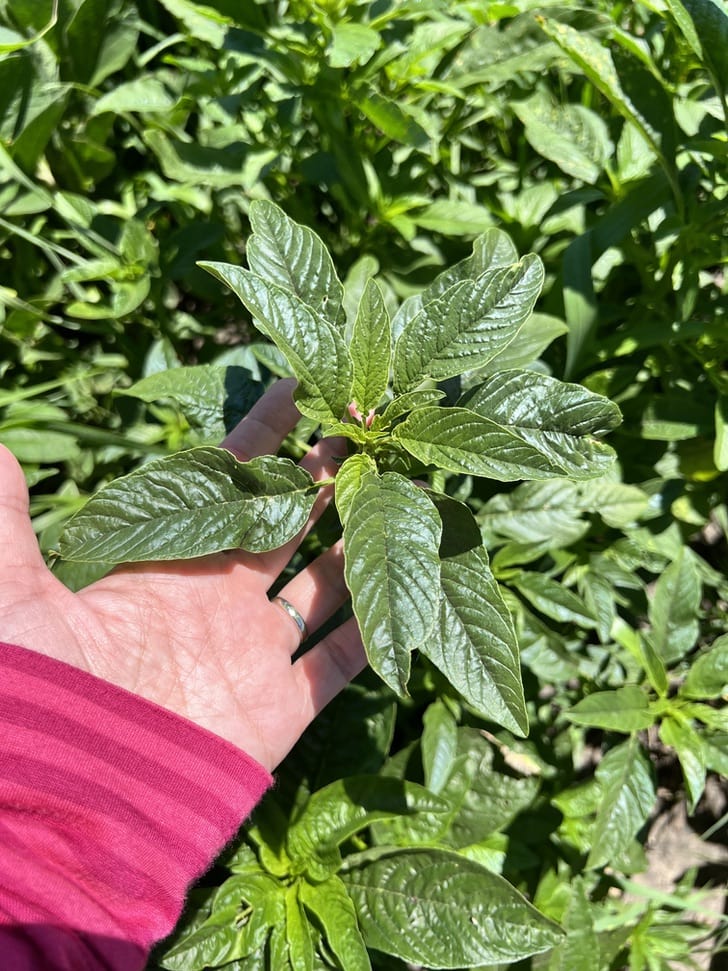 Facts about Soybeans
Edamame is a green soybean, harvested while they are still unripe.
Edamame is usually served steamed.
Yellow soybeans are dried soybeans.
Soybeans are nutrient dense and is a sustainable crop.
Soybeans are 80% meal and 20% oil.
The oil is used to make what we know as vegetable oil. But it's also used as a biofuel.
97% of the meal from soybeans are used to feed animals like pigs and chickens on farms.
The rest of the 3% are used in food, such as, edamame, tofu, soy sauce and soy milk.
I'm Vietnamese-American and I grew up eating tofu and soy sauce. Some people think that tofu is just for vegetarians and vegans but that's not true. I love tofu and I'm a meat eater.
My Mom would often cook tofu along with meat in the same dish. Of course, I use soy sauce in a lot of my cooking and I'm always using it at sushi restaurants. And I love that I can easily find edamame at my grocery store in the freezer section.
How to Make a Tofu Noodle Bowl
This tofu noodle bowl reminds me of a Vietnamese spring roll but all in a bowl, complete with the peanut sauce!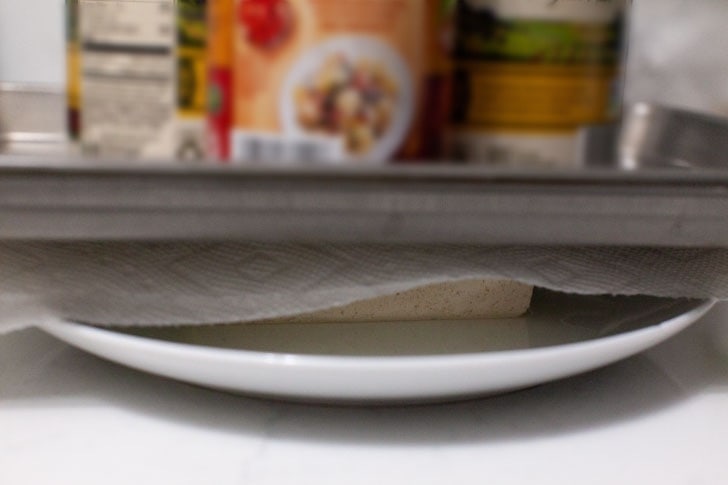 Press the tofu to remove excess moisture.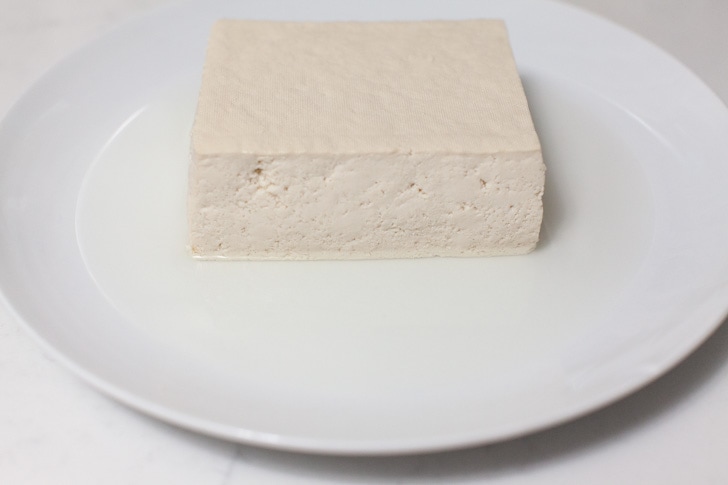 After pressing it, you can see the liquid that's removed!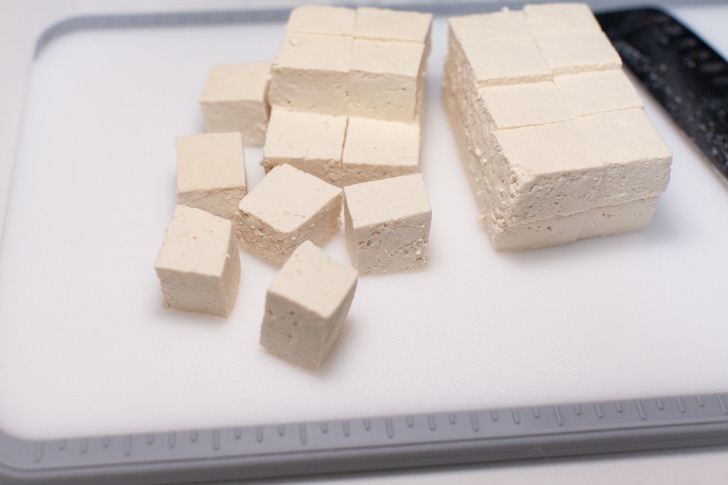 Dry it with a paper towel and then cut into cubes. Then, mix it in your cornstarch mixture.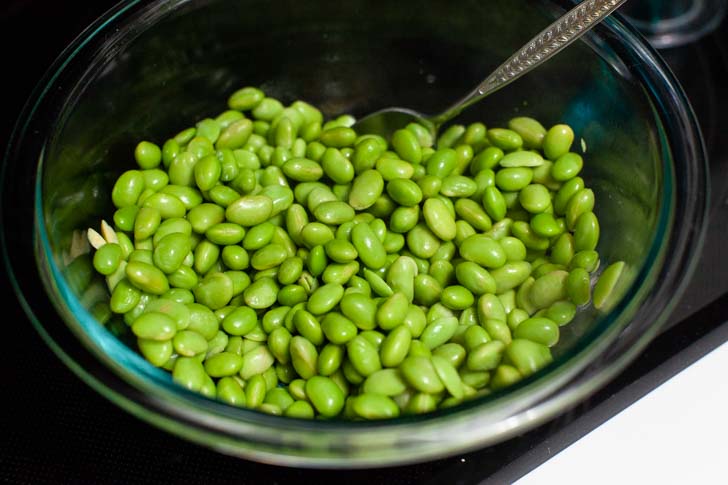 Follow the instructions on the frozen edamame to prepare it in the microwave. I love how fast and easy it is to prepare!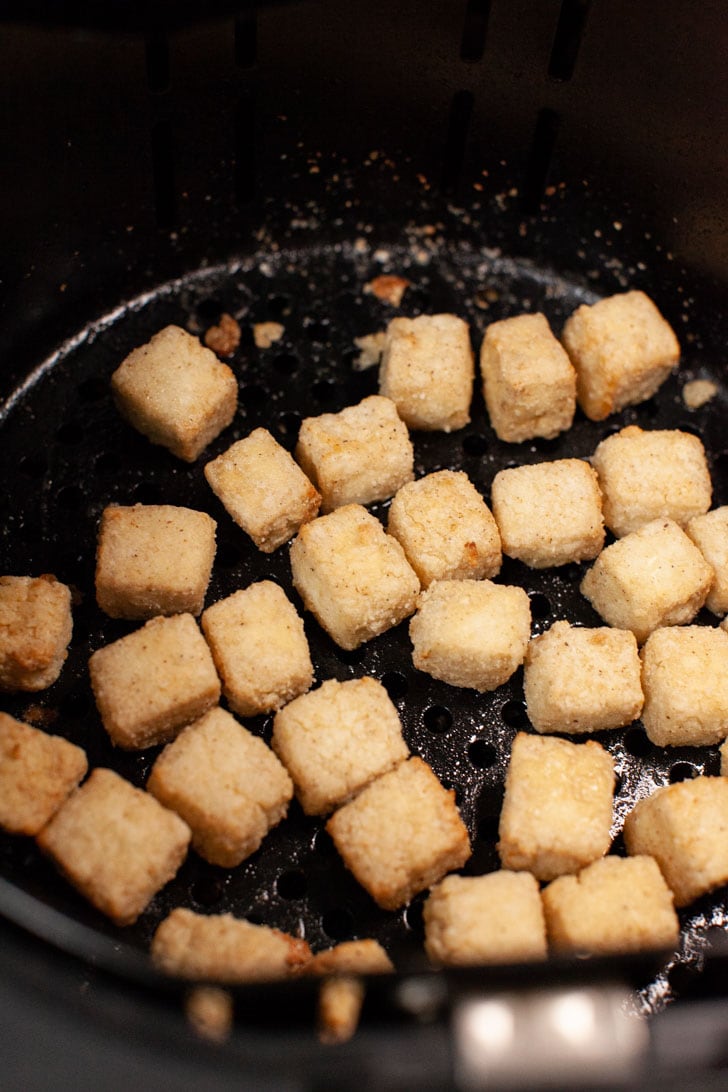 I love making air fried tofu! Instructions on how to make these on my air fried tofu recipe.
Prep all of your veggies just like you're about to make a spring roll. Make your peanut dressing which is similar to my Mom's peanut sauce recipe but I tweaked it so it's more like a salad dressing.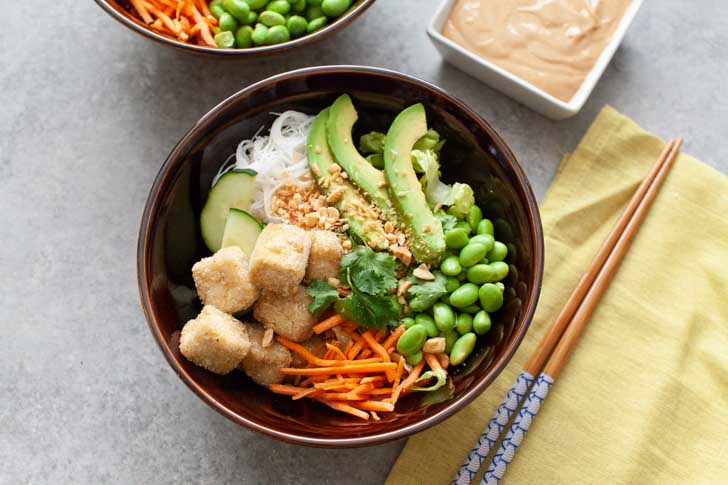 Recipe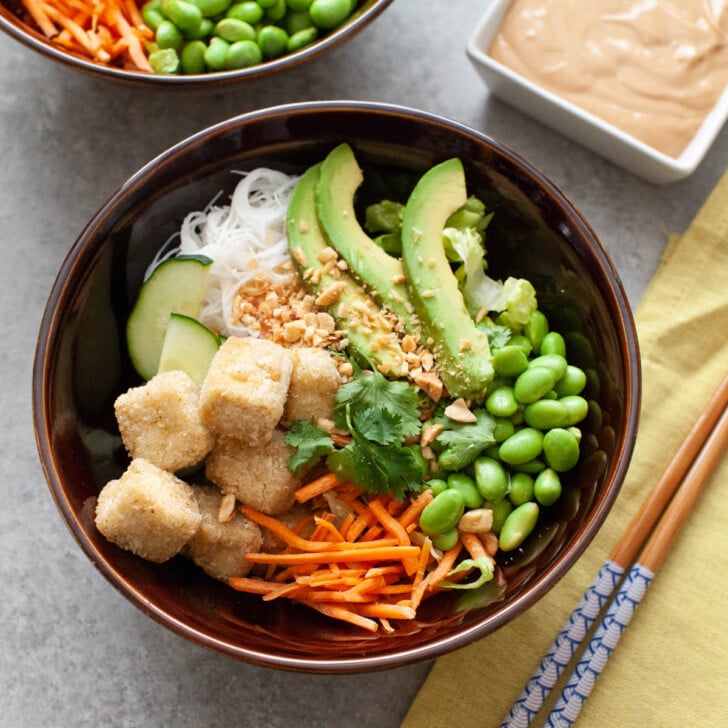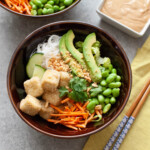 Print
Pin
Save
Tofu Noodle Bowl
Ingredients
14

ounces

firm tofu

1/3

cup

cornstarch

1/2

teaspoon

salt

,

or to taste

1/4

teaspoon

pepper

,

or to taste

1 ½

teaspoons

garlic powder

1

teaspoon

onion powder
Peanut Dressing
1/2

cup

creamy peanut butter

2

teaspoons

hoisin sauce

1

clove

garlic

1/2

teaspoon

granulated sugar

1/8

teaspoon

cayenne pepper

,

optional

1/2

Tablespoon

vegetable oil

1/2

teaspoon

sesame oil

2/3

cup

water

,

may need more or less depending on the consistency of your peanut butter
To Assemble
1/2

package

rice noodles

,

cooked according to package instructions

12

ounces

edamame

1/2

cucumber

,

sliced

lettuce

,

sliced thin

1

avocado

,

sliced

shredded carrots

cilantro

,

for garnish

chopped peanuts

,

for garnish
Instructions
Remove tofu from packaging and press to remove excess moisture using a tofu press or placed between a plate and a cookie sheet (add canned foods for weight and pressure for pressing). Press for 20 minutes.

Pat tofu dry and cut into cubes.

In a shallow dish, mix together cornstarch, salt, pepper, garlic powder and onion powder together.

Add tofu cubes and mix together.

Make the peanut sauce by adding the ingredients together into a medium sized bowl and whisk together. You may need more or less water depending on the consistency of your peanut butter. Set aside.

Prep your vegetables for your bowl. Steam the frozen edamame according to the package instructions.

Cook the tofu in a heated skillet with a layer of vegetable oil on medium high heat. Cook for 3 to 4 minutes on each side. Or cook them in an air fryer using my air fryer tofu recipe.

Assemble the noodle bowl with rice noodles, lettuce, tofu, edamame, shredded carrots and avocado. Top bowls with cilantro and chopped peanuts. Serve with peanut dressing on the side.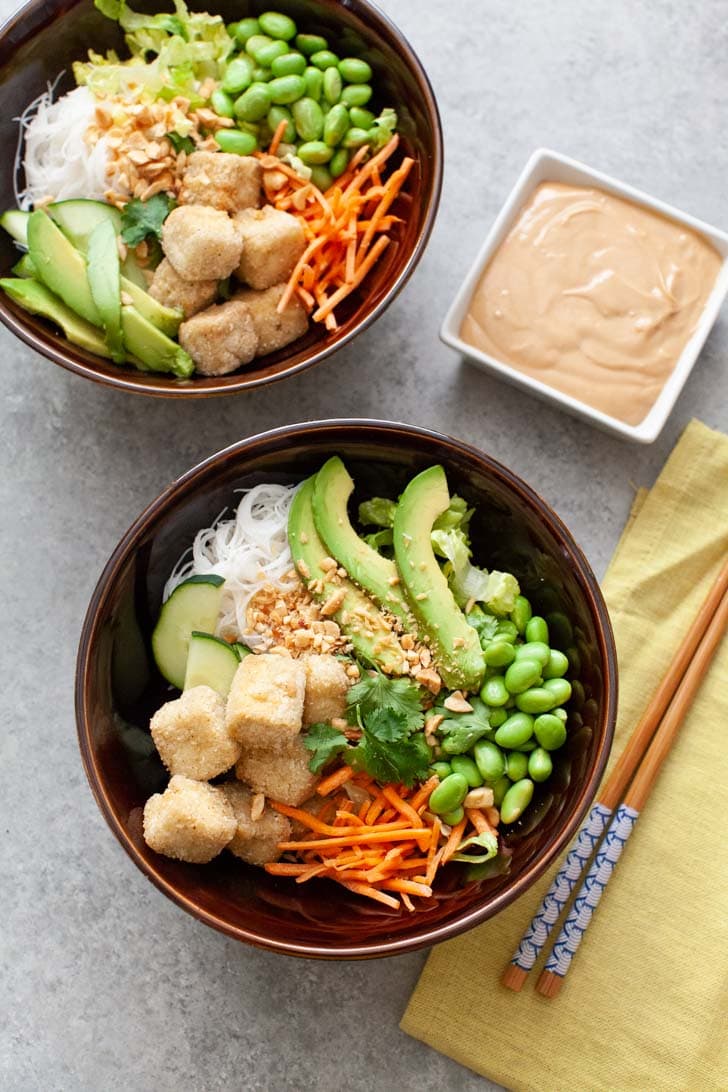 Other Tofu Recipes:
Disclosure: This post is sponsored by Best Food Facts. I only work with brands that I love and share with you my own opinions.