These chocolate dipped matcha cookies are an easy shortbread cookies recipe! I love drinking matcha green tea so making them into chocolate dipped shortbread cookies are a must!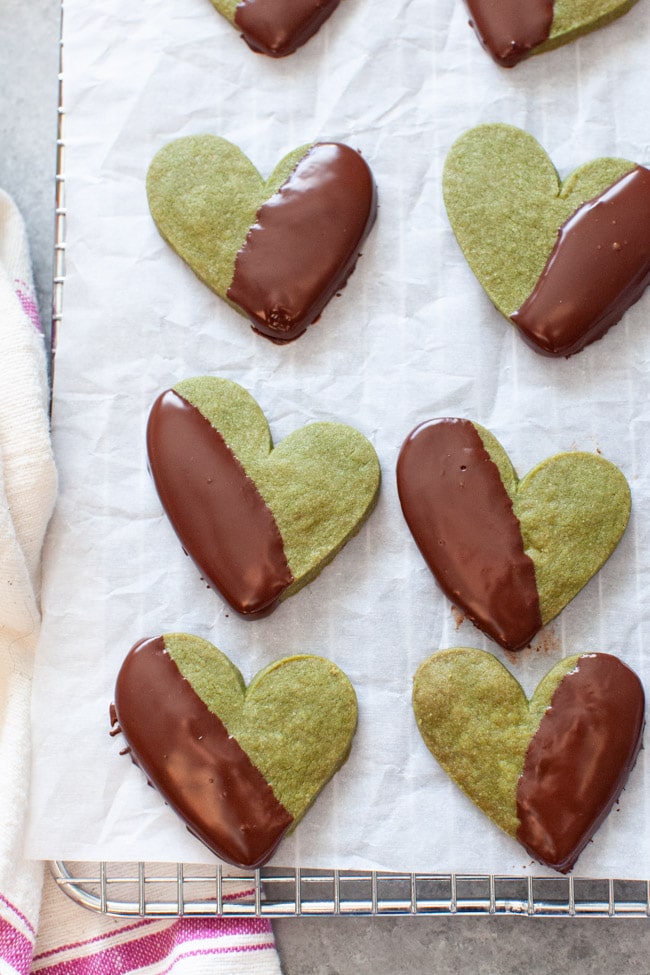 This post is sponsored by Nielsen-Massey Vanillas.
I have an obsession with shortbread cookies. They are buttery and flakey and with a little bit of Nielsen-Massey's amazing Madagascar Bourbon Pure Vanilla Extract, they are the perfect cookie to me! I have made funfetti shortbread cookies and cranberry white chocolate shortbreads too! These cookies would go perfect with a cup of hot matcha green tea or even a cup of coconut almond milk tea with boba.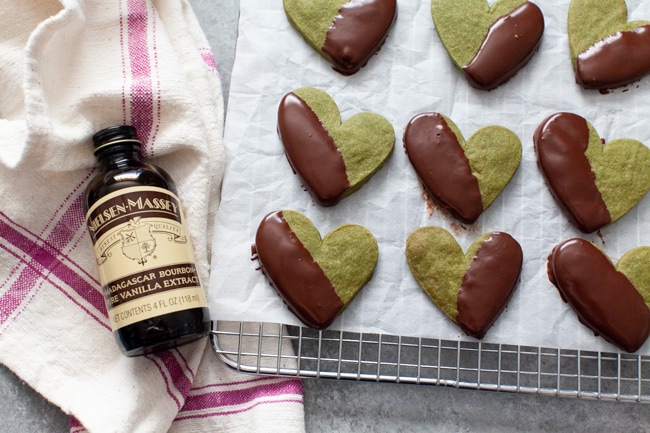 I encourage you to "Better Your Bake" by making your favorite desserts with great "Better Your Bake tips" from Nielsen-Massey at BetterYourBake.com. I love baking especially when I'm baking for family and friends.
With "Better Your Bake" tips, you can uplevel your baking skills utilizing their step by step videos, pro tips and recipes! I decided to focus on their tips for how to roll cookie dough and how to temper chocolate, but they also have other videos that you need to check out!
How to make cookie dough
Most cookie dough recipes are pretty similar. I usually start by mixing all of the dry ingredients together. You want to make sure you measure flour correctly and not pack it into the measuring cup.
Then, in a separate mixing bowl, add butter and sugar(s) and use a stand mixer or an electric mixer to cream them together. Next, add pure vanilla extract (such as Nielsen-Massey Madagascar Bourbon Pure Vanilla Extract) and any other liquid ingredients. Once they are well blended, I usually add the flour mixture in batches into the wet ingredients with an electric mixer or a rubber spatula.
Matcha Cookies Ingredients
2 1/4 cups unbleached all-purpose flour
1/4 teaspoon salt
2 Tablespoons matcha green tea powder
2 sticks (1 cup) unsalted butter, softened
1/2 cup packed light brown sugar
2 teaspoons Nielsen-Massey Madagascar Bourbon Pure Vanilla Extract
8 ounces dark chocolate
How to Make Chocolate Dipped Matcha Cookies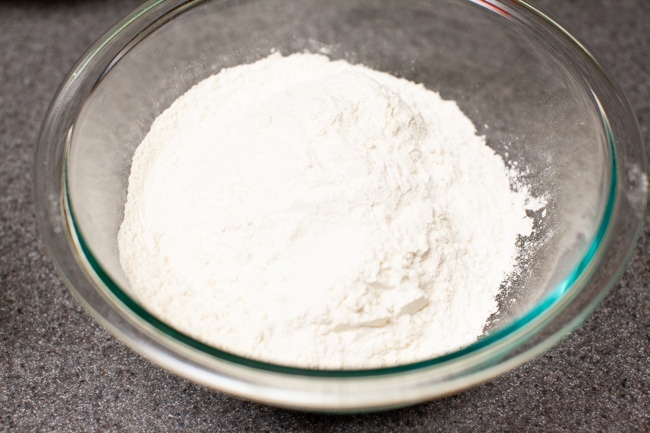 First, mix the flour and salt together.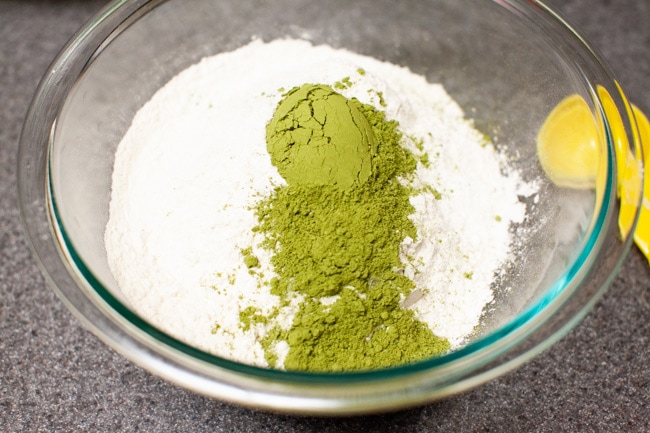 Then, add the matcha green tea powder.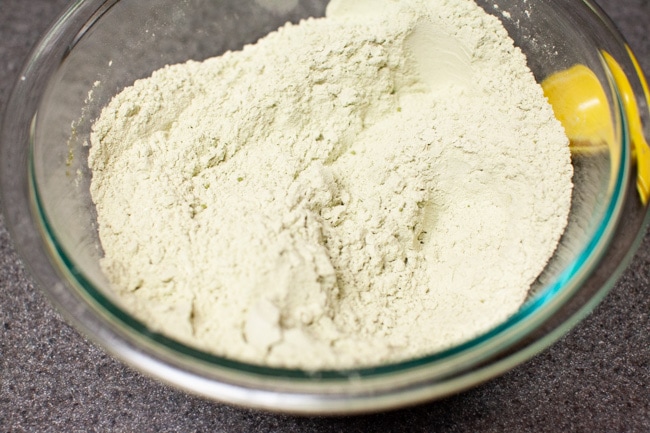 And mix it thoroughly.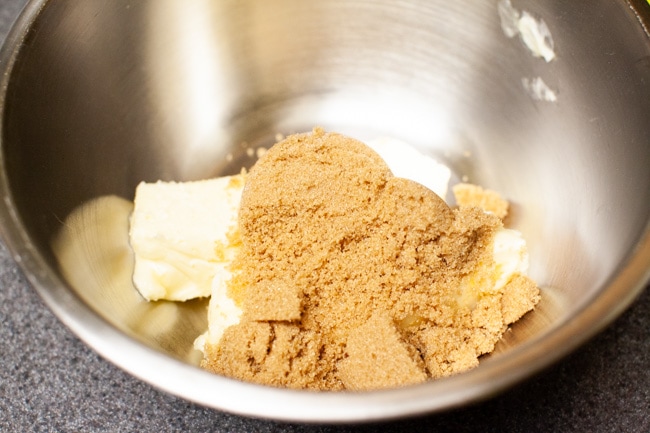 In another bowl, add the butter and brown sugar.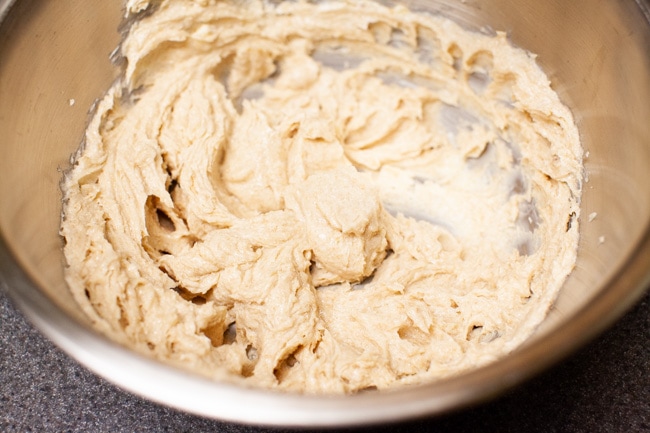 I use an electric hand mixer to cream the butter and sugar together.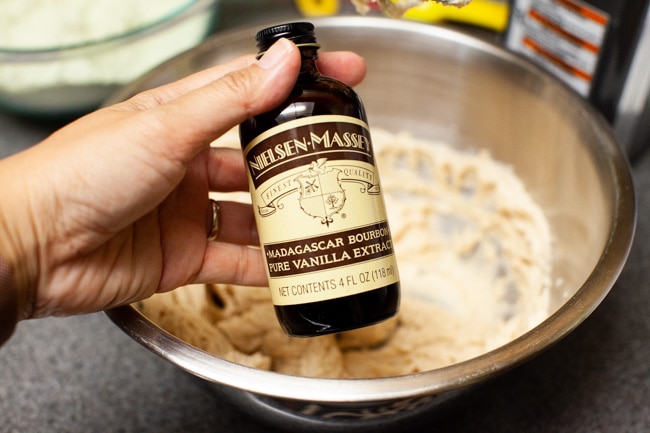 Then, add 2 teaspoons of Nielsen-Massey Madagascar Bourbon Pure Vanilla Extract.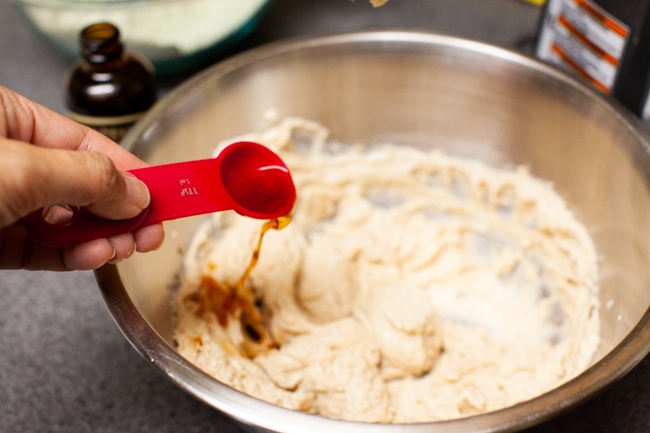 It's my favorite vanilla extract! I love the sweet and creamy flavor!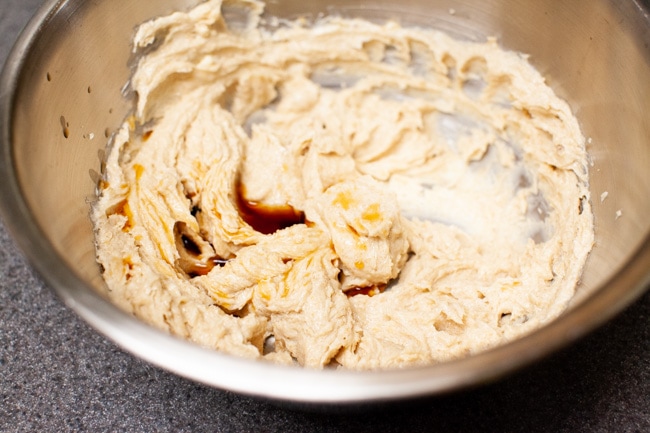 After you add the vanilla extract, you'll want to mix it again until it's thoroughly combined.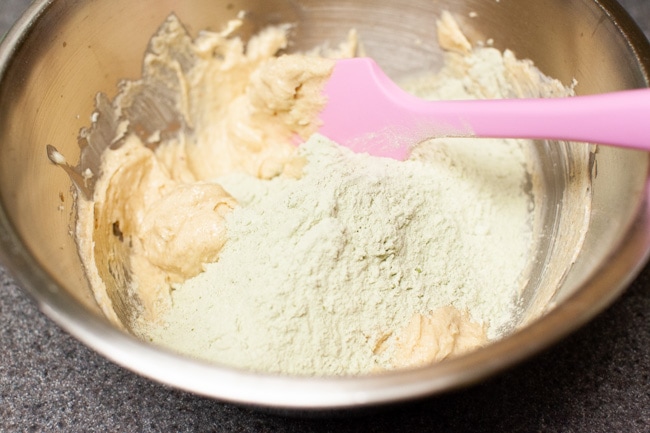 Next add the flour mixture in batches, I usually do two or three batches.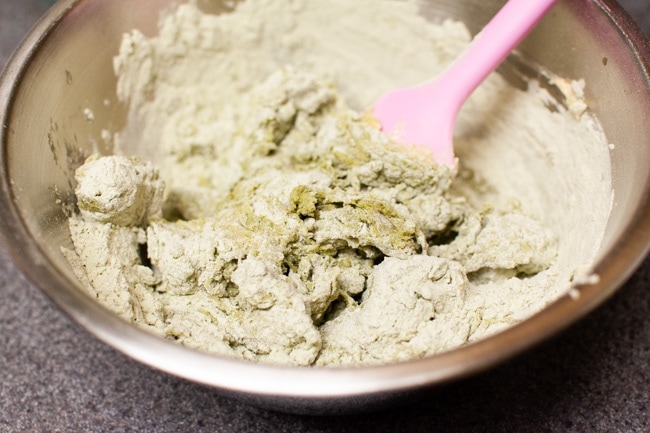 Mix to combine with a rubber spatula.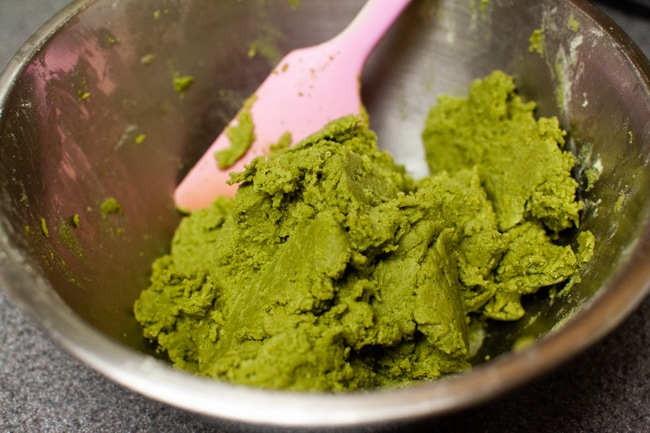 This is how the cookie dough looks after all of the flour is mixed in.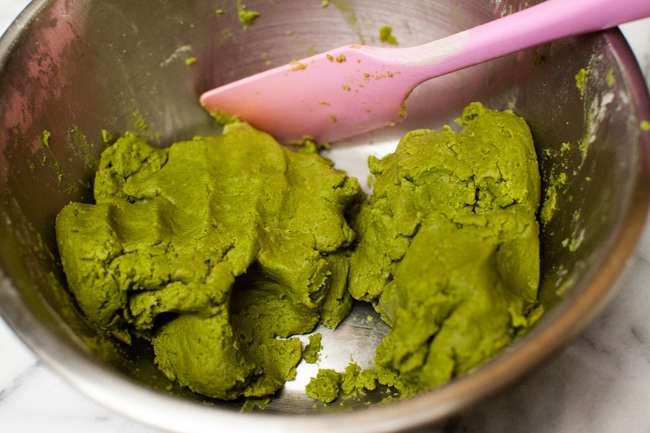 Split the dough in half. Cover and refrigerate for 10 minutes.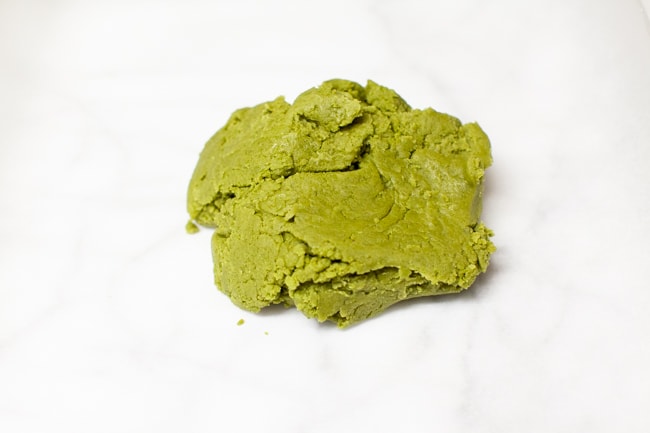 How to Roll Cookie Dough
I love rolling cookie dough and even pie dough in between two pieces of parchment paper. It way less mess and you don't use tons of extra flour which could make your cookies not taste as good as they should!
You can find Nielsen-Massey's video on how to roll cookie dough on BetterYourBake.com!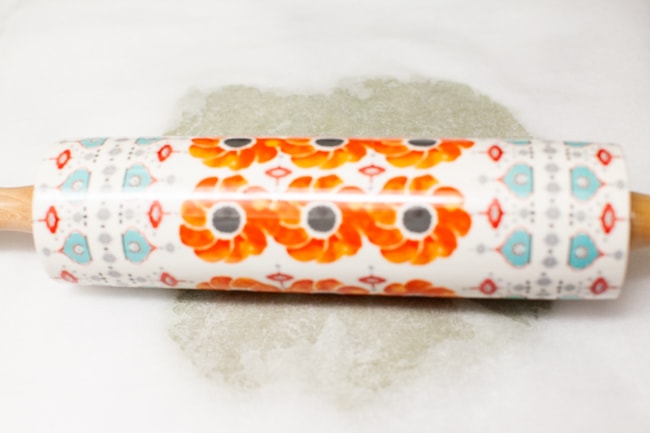 Roll the dough out to about 1/4 to 1/3-inch thickness. Then, place the dough (with the parchment paper) in the refrigerator for another 20 minutes.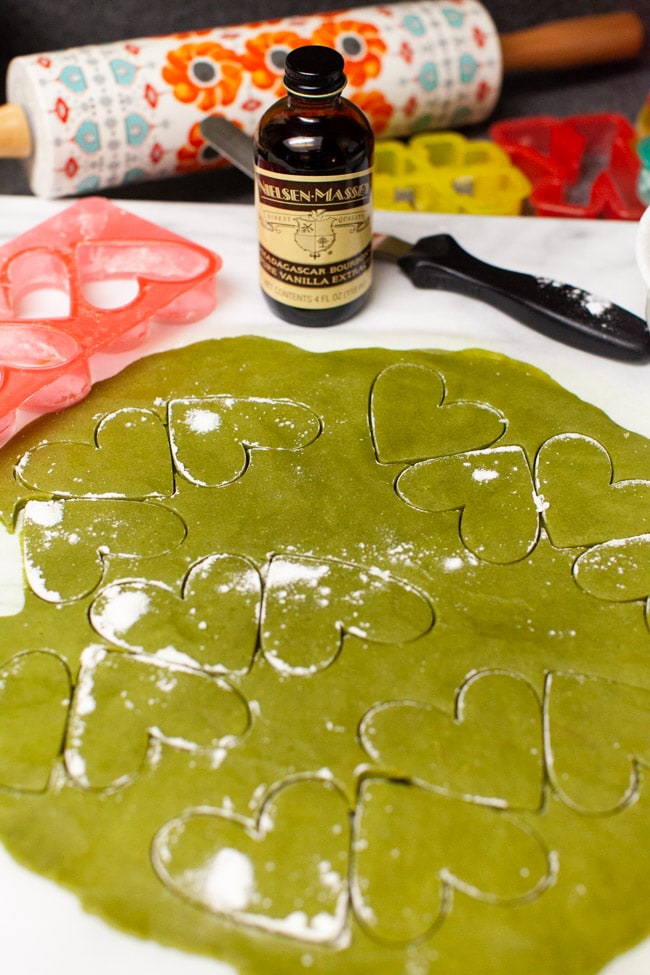 Remove dough from fridge and peel off top layer of parchment paper. Dip your cookie cutter(s) into flour and cut out shapes. The dough is cold so work quickly. Place on a parchment-lined baking sheet and put in the oven.
I had some fun with the #BetterYourBake hashtag! You can follow Nielsen-Massey on social media on Twitter, Instagram, Facebook, YouTube and Pinterest for more baking tips and recipes!
How to Temper Chocolate
Tempering chocolate is a delicate process that's done by heating and cooling chocolate to a precise temperature. It results in an elegant sheen coating that will elevate your desserts! Be sure to check out Nielsen-Massey's video on how to temper chocolate at BetterYourBake.com!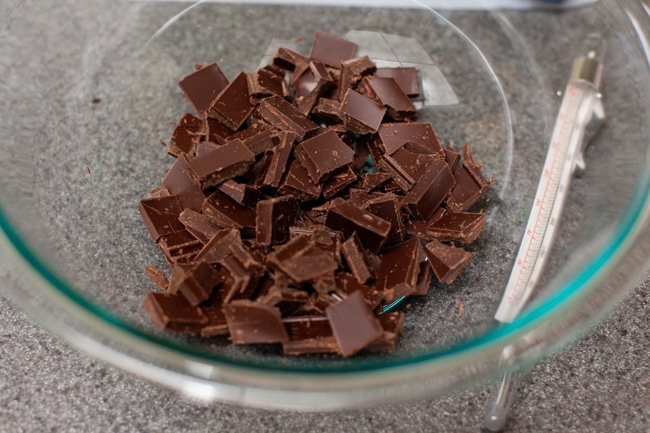 I cut up the chocolate and put it in a heat-safe bowl. Take about a quarter of chocolate and put into the refrigerator.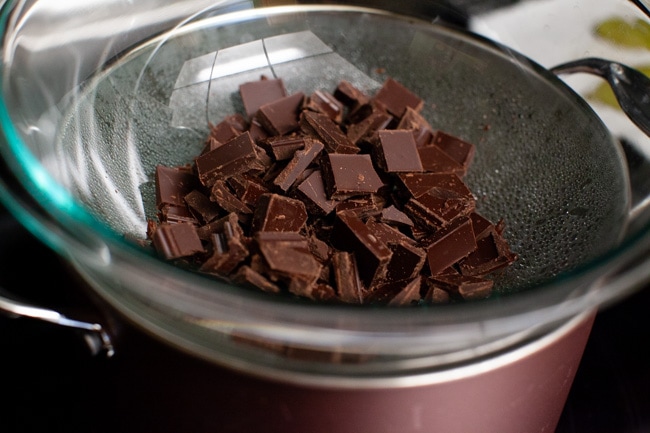 Fill a pot with about 1-2 inches of water and place on the stove. Put the bowl containing chocolate over the pot and bring water to a simmer over medium heat.
Let the chocolate melt about two thirds of the way and gently stir. Use a candy thermometer to check the temperature and remove the melted chocolate from the pot once it reaches 115 degrees F.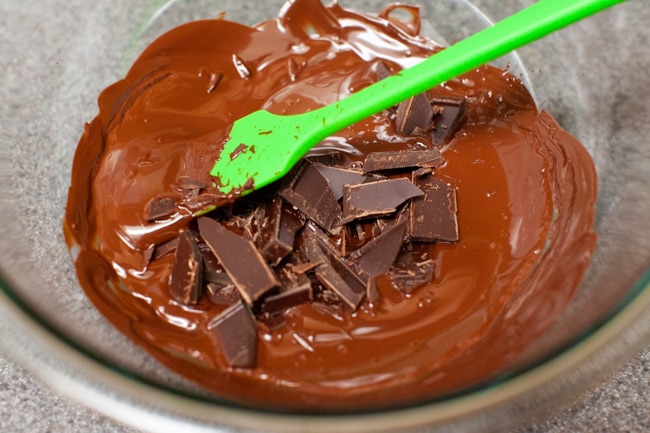 Remove the bowl from the pot and add the reserved chocolate from the refrigerator to the melted chocolate. Mix continuously until all the pieces have melted and the chocolate has lowered to 79 degrees F.
Place the bowl back on the pot or in the microwave and heat in short bursts until the chocolate reaches 89 degrees F.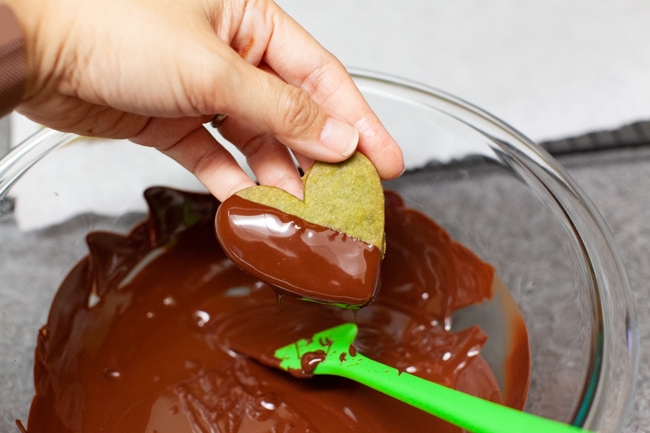 Dip the matcha cookies into the chocolate and place on a parchment paper lined cooling rack.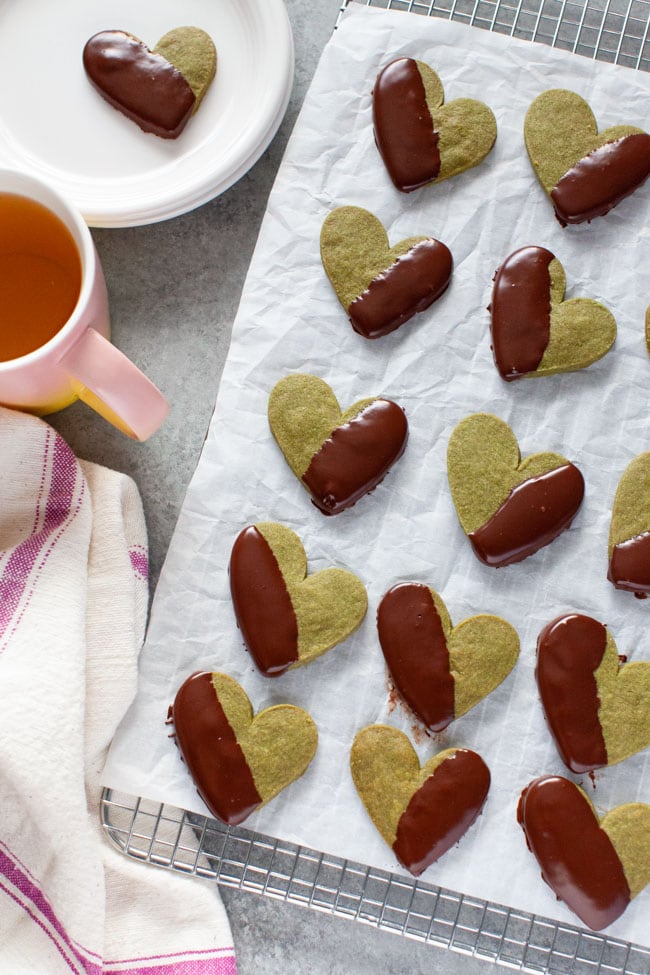 I love the glossy finish the chocolate has when you temper the chocolate. I have to say this was my first time actually taking the time to temper the chocolate and I can't wait to do this with other recipes!
These matcha cookies are perfect on their own or dipped in your favorite cup of tea but something about the specialness of tempering chocolate and dipping these cookies in them so they are chocolate dipped shortbread cookies, it takes them to whole other level! I can't wait to share these cookies with my friends!
"Better Your Bake" is designed to help you master the basics of baking so you can achieve those mindful benefits. Nielsen-Massey has shared a six-part series, each one featuring a different baking technique, on BetterYourBake.com. Each technique will include a step-by-step video, pro tips from their team and delicious, seasonal recipes. Be sure to visit BetterYourBake.com to check out the videos and to follow along on how you can master baking basics!
Recipe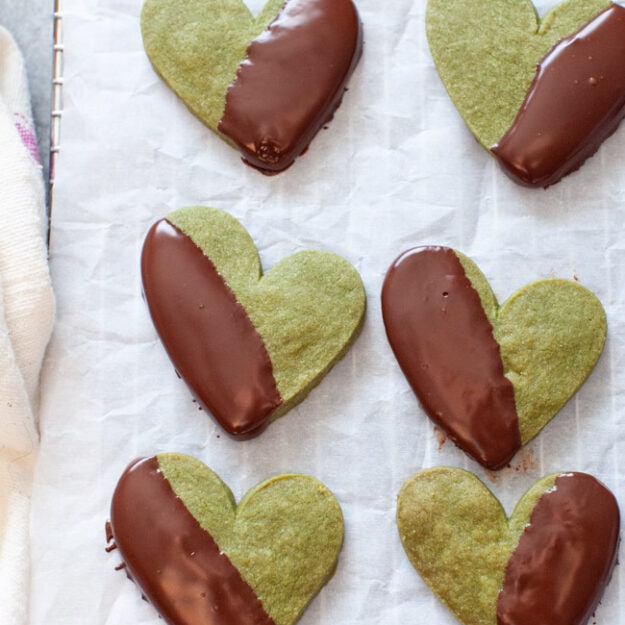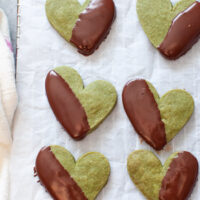 Print
Pin
Matcha Cookies Recipe
Servings
30
to 45 cookies (depends on size)
Ingredients
2 1/4

cups

unbleached all-purpose flour

1/4

teaspoon

salt

2

Tablespoons

matcha green tea powder

2

sticks

,

1 cup unsalted butter, softened

1/2

cup

packed light brown sugar

2

teaspoons

Nielsen-Massey Madagascar Bourbon Pure Vanilla Extract

16 to 24

ounces

bittersweet chocolate
Instructions
Add flour, salt and matcha green tea powder to a medium sized mixing bowl. Mix together with a rubber spatula and set aside.

Add butter and brown sugar to a large mixing bowl. Cream butter and sugar together with an electric hand mixer, until fluffy. Add Nielsen-Massey Madagascar Bourbon Pure Vanilla Extract and mix again, until thoroughly combined.

In three batches, add the flour mixture to the creamed butter and sugar mixture, mixing just to combine with a rubber spatula.

Split the cookie dough in half and cover with plastic wrap in the bowl. Refrigerate for at least 10 to 15 minutes.

Place one piece of cookie dough between two pieces of parchment paper and roll to 1/4-inch thickness with a rolling pin. Place the rolled out cookie dough with the parchment paper into the refrigerator for at least 20 minutes. Repeat with the other half of the cookie dough.

Heat oven to 350 degrees F.

Add some flour to a small bowl and dip your cookie cutter into the flour. Remove the top piece of parchment paper and cut out shapes with your cookie cutters. Place the cut-outs onto a parchment lined cookie sheet.

Bake the cookies for 9 to 10 minutes, watching carefully because the baking time will depend on the thickness of your cookies.

When the cookies are done, place the parchment paper with the cookies on a cooling rack. Allow the cookies to fully cool before dipping them in chocolate.

Dip each cookie into the chocolate. Serve and enjoy!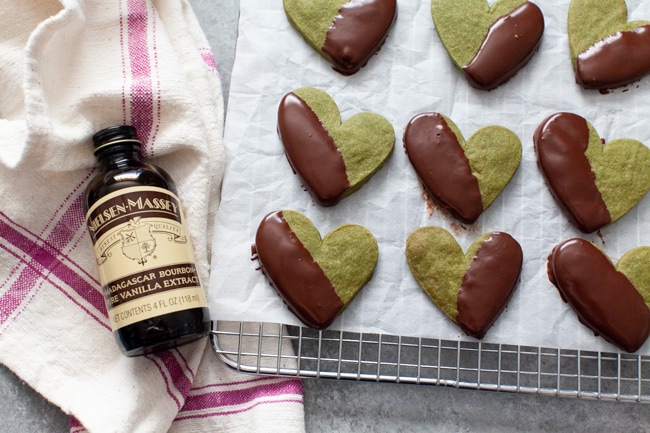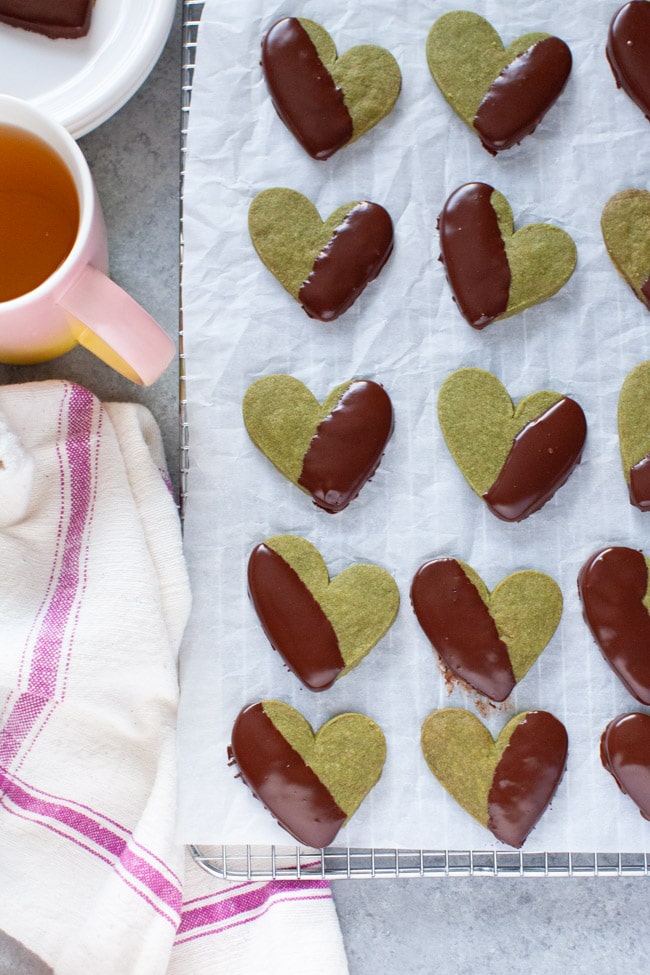 Disclosure:  This post is sponsored by Nielsen-Massey Vanillas. I always share with you my own opinions.