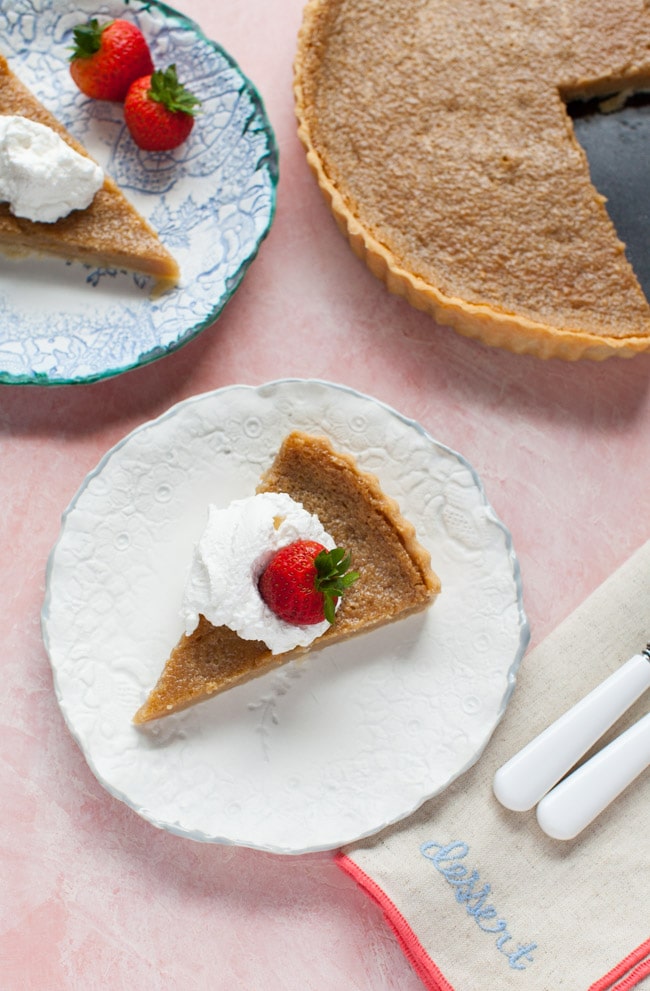 This post contains affiliate links.
If you've never heard of Sugar Pie before, you may know this Canadian pastry by its French name: tarte au sucre. And if you haven't heard of either, well, then you're in for a treat.
By the way, it's November, I planned a Friendsgiving event with a few of my blogger friends, scroll down to the end for more information!
I first had sugar pie in Quebec City a few years back. We had dinner at L'Echaude and it was amazing! I was okay with not having dessert. But then our host ordered a slice of sugar pie and I was intrigued. Once I had a bite, I knew I would need to try to make it at home.
It totally reminded me of pecan pie, without the pecans. Creamy and so good, you have to make it!
Sugar pie is a great dessert if you're looking to switch things up this Thanksgiving or if you're the ambitious type who likes to offer a few different pie options. I topped mine with whipped cream and strawberries, but toasted or candied nuts would be delish scattered over the whipped cream if you can't get Florida strawberries where you live. The Florida strawberry season is from November to March!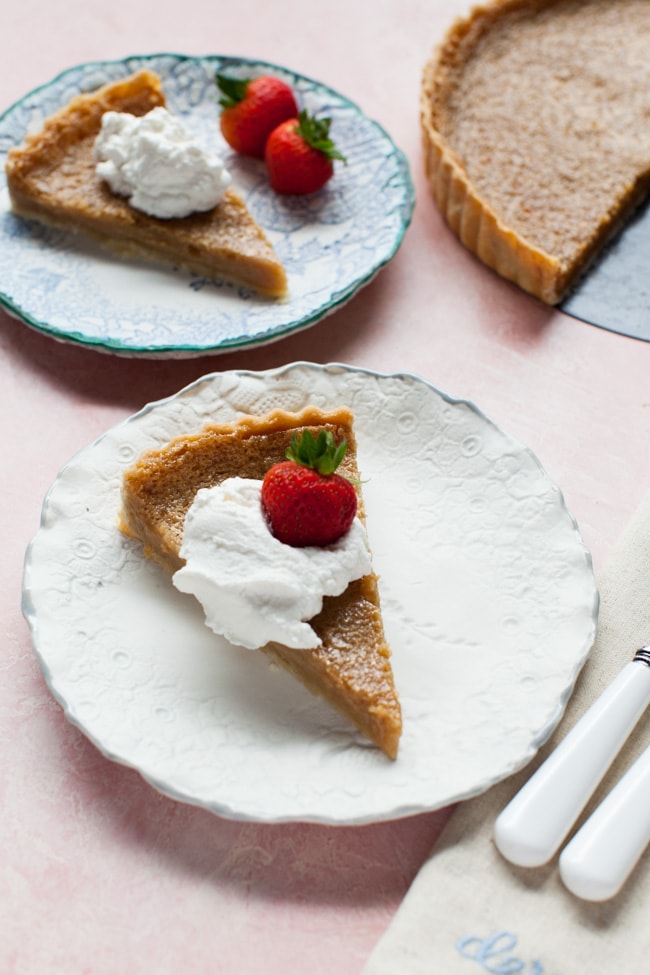 My plan for Thanksgiving is to serve this tarte au sucre alongside my favorite easy pumpkin pie. I always make crockpot turkey, but I'm still deciding on the sides – maybe sauteed green beans, mac and cheese with almond milk, and slow cooker mashed potatoes? Every year I think I'll have my menu planned by the end of October, but it seems like I'm always still planning and making changes the week of Thanksgiving! Can you relate?
What Is Sugar Pie?
Now,
 sugar pie
is not to be confused with
sugar cream pie
. The
brown sugar pie
recipe I'm sharing here is a favorite in Quebec, while sugar cream pie comes from Indiana. The difference between
sugar pie
and sugar cream pie is the filling – sugar cream pie is filled with a rich, creamy custard, but sugar pie has a denser filling reminiscent of caramel.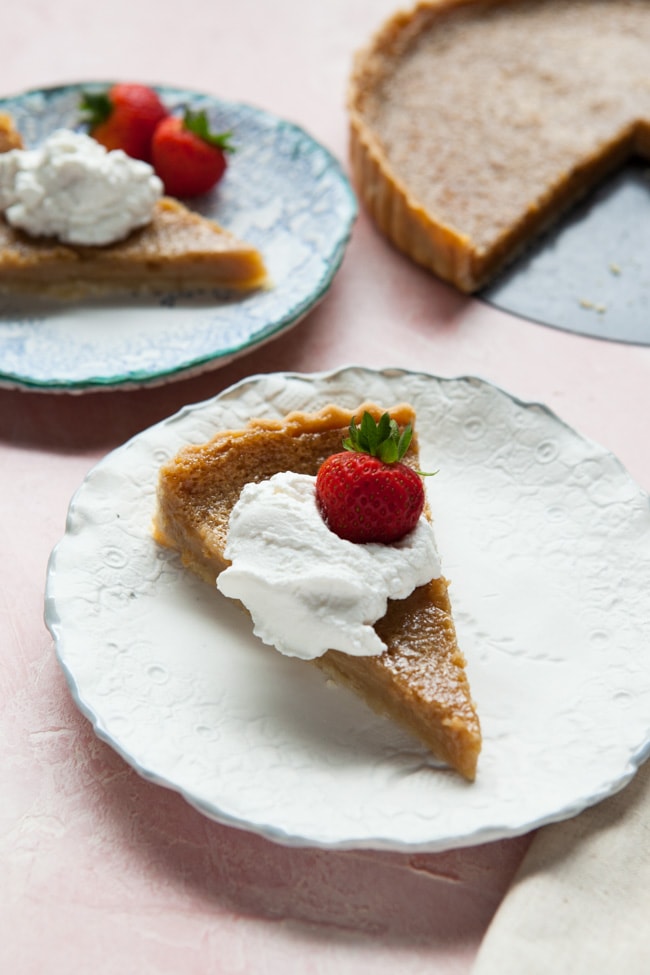 How to Make Sugar Pie
In the step-by-step tutorial below, I'll show you how to make sugar pie. If you've made pie crust from scratch before, you already know how to do the hardest part! The pie starts with a crust, then you'll make the sugar pie filling before whipping up the cream to dollop on each slice.
How to Make the Crust for Sugar Pie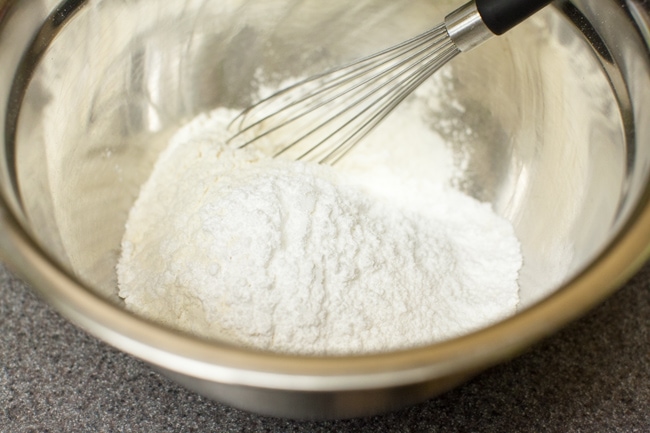 As I mentioned above, the process of making crust for sugar pie is pretty much the same as any other pie or tart. Start with a large bowl and mix together all the dry ingredients.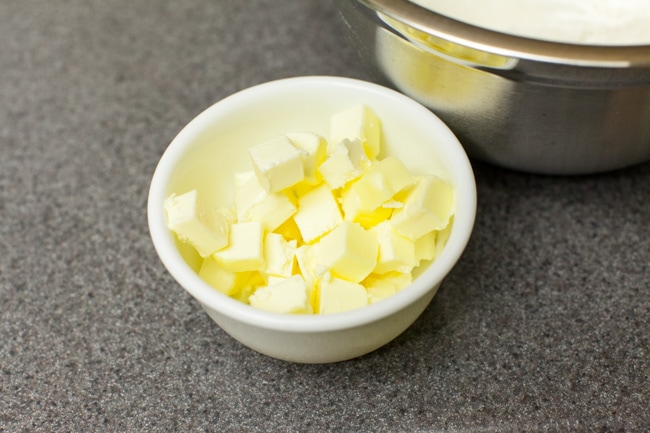 You can use butter substitute or dairy butter for this crust. Cut it into small cubes.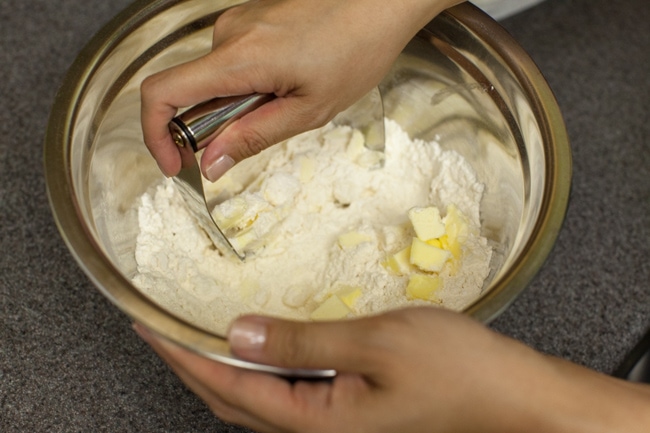 Drop the little cubes of butter into the dry mixture. Use a pastry blender or two butterknives to incorporate the butter into flour, until you're left with a crumbly dough.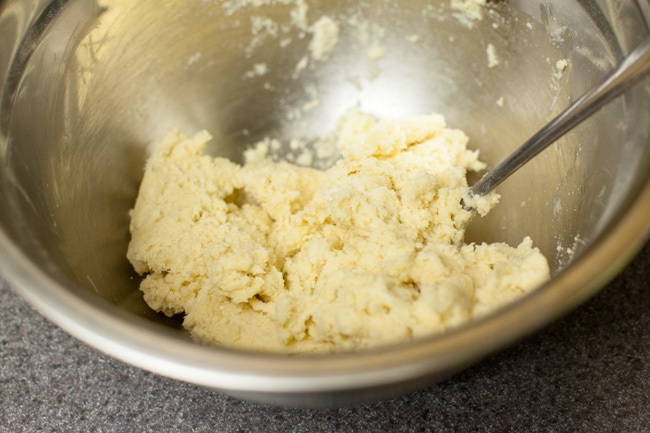 Add cold water, one tablespoon at a time, mixing with a fork between tablespoons. You'll know you've added enough water when the dough becomes shaggy.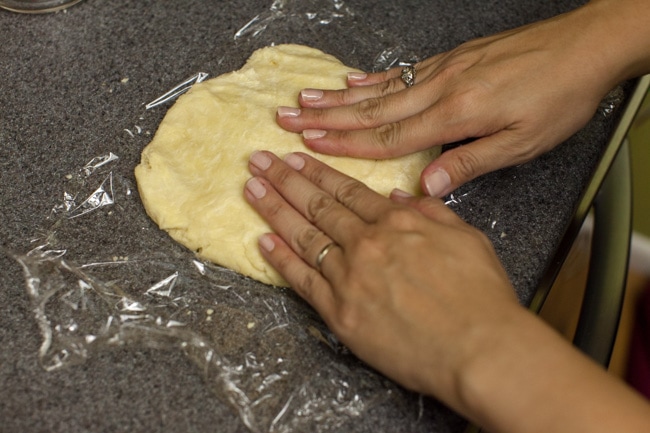 Cut some plastic wrap and turn out the dough onto it. Press it into a round disk and wrap it up.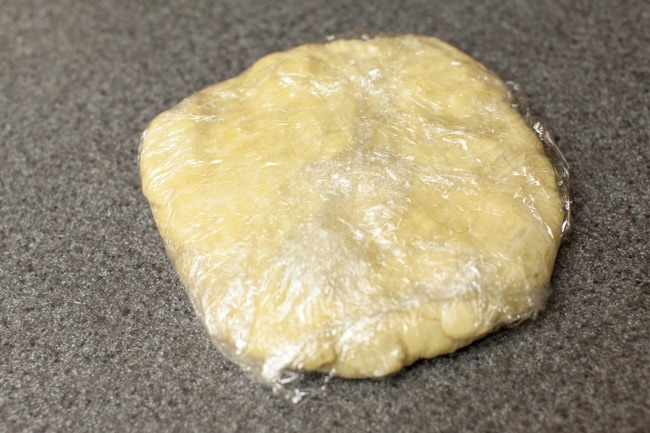 Refrigerate the dough for at least 30 minutes, or up to overnight.
Take the dough out of the fridge and place it between two sheets of parchment paper.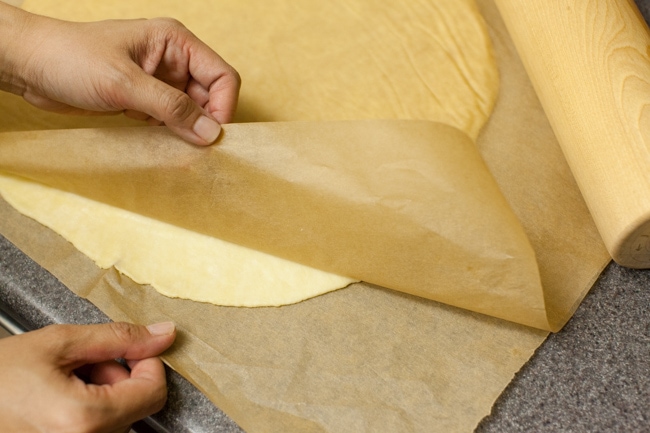 Use a rolling pin to roll it out to a 12-inch circle.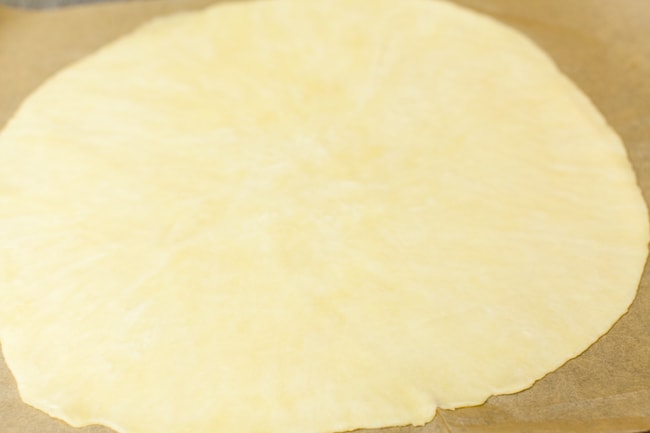 Peel the top sheet of parchment paper off.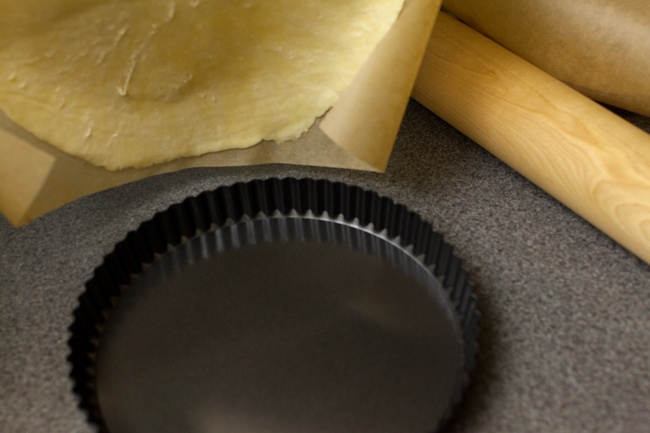 Take that circle of dough and caaaaarefully bring it over to the tart pan.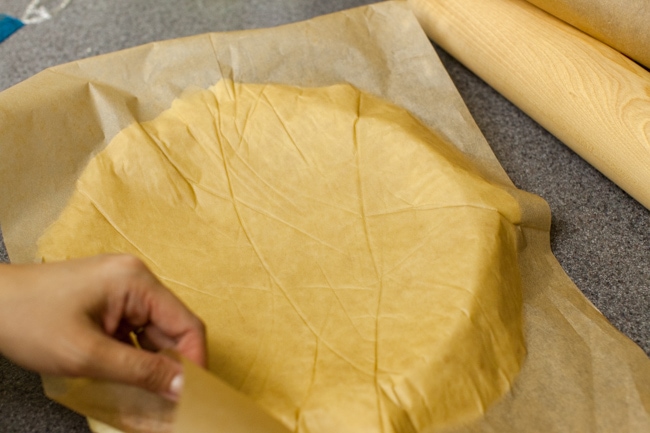 If it tears a little, it's not the end of the world – just press it back together.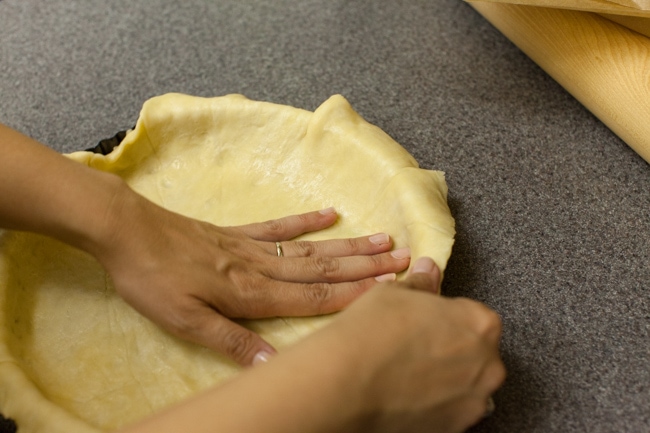 Press the dough into the pan…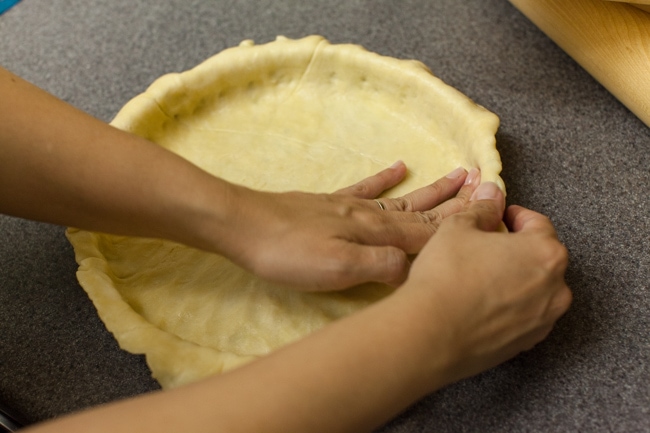 It will take a few minutes.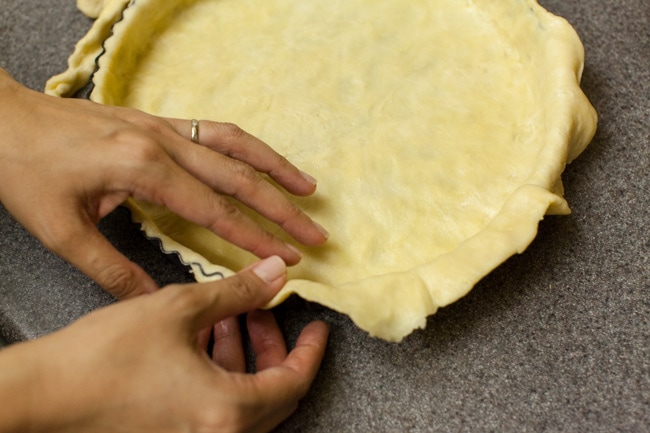 …then trim away any excess dough from the edges.
Fun tip: you can roll out these dough scraps again and cut them into cute seasonal shapes like acorns or leaves. Bake them on a cookie sheet and use them to decorate this or any other pie you're whipping up for Thanksgiving.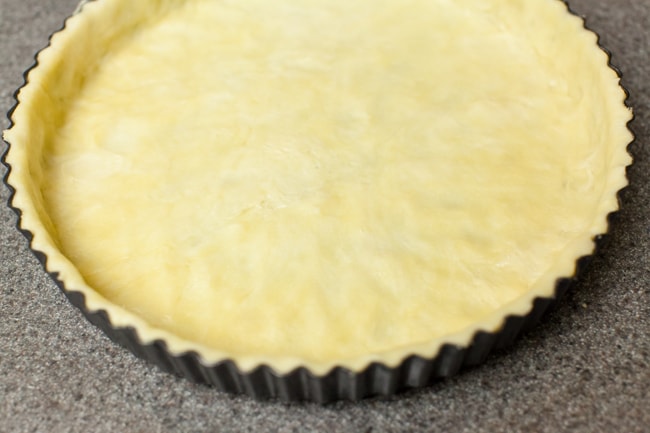 Heat your oven to 375ºF. While you're waiting for the oven to heat up, pop the tart pan in the fridge for about 15 minutes.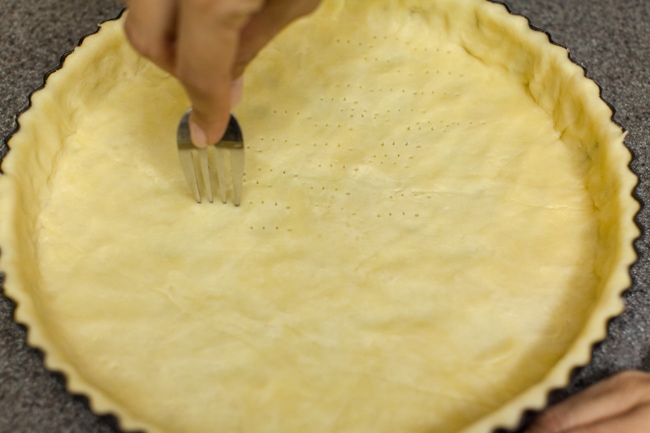 Using a fork, stab holes into the pie crust. Get that frustration out!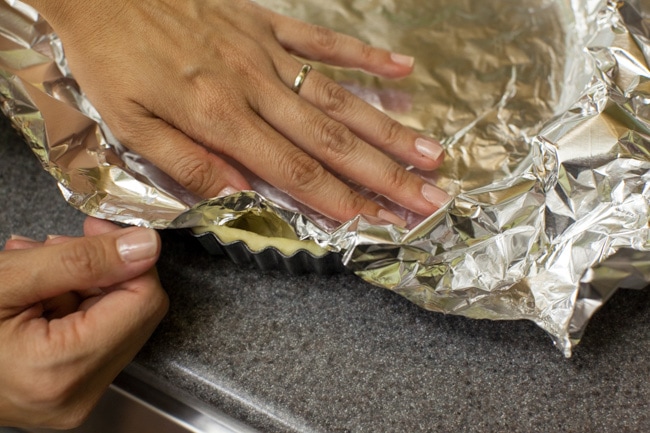 Press a sheet of foil over the crust.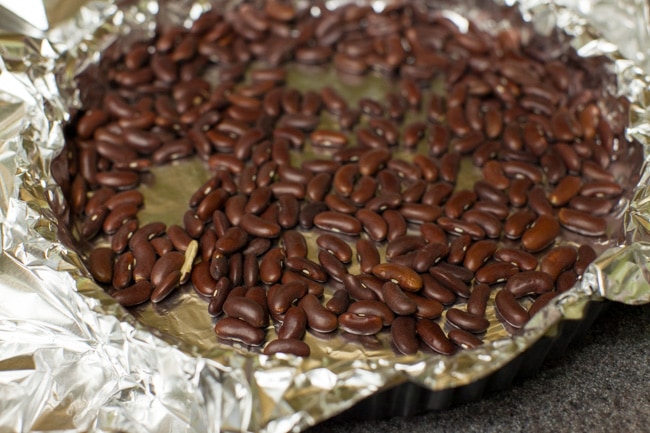 Another fun pie tip: you can use dried beans as pie weights. If you bake a lot, it's probably worth investing in real pie weights, but if pie-making is only an occasional activity for you, dried beans will do the trick. Use a cup or two – you don't have to spray them with cooking spray or anything.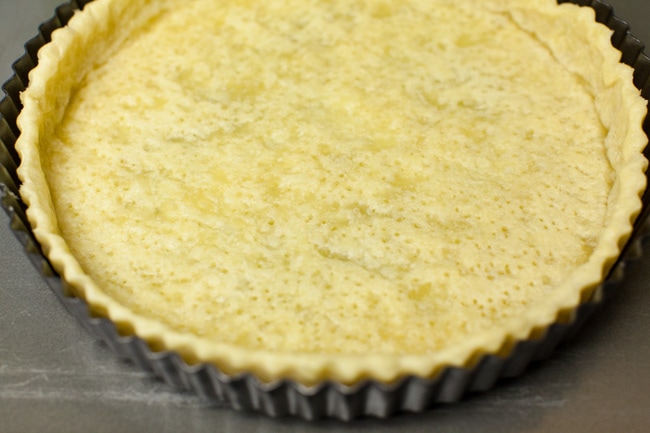 Bake the crust for 18 to 20 minutes, or until golden. Place the finished crust on a rack to cool while you work on the pie filling. Remove the foil with the pie weights, otherwise, the pie crust will continue to bake from the residual heat.
Reduce the temperature of the oven to 350ºF.
Sugar Pie Filling Ingredients
Remember when I mentioned that sugar pie and sugar cream pie are different? Despite the differences in form and texture, sugar cream pie filling ingredients and sugar pie ingredients have a lot of overlap. For this sugar pie, you'll need:
light brown sugar
all-purpose flour
two large eggs (one whole, one yolk)
heavy whipping cream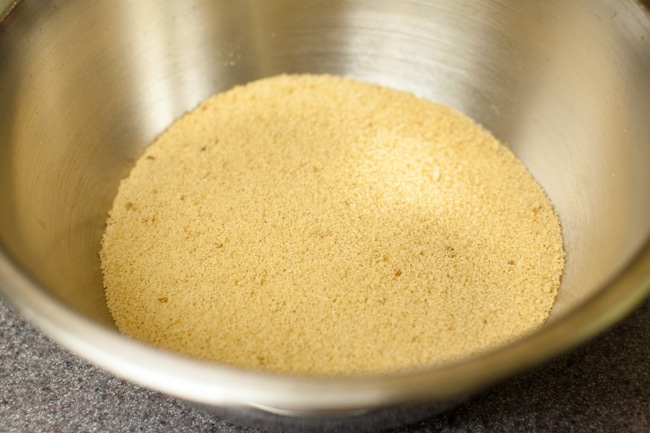 Whisk the flour and the sugar together in one bowl. In a separate bowl, beat the whole egg and the egg yolk.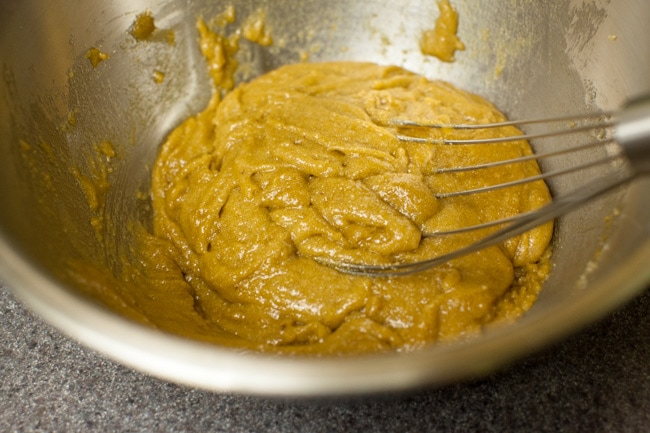 Whisk the beaten eggs into the flour and sugar mixture.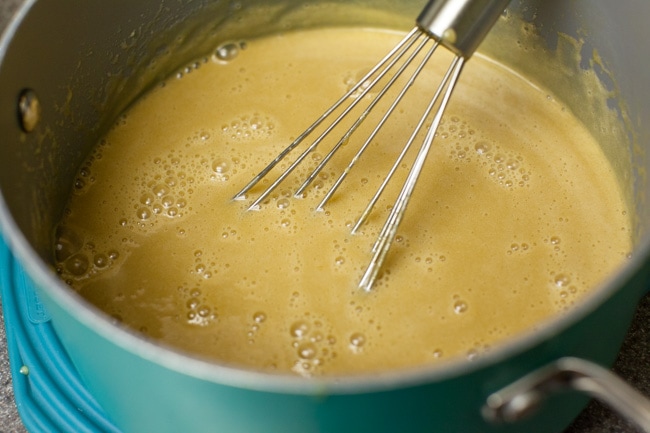 Add the heavy cream to a small saucepan and bring it to a boil. Quickly and carefully, remove it from heat so it doesn't scald. Pour in the sugar pie filling mixture and whisk to incorporate.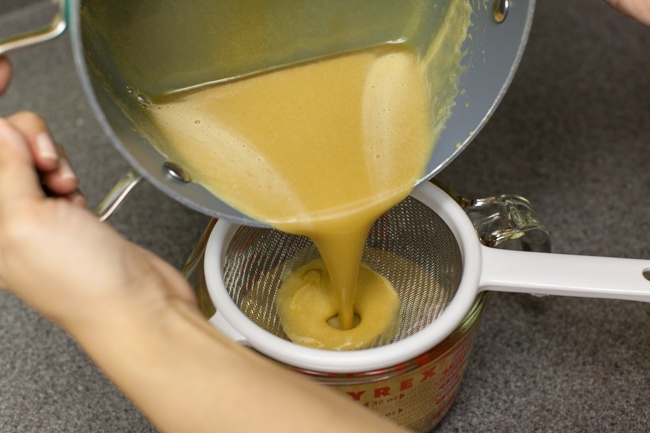 Pour filling through a mesh sieve.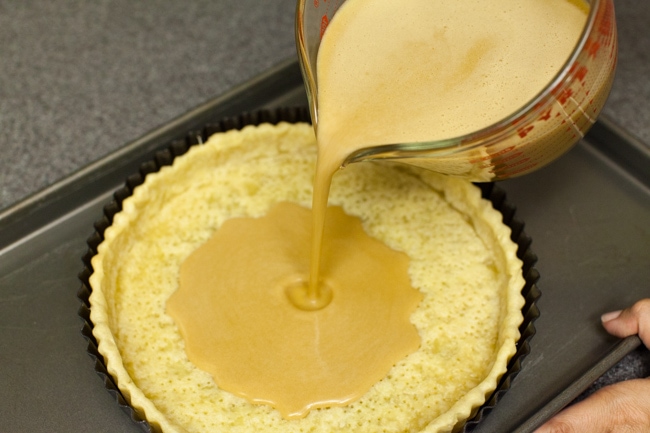 Place tart pan on a baking sheet.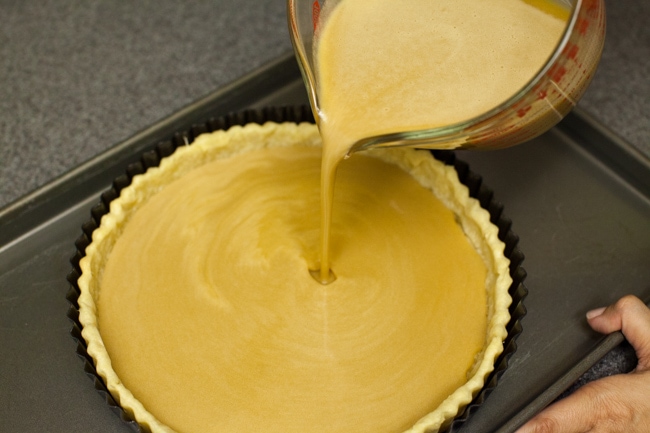 Pour the filling through a strainer. Then pour the strained filling into the sugar pie crust.
You're almost done! Bake the pie for 34 to 36 minutes, or until set. Let the sugar pie cool on a cooling rack while you make the whipped cream topping.
Yum.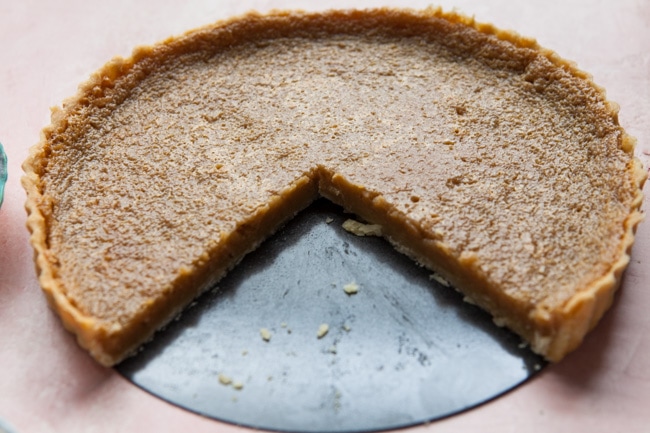 When I make this pie, I can't resist and I have more than one slice. If you make this for your friends at Friendsgiving dinner this year or your family at Thanksgiving, they will LOVE it!
Recipe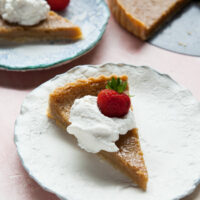 Print
Pin
Sugar Pie
With a rich, caramel-like filling, this Sugar Pie recipe is sure to be a hit at any Thanksgiving gathering.
Ingredients
Pie Crust
1

cup

unbleached all-purpose flour

1 1/2

teaspoons

granulated sugar

6

Tablespoons

unsalted butter substitute

,

or real butter, cut into cubes

3 to 4

tablespoons

ice water

To use for pie weights - 1 to 2 cups of beans
Pie Filling
1 1/2

cups

packed light brown sugar

1/4

cup

unbleached all-purpose flour

1

large egg

1

large egg yolk

1 1/2

cups

heavy whipping cream
Pie Topping
Strawberries

1 1/2

cup

heavy cream

1

teaspoon

pure vanilla extract
Instructions
Pie Crust
In a large bowl, mix flour, sugar and salt together. Add butter and cut in with pastry blender or two butterknives. Do this until the mixture is crumbly. Add cold water one tablespoon at a time. Mix together with a fork. The dough will become scraggly. Press it into a round disc and wrap in plastic wrap. Refrigerate the dough for at least 30 minutes. (You can make it ahead of time and refrigerate overnight.)

Put the dough in between two pieces of parchment paper. Roll out to a 12-inch circle. Press into a

9-inch tart pan

(with removable bottom). Press the sides and trim and any excess from the top.

Heat the oven at 375 degrees F. Refrigerate the pan with the pie crust for 15 minutes.

Using a fork, stab holes into the pie crust. Line the pie crust with foil and use dried beans as pie weights. About 1 or 2 cups. Bake at 375 degrees F or 18 to 20 minutes. Place on a cooling rack to cool as you work on the pie filling. (Remove the foil with the

pie weights

so the pie crust can continue cooling.)
Pie Filling
Change temperature of the oven to 350 degrees F.

Whisk flour and sugar together. Beat both the egg and the egg yolk in a small bowl. Add beaten eggs to the flour & sugar. Whisk together.

Add heavy cream to small saucepan and bring to a boil. Quickly and carefully remove from heat. Add filling mixture together and whisk together.

Pour filling through a strainer (sieve). Place tart pan on a baking sheet. Then, pour the filling into the already baked pie crust.

Bake pie at 350 degrees F for 34 to 36 minutes. Carefully remove from the tart pan from the baking sheet and place on a cooling rack.
Pie Topping
Hull the strawberries and quarter them. Add heavy cream and vanilla extract to a medium sized mixing bowl. Using an electric hand mixer, mix together. Gradually increase to high and mix for 2 to 3 minutes until stiff peaks have formed.

Top slices of sugar pie with whipped cream and strawberries.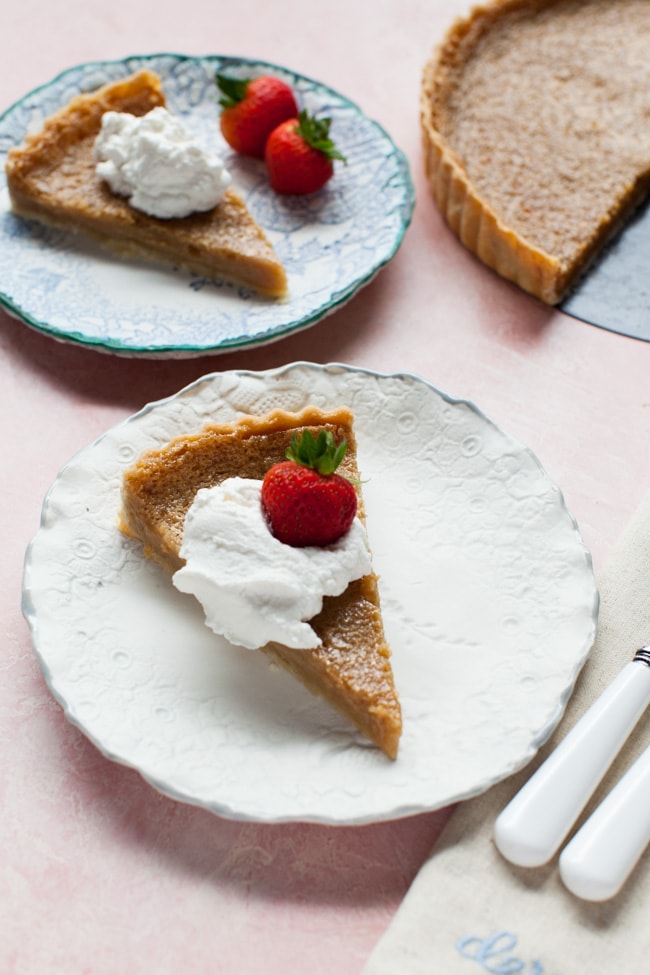 I have joined up with a bunch of blogger friends for a Friendsgiving Virtual Potluck! Be sure to check the recipes below out for wonderful Friendsgiving and Thanksgiving recipe and craft ideas!
Appetizers
Baked Brie with Honey & Walnuts from Kelley of Mountain Mama Cooks
Reindeer Bacon Cheddar Cheese Ball from Julie of Julie Blanner
Salads
Sauteed Kale and Brussels Sprout Salad with Cranberries and Walnuts from Shashi of Savory Spin
Creamy Brussels Sprouts Salad from Faith of An Edible Mosaic
Main Dishes
Savory Vegetable Crisp from Bree of Baked Bree
Rosemary Lamb Steaks from Danyelle of The Cubicle Chick
Turkey Pot Pie from Kelly of Eat Picks
Side Dishes
Fried Brussels Sprouts from Erin of The Almond Eater
Cheesy Horseradish Mashed Potato Casserole from Renee of Kudos Kitchen by Renee
Cranberry Cream Cheese Dip from April of April Golightly
Sauteed Garlic-Butter Mushrooms from Linda of Simply Healthyish Recipes
Easy Cheesy Hash Brown Casserole Recipe from Mel of Adventures of Mel
Cornbread Stuffing with Chorizo from Isabel of Isabel Eats
Bacon Brussels Sprouts from Kara of Kara J. Miller
Crockpot Sweet Potato Casserole from Jennifer of Show Me the Yummy
Amazing Gluten Free Thanksgiving Stuffing from Sommer of A Spicy Perspective
Pumpkin Caramelized Onion Gratin from Denise of Chez Us
Crockpot Mac & Cheese from Leanette Fernandez of Funtastic Life
Cheesy Brussels Sprouts au Gratin from Rachel Gurk of Rachel Cooks
Drinks
Spiced Pumpkin Margarita from Sharon of Cupcakes and Cutlery
Breads
Sourdough Pull Apart Rolls from Erica of Buttered Side Up
How to Make Homemade Butterhorn Rolls from Mel of Flour on My Fingers
Sweet Dinner Rolls from Jocelyn of Grandbaby Cakes
Parker House Rolls from Irvin of Eat the Love
Desserts
Sugar Pie from Julie of The Little Kitchen
Oatmeal Apple Crisp from Julie of Peanut Butter Fingers
Pumpkin Pie Milkshake from Eden of Sugar and Charm
Strudel Pastry from Justine of The Typical Mom
Tahini Hawaij Pumpkin Pie from Amy of What Jew Wanna Eat
Turkey Cookies from Meaghan of The Decorated Cookie
Mini Apple Pie Bites from Lynsey of MoscatoMom
Kabocha squash pie from Hilah of hilahcooking
Pecan Pie Cupcakes from Courtney of Pizzazzerie
Coconut Cream Pie from Schnelle of Brooklyn Active Mama
Chocolate chip cheesecake from Jeannette of Hispana Global
Chocolate Pecan Pie from Kate of I Heart Eating
Mini Pumpkin Cheesecakes from Chelsea of Someday I'll Learn
Turkey Donut Race Cars For Thanksgiving Treats from Theresa of Chewable Structures
Crafts and Centerpieces
Cinnamon Stick Holiday Candle Place Setting from Alli of Made with HAPPY
Metallic Pumpkin Luminaries from Amy of As The Bunny Hops
Easy centerpiece that will stun + party favor from Noelle of Oh Happy Play
Disclosure: This post contains affiliate links.