Bacon-Wrapped Shrimp is so easy to make and perfect for a weeknight dinner. Pair it with sides of brown rice and steamed broccoli for a complete and delicious meal.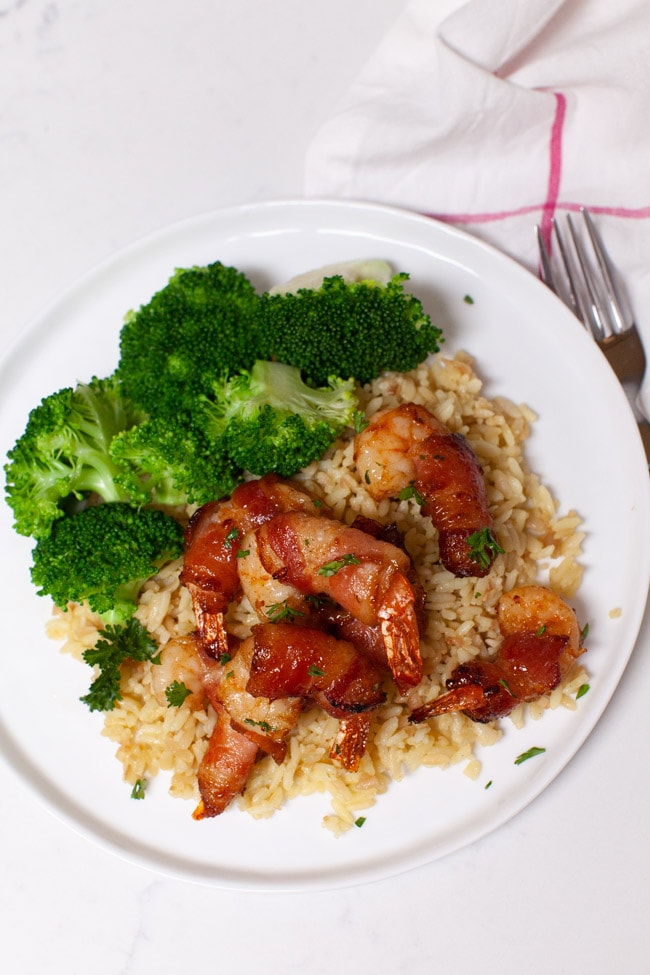 There are affiliate links in this post. I get commissions for purchases made through these types of links in this post. As an Amazon Associate, I earn from qualifying purchases.
This bacon-wrapped shrimp recipe is definitely one to save and make over and over again. The flavor combination of shrimp wrapped in bacon and brushed with butter, brown sugar, and maple syrup glaze is just amazing! They are great as an appetizer or for the main meal paired with a couple of easy side dishes. Everyone in the family will love this dish!
Candy-coated crispy bacon wrapped around pieces of shrimp and cooked in an air fryer are also perfect for game day. It's easy and there's barely any mess to clean up. That's definitely a keeper! Cooking appetizers doesn't need to be difficult or take up the whole day. You don't want to be stuck in the kitchen while everyone else is enjoying the party. These poppable bites of shrimp are exactly what you need to make for the next Thanksgiving, Kwanza, or New Years' Eve festivities.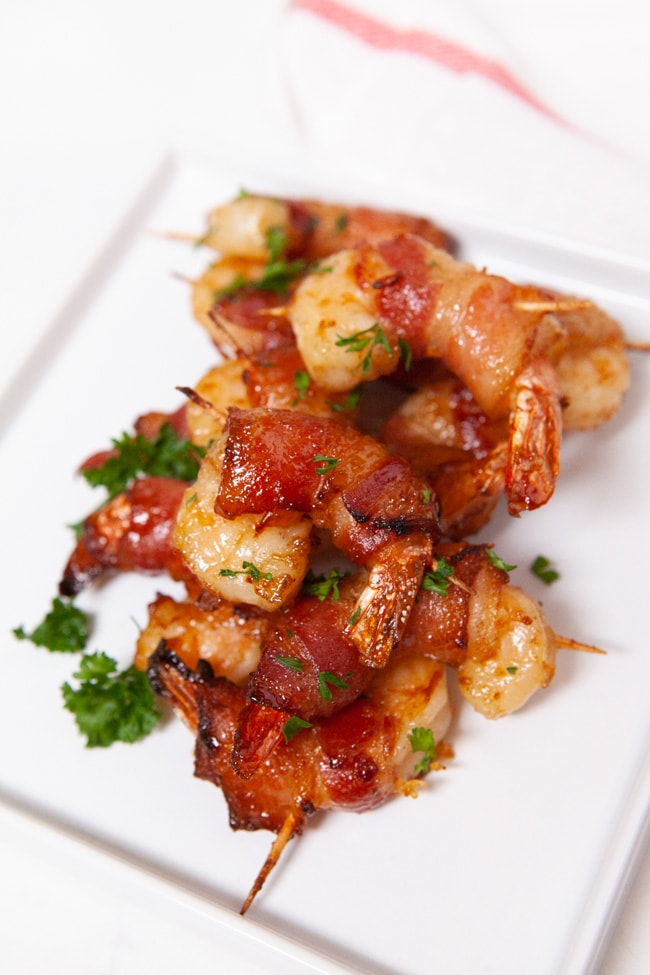 What is bacon-wrapped shrimp?
This is an easy-to-make dish that can be baked, fried, or sauteed. In this case, shrimps wrapped in bacon and held together with a toothpick are cooked in the air fryer. After they're cooked, the shrimp are covered with a butter and sugar glaze and sprinkled with chopped parsley. They are best eaten hot!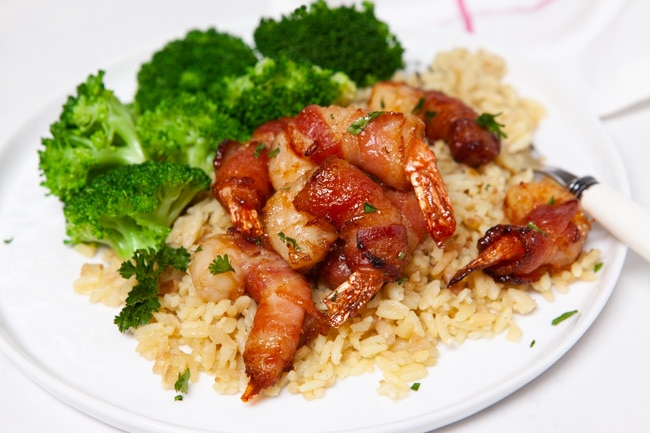 What does wrapping meat in bacon do?
When meat is wrapped in bacon and cooked together, the fat and flavor from the bacon soaks into the meat and creates incredibly flavorful and tender meat. Bacon-wrapped shrimps are one of the best combinations! 
Should you leave the shrimp tails on?
It's a good idea to keep the shrimp tails on so you have something to hold onto when eating them. If you'd rather just use the toothpick that was used to hold the shrimp and bacon together, you can remove the tails. This also prevents you from having a plate of piled-up shrimp tails on the counter.
Wrapped Shrimp Bacon Tips and Variations:
Air fryer bacon wrapped shrimp are delicious little bites of salty, shrimpy goodness. Here are some tips and variations that you'll find useful in making them.
These shrimp are wrapped in bacon and then put in the air fryer in one seamless step. Other bacon wrapped shrimp recipes say to cook it in two steps. Make sure the shrimp don't overcook by slightly cooking the bacon before wrapping the shrimp and then finish cooking in the air fryer. Even though this is an extra step, it will make sure the shrimp are perfectly cooked.
You can wrap bacon around all kinds of different foods. Some great options are meatloaf, dates, jalapenos, and asparagus.
This recipe uses the air fryer but there are other cooking methods you can use. Grilled bacon wrapped shrimp have a smoky flavor or you can bake them in the oven if the grill isn't an option.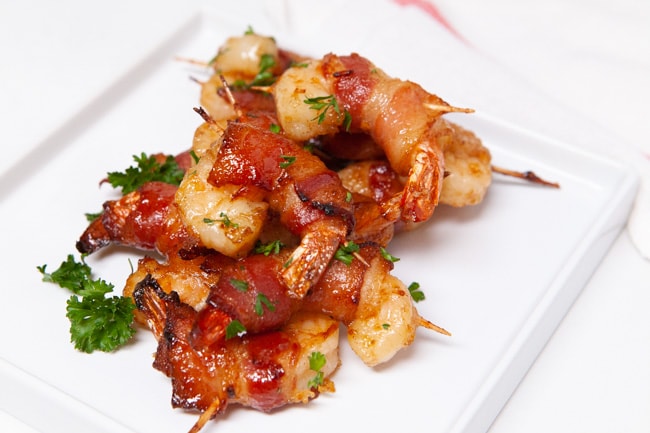 How to make bacon-wrapped shrimp:
These little two-bite appetizers are easy to make. Here are the steps you'll need.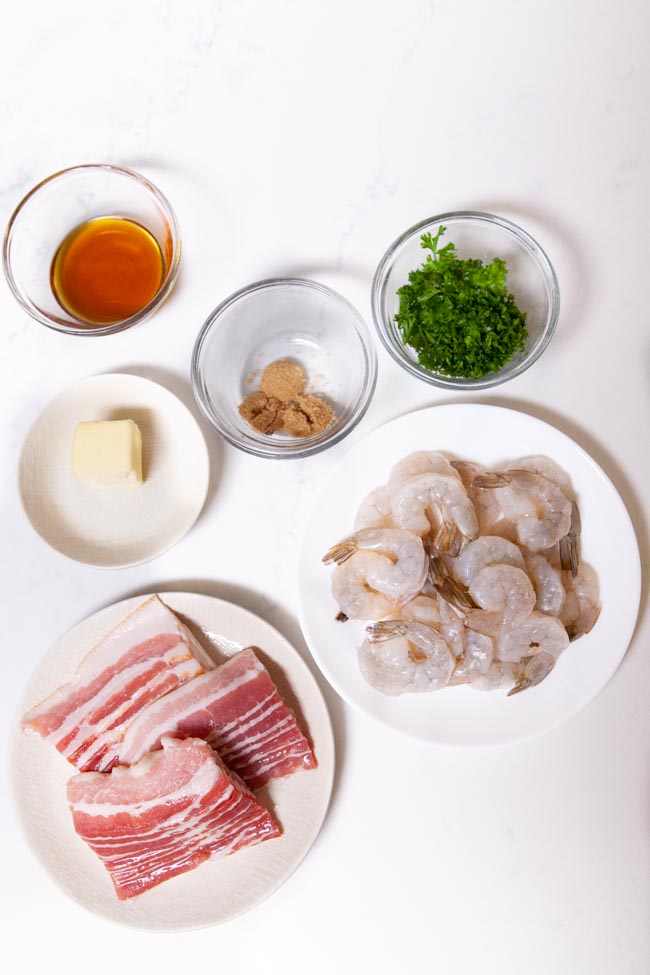 Make the glaze: Start by first making the glaze to brush on top of the shrimp before and after they cook.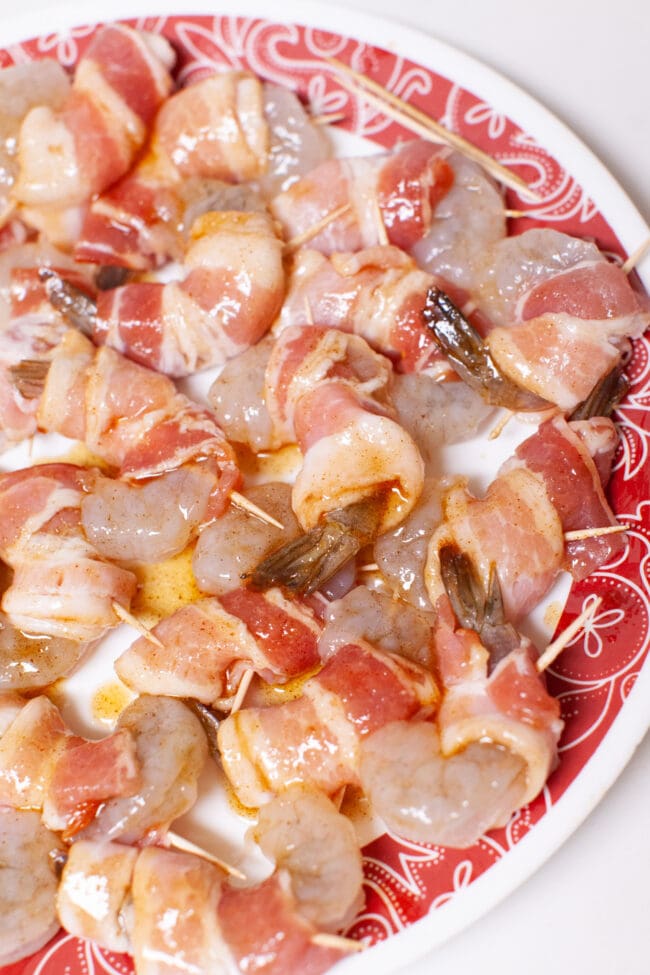 Wrap the shrimp: Wrap one-third piece of bacon around one piece of shrimp and secure it with a toothpick. Brush all the shrimp with the glaze.
Preheat the air fryer: Heat the air fryer so the shrimp are ready to go in when you're done brushing with the glaze.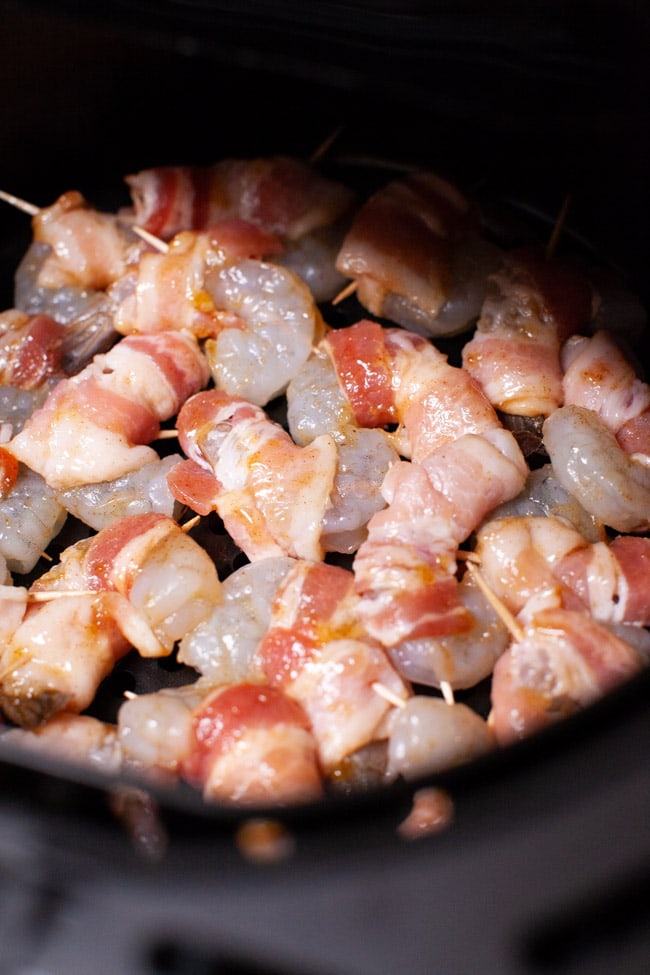 Cook the shrimp: Place the shrimp in the air fryer and cook. Halfway through, turn the shrimp over.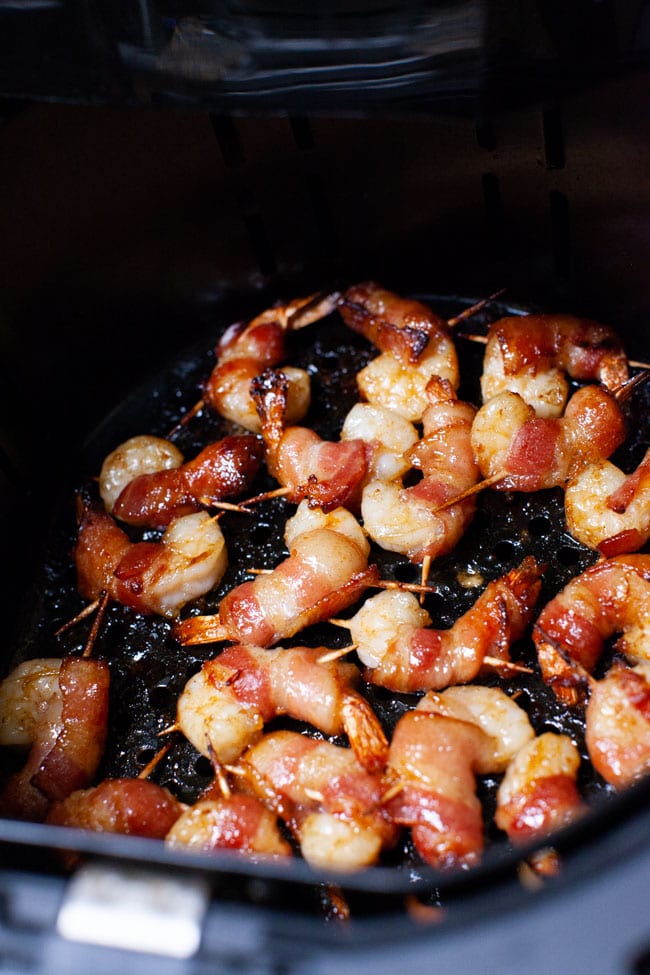 Serve: Remove the shrimp from the air fryer, brush with the rest of the glaze, sprinkle chopped parsley over the tops, and serve.
** This recipe is great as an appetizer or for a main dish. We know you'll love it!
Recipe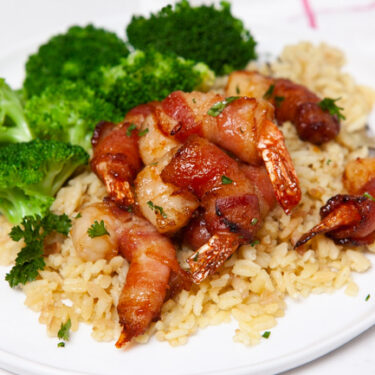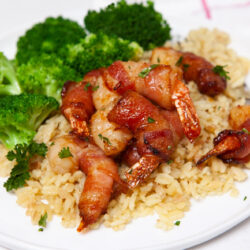 Print
Pin
Save
Bacon Wrapped Shrimp
This Bacon Wrapped Shrimp is so easy to make and perfect for a weeknight dinner. Pair it with sides of brown rice and steamed broccoli for a complete and delicious meal. 
Ingredients
3

Tablespoons

butter

2

teaspoons

brown sugar

2

Tablespoons

maple syrup

16

raw shrimp

,

25/30 size

6

bacon slices

,

sliced into thirds

parsley

,

for serving
Instructions
Brown butter on the stove then add light brown sugar and then set it aside.

Prep the shrimp. Cut the bacon into thirds and then wrap one-third piece around one piece of shrimp.

Preheat the air fryer to 380 degrees. 

Mix the maple syrup into the brown butter mixture. Split into two bowls. Take one bowl of glaze and brush it onto both sides of the bacon-wrapped shrimp.

Place the shrimp into the air fryer and cook for 8 to 10 minutes, flipping halfway through and adding more glaze from the second bowl.

Sprinkle chopped parsley on top and enjoy!
More Recipes You'll Love…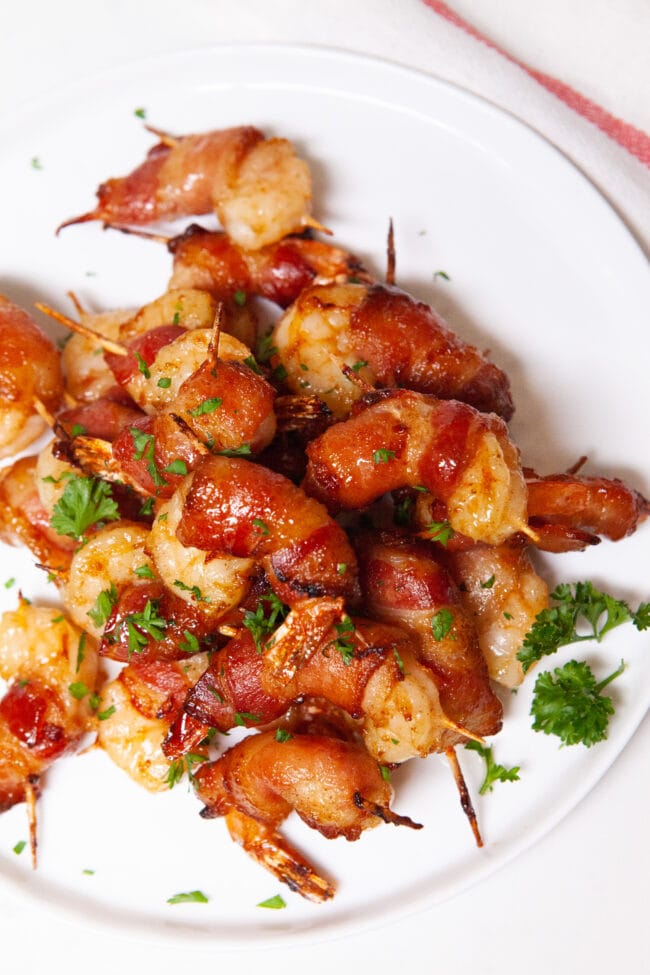 Pin It for Later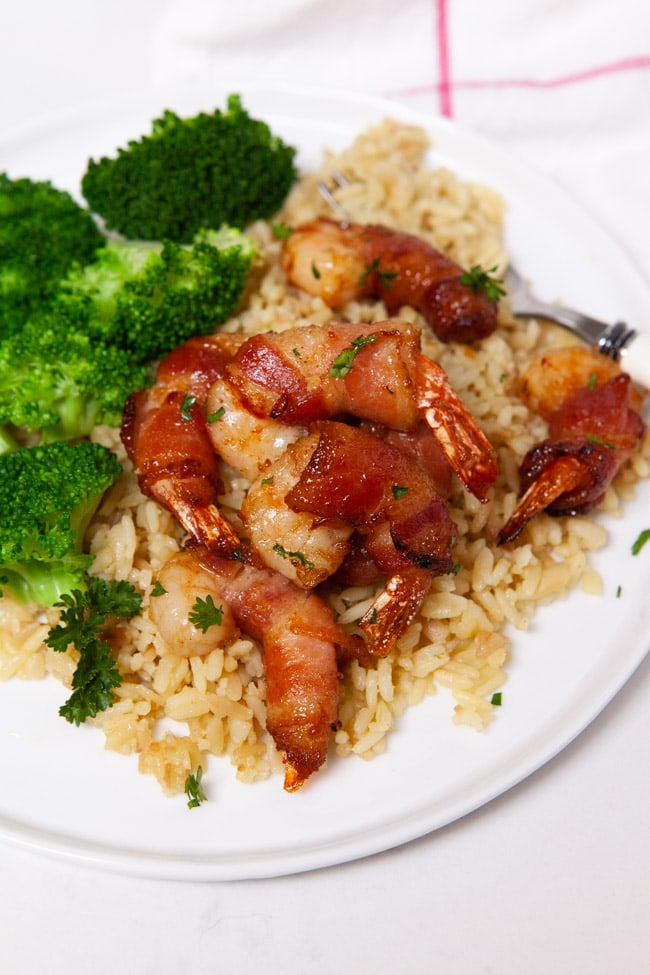 As you may already know, I'm excited to be one of Google's paid early testers for their Thank with Google pilot program. Thank with Google is an experimental feature that allows you to purchase a virtual sticker and directly show your appreciation for content on my website. As a loyal supporter, you can now feel more connected and engaged because you have the ability to express yourself and share what my work means to you.
I have loved seeing the variety of stickers and messages readers like you have selected to date. Every time you send a paid sticker, you can add a personal message which I enjoy receiving! For me, these virtual stickers translate into direct revenue to support the work that goes into the content that you are enjoying on my blog.
You can find the Thank with Google feature in multiple places on my site, including in my sidebar on the right. Other places you can find them are: as a button at the top of this and all blog posts and as a button at the end of my blog posts. If you try it out, let me know what you think! Thanks as always for your support!!