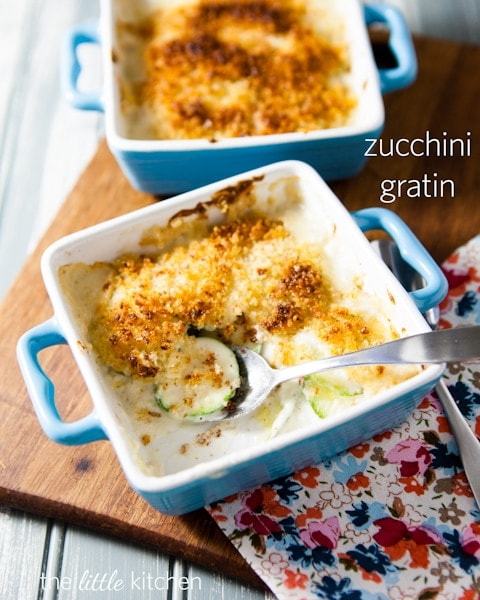 Okay, let me start by saying, I'm not ready for Fall yet. Okay, that's a lie, on Sunday, we had a roast turkey breast for dinner and it felt like a sort of Thanksgiving dinner. I'm not ready for the sunlight to go away earlier, I'm not ready for apple recipes and I'm certainly not ready to start about Christmas shopping. We always start our shopping early and I kinda ignored Curtis the other day when he mentioned getting gifts for our nephews. Because all of this would be admitting that summer is over and the long summer nights are over and that the year is closer to ending. What I won't miss is the heat, our AC broke over Labor Day weekend and that was NOT fun.
I wanted to make something totally different for a side dish to go with the mashed potatoes and corn we were having with the turkey AND I had a bunch of zucchini I needed to use up. So this dish was born…
The zucchini gratin reminds me of the best mac and cheese I have ever had…at The Original in Portland. I wasn't brave enough to ask for the recipe but I did ask them what kind of cheese was in it, they said cheddar and parmesan cheese. It had a panko breadcrumb topping which made it crunchy.

First, slice the zucchini up really thin, about 1/4 inch thick. I used my OXO hand-held mandoline slicer (on setting number 3) that I received in my goody bag at Food Blog Forum Orlando. It's so easy…I have so many ideas for other uses for this thing!
I used freshly grated cheese for this dish and as I use for most dishes…I do have a bottle of pre-grated parmesan cheese in my fridge but find myself using it less and less. For this dish, you have to use freshly grated parm, the two cheeses together make a really nice deep cheese flavor and I don't think you'll be able to get it with the green bottle.
Then, make the cheese sauce and when that's done, mix the breadcrumb mixture together and begin layering your gratin.

It doesn't have to be neat or perfect, just layer the zucchini and it can be overlapping. Alternate layers of zucchini with the cheese sauce. I used a measuring cup to pour it over the zucchini. You'll get about 3-4 layers.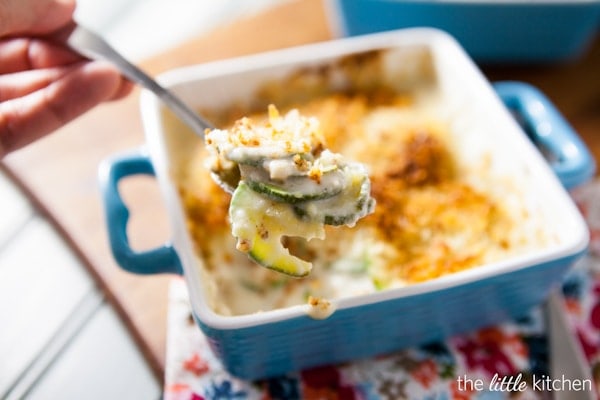 I have to admit, I was eating the zucchini gratin while I was photographing it. That's why there are no photographs of them uneaten. Ooops.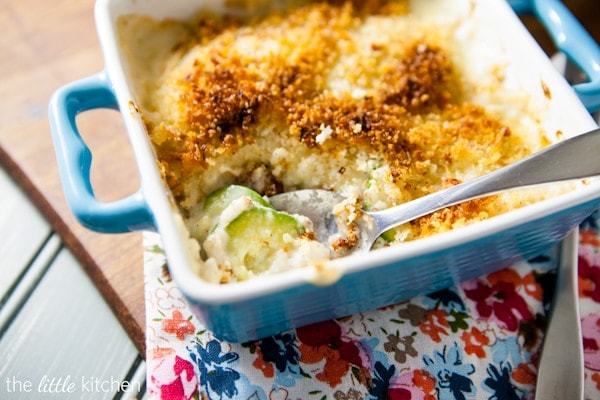 I also made this recipe without the breadcrumb topping and it was still awesome. The breadcrumbs add a different texture and a crunch but if you don't have the breadcrumbs, you can still make this. Just add the grated cheese on top (no need for the butter if you don't have the breadcrumbs.)
Recipe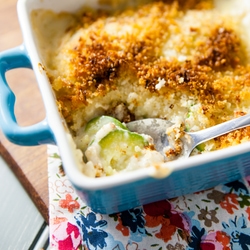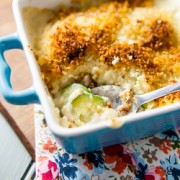 Print
Pin
Zucchini Gratin Recipe
Servings
2
servings as a side
Ingredients
2

medium zucchinis

,

sliced thin about 1/4 inch

1 1/2

Tablespoon

unsalted butter

,

and extra butter for greasing the baking dishes

2

Tablespoons

all-purpose unbleached flour

1/2

cup

heavy cream

1/2

cup

milk

,

I used 2% milk

1

teaspoon

Kosher salt

1/4

teaspoon

black pepper

1/3

cup

sharp white cheddar cheese

,

shredded

1/3

cup

parmesan cheese

,

shredded
Breadcrumb topping
1/2

cup

Japanese panko breadcrumbs

1 1/2

Tablespoon

sharp white cheddar cheese

,

shredded

1 1/2

Tablespoon

parmesan cheese

,

shredded

salt & pepper

1

Tablespoon

unsalted butter

,

melted
Instructions
Heat oven to 375 degrees F.

Melt butter in a medium saucepan on medium heat. Add flour and mix thoroughly with a wooden spoon. Cook butter-flour mixture while stirring for 3-4 minutes. Whisk milk and heavy cream in slowly. Continue whisking and cooking on medium heat for about 3-5 minutes until thickened. Add salt and pepper and turn off heat. Add cheese, whisk until the cheese melts.

Mix panko breadcrumbs with cheese and add a dash of kosher salt and black pepper. Add cheese sauce to a large measuring cup.

Prep baking dishes (I used 2 5"x5" baking dishes that are about 2 cup capacity), grease with butter. Layer zucchini in each baking dish, overlapping is good. On top of each layer pour about 2 Tablespoons of cheese sauce and spread out with a spoon. Continue layering zucchini and cheese sauce until you run out of space or zucchini (about 3 to 4 layers).

On top of the last layer of cheese, top with panko breadcrumb mixture and then drizzle melted butter on top.

Bake for about 20-25 minutes at 375 degrees. Then turn on the broiler to brown the breadcrumb mixture for about 5 minutes.

This little gratin stores well in the fridge. To reheat, put baking dish in the oven at 350 degrees for about 10 minutes or until heated through.

Tip: Double this recipe to make it a side that serves 4 or more.
Disclosure: This post includes affiliate links.