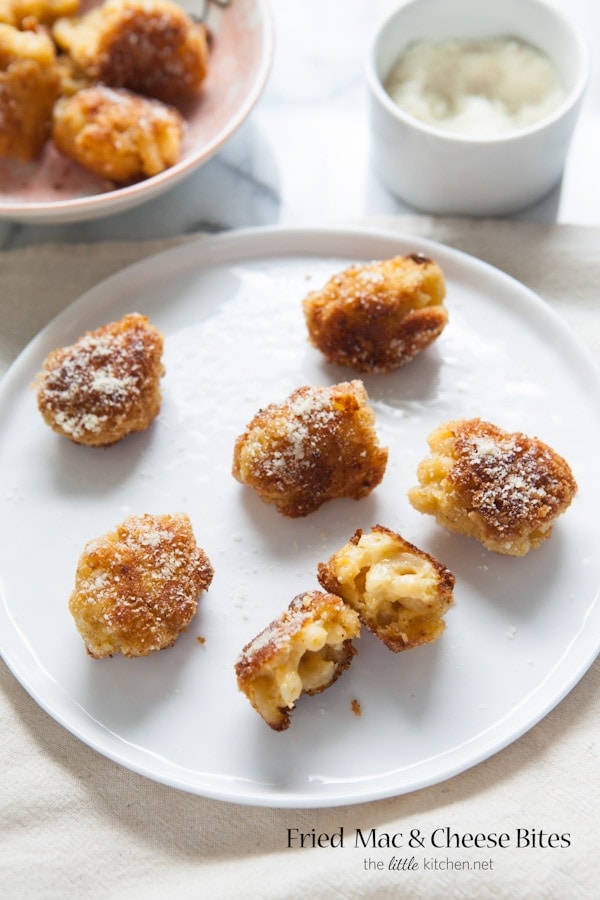 I have come to the realization…that I'm a Southern girl. I say hi to everyone when I'm walking down the street and smile. I like fried cheese and I love butter to pieces. Does all of that make me a Southern girl? I have lived in Florida since I was 7 years old and have considered myself a Florida girl for a longg time. I know some don't consider Florida as part of the south sometimes though. Anyways, Ever since I saw Marc's recipe for Fried Mac & Cheese Balls, I have wanted to make them! And then Brandy and Rachel came up with the idea to celebrate macaroni and cheese in a big way and I had to do it…mmmm fried cheese. That's all I have to say, right?
First off, let's ignore that I didn't use elbow macaroni the first time I made this recipe. It works better with elbows but when I went to make this recipe the first time, I didn't have any.
Second, I used this Stove Top Macaroni & Cheese Recipe from my friends, Todd & Diane. It's a keeper of a recipe…and the way we will make stovetop mac and cheese from now on!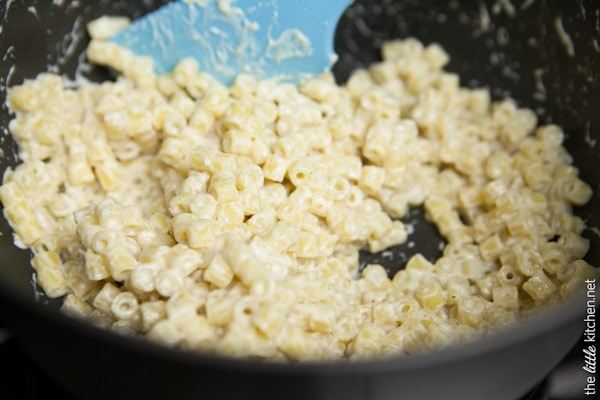 Cook the macaroni in the milk. And as Diane warns, you need to stay close and don't walk away from the pot. The milk cooks down fast.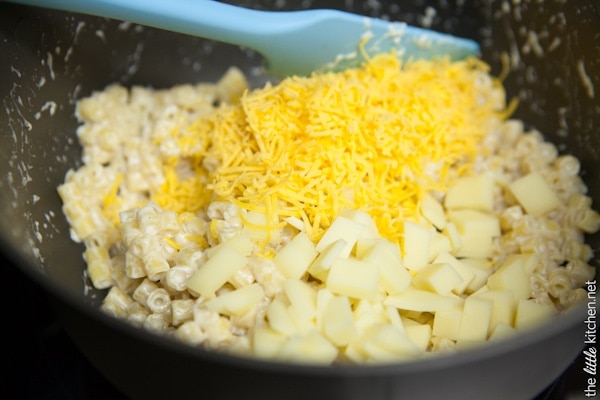 Add cheese, when I first tried this recipe, I added provolone (not called for in the original recipe). It's great for taste but not great for making fried mac & cheese. Just use cheddar cheese for fried mac and cheese. This is also when you would add bacon if you're using it.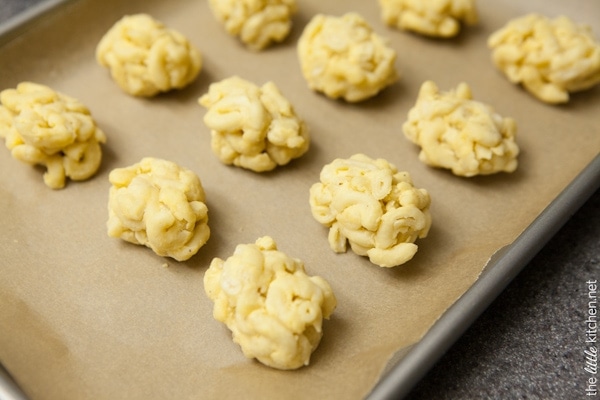 Use a medium cookie scoop and then form into balls…I kind of flattened the tops and bottoms so they would be easier to cook. So instead of mac & cheese balls, they are more bites. Now put the baking sheet in the freezer.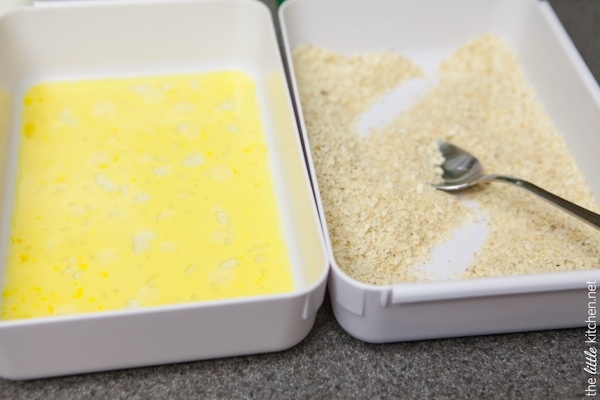 Set up your egg and breadcrumb trays. I love using this set my sister got me for Christmas a couple of years ago. They are easy to clean and are the perfect size for breading chicken for Chicken Parm or for making fried mac & cheese bites!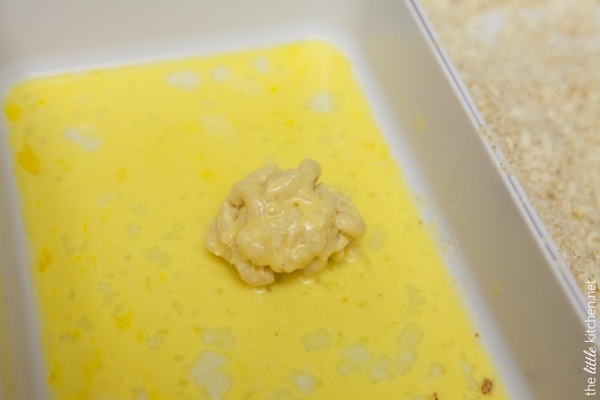 Dip the bite into the egg/milk mixture. Then place into the breadcrumb tray.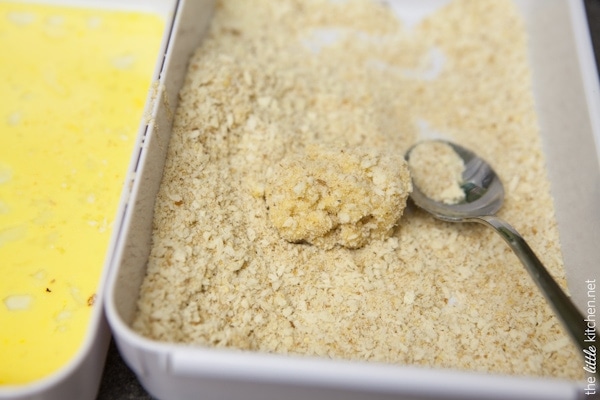 Using a spoon so your hands don't get as messy, cover the bite in breadcrumbs.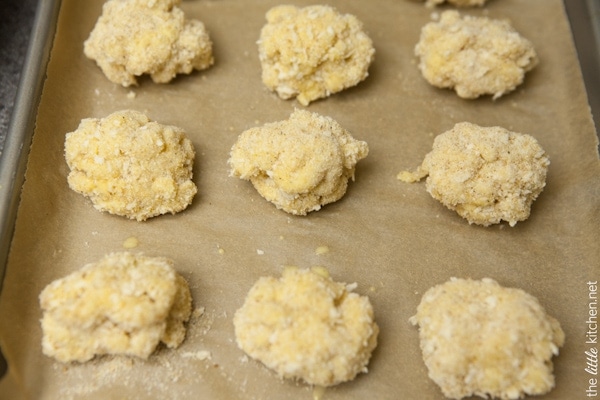 Place onto a try and add to the freezer.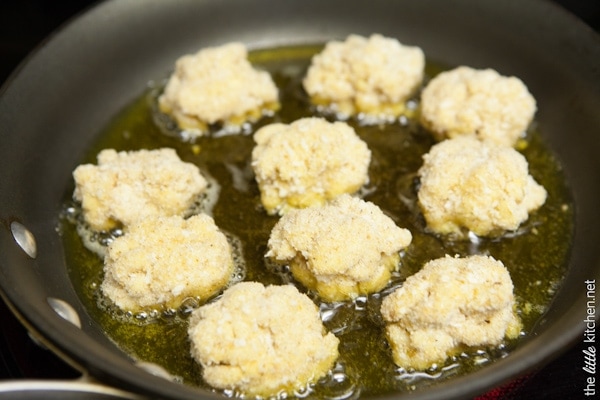 I tried this recipe using both vegetable and olive oil. I think I prefer the taste better with olive oil but if you don't have any, you can use vegetable oil.
Another note, I also tried deep frying these little puppies. It works and it tastes great but they are more crunchier and that's great too but you lose some of the creamy cheese texture. So depending on what you prefer you, can deep fry in a large pot with about 4 inches of oil. Bring the oil to 350 degrees F and fry for about 4 to 5 minutes. Otherwise, fry these in a skillet with about 1/4 inch of oil.
Cheesy, creamy and crispy on the outside, these are the perfect appetizer. Trust me! And with bacon…it takes this recipe to another level! You can try it with our without, that's what I did. (When I made it the second time, I didn't use bacon.)
Recipe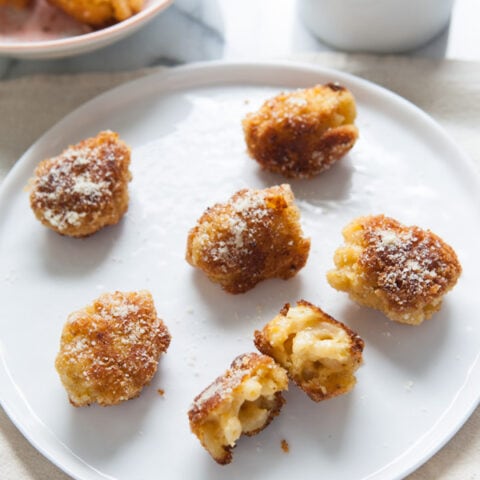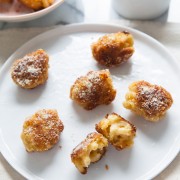 Print
Pin
Save
Fried Mac & Cheese Bites Recipe
Servings
24
appetizer bites approx.
Ingredients
Mac & Cheese
1 1/2

cups

elbow macaroni

1 1/2

cups

whole milk

,

may need more

1

Tablespoon

unsalted butter

1/2

teaspoon

ground mustard

3/4

teaspoon

salt

1/8

teaspoon

ground nutmeg

1

cup

shredded sharp cheddar cheese

salt and pepper to taste

4

slices

cooked bacon

,

chopped (optional, omit this to make it vegetarian)
Making Fried Mac & Cheese
1

egg

1

Tablespoon

whole milk

1/2

cup

panko breadcrumbs

1/2

regular breadcrumbs

1/2

Tablespoon

grated Parmesan cheese

,

plus more for sprinkling

1/4

teaspoon

salt

pepper

olive oil for frying
Instructions
Mac & Cheese
Rinse raw macaroni pasta in a colander and drain. Place macaroni pasta in a medium pot (about 4 quarts). Add milk, butter, ground mustard, salt and ground nutmeg).

Turn heat to medium and bring to a simmer. Be sure to stir frequently, do not leave pot of pasta and milk unattended. The mixture will come to a simmer and possible boil quickly. After it comes to a simmer or boil, turn heat down to low and keep stirring.

Cook until milk is mostly absorbed, about 15 to 20 minutes. (Taste macaroni, should be al dente. If not, add more milk about 2 Tablespoons at a time until macaroni is al dente.)

Add cheese and bacon (if using) and mix thoroughly. Cook on low heat for another 3 to 4 minutes.
Making Fried Mac & Cheese
Allow mac & cheese to cool and refrigerate in an airtight container for at least an hour or overnight.

Remove from refrigerator and using a

medium cookie scoop

 (1.5 Tablespoons), scoop out macaroni and cheese and form into flat or ball-shaped pieces. Place on a parchment paper lined baking sheet and freeze for at least 30 minutes.

Beat an egg in a

shallow dish

 and add milk. Mix thoroughly and set aside. In another shallow dish, mix together both breadcrumbs, cheese, salt and dash of pepper.

Using your left hand, place macaroni & cheese pieces one at a time in the egg-milk mixture and then place into breadcrumb mixture. Using a spoon, drop mixture on top. Place covered mac & cheese pieces back onto baking sheet. While you're getting the oil ready, place baking sheet back in the freezer.

Add olive oil to nonstick skillet, about 1/4 inch layer to cover. Heat oil for 3 minutes on medium high.

Lower heat to medium and add macaroni and cheese bites, don't crowd the pan. Cook in two batches if needed. Cook for 2 minutes on first side and flip and cook for another 1 minute 30 seconds to 2 minutes.

Remove and place on paper towel lined plate and immediately sprinkle with Parmesan cheese. Serve immediately.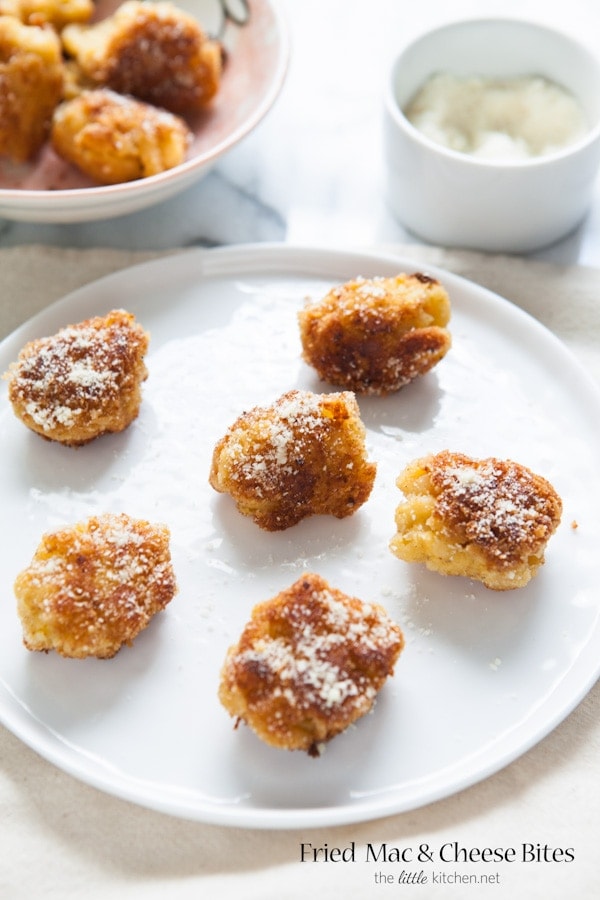 And for more wonderful mac & cheese gloriousness and prizes even, be sure to visit Rachel and Brandy…and see these amazing recipes below…!!!
Disclosure: This is NOT a sponsored post. There are affiliate links in this post.