Crab rangoon is so easy to make at home and tastes better than takeout. It's six ingredients to make these wonderful appetizers at home…your family and friends will be so impressed!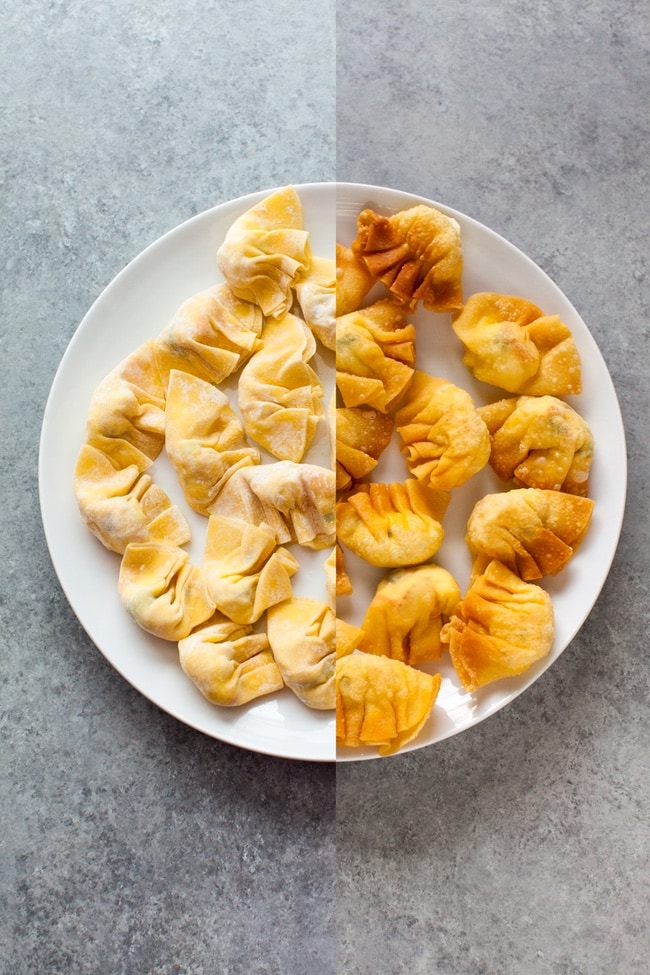 This recipe for homemade crab rangoon was originally shared on December 14, 2009. I have updated this post and the images.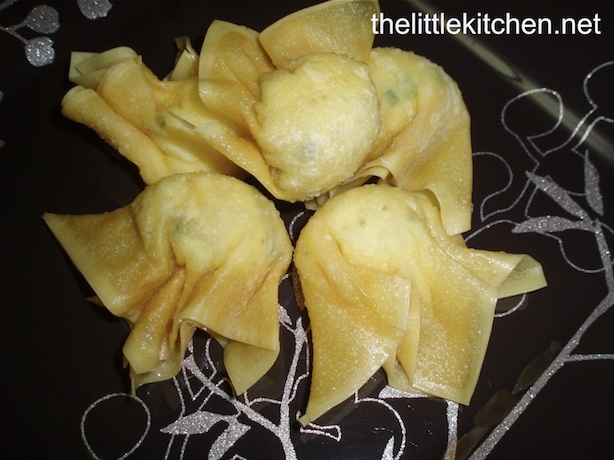 The original image from this post when I shared this recipe in December 2009.
I have made this crab rangoon recipe for family and friends so many times. It's the second recipe I ever shared on The Little Kitchen too! It's really easy to make and it's requested all the time.


I worked part-time at a startup in college and one day, a co-worker asked me what was in the crab rangoon appetizers she had at Chinese restaurants. I hadn't thought about it, I just knew I loved ordering them when we went to Chinese restaurants.
I asked my mom (even though we're Vietnamese) what she thought and she rattled off a list of ingredients.
I did tell my co-worker what my Mom thought but then I decided I would try my hand at creating a recipe for crab rangoon and this is how this recipe was born.
This is such a great recipe to make for your Super Bowl Party and for the Chinese New Year (or Lunar New Year) party! This recipe is actually pretty popular in my family and like I said requested all the time!
What is crab rangoon?
Crab rangoon is a fried appetizer served at American Chinese restaurants across the United States. But did you know they aren't Southeast Asian or Chinese? Crab rangoon are actually an American invention!
The filling of crab rangoon is cream cheese, imitation crab meat and green onions. Some restaurants add garlic or other spices as well.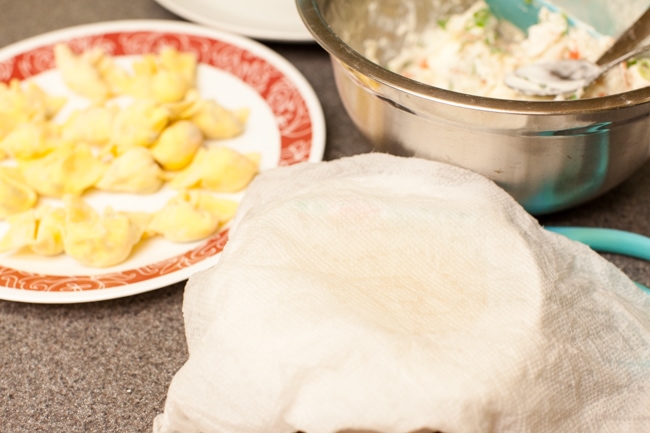 Crab Rangoon Ingredients
1 package of square or round wonton wrappers
8-ounce package imitation crab
2 (8-ounce) packages cream cheese
5-6 green onions
salt and pepper
vegetable or grape seed oil
How to fold crab rangoon
It's really easy to fold them. I show you how in the photos below. First you want to make sure to cover your wonton wrappers with a damp paper towel that way they don't dry out.
I usually do this with both of my hands but I'm showing you below on a plate what each step looks like.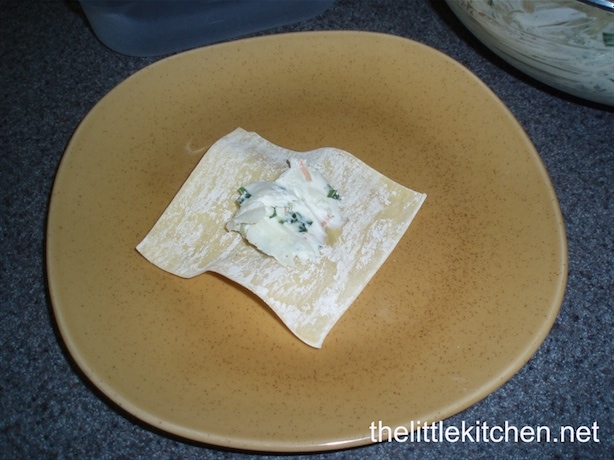 Take about a teaspoon of the crab-cream cheese filling and spread it onto the middle of a wonton wrapper with a spoon.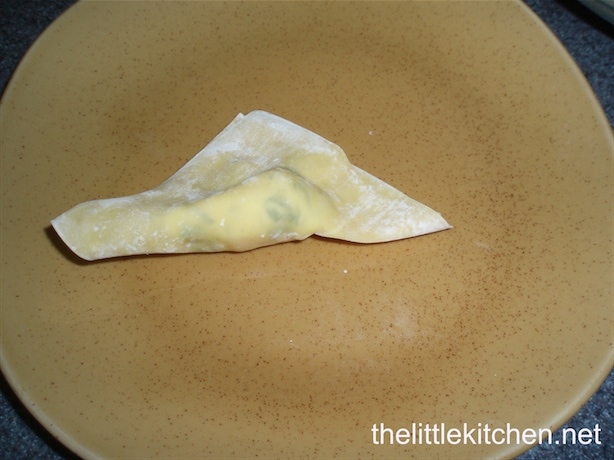 Then, fold it in half to make a triangle.
Then, pinch with your fingers near the filling and fold the side corners in (as pictured above).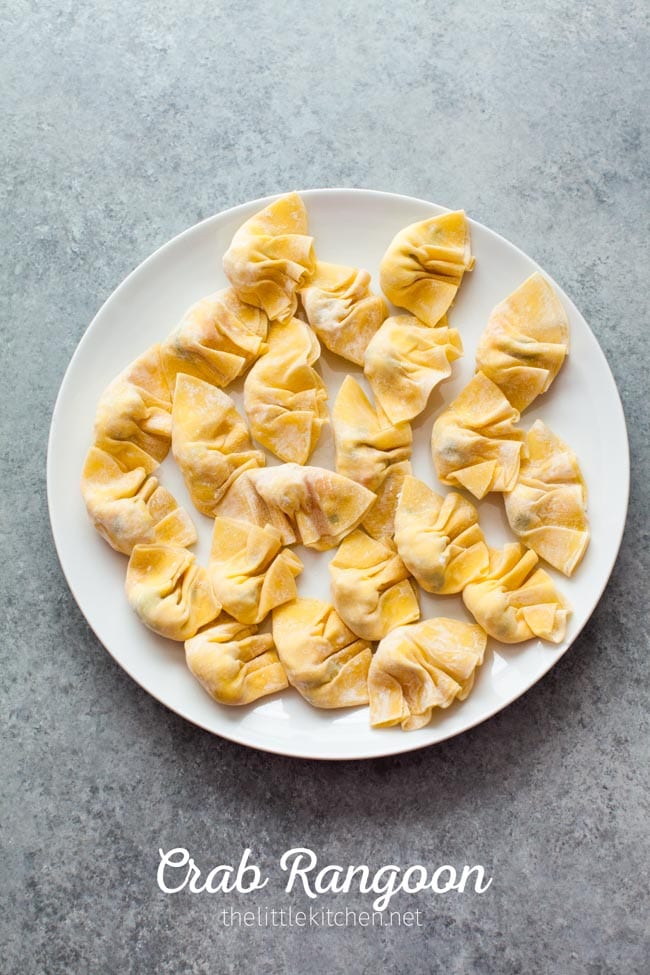 It actually comes together really fast and you'll have a bunch of these wonderful crab rangoon!

Can crab rangoon be made ahead of time?
Yes they can be made ahead of time. First, I'll say they taste best and have the best consistency when you fry them up immediately after folding them up. But they totally can be made ahead of time.
From the photo above, you can see that I put them on a parchment paper lined cookie sheet in one layer and then put it in the freezer. Freeze for at least 30 minutes and then you can put them into a zippered plastic bag (make sure you add the name of the recipe and date it!) and put them in the freezer.
Before frying them though, you'll need to let them defrost part of the way in the refrigerator.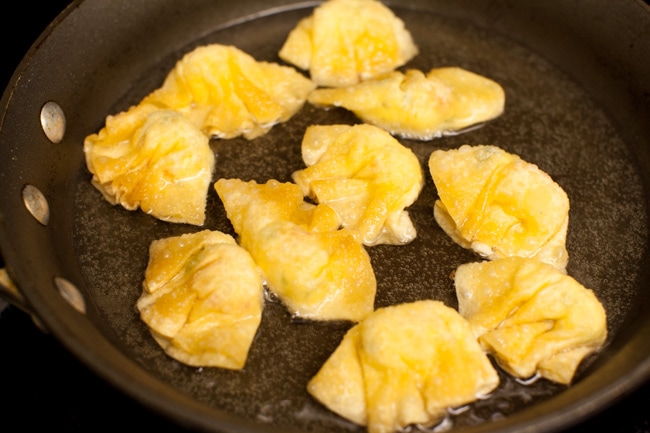 How to fry crab rangoon
It's really easy to fry crab rangoon, you don't need a lot of oil. I add about a 1 1/2 inch layer of oil (you can use vegetable or grape seed oil) and heat it for a few minutes on medium high.
I fry them in batches, you don't want to over crowd the pan. Cook for about 2 to 4 minutes on each side.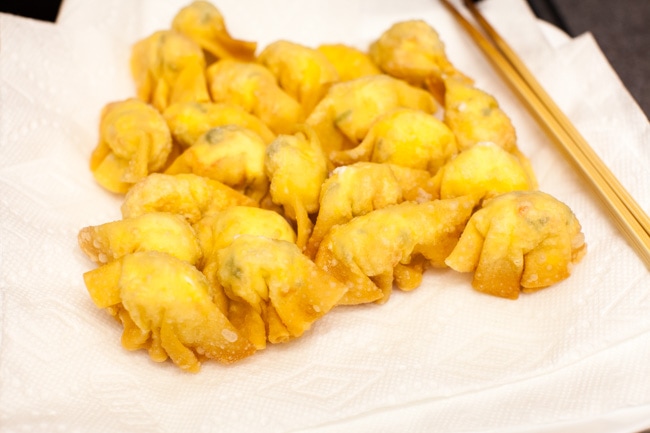 And put them on a paper towel lined plate upside down to drain the oil out. This will keep them from being overly greasy. That's my secret! Now you know!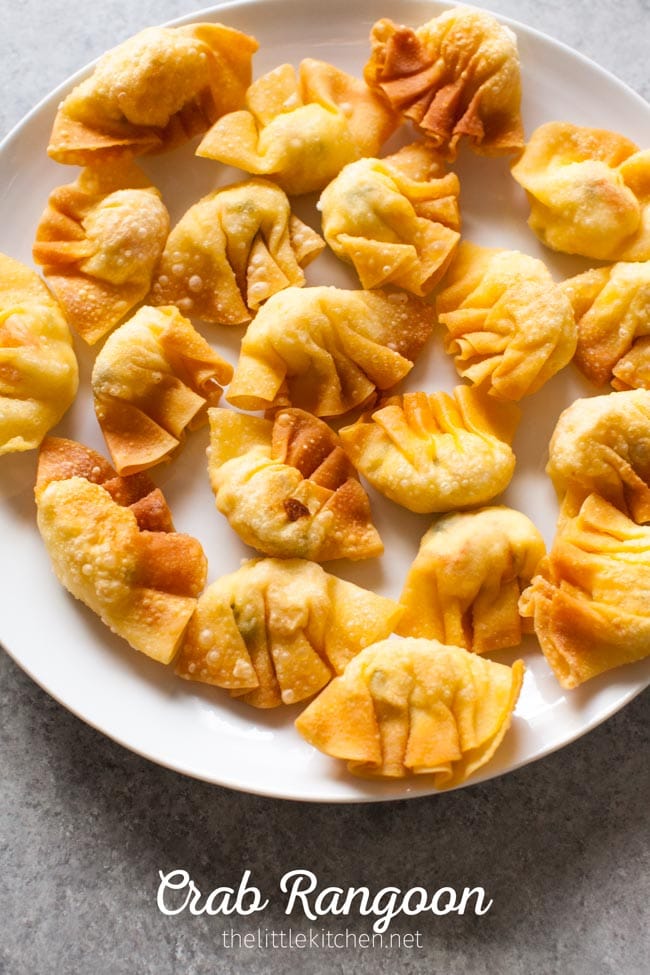 These little homemade crab rangoon appetizers are amazing. Once you make them, you won't need to order as takeout or at a restaurant anymore because homemade is better!
Just a note about the wonton wrappers, I have used square and round for this recipe. The original photos from 2009, I used square ones. The ones in the updated photo, I'm using round ones!
Recipe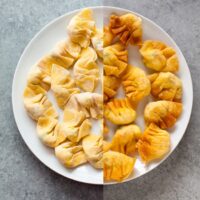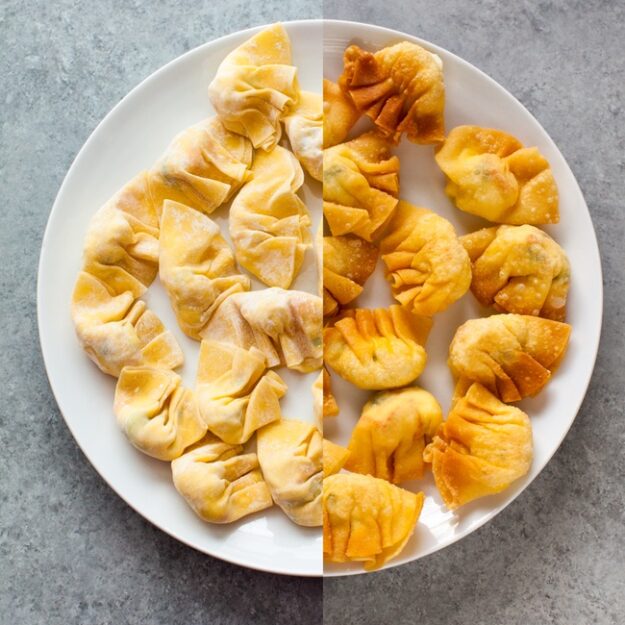 Print
Pin
Save
Crab Rangoon Recipe
Servings
50
-60 appetizers
Ingredients
1

package of square or round wonton wrappers

8-

ounce

package imitation crab

,

I like to use imitation lobster sometimes

2

8-ounce packages cream cheese, softened on the counter for about 30-60 minutes on the counter

5-6

green onions sliced thin

salt and pepper to taste

,

I used 1 teaspoon salt 1/2 teaspoon pepper

vegetable or grape seed oil for frying
Instructions
Open the packaging of imitation crab (I like to rinse it quickly under the faucet and pat dry with paper towels). Break apart the crab and then tear using your hand into a large mixing bowl.

Add sliced green onions, 1 teaspoon salt and 1/2 teaspoon pepper. Mix throughly with a rubber spatula.

Add the cream cheese and mix throughly.

After opening the wonton wrappers, make sure to cover it with a damp paper towel to prevent drying out. Take about a teaspoon of the crab-cream cheese filling and spread it onto the middle of a wonton wrapper with a spoon. Then, fold it in half to make a triangle.

Place your fingers on the area of the wonton right above the filling and crimp together. It should look like a pouch. You don't have to make sure it's completely sealed.

Repeat steps 4-5 until finished with the wontons or the filling.

Heat oil (about a 1 1/2 inch layer) in a nonstick skillet on medium to medium high heat for a few minutes.

In batches, fry the crab ranoon in the skillet until slightly browned on each side about 2 to 4 minutes.

Cool on a clean plate lined with paper towels. Place the crab rangoon upside down to ensure the oil drains out. Allow to cool for 5-8 minutes. Serve immediately. (You can serve them with your favorite store bought sauce, I like to eat them plain!)
Notes
Notes:
I like to buy my wonton wrappers at the Asian grocery store. They are thinner and actually fry up better than the ones I find at American grocery stores. They are usually found in the refrigerator or freezer section.
If you buy the wrappers frozen, defrost them in the refrigerator for about 2 hours, sometimes less.
If you make your crab rangoon ahead and freeze them, make sure to let them defrost in the refrigerator first before frying them.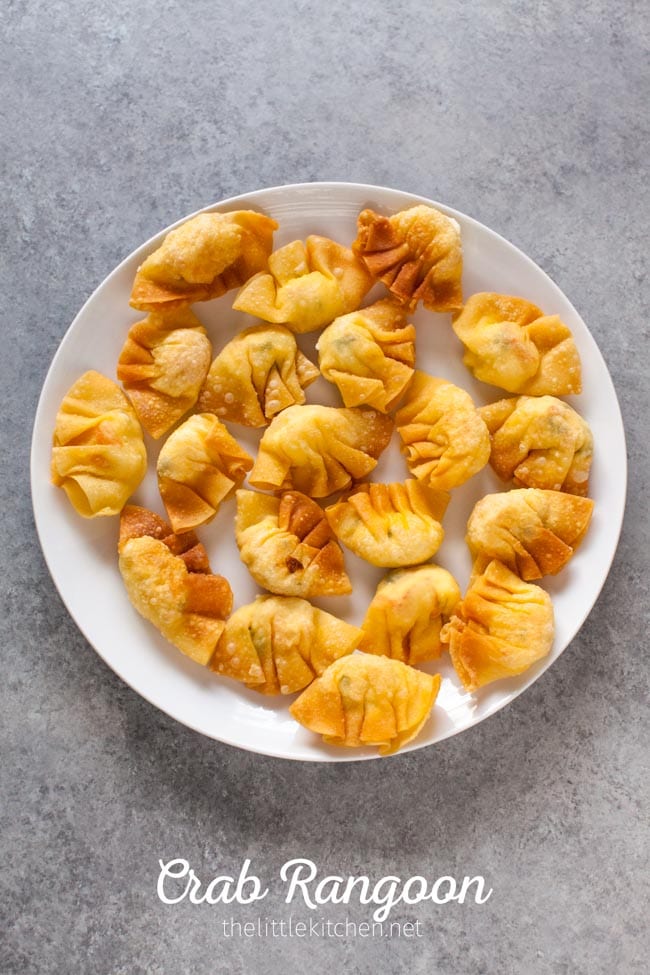 Other recipes you totally need to try!
Smoked Salmon Rangoon
Keto Cheese Crisps
Easy Keto Chili
Vietnamese Egg Rolls
Beer Cheese Fondue