Crab Rangoon – Lobster Style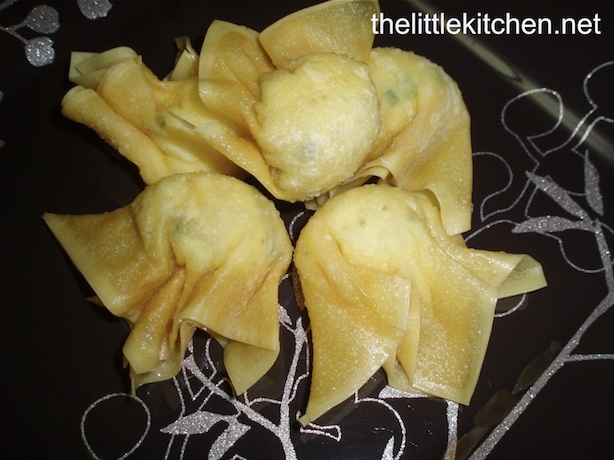 This is a recipe that I have developed over the years. My crab rangoon is a little different than Chinese restaurants because I use the lobster flavored imitation "crab" meat. It's always a hit with my family and friends when I make it and I promise you, you won't be able to eat just one! They are very simple and can be served with your favorite sweet and sour sauce. I prefer mine without sauce.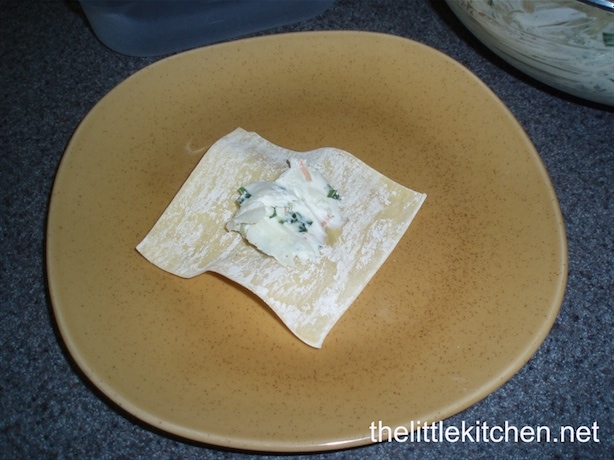 Put about a teaspoon or so of the filling in the middle of the wonton wrapper.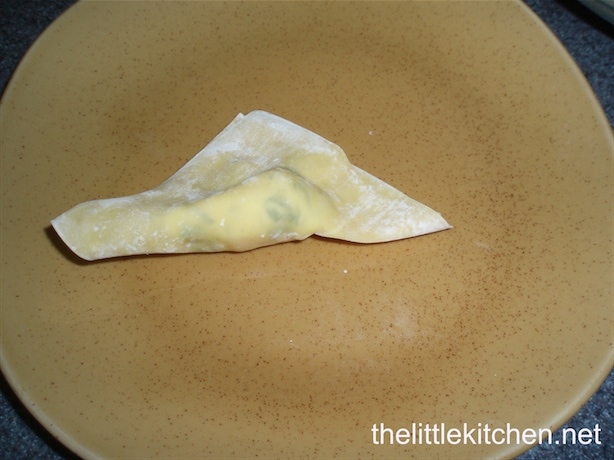 Fold in half into a triangle (not a rectangle).
This is how it looks after it's wrapped.
I think this is about 60.
Yummy! I have already promised my family I will be making these for Christmas Eve when they all come over this year.
Recipe
Crab Rangoon - Lobster Style
Ingredients:
1 package of square wonton wrappers
1 – 8oz. package of Icicle brand imitation lobster (or you can use imitation crab)
2 – 8oz. packages of Philadelphia cream cheese (allow it to sit out for 30-60 minutes so it's easier to mix)
4-6 green onions sliced thin (do not use the most of the white end of the onion, this ingredient optional)
salt and pepper to taste (I used 1 teaspoon salt & 1/2 teaspoon pepper)
vegetable oil for frying
Directions:
First, rinse imitation lobster and then tear/break it up using your hands into a mixing bowl.
Mix in green onions, salt & pepper.
Add in cream cheese and mix well.
Take each wonton wrapper and put about a teaspoon or a little more than a teaspoon of the mixture in the middle of the wonton skin.
Fold in half (if using a square shape, after folding in half, shape should be a triangle, not a rectangle).
Put your fingers on the area of the wonton right above the mixture, and crimp together, should look like a pouch. (Does not need to be completely sealed but you don't want too much oil to get into the cream cheese and you don't want the cream cheese to come out of the wonton wrapper while frying. If you're unsure, try doing a couple and frying them up before wrapping the rest of them to get a feel for it.) Also, I sometimes describe it as looking like a ghost when you flip upside down, the area with the filling is the ghost's head.
Repeat steps 2-4 until all mixture is gone or wontons are gone.
Heat oil (about a 1 1/2 inch layer) in pan on medium to medium high heat. Oil needs to be pretty hot.
In batches, fry rangoons in pan until lightly browned on each side about 2-4 minutes.
Cool on a plate lined with paper towels. Line up upside down so that any oil that has collected inside drains out. Allow to cool for 5-8 minutes. Serve immediately.
Cook's Notes:
Buy the wonton wrappers preferably from an Asian grocery store, I use Twin Marquis brand – Hong Kong style, I have used the ones from the local supermarket and I didn't like them as much as they are much thicker than the Hong Kong style ones.
A couple of hours before starting, take your cream cheese out and let sit on your kitchen counter. If it's not completely cold, it's easier to mix and make your filling.
For some reason, when opening the wrappers (after being defrosted), I usually have to throw out the first couple of wrappers. They usually crack or break up when trying to prepare it with the filling mixture.
Keep your wonton wrappers covered so they don't dry out. I use a damp paper towel to cover the wrappers. As you are wrapping the rangoons, be sure to keep them covered as well.
I buy several packages of wonton wrappers & freeze them because my favorite Asian grocery stores are over an hour away. They freeze really well in their packaging and usually defrost fairly quickly (about 2 hours or less) in the fridge.
You can freeze your extra crab rangoons (unfried) by first freezing them (separated) for a couple of hours on parchment paper on a cookie sheet. Then place them into a zippered plastic bag and place back into the freezer.
Before frying, be sure to defrost in the fridge. I have done this before, they taste pretty much the same but the consistency of the cream cheese is different and I think less appealing than when they are made fresh and fried without freezing.
We love that you love to share our recipes with others. If you have a blog or website and want to repost the recipe, we just ask that you reword the instructions (easy peasy) and link back to give us credit and to use your own images at the same time. Please ask us permission before republishing our recipes and images. And here's a great article on how to properly attribute a recipe.