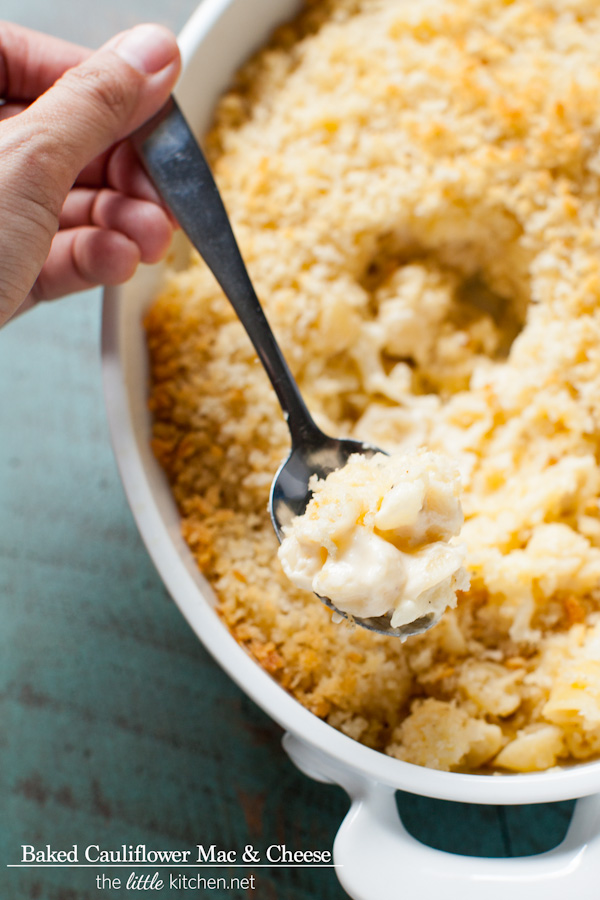 Macaroni and cheese is my favorite…absolute favorite. And cauliflower, probably one of my favorite vegetables. I'm completely obsessed and love to eat it raw.
So when Horizon® approached me to make a recipe with their mac & cheese, I was excited! Their box mac & cheese is really good and you can feel good about eating it. I thought long and hard about the recipe and then thought, cauliflower would be perfect to hide in Horizon® Pasta Shells and white cheddar macaroni & cheese!
This recipe is really quick and easy to make. First bring a pot of water to boil. Add the cauliflower florets and cook for just one minute. Remove with a slotted spoon. This is optional, you can also add the cauliflower straight to the mac & cheese if you like it crunchy (like I do).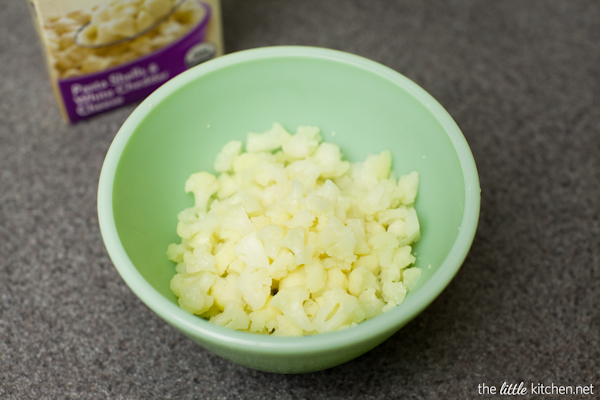 But if you want to really truly hide the veggies, boil them for one minute. Then, boil the macaroni in the same water, no need to change it out.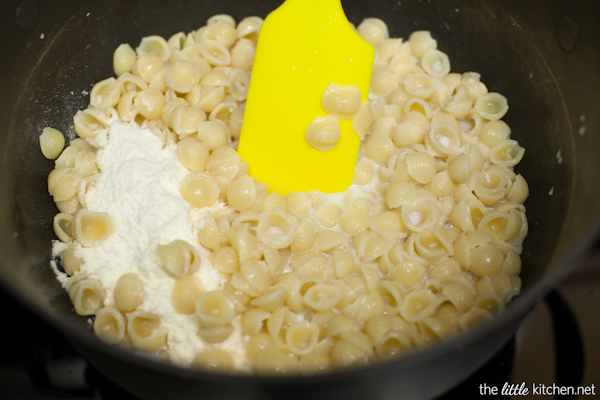 Drain the water and add the butter, cheese powder packet and milk (I increased the milk to 1/2 cup). Mix well.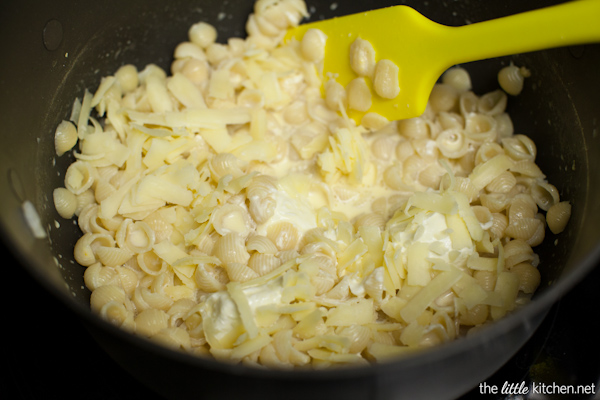 Then, add the cream cheese and sharp white cheddar.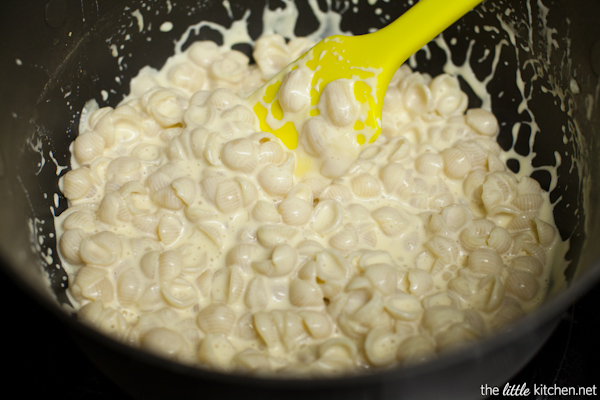 It's nice and creamy.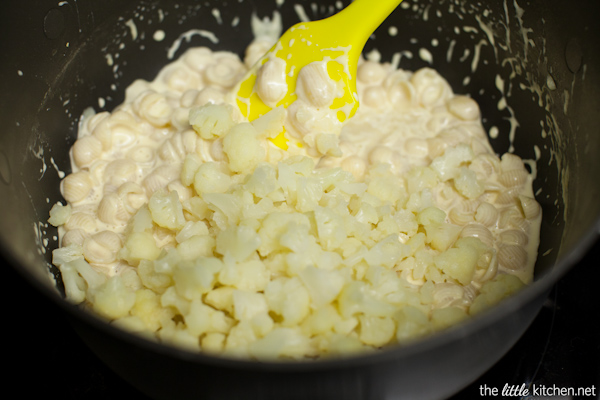 Add the cauliflower.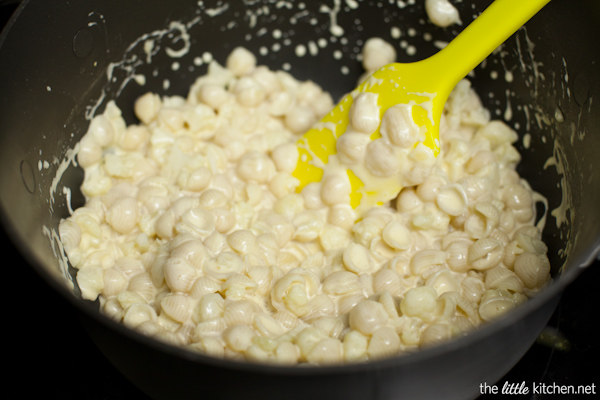 Now you can't even see it!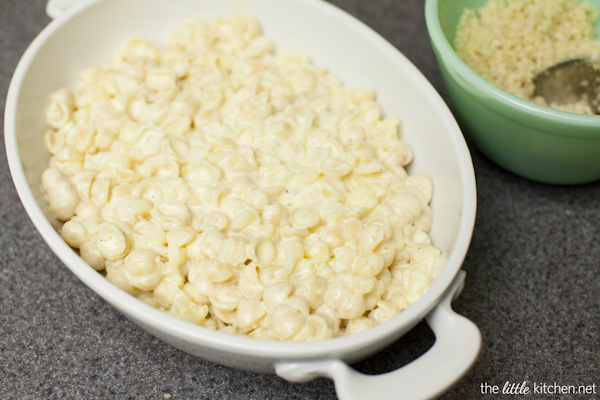 Spray a baking dish with cooking spray and add the mac & cheese. Use a spatula to smooth it out and level the top.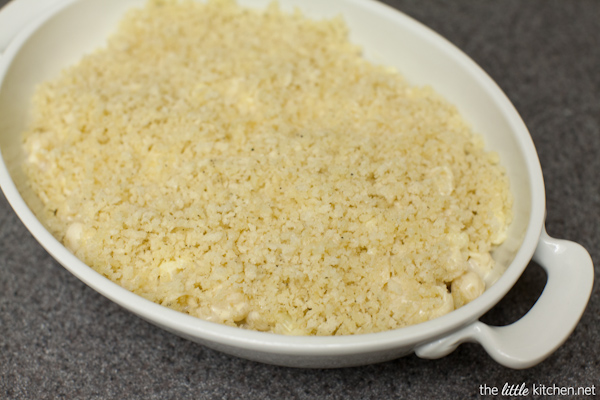 Sprinkle the panko breadcrumb mixture on top.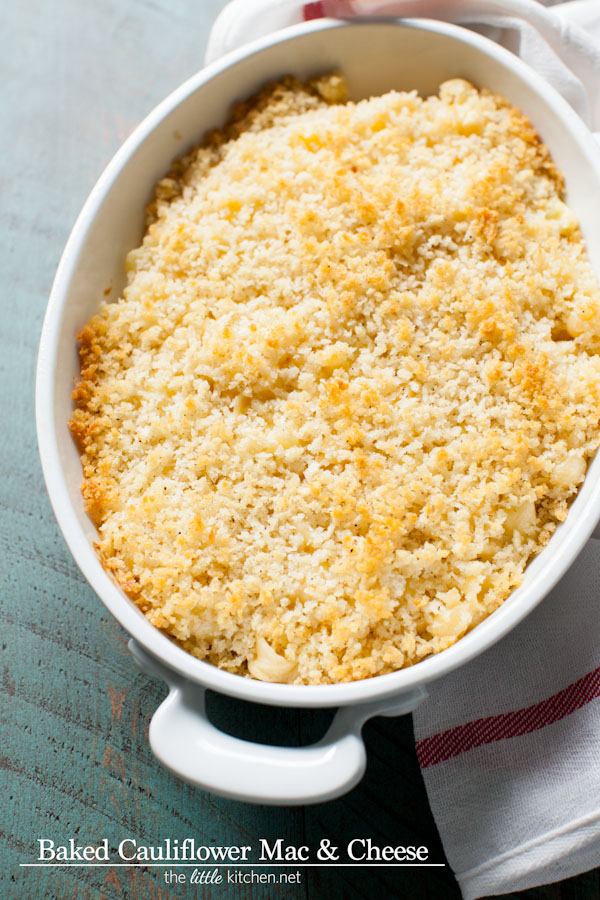 Bake for 15 to 17 minutes.
And then you have this creamy goodness. I'm absolutely in love with this recipe. It's really easy to make and it's fast; super convenient to use Horizon Mac & Cheese and you can feel good about enjoying it.
Be sure to try out the Horizon MAC-N-ATOR™ tool, it's an online tool where you can take the ingredients that you have in your kitchen and it creates a recipe for you (which includes Horizon Mac & Cheese).
Recipe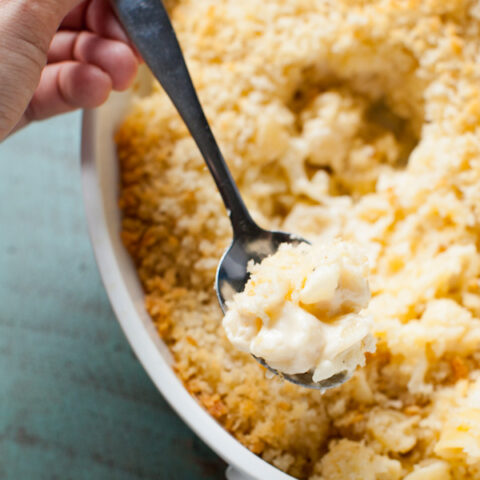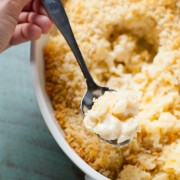 Print
Pin
Baked Cauliflower Macaroni & Cheese Recipe
Ingredients
1 1/2

cups

cauliflower

,

or frozen, be sure to thaw it, cut into small florets

4

Tablespoons

unsalted butter

,

divided

1/2

cup

reduced fat milk

2

ounces

cream cheese

1/3

cup

shredded sharp white cheddar cheese

2/3

cup

plain panko breadcrumbs

cooking spray
Instructions
Bring a pot of water to a boil. Heat oven to 375 degrees F.

Add cauliflower florets to the pot and boil for one minute. Remove with a slotted spoon.

Add pasta shells and follow instructions on the Horizon package except add 1/2 cup milk instead of 1/4 cup.

After draining the macaroni, add cream cheese and cheddar cheese and mix well until combined and cheese is melted. Add cauliflower and mix. Taste and add salt & pepper if needed.

Melt 2 tablespoons butter. In a small bowl, mix together panko breadcrumbs, melted butter, 1/2 teaspoon salt and 1/8 teaspoon pepper.

Spray a ceramic or glass baking dish with cooking spray. Add macaroni and cheese into baking dish. Use a rubber spatula to smooth out the top. Pour breadcrumb mixture over the top.

Bake for 15 to 17 minutes at 375 degrees F, until the breadcrumbs are golden brown.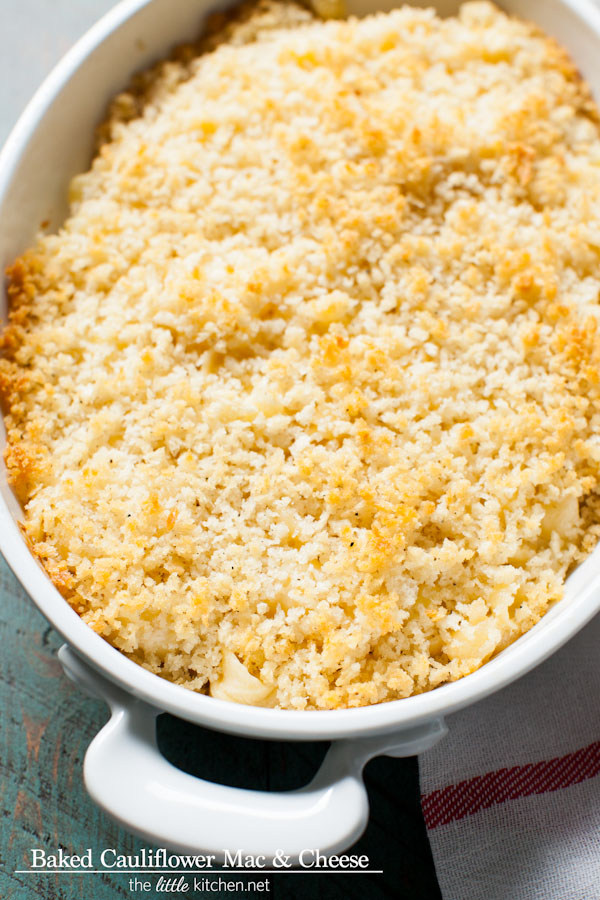 Enjoy Horizon Mac & Cheese as a versatile meal and keep your family happy.  Try different vegetables in the dish to promote alternative uses of Horizon products or let your imagination take over.
Horizon is a pioneer in the organic industry.  Every choice they make is carefully considered with National Organic Program (NOP) guidelines in mind.  Horizon Mac & Cheese is made with these guidelines and the happy family in mind.  For more information, visit Horizon's website for more information.
Disclosure: This post is sponsored by Horizon. The opinions and text are all mine.