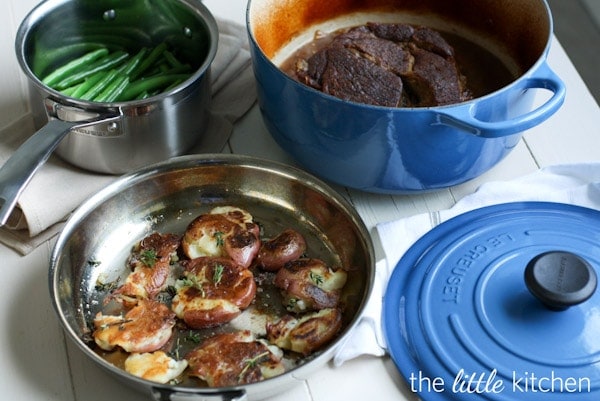 I love cooking, it's obvious right? I know that I love eating just as much as I love cooking. So recently when I was asked by Le Creuset if I wanted to participate in their Pairings photo contest, I jumped at the chance. Not just because I love Le Creuset products but because I love to cook. I'm very fortunate to get to work with such an amazing brand, not only do I love the products, I also love working with the people who represent the brand.
The task was to photograph their new Marseille blue round French oven along with two of their stainless steel cookware pans (2 qt. Stainless Steel Saucepan with Lid and 9.5" Stainless Steel Fry Pan). I was so thrilled they asked me when the pieces arrived, I was stumped! I first shot the products with nothing in them but that didn't seem right.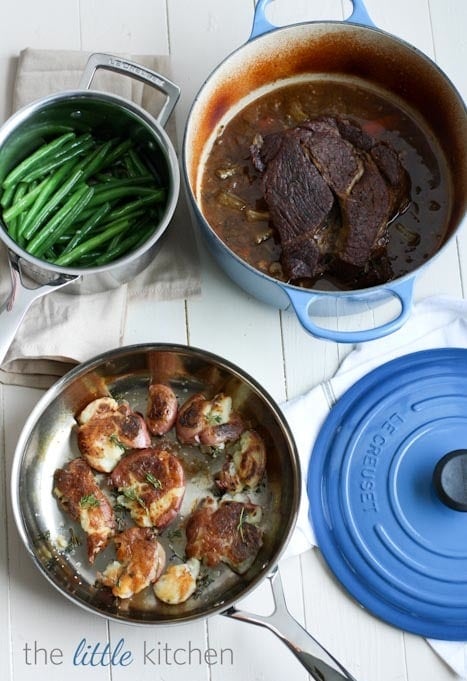 I then thought about what the perfect pairings are when it comes to food and meat and potatoes came to mind. I then rounded it out with green beans. I wanted to give the feeling that dinner's ready and to really allow the products to shine. After I finished shooting the shots, Curtis and I sat down to eat dinner. 🙂
The shot above is what I submitted for the contest. The other food bloggers submitted some wonderful entries and it's pretty stiff competition. I would really appreciate your vote – it's really easy, all you have to do is like this photo on pinterest. If I win, I will get to give away this same set above to one of The Little Kitchen readers!
I'm in love with the new Marseille blue color and I noticed that they redesigned their French ovens! The handles are a little bit bigger and are easier to grip, the lid handle is a little bigger too. As always, Le Creuset French ovens are always easy to clean.
About the recipes in the Le Creuset cookware – I made Cristina Ferrare's Classic Roast Beef and her wonderful smashed potatoes. This is absolutely my most favorite roast beef recipe and the potatoes are always a favorite. I always make extras so I have leftovers!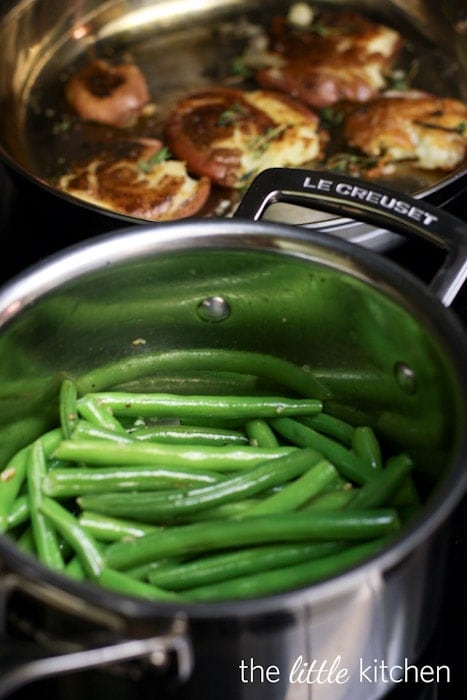 I'm in love with these tri-ply stainless steel pieces too, the handles hardly got warm while I was cooking so no worry about getting burned.
And these green beans – a favorite and staple at holiday dinners in my family. This green bean recipe is the way to go, first you par-boil them (boil them for just 4-5 minutes) and then put them into an ice bath and sautee them when you're ready to eat dinner.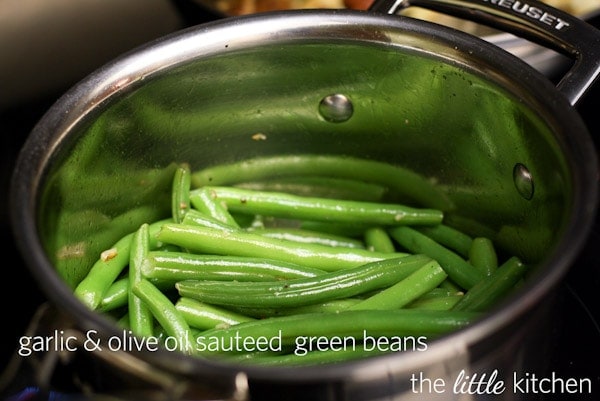 Say it with me, no more soggy, overcooked green beans! This recipe is a foolproof way to ensure you still have the green color in the beans as well as a nice crunch.
Recipe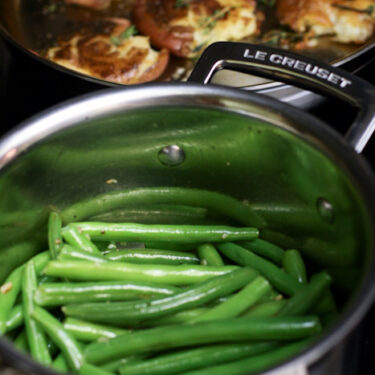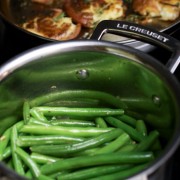 Print
Pin
Garlic and Olive Oil Sauteed Green Beans
The perfect green bean every time. No more soggy green beans!
Ingredients
1

pound

green beans

,

ends popped or chopped off

2

tsp

olive oil

2

garlic cloves

,

minced

salt & pepper
Instructions
Prepare green beans and bring a pot of water to a boil. Allow green beans to boil for 4-5 minutes, ensuring they don't change color and lose their crispness.

Drain green beans and add to an ice bath. Drain and set aside until ready to sautee.

Heat a sauce pan or skillet on medium heat with olive oil for at least 3 minutes. Add garlic and cook for 60 seconds. Add green beans and cook for 3-5 minutes. Season with salt & pepper.
Don't forget to vote for my photo in the Le Creuset Pairings Photo Contest until May 31st. Also, visit Le Creuset's Pairings' site for a chance to win Le Creuset products – there are weekly prizes!
Disclosure: I received a set of Le Creuset cookware in order to participate in the Pairings contest. I was not asked to post about them nor was I compensated. As always, I only share with you my honest opinions and my favorite brands. One more thing, there are a few affiliate links in this post.