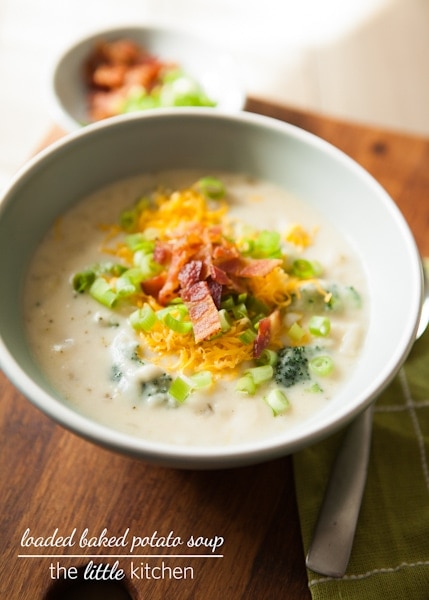 A couple of months ago, I received an invitation to travel to Idaho to witness the Idaho potato harvest. I jumped at the chance…potatoes? Little ol' me has had an obsession with potatoes as long as I can remember. I cook with potatoes all the time and I love to consume them…so this was a perfect fit.
Little did I know, this trip would change my life. I'm serious. Dead serious.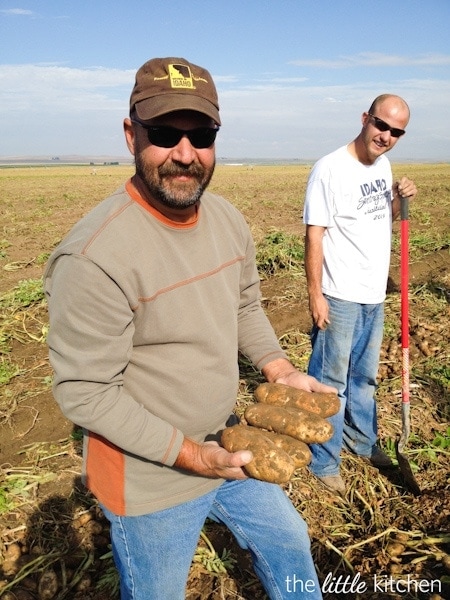 I met 3rd generation potato farmers like Jim Tiede (pictured here with his son, Alex), who are proud of what they do and at the same time are humble. They work incredibly hard and were so excited to show us their farms. We often forget the hard work and sacrifice farmers make in this country…I only wish all of you could have gone on this trip with me.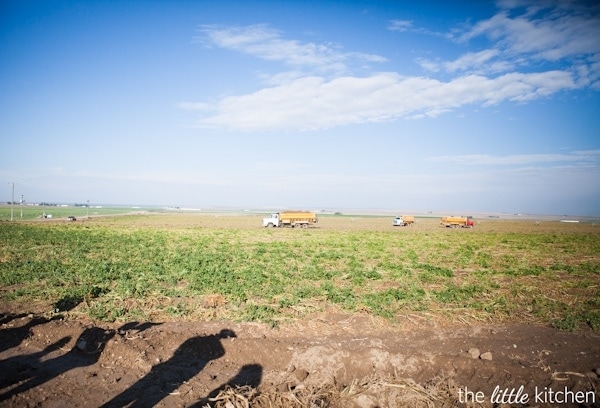 I just love this photo on Jim's farm because it seems so serene to me. Jim's farm harvests 2.7 million pounds of potatoes a day during the harvest which lasts 10 days. I'll bet you didn't know that the potatoes from Idaho are harvested only once a year…and yet they last us all year long. And Idaho is 1/3 of the total potato supply in this country. I found all of that pretty amazing. And the care that goes into the harvest as well as the storage of the potatoes year-round is astounding.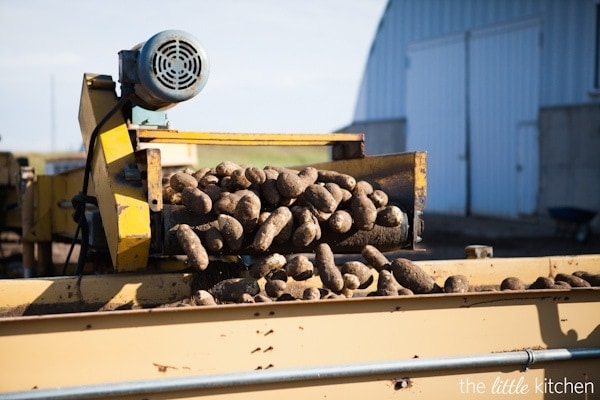 Potatoes are living organisms – don't store them in the fridge or under fluorescent lighting, the best thing to do is to store them in a humid space and store them in the dark.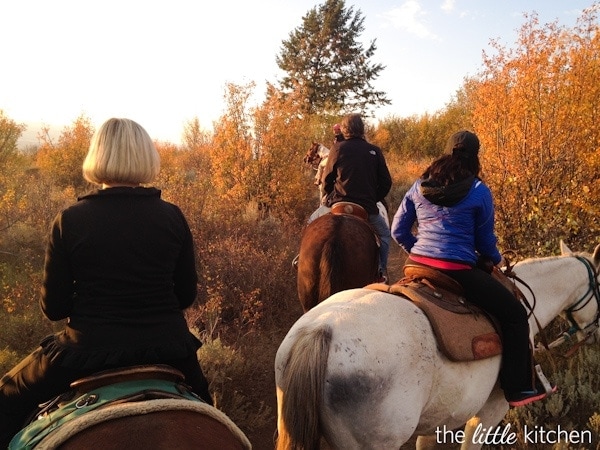 I also learned that Idaho is gorgeous. Completely gorgeous. The last night we were in Idaho, we made the drive to Teton Springs and I rode a horse for the very first time in my life! It was completely amazing and scary all at the same time.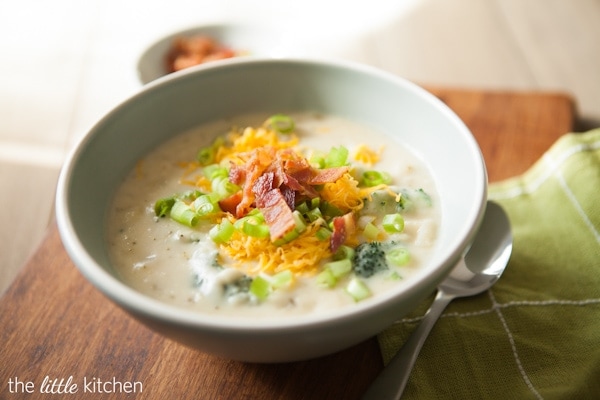 And about this recipe…it's going into the regular rotation, folks. Curtis absolutely loves it. To be honest, I was going to make a salad and baked potatoes with some of the huge russets I took home with me from Idaho. Curtis insisted that I make a soup. I said how about potato leek soup (which I love) and then he said how about a baked potato soup?
I love the depth of flavor this soup has from actually baking the potatoes to adding sour cream to the soup. Be sure to temper the cream and the sour cream so it doesn't curdle. Instructions on how to do that in the recipe.
Recipe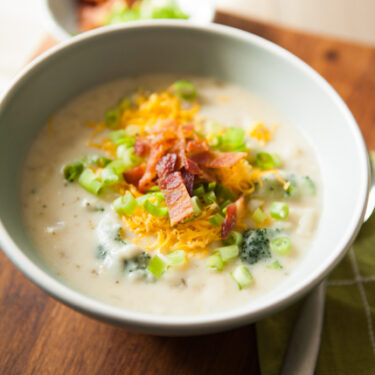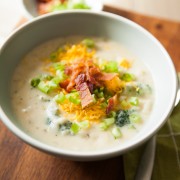 Print
Pin
Save
Loaded Baked Potato Soup Recipe
This soup is called loaded because it includes the regular fixins' for a baked potato but also sour cream and broccoli! A warm and comforting soup for those fall and winter months.
Ingredients
3 to 3.25

pounds

Idaho Russet potatoes

,

scrubbed and washed

4

Tablespoons

unsalted butter

6

green onions

,

sliced and divided in half

5

cups

low sodium chicken broth

1

cup

heavy cream

1/2

cup

sour cream

1

cup

sharp cheddar

,

grated (and more for topping)

2

heads of broccoli

,

florets cut

cooked bacon for topping

,

optional
Instructions
Heat oven to 400 degrees and line a cookie sheet with foil. Place potatoes on cookie sheet and bake for 60 minutes. After baking, allow potatoes to cool for 20 to 30 minutes or cool enough for you to handle. Remove the potato peels and chop into 1 to 1.5 inch cubes.

Melt butter on medium heat in a large heavy bottom French oven, I used my 5.5 quart Le Creuset. Add half of the green onions and cook for 1-2 minutes. Add potatoes and season with salt and pepper. Stir and cook for 4 to 5 minutes.

Add chicken broth and turn heat to high and bring to a boil. After it comes to a boil, turn heat back down to medium or medium low and allow to simmer for about 5 to 6 minutes. Using a potato masher, mash the potatoes in the broth, about 5 to 6 times.
How to temper cream and sour cream
Add cream and sour cream by tempering. Do not add both directly to the pot, first take a measuring cup and remove about 1-2 cups of potato soup mixture into a bowl. Add half of the cream and mix thoroughly with a wooden spoon. Pour cream-potato soup mixture back into the pot and repeat for the remaining cream and sour cream. By tempering, you ensure the cream and sour cream doesn't curdle in the soup.

Add the 1 cup of cheddar cheese and all of the broccoli to the soup and simmer for about 20 to 25 minutes on low to medium low heat. Season with salt and pepper to taste.

Serve with cheese, bacon and green onion as toppings.
Disclosure: I'm proud to be sponsored by the Idaho Potato Commission, who made these experiences possible. I only share with you my favorite brands and all opinions expressed are always my own.