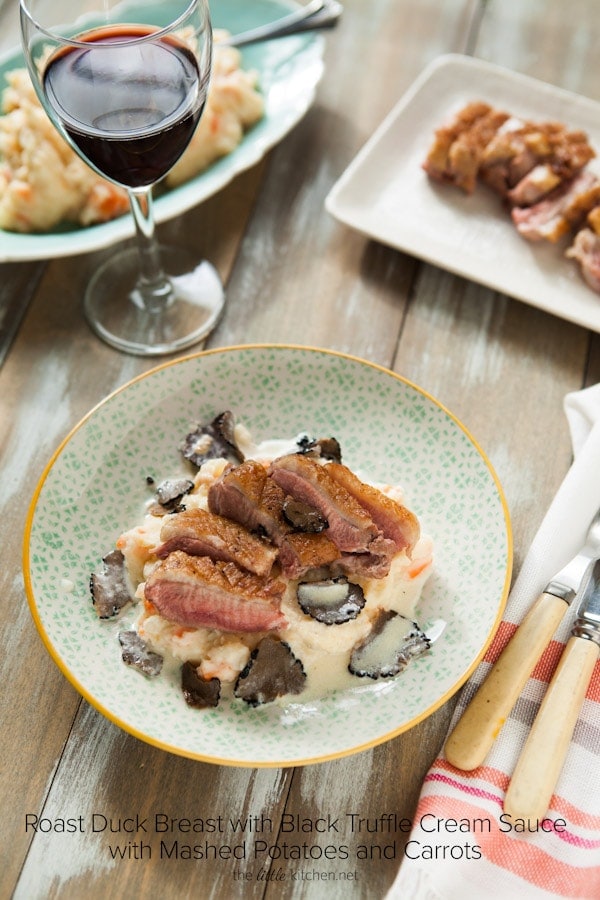 I can shout it from the rooftops! I made roast duck breast! And it wasn't that hard! Sorry for the many exclamation points. KitchenAid® recently put me up to the challenge again. I love their Kitchen Challenges because each one I have done, they are actually challenges for me. This one was no different but it was a matter of just trying it and seeing how easy it really is. I felt so gourmet and it was such a luxurious meal, cooked at home!
Get the Recipe –> Roast Duck Breast with Black Truffle Cream Sauce.
It was oh so good and the side I made to along with the roast duck breast…oh man, you have to make it! Mashed potatoes and carrots. The idea came from my Italy trip. Actually, on the way back. One of our flights with Delta was actually on an Air France plane and their airplane food is actually good! They had this carrot puree side dish that was so wonderful and creamy…I knew I wanted to try my hand at a version of it.
Start by peeling carrots and potatoes. My favorite vegetable peeler. I have two of them and I give them out as stocking stuffers all the time.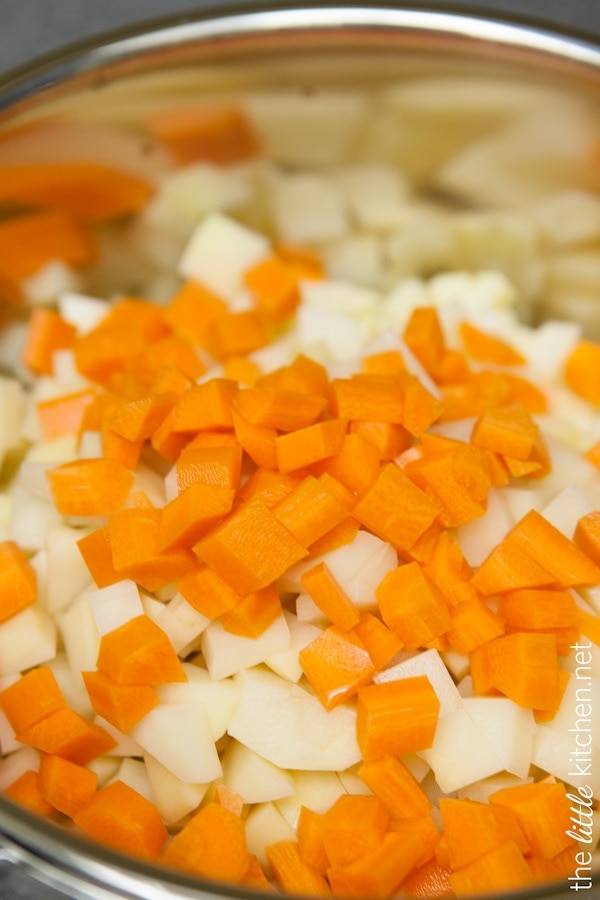 Put them into a pot and add water to cover at least a few inches. Add a good bit of salt and bring to a boil.
Once they are done, drain them and return to the stove on low heat. This will get rid of the excess moisture. Then, dump them into the bowl of a stand mixer. This is my favorite way to mash potatoes.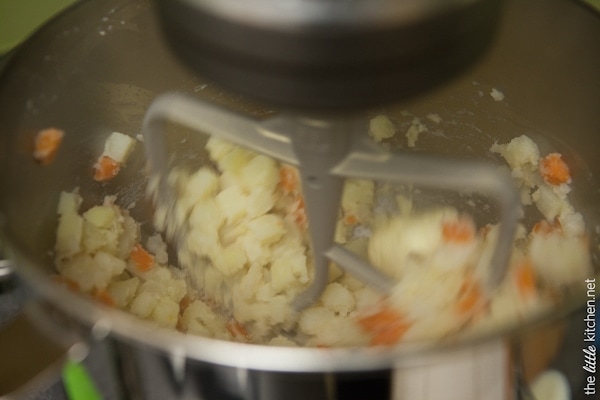 Blend with your flat beater.
Once they are mostly broken up, add milk and cream.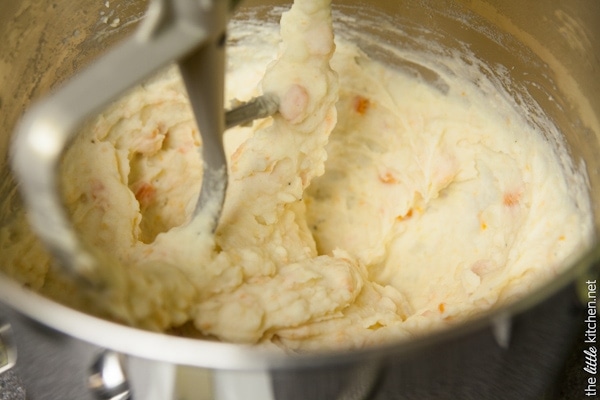 You have to add the cream (DON'T omit this). You can mix until completely smooth or if you like your mashed potatoes chunky like me, stop when you fee like it.
This is a wonderful side dish and I will be making it over and over again. The sweetness from the carrots and the creaminess of the potatoes go so well together and the carrots add a nice color too. Make these with that roast duck recipe with black truffle cream sauce and you'll thank me!
Get the Recipe –> Roast Duck Breast with Black Truffle Cream Sauce.
Recipe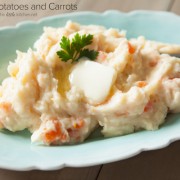 Print
Pin
Mashed Potatoes and Carrots Recipe
Ingredients
4

large mashing potatoes

,

peeled, rinsed and diced (about 5 cups)

3

large carrots

,

peeled, rinsed and diced (about 1/2 cup)

6

Tablespoons

butter

1/2

cup

milk

1

Tablespoon

heavy cream

salt and pepper
Instructions
As you're dicing the potatoes and carrots, add them to a large pot. Fill with water (cover the potatoes and carrots at least a few inches) and add plenty of salt. Bring to a boil.

Once it comes to boil, set your timer for 5 minutes. Using a spoon, remove a couple of potato pieces, it's done once it breaks apart easily with a fork. If not, allow to boil for another 3 to 5 minutes.

Drain the water and return the pot to the stove. Turn heat to low to allow the excess moisture to evaporate. Do this while you're prepping the rest of your meal or for at least 10 minutes. Be careful and watch the heat doesn't get too hot and burn your potates.

Add potatoes and carrots to the bowl of your

stand mixer

and butter. Using a flat beater, mix until butter is evenly distributed and potatoes and carrots are broken up, about 3 minutes.

Add milk and cream and mix on medium for about 2 minutes and potatoes are nicely mashed. For creamier potatoes, add more milk and mix longer. Add salt and pepper to your taste.
Disclosure: The post I did for the KitchenAid® Kitchenthusiast™ blog was compensated but this post was not required, I just wanted to share an additional recipe with you! There is an affiliate link or two in this post.