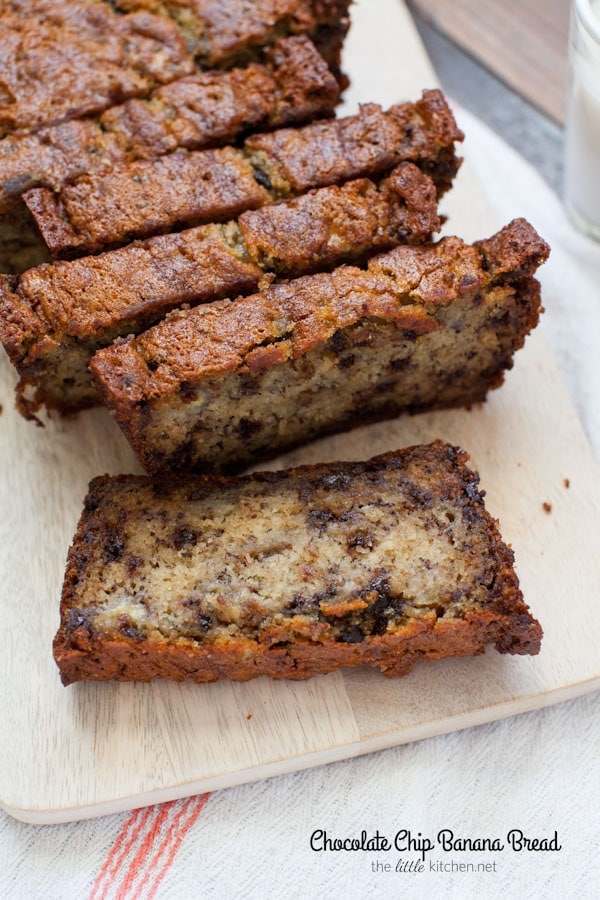 I'm excited to share with you another recipe with my work with Blue Diamond Almond Breeze Almondmilk! I have been working on the ultimate chocolate chip banana bread recipe made with almondmilk and I was so excited when I got it right!
Sometimes, when I have an idea, it works on the first or second try. Sometimes it takes 4 tries or even 7 tries. You should see me dancing around the kitchen when a plan finally comes together (okay maybe you don't want to see me dance haha!). Ever since I started working with Almond Breeze, I wanted to start baking with almondmilk. I knew it could be done!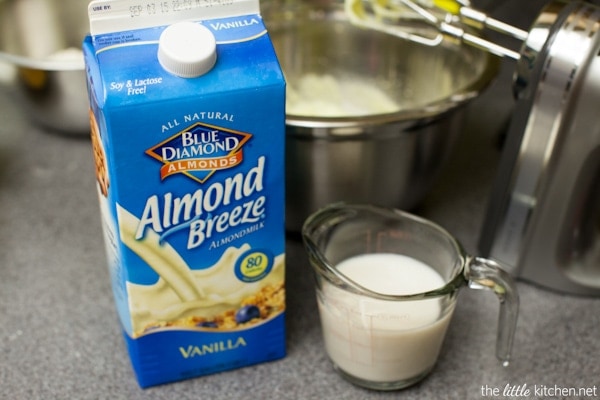 This banana bread recipe is super moist and is packed with flavor. I used the Almond Breeze Almondmilk Vanilla and I love the flavor it gives to the banana bread…and by the way, it's my favorite Almond Breeze flavor to have with my cereal in the mornings.
Now that I have this recipe under my belt, I can't wait to try more baking & cooking with Almond Breeze Almondmilk…including trying my vanilla cupcakes, these nutella milkshakes and my french toast sticks!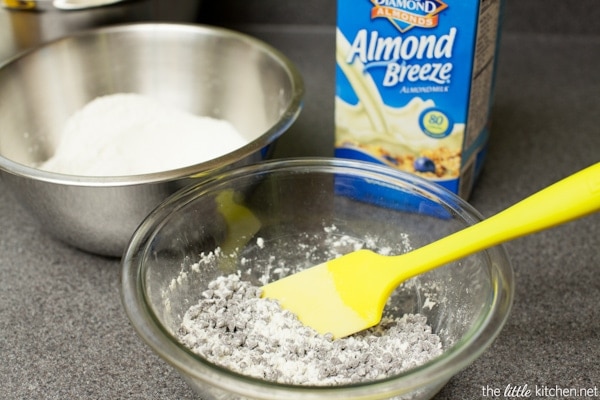 First things, first put that butter on the counter so it can soften.
Then, mix the flour, baking soda, baking powder and salt together. Then take 3 tablespoons of the flour mixture and mix with the chocolate chips. I learned this a couple of years ago…this is how you keep the chocolate chips from sinking to the bottom when you pour it into the batter.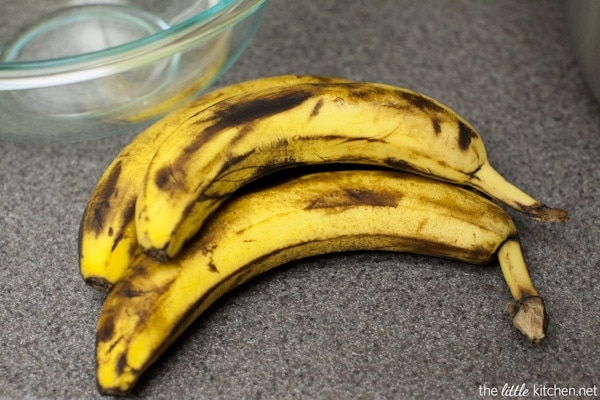 Then, peel the bananas.
I know, I know, banana bread purists will complain that these are not ripe enough (but I agree to a certain extent). Your bananas should be black but guess what? This recipe works even with the ripe bananas above. Yay!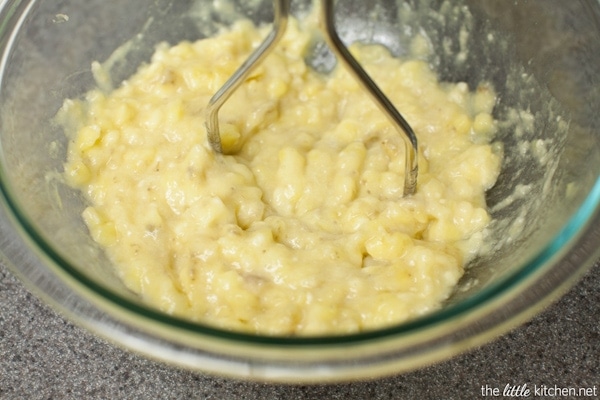 Peel and then mash the bananas. I find that mashing with a potato masher works best!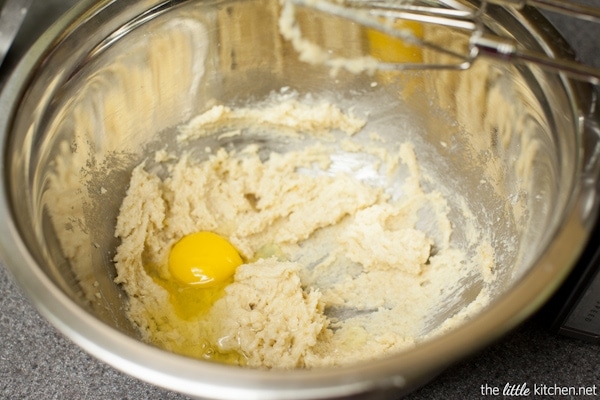 For this recipe, I use a mix of granulated and light brown sugar. I used an electric hand mixer to cream the butter with the sugars.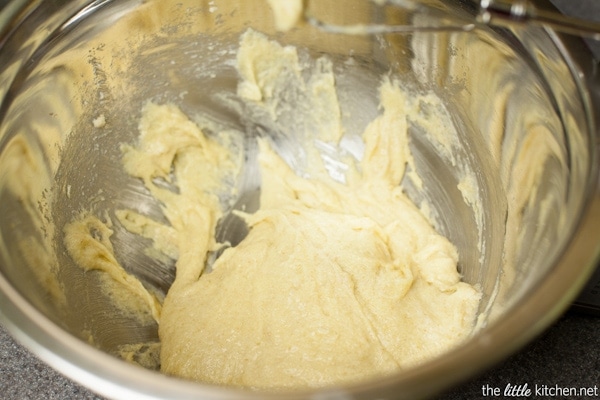 After mixing in the egg, this is what the batter looks like.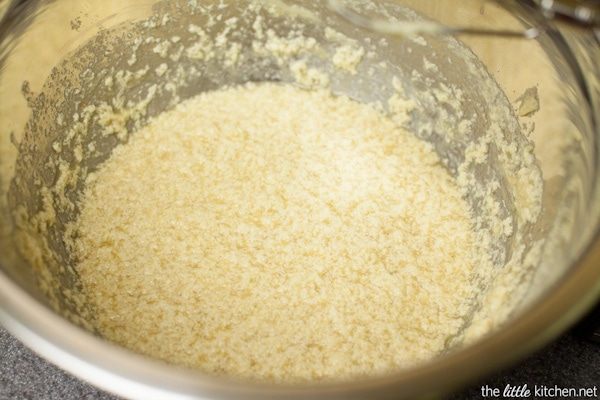 After adding the vanilla extract,Almond Breeze Almondmilk Vanilla and grape seed oil and mixing it together, this is what the batter looks like. It starts to look curdled. But don't worry.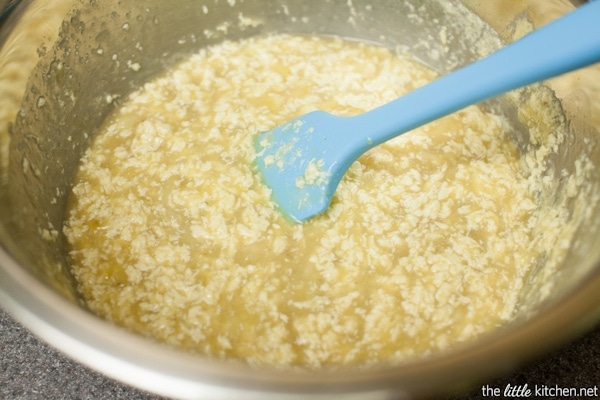 Add the mashed bananas and mix with a rubber spatula. I find that I like the bread better when I mix in the bananas with a spatula vs. using the hand mixer.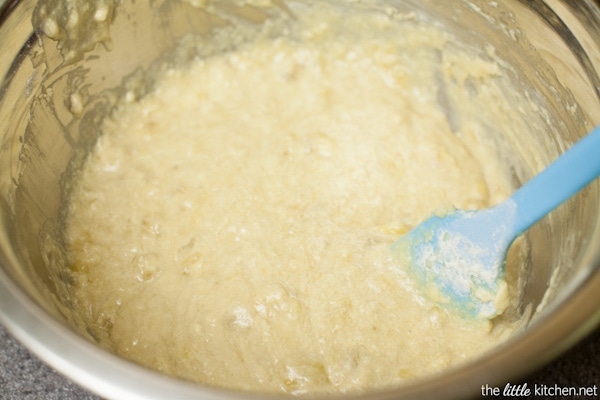 Add the flour mixture in two batches and fold in with the spatula.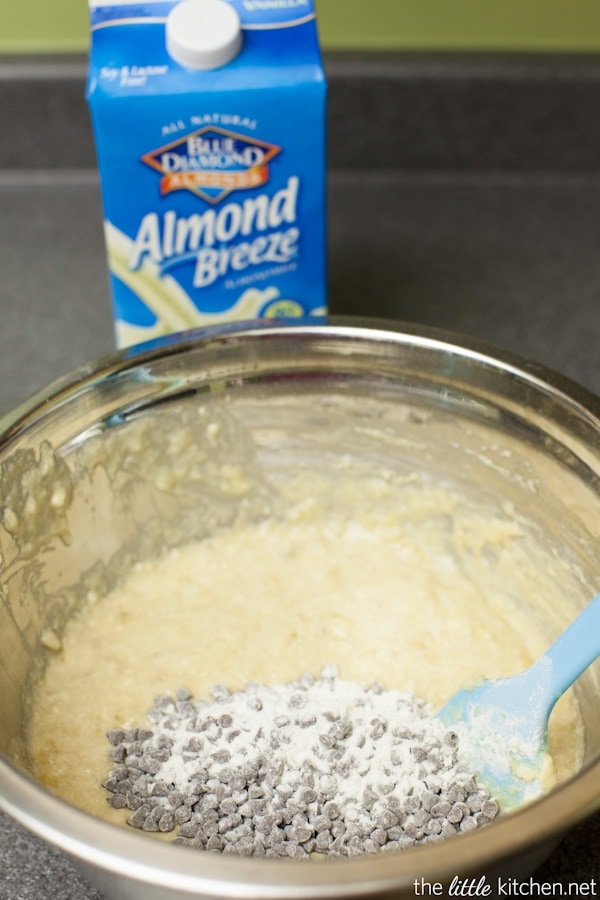 Now add, the chocolate chips (that were mixed in with some of the flour).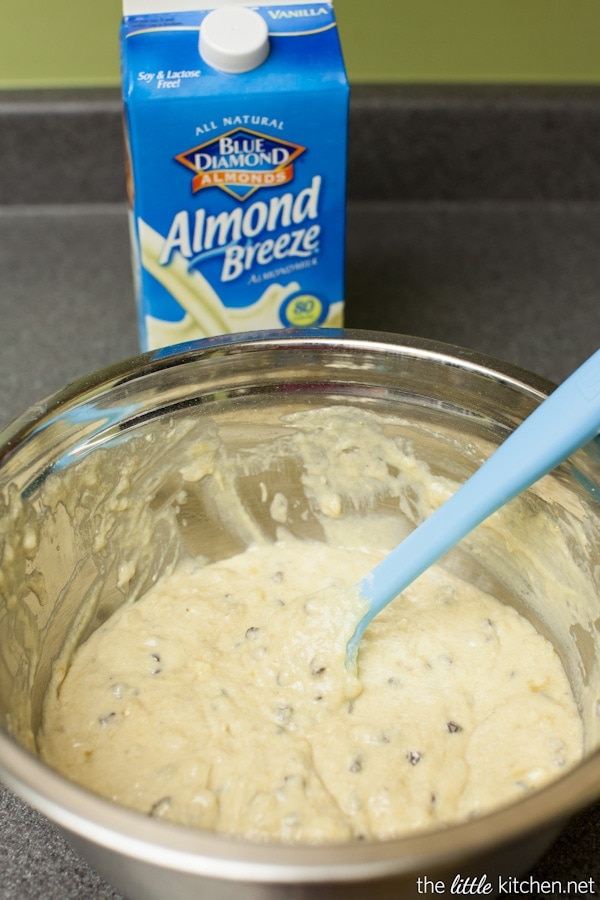 There's your batter!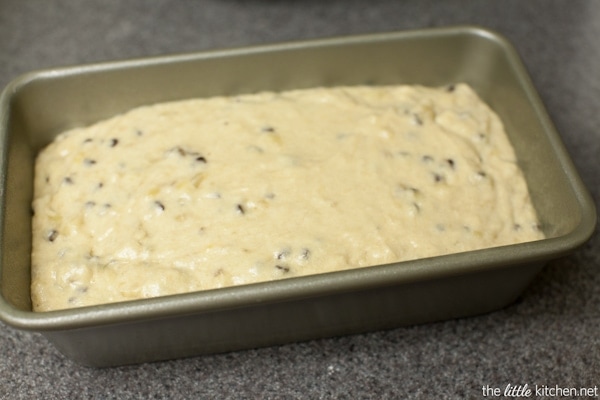 Pour into your prepared pan and bake for 55 to 60 minutes at 350 degrees F.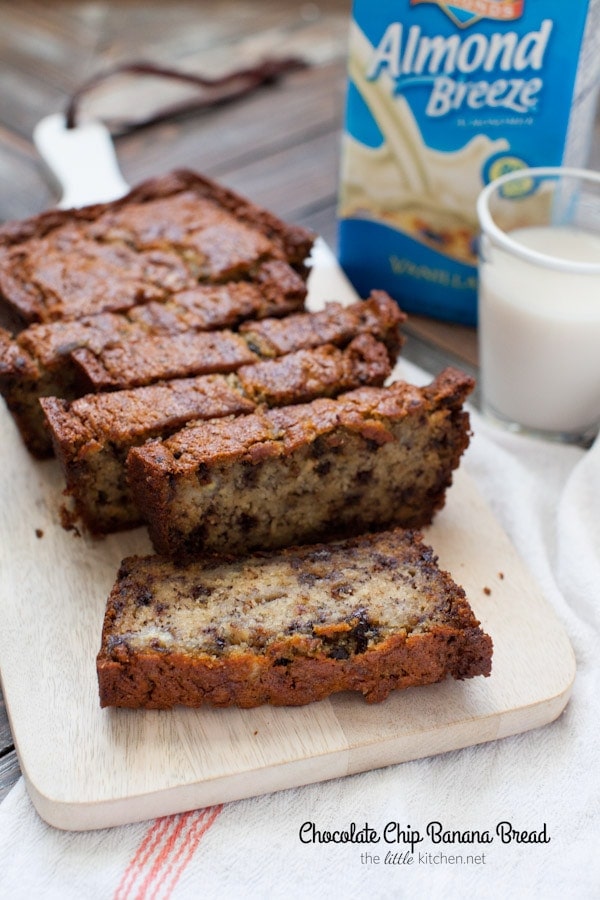 And there you have a wonderfully moist, chocolatey banana bread…that you'll thank me for!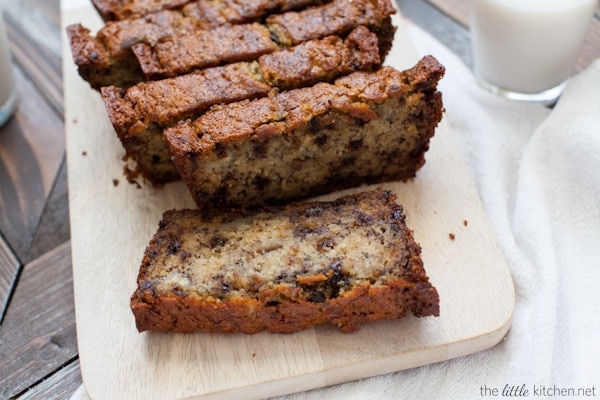 Share it with your friends or keep it all for yourself, I won't judge.
Recipe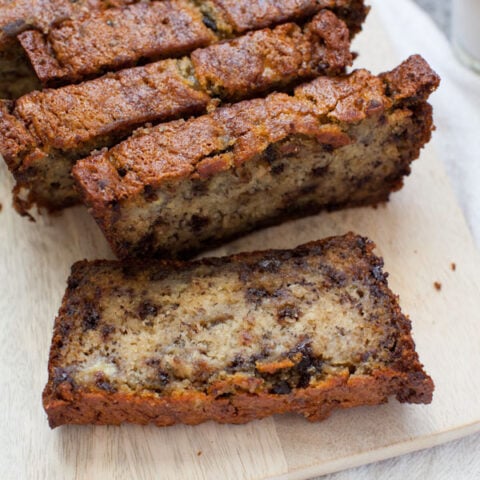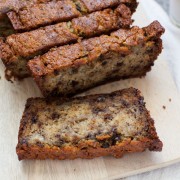 Print
Pin
Save
Chocolate Chip Banana Bread Recipe
Ingredients
1/2

cup

1 stick unsalted butter, softened

1 1/2

cups

unbleached all-purpose flour

1 1/4

teaspoons

baking soda

1/2

teaspoon

baking powder

1/4

teaspoon

salt

1/2

cup

miniature semisweet chocolate chips

1/2

cup

granulated sugar

1/2

cup

light brown sugar

3

medium overripe bananas

,

peeled and mashed

1

large egg

1

teaspoon

pure vanilla extract

3/4

cup

Almond Breeze Almondmilk Vanilla

1

teaspoon

grape seed oil
Instructions
Place butter on the counter to soften. Preheat oven at 350 degrees F. Spray a 9x5 loaf pan with nonstick baking spray and set aside.

Add flour, baking soda, baking powder and salt to a medium-sized mixing bowl. Mix ingredients together with a rubber spatula to combine and set aside.

Take 3 tablespoons of the flour mixture and add to a small mixing bowl. Add chocolate chips to that small bowl and combine. (This will ensure the chocolate chips don't sink to the bottom of the bread). Set aside.

Mash the bananas with a potato masher or the back of a large spoon in another separate bowl.

In a large mixing bowl, cream the butter and sugar together with an electric hand mixer. Beat for about 60 to 90 seconds. Add eggs and mix thoroughly. Add vanilla extract, the almondmilk and grapeseed oil to the butter and sugar and mix until thoroughly combined, about 1 minute.

Add bananas and mix with a rubber spatula. In two batches, using the rubber spatula, fold in the flour mixture until combined, don't over mix. Then, fold in the chocolate chips (that have been combined with the flour mixture).

Pour batter into the prepared loaf pan. Bake for about 55 to 60 minutes or until a toothpick inserted in the center comes out clean. Place loaf pan on a cooling rack for 20 minutes.

Slide cooling rack on top of the loaf pan and flip over. Allow the bread to cool upright on the cooling rack, at least 30 minutes to an hour before slicing. Store leftovers in a sealed container.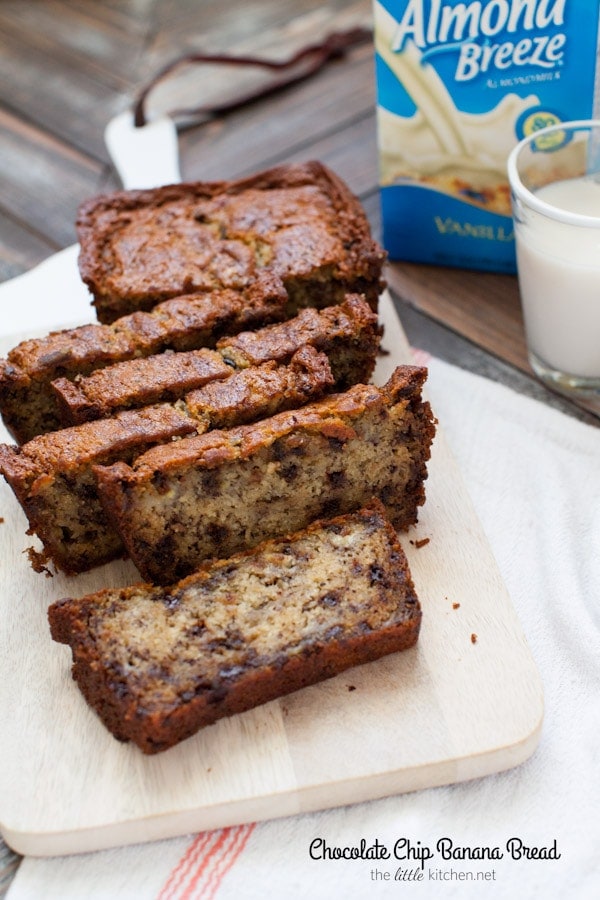 Disclosure: This post is sponsored by Blue Diamond Almond Breeze Almondmilk. I only work with brands that I love and always share with you my own and honest opinions.