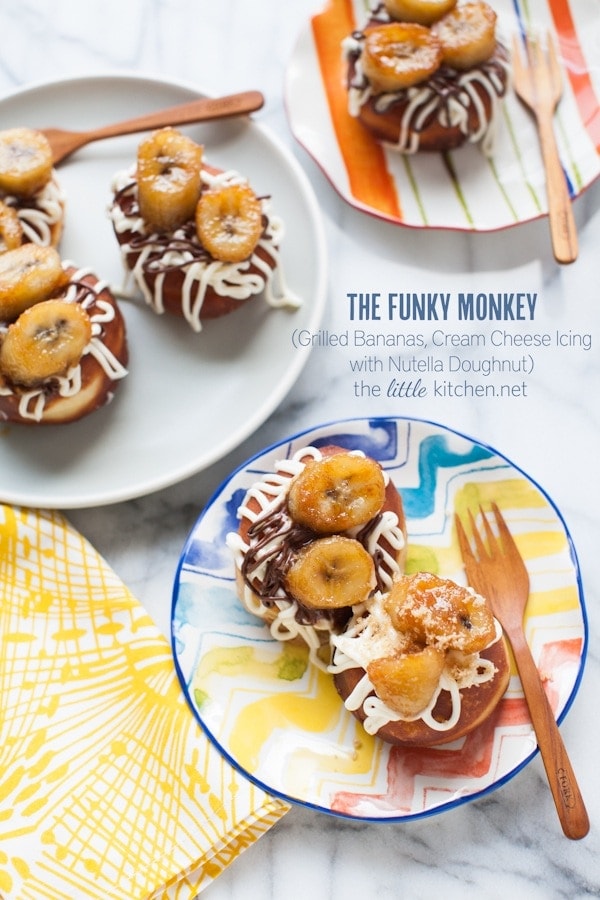 A few weeks ago, I traveled to Austin, Texas and had the most amazing doughnuts (or donuts) at Gourdough's Doughnuts. Okay, let me remind, I was going there to attend and speak at BlogHer Food. I was rooming with my friend, Lindsay and weeks before she texted me and said she wanted to go to this doughnut place. Fast forward and we're in Austin, it's our last day (and it's hot) and I just wanted a breakfast taco, they are amazing, more on that later. I wasn't really interested in these ridiculously crazy doughnuts. We had already looked online and saw the crazy toppings like fried chicken and honey butter.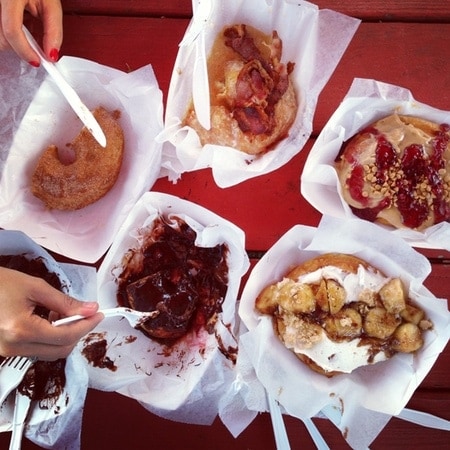 Thanks to Kelly for letting me share her picture of our Gourdough's feast.
And then so we get there and had to wait for them to stop serving just their breakfast doughnuts, I had a breakfast taco from another truck right next to them. Yep, these doughnuts are served out of a trailer. The doughnuts were amazing. Beyond amazing. Even though I was full from my breakfast taco, these doughnuts were a can't miss.
The toppings were fantastic (my favorites were the funky monkey, the brownie batter one and the peach one) and the doughnut fried perfectly with a nice crunch even under all of those toppings. Gourdough's is famous for a reason.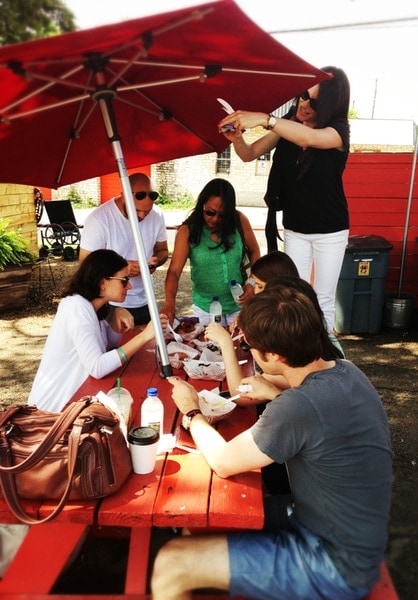 And there's our group, ha, that's Rachel taking a shot from overhead.
So when I was invited to join in a group of bloggers to recreate at home the doughnuts we had in Austin, I jumped at the chance! Why not? And was so glad I got to pick this one.
Who doesn't like bananas? I don't understand anyone's hatred of bananas. I'm slightly obsessed myself and even love any type of banana candy. These bananas are cooking and getting caramelized in butter and brown sugar. And they are perfect! Be sure to use ripe bananas!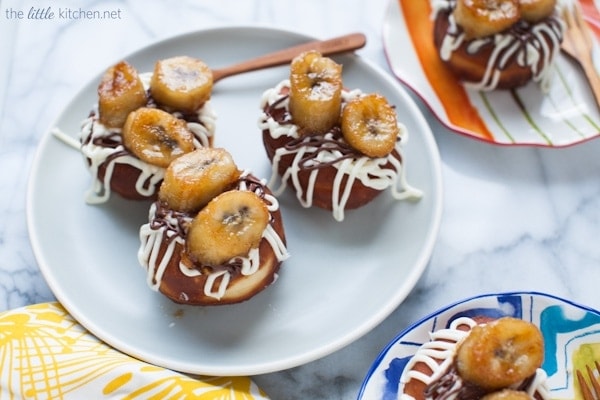 The other day before making these, I was just thinking of how I could make them a little different from Gourdough's and I thought of nutella! Bananas go so well with nutella sooo why not? Oh-MY-Goodness, it was perfect. I never knew that nutella and cream cheese icing would go so well together. I'm dreaming of other concoctions for this combo! Let me know if you think of any ideas!
In the top photo, there's one doughnut in the front that I sprinkled brown sugar and didn't add any nutella to – the way Gourdough's prepares it. It's awesome too! You can make it either way you choose!
Recipe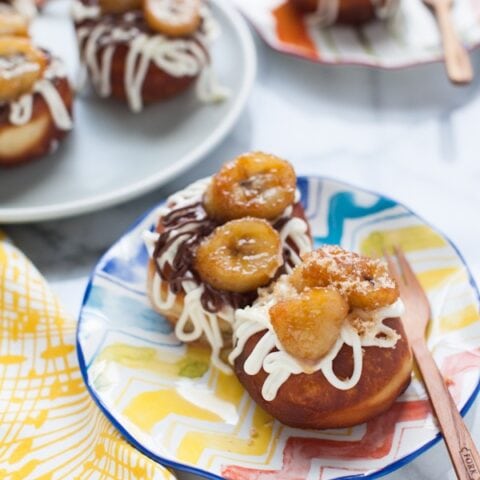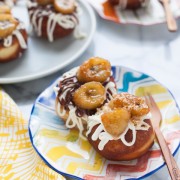 Print
Pin
Save
Funky Monkey Doughnut with Nutella Recipe
Servings
12
to 14 Doughnuts
Ingredients
Doughnuts
1 3/4

teaspoons

active dry yeast

6

teaspoons

warm water

1/2

cup

whole milk

2

Tablespoons

vegetable shortening

3

Tablespoons

unsalted butter

2

Tablespoons

warm water

1

large egg

,

beaten

1/4

cup

granulated sugar

1/2

teaspoon

salt

2 1/2

cups

unbleached all-purpose flour

,

divided, plus extra for dusting surface

vegetable oil

,

for frying (fill a French oven with about 2 inches of oil)
Grilled Bananas
3

ripe bananas

,

sliced thick

5

Tablespoons

unsalted butter

3

Tablespoons

light brown sugar
Cream Cheese Icing
4

ounces

cream cheese

,

softened

3

Tablespoons

unsalted butter

,

softened

2/3

cup

powdered sugar

2 1/2

Tablespoons

whole milk

1/4 to 1/2

nutella

,

chocolate hazelnut spread (optional)

brown sugar for sprinkling

,

optional
Instructions
Doughnuts
Add yeast to a measuring cup and add 6 teaspoons of warm water, mix. Allow yeast to sit for at least 10 to 15 minutes. If using quick rise yeast, add skip the above step and add the 2 Tablespoons warm water to the quick rise yeast and allow to sit for 5 minutes.

Add to stand mixer bowl or a large mixing bowl, add yeast, 2 Tablespoons warm water (if using active dry yeast), milk, shortening, butter and egg and blend for 30 seconds with beater attachment, or until ingredients are combined. then, add sugar, salt and half of the flour. Mix on low seeped until combined. Add the rest of the flour and mix at a low speed until all flour has combined. Remove the beater attachment and add the dough hook and beat on a medium speed until the dough pulls away from the bowl (and is smooth), about 5 to 7 minutes. If the dough is too wet, add more flour, a 1/2 tablespoon at a time. Remove dough from stand mixer bowl and place in a well-oiled bowl, cover with a damp paper towel and place in a warm spot to rise for an hour and a half or until doubled in size. (I used the proofing feature in my oven and sometimes I use my back porch if it's warm enough outside, the cooler it is, the longer it may take for the dough to rise.)

Heat the oil in a French oven or large heavy bottomed pot until it reaches 350 degrees F.

Prep a baking sheet with flour. Add flour to a cutting board or pastry board and place dough on it. Using your hands, flatten the dough until it's about 1/2 inch thick. Cut out 3-inch pieces with a cookie or biscuit cutter. Place on the floured baking sheet and cover with a tea towel. Allow the dough to rise once again for 15 minutes.

Prep a baking sheet lined with foil and place a cooling rack on top. Place doughnuts into oil, about 4 at a time. Cook about 40 seconds to a minute on each side. Remove from oil and add to the cooling rack. Allow to cool for at least 15 to 20 minutes before adding the toppings. While they are cooling, you can work on the toppings.
Grilled Bananas
Melt butter in a non-stick pan on medium low heat. Add brown sugar and cook for 2 to 4 minutes on medium heat. Add bananas and cook for 3 to 5 minutes on each side until browned to your preference. Remove and place on a plate and allow to cool.
Cream Cheese Icing
In a medium sized mixing bowl, add butter and cream cheese. Mix until blended with an electric mixer. Add powdered sugar 1/3 cup at a time and mix until combined. Add milk and mix until smooth, about 2 minutes on medium speed.
Assembly
Place donuts on a platter or plates. Place cream cheese icing in a decorator bag fitted with a coupler and a round tip or spread cream cheese icing with a butter knife or offset spatula on top of each doughnut. The same for the nutella if you're using that. Add two to three grilled bananas on top of each doughnut and sprinkle with brown sugar (if not using nutella). Serve immediately.
Make these, you'll enjoy them!! If you want to skip the big step of making the doughnut dough, you can always fry some biscuits and top them with these toppings. I was originally going to do this until my friend, Suzanne, came over and showed me how to make fried doughnuts…we made Boston Cream ones…oh my, they were amazing!
Check out these other Gourdough's inspired recipes from around the internets. Don't they look wonderful?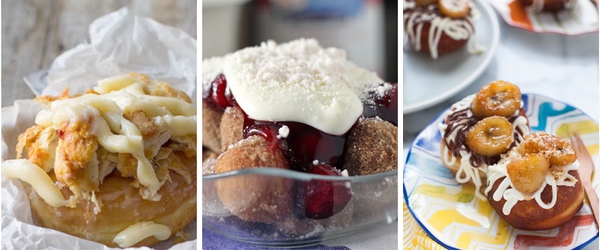 The Mother Clucker | Cherry Bombs | The Funky Monkey
The Baby Rattler | Black Out Cupcakes | ODB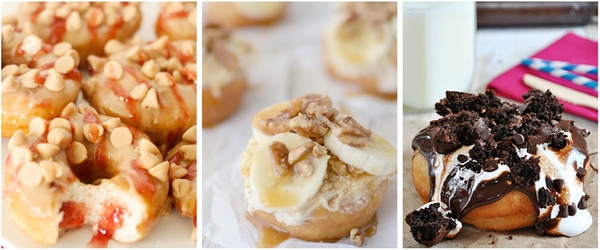 PB & J | Granny's Pie | Heavenly Hash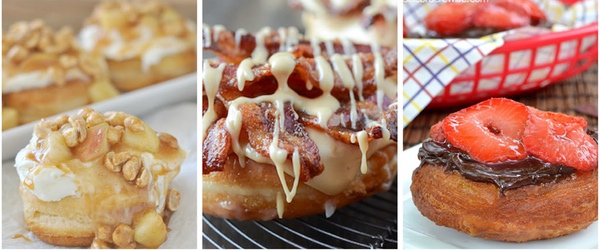 The Carney | The Flying Pig | Dirty Berry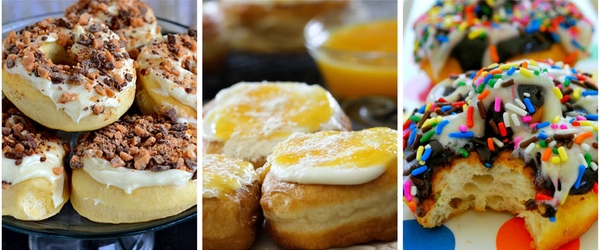 Bring the Heath | Son of a Peach | Mama's Cake