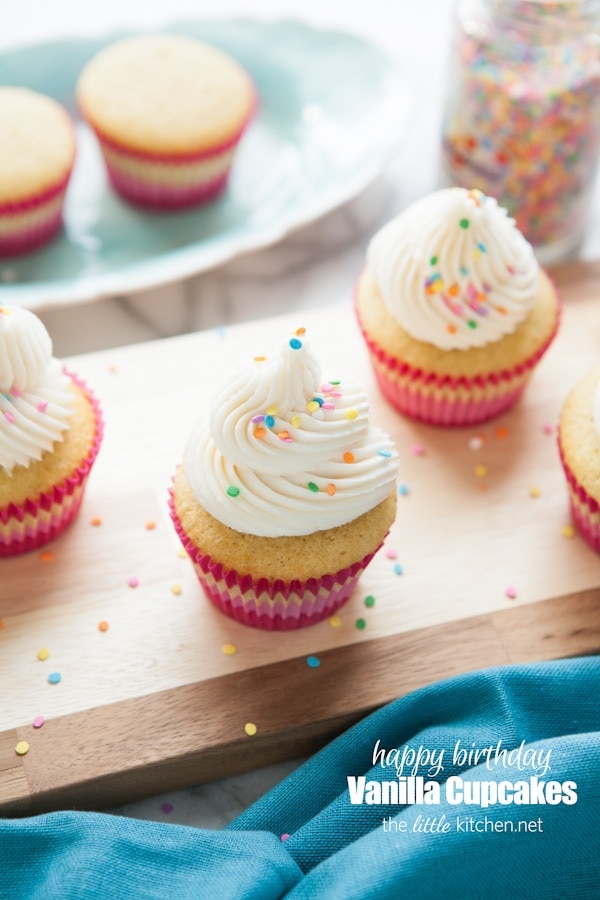 Things have been a little crazy around here. Charley, our 10-year old Shepherd mix was supposed to have surgery on his right hip yesterday but he's been having back problems so the surgery is delayed. Tomorrow, he gets an MRI of his back and hopefully we'll know more next week. I have been tense, stressed, doing a lot of crying and getting so worried. But Curtis and everyone else reminds me that I need to remain positive and deal with anything that comes along as it comes. Part of my problem has always been anticipation, the anticipation of anything makes me worry. I can barely watch a suspense thriller on tv or at the movie theater without getting stressed. I know I need to work on all of this.
Today, I took it a little easy that's why this post is going up a little bit late. Today is my birthday! I made cupcakes a few days ago to celebrate. Maybe some will think it's sad that I made my own birthday cake but ahhh, I got over it a long time ago. I did do it a couple of years ago. 🙂 Someone once told me this way, you get what you want on your birthday! Haha
I worked through many iterations of this vanilla cupcake recipe and finally was happy with it. The base of the recipe is butter and because of the butter and even though I use all-purpose flour instead of cake flour like some recipes recommend, it has a tender crumb. It has a nice buttery vanilla flavor and I love it. I like to use a full 1/4 cup of batter for each cupcake for this recipe but if you like smaller cupcakes, feel free to use a 3 Tablespoon cookie scoop. And I tested different oven temperatures and really like the texture and flavor of the cupcake at 325 degrees and baking it for a little longer than usual. They are the best vanilla cupcake! Anddd, I'm using my favorite cupcake shop's vanilla buttercream for this recipe. It's my favorite vanilla buttercream recipe these days!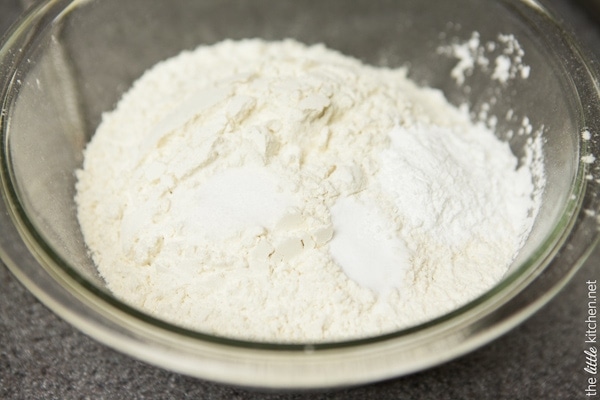 Most of the time when baking, I mix all of the dry ingredients together and set aside.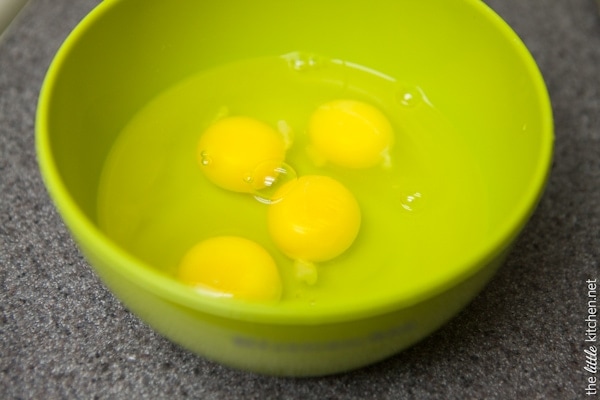 Place all eggs and egg whites into a bowl to make it easier to add each egg one at a time to the cake batter.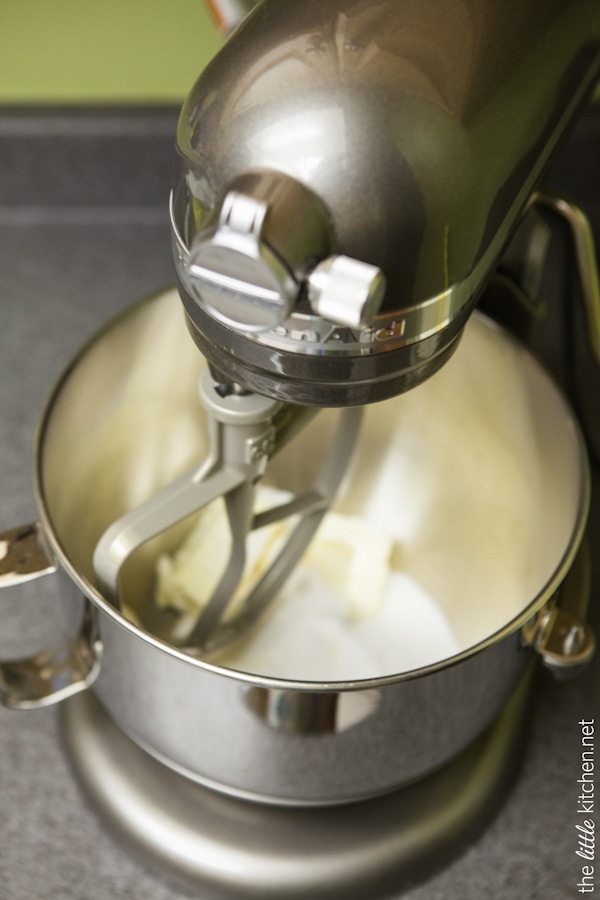 Last year, KitchenAid sent me a Pro Line® 7-Quart Stand Mixer and it has a place on my kitchen counter…always. I have limited counter space and this is one of three countertop appliances that don't get stored in the pantry or a closet when not in use. Be sure to check out the giveaway I have going on for one!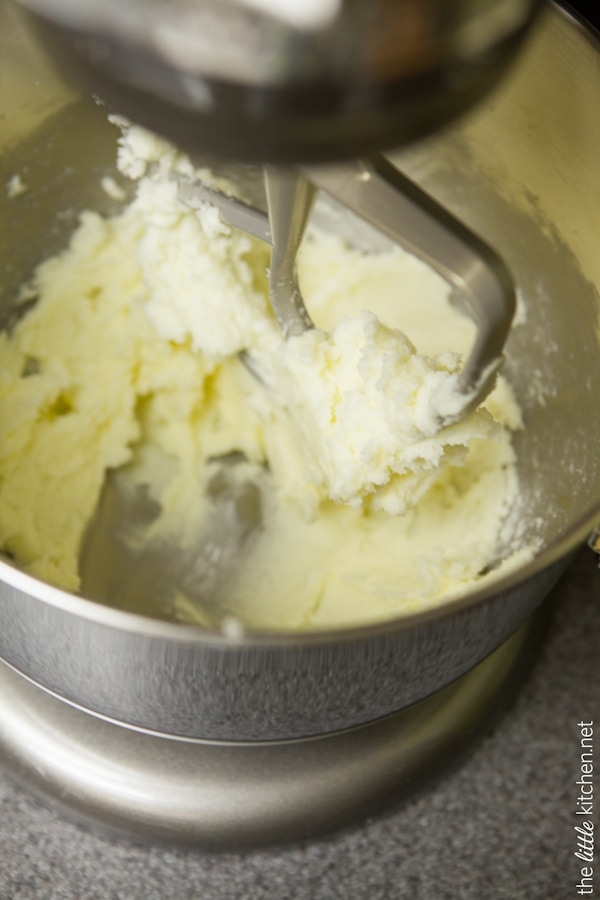 Cream the butter and sugar using the paddle attachment. If you don't have a stand mixer, you can use a large mixing bowl and an electric hand mixer but I find it goes much quicker using my stand mixer.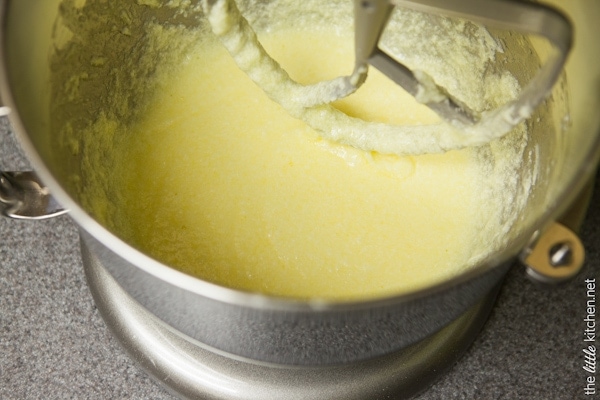 Add eggs one at at time, mix completely between adding each egg. The batter will look slightly curdled.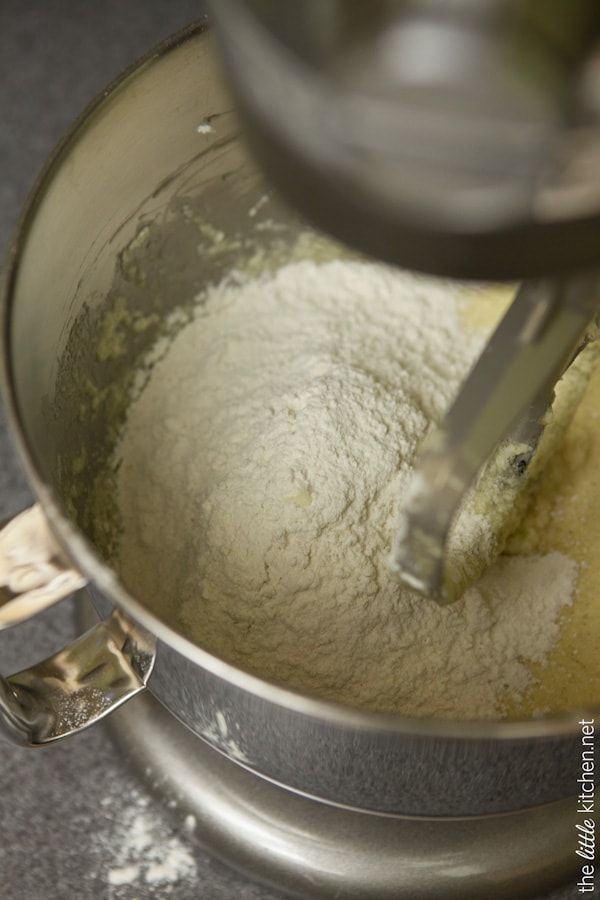 Add the flour and the rest of the mixed together dry ingredients.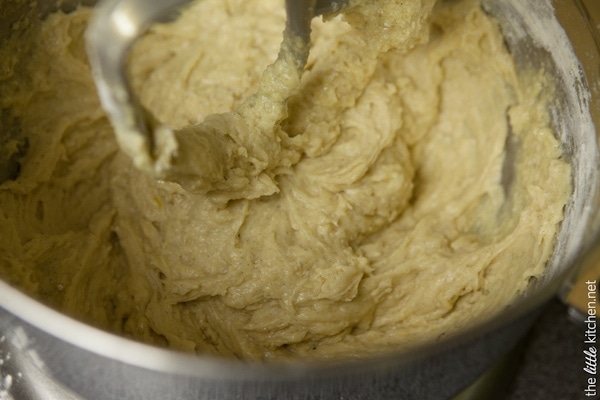 The batter will look like cookie batter right about now.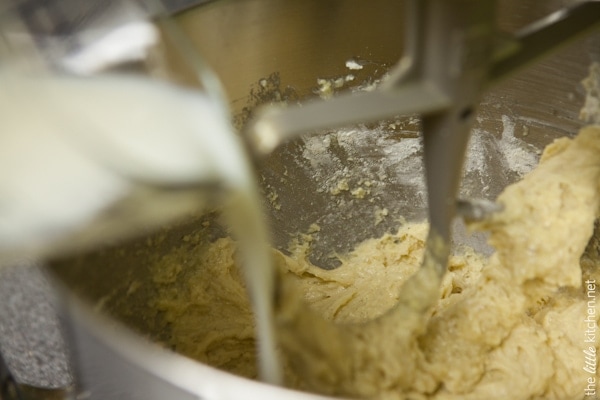 Add milk. You can use low fat milk but I really think it's better with whole milk.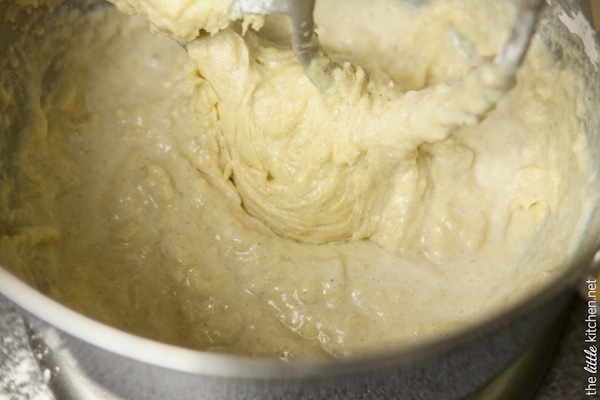 Mix a little, about 30 seconds. Scrape the bottom of the bowl.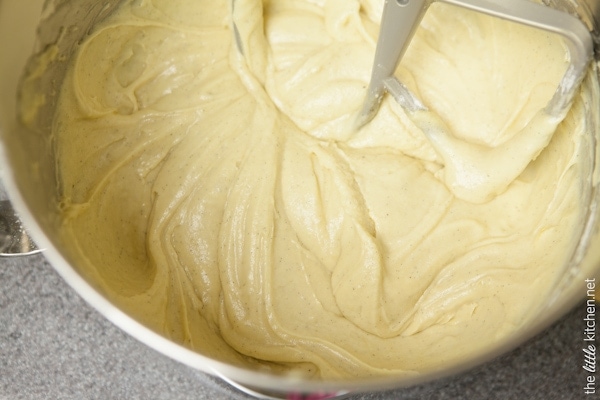 And then mix for another 30 seconds and you'll have a smooth cake batter.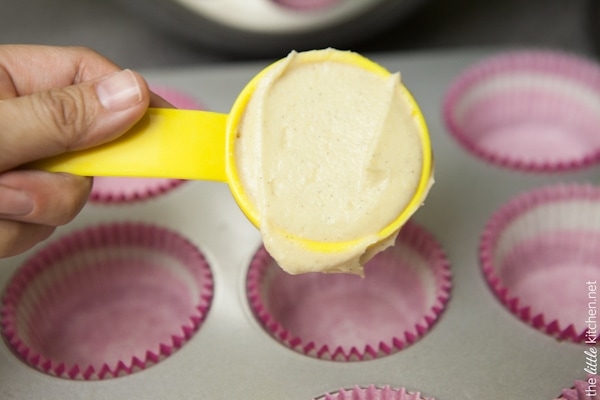 Use a 1/4 cup measuring cup and a spoon and spoon batter into a cupcake liner lined muffin tin.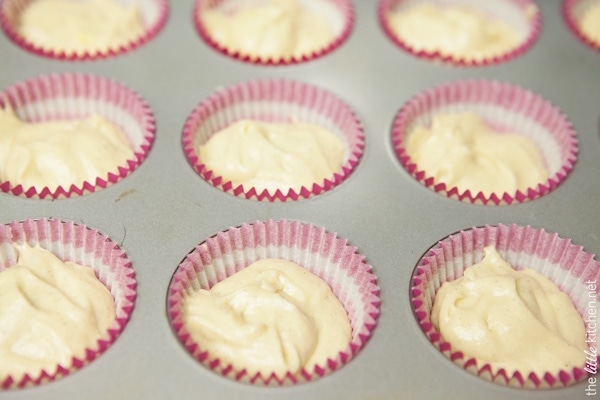 Bake at 325 degrees F for about 20 to 22 minutes.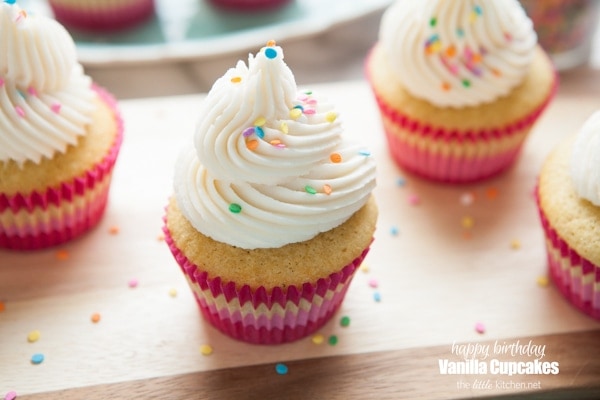 Ahhh vanilla cupcakes and vanilla buttercream. <3 <3! And here's another birthday surprise, I'm giving away a KitchenAid stand mixer! Go enter now! 🙂
Recipe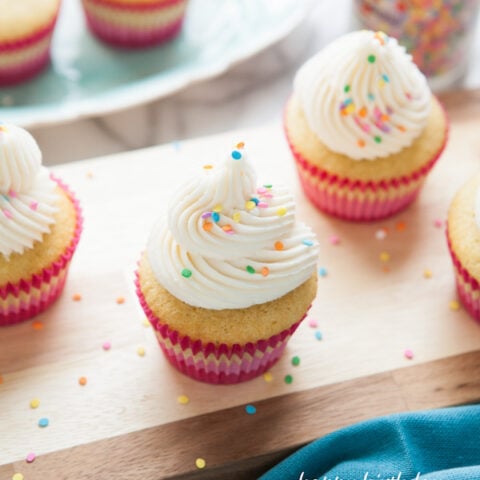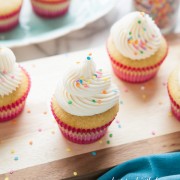 Print
Pin
Vanilla Cupcakes with Vanilla Buttercream Recipe
Ingredients
Vanilla Cupcakes
3

cups

unbleached

,

all-purpose flour

3

teaspoons

baking powder

1/2

teaspoon

baking soda

1/2

teaspoon

salt

1

cup

2 sticks unsalted butter, softened

1 1/2

cups

granulated sugar

4

large eggs

2

large egg whites

4

teaspoons

pure vanilla extract

2

teaspoons

vegetable oil

2/3

cup

whole milk
Vanilla Buttercream
1

cup

2 sticks unsalted butter, softened

2

pounds

powdered sugar

,

sifted

1

Tablespoon

pure vanilla extract

1/4

cup

whole milk

,

maybe a little more
Instructions
Vanilla Cupcakes
Heat oven to 325 degrees F. Add cupcake liners to muffin tins. In a medium-sized bowl, mix flour, baking powder, baking soda and salt. Set aside.

In the bowl of a stand mixer (or can use a large mixing bowl and an electric hand mixer), add butter and sugar. Cream butter until light and fluffy using the paddle attachment. On slow speed, add eggs, one at a time and until completely mixed. Then, add vanilla extract and vegetable oil and mix.

Add dry ingredients and mix on slow speed until incorporated. Do not overmix. Add milk and mix on slow speed for 30 seconds. Scrape bottom and mix again for 20 to 30 second or until batter is smooth.

Scoop or pour 1/4 cup batter into each cupcake liner. Bake 20 to 22 minutes or until a toothpick in center comes out clean. Remove cupcakes from muffin tin and allow to cool on cooling rack.
Vanilla Buttercream
In the bowl of a stand mixer, add butter and beat with paddle attachment until smooth. Add powdered sugar in two batches and mix until creamed. Add vanilla and mix.

Add milk, gradually, starting with half. Mix and and continue adding milk until smooth. Continue mixing buttercream for 4 to 5 minutes. Store in the refrigerator if not using immediately. Place buttercream on your kitchen counter for at least 15 to 20 minutes before using (if refrigerating).
Notes
Freezing Tips
The baked cupcakes freeze really well. Make sure they are completely cooled and place in a freezer-safe zippered plastic bag (do not stack them) and freeze them until you're ready to eat. Defrost in your refrigerator overnight and then leave them on your counter (still sealed) until they are room temperature. Decorate with frosting and serve.
Buttercream recipe from Saint Cupcake. Vanilla Cupcakes from The Little Kitchen.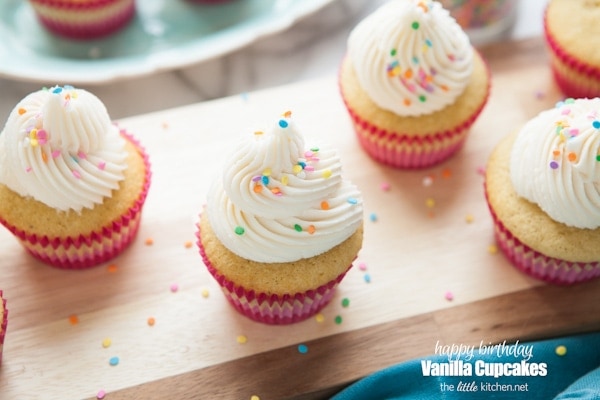 Disclosure: Giveaway is sponsored by KitchenAid. All opinions are always my own. Affiliate links are included in this post.