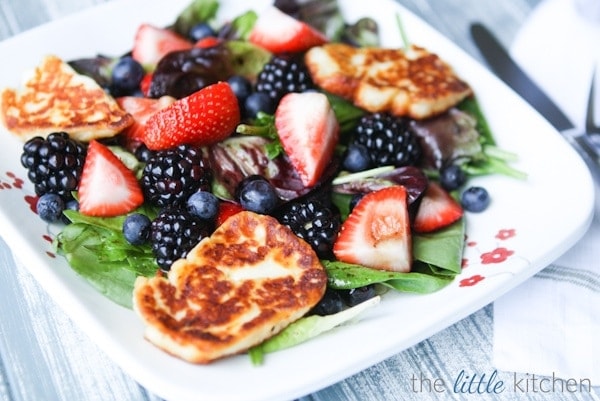 I recently had the wonderful opportunity to attend a trip sponsored by Dole Food Company. I learned a lot about their fresh fruit and vegetables operations and came away with a greater appreciation for the people who grow the produce we eat and especially for the hard-working individuals who work on the fields and in the processing facilities. It's hard, hard work and when you savor every bite you eat tonight or from now on, think of how the food made it onto your plate and who was involved in it.
We had wonderful cooking demos and tastings from Chef Michael Foley and Chef Daniel Kelly, both from Chicago. They 'made' us come up with our own salad recipes and didn't get annoyed when we had all of these different ingredient requests.
The night before the demos at dinner, we had a salad that had blueberries in it. It was out of this world…seriously, if you have never had blueberries in your salad before, you are missing out. When thinking about my salad, I started first with blueberries. Funny, huh?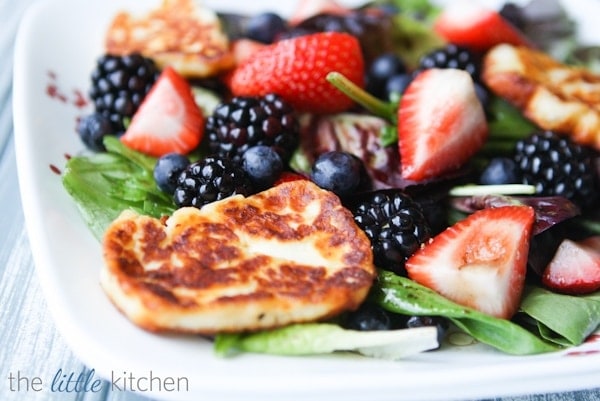 I seriously blanked out except for blueberries. My friend, Brooke, (who I'm so happy to have met finally in person) helped me and said maybe you should add a soft cheese. When I mentioned this to Chef Michael…he said he had the perfect thing for me! Halloumi. What? What is halloumi? I had never heard of it. And umm, mind blown. Cheese that you grill or really actually fry. It's amazing!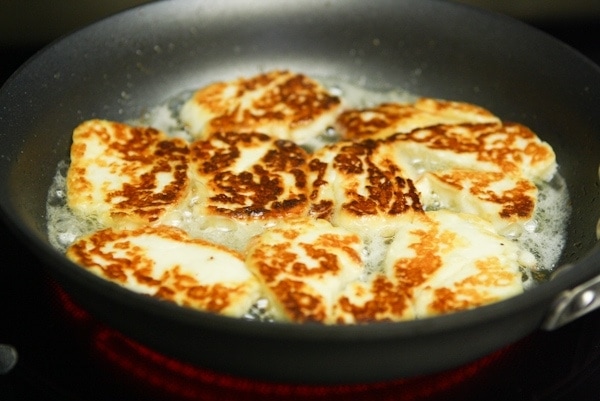 I had to give you a picture to show you how I fried the cheese!
I added blackberries because when I asked about the blueberries, Chef Daniel said he had something else for me. He handed me some blackberries and they were so amazingly fresh and right then realized how much I was missing out by completely ignoring blackberries for so long. I need to add more blackberries to my life.
They had to make it into my salad…and then I'll be honest with you, I added strawberries because my salad needed color. It ended up working out pretty well and the balsamic vinaigrette works well with the cheese and the berries!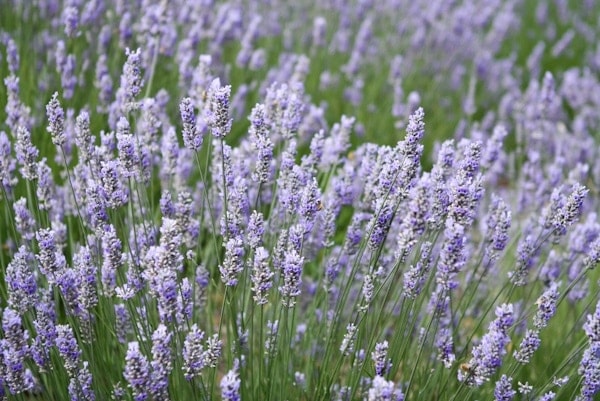 5 things I'm obsessed with now since my trip
putting berries in my salad, you already knew that
lavender EVERYTHING – I need to make this
getting back to Carmel Valley Ranch again, it's so beautiful there
putting berries in my salad
putting berries in my salad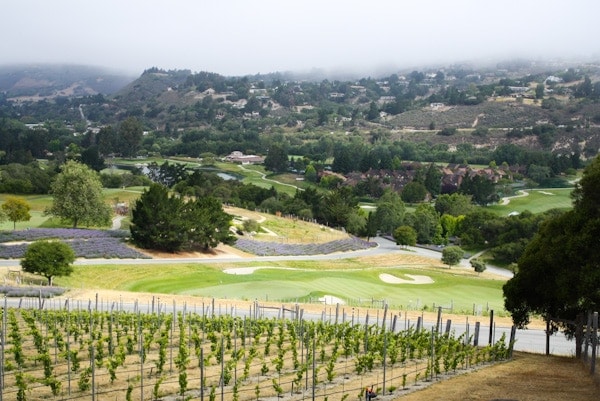 See how gorgeous it is?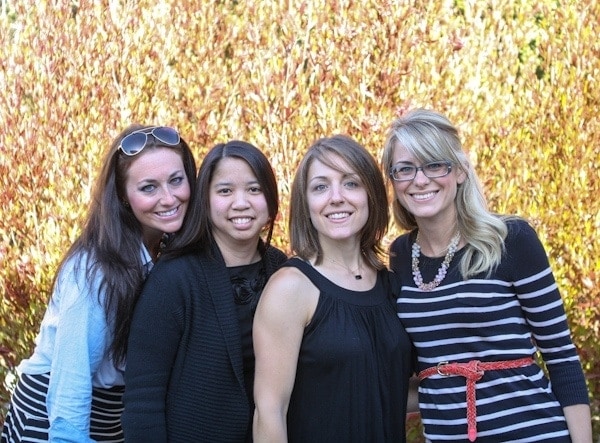 And these lovely ladies, it was so fun to spend time with such good friends and make new ones. And see Brooke, Shari and Lauren as well!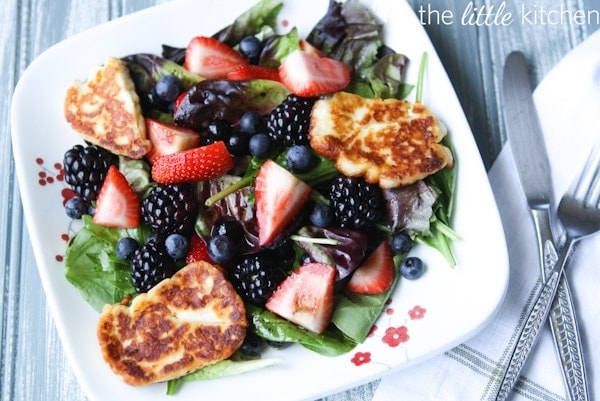 At the Dole event, I paired their baby spinach and spring mix but when I got home and found their baby butter lettuces, I added them in too. A wonderful salad I will be making over and over again.
Thanks to Dole for the wonderful trip, the amazing experience especially opening my eyes to creating salads in a whole new way!
Recipe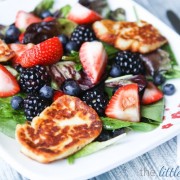 Print
Pin
Save
Triple Berry Salad with Halloumi Recipe
A truly easy salad to make that includes three kinds of berries, a balsamic vinaigrette and halloumi cheese. If you can't find halloumi, substitute with a soft cheese or exclude it.
Ingredients
1/2

cup

Sunnyridge Farms blueberries, washed

1/2

cup

strawberries, washed and chopped

1/2

cup

Sunnyridge Farms blackberries, washed

washed handfuls of various greens

,

(I used Dole spring mix, baby spinach & baby butter lettuce)

2

tsp

balsamic vinegar

1

tbsp

olive oil

salt & pepper

Halloumi slices

,

preparation in the instructions
Instructions
Prep and wash the berries.

Using a whisk and small bowl, whisk together vinegar and olive oil. Add salt & pepper to taste.
How to prepare Halloumi (instructions from Chef Michael Foley)
Cut the cheese into 1/2 thick slices Heat a non-stick pan on low heat wih 1/8 inch of olive oil Lightly flip the cheese and add 1 tsp of butter to finish it off Allow cheese to cool slightly on a plate lined with paper towels That's it, it only takes a few minutes to cook!

Toss salad greens and berries, top with cheese and drizzle dressing on top!
Notes
from The Little Kitchen with the help of Brooke 🙂 & Chef Michael Foley & Chef Daniel Kelly
Disclosure: All of my expenses for this trip was covered by Dole. I am only expressing my sincere opinions here and I was not compensated nor was I required to write this post…I wrote it because I wanted to share this recipe with you…and my obsession with berries in salads now!