This recipe was originally shared on October 2, 2012. I recently updated the photos and added more step by step photos!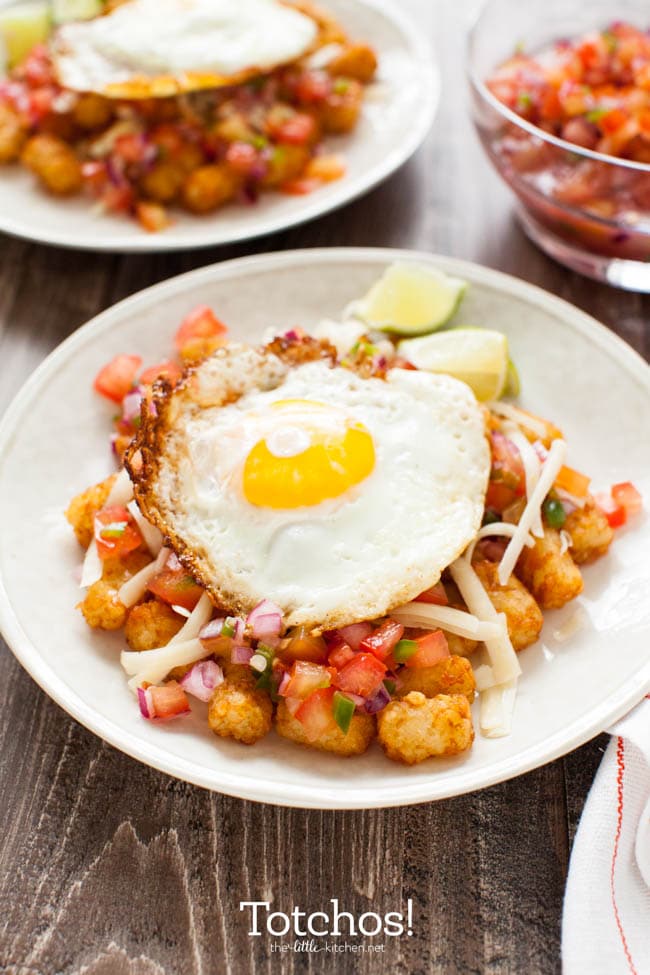 Snack, appetizer or meal? I'm not sure but I first had 'totchos' in Portland earlier this year and believe me they were memorable. Totchos are tater tot nachos! Instead of tortilla chips, the tater tots serve as nacho chips…and usually topped with nacho cheese and other toppings, they are amazing.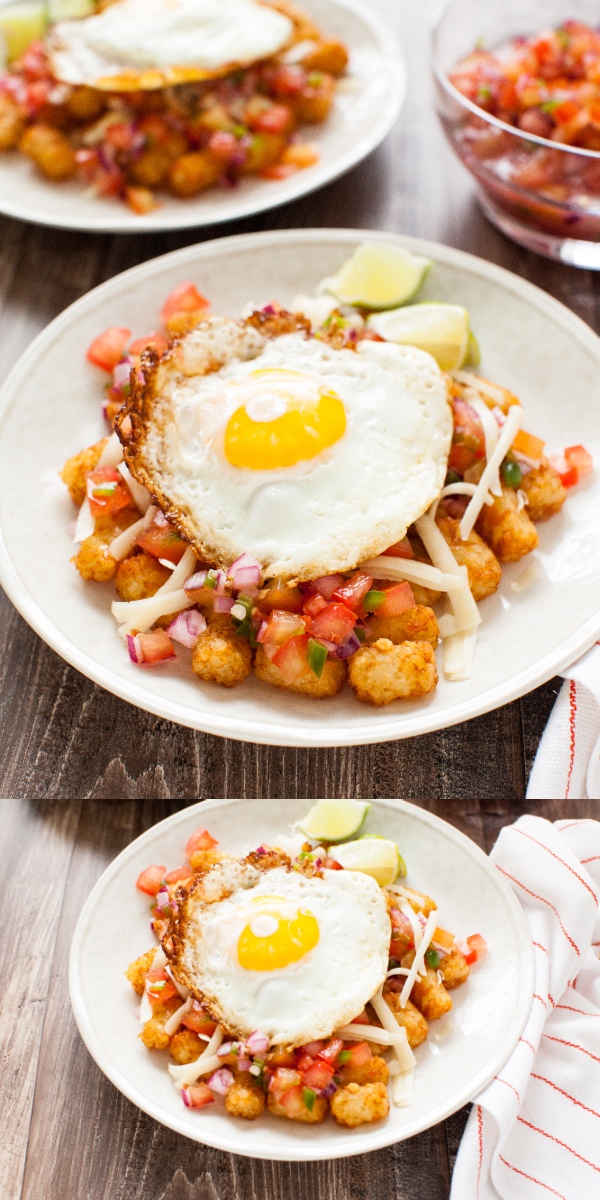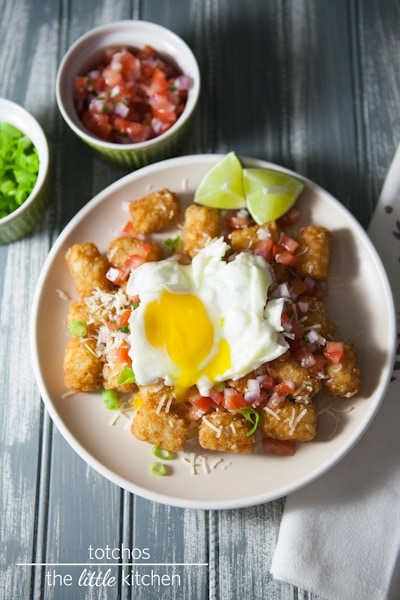 Original photo from when this recipe was originally published October 2, 2012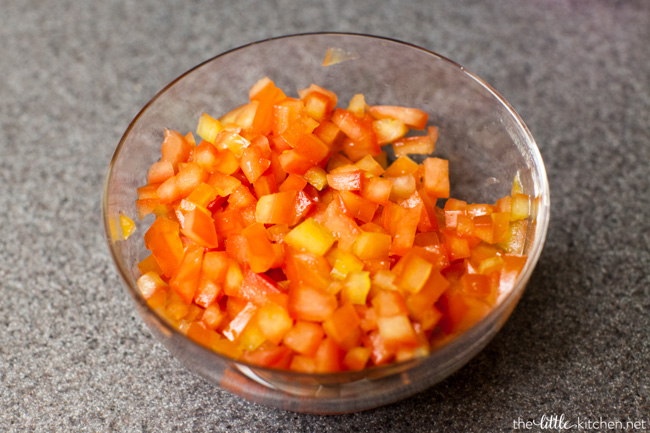 First, make the pico de gallo. This is my no fuss way to make pico and we love it on top of tacos and with fajitas.
Cut up the tomatoes.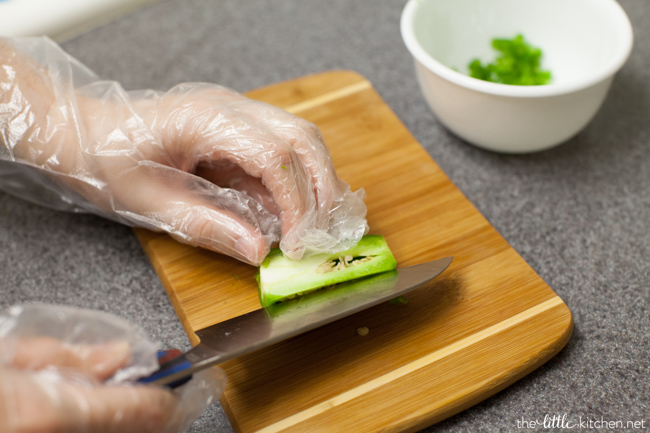 I have to show you how to cut jalapenos. First wear gloves…you don't want to accidentally touch your eyes later in the day and scream! Not that I know from experience.
Cut both ends off and then cut in half lengthwise. Then, working on one half at a time, slide the knife between the ribs and the jalapeno.
There you go, the ribs are detached. Reserve the seeds by scraping with your gloved fingers.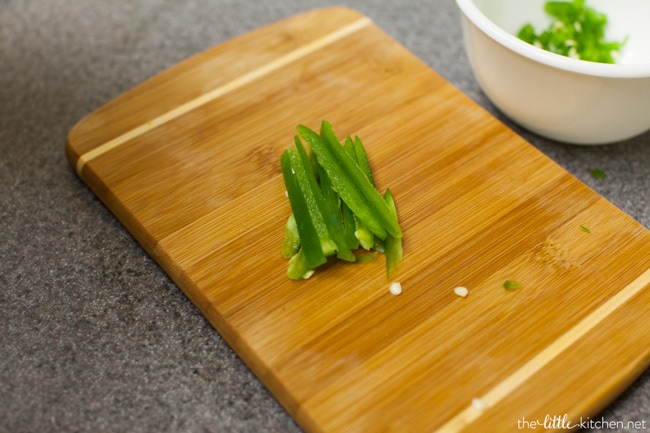 Slice the jalapeno half into thin strips.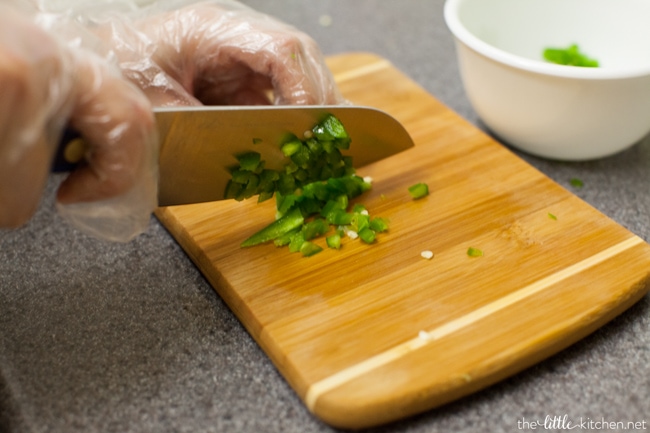 And then dice them finely.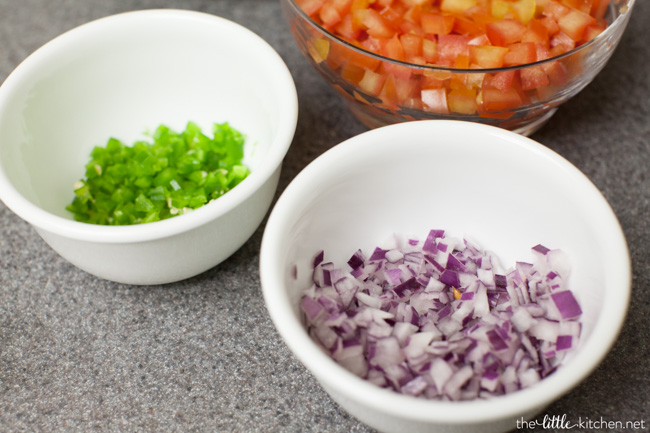 Prep the onions.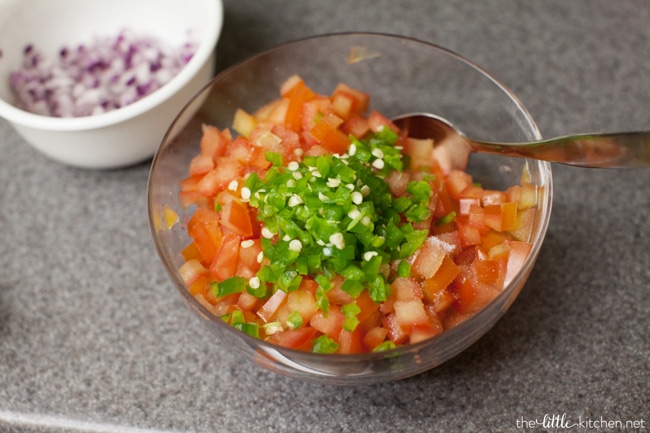 Mix in the jalapeno with the seeds and the onion.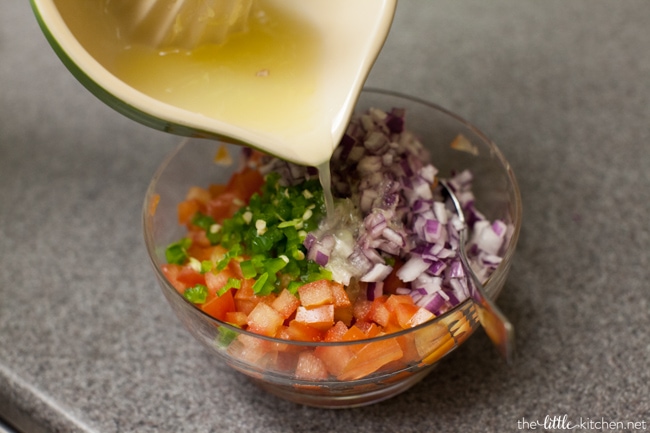 Add salt and lemon juice.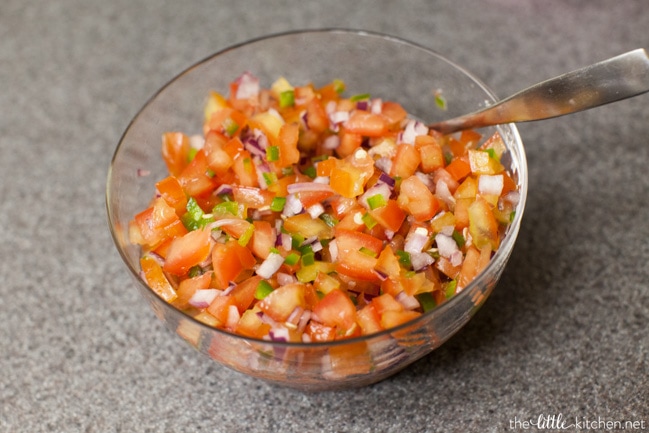 And stir. Then, cover and refrigerate until you're ready to serve.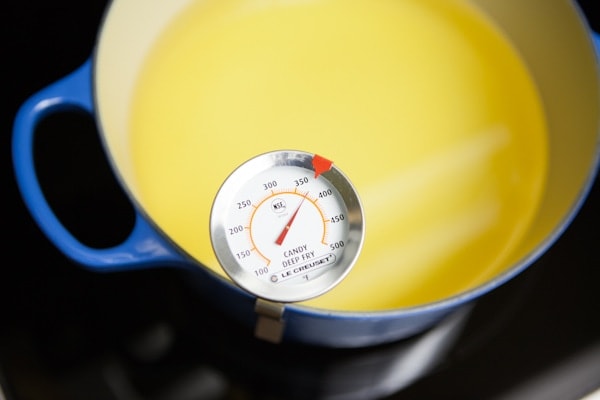 Heat your oil according to directions on your bag of frozen tater tots. I think it's really important to have a thermometer when deep frying.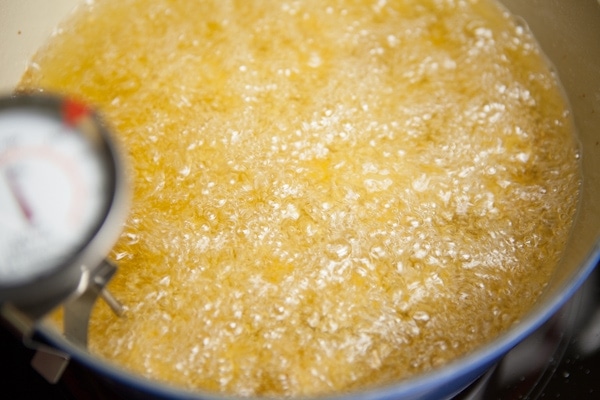 Fry those puppies (or tots) up and be patient. I used my slotted spoon to keep them moving around and from sticking to each other while frying.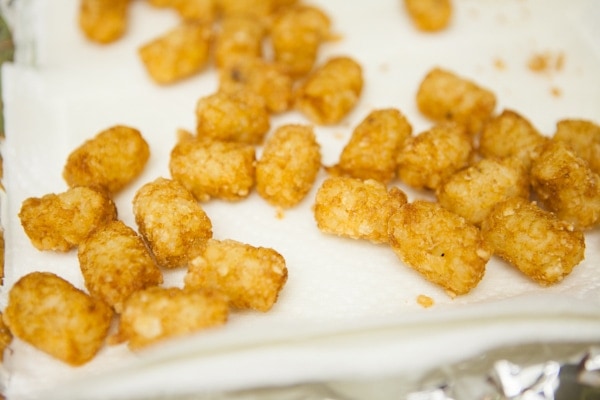 Using a slotted spoon, add the tater tots to a baking sheet that's lined with foiled and topped with paper towels – to soak up the oil.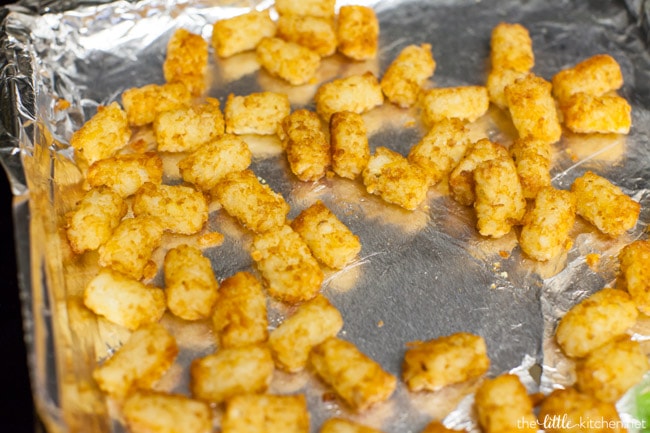 You can fry them…or you can bake them according to the instructions on the bag.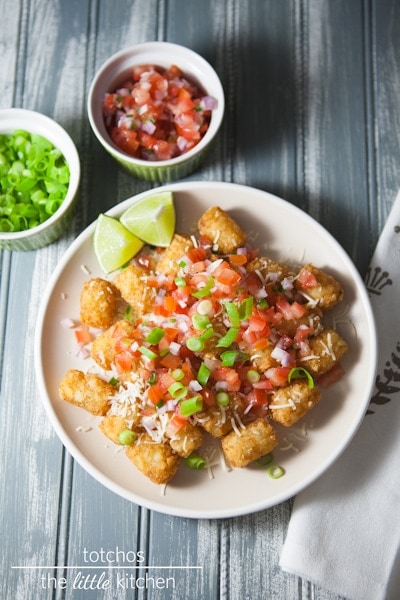 Original photo from when this recipe was originally published October 2, 2012
And then eat them! Soooooo I have to give credit where credit is due, while I was frying the tater tots, Curtis looked at me and said why don't you put a fried egg on top? Whatttttttt? was my reaction. He thought I was mad from my reaction but I just answered with "pure genius". You're a genius, honey!
The funny thing? He doesn't like runny eggs but he knows how obsessed I am with putting eggs on ramen noodles and tons of other things. I wish I thought of this…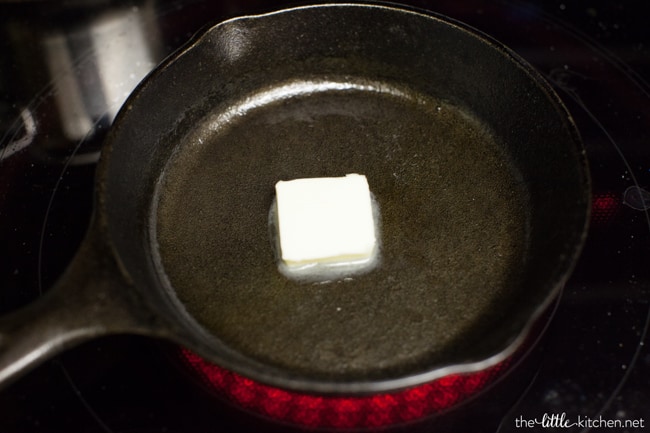 Here's how to fry an egg with crispy edges!
I have these mini cast iron skillets that I love to fry eggs in. Melt a pat of butter in the skillet.
Crack an egg.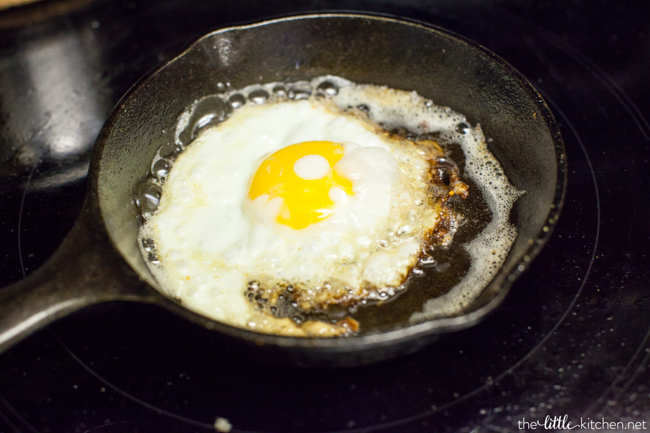 And let it cook for about 4 minutes if you want the egg to still be runny and the edges crispy. If you don't want it runny, you can cook it for as long as you want.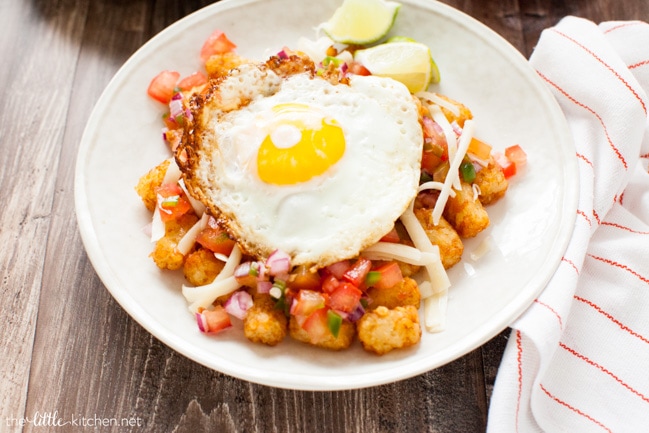 So there you have it…totchos with a fried egg on top (Curtis' idea). The eggs make it heavenly…this is comfort food!!!
Recipe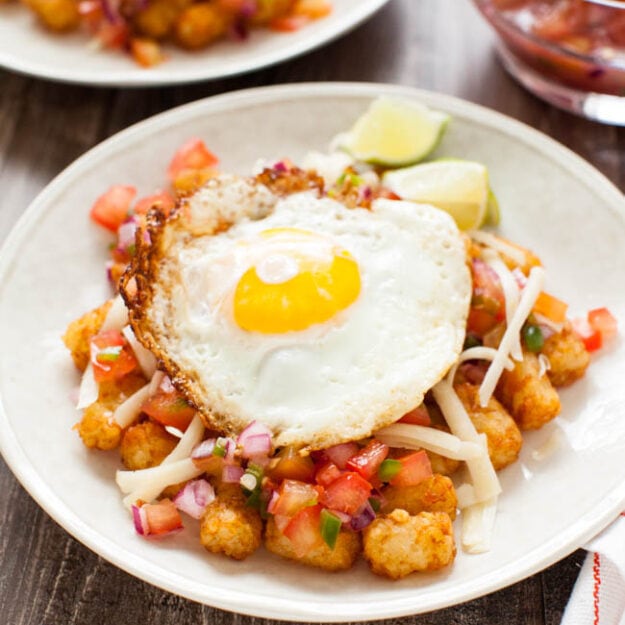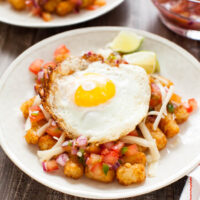 Print
Pin
Save
Totchos Recipe
Popular in Pacific Northwest towns like Portland, Oregon, they are traditionally topped with nacho cheese. I loved creating this twist with pico de gallo, shredded cheddar cheese and a fried egg on top!
Servings
2
(for a meal) or 4 (for an appetizer)
Ingredients
Pico de Gallo
1/2

of a large red onion

,

diced small

3-4

medium tomatoes

,

cored and seeded, diced small

1

jalapeno pepper

,

seeded & cored, diced small (reserve the seeds)

1 1/2

limes

,

juiced

salt
Tater Tots
1

pound

frozen tater tots

vegetable oil for cooking

salt and pepper
Other toppings
sharp white cheddar

,

grated

3

green onions

,

sliced

2

eggs

,

fried

sour cream

,

optional

guacamole

,

optional
Instructions
Pico de Gallo
Combine the diced onions, tomatoes, jalapenos (include seeds if you'd like) and lime juice into a medium-sized bowl. Add salt to taste. Refrigerate while preparing the tater tots and eggs.
Making the Tater Tots
If you're frying, prepare a baking sheet lined with foil and covered in paper towels. Fry the tater tots according to instructions on the bag. The brand I used instructed to heat the vegetable oil to 375 degrees.

Allow the tater tots to slightly cool and the oil to drain on the baking sheet. Top the tater tots with salt and pepper.

If you're baking, follow the instructions on the bag.
Fry the Eggs
In a cast iron skillet, melt a pat of butter. Add two eggs and fry them sunny side up until crispy, about 4 minutes. Cook them longer if you don't want the yolk to be runny. (If using a nonstick skillet, you might not be able to get the edges as crispy.)
Assembly
On two plates, add tater tots and top with cheddar cheese. Optional: melt cheese on top the tater tops in the oven on the baking sheet or in the microwave on microwave-safe plates.

Top with pico de gallo and green onions and then the fried eggs. Serve with lime wedges and sour cream or guacamole.
Notes