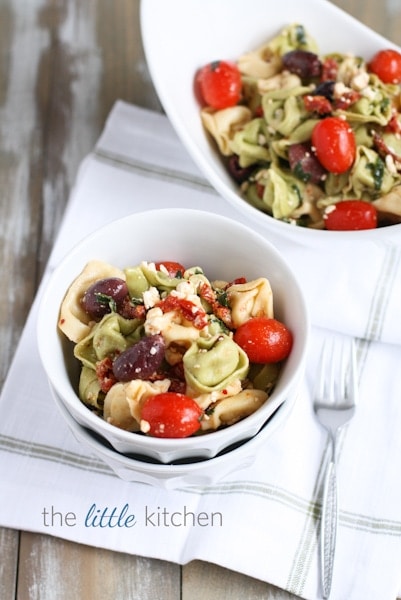 My husband, Curtis, is a picky eater. There are things that Curtis refuses to try, like tofu. I can't convince him to try it for the life of me. I always joke and say when I'm looking at recipes, magazines or other blogs, before I run through the scenario of how I would make it myself, it goes through the Curtis filter. Will he like it? Do the ingredients interest him?
We recently went to a local favorite, the Green Turtle Market. We stopped in and I loaded up on some fun ingredients and stuff like ginger beer. They have a prepared foods section and without even saying a word, we both thought that we should get a snack.
I immediately looked at a tortellini pasta salad and thought, Curtis won't eat that. It has feta cheese in it and then I saw olives and thought maybe I wouldn't like it. But then a strange thing happened, we both looked at each other and said why don't we get that pasta salad?
It's funny how these things happen and because I found now that Curtis doesn't "mind" feta cheese and that I love Kalamata olives…love them.
This tortellini pasta salad was inspired by the one we had at the Green Turtle Market. I love it because it's so easy to throw together and can be served as a side at a party, brought to a potluck and you can even snack on it.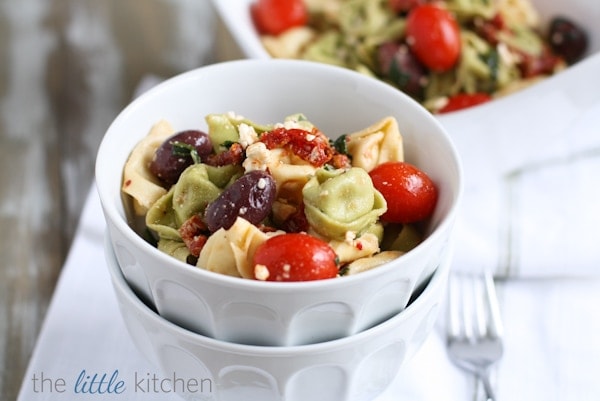 Recipe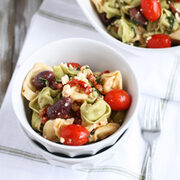 Print
Pin
Save
Feta and Kalamata Olive Tortellini Pasta Salad
Ingredients
20

oz

1 lb 14 oz dual or tri-color tortellini

1/4

cup

olive oil

1

Tbsp

red wine vinegar

salt & pepper

3/4

cup

feta cheese

,

crumbled

1/2

cup

sun-dried tomates

,

sliced thin

1

pint

grape tomatoes

,

rinsed and dried

1/2

cup

Kalamata olives

1

tsp

crushed red pepper

5-6

basil leaves

,

chopped
Instructions
Heat a pot of salted water and bring to a boil. Cook the pasta according to instructions on the package. Drain and remove from pasta pot. Allow the pasta to cool.

In a medium bowl, whisk together olive oil and red wine vinegar. Add salt and pepper to taste.

In a large bowl, combine cooled pasta, feta cheese, sun-dried tomatoes, grape tomatoes, olives and red pepper. Add olive oil and vinegar mixture and thoroughly combine. Add crushed red pepper and basil leaves. Season with salt and pepper to taste.

Refrigerate pasta salad for at least 2 hours before serving. Store in tightly sealed container in the refrigerator for 3-4 days.