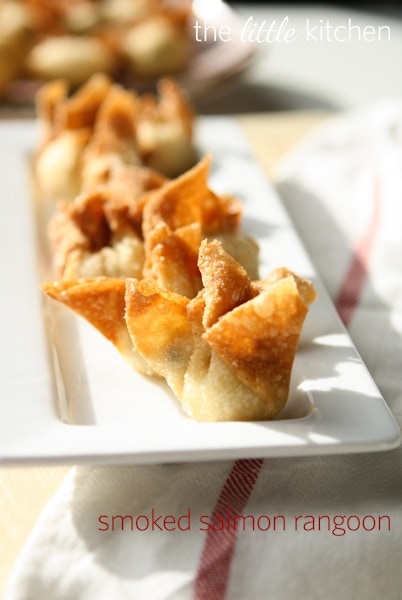 I didn't realize when I was planning the recipes I would make for the KitchenAid 1,000 Cooks for the Cure party that I had a cream cheese theme going. I swear to you, I make this or crab rangoon like 30 to 40 times a year. It's a big hit at Bunko and it's always requested for the family holiday events.
I started making the smoked salmon variation a few years ago when I visited my friend, Nellie, in Atlanta. She wanted me to show her my recipe for crab rangoon and we decided we would do both – ones with crab and ones with smoked salmon.
If you like bagels and lox, you'll love this…to me this is like bagels and lox all fried up (okay but without the capers)…ooh, maybe I should add capers next time!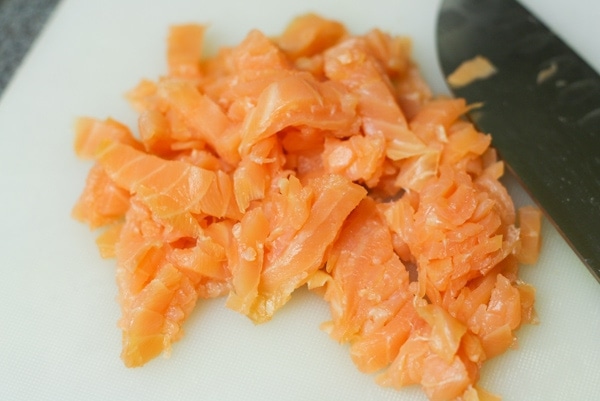 Be sure to buy the refrigerated smoked salmon. Chop it up before adding the green onions and pepper.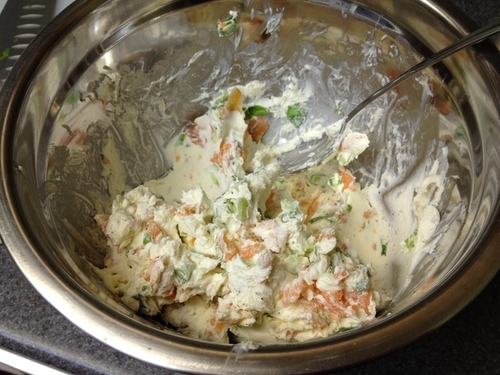 After mixing the smoked salmon with the green onions and pepper, add the softened cream cheese and mix well. No need to add salt! The smoked salmon is salty enough. (above photo taken with an iPhone.)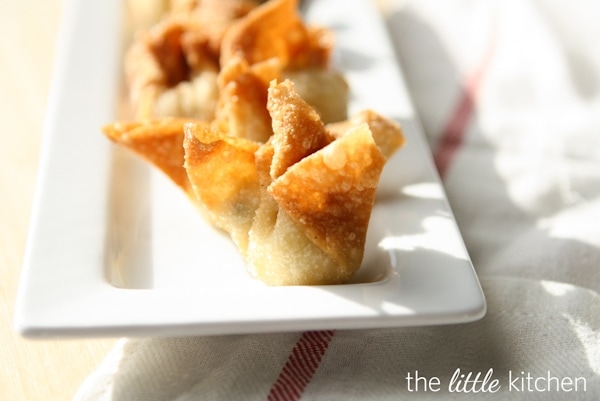 For instructions and photographs on how to fill and wrap them up, visit the crab rangoon recipe.
These are so simple to make and I have to admit that Curtis will not try these…the very thought of frying cream cheese in something makes his skin crawl. To me it's a little sad but then I get to eat them all myself!
Make your own crab or smoked salmon rangoon at home, it's fresher and you get a more balanced rangoon – I always feel like there's not enough crab in the ones at restaurants, don't you?
Recipe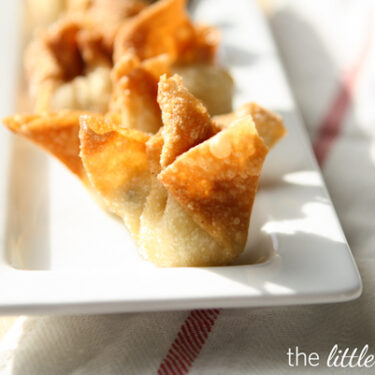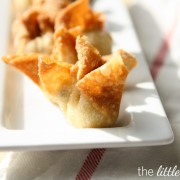 Print
Pin
Smoked Salmon Rangoon Recipe
A twist on crab rangoon, adding smoked salmon makes it a little elegant. Simple to make and delicious! Perfect for parties and get togethers.
Ingredients
1

package of square wonton wrappers

3-4

ounces

refrigerated smoked salmon

,

chopped

2

8 ounce packages of cream cheese (allow it to sit out for 30-60 minutes)

4

green onions

,

sliced thin

pepper to taste

vegetable oil for frying
Instructions
Add smoked salmon, green onions and pepper to a mixing bowl. Mix well. Add in cream cheese and mix well.

Take each wonton wrapper and put about a teaspoon or a little more than a teaspoon of the mixture in the middle of the wonton skin.

Fold in half (if using a square shape, after folding in half, shape should be a triangle, not a rectangle).

Put your fingers on the area of the wonton right above the mixture, and crimp together, should look like a pouch. (Does not need to be completely sealed but you don't want too much oil to get into the cream cheese and you don't want the cream cheese to come out of the wonton wrapper while frying. If you're unsure, try doing a couple and frying them up before wrapping the rest of them to get a feel for it.) Also, I sometimes describe it as looking like a ghost when you flip upside down, the area with the filling is the ghost's head.

Repeat steps 2-4 until all mixture is gone or wontons are gone.

Heat oil (about a 1 1/2 inch layer) in pan on medium to medium high heat. Oil needs to be pretty hot.

In batches, fry rangoons in pan until lightly browned on each side about 2-4 minutes.

Cool on a plate lined with paper towels. Line up upside down so that any oil that has collected inside drains out. Allow to cool for 5-8 minutes. Serve immediately.

Notes: I prefer the wonton wrappers you buy at the Asian grocery store, particularly the Twin Marquis brand. When I'm in a pinch, I'll use the brands you can you buy at your local grocery store in the produce department. I had to this time and you'll notice in the pictures, that's what I used this time.