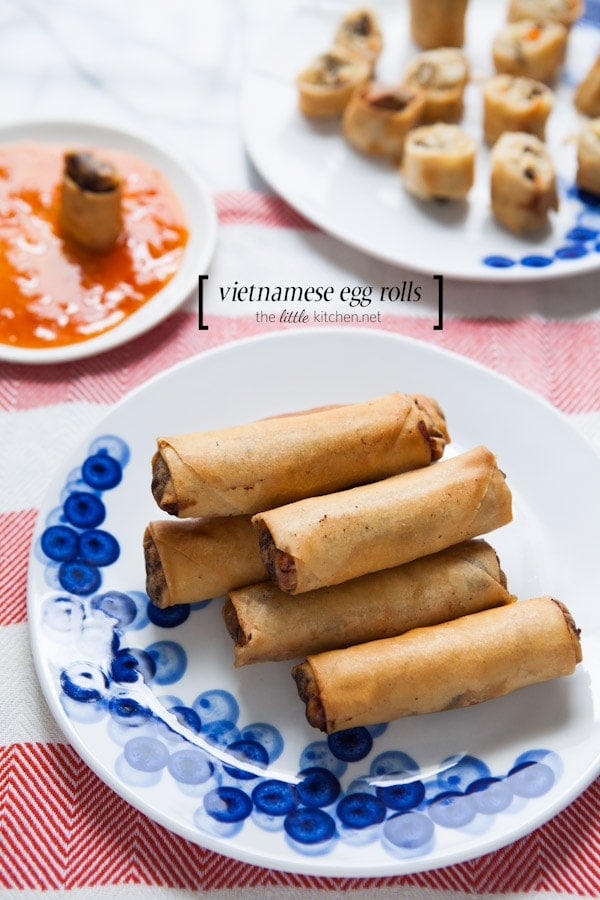 When I think of growing up and my favorite Vietnamese dishes, I think of egg rolls and pho (beef noodle soup). I do have my Mom's recipe and I will be sharing that, not sure when yet! But these egg rolls, they are my Mom's recipe for Vietnamese egg rolls. I'm sure somebody will say they are not authentic. But when that's what you grow up with and your Mom is Vietnamese, they are authentic to me! 🙂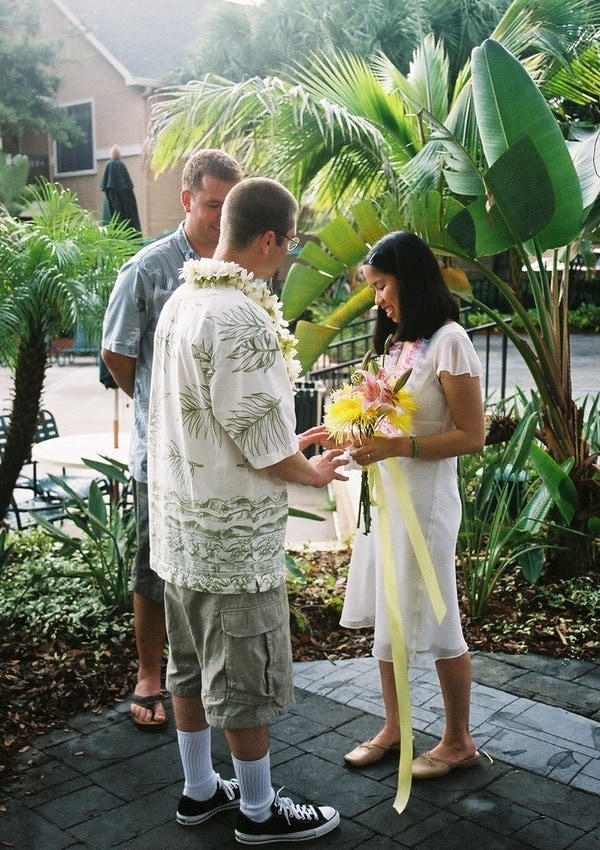 This past weekend, Curtis and I celebrated 11 years of marriage. We got married on his 30th birthday. This was supposed to be a surprise party for Curtis. But two weeks before the party, he found out about the surprise and was upset. He hates surprises and I thought we were going to have to call the whole thing off!
But then, the same day, Curtis suggested we get married at the party…surprise everyone back with a wedding ceremony. What do you think? I was on board. He kept asking me, are you sure you're okay with this? I was and still am. 🙂 We scrambled, I found a dress a week before the wedding and even traveled for work that week to Las Vegas for a tradeshow! I shopped for my shoes in Vegas too! Haha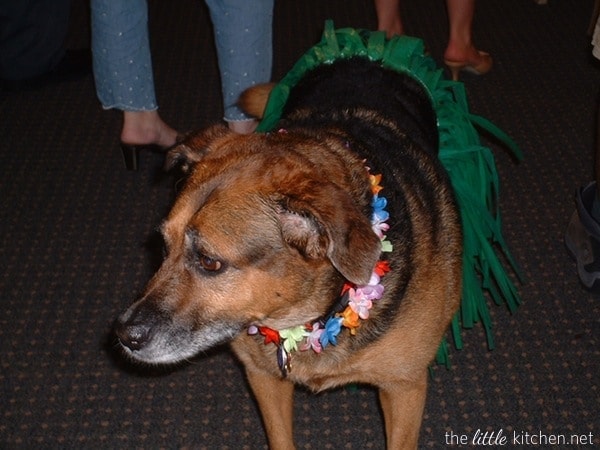 One of our favorite things about our wedding day was that our late dog, Cinder, was there.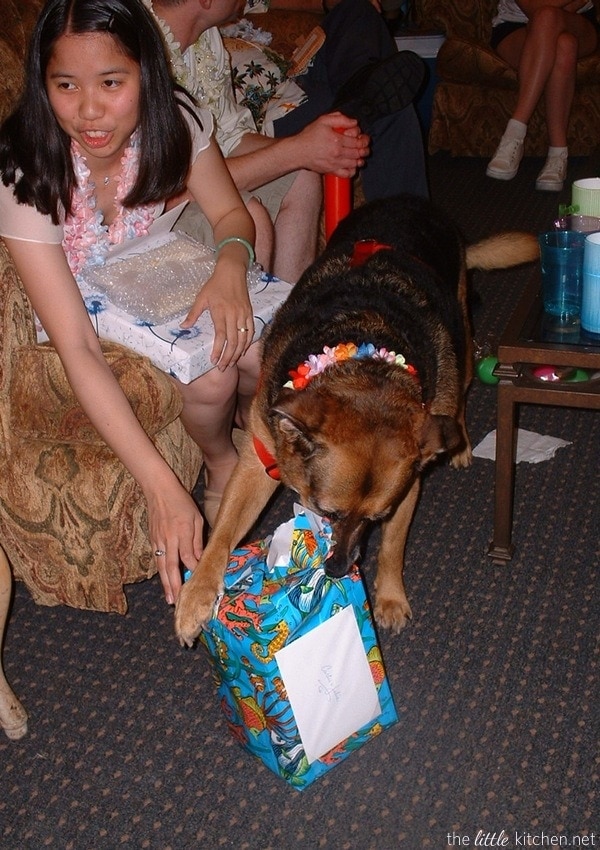 She got to enjoy the party. She knew how to open presents! We miss her and it's been almost 6 years since we had to say good bye to her and it took a while to not cry when I thought of her. Now, I smile when I think of her or catch a glimpse of the drawing we have hanging in our family room of her. (She was opening Curtis' birthday present in the picture above.)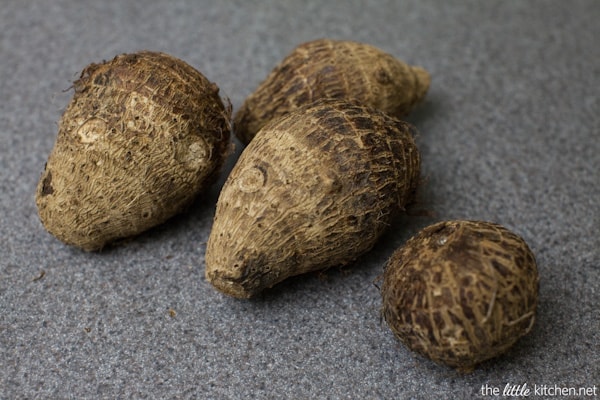 My Mom made her Vietnamese egg rolls for our wedding too…so it's only fitting I'm sharing them with you now! There are four components to a Vietnamese egg roll that are very important. Above is taro root. Its consistency is like a potato but it has purple squiggly lines. Sometimes it's hard to find so that's when I have used malanga blanca which is very similar but no purple. The other three components, I'm mentioning below…dried seaweed (as it says on the package below) or dried black fungus, cellophane noodles and the kind of egg roll wrapper you use (it's very important).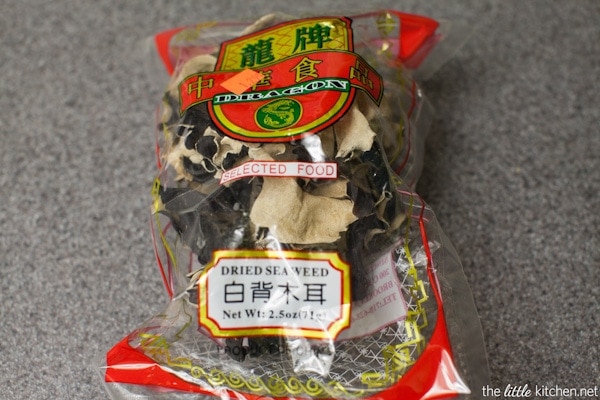 The dried seaweed or dried black fungus comes in a bag like this. (Also known as wood ear mushrooms.)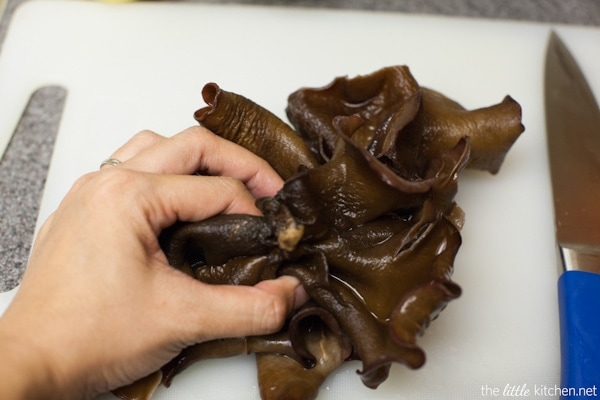 After soaking it in hot water for 30 minutes, it looks like this! It's amazing how much more volume there is! See that knobby looking piece in the center? You want to cut these off before slicing it up.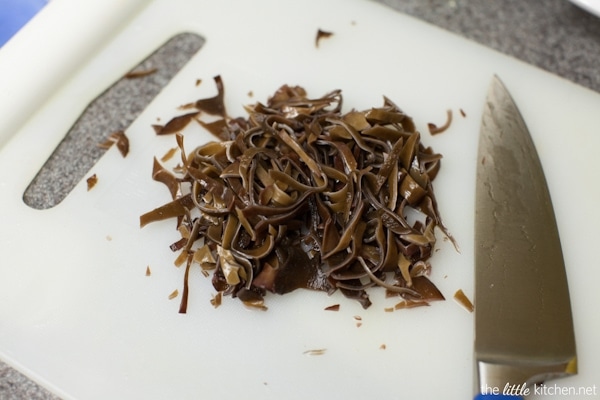 All sliced up.
Next are cellophane noodles also known as bean thread noodles. They are sold in packages like this but you only need one section of the bag for this recipe.
Soak it in hot water for at least 15 minutes. And then roughly chop it after draining it.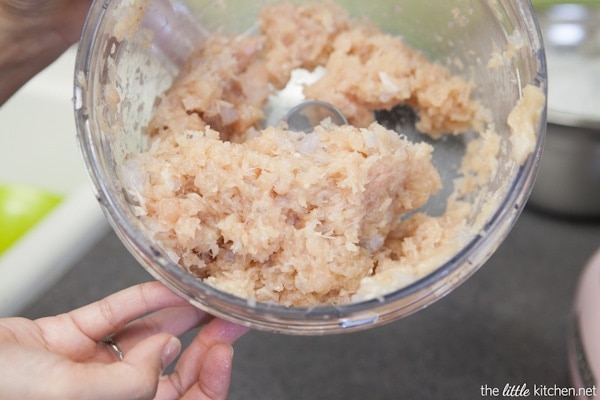 I made this recipe three different ways so you can adjust for diet. Above, I processed chicken breasts and peeled and deveined shrimp. You can do all pork or all shrimp also. And to make it completely vegetarian, you can do a tofu version. I have the ingredients and instructions for each type below!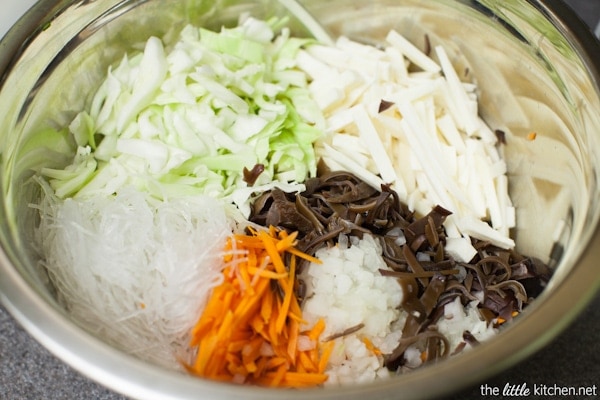 All of the veggies.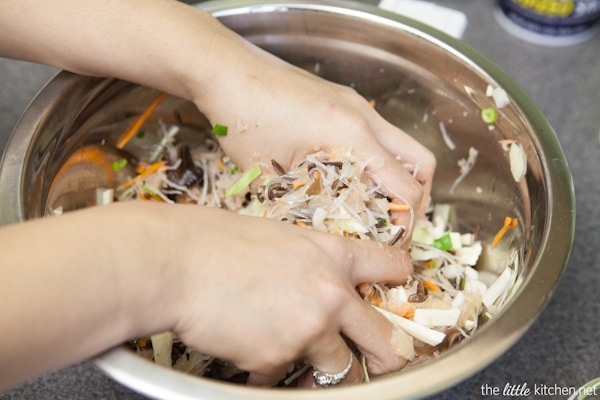 And sometimes you just have to use your hands.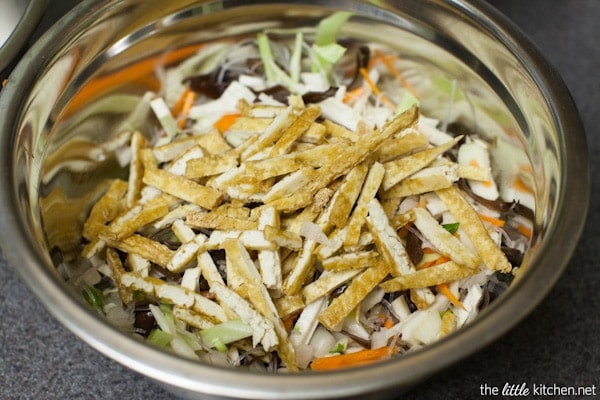 Photo of the filling when it's made with tofu.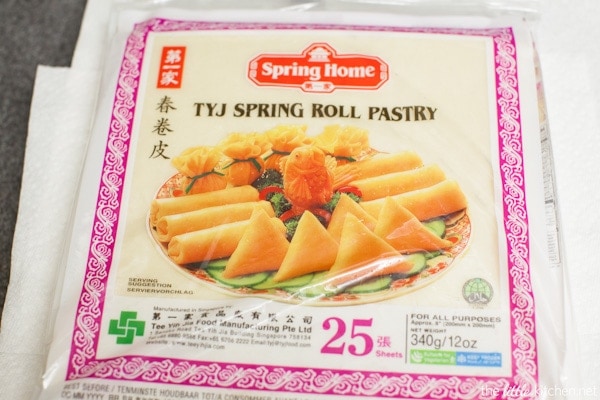 I'm here to say the spring roll or egg roll wrappers you find in most grocery stores will not cut it. They are too thick. I buy these at my Asian grocery store and a produce market I go to carries this brand as well. The Spring Home TYJ Spring Roll Pastry is my Mom's favorite brand for egg rolls. They are super thin and are freezer friendly so I usually stock up on these when they are on sale!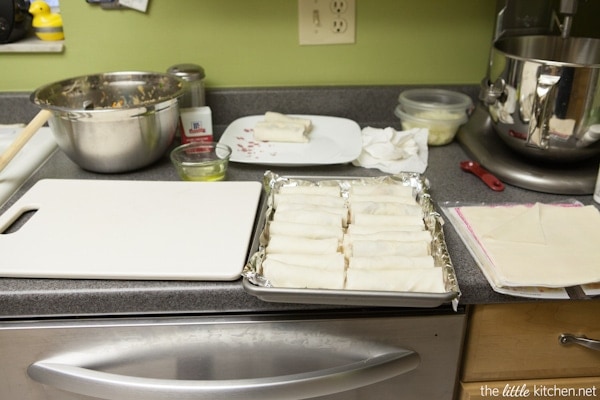 Here's my set up when I get ready to wrap and roll…haha like my joke?
I even put together a video as well as did step by step photos on how to wrap a Vietnamese egg roll. (Huge huge thanks goes to my friend, Joanne, for her help in filming this video!)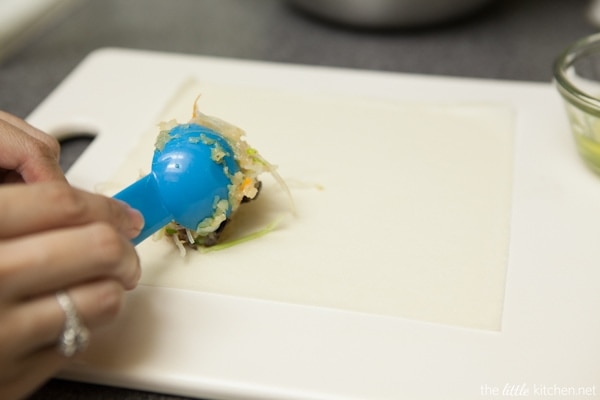 First place 2 Tablespoons of filling on one corner of one wrapper.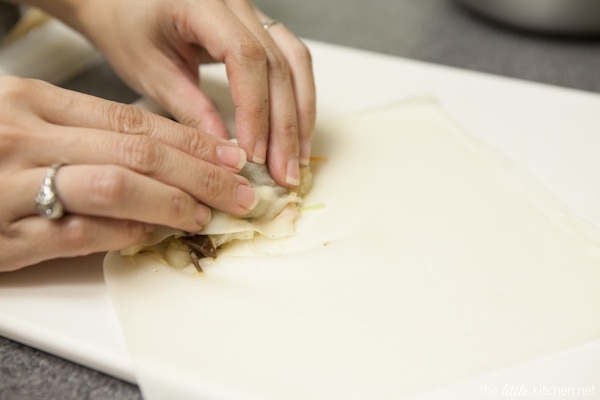 Roll that corner up.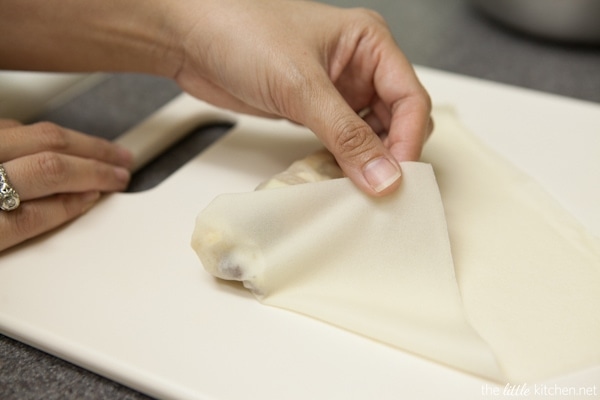 Then fold over the side corners.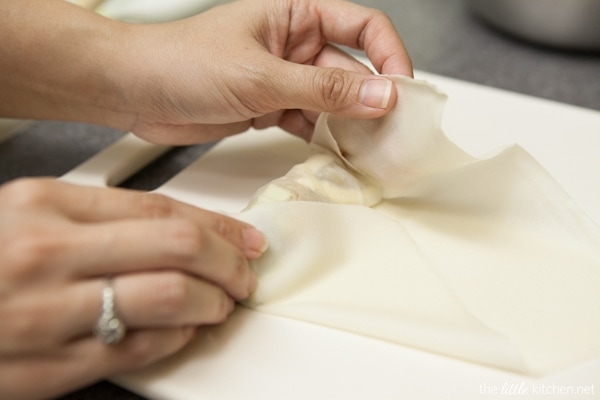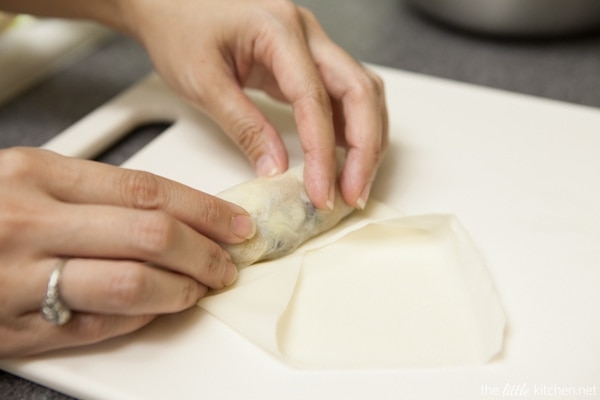 And then start rolling, as you are rolling, tuck it in tightly.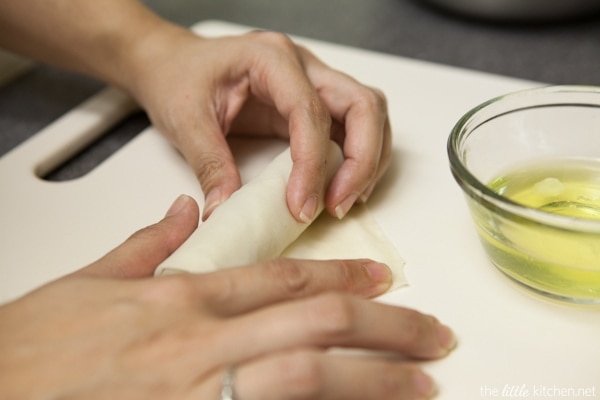 Use the egg whites as glue for the egg roll.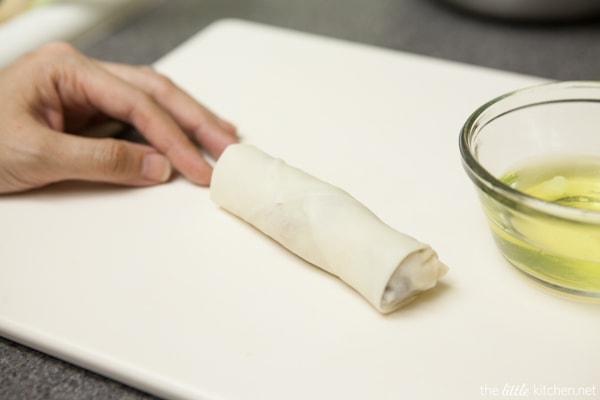 All done. But seriously, watch the video, it will help immensely if this is your first time making egg rolls!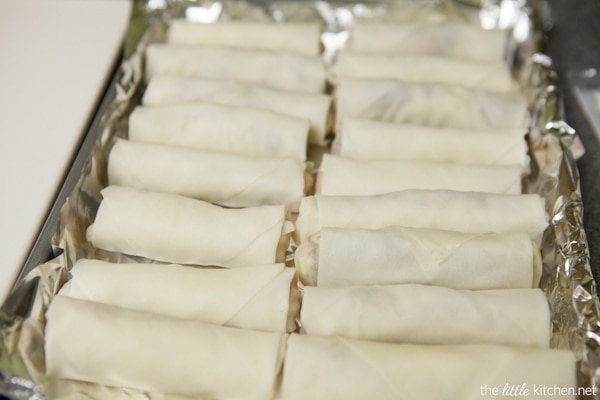 I put them on a quarter sheet baking sheet covered in foil or parchment paper. This makes it easy to count, to organize and you can put the baking sheet in the freezer to prep for freezing. (Just be sure to layer foil or parchment paper on top so there's only one layer of egg rolls or they will stick to each other.)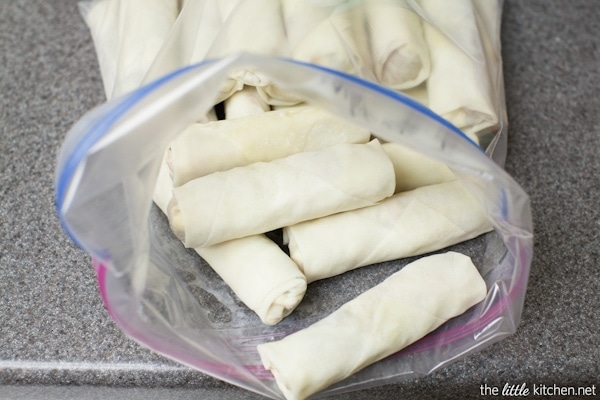 Once frozen, you can put them in a zippered plastic bag…to keep them for when the craving or guests arrive. Freeze them separately at first so they don't freeze stuck together.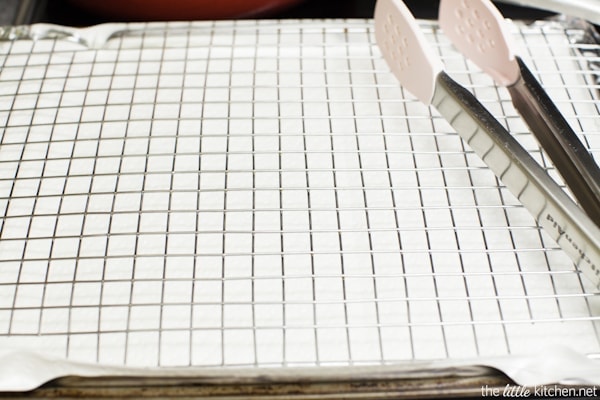 Before frying, set up your baking sheet with foil, paper towels and I use a cooling rack for the egg rolls. I sometimes use chopstick to remove the egg rolls but tongs are way easier!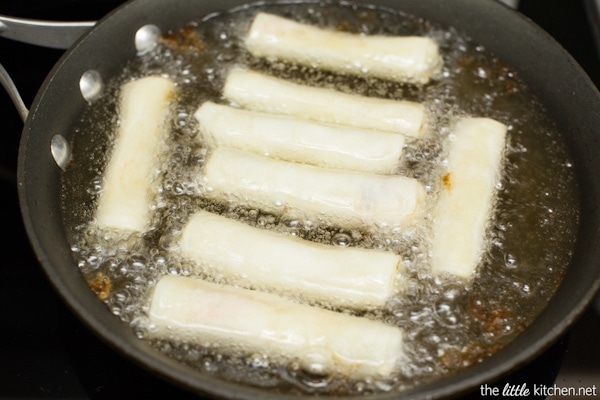 We don't deep fry these, we fry them in about a 1/2 inch of oil (canola or vegetable) and they cook up nicely.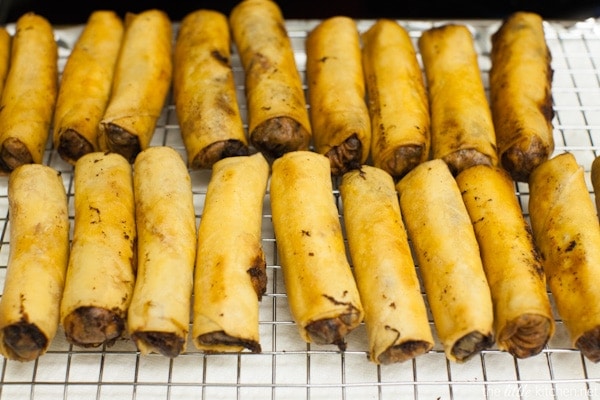 Right out of the fryer, be careful and let them cool for a few minutes before biting into one of these. I'm speaking from experience!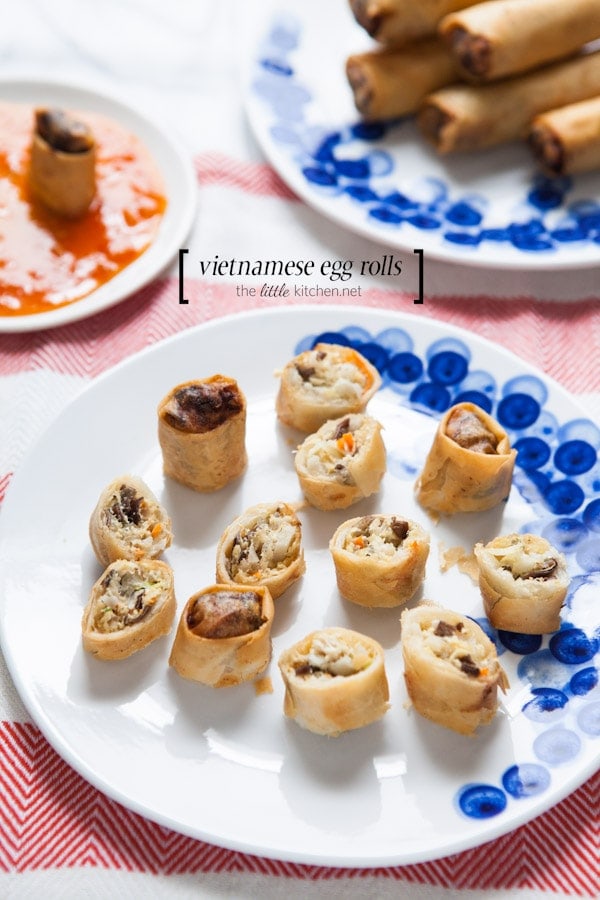 You won't be able to have just one. I promise.
Thanks, Mom, for the guidance. I have made these at least 10 times now measuring to make sure I have the measurements correctly because my Mom never measures.
Cut them up with kitchen shears to serve as a small appetizer at your next get together or on top of rice noodles and and with veggies to make a great noodle bowl! These will not disappoint!
Recipe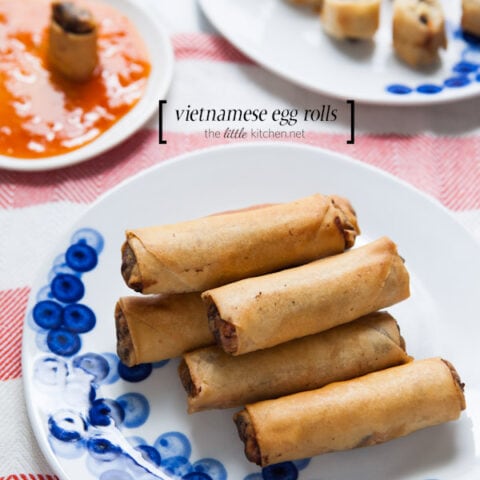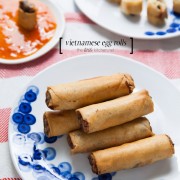 Print
Pin
Save
Vietnamese Egg Rolls Recipe (3 Ways!)
Most of us normally see Vietnamese egg rolls made with ground pork. You can make this recipe with ground pork, ground chicken & shrimp, ground shrimp or with tofu to make it vegetarian. All ways are super tasty!
Servings
48
to 50 egg rolls
Ingredients
2.5-

ounce

bag dried black fungus

,

about 1 1/2 cups (I used half of the bag)

1 1/2

cups

bean thread or cellophane noodles and roughly chopped

2

green onions

,

sliced thin

1

medium onion

,

diced (about 1 cup)

1

carrot

,

about 1/2 cup, peeled and cut into matchsticks

1/2

head of cabbage

,

about 1 cup, shredded

1

medium taro root

,

or melanga blanca about 1 pound (about 2 cups), cut into large matchsticks

a couple of dashes granulated sugar

2

packages egg roll wrappers

,

I use Spring Home TYJ brand Spring Roll Pastry

2

eggs

,

yolks and whites separated

vegetable or canola oil for cooking
Choose one of the following:
Chicken & Shrimp
1

pound

boneless skinless chicken breasts

1/2

pound

shrimp

,

if frozen, defrosted, peeled and deveined and rinsed

2 1/2

teaspoons

salt

1/2

teaspoon

pepper
Shrimp Only
1/2

pound

shrimp

,

if frozen, defrosted, peeled and deveined and rinsed

2 1/2

teaspoons

salt

1/2

teaspoon

pepper
Tofu
1

14-ounce package of firm tofu, sliced thin

1 1/2

teaspoons

salt

1/4

teaspoon

pepper
Instructions
First thing, (soaked in hot water for at least 30 minutes, drained, rinsed and then cut

and sliced). Soak 1/2 a bag of dried black fungus (dried wood ear mushrooms) in a large bowl with hot water for at least 30 minutes. Soak 1 section of a bag of bean thread noodles for 15 minutes in a hot water.
If you're making tofu egg rolls
Heat a nonstick skillet with one Tablespoon of grapeseed oil.

Slice tofu into thin slices and cook for 3 to 4 minutes on each side.

Remove and place on a paper towel-lined plate. Allow to cool and set aside.

Once they are cool, cut them into strips.

Prep other vegetables. Removing knobby pieces of the mushrooms and then slice thinly.

Mix all vegetables together in one large mixing bowl. Use your hands, if needed.
Meat and/or Shrimp Filling
Pat meat and/or shrimp dry with paper towels. Add meat and/or shrimp to a food processor and pulse for a few seconds at a time until blended and meat is roughly chopped. Don't over process so that it's mushy.

Split vegetable mixture in half and mix meat in batches. Until it's all mixed together. Add salt and pepper and dashes of sugar. Mix in egg yolks thoroughly.
Wrapping Egg Rolls
After opening the bag of egg roll wrappers, cover with a wet paper towel (that's been wrung out) to prevent drying out of the wrappers.

On a clean surface like a cutting board, place one wrapper on the cutting board so it's a diamond. On the corner closest to you, place 2 Tablespoons of filling. Fold up that corner and then fold over the side corners.

Start rolling up and as you're rolling, tuck the filling side in tightly. Use egg whites as a glue on the inside and outside to seal it closed.
Frying the Egg Rolls
Line a Cookie sheet with foil and paper towels and top with cooling rack.

Heat oil (about a 1/2 inch layer) in a nonstick skillet on medium high for 5 minutes. Oil should start to swirl when it's hot.

Add 6 to 8 egg rolls and cook for 3 minutes (if frozen 5 to 6 minutes) on each side and then an additional 60 to 90 seconds on each side, if needed, until golden brown. (Lower heat to medium if oil gets too hot.)

Using tongs, remove one egg roll at a time and hold them up lengthwise and allow oil to drain back into the pan.

Place egg rolls on prepared pan and allow to cool for a few minutes before serving.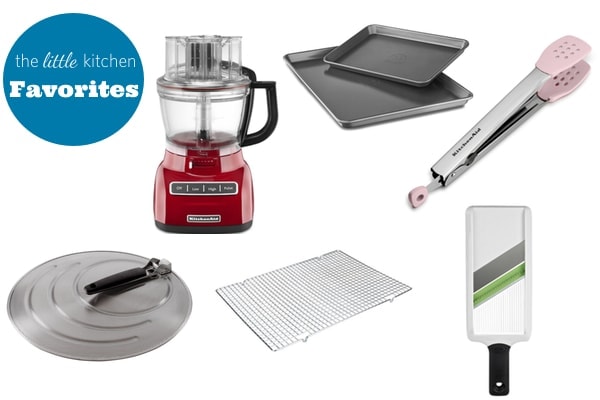 Tools I use for this recipe:
Disclosure: This post contains affiliate links which means that I get a small percentage if you make a purchase. Thanks for allowing me to share my favorite recipes with you!