Doubletree Hotel Copycat Chocolate Chip Cookies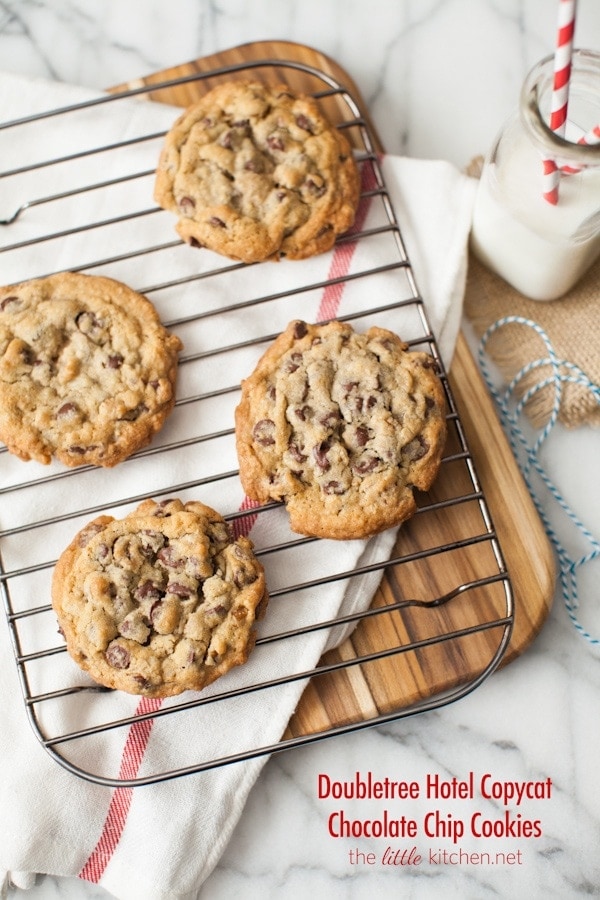 Cookies! Okay, sooo I have an obsession with cookies and chocolate chip cookies. Each one I have made, I call them the best ever! Now everyone thinks I'm lying. I guess I have to say I have three favorite recipes. The recipe I'm sharing with you today is now in the top three too. Have you stayed at a Doubletree Hotel before? They give you these fresh-baked chocolate chip cookies and they are heaven. I'm so happy to have found a recipe in my searches, so I can make them at home!
I made these cookies for our food blogger bake sale this year! Huge thanks go out to all of the bloggers who participate this year: Katie's Cucina (my co-organizer! here's her recap), Kokocooks, Forkful, Live Pretty, Simply Southern Baking and My Sweet Zepol. We raised almost $700 for Share our Strength! And huge thanks go out to the Winter Garden Harvest Festival — they let us combine our bake sale with their festival which was a blast!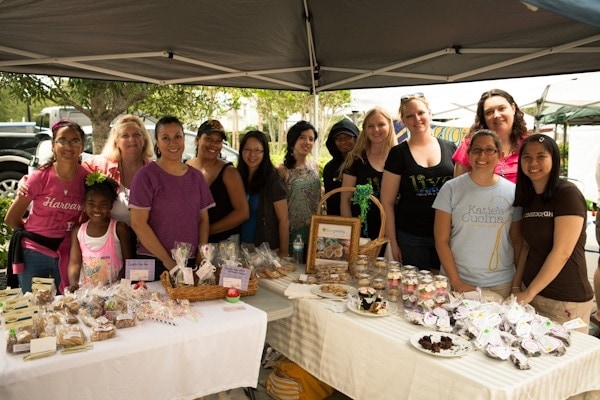 There's our great group! What a lovely bunch of ladies!
And oh my goodness, we had generous sponsors donate prizes for our wonderful raffles including: KitchenAid, OXO, KINGS Bowling, World Market, Tommy Bahamas Restaurant & Bar, FirstWatch, CRAVE, Pretty Flips and Mannix Vanilla. Thank you so much to these wonderful companies!
This past weekend, I helped organize a food blog conference along with Jaden & Scott, Todd & Diane and Lindsay — it was a blast, I'll share more in the coming weeks. But I did want to share something quickly, during Todd & Diane's talk, they asked me to share a few photos from my behind the scenes. I thought I would share a shot from their presentation and show a little of what a pull back shot looks like of these chocolate chip cookies! You probably think I'm a total nerd but I like to share these occasionally on instagram so follow me there if you're the least bit interested!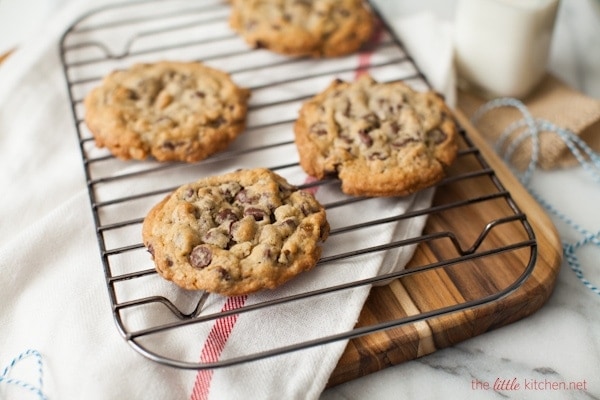 And about these cookies…please make them! I put a quick video together on how to make them too! Enjoy!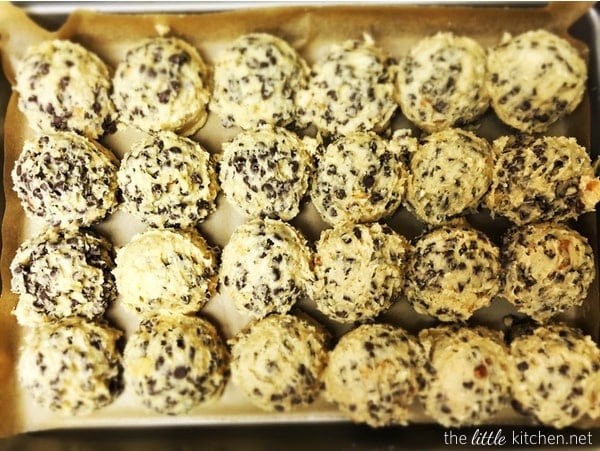 An update: I make these cookies ALL the time! I find that miniature chocolate chips work even better than regular-sized. And above is how I first freeze the dough right after making the cookie dough. Check out how to freeze cookie dough.
If you make any of recipes and decide to share them on instagram or twitter be sure to tag me @thelittlekitchn and use the hashtag #thelittlekitchenrecipes! I love seeing your posts and photos!
Doubletree Hotel Copycat Chocolate Chip Cookies Recipe
Yield: 28-30 cookies
Prep Time: 20 minutes
Cook Time: 30 minutes
Total Time: 50 minutes
Having made these cookies a bunch of times, my favorite semisweet chocolate chips for this recipe are Ghirardelli miniature ones.
Ingredients:
1/2 cup rolled oats
1 cup unsalted butter (two sticks), softened
3/4 cup light brown sugar, packed
3/4 cup sugar
1 1/2 to 2 teaspoons pure vanilla extract
1/2 teaspoon freshly squeezed lemon juice
2 large eggs
2 1/4 cups unbleached all-purpose flour
1 1/2 teaspoon baking soda
1 teaspoon salt
1/4 teaspoon ground cinnamon
3 cups semi-sweet miniature chocolate chips (I use Ghirardelli or Nestle)
1 cup chopped walnuts
Directions:
Pulse oats in a food processor until semi-fine or fine. Set aside.
Add butter, both sugars, vanilla extract and lemon juice to a large mixing bowl. Cream together using an electric hand mixer. Add eggs one at a time and mix until you have a smooth mixture. Be sure to scrape the bottom of the bottom of the bowl with a spatula at least once.
In a small mixing bowl, add the oats, flour, baking soda, salt and cinnamon. Mix thoroughly together with a rubbers spatula or wooden spoon. Add the dry ingredients to the wet ingredients and mix with a spatula, being careful not to overmix. Drop in the chocolate chips and walnuts and mix until both are evenly distributed throughout the cookie dough. Again, be careful not to overmix or they will have a cake-like texture.
Using a large cookie scoop (3 tablespoons), scoop cookie dough onto a lined baking sheet. Freeze or refrigerate the cookie dough for at least 2 to 4 hours or overnight even.
To bake: Place cookie dough portions onto baking sheet lined with parchment paper or a Silpat at least 1 1/2 to 2 inches apart. Bake 350 degrees F for 14-16 minutes or until desired doneness. Allow to cool completely on a cooling rack if storing. Store in a sealed container with a slice of sandwich bread to ensure softness of cookies.
Tip: Freezing your cookie dough for later, let's you have fresh baked cookies anytime you want them! Check out my article on how to freeze cookie dough.
Just tweaked just a teeny bit from this recipe.
We love that you love to share our recipes with others. If you have a blog or website and want to repost the recipe, we just ask that you reword the instructions (easy peasy) and link back to give us credit and to use your own images at the same time. Please ask us permission before republishing our recipes and images. And here's a great article on how to properly attribute a recipe.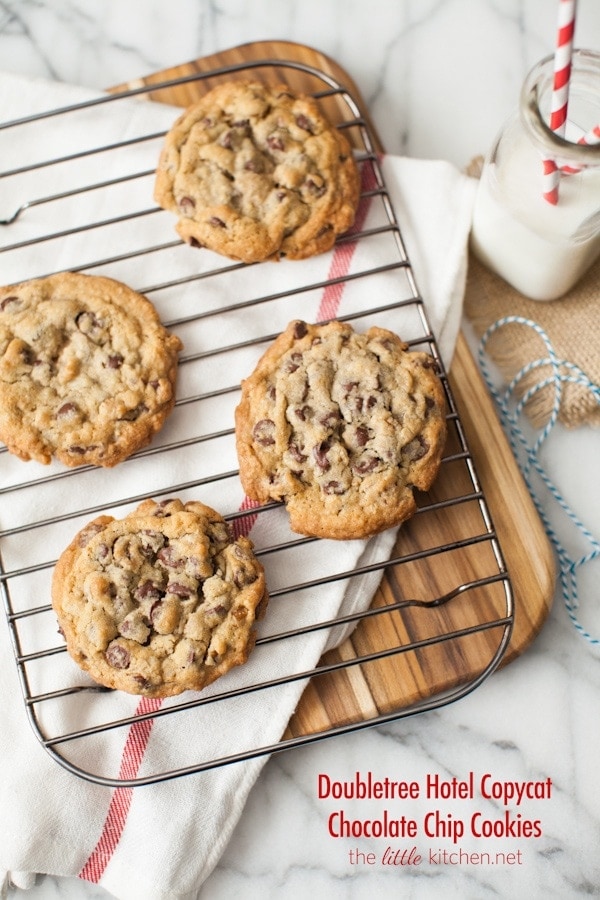 Disclosure: There are affiliate links in this post.
Other recipes I know you'll love: