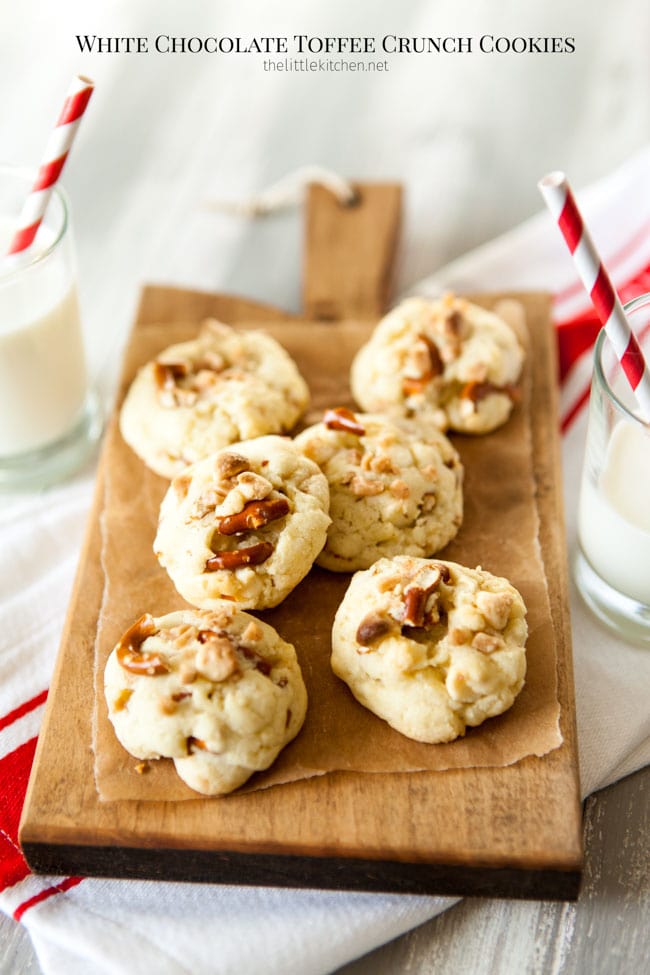 I can't even tell you how many times I have made these cookies. I love making them for the holidays and I love having a batch of dough in the freezer for when I'm craving these cookies!
Fast forward to after Thanksgiving, I was spending time with my sister Quyen and her adoptive mom (& our family friend), Carolyn, I started experimenting with these cookies. The first batch didn't come out quite that right, I had started with these cookies as a base for the recipe but it was all wrong…a few tweakings and I really believe I have come up with the perfect cookie recipe. After I got them right, my mom and sisters were all fighting over them…I had to keep making them.
Not too sweet and not too salty – I just love pretzels in these cookies. I need to bake more with pretzels is what I'm starting to find…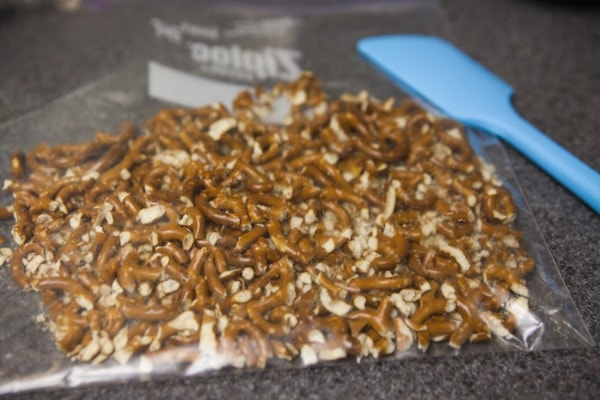 First, I take it out on some pretzels. I used this nifty spatula that was sent out for me to try out. PS I'm in love with it.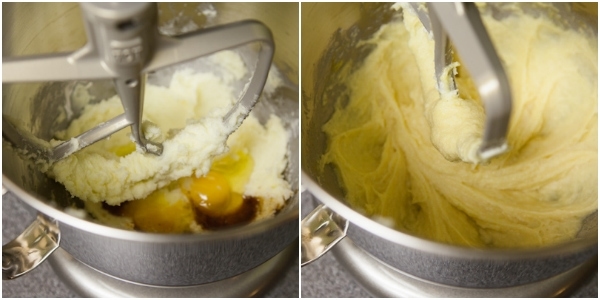 It's important to start out with unsalted butter since we're going to have a bunch of salty from the pretzels.
First cream the butter and the sugar and then add the eggs and vanilla and mix thoroughly.
how to measure flour post yesterday. Use a spatula to mix together all of the dry ingredients.
Next I measure out my flour and other dry ingredients in a separate bowl. Never measure it over your batter as you might over measure and would have to start over. I posted a quick

Then in batches add the flour to the mixer, mix a little bit just to combine. Don't overmix. Once all of the flour has been added, I turn off the mixer and use the spatula to gently fold the cookie dough – to ensure all flour is mixed in but ensuring I don't overmix.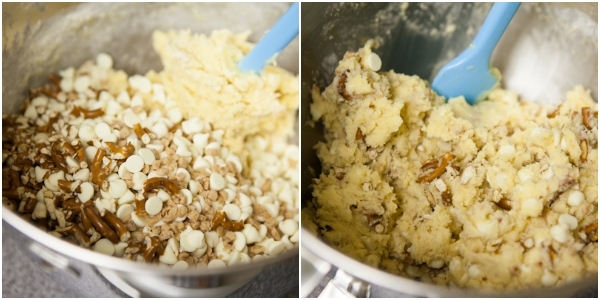 Last thing you always do in a cookie dough is add the chips and extras (nuts, whatever), if you add it before you mix in the flour, you risk overmixing your dough. Fold in the toffee, white chocolate and the pretzels.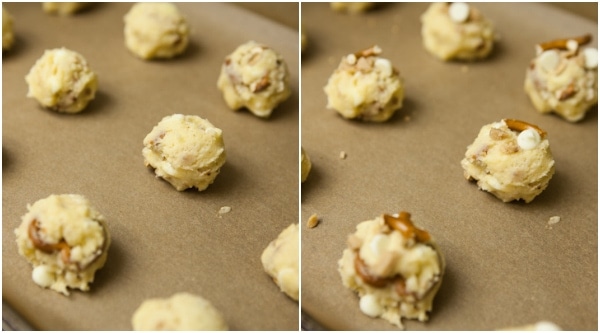 I use this cookie scoop (the 1 1/2 Tablespoon one) to scoop the cookie dough, round it a little bit with my hands and then top each cookie scoop with a sprinkle of toffee, 1 or 2 white chocolate chips and 1 or 2 pretzel pieces.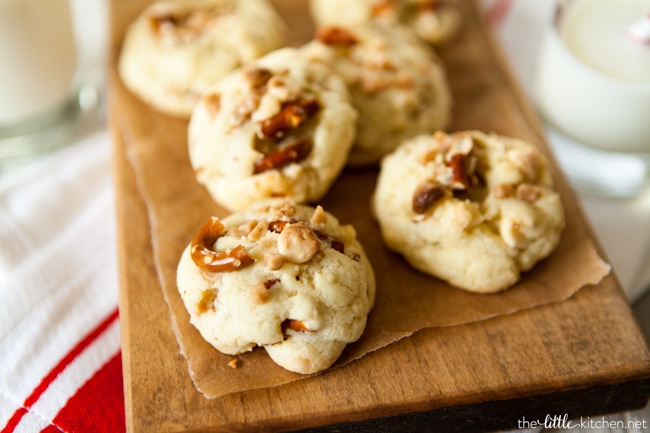 Here's a close-up…oh now I want some!! Luckily, I froze some cookie dough and I can have some today really quick!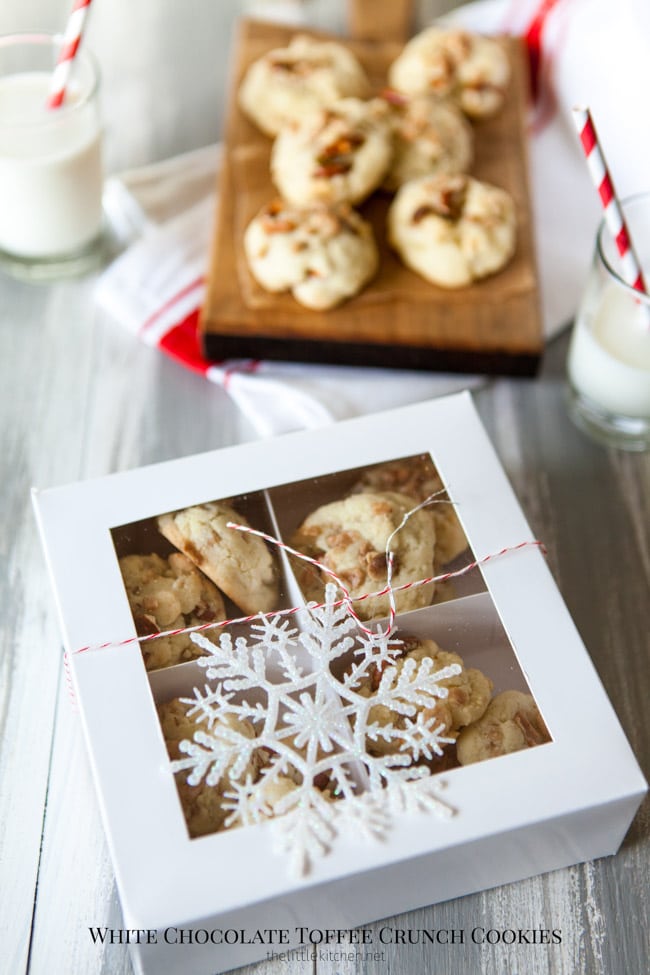 Here's how I packaged up my cookies for the cookie swap – I sent 1 dozen each to 3 different food bloggers and received cookies from Jessica, Meghan and Sarah. The cookies were fantastic and I can't wait to share with you HALF of all of the cookies that were sent out via the cookie swap – look out for the round up on Friday on both The Little Kitchen and Love & Olive Oil. Check out last year's round up.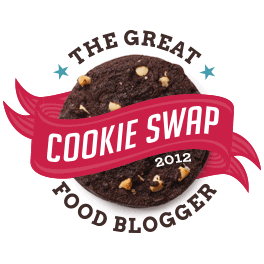 Here are some quick cookie swap stats – 576 food bloggers signed up and over 20,000 cookies were mailed around the world!! And this year, we charged a donation fee with 100% of the proceeds (less the payment processing fee) went directly to Cookies for Kids' Cancer. We raised over $2200 and with OXO's dollar for dollar matching – that means we helped raise over $4400!! We're so thrilled about this!! If you're on twitter or instagram, be sure to check out the hashtag #fbcookieswap to see all of the other amazing cookie recipes from everyone else.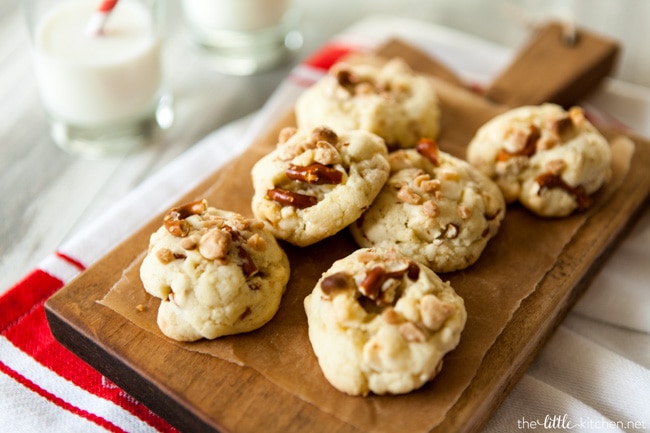 When storing these cookies, I include a torn piece or two of sandwich bread, it helps keep the cookies chewy and don't allow them to harden as fast.
I wanted to say thanks to Suzanne for helping me name these cookies too…I was having a hard time giving them a name and with my sister's idea, I elicited you all on facebook to help! Suzanne received a dozen cookies for her help!
Recipe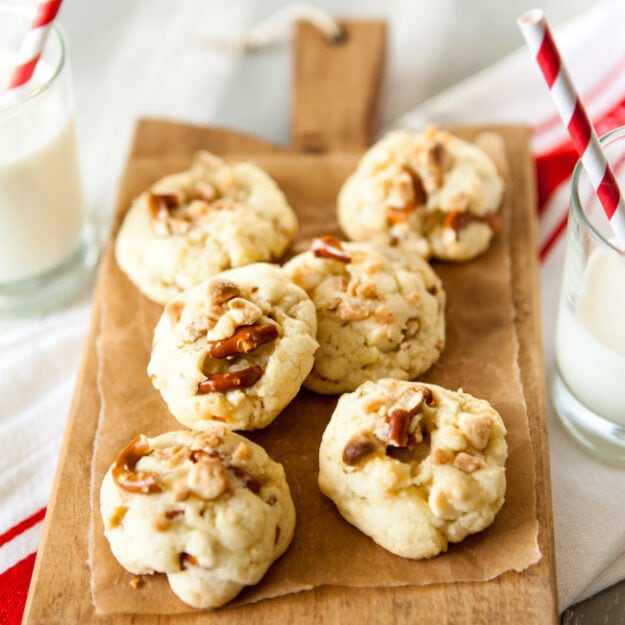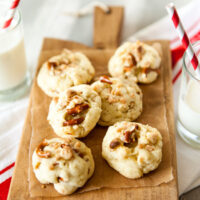 Print
Pin
White Chocolate Toffee Crunch Cookies Recipe
Ingredients
2

sticks unsalted butter

,

1 cup, room temperature

1 1/2

cups

granulated sugar

2

large eggs

2

teaspoons

vanilla extract

3

cups

unbleached all-purpose flour

1

teaspoon

baking soda

1

teaspoon

salt

1 1/2

cups

white chocolate chips plus 2-3 Tablespoons

,

divided

1 1/2

cups

pretzels

,

measured first, place into a zippered plastic bag and crush with you hands or a spatula plus 2-3 Tablespoons (divided)

1/4

cup

toffee bits plus 2-3 Tablespoons

,

divided
Instructions
Preheat oven to 350 degrees F. Line two large cookie sheets with parchment paper.

Using a hand mixer and a large bowl or a stand mixer, add butter and sugar and cream together. Add eggs and vanilla extract and mix thoroughly. In a separate bowl, measure out flour, baking soda and salt. (Be sure to check out

how to measure flour

.)

Mix together and add to butter-sugar-egg mixture in batches. Mix a little to combine and then finish by combining using a spatula. Be careful not to over mix.

Fold in white 1 1/2 cups of white chocolate, 1 1/2 cups crushed pretzels, 1/4 cup toffee bits into the cookie dough.

Using a medium sized cookie scoop (about 1 1/2 Tablespoons), scoop out cookie dough (and rounding it out with your hands) and place onto lined cookie sheet. Be sure to leave about an inch and a half between each cookie. Top each cookie with a sprinkle of toffee, 1 or 2 white chocolate chips and 1 or 2 pieces of crushed pretzels.

Bake for 10 to 12 minutes. Allow cookies to rest for about 1-3 minutes on the cookie sheet before removing with a spatula and placing on a cooling rack. Store cookies in an airtight container with a small piece of bread to preserve softness and chewiness.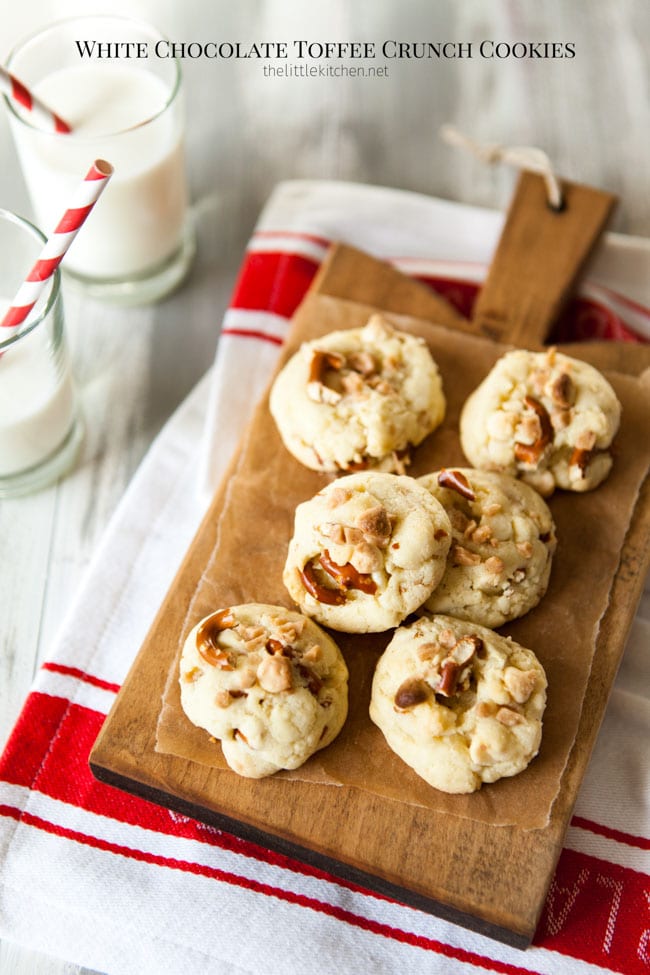 Disclosure: Since I mentioned the spatula that was sent to me for review, I need to say all opinions are definitely and always my own. This post contains an affiliate link.