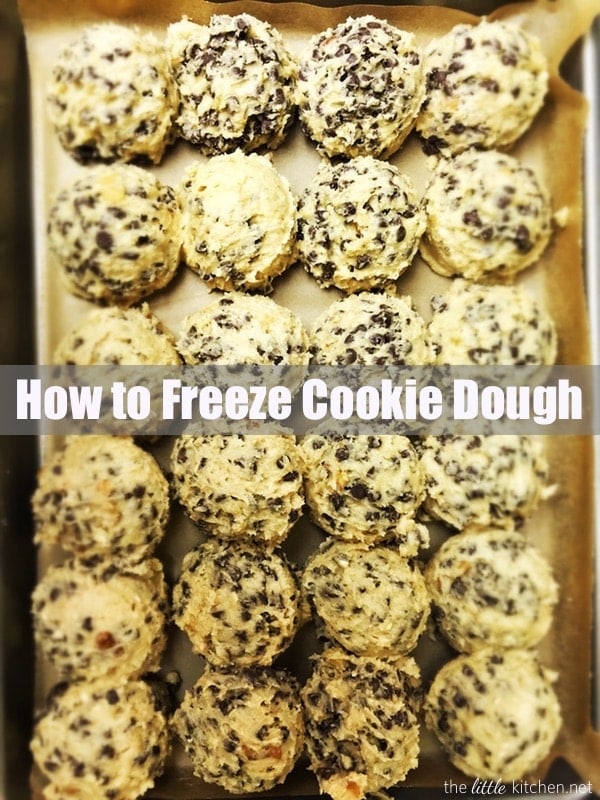 Do you ever get an urge for cookies late at night? In the middle of the day? I seriously. do. all the time. That's why I always have frozen cookie dough in my freezer. When I make cookies, I usually freeze the cookie dough already portioned out…
Because a long time ago, I broke my cookie scoop. I made some cookie dough, placed it in the refrigerator to chill according to the recipe instructions. After time was up, I was ready to scoop the dough. It was rock hard and I broke my cookie scoop on it. Major sadface.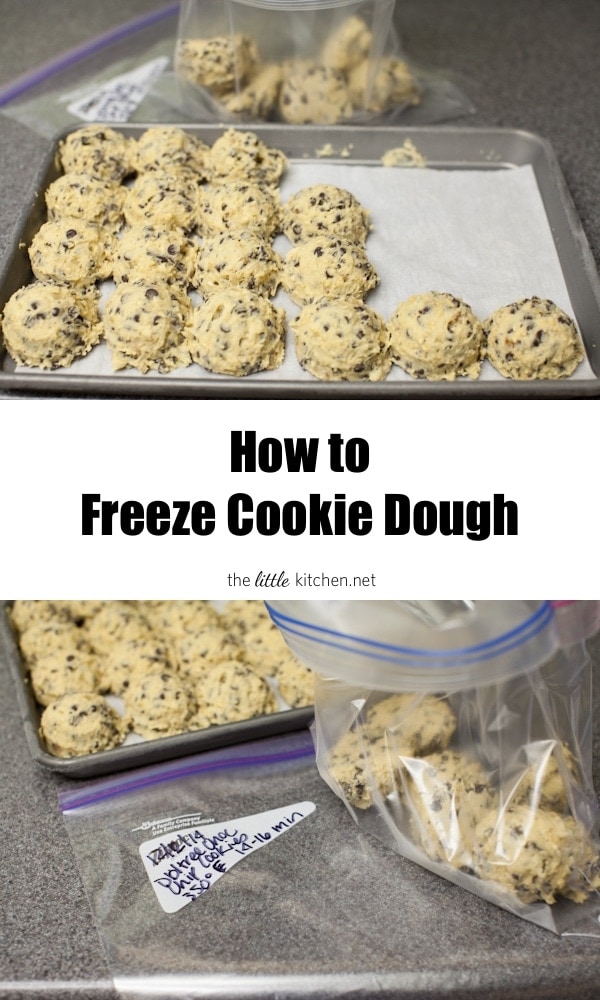 Nutella & Peanut Butter Swirled Chocolate Chip Cookies
From then on, I always scoop out the dough like you see above before chilling them. And no I don't bake them this close together, I always get that question when I post photos like this on instagram. 🙂 But if I did, it make would make a major cookie cake bar…now that's not a bad idea! ha
Since the dough is portioned out, once the dough has chilled (in the freezer), it's super easy to bake them! And no more broken cookie scoops and dealing with rock hard cookie dough!
Another note, when I make cookies now, I don't even bother chilling them in the refrigerator, they go straight into the freezer for chilling.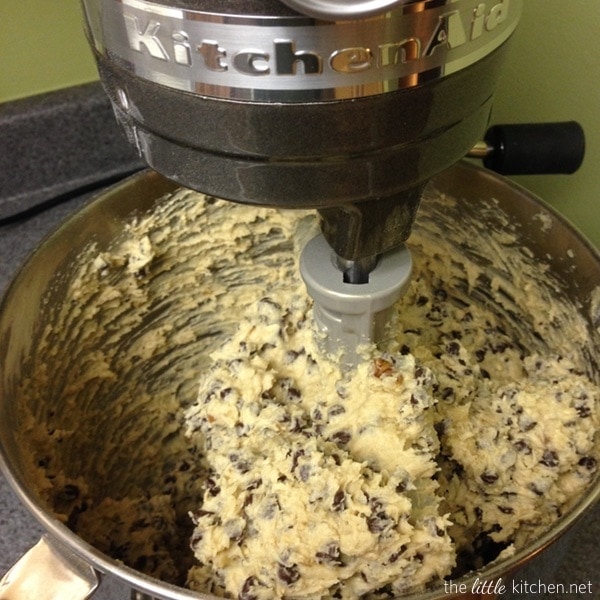 I often do a double batch in my KitchenAid stand mixer too…because I'm making cookie dough like a squirrel hoarding acorns, why not make a double batch? Right? I know you agree with me right now!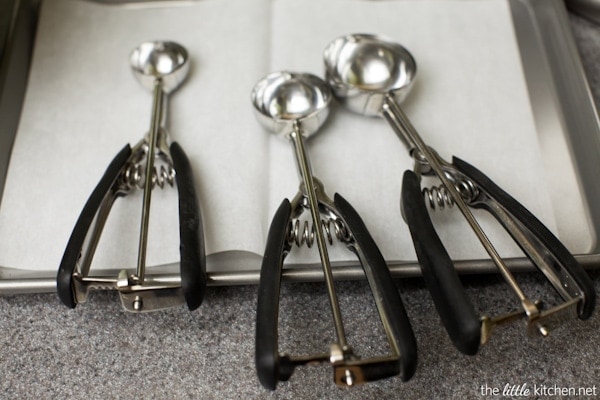 Use cookie scoops. Why? You get a uniform size, it's easier to organize and they bake evenly. I love the OXO ones, they have small, medium & large. The large ones are perfect for scooping and portioning out cupcake batter too!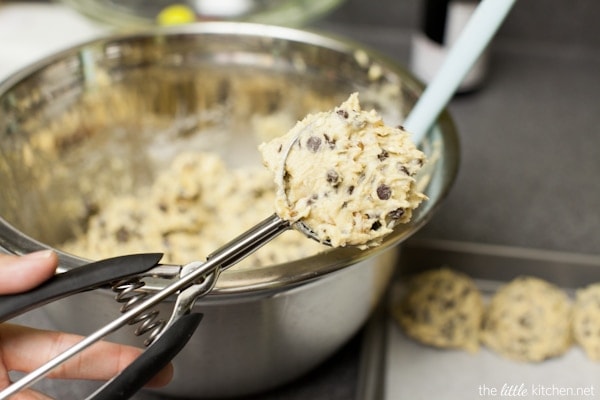 Portion out cookie dough by scooping it out and laying them on…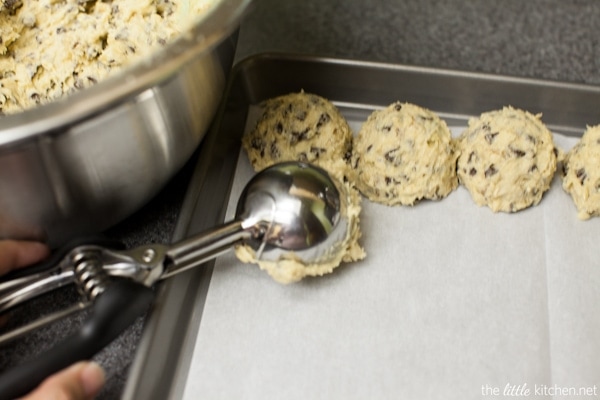 a parchment paper lined cookie sheet (you can use a silicon baking mat too). I love these small baking sheets for this because they fit in my freezer!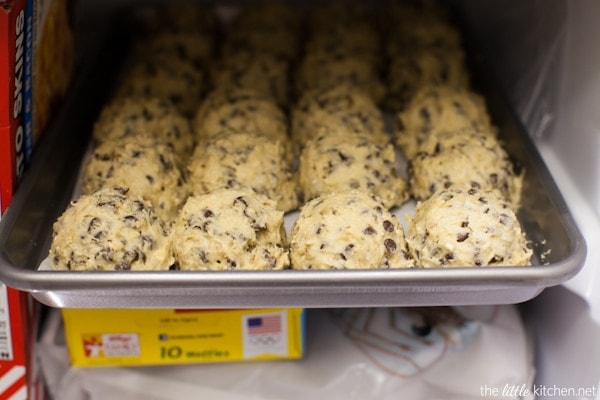 See? Just let these freeze for at least 30 minutes, I sometimes leave them in there for an entire day because I forget about them.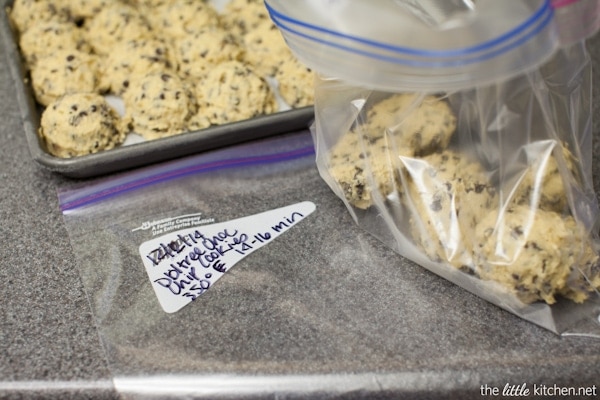 Once they are completely frozen, put them into zippered plastic bags that are labeled with the date, oven temperature and baking time.
Just a note about baking times, since your dough is frozen, it might require 1 to 2 minutes or even longer for baking. It really depends on the recipe. I usually go by the original instructions and set the timer that way and then watch it. I like chewy cookies so I tend to under bake them too.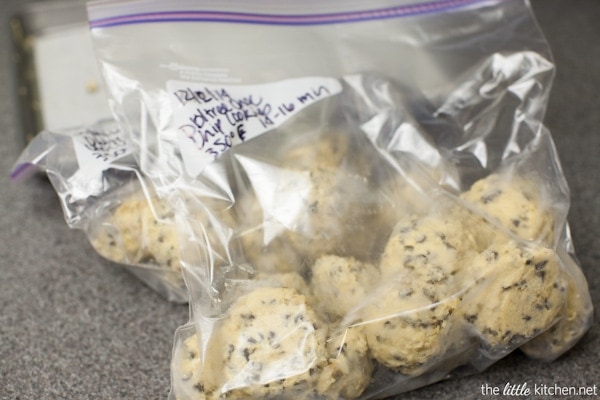 It's super simple and super rewarding. For that late night craving…or when you need to go to a party and need to make something really quick! Just bake, let them cool and go! You'll be the most appreciated one with freshly baked cookies.
I will admit, the only sad part is when you run out of cookie dough!
Another tip: gift frozen cookie dough. I have been known to bring over a bag or to over to neighbors just because or when someone is sick. They can make it whenever they want to. It's a great way to show your love.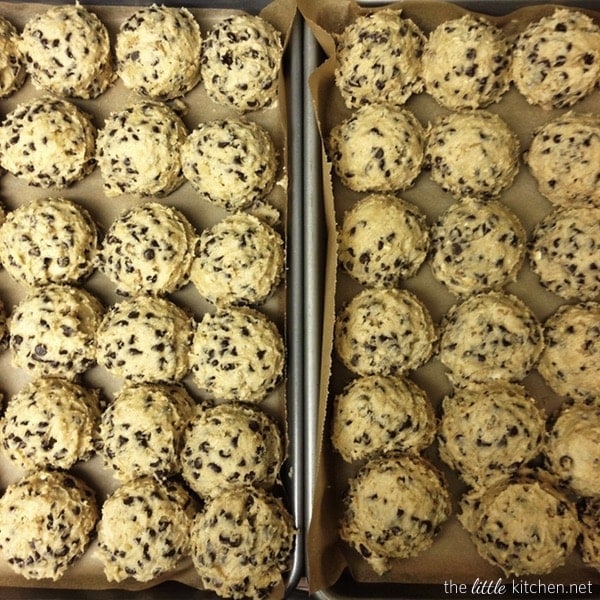 Here are some of the products I use all the time when making cookies!
Disclosure: There are affiliate links in this post. At no cost to you, if you click on any of the links and make a purchase, I receive a small commission. Thanks for your support!