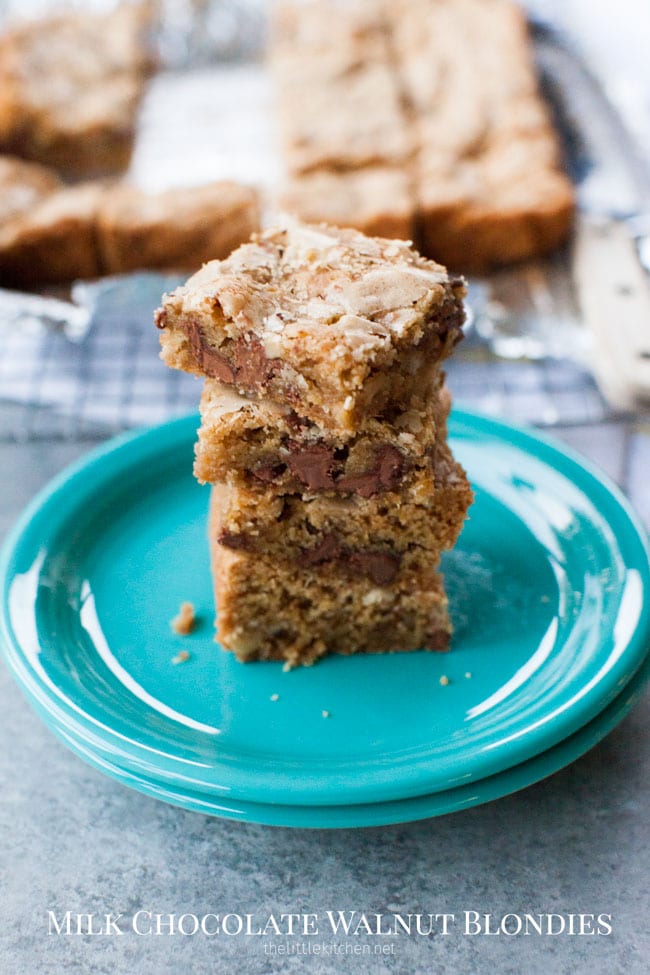 This post is sponsored by DOVE® Chocolate.
It's Thanksgiving week and it's always a time I use to reflect on what I'm grateful for.
I'm extremely grateful for my health, earlier this year I was really sick and ended up in the hospital. Now that I'm recovered, I'm extremely grateful for the care I received and am thankful for my health. It's so important to appreciate what you have…I know you know. It's so important and that's what makes a fulfilled life!
Last year, while I was traveling, I had these amazing chocolate blondies with walnuts in them…I filed this away telling myself, one day I have to come up with a recipe for my own version!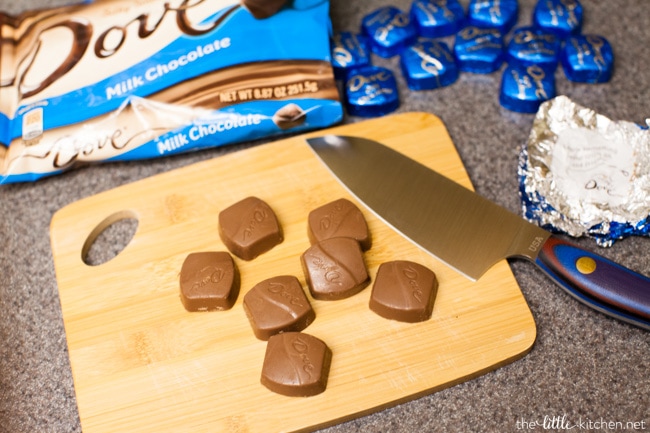 These DOVE Chocolate Promises…the milk chocolate ones are the best for this recipe! But if you prefer dark chocolate, you can use those instead!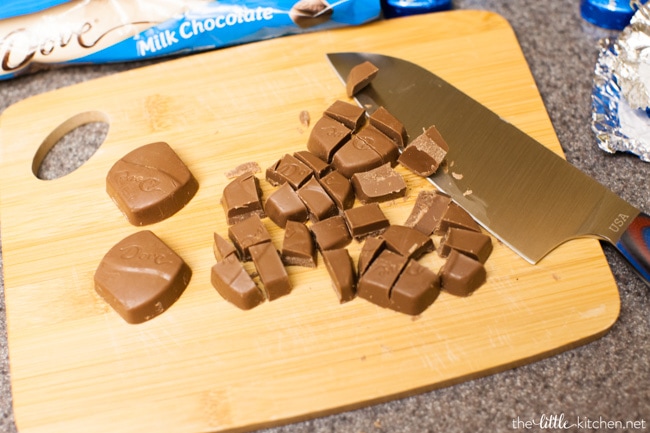 I unwrap the chocolates and cut them into 6 or 8 pieces each.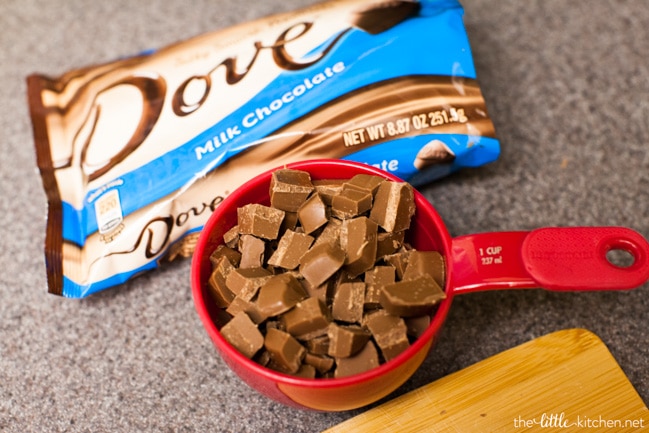 It makes about one cup.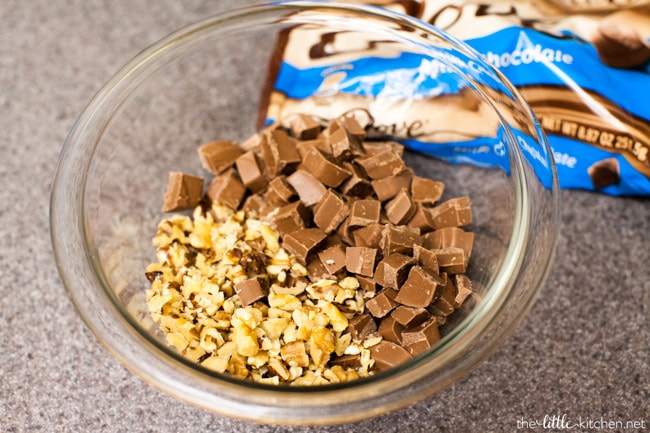 I also chop up the walnuts. Then, I measure out the dry ingredients in another bowl.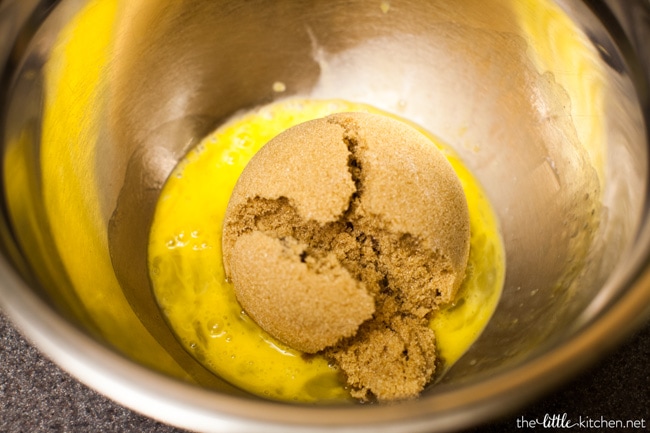 Beat one egg in another mixing bowl and add the brown sugar.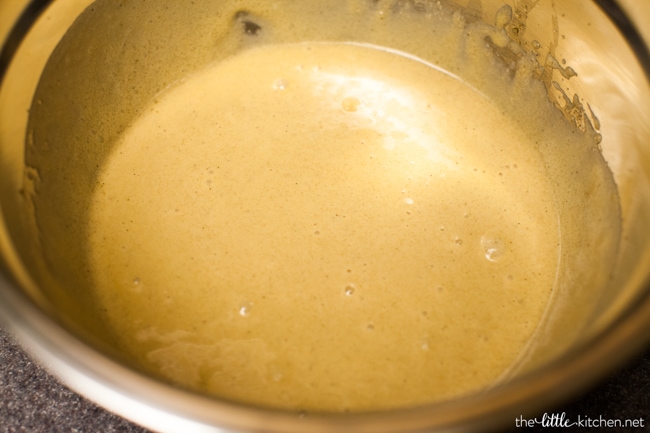 Mix in the melted butter and vanilla extract.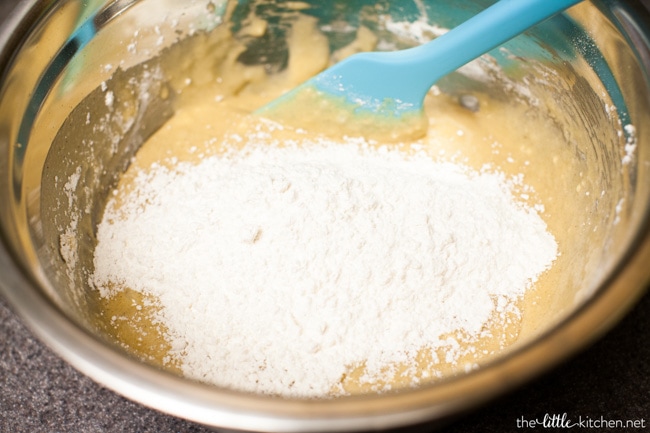 I mix in half of the flour mixture at a time. Don't over mix!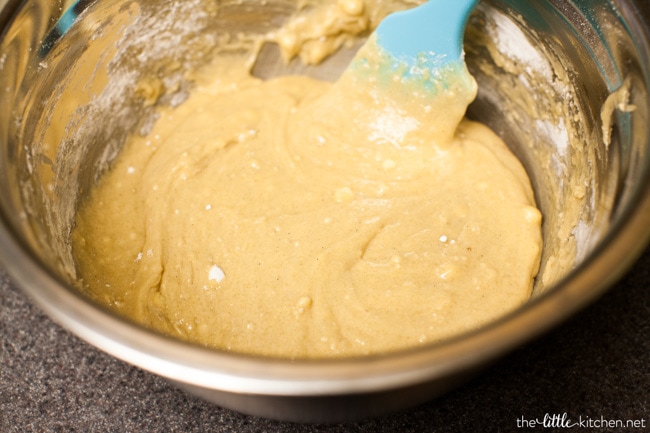 This is what the batter looks like…and we're almost done!
Add the chopped up DOVE Chocolate PROMISES and the walnuts.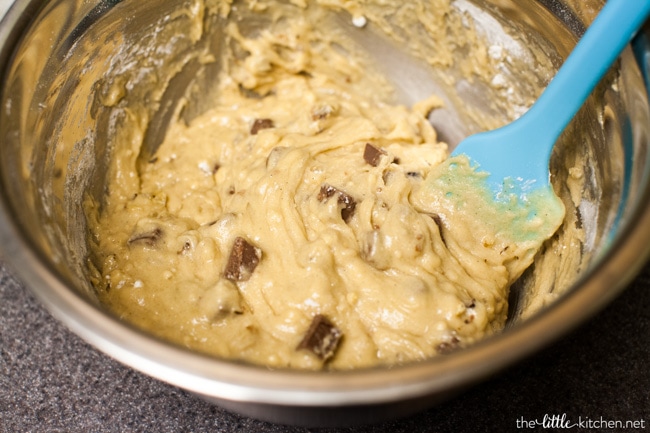 Fold it in…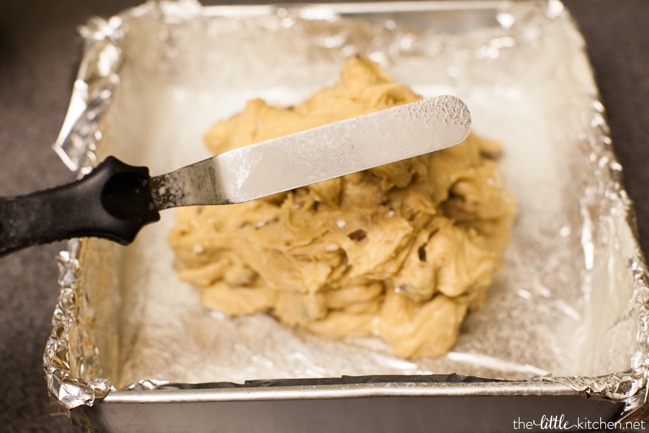 Pour the batter into the prepared pan and spray an angled spatula (I cover the pan for easy clean-up and spray it with baking spray too; makes it really easy to remove the blondies from the pan after baking too).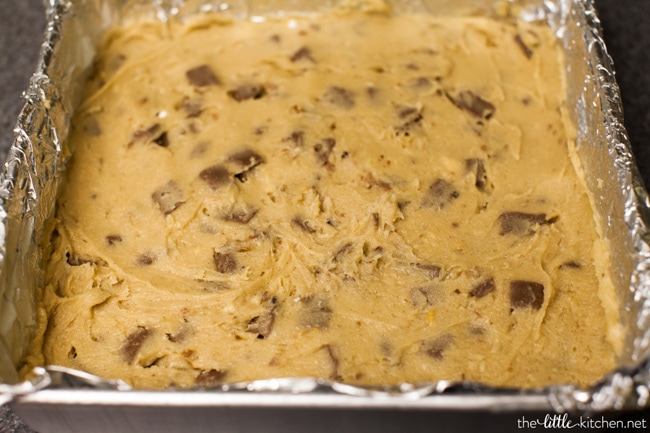 Smooth out the top.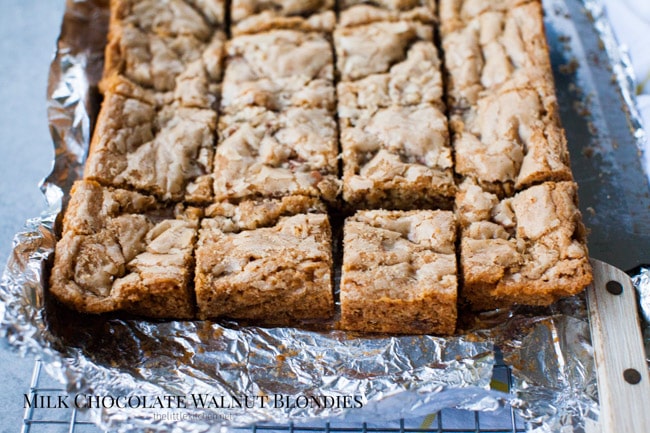 Before cutting the blondies up, make sure they are completely cool so you can get nice clean cuts. Of course, if you can't wait, that's okay too. But make sure to let them cool at least 15 to 20 minutes then.
You WILL love these! Serve them at Thanksgiving for a different treat. Put them into little baggies and give them out as favors. Your family and friends will thank you!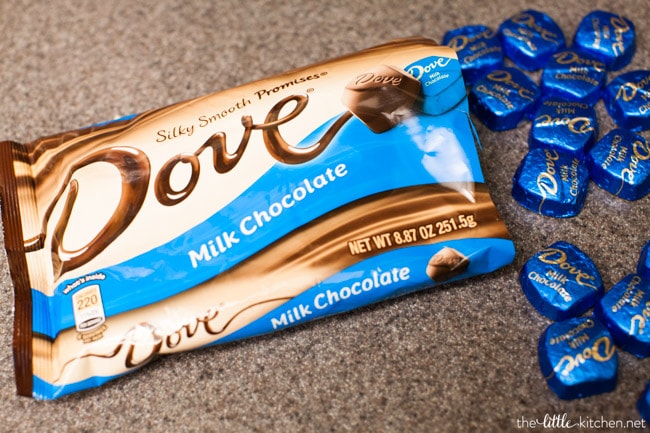 The holidays always bring us a tremendous amount of joy; the time we get to spend with family and friends, we treasure it. I would love to hear what you do to #ChoosePleasure, share with me in the comments below or on social media (make sure you tag me @thelittlekitchn).
I #ChoosePleasure by baking sweet treats for family and friends. I make sure to make cookie dough ahead of time and freeze it so it's quick and easy; all I have to do is bake them and it makes for a nice sweet treat for when they come to visit.
So tell me: how do you #ChoosePleasure to live life fully?
Recipe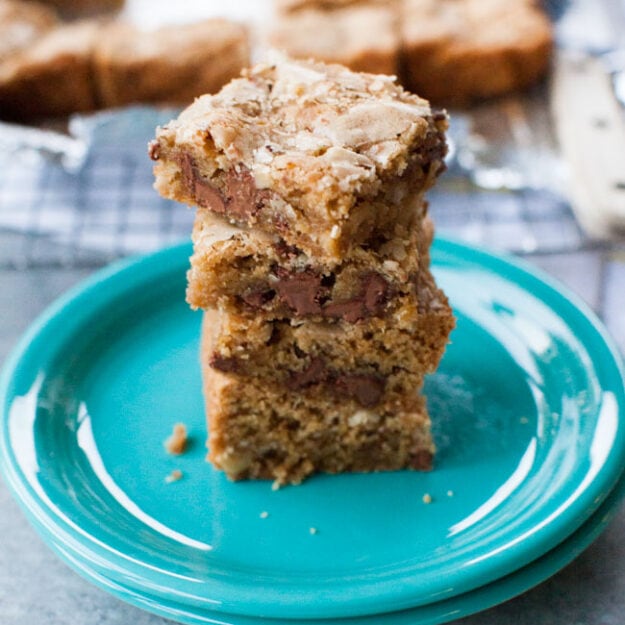 Print
Pin
Milk Chocolate Walnut Blondies Recipe
Ingredients
1 3/4

cups

all-purpose flour

1/2

teaspoon

baking soda

pinch

of salt

1

cup

packed light brown sugar

1

large egg

,

beaten

3/4

cup

1 1/2 sticks unsalted butter, melted

1

teaspoon

pure vanilla extract

1

cup

unwrapped & chopped DOVE® PROMISES® Silky Smooth Milk Chocolate

,

about 18 pieces

1/3

cup

chopped walnuts
Instructions
Heat oven to 325 degrees F.

Prep the chocolate and the walnuts. (I cut each of the DOVE® PROMISES® Silky Smooth Milk Chocolates into 6 or 8 pieces each.)

Cover an 8-inch square pan in foil and spray generously with baking spray.

In a medium-sized mixing bowl, add flour, baking soda and salt. Mix with a rubber spatula and set aside. In another mixing bowl, add egg and brown sugar. Using an electric hand mixer, cream the egg and sugar together. Add the melted butter and vanilla extract, mix well with the mixer.

Add half of the flour mixture to the wet ingredients and mix with the rubber spatula. Be careful not to over mix your batter. Add the remaining flour and repeat.

Add the chopped DOVE® PROMISES® Silky Smooth Milk Chocolates and the walnuts, folding in with your rubber spatula, being careful to not over mix.

Add the blondie batter the prepared pan. Smooth out the batter so it's evenly distributed throughout the pan and smooth on top (I spray an angled spatula with baking spray and use the spatula to smooth the batter).

Bake for 28 to 30 minutes. The top will be dry and flaky and when you insert a toothpick in the center, it should come out with flaky crumbs.

Carefully remove (because it will be really hot) blondies while holding foil and place on a wire cooling rack to cool. For the best looking squares, allow to cool completely (at least 4 hours). If you can't wait that long, allow them to cool at least 15 to 20 minutes before cutting into 16 to 20 squares.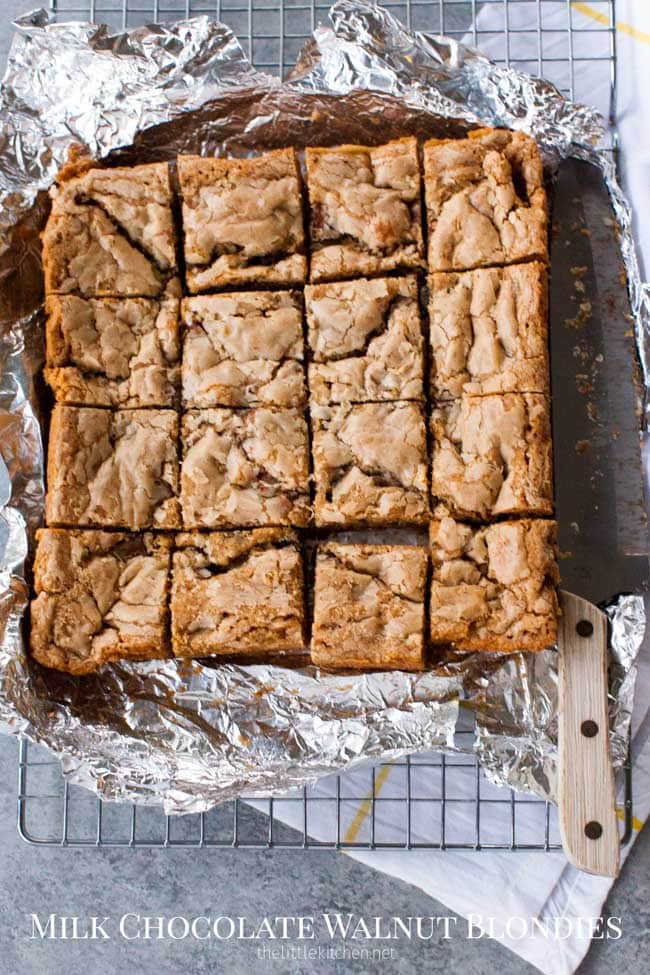 Disclosure: This post is DOVE® Chocolate. All opinions are my own. Thank you for supporting brands that I work with, it allows me to keep doing what I love; sharing on The Little Kitchen