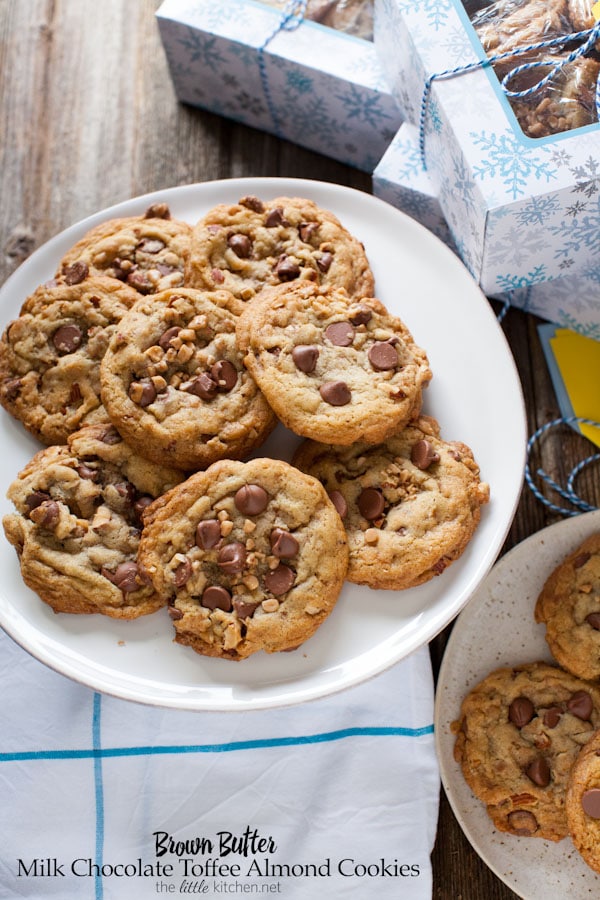 It's that time of year again and I'm SO EXCITED to share with you this recipe! It's a cookie that I have been wanting to try my hand out creating a recipe for after I had a similar cookie on an airplane as a snack…as part of my meal. I was so disappointed because it didn't have a lot of chocolate chips, almonds or toffee!
So when it came time to decide on a cookie to make for the Great Food Blogger Cookie Swap, I knew what I wanted to do! It took a couple of tries and feeling like I needed one more thing…so I browned the butter and it was magical!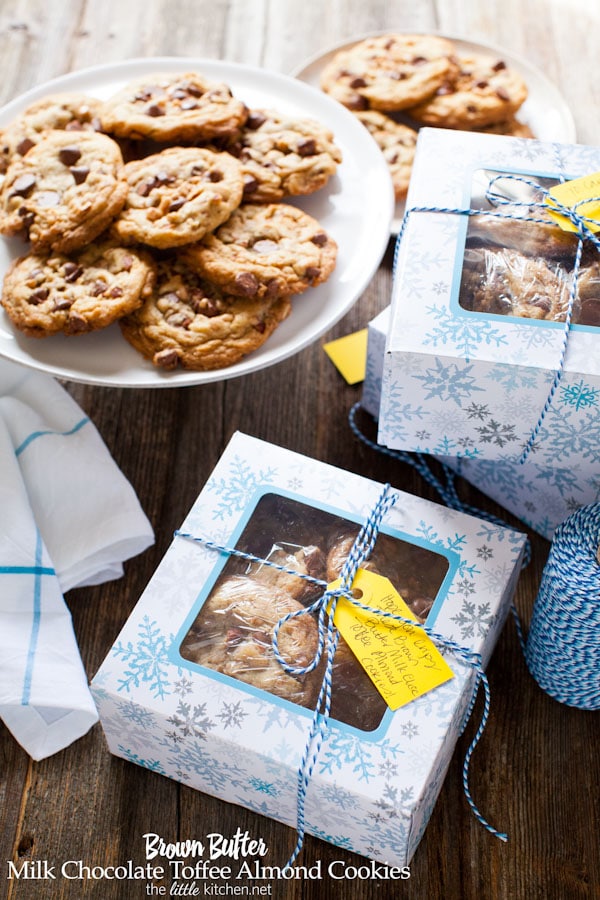 We raised over $7000 for Cookies for Kids' Cancer this year with the Great Food Blogger Cookie Swap! Thanks to all of the food bloggers who participated, all 475 of you! And to Land O'Lakes, Dixie Crystals and OXO for matching what we raised!
The way the cookie swap works is, food bloggers sign up and pay a donation to Cookies for Kids' Cancer to participate. We match them up with other food bloggers and they send cookies to them. They receive cookies from other food blogger participants in return. It's a win win or should I say cookie win for everyone involved? I'm so thankful I received cookies from Lindsay, Jessica, Melanie and Kristin!
So excited to say that together with my best friend, Lindsay,…we have been organizing the swap for 5 years now! And over those 5 years, we have raised over $35,000 for CK4C! Can you believe it? Stay tuned to this weekend, when we share hundreds of cookie recipes in a round up on both of our blogs!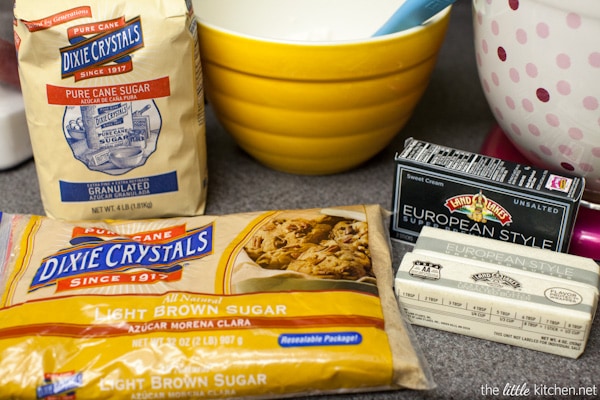 Gather round your ingredients! I used Dixie Crystals light brown sugar and their granulated sugar as well as Land O Lakes European Style unsalted butter!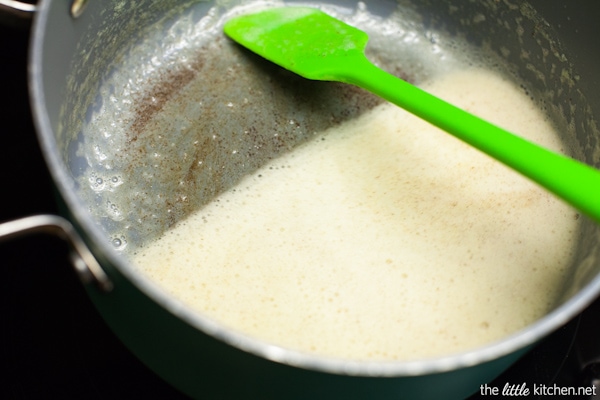 First things first, I brown the butter in a small saucepan. Melt the butter and allow to cook for 4 to 5 minutes until you start to see it browning. Cook for another maybe 1-2 minutes. Be careful not to burn it!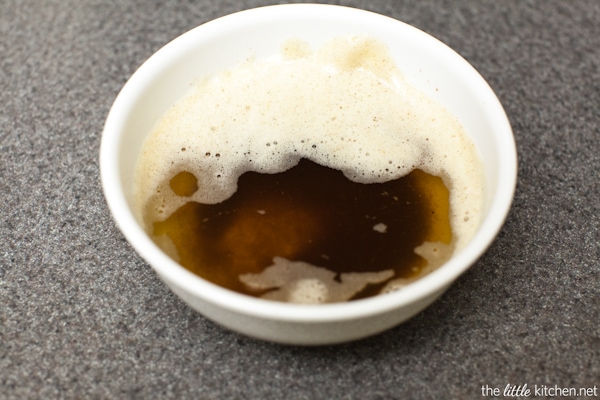 Pour into a bowl and set aside to cool for use in the cookie dough!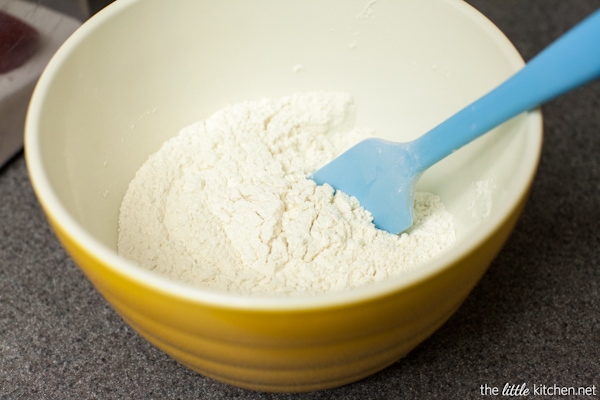 Next, I measure out the dry ingredients. I even measure out the almonds, toffee and the chocolate chips into a separate bowl to get that out of the way.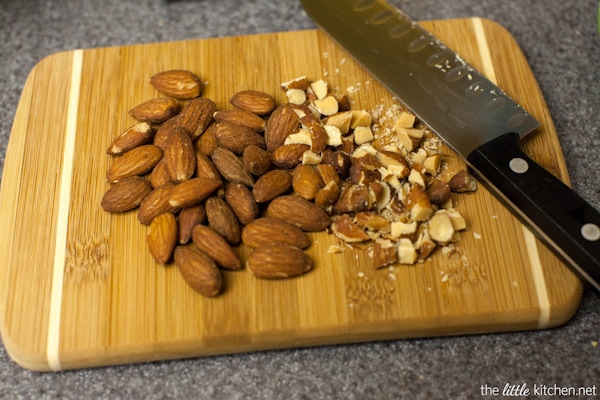 That includes chopping the almonds which was probably the most time consuming of putting these cookies together. You can buy them already chopped if you'd like.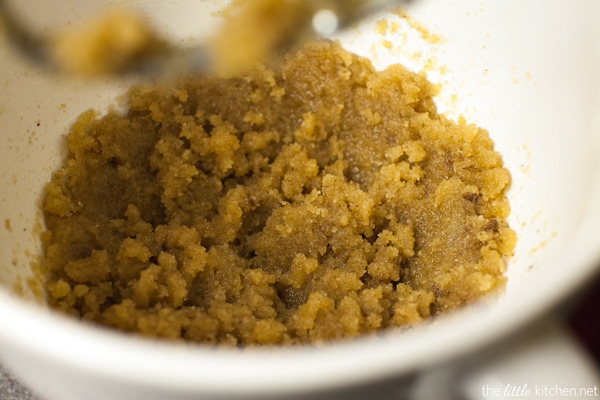 Cream the brown butter and the sugars together.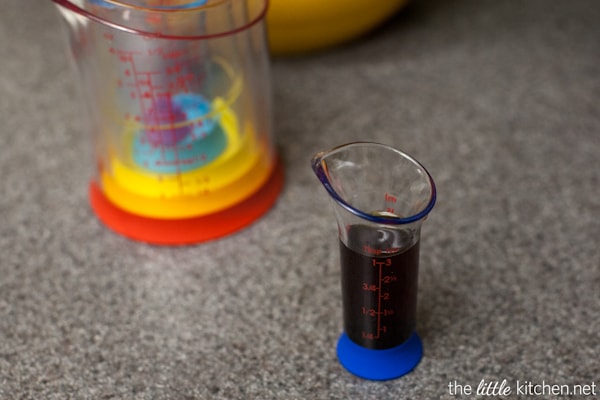 Measure out your vanilla extract. I love these little beakers OXO sent us for the cookie swap!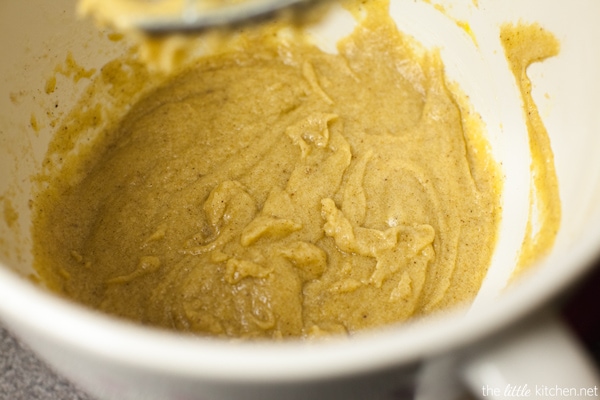 Mix up the eggs and the vanilla. And you get this smooth batter.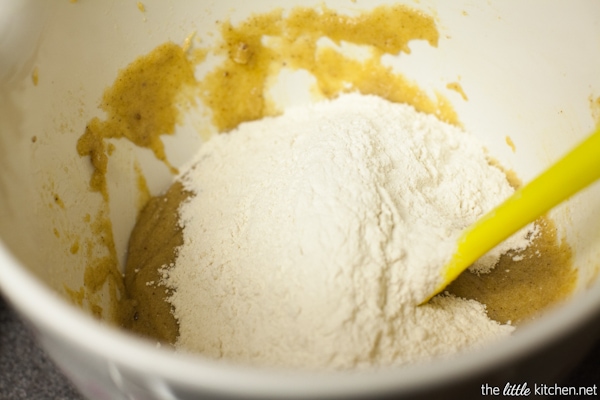 I mix in the flour mixture in two batches. Be careful to not overmix.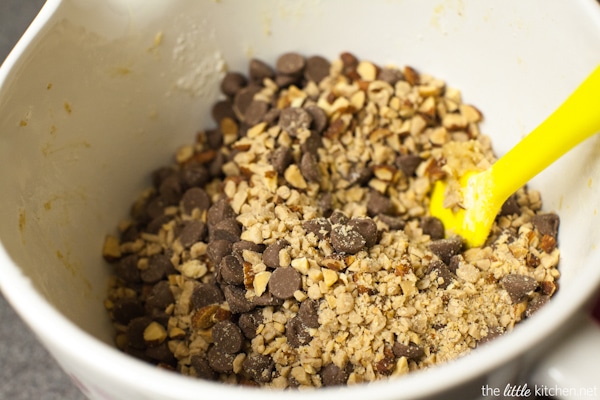 And then the milk chocolate, toffee and almonds.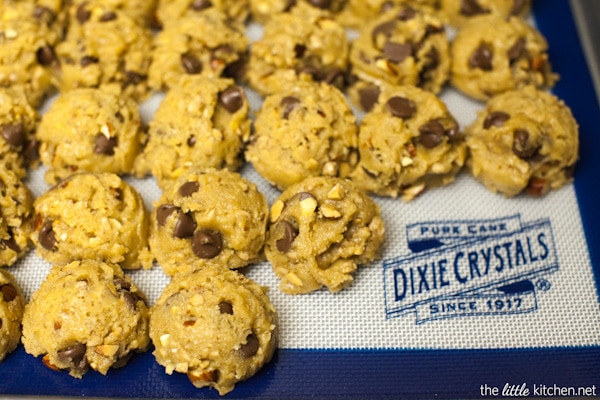 I scoop out the dough using this large cookie scoop. I can't live without my cookie scoops because they ensure each cookie is a uniform size.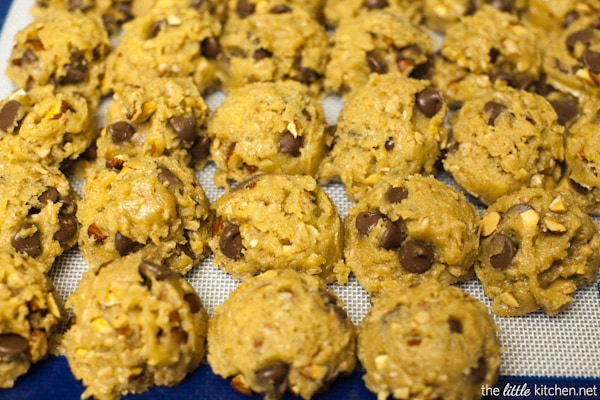 Freeze the dough for at least 3 hours.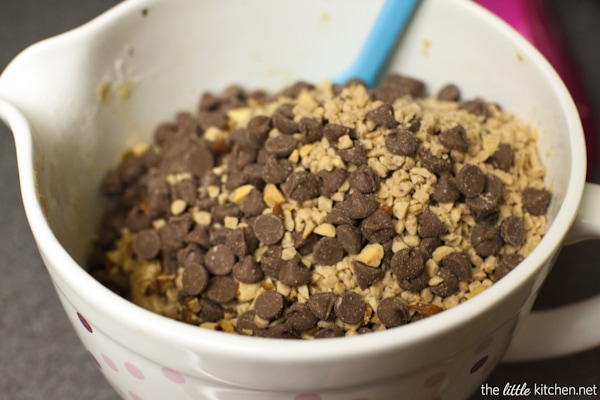 You can even double the recipe like I did…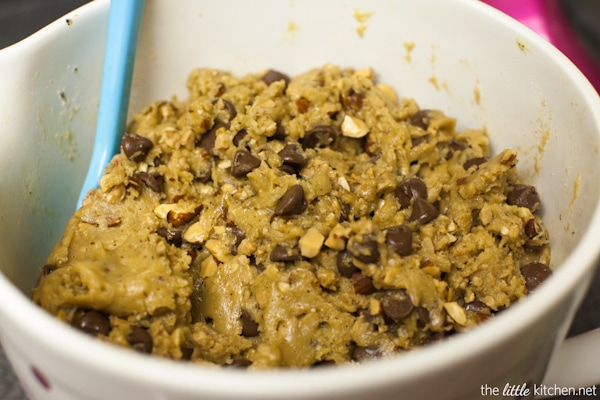 This is how full my stand mixer bowl gets when I double the recipe!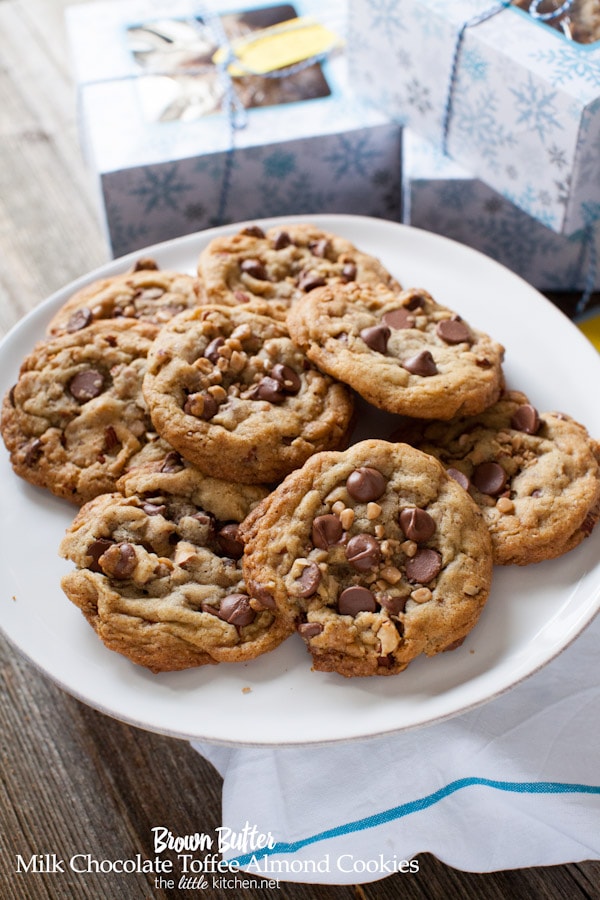 I just know you will love these cookies…super soft on the inside and packed full of milk chocolate chips, toffee and almonds…it's an amazing cookie! You won't be able to eat just one!
Make sure you check out my tutorial on how to freeze cookies so you can have these at the ready for your next holiday party or when the midnight snack craving arrives!
Recipe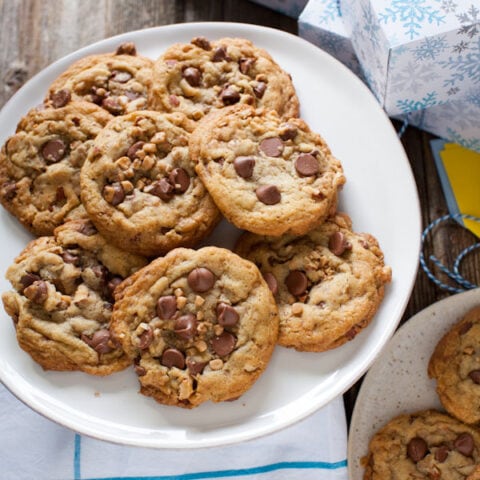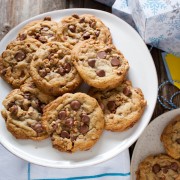 Print
Pin
Save
Brown Butter Milk Chocolate Toffee Almond Cookies Recipe
Servings
30
to 32 cookies
Ingredients
2

sticks Land O Lakes European-style unsalted butter

,

1 cup

2 3/4

cups

unbleached all-purpose flour

2

teaspoons

baking soda

pinch

of salt

1

cup

Dixie Crystals granulated sugar

1

cup

Dixie Crystals packed light brown sugar

3

large eggs

1

Tablespoon

pure vanilla extract

2

cups

milk chocolate chips

1 1/4

cups

toffee bits

2/3

cup

whole roasted salted almonds

,

that are roughly chopped
Instructions
Add butter to a skillet and cook until brown, about 4 to 5 minutes. Pour into a small bowl and set aside to cool.

In a medium-sized mixing bowl, mix together flour, baking soda and salt.

In the bowl of a stand mixer, add sugars and the brown butter. Cream them together on low speed for about one minute. Add eggs and vanilla extract and mix until completely combined.

Add flour mixture in two batches and combine with a rubber spatula, being careful not to overmix. Add chocolate chips, toffee bits and almonds and mix together with a rubber spatula. Don't over mix.

Using an OXO large cookie scoop, scoop onto a parchment paper-lined baking sheet, cookie dough portions (about 3 Tablespoons).

Freeze the dough for about 3 hours.

Heat the oven to 350 degrees. Place cookie dough portions on a parchment paper or silicon mat-lined baking sheet at least 1 1/2 to 2 inches apart. Bake for 13 to 14 minutes. Remove paper or mat carefully and place on a cooling rack.
Disclosure: Lindsay and I don't make any money off of the cookie swap, we organize it as volunteers. All of the money raised goes directly to Cookies for Kids' Cancer. I mentioned the sponsors of the event as a way to thank them for their matching donations to Cookies for Kids' Cancer! I did receive coupons and review items from the sponsors of the cookie swap. There are affiliate links in this post.