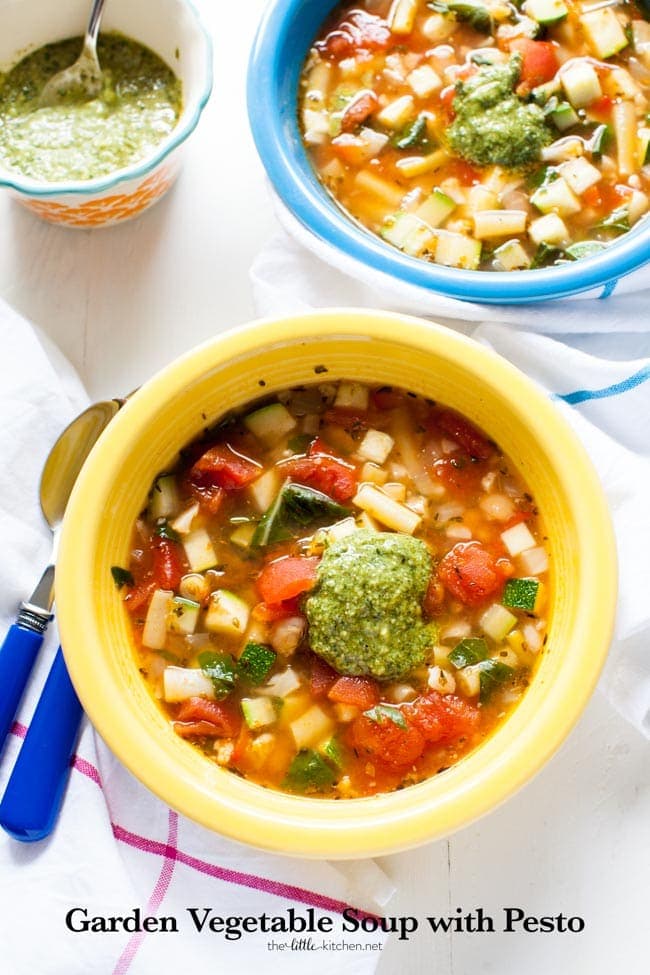 Can we just all agree that soup heals the body and the soul? I feel like soup when I'm sick or even when I'm having a bad day. Soup heals all, right? I eat soup all year long…it doesn't matter how hot it is. I think the craving for soup when I'm sick comes from my childhood, probably yours too right? My mom would make us a good chicken and rice soup when we were sick.
I have been dealing with some crazy health issues for the last few months. I wrote a little bit about it when I shared these chicken wings. I ended up not having an upper endoscopy but a bronchoscopy because a CT scan showed a lot of pneumonia going on in my lungs. And then 6 weeks ago, I ended up in the hospital.
I have a huge appreciation for nurses, nurses who go above and beyond every day. And I have a greater appreciation for what it's like to be a patient in a hospital. This was my first time in the hospital and my first time in an ER. You don't know how it is until you experience it, it's one of those things and until you understand how to navigate pushing the button to get the nurses' attention, asking for medications including pain medications.
When I was in the hospital, they told me it would take a full two months before I would get a definitive answer on what I have…on what was causing my persistent cough and trouble breathing. And now, we're almost six weeks in and the medications they gave me are working. Thank goodness for that. Sorry for being cagey about what I have…I will probably share once I get word they are 100% sure.
When Curtis took me home from the hospital after my bronchoscopy procedure, he went to Panera to pick up soup and sourdough rolls for me. He came home with a cup of of their Low-Fat Vegetarian Garden Vegetable Soup with Pesto. Besides their broccoli cheddar soup, their garden vegetable soup is one of my favorites!
It has so much flavor and and it's so soothing! I have been wanting to make a homemade or copycat version at home for some time now!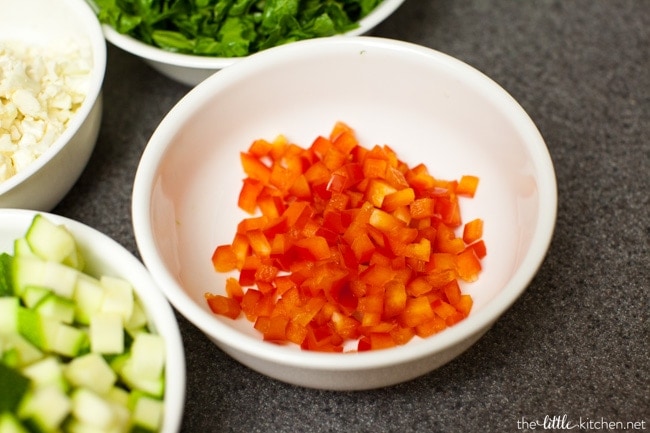 Imagine how excited I was when I made this vegetable soup and it tasted sooo good!
There's a lot of chopping involved but it's worth it.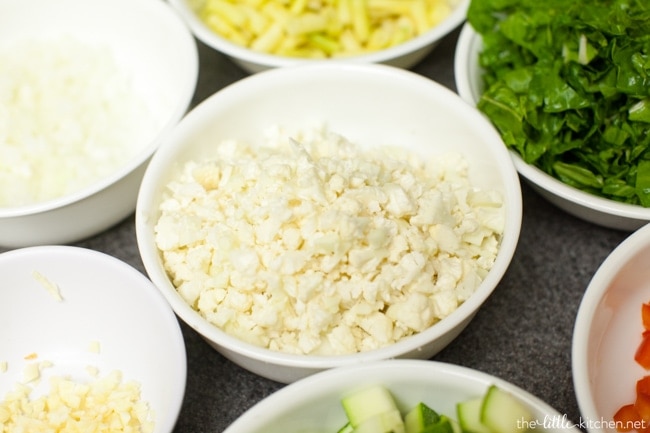 I cut the cauliflower up into tiny pieces.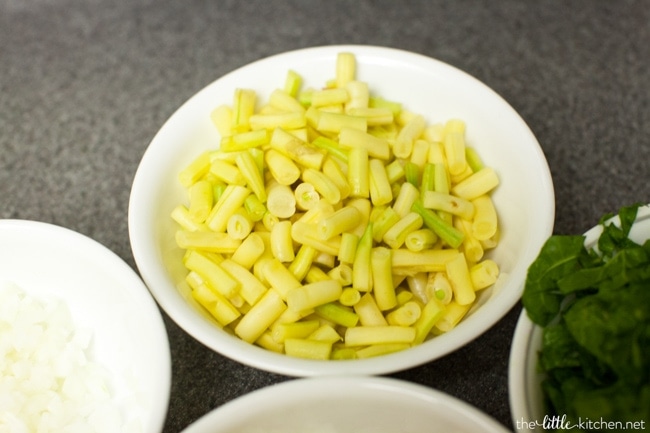 And I was so happy to find wax beans at my grocery store. You can use green beans if you can't find them though.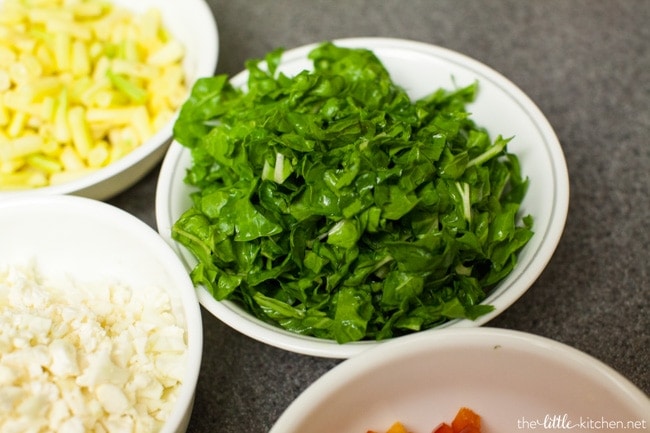 And tons of swiss chard…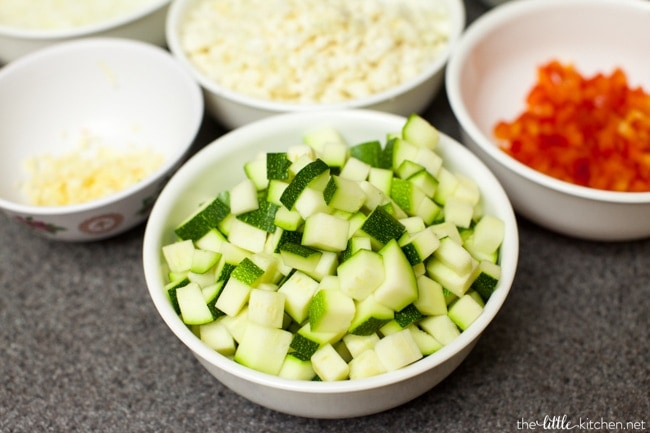 The zucchini and the tomatoes are my favorite parts of this soup!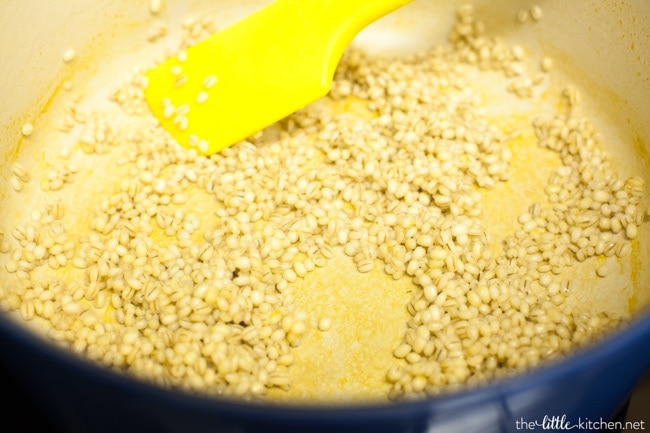 Cook the barley with vegetable broth first and then set aside. This takes about 10 to 15 minutes. Be sure to watch this because the broth evaporates!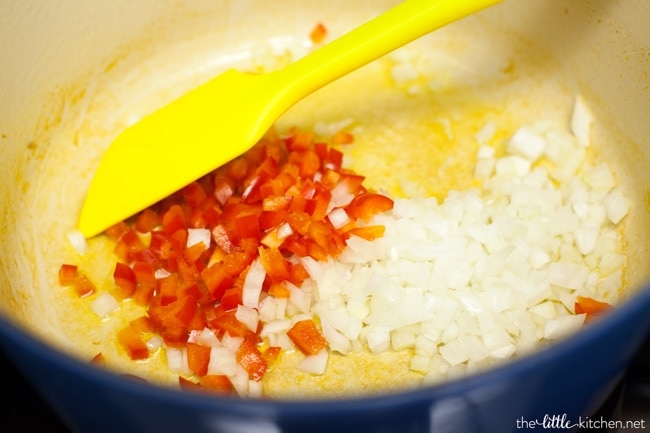 Then, cook the red pepper and onions in olive oil.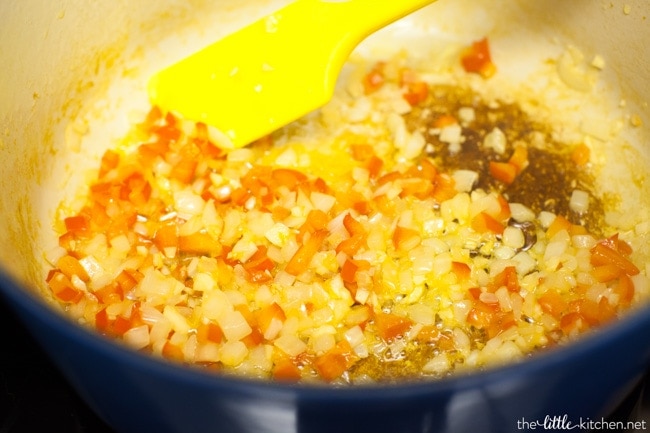 Add garlic and continue to cook.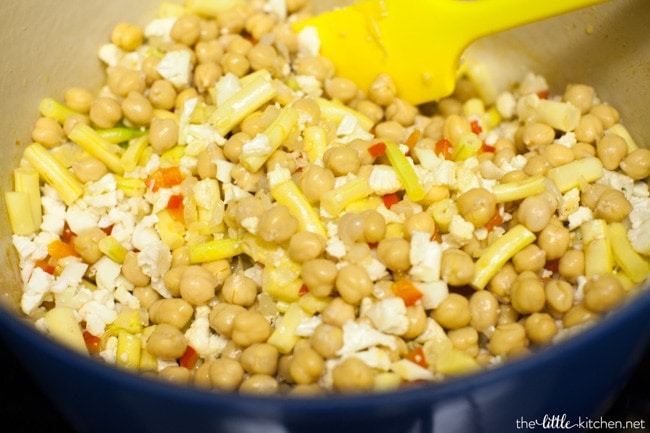 Then, add cauliflower, wax beans and chickpeas. Chickpeas are one thing I added that are not in the Panera vegetable soup. I decided to add them when developing this soup and loved the texture it adds to the soup. You can omit them if you would like.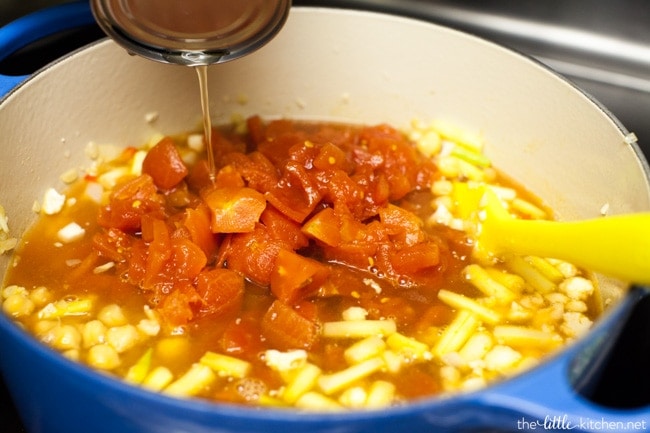 Next add tomatoes, remaining vegetable broth and water.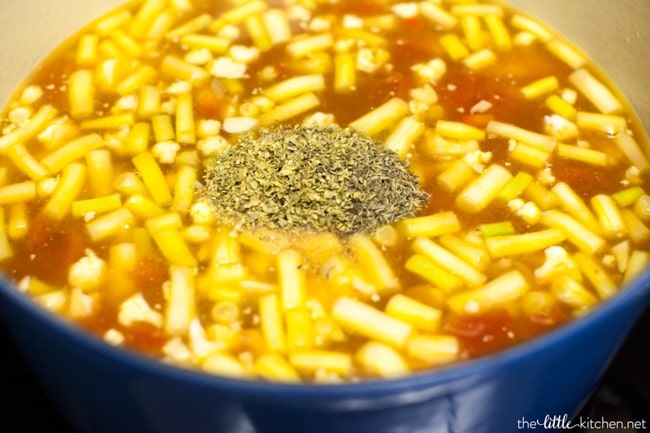 Add the herbs and spices.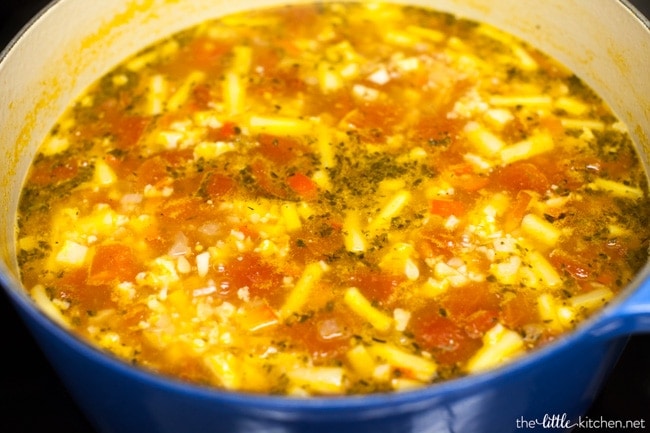 And then, bring the soup to a boil. Once it boils, reduce to a simmer and cook for at least 15 minutes.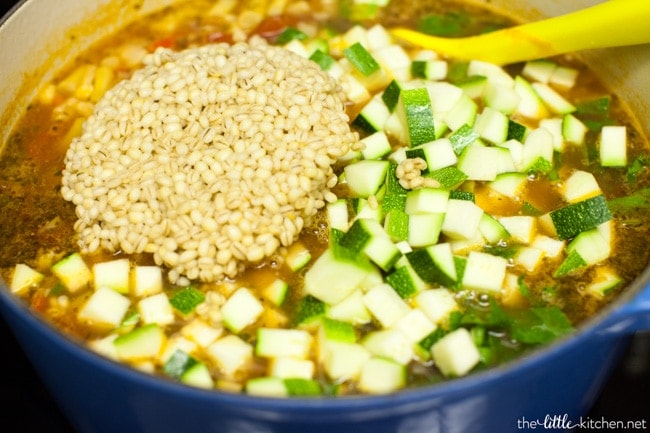 Add the cooked barley, swiss chard and the zucchini. Cook for a few more minutes.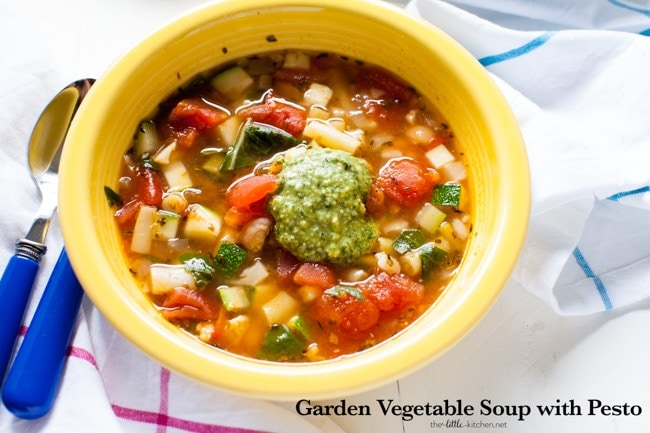 Serve the soup with a scoop of pesto. This is totally optional. (You can use store bought or homemade pesto, here's my favorite recipe.) My friend, who used to work at Panera, told me that people often requested the soup without the pesto. Even better, the soup is vegan if you omit the pesto.
So there's my version of the Panera vegetable soup. It is so comforting but it's not heavy. It's so perfect for when you want soup even though the weather is warm. And perfect even when the weather is cold.
I love freezing soup…I froze a bunch for when the craving sets in, I just reheat and I have a meal all ready to go!
Recipe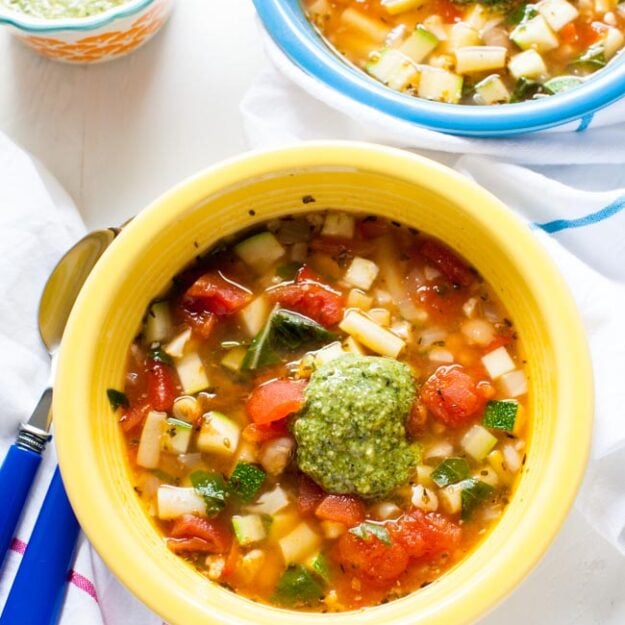 Print
Pin
Save
Panera Garden Vegetable Soup with Pesto Recipe
Ingredients
three 14-ounce cans vegetable broth

,

or 6 cups homemade

1/2

cup

pearled barley

2

Tablespoons

olive oil

1/2

onion

,

peeled and diced (about 3/4 cup)

1/2

red pepper

,

diced (about 1/2 cup)

2

large garlic cloves

,

minced

1/2

head of cauliflower

,

cut into florets (about 2 cups)

8

ounces

wax beans or green beans

,

ends trimmed and chopped into bite-sized pieces (about 1 3/4 cups)

16

ounce

can chickpeas

,

rinsed and drained

28

ounce

can Tuttorosso diced tomatoes

1

teaspoon

dried thyme

1 1/2 to 2

teaspoons

dried oregano

1 1/2

teaspoons

onion powder

1

teaspoon

garlic powder

1

teaspoon

salt

1/2

teaspoon

pepper

4

large swiss chard stems

,

remove stems and chop (about 2 cups)

2

small zucchini

,

diced (about 2 1/2 cups)

store-bought or homemade pesto,

optional, for serving
Instructions
In a heavy bottom Dutch oven, add 1 1/2 cups vegetable broth and 1/2 cup pearled barley. Bring to a boil over high heat. Once it reaches a boil, reduce heat and allow the pearl barley to simmer at least 10 minutes. Check it often and stir as the broth will evaporate. Once the barley has reached its desired chewiness, it's done cooking. Fluff with a fork and scoop the barley into a clean bowl. Set aside.

Add olive oil to the Dutch oven and heat high on medium for 2 minutes. Add onion and red pepper, cook for 3 to 4 minutes, stirring occasionally with a rubber spatula. Add garlic and cook for 90 seconds. Add cauliflower, beans and chickpeas. Cook and stir for 2 minutes. Add tomatoes and the remaining vegetable broth and 1 1/2 to 2 cups water. Add thyme, oregano, onion powder, garlic powder, salt and pepper and stir. Bring soup to a boil.

Once soup comes to a boil, reduce to simmer and cook for 15 minutes. Add swiss chard, zucchini and cooked barley. Cook for another 3 to 4 minutes, stirring to combine. Season with salt and pepper, if necessary.

Portion soup to serving bowls and serve with a scoop of pesto on top of each bowl.