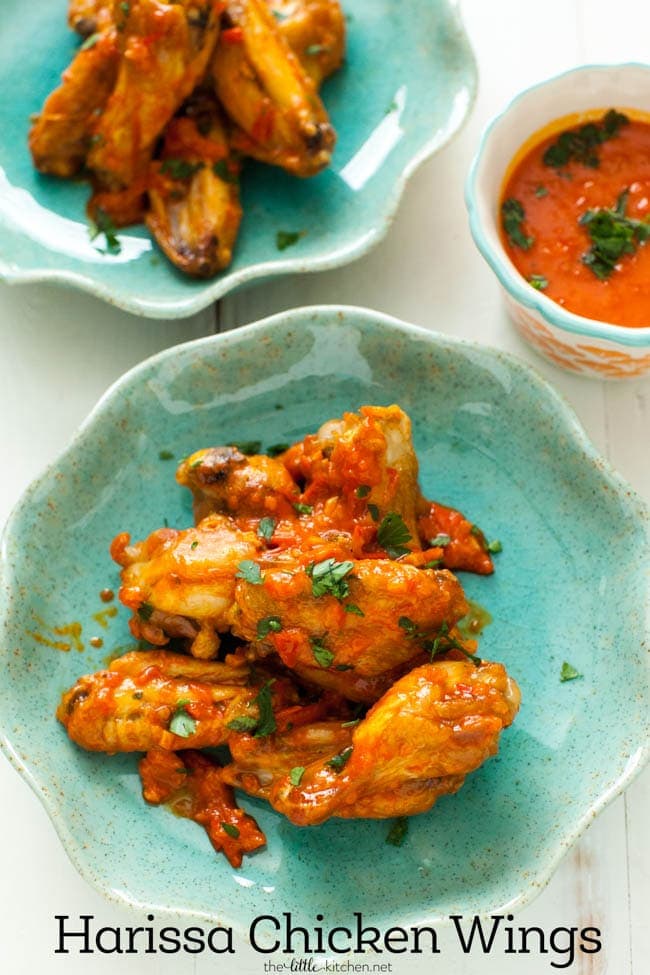 Totally going to talk about my health for a little bit but you're welcome to scroll down to the next photo where I start talking about these amazing chicken wings!
For the last few weeks, I have been hiding from you, my blog and from my friends. It's a frustrating thing but I have a habit when I'm not feeling well to close myself off and isolate myself. And it makes it all worse. I have not been feeling well again.
I have been dealing with a chronic cough off and on for over a year now. I realized that I mentioned it when I shared this recipe last July. This cough has taken over my life. When I'm overcome with a coughing fit, it takes over my whole entire body. Sometimes, it's hard to breathe and sometimes I end up gasping and it ends in a sneeze. Oftentimes, I'm coughing so hard, I end up sweating profusely.
The annoying part is the dirty looks I get in public, when I'm at the grocery store or while I'm traveling. I feel like the looks are saying, how dare you leave your house? You better not get me sick! A couple of weeks ago, while I was on a flight, a not-so-gentleman turned around and asked me to cover my mouth when I cough. I told him that I do (and honestly how would he know because he was sitting in front of me?). I explained that I'm not contagious and that I have allergies and asthma which was causing my cough. For the most part though, people are very nice, act concerned and often offer me cough drops.
Lately, I'm not wanting to go anywhere or do much because this cough is very tiring and I feel like it's gotten worse. Not only is it frustrating because it's gone on for so long but I feel physically and emotionally exhausted. Some days, it's hard to get a lot done. I find myself apologizing to Curtis and others around me when I have a coughing fit…they thankfully say to me, why are you apologizing? Because I feel so bad…this is a huge disruption in so many ways. I can see the look of concern on Curtis' face every time I cough, he shakes his head. He's frustrated too but I tell him, I'm way more frustrated than you are.
My doctors think my cough is a combination of my allergies, asthma and acid reflux. The last part, I didn't really believe because I don't really have acid reflux symptoms. But we want to rule it in or out so next week, I'm getting an upper endoscopy with Bravo. The Bravo part is they are attaching something to my esophagus to measure the pH level for 48 hours. This will be interesting!
I have been actually thinking of reasons I could cancel the procedure for the last week but the last two days, I have been having the worst heartburn…and I'm not allowed to take anything for it because they took me off of the medications for acid reflux (they put me on them hoping it would relieve the cough) in anticipation for the upper endoscopy to eliminate the possibility of a false negative.
My asthma has gotten worse too, I'm wheezing a lot which causes more coughing. The other week, Curtis convinced me to go to urgent care because the coughing had gotten so bad, I thought I had bruised a rib. I had to sleep on the couch positioned in such a way with pillows in front and behind me so it wouldn't hurt as much. And I'm glad he did, they gave me a cough suppressant that makes it so I'm not coughing every second…but instead every few minutes.
My allergy doctor recommended I start these injections called Xolair to help my allergy and asthma symptoms since they have become resistant to the medications they have given me. The cough doesn't even respond to steroids and don't get me started on crappy they make me feel. The injections require me to stay at the doctor's office for 3 hours after the first injection and will require me to carry an epi pen with me wherever I go. There's a rare risk of anaphylactic shock with these shots.
Googling the words "chronic cough", what I'm dealing with sounds pretty common…but I'm honestly scared my doctors won't be able to resolve it. And I guess, I'm scared it's something way worse too.
I'm beginning to feel like my chronic cough might be caused by all three things that they think it is: allergies, asthma and acid reflux. My cough is not always the same, sometimes, it feels like a postnasal drip cough and a cough drop helps. Sometimes, it's coming directly from my chest and I can hear stuff rattling around. I also have sleep apnea and this all seems to be interconnected.
I recently discovered bee pollen and am also eating local raw honey every day…hoping this will help in the long run.
I'm hoping you have some advice or have gone through an upper endoscopy or have had Xolair injections? I would love to hear your advice and any related experience. Thanks so much!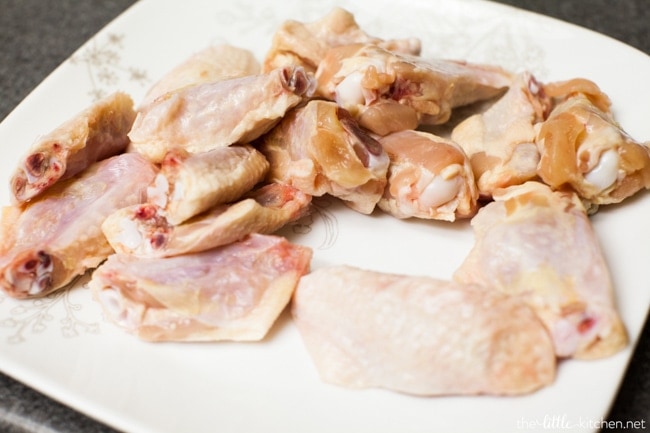 If you made it this far, thank you for reading!
I love chicken wings! And baking them using my friend, Joanne's technique is my favorite and only way I use now!
Right after I added the chicken wings to the boiling water. The water calms down but it will come back to a boil again.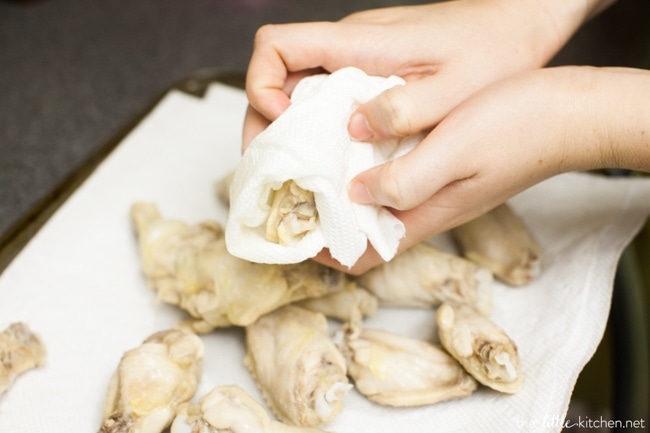 After you boil them, you're going to carefully dry them. They need to be bone dry (haha) so the skin crisps up nicely in the oven.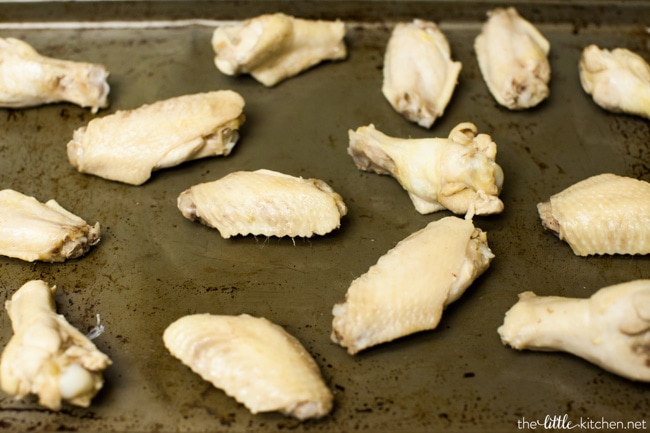 Place them on an uncovered baking sheet and bake for 20 minutes. Flip them over and bake for another 10 to 15 minutes.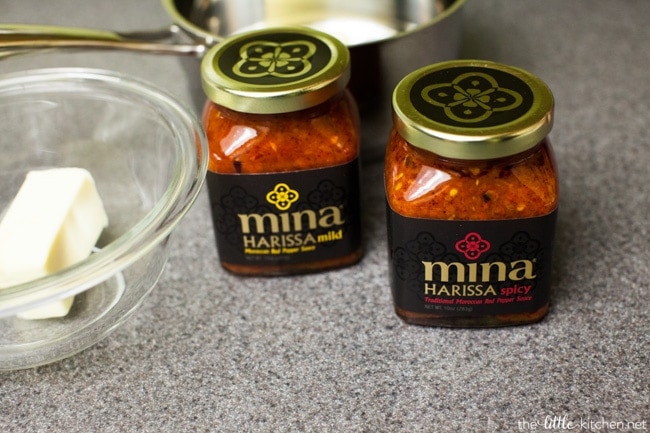 While they are baking, make your sauce! Mina graciously sent me their Harissa sauce to try out. I love the spicy sauce but you can make it with the mild sauce too!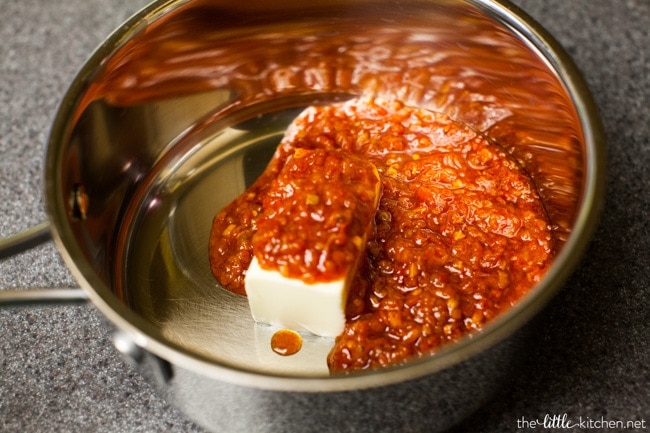 You can make this on the stove…
or in the microwave.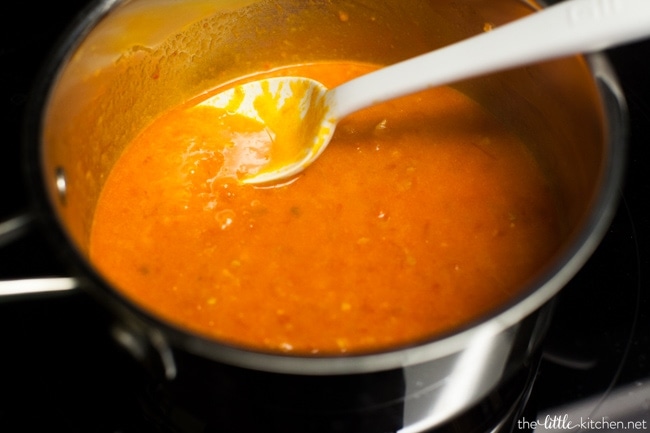 I love the color of the sauce after the addition of butter! Every wing sauce needs butter!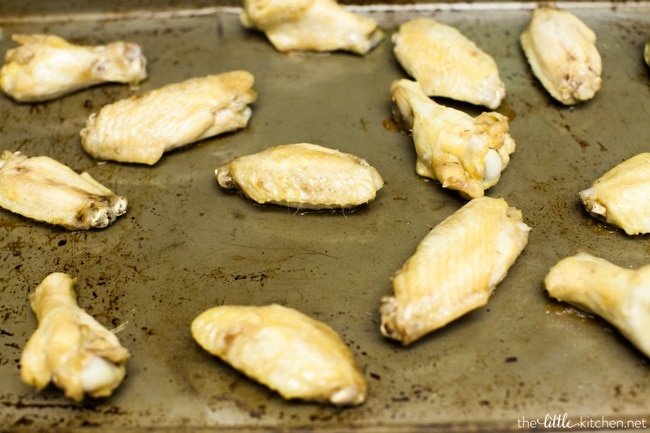 After coming out of the oven.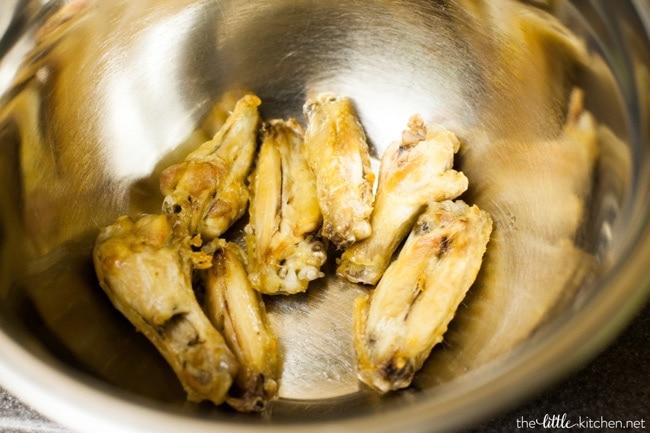 Put some wings in a bowl.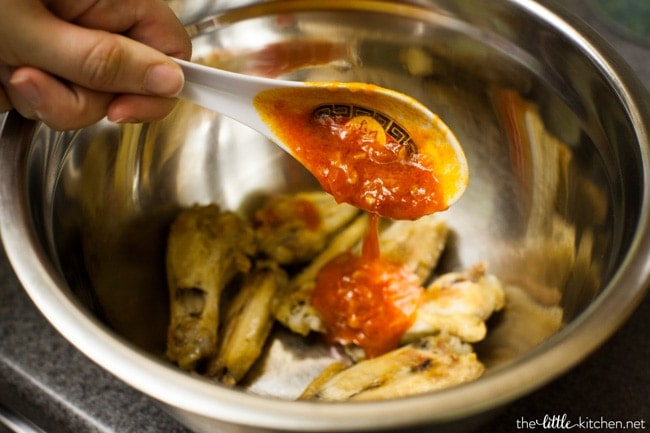 Add your prepared sauce.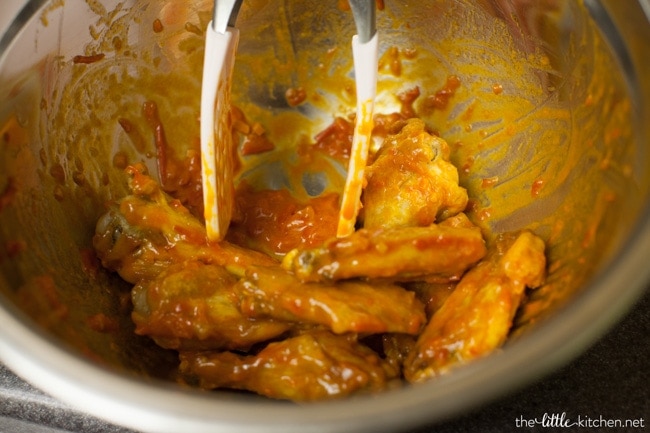 And mix with tongs.
And there you have it!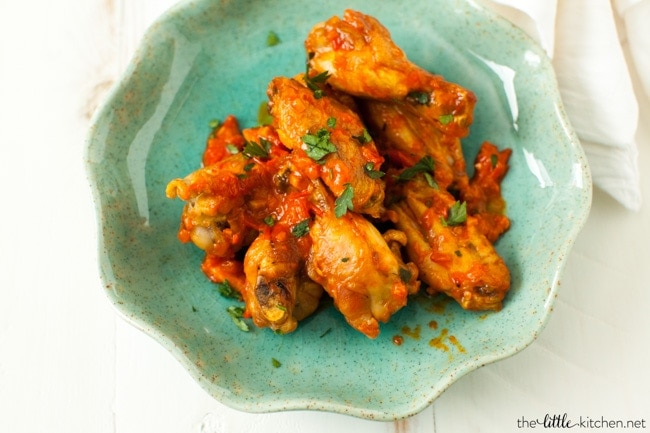 Wonderful spicy or mild red pepper buttery sauce wings. I know you'll love these…so easy to make and only three ingredients!
Recipe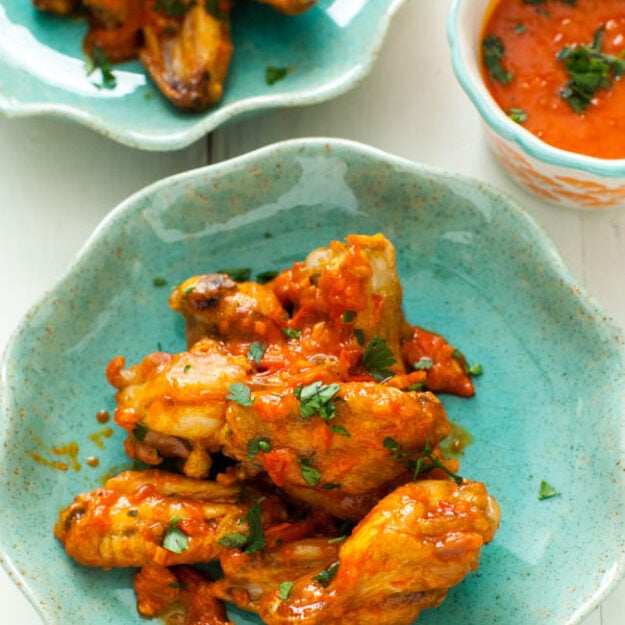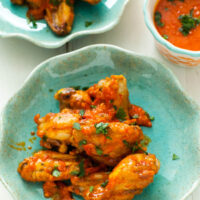 Print
Pin
Baked Harissa Chicken Wings Recipe
Ingredients
1 1/2 to 2

pounds

chicken wings and drummettes

,

separated

1/2

cup

Mina Harissa Moroccan Red Pepper Sauce

,

mild or spicy

1/2

stick unsalted butter

,

1/4 cup

chopped Italian parsley

,

optional
Instructions
Bring a large pot of water to a boil. Add at least 2 teaspoons of salt to the water. Heat oven to 400 degrees F.

Carefully add chicken wings to the boiling water, once it returns to a boil, set your timer for 8 minutes. Drain and place on an uncovered baking sheet. Use a paper towel to dry them completely, being very careful because the chicken is hot. There should be no moisture left. Discard paper towels and place chicken wings 1/2 to 1 inch apart on your baking sheet. Bake for 20 minutes and then flip each wing over. Bake for another 10 to 15 minutes.

Stovetop Sauce

While the wings are baking, add butter and sauce to a small saucepan. After the butter has melted, mix together thoroughly. Cook for another 2 to 3 minutes.

Microwave Sauce

Or while the wings are baking, you can microwave the sauce. Add butter and sauce to a microwave-safe bowl and cover with plastic wrap. Microwave in 30 second increments, about 1 minute 30 seconds, until butter is melted. Open plastic wrap carefully and mix together thoroughly.

Remove chicken wings from baking sheet and place into a large mixing bowl. Add the butter harissa sauce and toss to coat. Serve with chopped parsley. (There will be leftover sauce, you can store in airtight container in the refrigerator.)
Notes
Boiling and baking technique for the wings from Fifteen Spatulas,
Sauce from The Little Kitchen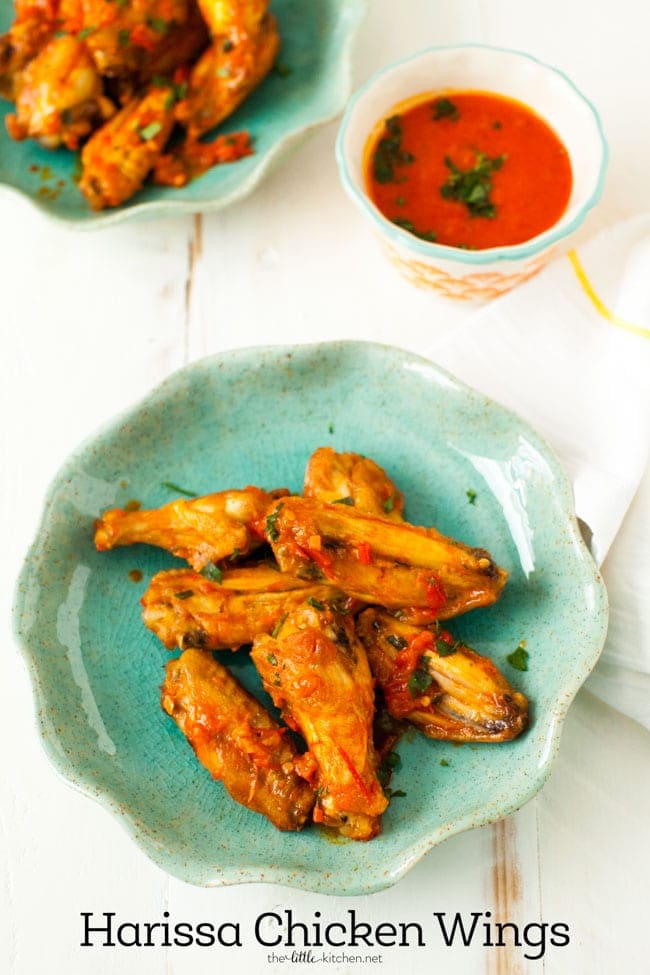 Disclosure: Mina sent me some of their sauces to try out. I was not compensated and all opinions are my own.