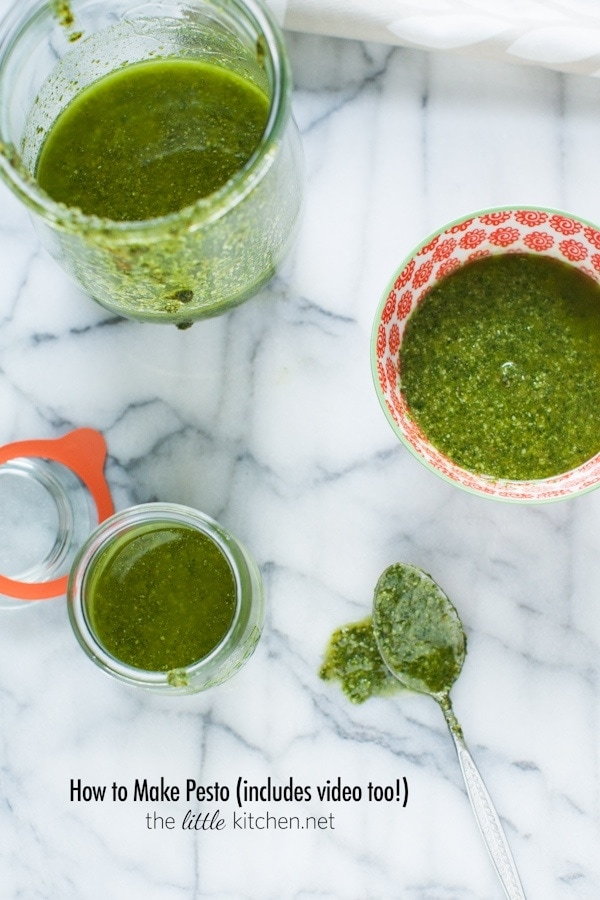 Can we have a heart to heart now? It's the end of August which also means we're onto Labor Day weekend (here in the US). Where has the time gone? I'm not ready for the end of summer yet. See? I'm still making pesto with the basil from my kinda sorta pathetic herb garden. I'm actually going to need to cut my plant back more and make even more pesto. Into the freezer it will go!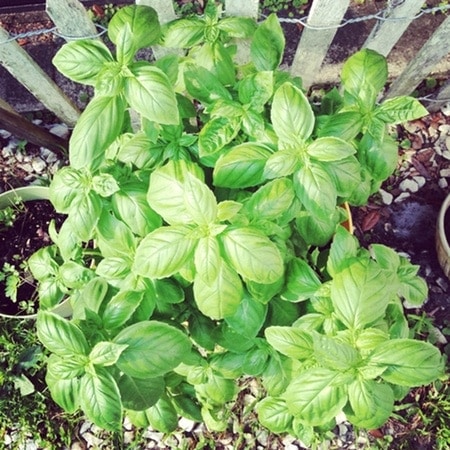 I keep seeing posts on twitter and facebook about pumpkin spice lattes at Starbucks. I'm not ready yet. I'm still into pesto and tomatoes. And I even have a couple of more pesto-related recipes to share with you next week. This Florida girl is holding onto summer as long as she can.
Have you ever made pesto before? Then, you know how easy it is. If you haven't, it's soooo easy, here's a video too! I used my KitchenAid 12-Cup food processor but I even tried it with my blender and it worked great!
Do you remember your first time eating pesto? Growing up, I'm first generation American, we had a lot of Vietnamese food at home so I don't remember having pesto pasta until I graduated high school. I received a scholarship from a really nice family who tragically lost their son his sophomore year of college in a drunk driving incident. The other car's driver was driving drunk and unfortunately Chad Bogan lost his life. The scholarship was named in his honor and I was honored to receive it. Chad's parents took me out to dinner because they wanted to meet me in person and to present me with the check for the scholarship. They took me to a really nice restaurant and I ordered pesto pasta. It was amazing and that started my love for pesto. It's amazing how some food memories are tied so deeply with a life moment, accomplishment or a memory…I wonder if that's the same for you? I remember that meal so well and the kindness and thoughtfulness that Chad's parents showed me. Their generosity in the midst of tragedy has stayed with me all of these years.
I only started to make my own pesto at home a couple of years ago and it's incredibly easy as long as you have plenty of fresh basil. Serve it over your favorite pasta (or even try homemade pasta) or make my pesto caprese fried wontons. Look out for more recipes coming at you soon made with pesto!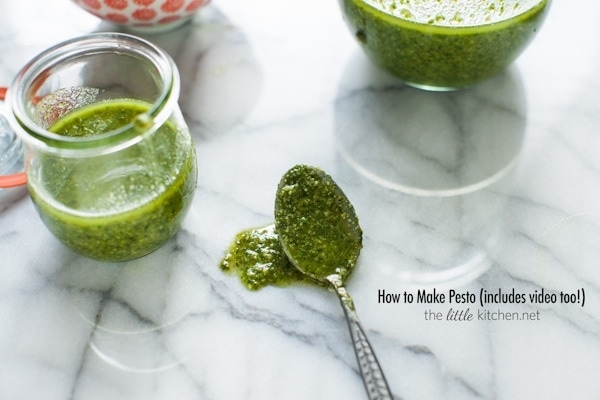 I used walnuts in my recipe because A. walnuts are less expensive than pine nuts and B. because we found out Curtis is allergic to pine nuts a few years ago.
Recipes you can try with pesto sauce!
Pesto Caprese Fried Wontons
Pesto Guacamole
Whole Wheat Rotini with Meyer Lemon and Arugula Pesto
Pesto Pasta Stuffed Tomatoes
Pesto Meatballs
Sundried Tomato Polenta Bites
Recipe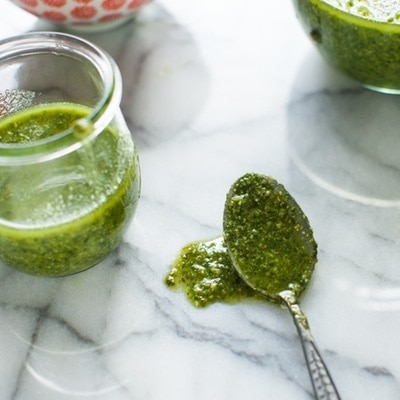 Print
Pin
Save
Basil Pesto with Walnuts Recipe
Servings
2
1/4 cups approx.
Ingredients
3

cups

packed basil leaves

3/4

cup

Parmesan cheese

,

grated

1/2

cup

walnuts

,

chopped

salt & pepper to taste

1 2/3

cups

olive oil
Instructions
Add all ingredients except olive oil to a

food processor

. If you're using a blender, add the olive oil and then the other ingredients.

While hitting the pulse button, stream in the olive oil until completely processed. Add more salt and pepper if needed. Store in the refrigerator or freezer. Add a layer of olive oil on top to prevent the pesto from browning.

Add to your favorite pasta and serve with parmesan cheese.
Disclosure: There are affiliate links in this post.