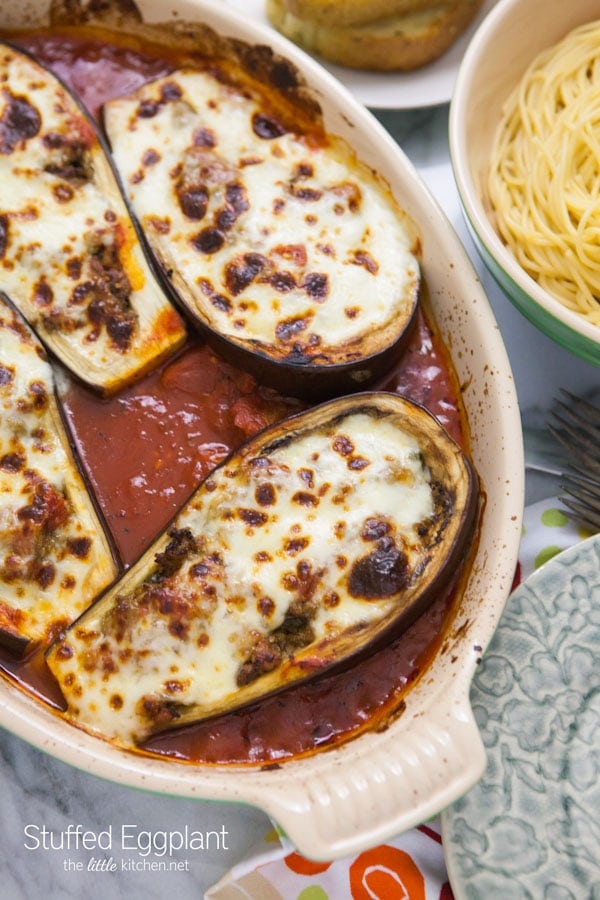 Cooking is how I show my love for my family and friends. Is it that way for you? I know it's that way for Sara…it was a blast cooking with her in Italy along with Mike and Martha. She is a funloving Italian grandmother who is serious about fresh ingredients only going into the food she cooks for her family. Even better from our trip to Italy last year, we gained two friends, Mike and Martha!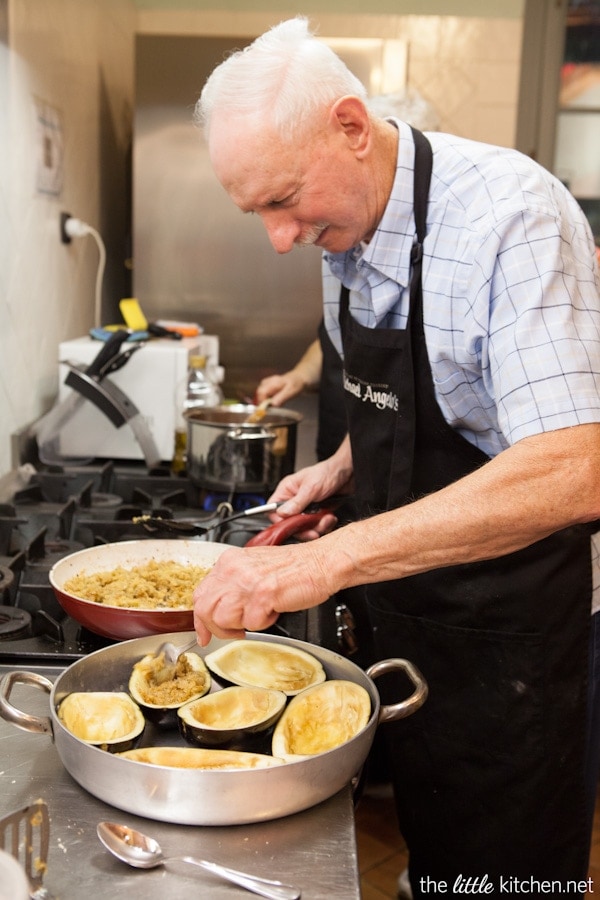 There's Mike! Mike was the Michael Angelo's sweepstakes winner. After our trip, we have been emailing together and Martha is so sweet, she leaves comments on my recipes and on facebook. I wish they didn't live so far away in Oregon.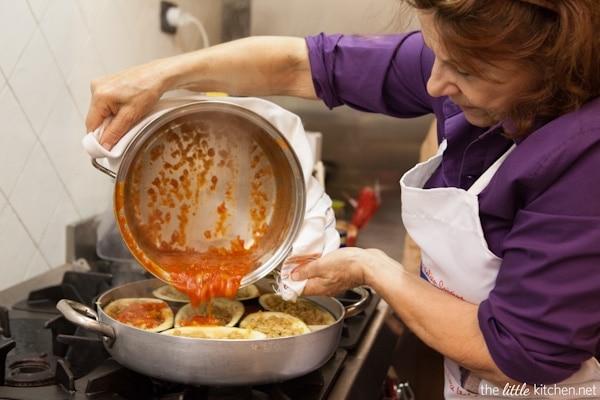 Do you love eggplant as much as I do? I'm sharing a variation of Sara's (above) stuffed eggplant recipe that I learned while cooking with her in Italy.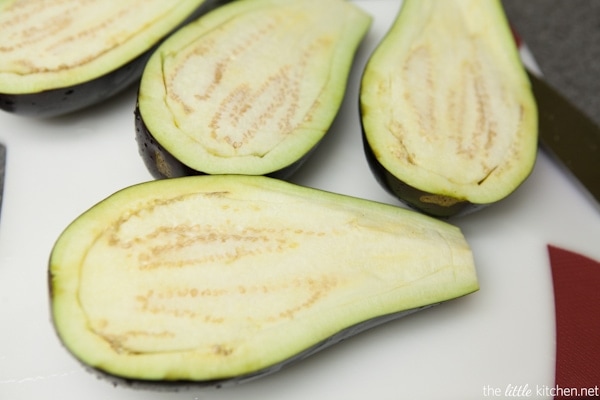 Use a knife to score the sides. And then use a spoon to scoop out the insides of the eggplant.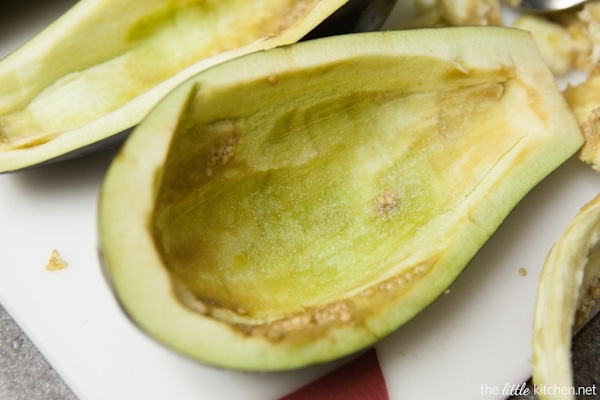 Sara's secret is to add salt to allow the eggplant to sweat.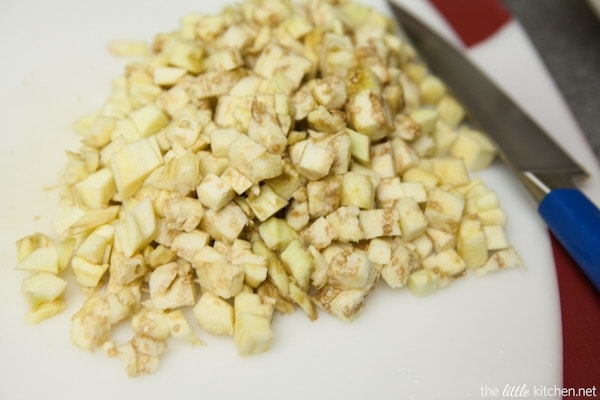 Dice the eggplant you scooped out.
Cook the uncased mild Italian chicken sausage in a heavy-bottomed pot. I used a French oven. I added chicken sausage which is not in Sara's original recipe. When it's done cooking, remove the sausage.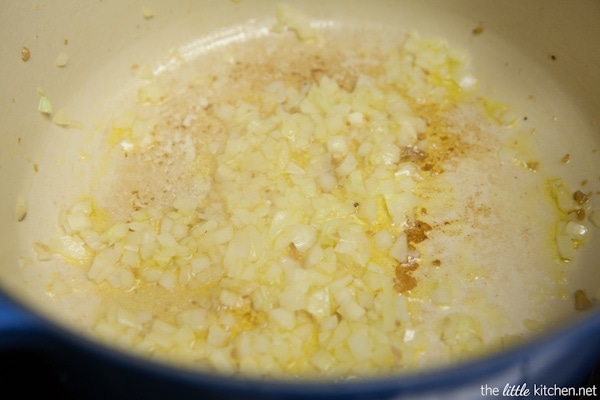 Cook the onion and then add the garlic.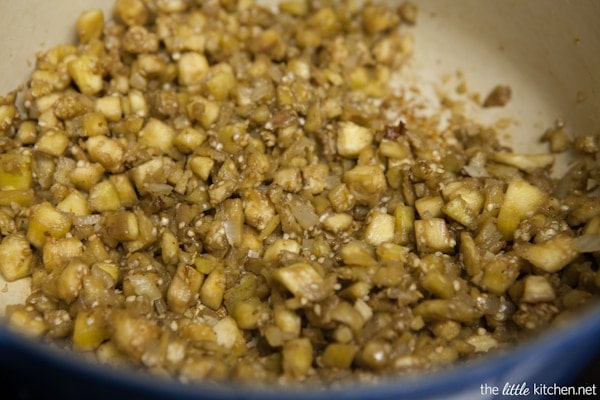 Cook the eggplant down.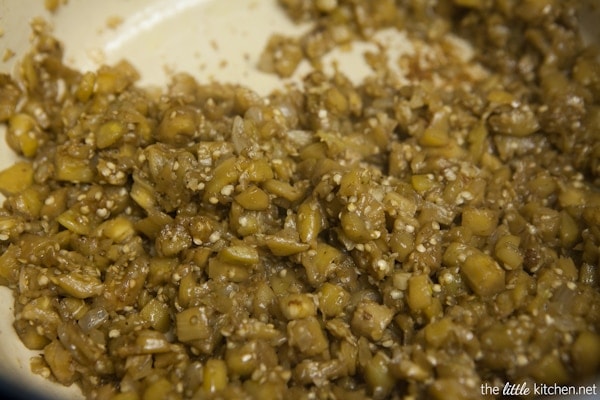 Ahhh, I know this doesn't look appetizing but if you're an eggplant lover like me, you know how good this tastes.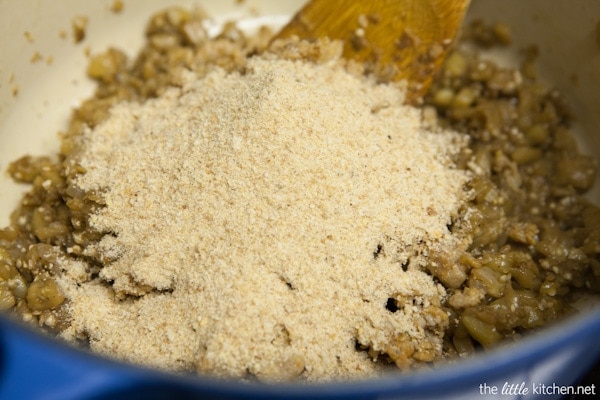 Add the sausage back to to pot and add breadcrumbs.
And cook the filling down even more.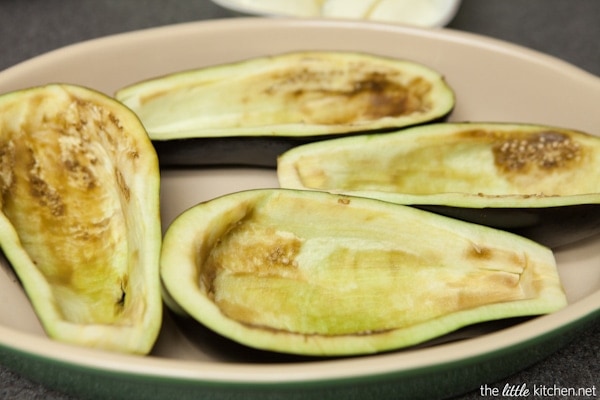 These eggplant pieces have been rinsed and dried.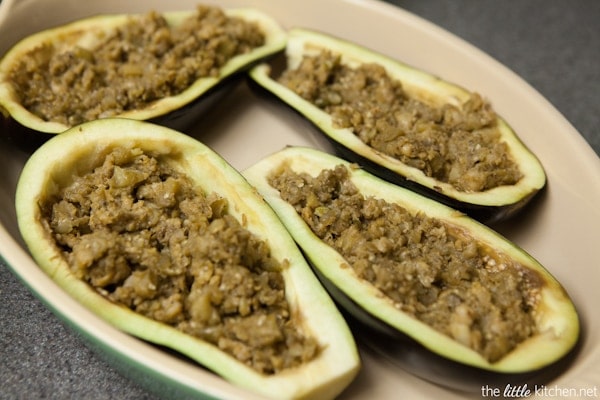 Add the filling to the eggplant.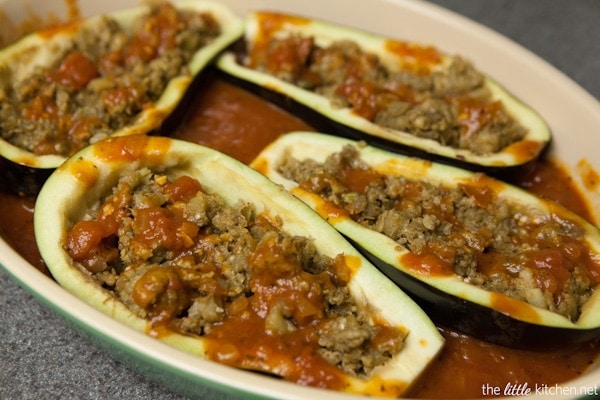 Ladle in the tomato sauce. Add some sauce to the eggplant. Cover with foil and bake.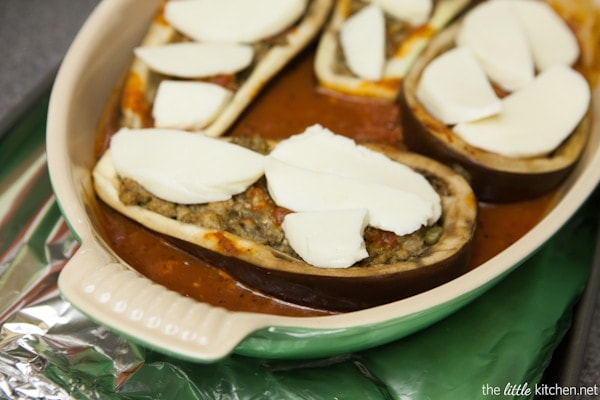 Remove from the oven and add the sliced fresh mozzarella on top of the eggplant and broil for about 5 minutes.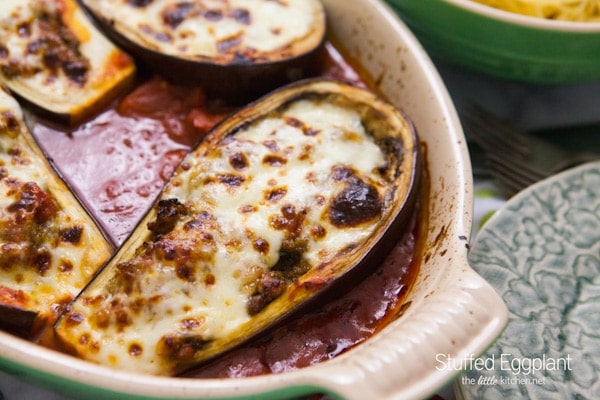 Look at those cheetah spots. That's what Curtis calls those brown spots on cheese. We loved this meal when we had it in Italy and love being able to make it at home! Serve with spaghetti and garlic bread and it's a meal. Comfort food for sure!
Recipe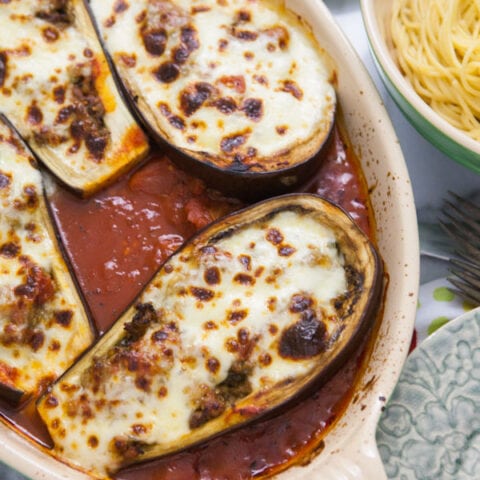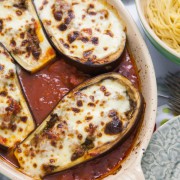 Print
Pin
Stuffed Eggplant Recipe
Ingredients
2

eggplants

,

cleaned and dried

salt

5

Tablespoons

olive oil

1/2

pound

chicken or pork mild Italian sausage

,

uncased

1/3

cup

diced onion

1

garlic clove

,

smashed, peeled and minced

1/2

cup

plain breadcrumbs

1

Tablespoon

capers

,

drained and smashed
Tomato Sauce
2/3

cup

diced onion

,

about 3/4 medium onion

2

Tablespoons

olive oil

2

garlic cloves

,

smashed, peeled and minced

28

ounce

can of whole peeled plum tomatoes

,

with or without basil is fine

1/2

teaspoon

dried basil leaves

1/4

teaspoon

dried oregano

8

ounces

fresh mozzarella cheese

,

sliced

uncooked pasta

,

prepared according to directions or homemade pasta
Instructions
Heat oven to 375 degrees F.

Halve the eggplants and scoop out the middle. It may be helpful to cut out of the edges and then scoop out. Rub with salt and let stand to sweat. Dice the eggplant innards that you scooped out. (Right now is a good time to start the sauce.)

Heat 2 Tablespoons of olive oil in a French oven and add sausage. Use wooden spatula to break up the sausage. Cook for about 8 to 10 minutes. Remove cooked sausage and place in a clean bowl. Set aside.

Add 1 Tablespoon of olive oil to French oven. Add onions and cook for 3 minutes. Add garlic and cook for 2 minutes. Add eggplant and 2 more Tablespoons of olive oil and season with salt and pepper. Cook for 6 to 8 minutes, stirring occasionally. Add back the cooked sausage and breadcrumbs and cook for about 5 to 6 minutes. The breadcrumbs should be soaked into the eggplant mixture.

Remove eggplant filling from heat and add capers and mix. Season with salt and pepper. Rinse out eggplant shell halves and wipe dry with a paper towel. Place upside on a covered baking sheet to remove excess water.

Stuff eggplant with cooked eggplant mixture and place in a casserole baking dish. Ladle tomato sauce into the baking dish underneath the eggplant and a little bit on top of each eggplant.

Cover baking dish with foil and bake for 35 to 40 minutes at 375 degrees F.

Uncover and add sliced mozzarella cheese on top each of each eggplant to cover. Bake for another 5 minutes and then broil for another 5 minutes. Serve with cooked pasta.
Tomato Sauce
In a heavy bottomed pot, sauté the onion with olive oil for about 3 to 5 minutes on medium high, until onions are softened. Add garlic and cook for 60 to 90 seconds.

Add whole tomatoes with juice plus 1 cup of water to the pot. Break down tomatoes with a wooden spoon or rubber spatula. Add dried basil. Lower heat and allow sauce to simmer while prepping the rest of the eggplant dish. Season with salt and pepper.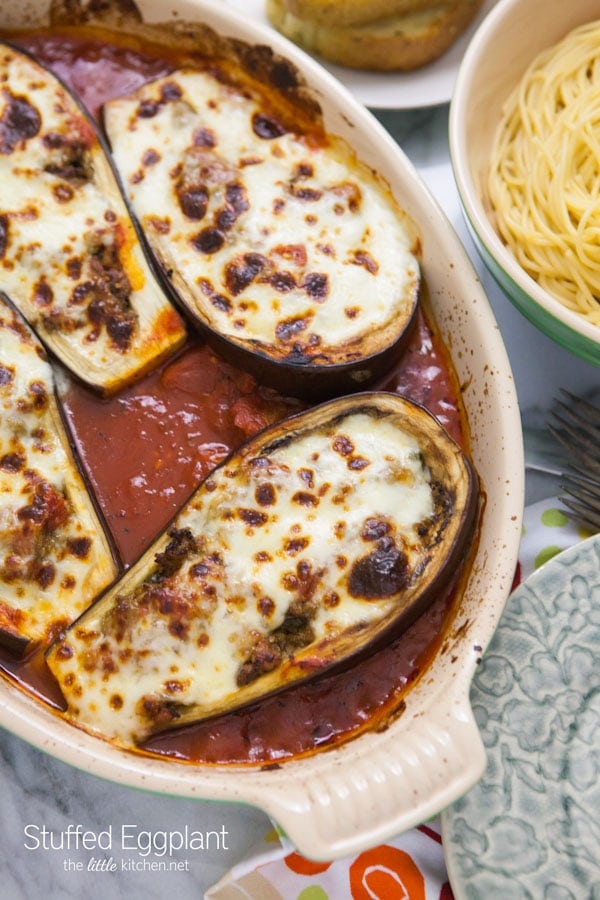 Disclosure: Thanks to Michael Angelo's who hosted me on my trip to Italy. I only work with brands that I love and always share with you my honest opinions.