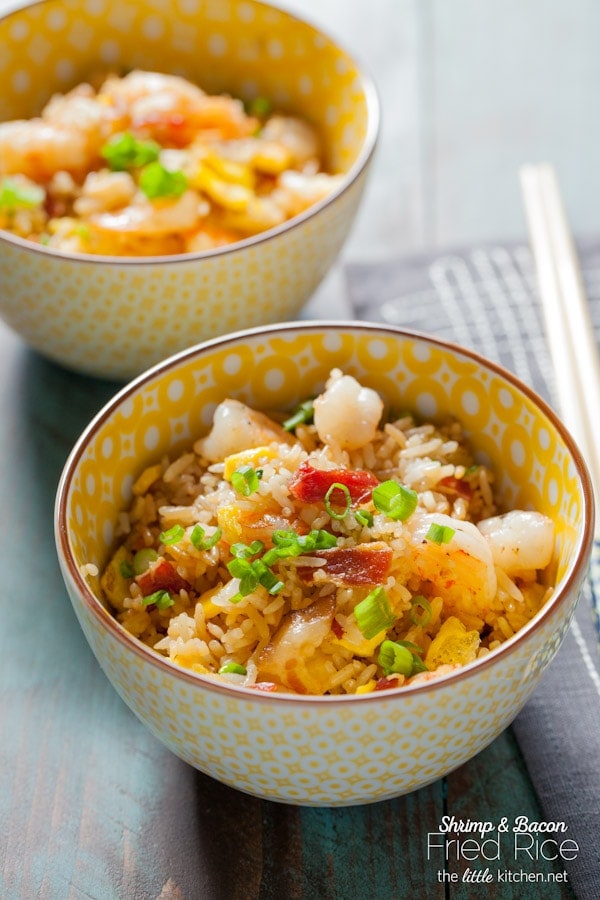 When we first moved to the area where we live now, the first time I ordered Chinese take-out the fried rice was made with yellow rice. I experienced this at a couple of other take-out places and I was stumped. I thought it was really odd. I was used to having fried rice with white rice! Anyways, I started making my own fried rice years ago.
fried rice recipe. We love shrimp and bacon…so why not make it in a fried rice?
But couldn't get it quite right until I added butter towards the end of cooking. I was so happy to make that discovery! We love making it with ham, chicken and tofu for me. This recipe is another variation on our favorite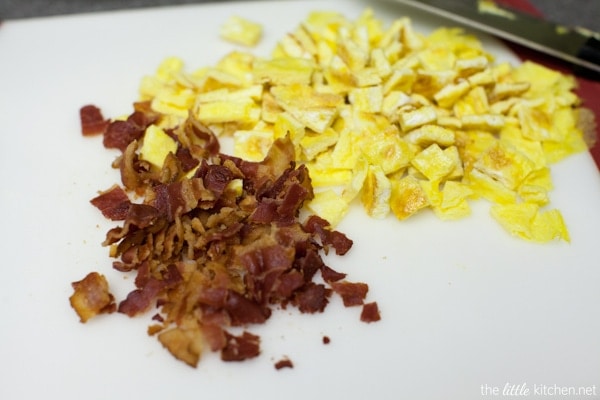 Chopped up bacon and eggs.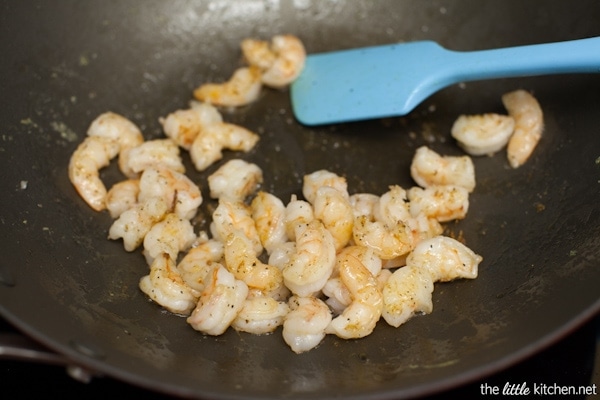 I bought these really huge shrimp so I ended up cutting them into bite sized pieces perfect for fried rice.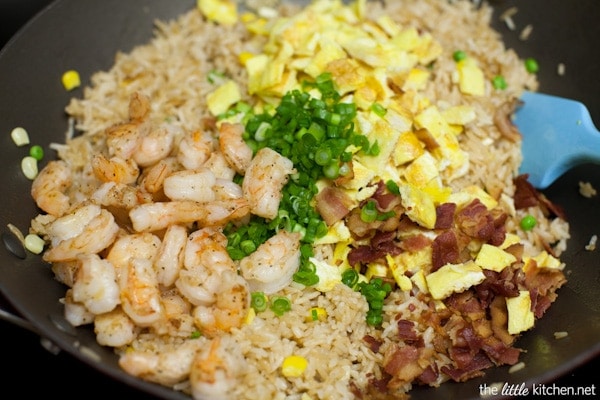 The rice is all cooked and just adding back the cooked shrimp, cooked bacon, eggs and green onions.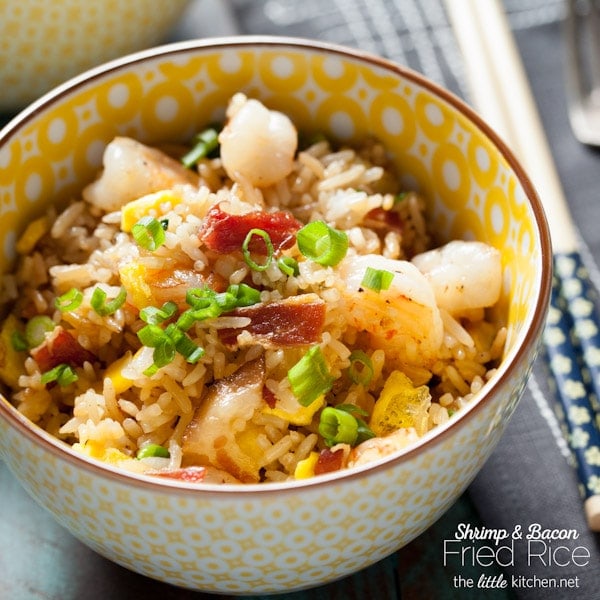 I can't stand how much I love this recipe…Curtis loved this version and asks me to make fried rice at least 3 to 4 times a month. It's better than take-out fried rice and I know you will love it!
Recipe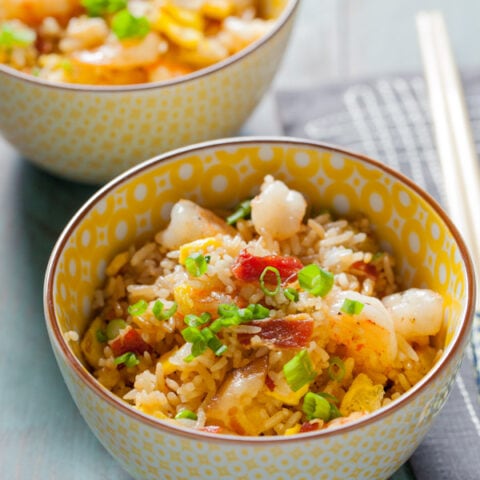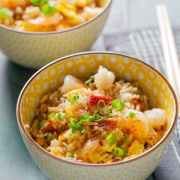 Print
Pin
Save
Shrimp & Bacon Fried Rice Recipe
Ingredients
3

cups

uncooked Jasmine rice

,

cooked (preferably made the day before)

1/4

cup

grape seed oil

3

large eggs

,

beaten

3/4 to 1

pound

deveined and washed shrimp

,

if frozen, then thawed, if really large or jumbo, cut into bite sized pieces

salt & pepper

2

teaspoons

sesame oil

3

Tablespoons

soy sauce

1/3

cup

frozen peas

3/4

cup

frozen corn

2

Tablespoons

unsalted butter

4 to 5

slices

cooked bacon

,

chopped

2

green onions

,

sliced thin
Instructions
Cook the rice. It's best if you make it the day before because freshly cooked rice will make for mushy fried rice. If you didn't get to make it the day before, make the rice and as soon as it's done cooking, put it on a 9x13 baking dish or a baking sheet. Allow to cool for at least 15 to 20 minutes. Mix and spread out several times. Place in the refrigerator for at least 30 to 60 minutes.

Add 1 tablespoon of grape seed oil into a wok or a large skillet, heat on medium for at least 3 minutes. Swirl the oil to cover the pan. Add beaten eggs to your wok or skillet and cook for 2 to 3 minutes, swirling the pan a little bit to allow the egg to spread. Flip over and cook for one more minute.  and allow to cook for 2 to 3 minutes and flip and cook for another minute. Remove from pan and place on a clean cutting board. Allow to cool. Then, cut into small pieces by cutting into strips first and then cutting across.

Dry the shrimp with clean paper towels.

Add 1 tablespoon of grape seed oil to the skillet. Salt and pepper the shrimp and add them to your pan. Cook for about 1 to 2 minutes on each side. Remove from pan and place in a clean bowl and set aside.

Add 2 Tablespoons of grape seed oil to the pan. Add rice and cook for 2 minutes, stirring with a rubber spatula. Add soy sauce and sesame oil and mix the rice thoroughly. Season with salt and pepper. Increase heat to medium high and cook for 5 to 8 minutes, until rice is completely heated through, be sure to mix occasionally so the rice does not burn.

Add peas and corn, cook for another 3 to 4 minutes, mixing occasionally. Lower heat and add butter, allow to melt, and mix thoroughly. Add eggs, cooked shrimp, cooked bacon, and green onions and stir gently. Season with salt & pepper, as desired. Serve immediately.