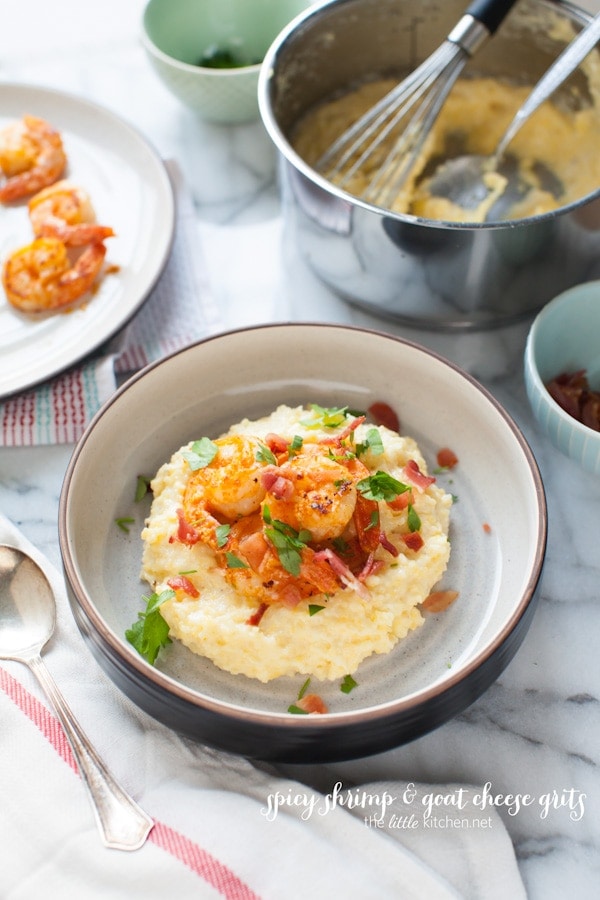 The other day I received a card in the mail that contained some sad news. Someone very special to me passed away in February. It was his daughter writing me to give me the news. He was very special to my family and me. And so was his wife, she passed away seven years ago. Growing up in Florida, with grandparents living in California, this couple were my surrogate grandparents. We actually called them Grandma and Grandpa. They would proudly show strangers and friends alike photos of our family declaring, "look at my grandkids!" They were Caucasian and we're not (I'm Vietnamese-American). I think a couple of times, someone said they don't look anything like you. And I think she put them in their place. You had to know her, I'm writing this right now and it makes me laugh out loud.
It took me a while to sit down and write a card back to their daughter. I found myself getting really emotional when I first received the card and when I was writing her back.
How do you put into words…your parents had a profound effect on my childhood. They played a crucial role in my upbringing and are a huge part of who I am today. I told her my only regret is that I didn't go visit him in Pittsburgh before he passed on (they moved back to Pennsylvania when Grandma was declining in health about eight years ago). I really wish I did. But I know they know how special they were to me. There was a period in time when my mom was a single mom, with six children, it was a struggle. Grandma and Grandpa sometimes brought over bags and bags of groceries. My mom didn't ask them to, they just did it.
Grandma took me on shopping trips to TJ Maxx and Marshalls, I have fond memories of her telling us not to touch anything. LOL And to pick out just one thing, she gave us a budget and it had to be under that amount and she would buy it for us. As a child, this meant so much to me. In high school, they took us to softball practice and picked us up. I remember them spending Thanksgiving and Christmas with us even.
They were special to me because they were there for us when our biological grandparents couldn't physically be there for us. Never asking for anything in return, they gave their time, money and love to us as if we deserved it and then some. They taught me unconditional love and that love does not have to come from blood relatives to be true. My grandpa taught me patience (I'm still working on it haha) but he was so patient with grandma, no matter what. Grandma taught me not to take crap from anyone. I love them and I miss them. I feel so grateful and lucky to have them as a part of my family.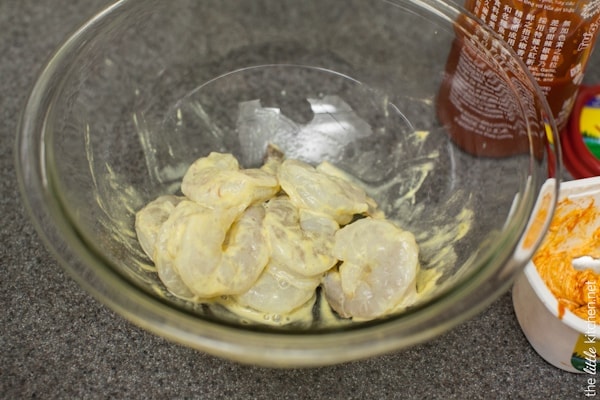 Prep the shrimp and toss with dijon mustard.
It just so happened that I just enough spreadable butter left in the tub so I used the tub to make the spicy sriracha butter for the shrimp.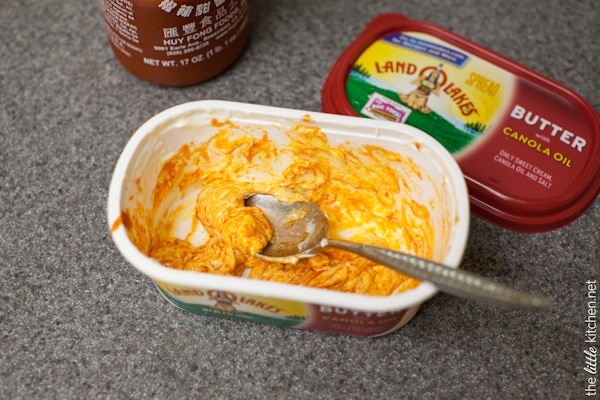 Curtis is literally obsessed with Land O Lakes® Butter spreadable butter, we can't keep enough of it in the house. It makes it really easy to make a spicy butter or a compound butter…and no more torn bread/toast!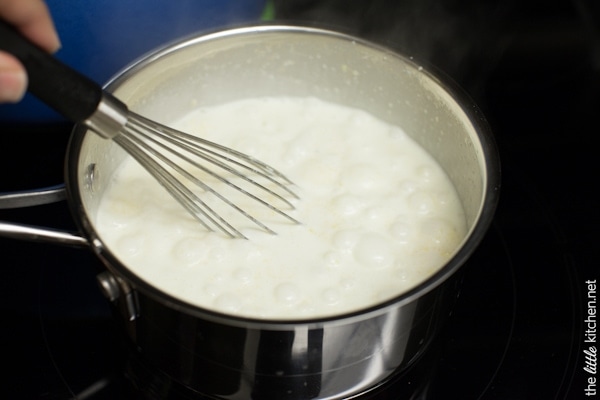 When I went to make these amazing grits from the Ravenous Pig cookbook, I realized I didn't have any chicken broth. So I substituted it with water and butter. These grits came out amazing…so that's how I will make these grits from now on…with heavy cream, water and butter.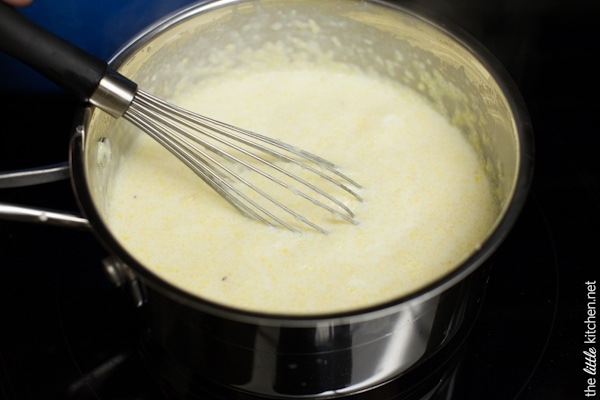 The grits are done and ready for…
Olive oil and goat cheese. I changed up their recipe to use olive oil instead of bacon fat…you can use bacon fat if you want.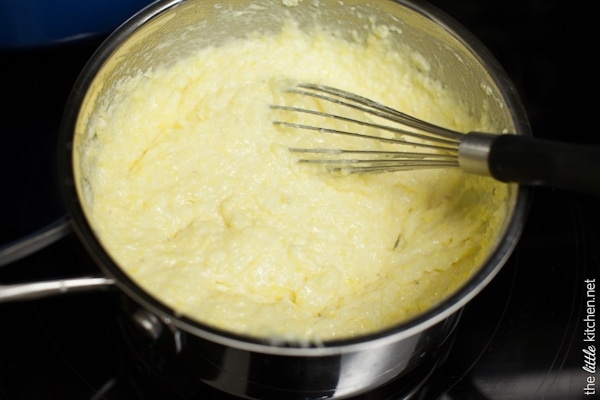 Done and creamy. And guess what? It reheats fairly nicely too. Just add a few drops of water and microwave. Same thing if you left it sitting for too long before serving, add some water, mix thoroughly and reheat. You're good to go.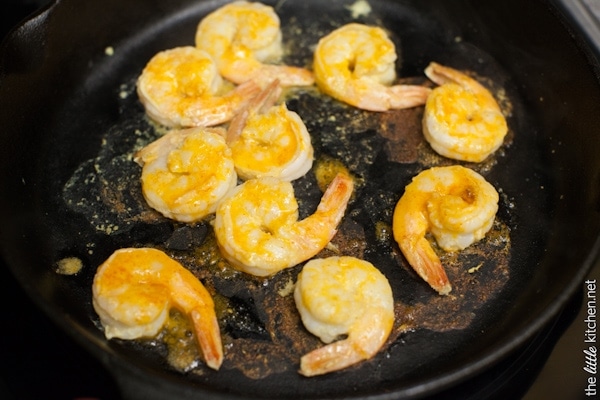 Cook the shrimp in a cast iron skillet and brush on the spicy sriracha butter.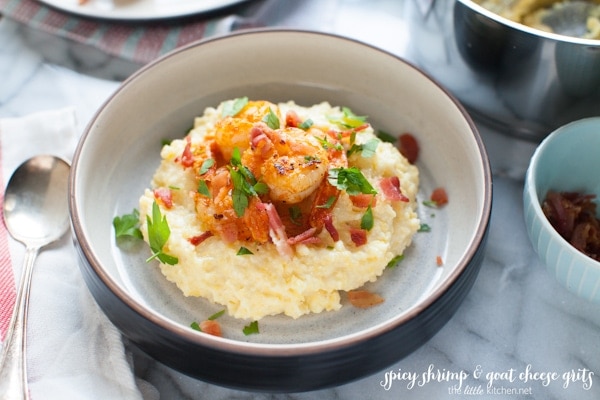 Grandma and Grandpa weren't true southerners since they were from Pennsylvania but I think they would have gotten a kick out of this recipe.
This is now my go to shrimp & grits recipe…I know you'll love it. If you're completely against goat cheese, try sharp cheddar instead.
Recipe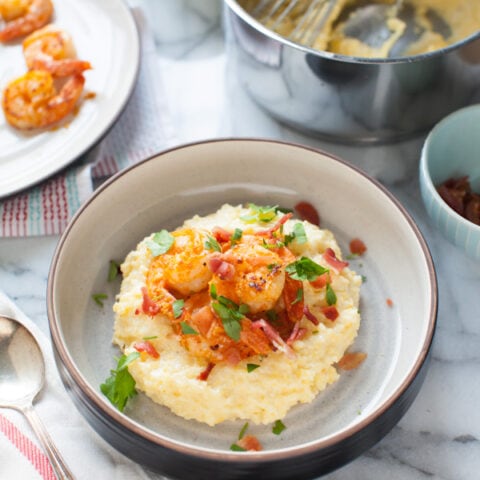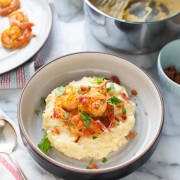 Print
Pin
Save
Spicy Shrimp and Goat Cheese Grits Recipe
Ingredients
Goat Cheese Grits
1

cup

heavy cream

1

Tablespoon

unsalted butter

1/2

cup

corn grits

,

I used Bob's Red Mill yellow corn grits

1

Tablespoon

olive oil

,

use a really good tasting one

2

Tablespoons

goat cheese

kosher salt and pepper
Spicy Shrimp
2

teaspoons

sriracha chili sauce

1

Tablespoon

Land O Lakes® Butter with Canola Oil

1/2

pound

shrimp

,

peeled and deveined (about 10 to 12 shrimp)

2

teaspoons

dijon mustard

fresh parsley

,

chopped

cooked bacon

,

chopped (optional)
Instructions
Prep the butter (mix spreadable Land O Lakes® Butter with Canola Oil with the sriracha chili sauce in a small bowl. Peel and devein the shrimp (I left the tails on). Add dijon mustard to shrimp and toss to coat.
Goat Cheese Grits
Add cream, 1 cup water and butter to a small saucepan and bring to boil.

Add grits, lower heat to medium and cook until grits are tender, about 8 to 9 minutes (be sure to whisk occasionally so that don't stick and cook evenly).

Turn off heat. Add olive oil and goat cheese and mix. Season with salt and pepper. Remove saucepan from heat.
Cook the shrimp
Heat a cast iron skillet on medium high for 3 to 4 minutes. Add shrimp to skillet and cook for about 3 to 4 minutes on each side, until shrimp is cooked. After turning shrimp, brush sriracha butter mixture onto the shrimp.

Add grits to a soup bowl, top with shrimp, parsley and bacon.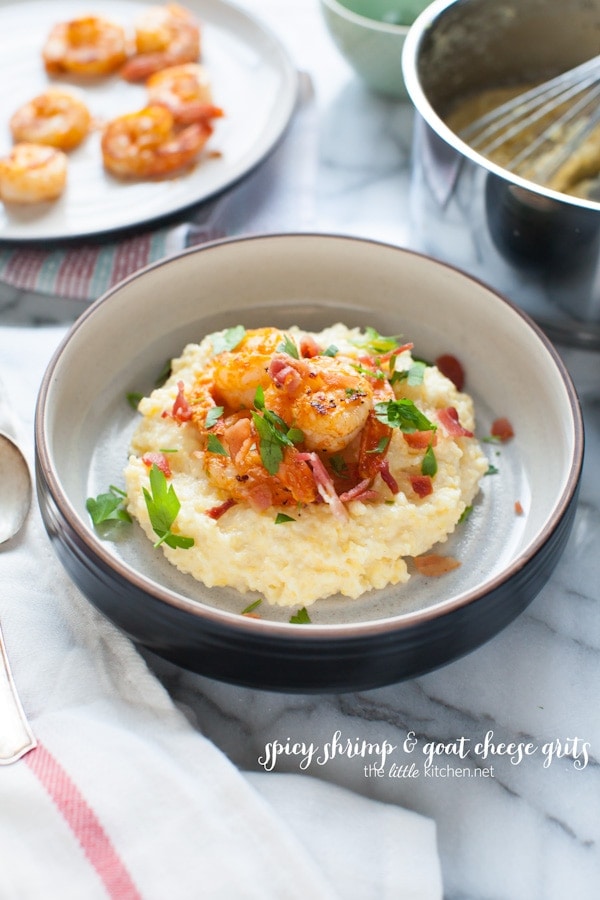 Just a note, I do have an ongoing relationship with Land O'Lakes and have done sponsored posts with them but this one is not a sponsored post. I always like to share with you my favorite products and brands. And pssst there are affiliate links in this post. Thanks!