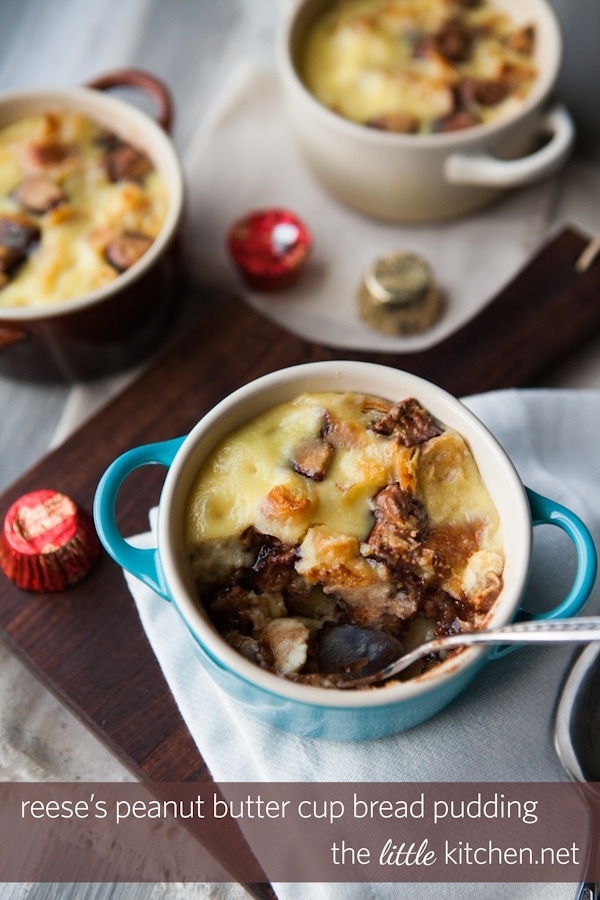 Ahhhhh! I have been talking to my friend, Lindsay, about this recipe for weeks and when it turned out awesome after making it the first time, I was so excited. I texted my sister in Germany and told her I made Reese's Peanut Butter Cup Bread Pudding!!!! She immediately wanted a picture and then asked for a picture of a spoonful.
I just love that it's not just me and other food bloggers obsessed with taking pictures of our food. My ENTIRE family is always sharing pictures of what they're currently eating on facebook, instagram, and via the What's App. We love it…it's a great way to keep in touch with family & friends!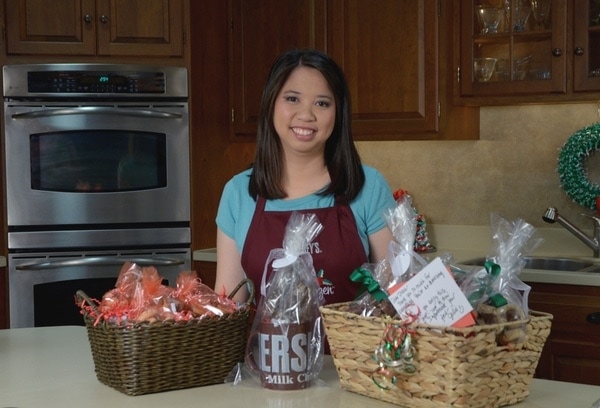 I think I mentioned that I visited the Hershey's Kitchens – in Pennsylvania, right? Eeeee it was so fun and look at all of that makeup I'm wearing. 🙂 While there, I taped this video on how to say thank you with baked goods. Eeeee, I'm nervous for you all to watch it…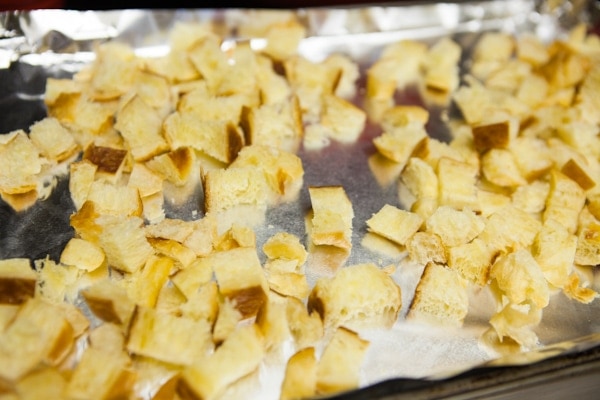 First I cut up the croissants first into strips and then into cubes and toast them in the oven for five minutes.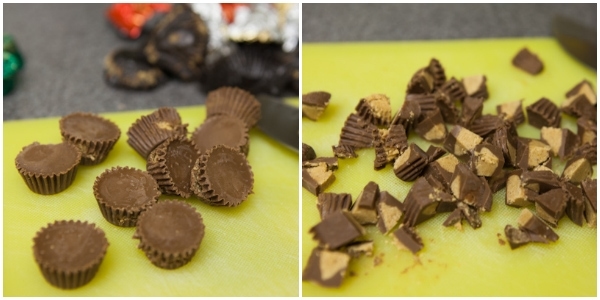 Unwrap those peanut butter cups and chop them up for the bread pudding.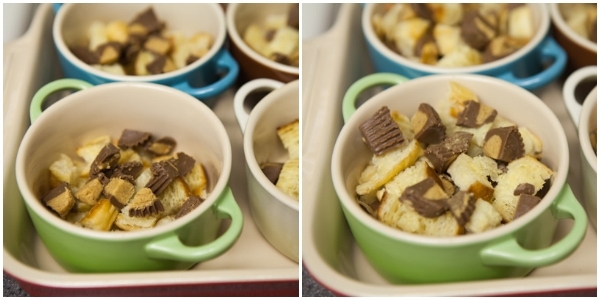 Layer the cubed croissants and the peanut butter cups so you have chocolatey peanut buttery goodness throughout your bread pudding.
I used mini round cocottes but you can use 1-cup ramekins or a 4 quart baking dish – just double this recipe.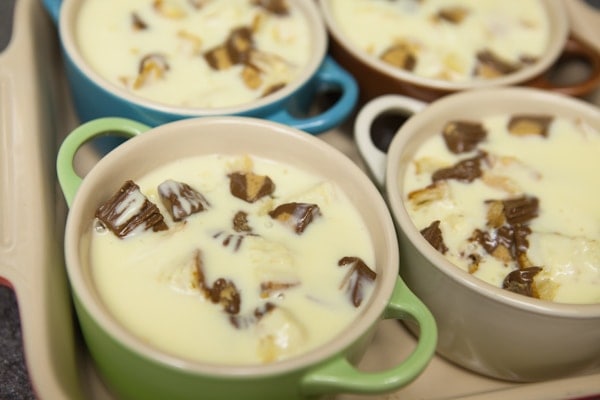 I like my bread pudding a little more custardy and you'll notice the milk-egg mixture is a little on the thick side.
Pour the mixture into a measuring cup to make it easier to pour into the cocottes and be sure not to overfill them.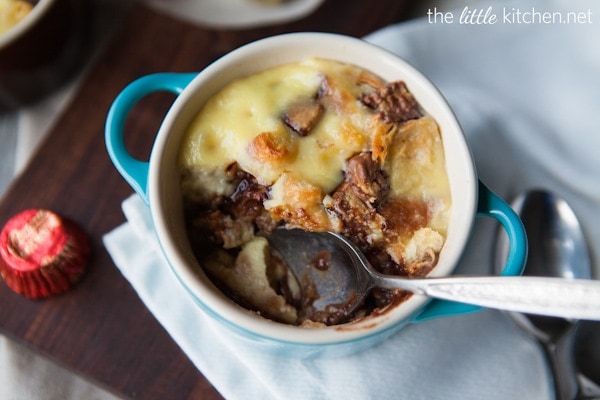 Totally, guilty, I was eating the bread pudding while I was photographing it.
The butteriness of the croissants, the creaminess of the custardy pudding and the chocolatey peanut buttery flavor go perfectly together. This is going to be a must make for the holidays, I'm sure of it.
It's already been requested that I bring this bread pudding over for Christmas dinner at my sister Cathy's house. I'm definitely going to be doing that! 🙂
Recipe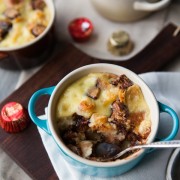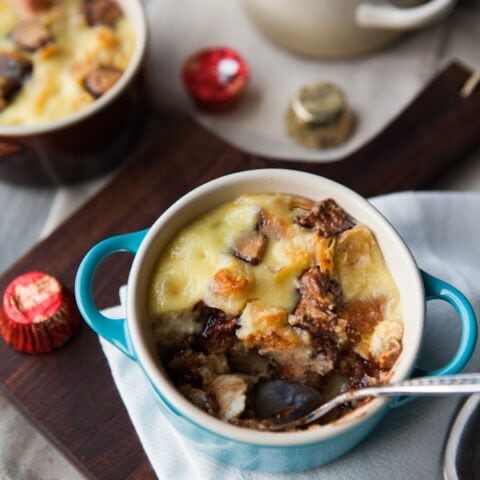 Print
Pin
Reese's Peanut Butter Cup Bread Pudding Recipe
I LOVE bread pudding and I love Reese's Peanut Butter Cups - so I thought I would combine the two! If you don't have mini round cocottes or ramekins, you can double this recipe and use a 4 quart baking dish - be sure to spray it with non-stick cooking spray.
Ingredients
3 1/2

cups

cubed croissants

,

about 2 croissants

non-stick cooking spray

2

large eggs

2

large egg yolks

1 1/4

cups

milk

,

I used 2%

3/4

cup

heavy cream

1/3

cup

sugar

1/2

teaspoon

pure vanilla extract

Pinch

of salt

12

miniature Reese's peanut butter cups

,

wrappers removed and chopped
Instructions
Heat oven to 350 degrees F.

Line a cookie sheet with foil and spread the cubed croissants in an even layer. Add to the oven and brown for about 5 minutes. Set aside and leave the oven on.

Spray 4 1-cup mini round cocottes or ramekins with nonstick cooking spray and place into a roasting pan or baking dish. Fill each cocotte halfway with croissant cubes and half of the chopped Reese's peanut butter cups. Fill the cocottes with the rest of the croissants and top with the remaining peanut butter cups.

In a small bowl, add all of the eggs and beat with a whisk.

Add milk, cream and sugar to a medium-sized saucepan. Mix together with a whisk and then turn the heat on to medium low. Add eggs and whisk to combine. Heat milk-cream mixture for about 8 to 12 minutes, stirring constantly, until thickened. Remove from heat and add vanilla extract, mixing to combine. Over your sink, pour the milk-cream mixture into a measuring cup with a pouring spout.

Pour the milk-cream mixture over the croissant cubes - be sure to cover all of the bread, pushing down with a spoon, if necessary. Be careful not to overfill. Place baking dish or roasting pan onto a cookie sheet. Place onto the middle rack of your oven and pour 1/2 to 3/4 cup of water into the baking dish, about halfway up the sides of the cocottes.

Bake for about 30 to 25 minutes or until the pudding is set and the top is about to brown. Remove the cookie sheet from the oven and remove the cocettes from the baking dish using a potholder. Allow the pudding to cool for 5 to 10 minutes before serving. I like to serve the pudding warm or hot. To store these, cover each cocotte with plastic wrap and to reheat, microwave covered for about 60 to 90 seconds.
Disclosure: This post is sponsored by Hershey's. I'm proud to be a member of the Hershey's Baker's Dozen. As always all opinions are my own and I only share my favorite brands! And there's an affiliate link included in this post.