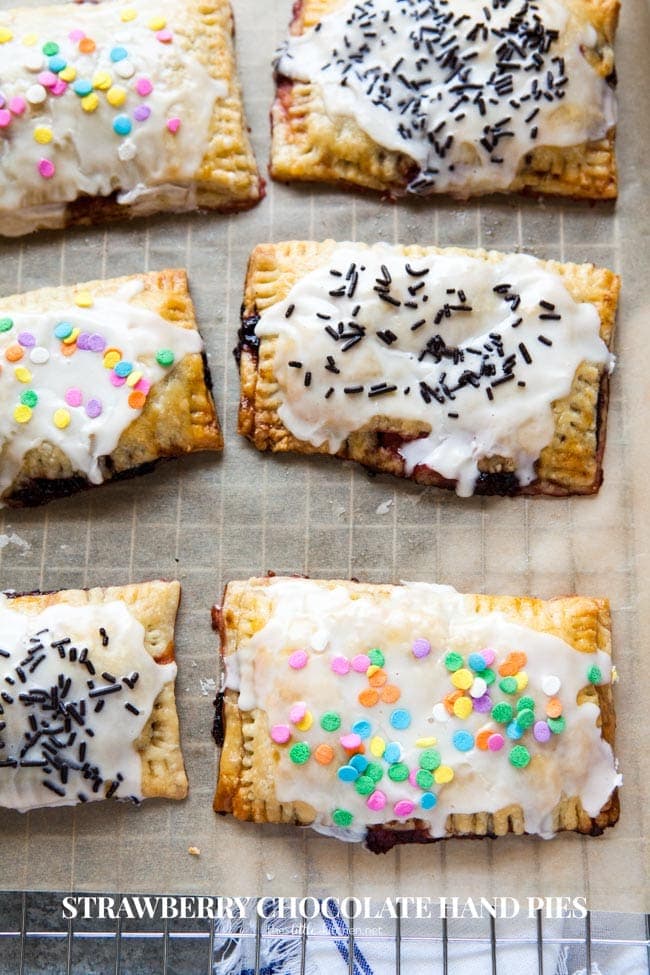 This post is sponsored by Land O'Lakes.
Oh hand pies…delicious little pies. Little pies that you can eat with your hands as a dessert or snack. Little pies that you can take them when you travel or have them on the go. I have made a bunch in the past and have made plenty of pie crusts…but I think this recipe and using the technique of rolling the pie dough in between two pieces of parchment paper with a little bit of flour sprinkled in is the WAY to go!
I'm excited to be partnering with Land O'Lakes yet again to share with you, recipes using their butter! And these hand pies…wowza! Strawberry and chocolate hazelnut spread go together soooo well! I had this little blueberry hand pie with a glaze on top a few months ago that I couldn't stop thinking about.
An all butter crust is necessary…it makes the pie crust so flakey and tender. I remember chatting with the owner of a local pie bakery a while back and she said I ONLY use butter in my pie crusts!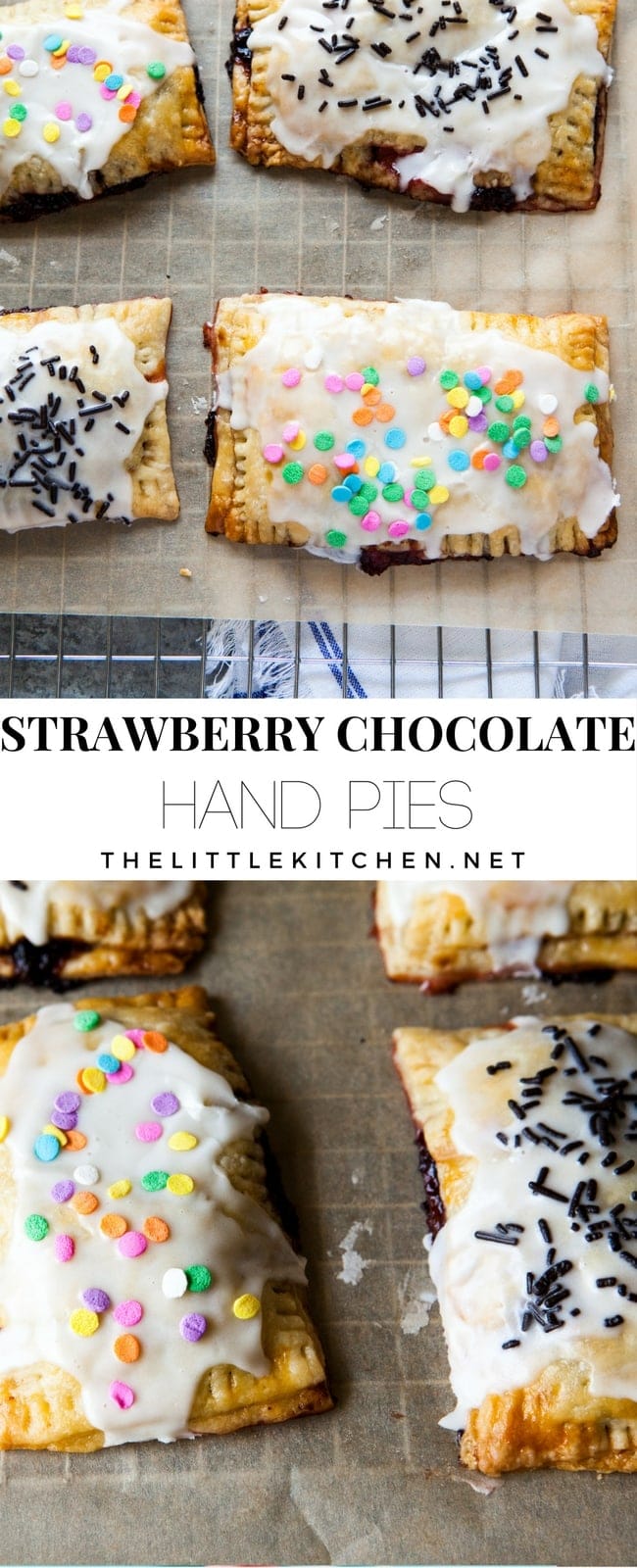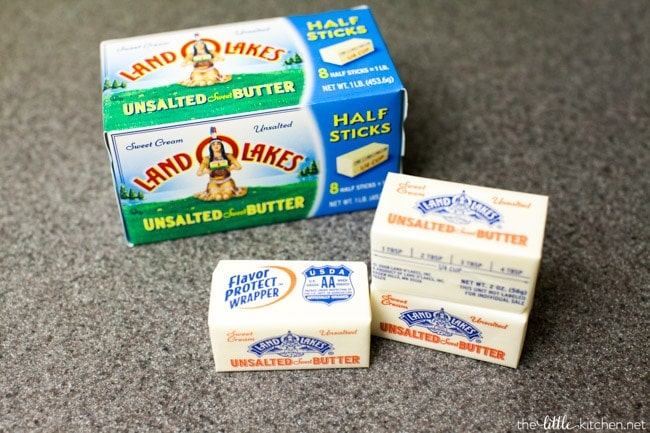 Now, let's start. I'm sharing a ton of step by step photos which I hope you'll find helpful!
First, the butter, I only use Land O Lakes® Butter and I love their half sticks! So easy and convenient when you only need half of a stick of butter! This recipe uses three half sticks.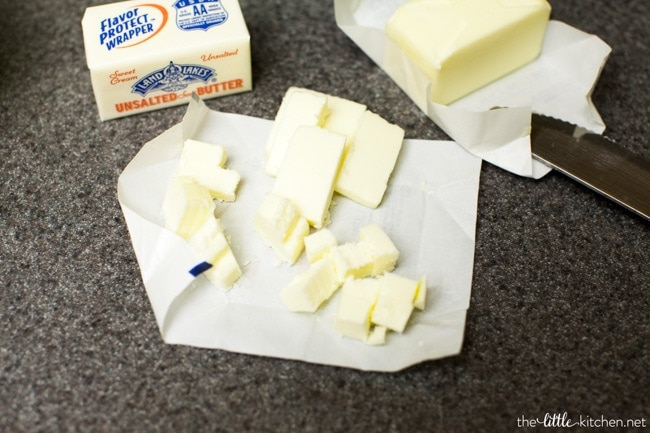 Cut the butter into slices and then cut them into small cubes. Put the butter into a bowl and put back in the refrigerator. The key is that the butter and dough should be cold. Remember that! I'm going to be repeating that. 🙂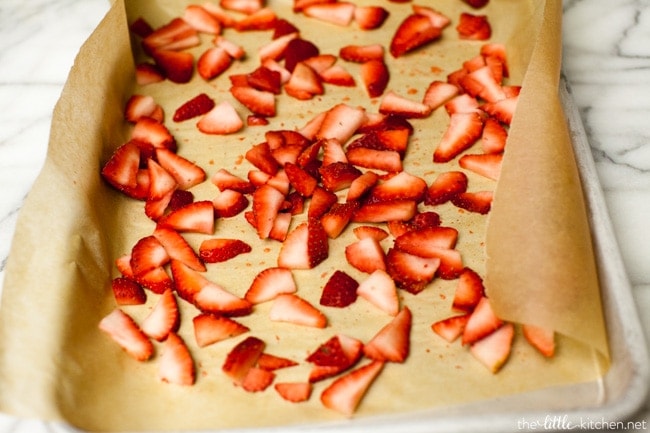 I cut up the strawberries in half and then into slices and then freeze them. Don't skip this step…I find that when I'm baking with strawberries, they need to be frozen.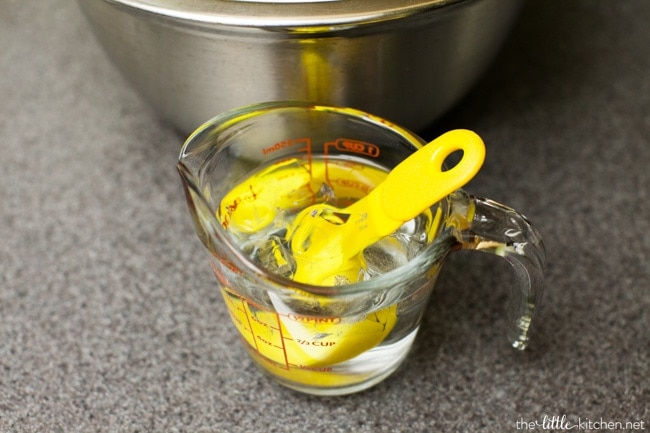 We're using ice cold water. I just add some ice cubes to a measuring cup and fill up with water. At a minimum, you're going to use 1/4 cup of water but maybe a tablespoon or more.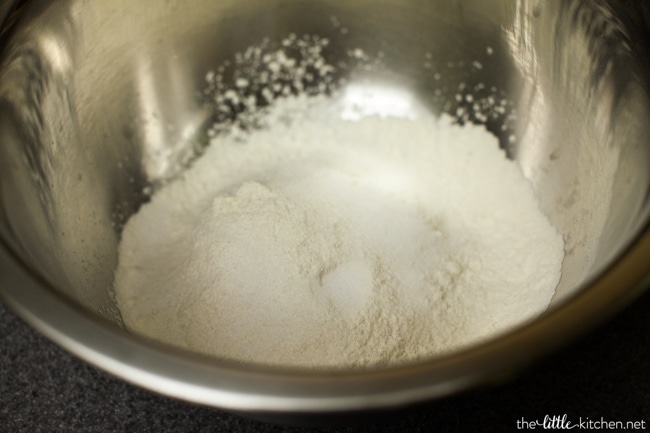 Add the flour, sugar and salt to a bowl and mix together.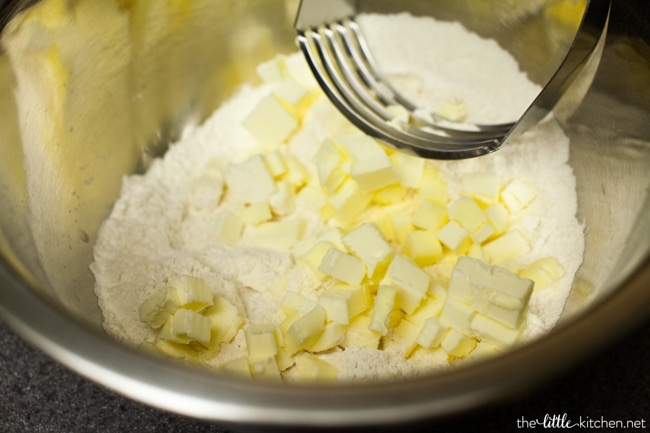 I use a pastry blender to cut the butter into the flour, or you can use two forks.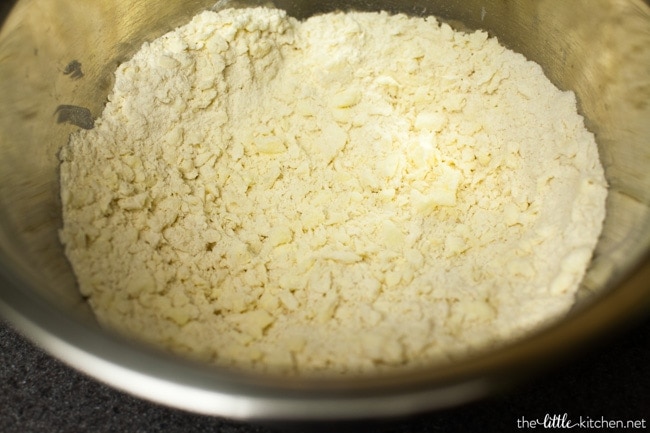 Once your dough starts looking scraggly like this, you're good to go.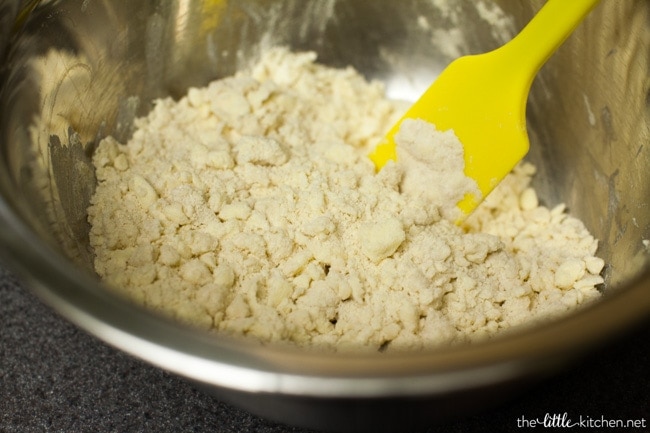 Start adding in water and you'll notice your flour mixture get even chunkier.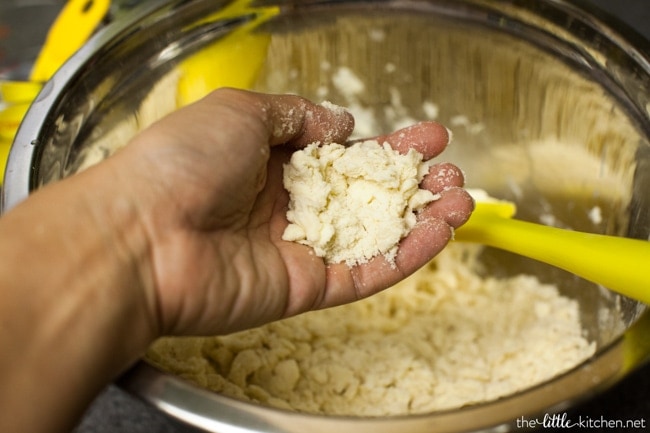 Take some of the flour mixture into your hands…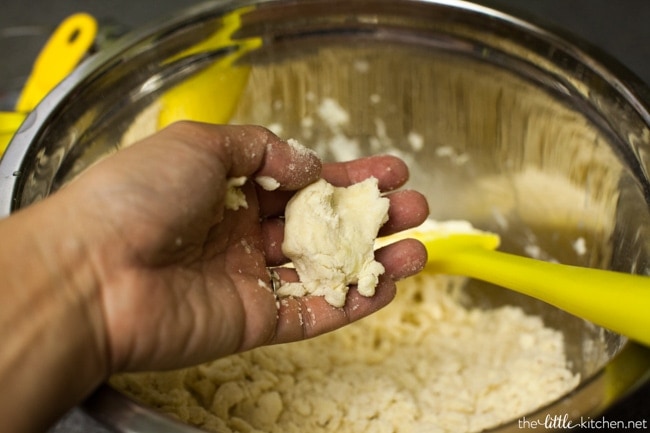 and if you're able to squish it into a ball and it holds together to form a dough, you have enough water. (If not, add more water and keep mixing.)
Split it in half and then use your hands to form two balls.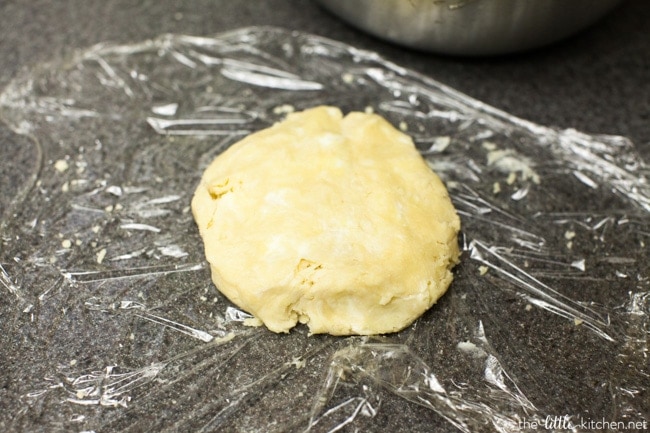 Flatten it out.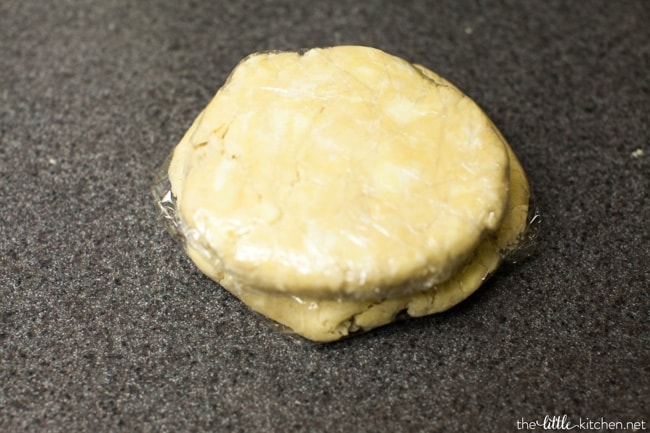 And then wrap with plastic wrap and then refrigerate for at least 45 minutes. (You can even refrigerate it overnight.)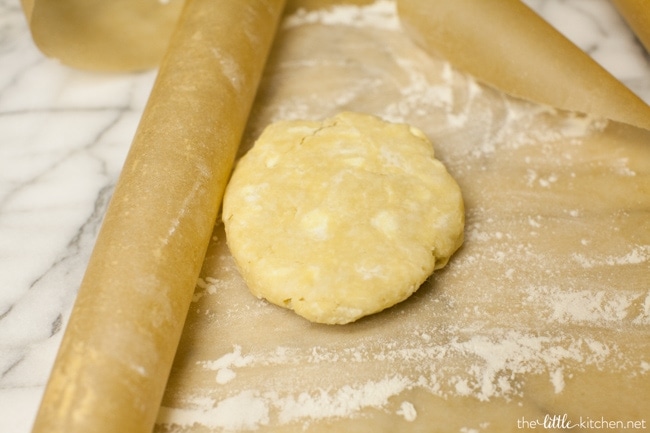 Take two pieces of parchment paper and add a little bit of flour to both sheets.
I want the dough to stay as cold as possible so I roll out the pie crust on my marble pastry board.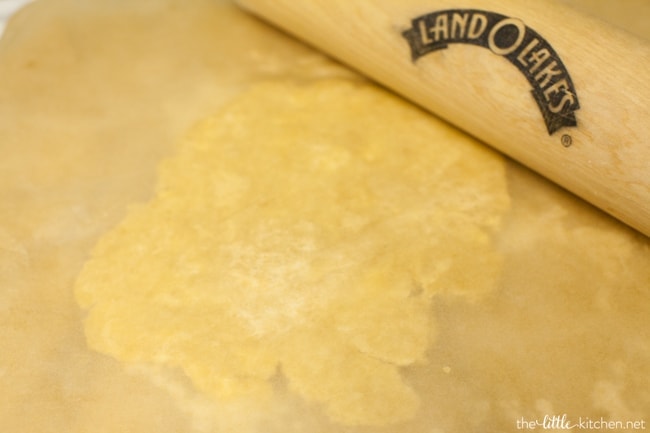 Place the dough in between the two sheets and roll with a rolling pin.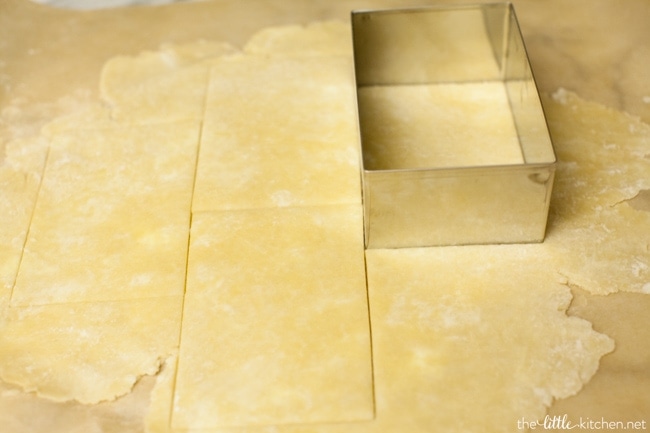 I used a ruler and a pizza cutter the first time I made this recipe. I then found a set of rectangular cutters online and found it's much easier…but either way works!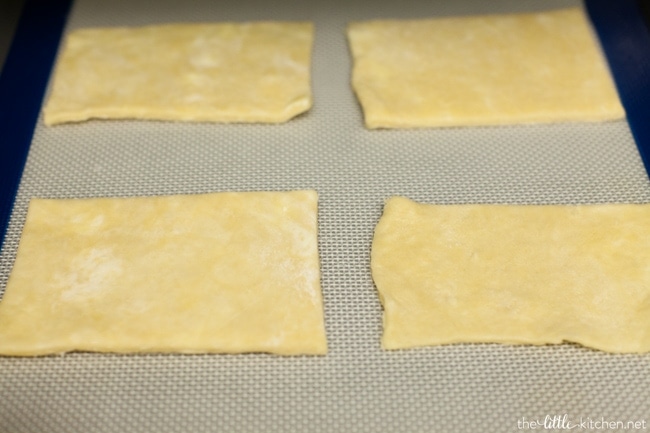 Cut out as many pieces with your first piece of dough and carefully place them on a baking sheet covered with a silicon baking mat or parchment paper.
Now put the baking sheet with the cut out pieces of pie crust in the refrigerator. This helps the dough from spreading a bunch…so make sure the dough stays cold.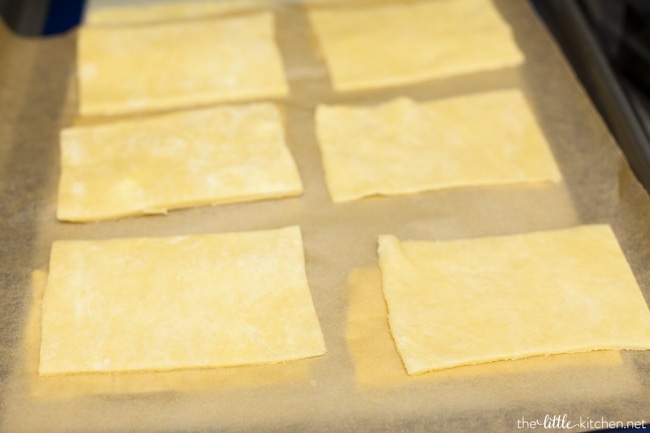 Roll the other piece of dough and put the rest of the pieces on a piece of parchment paper and put them in the fridge. Can you see that I just stacked it on top of the other ones?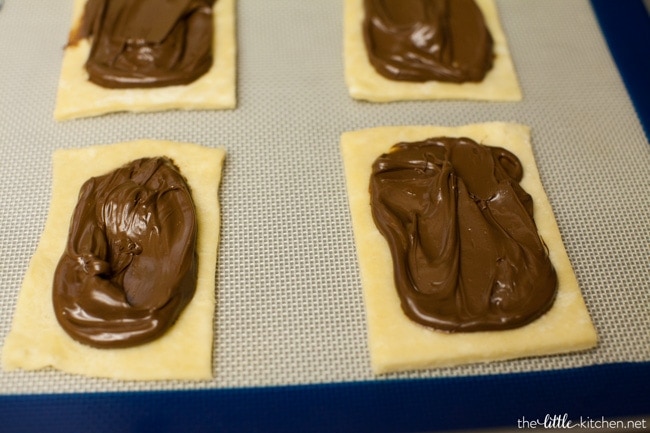 Now take your baking sheet with the bottoms of the hand pies out, leave the other sheet of pie crusts in the fridge.
Spread the chocolate hazelnut spread on the pie crusts, leaving a border.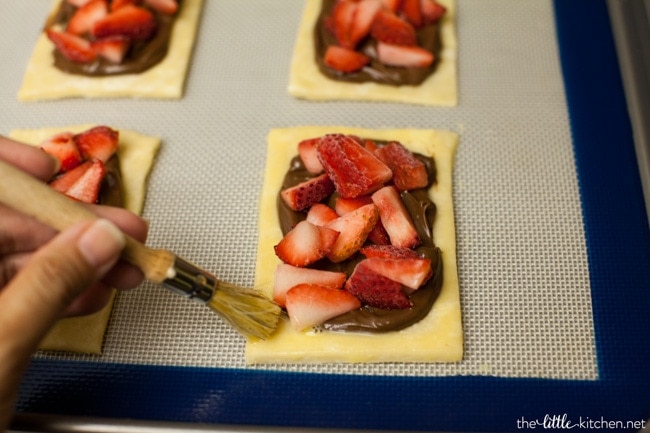 Add the frozen strawberry slices and then brush the egg wash on the edges.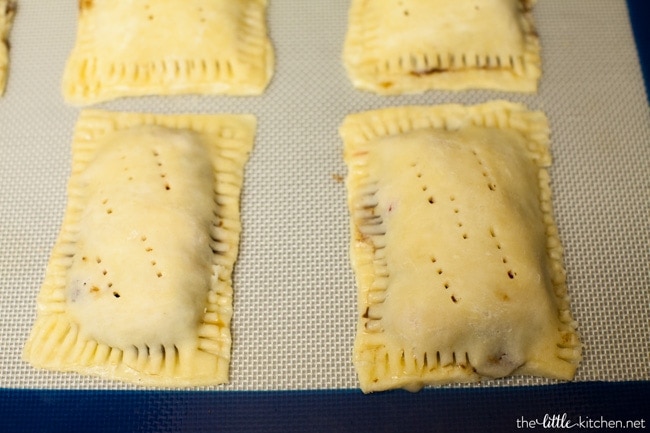 I put the pie crust tops on and then pinch down with your fingers to seal the pies. Then, use the ends of your fork tines to make indentations all the way down to further seal your pies.
I also poke the tops with my fork.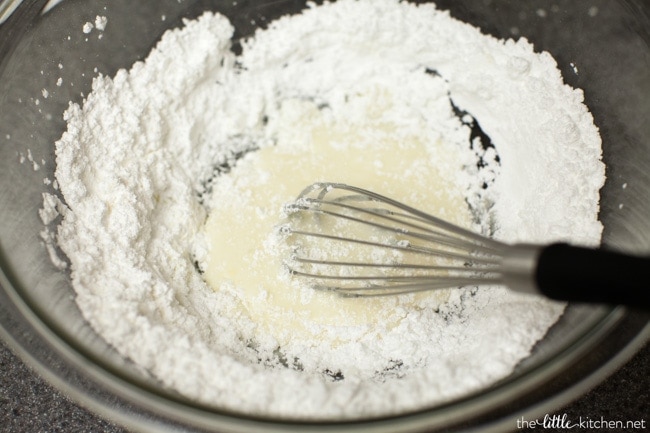 While the pies are baking, make your glaze. It takes only a minute to make.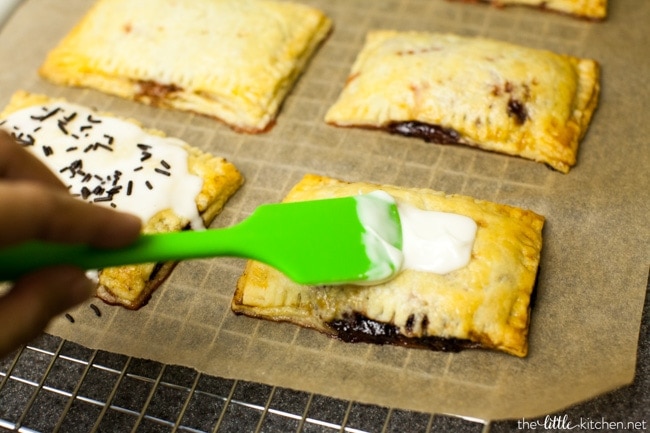 Let the pies cool. If you don't them cool all the way, the glaze will be a little translucent. If that doesn't matter to you, allow them to cool at least 5 to 10 minutes before spreading the glaze.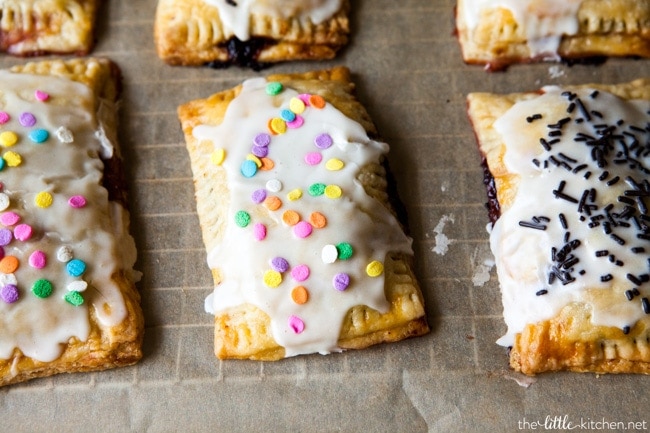 You can add sprinkles or sanding sugar.
I realized while I was making these they kind of resemble a certain breakfast pastry you might have enjoyed as a kid but I beg to differ, this all butter flakey pie crust and the fresh strawberries and chocolate put them on a different level!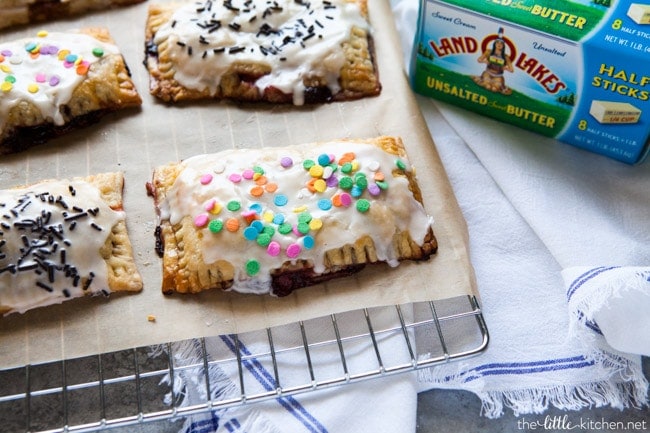 I couldn't stop eating these the first time I made them so when I made them again to test the recipe, I knew I had to share them with friends OR I would eat them all again! You'll totally enjoy these if you make them!
Recipe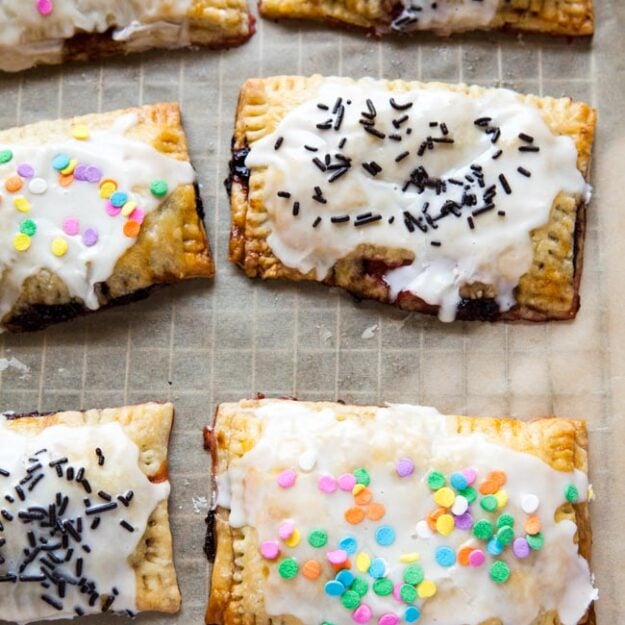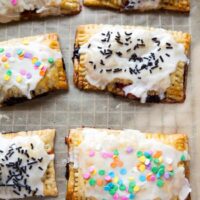 Print
Pin
Strawberry Chocolate Hand Pies
Ingredients
Pie Crust
3

Half Sticks

,

3/4 cup Land O Lakes® Unsalted Butter, cut into pieces and refrigerated for at least 15 minutes

1 3/4

cups

all-purpose flour

2

teaspoons

granulated sugar

1/2

teaspoon

salt

5 to 6

Tablespoons

ice water
Pie Filling
1/3

cup

chocolate hazelnut spread

,

such as Nutella®

2/3

cup

chopped and sliced thin fresh strawberries and then frozen

,

about 12 to 15 strawberries

1

large egg

,

beaten
Glaze Topping
1

cup

sifted powdered sugar

1/4

cup

heavy cream

1/4

teaspoon

pure vanilla extract

sprinkles or sanding sugar

,

optional
Instructions
Cut the butter into small cubes and refrigerate. You want the butter to be really cold. Cut up strawberries and place on a parchment lined baking sheet. Freeze the strawberries for at least 30 minutes.

Prep a baking sheet with a silicon mat or parchment paper. Set aside.

Mix flour, sugar and salt together in a bowl. Add butter and using a pastry blender or a fork, cut butter into the flour, until they pieces of butter in the flour, about the size of a pea.

Add ice cold water (just the water, no ice), a tablespoon at a time (about 4 to 5 tablespoons), mixing with a rubber spatula. Mix until dough starts to form (take some dough into your hands to , after adding a few tablespoons, you'll need to use your fingers. Add more water if the dough is too dry.

Take the dough and form two balls and flatten each one into a disk. Cover with plastic wrap and refrigerate at least 45 minutes.

Heat the oven to 400 degrees F.

Take one piece of dough out of the fridge at a time and place between two pieces of parchment paper (that you have lightly floured) and place on a smooth surface, preferably a marble slab or counter top. Roll the dough out into a rectangular shape, being sure that the dough is thin, about 1/16".

Cut out 4-inch by 3-inch rectangles (or use a rectangular cutter, I used one that's 4.5-inches by 3-inches), use a ruler and a pizza or pastry cutter to ensure an even cut.

Carefully place six of these pie crusts on the baking sheet you prepped earlier about 1 inch apart. (Place in the refrigerator as you cut them out so they can remain chilled before baking. This is key to keep the hand pies from spreading a ton when baking.)

Do the same with the other piece of dough, for the tops of the pies. (You might need to preroll the leftover pie dough to make enough pieces of pie crust.) Place the other six pieces of pie crust on a piece of parchment paper and put them in the fridge as well.

Mix egg with 1 tablespoon of cold water.

Spread 1 to 2 teaspoons Nutella to each of the six pieces of pie crust on the baking sheet, leaving a 1/2-inch border, then place 6 to 7 frozen strawberry slices (or whatever fits) and sprinkle sugar on top. Brush the edges of each piece of pie crust on all four sides with the egg wash.

Add another piece of cut out pie crust on top and use the tines of a fork to seal it together (pushing down all the way through both pieces of pie crust). Using the ends of the fork tines, stab through the tops of the pie crust 3 to 4 times.

Repeat until all of the pie crust is exhausted. Brush the tops of the hand pies with the egg wash.

Bake the hand pies for 22 to 25 minutes. Remove from oven and place the silicon baking mat or parchment paper on a cooling rack.

While the pies are baking, whisk the powdered sugar with the heavy cream and vanilla extract. Whisk together until you get a well mixed glaze.

Once pies have cooled for at least 5 to 10 minutes, pour or drizzle the glaze on top. Serve immediately or place in a tightly sealed container for 3 to 4 days.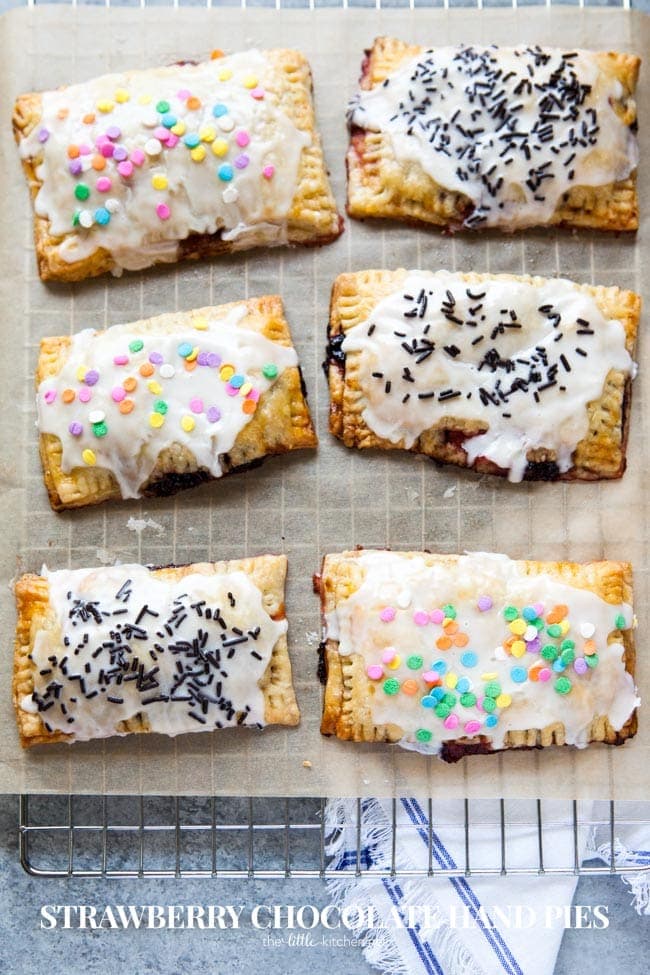 Disclosure: The Little Kitchen has partnered with Land O'Lakes for an exclusive endorsement of Land O Lakes® Butter. This blog post is sponsored by Land O'Lakes.