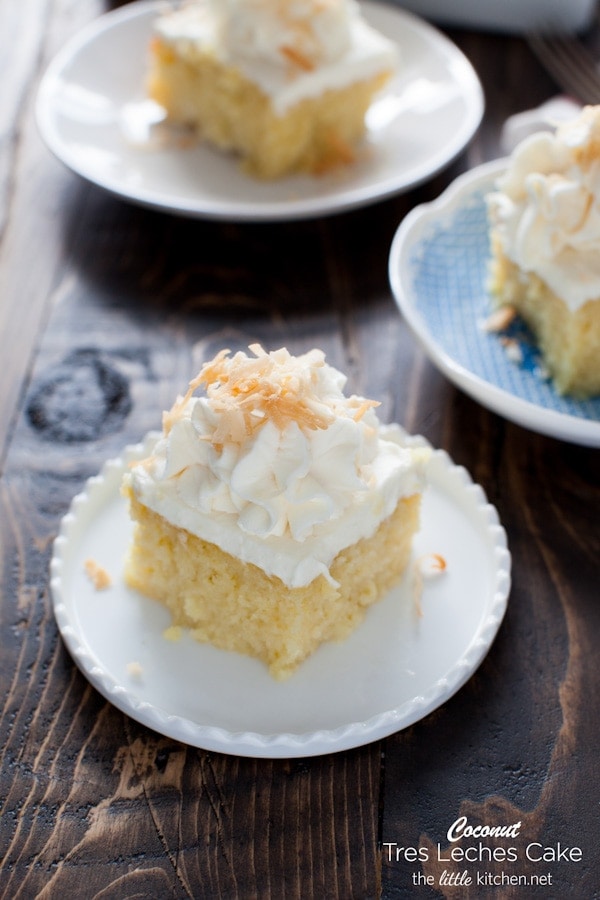 I love cake as much as the next person. But I never thought I could love a cake as much as this one.
Last month, I was invited to the Epcot® International Flower & Garden Festival at Walt Disney World. I have attended in the past and LOVE it. Full disclosure, we have WDW annual passes because we love it so much. I love sharing what we're seeing, doing and eating at Walt Disney World while we're there on instagram (check them all out by searching the #TLKDisney hashtag.)
I love the artistry that goes into the topiaries on display at the Flower & Garden Festival but even more I love the food at the outdoor kitchens Epcot has added the last few years. If you have ever attended the Food & Wine Festival at Epcot, it's similar but it's different, if that makes any sense. The food is different and the vibe is different. I love both events and you won't see me pass up a chance to go with friends…I love to share food so we can try even more!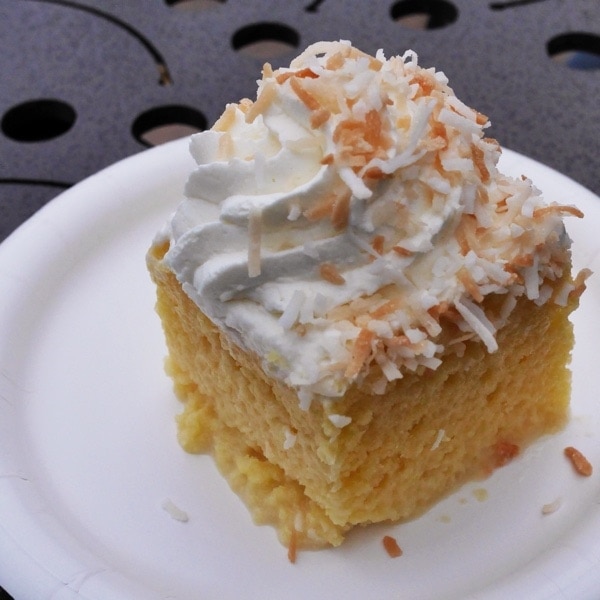 The cake…you can get it at the Botonas Botanico outdoor kitchen located between France and Morocco (at Epcot). Do me a favor and just buy two slices, you'll thank me!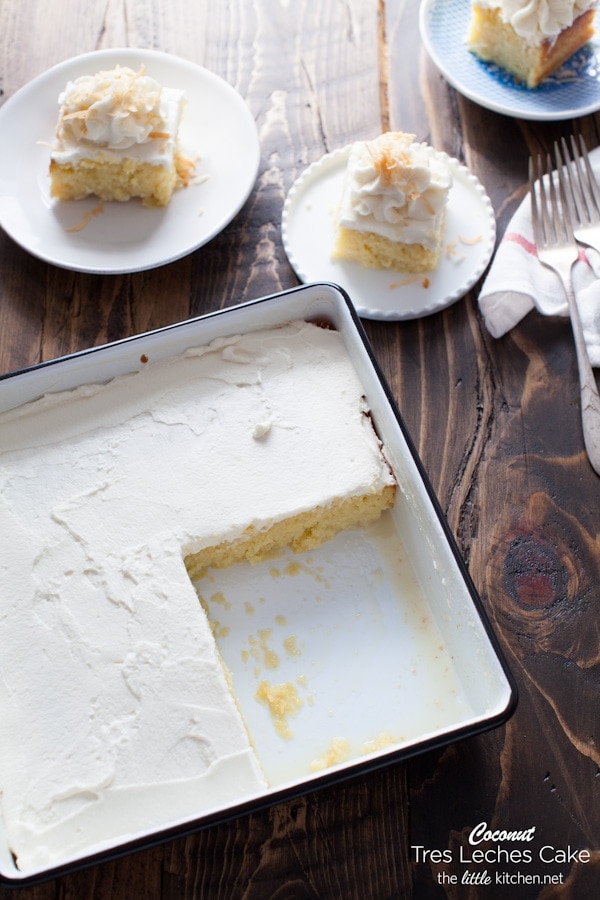 Of course I begged them for the recipe and the Walt Disney World gods smiled upon me (thank you, Jennie!). They shared the recipe…actually what I love about Walt Disney World is they share their recipes. If they have it available and it's been tested by a Chef, they will share it. Isn't that awesome?
This Taco al Pastor (corn tortilla filled with achiote marinated pork, garnished with grilled diced pineapple, onions cilantro & salsa verde).
Unreal…I could have eaten three of these. Get this at Jardin de Fiestas in Mexico.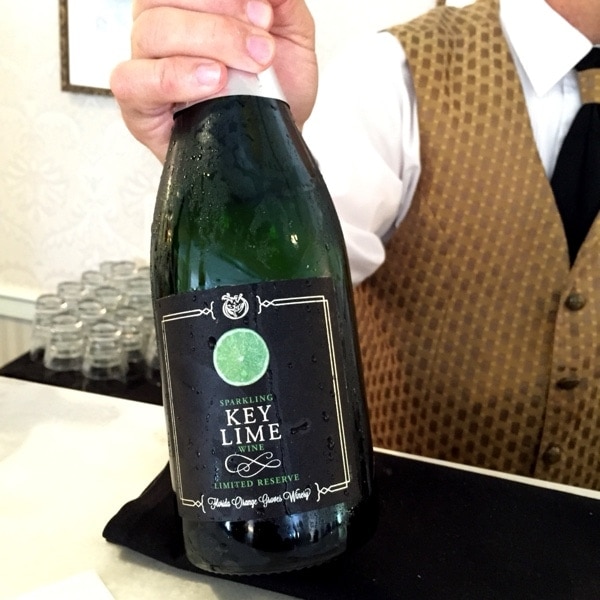 And loved this Key Lime Sparkling wine…made in Florida, of course! Get this at the Florida Fresh outdoor kitchen in Germany.
And the flowers and the plants…this one has to be my absolute favorite because Cinderella is my favorite Disney princess!
And such a nice touch, they are dancing under the clock!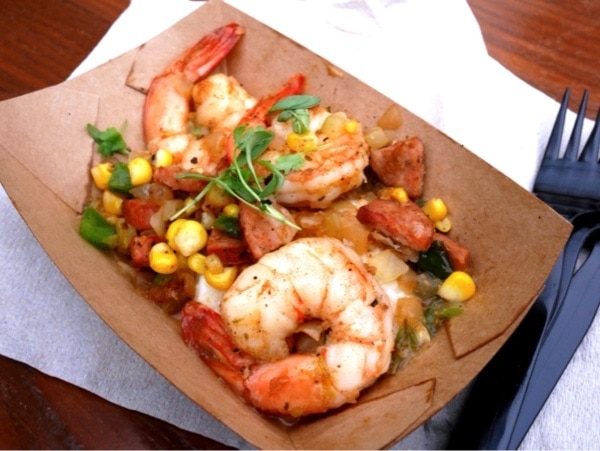 Shrimp & Grits (this was one of my favorites last year too) with Andouille Sausage, Sweet Corn, Tomatoes and Cilantro. You can get it at Florida Fresh in Germany.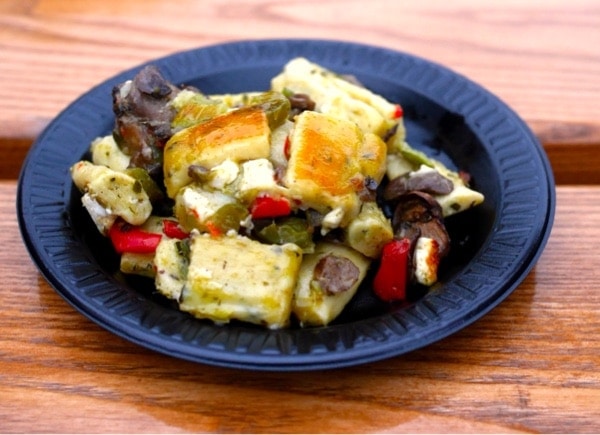 Parisian-style dumplings with veggies and mushrooms (gnocchi but Parisian style!) at Fleur de Lys in France.
Loved these…so different than the gnocchi we're used to and the goat cheese, yes!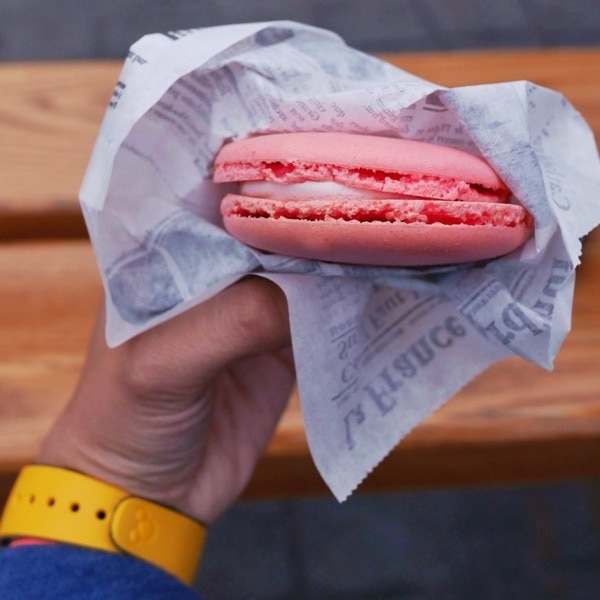 Strawberry Marshmallow!! Macaron at Fleur de Lys in France.
And yes this mac is huge and amazing. I want one right now!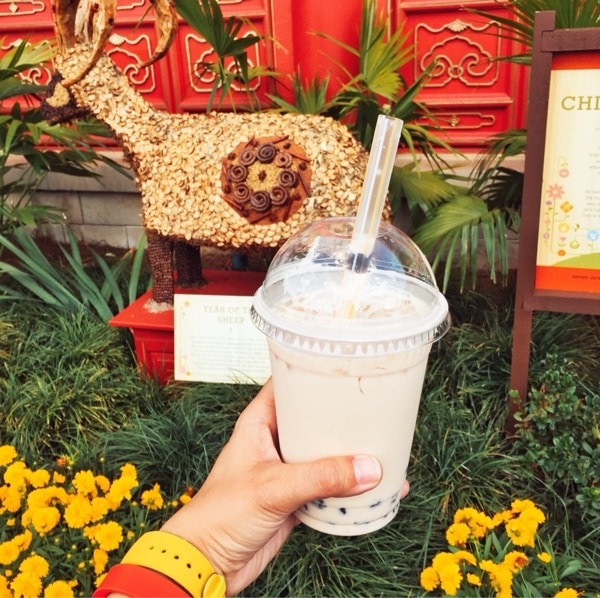 Oolong Peach Bubble Tea at Lotus House in China. I get this every. single. time. I attend the festival. Addicted to boba/bubble tea.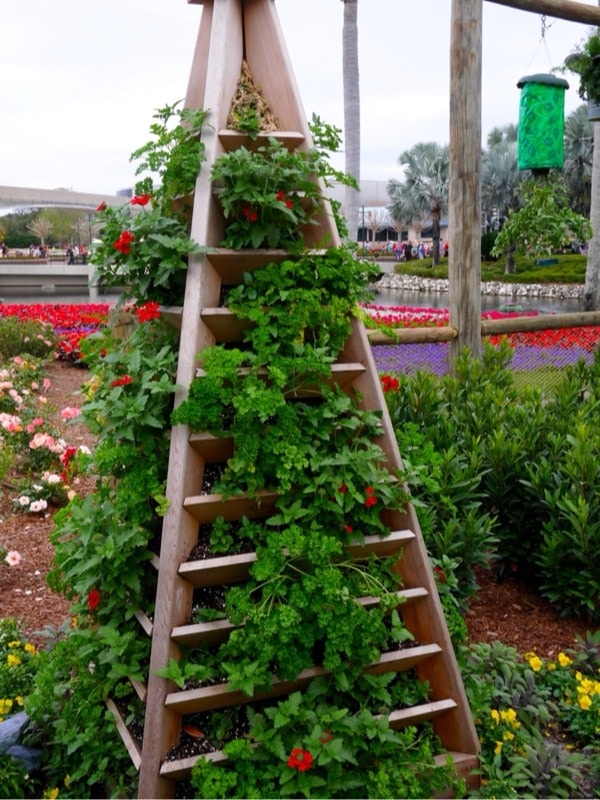 And all of the gardens…are a can't miss. They are so many clever ways they plant herbs, flowers and fruit…it's pretty awesome.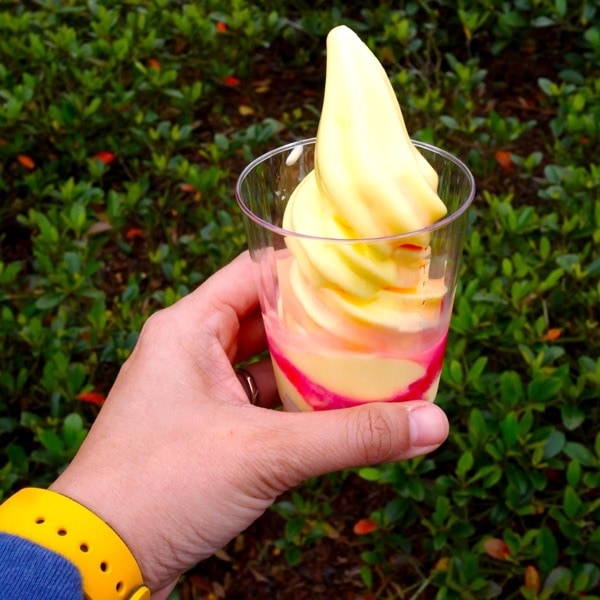 Pineapple soft serve (think Dole Whip) with Macadamia Nut Flavored Rum at the Pineapple Promenade (World Showcase Promenade).
Seriously amazing…and the hot days we have been having, this is perfect!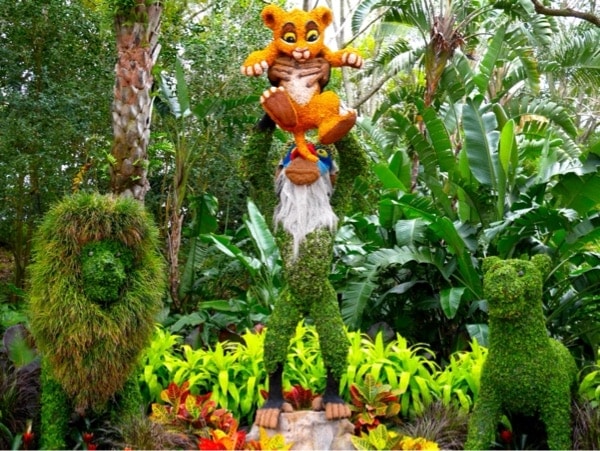 So cute, right?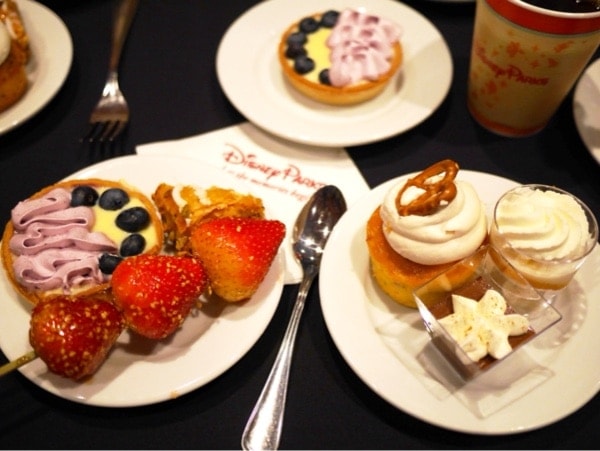 At the end of the day, we had even more dessert. Ohhh, get the candied strawberries in China!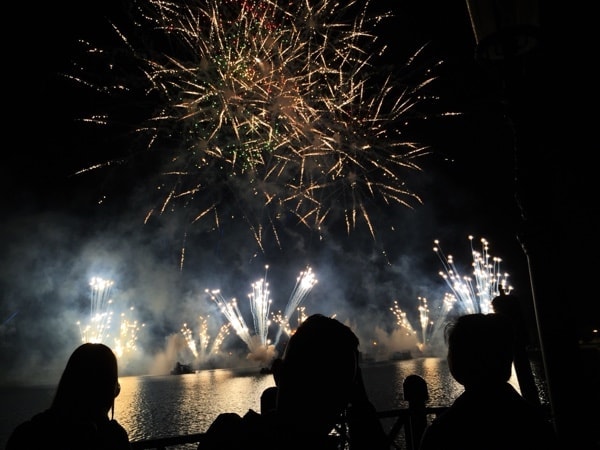 And enjoyed a concert by the Gin Blossoms and then fireworks at the Illuminations show. I love it…it never gets old watching this wonderful show!
Other bonus items to get: the chocolate croissant at the bakery in France. I like to buy two of these and we enjoy these for breakfast the day after our Disney trip!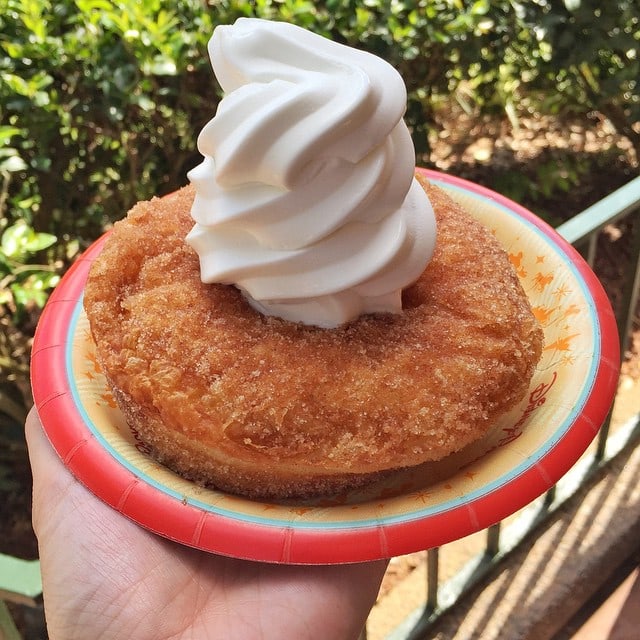 The croissant doughnut with vanilla ice cream at the Refreshment Port near the World Showcase. MUST. GET.
And Elsa and Anna all lit up on our way out of Epcot. The food, the sights and sounds at the Epcot Flower & Garden Festival make it a can't miss event. Add it to your list!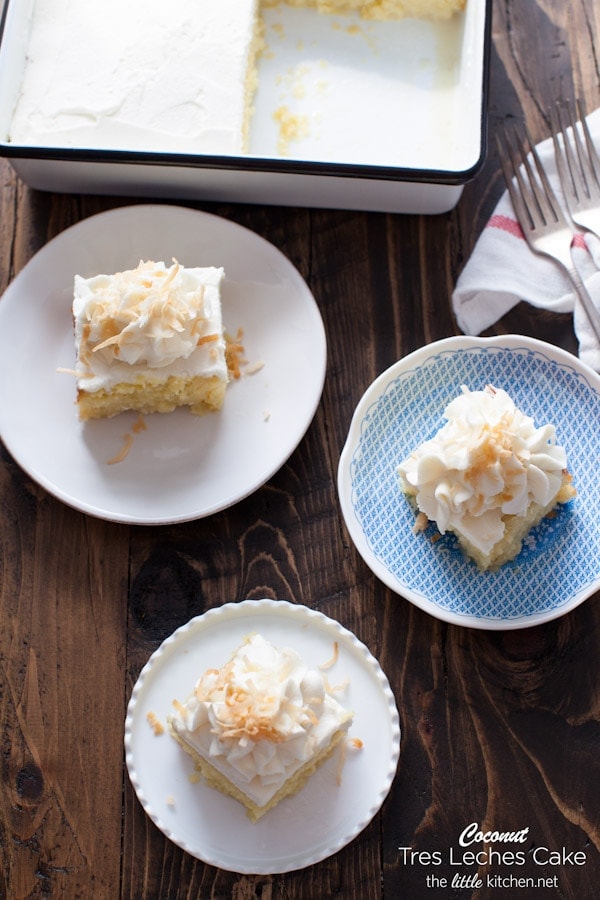 Now back to the cake…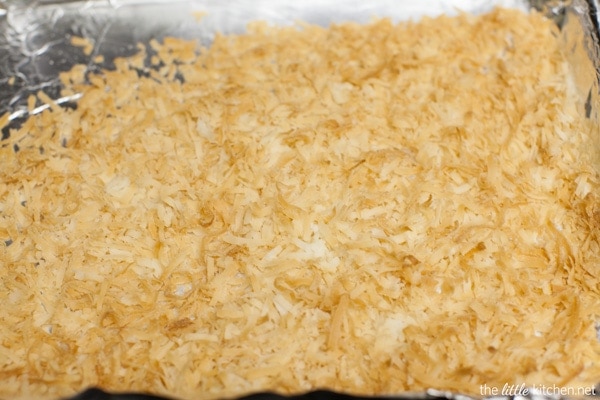 This is completely optional and I don't do this every time I make this cake but it makes for a pretty and flavorful presentation. You can toast coconut in the oven easily…see notes for the instructions.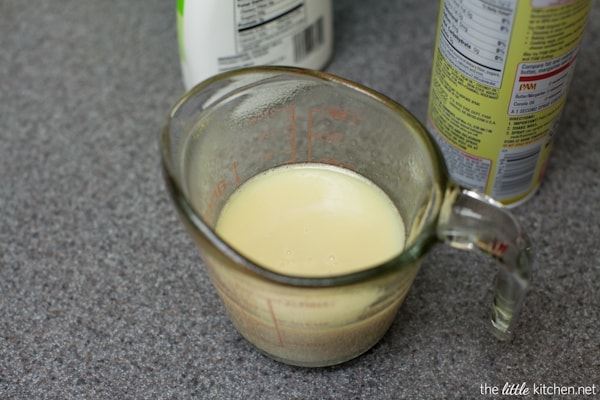 Next, I usually make the three milks soaker. Let set it aside and allow it to cool.
Spray your measuring cup with nonstick cooking spray so the sweetened condensed milk doesn't stick!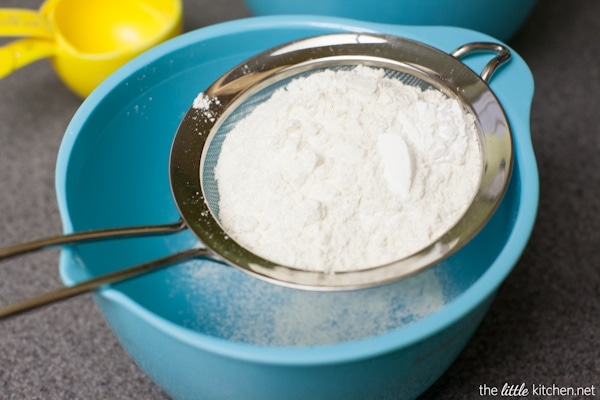 Sift the flour and the baking powder into a medium-sized mixing bowl.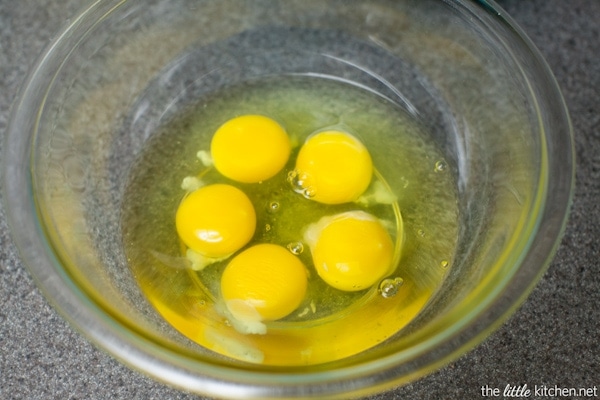 FIVE eggs…I know that seems like a lot but this cake is perfect.
5 times out of 10, I get egg shells in my batter…so alleviate this by cracking your eggs into a separate bowl.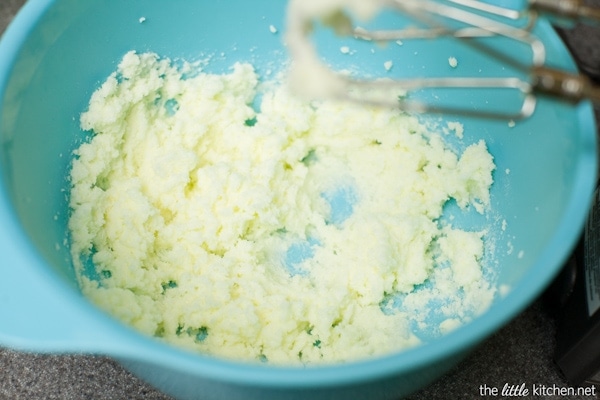 Cream the butter and the sugar. It's nice and fluffy.
Add the eggs, vanilla extract and the whole milk. The milk was my addition to this recipe to make the cake a little bit more moist.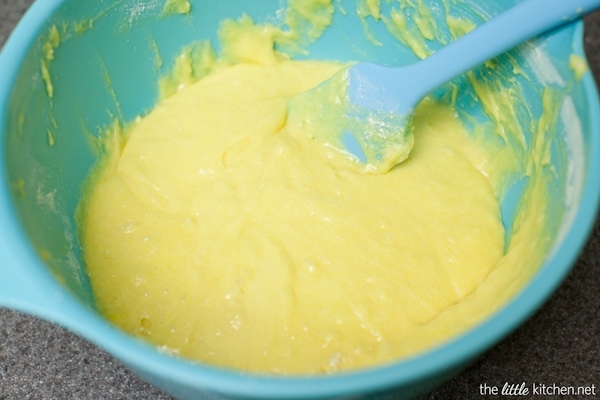 Mix it all together and put into your prepped baking pan. I really like baking this cake in an enamel baking dish.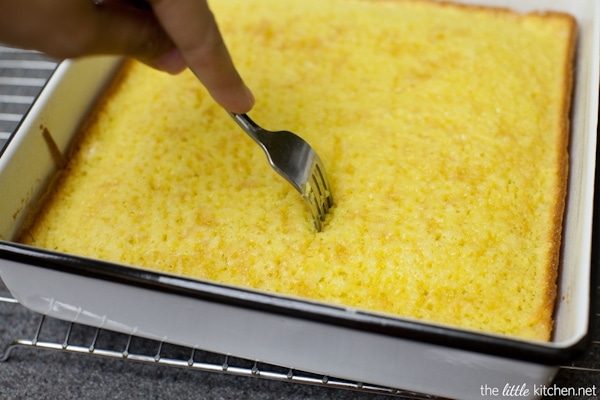 After your cake has cooled, stab it a bunch of times 🙂 with a fork. I go row by row.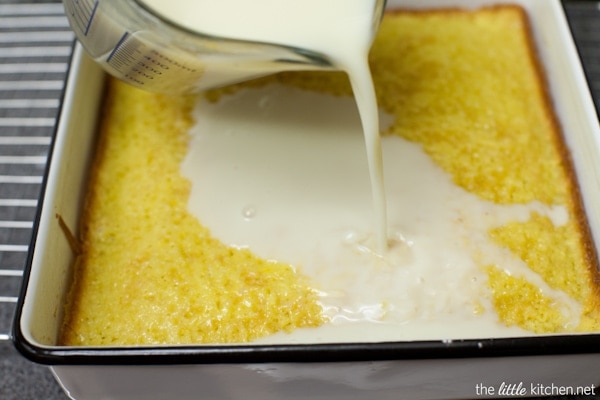 Slowly pour in the three milks/soaker mixture about 1/4 of the liquid at a time. Allow it to absorb and use a rubber spatula to spread it too, if you wish.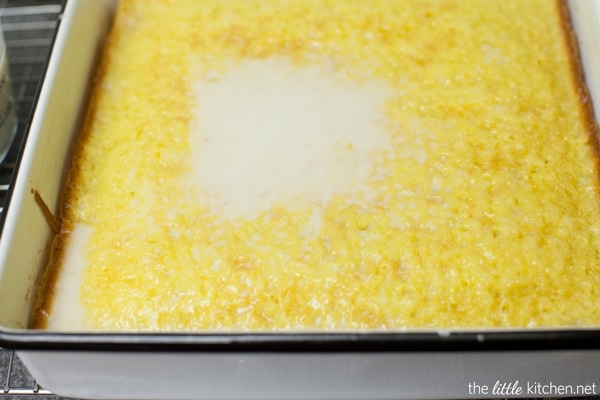 Ahh that's perfect. Let the cake sit on the counter for 45 minutes. You want it to get a good soaking. Then put it in the refrigerator for at least an hour.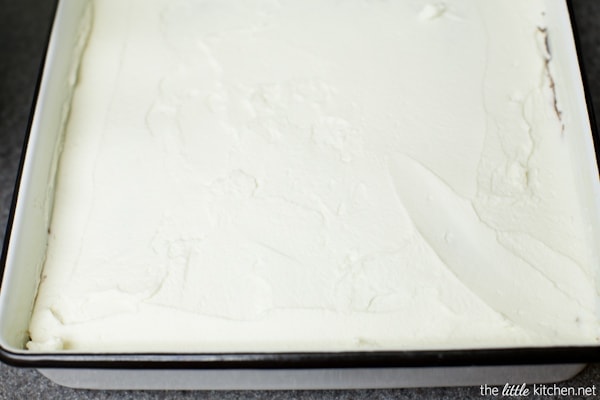 While the cake is in the fridge, I make the whipped cream. Frost the cake and cut and serve.
Umm, yes, please. I do have to fess up and say that I had this cake for breakfast last week and it was amazing of course. I have made this cake three times and will be making it tons more in the future.
If you don't want to make it, just go to the Flower & Garden Festival before it ends on May 17th! 🙂
Recipe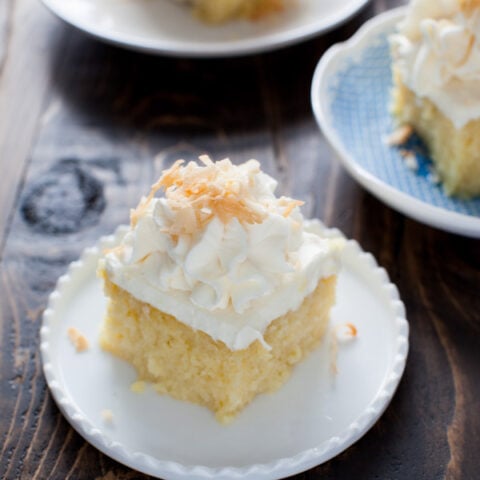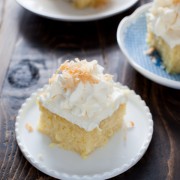 Print
Pin
Save
Coconut Tres Leches Cake Recipe
Servings
8
or 16 square cake slices (depending on how you cut the cake)
Ingredients
Vanilla Cake
nonstick baking spray

1 1/2

cups

unbleached all-purpose flour

1

teaspoon

baking powder

1/2

cup

unsalted butter

,

1 stick, softened

1

cup

granulated sugar

5

large eggs

1/2

teaspoon

pure vanilla extract

2

Tablespoons

whole milk
Soaker
1

cup

cream of coconut

,

see note below

1/2

cup

sweetened condensed milk

3/4

cup

whole milk

1/4

cup

coconut rum
Whipped Cream
2

cups

heavy cream

1

cup

powdered sugar

1

teaspoon

vanilla extract
To Assemble
1

cup

sweetened coconut flakes

,

toasted (optional, see notes on how to toast coconut)
Instructions
For soaker (Prepare before baking the cake or while it's in the oven.)

In a medium saucepan, add cream of coconut, sweetened condensed milk, whole milk and coconut rum.

Mix well and cook over medium heat, 8-10 minutes. (Do not bring to a boil.)

Set aside to cool.
For vanilla cake
Heat oven to 350 degrees F. Spray a 9-inch square pan with nonstick baking spray on the inside bottom and all sides sparingly. Set aside.

Using a strainer or a sifter, sift flour and baking powder together in a medium-sized mixing bowl. Set aside.

Add butter and sugar to a large mixing bowl. Cream butter and sugar using an electric hand mixer, until fluffy, about one minute.

Add eggs, vanilla extract and milk to creamed butter mixture. Beat 1-2 minutes, until well mixed.

Add the flour mixture in batches, about 1/3 at a time. Mix until blended with a rubber spatula, but don't overmix.

Pour batter into prepared pan and level out the top with your spatula.

Bake for 20 to 25 minutes at 350 degrees F, until a toothpick inserted in the center comes out clean.

Remove cake from the oven and place on a cooling rack. Cool the cake for at least 30 minutes to an hour.
For whipped cream
Add heavy cream, powdered sugar, and vanilla to a large mixing bowl.

Whip using an electric hand mixer, 6-7 minutes, until soft peaks form.
To assemble:
Poke holes all over the cake with a fork.

Slowly pour the cooled milk soaker mixture about 1/4 of the mixture at a time, allowing the soaker to be absorbed each time. You can use a rubber spatula to spread it and gently push the soaker into the cake. Repeat until finished.

Allow the cake to sit and absorb the soaker for 45 minutes to an hour (on your counter).

Cover cake with plastic wrap and refrigerate cake for at least one hour. Remove and frost with whipped cream as desired. Top with toasted coconut (optional). The cake is now ready to serve. Be sure to refrigerate any leftover cake.
Notes:
Pay attention closely when buying the cream of coconut, it's different from coconut milk (and even coconut cream) and is thicker. If it's hard for you to find cream of coconut, you can use coconut milk but use 1 1/2 cups coconut milk and you may not use all of the liquid for the soaker.

To toast the coconut (serving it with coconut flakes and/or toasting them is completely optional): Heat the oven to 350°F. Spread coconut evenly on a foil-lined cookie sheet. Bake for 10 to 11 minutes or until light golden brown, stirring halfway through.

Refrigerate any leftovers and it will last about 5 to 6 days in the fridge. Let it rest on the counter for about 10 minutes before serving though.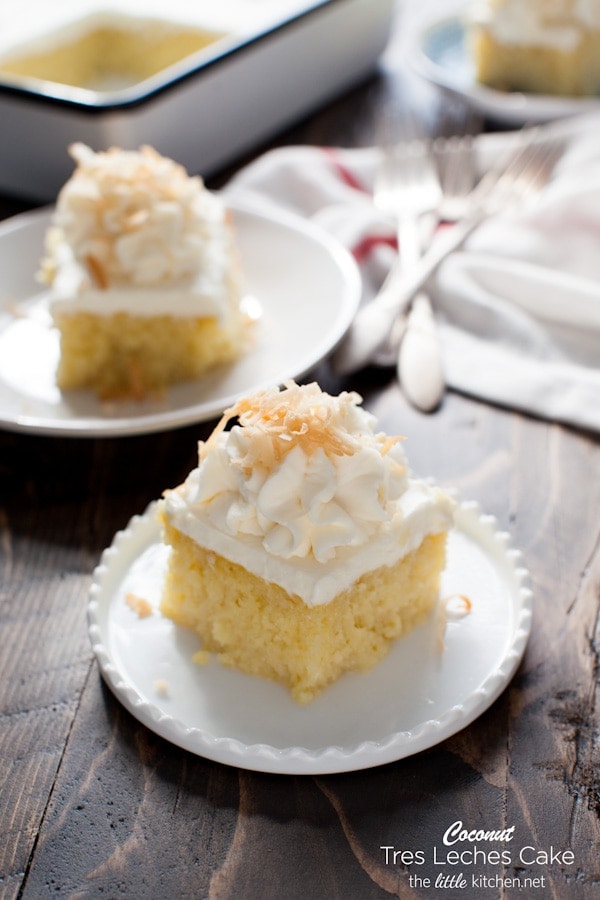 // Disclosure: Thank you to Walt Disney World for inviting me to the press event for the Epcot Flower & Garden Festival. All opinions are my own and I only share with you what I love! I'm also an annual passholder (which we pay for ourselves) and love to share every time we go! //