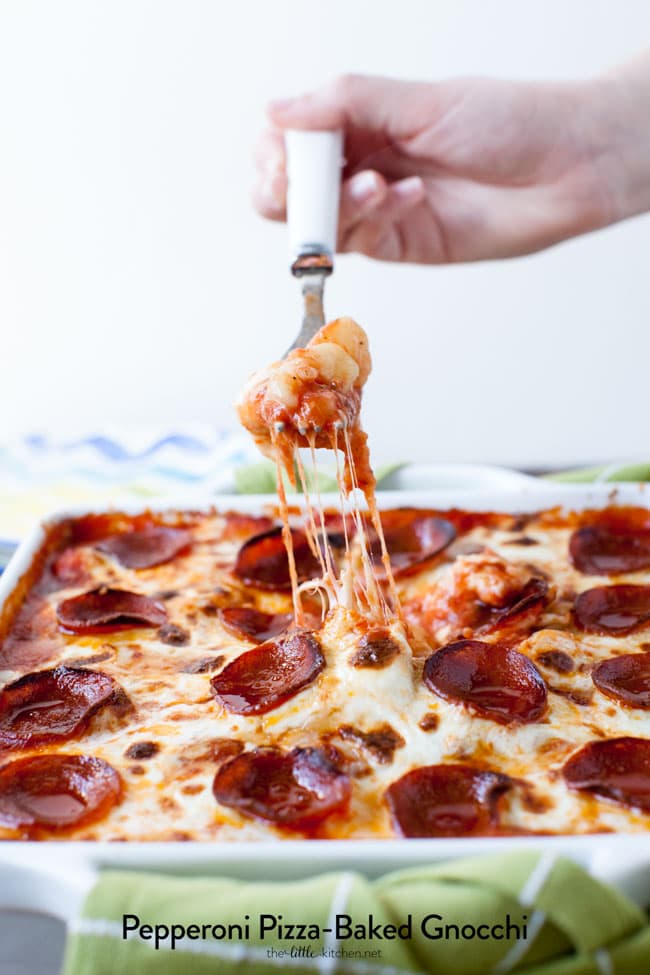 I'm excited to be partnering with Tuttorosso Tomatoes to bring you this post and recipe.
Oooey gooey cheese and the sauce…that's what makes a good pizza, right? When I came up with the idea for this recipe…I didn't know if it was going to call it. It doesn't taste like a pizza…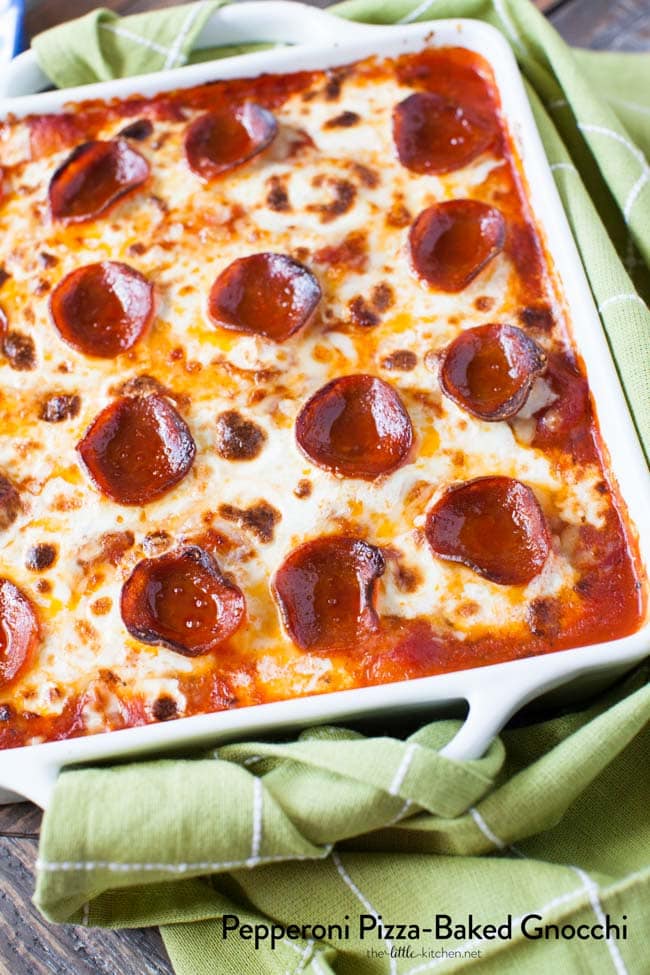 But it looks like one right? Disclaimer: No it doesn't taste like pizza but it's ooey gooey cheesiness, the sauce is amazing and the pepperonis so I'm allowed to call it pizza-baked right?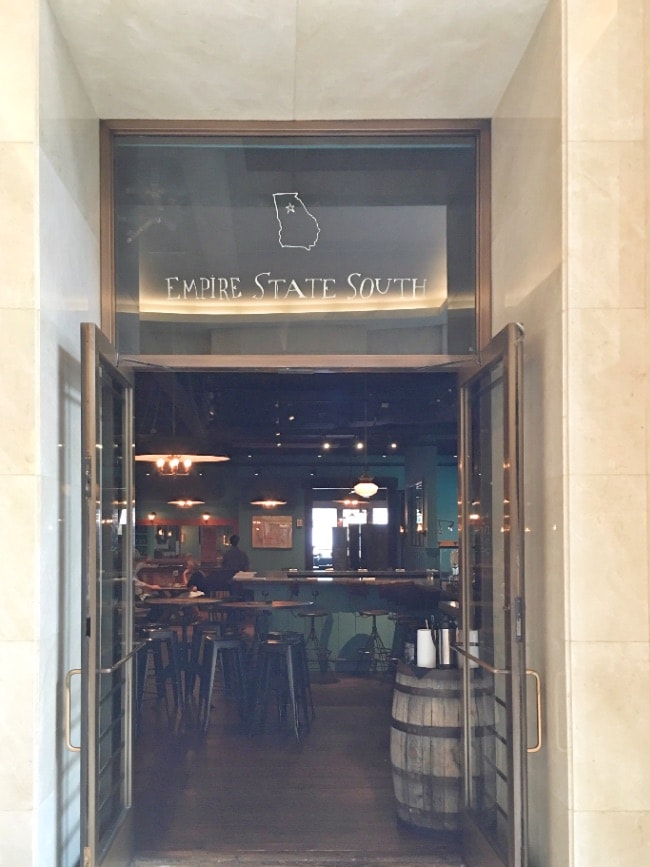 Recently, I returned to Atlanta (one of my favorite cities and I mean that!) to attend a tasting event at Empire State South in midtown Atlanta sponsored by Tuttorosso Tomatoes.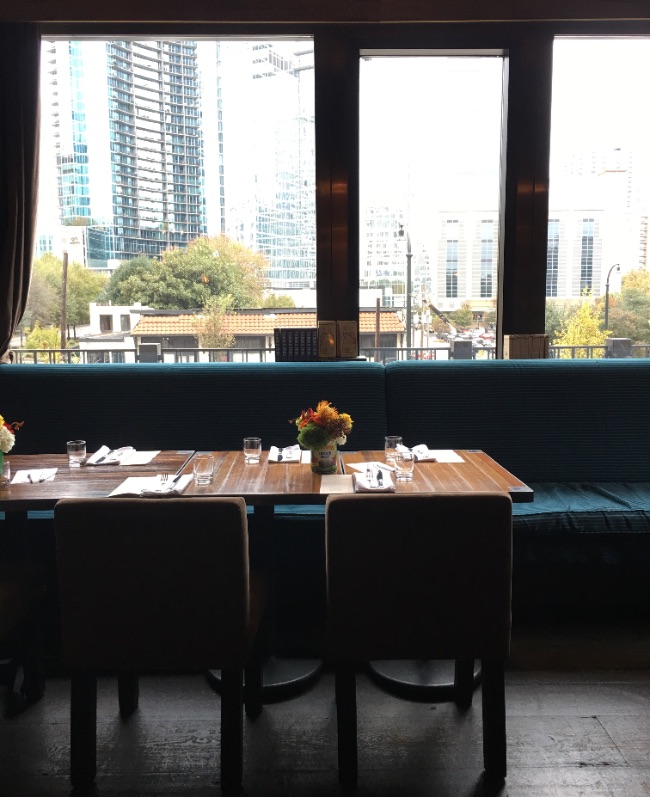 I can't get enough of this place. The food is always amazing and Chef Hugh Acheson is always hilarious!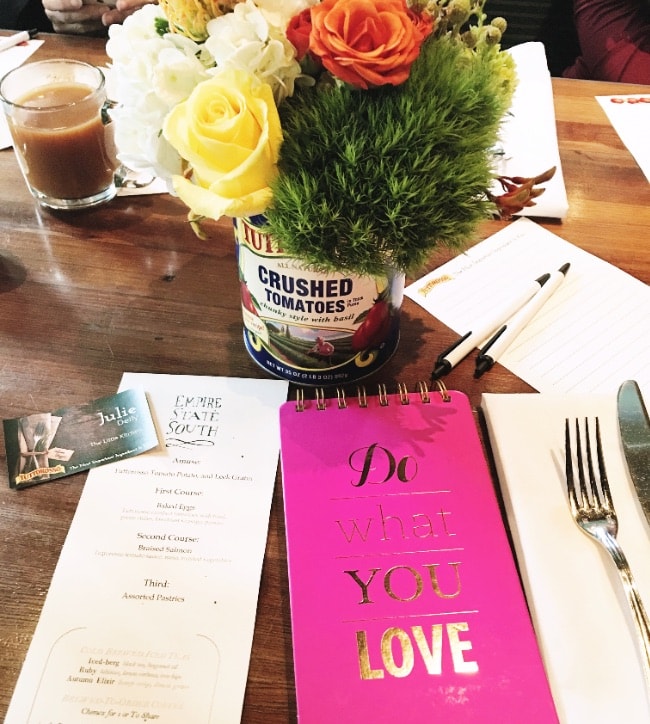 I feel very fortunate that I get to do what I love, friends. You all make it possible. Thank you for your support!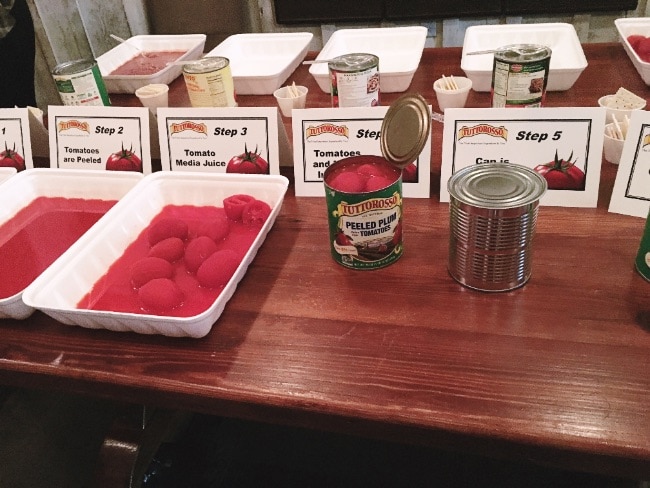 We tasted tomatoes…have you tasted them from the can before? You should do it sometime, it will be eye-opening for you!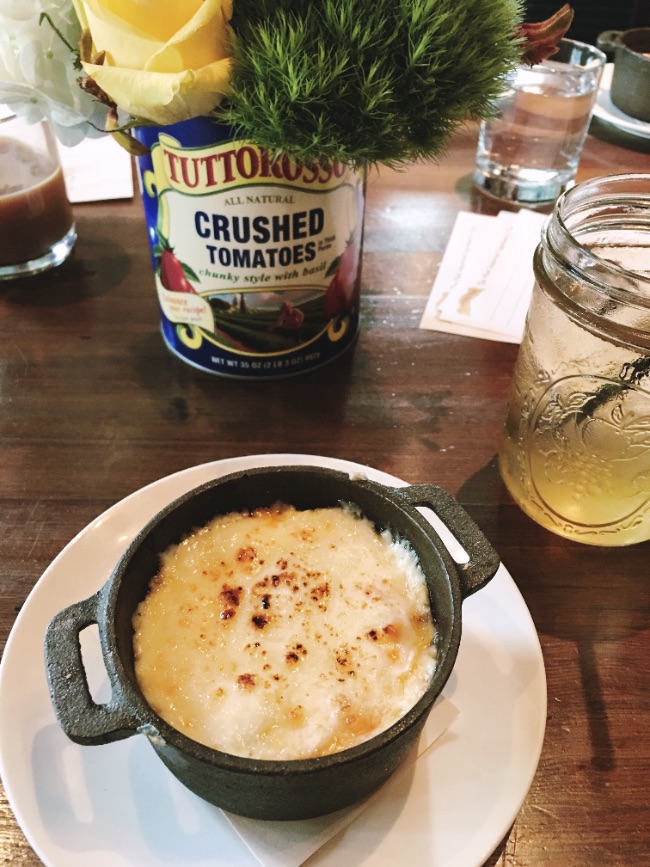 These baked eggs with crushed tomatoes were amazing, this is on my list to try to make at home!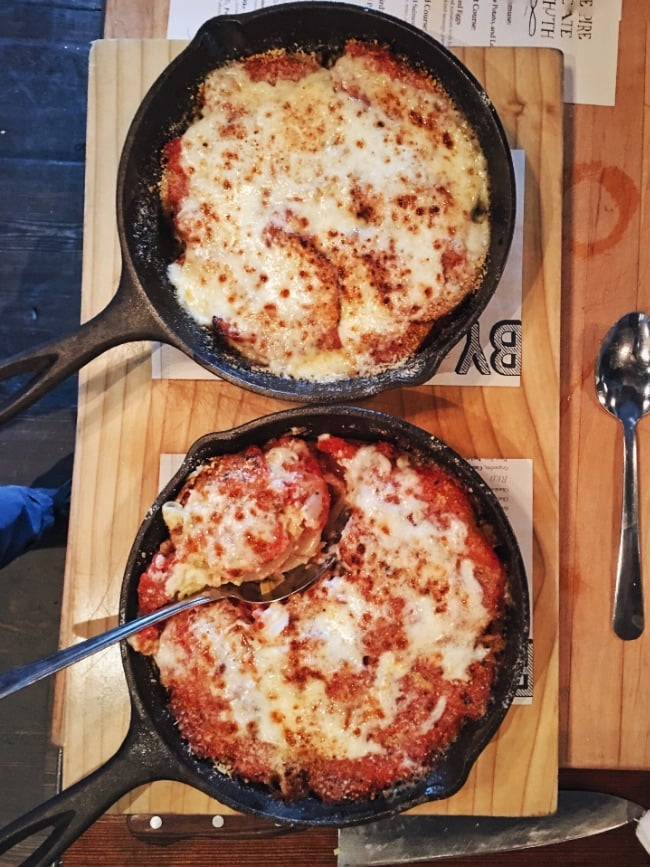 Chef Hugh demoed this recipe for us…Tomato, Potato and Leek Gratin…it was so good! I made it once at home already!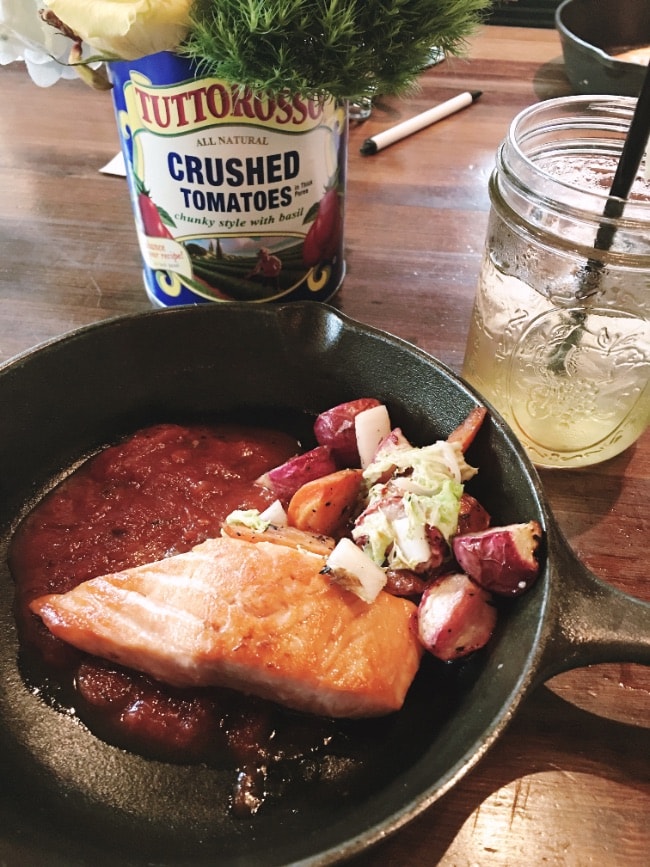 And this recipe…it's sheer genius…a braised salmon in a Tuttorosso tomato sauce miso and roasted vegetables. The miso added another dimension to the tomatoes…I'm totally going to experiment with these flavors more!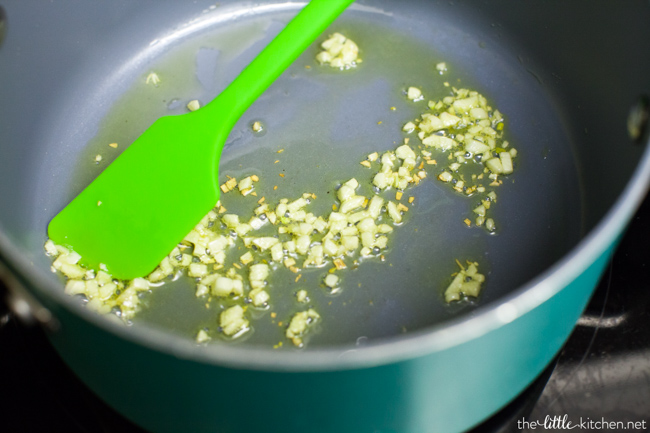 And now to the baked gnocchi! First cook the garlic in olive oil for a few minutes.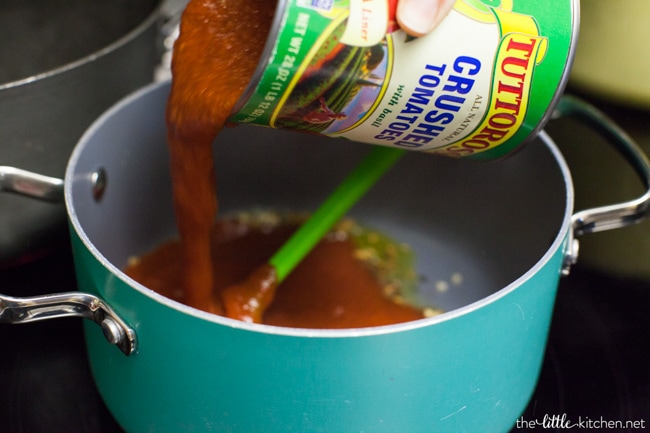 Add the Tuttorosso crushed tomatoes with basil. You can use the regular ones or the no salt tomatoes. I made this recipe with both!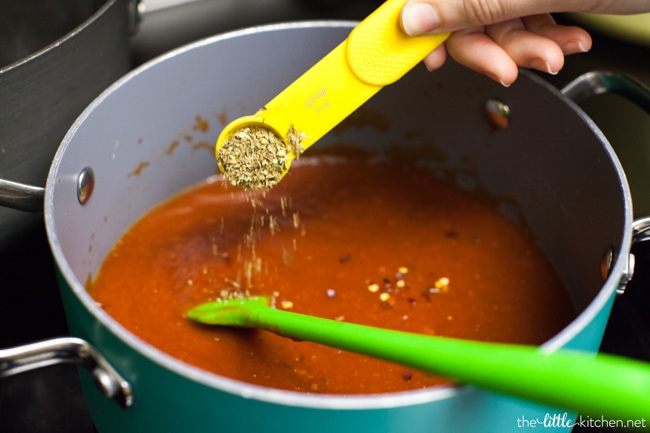 Add the dried oregano, dried thyme, salt, pepper and crushed red pepper.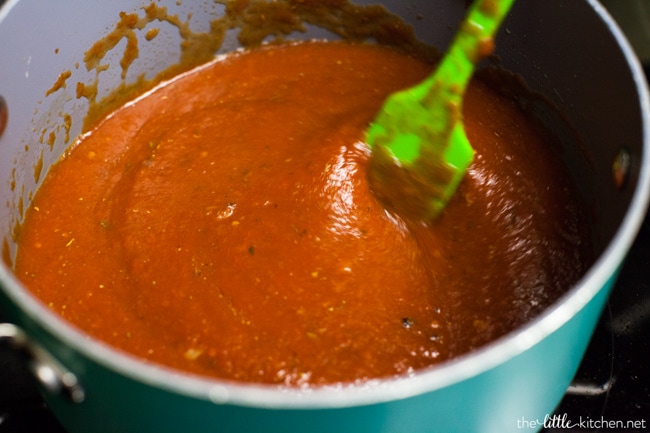 Cook the sauce for 8 minutes.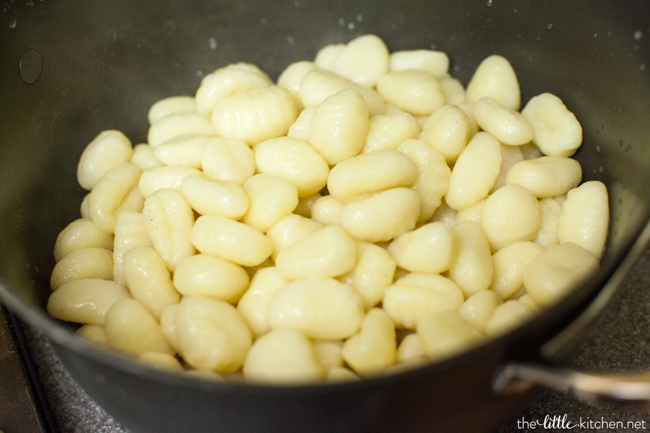 Cook the gnocchi while the sauce is going. You can also use pasta if you don't have any gnocchi available.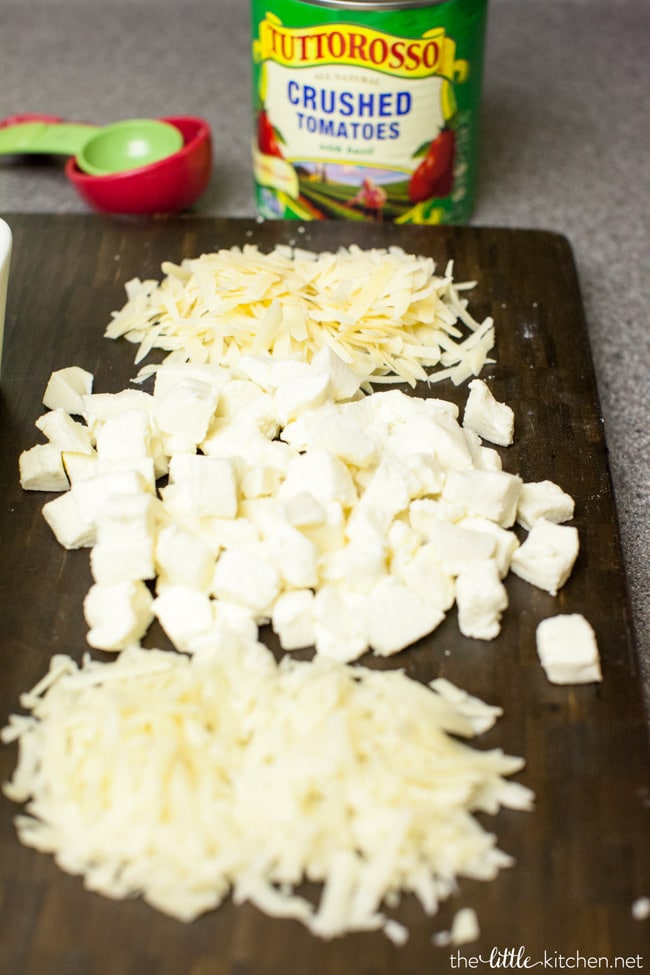 Grate the cheese and get ready!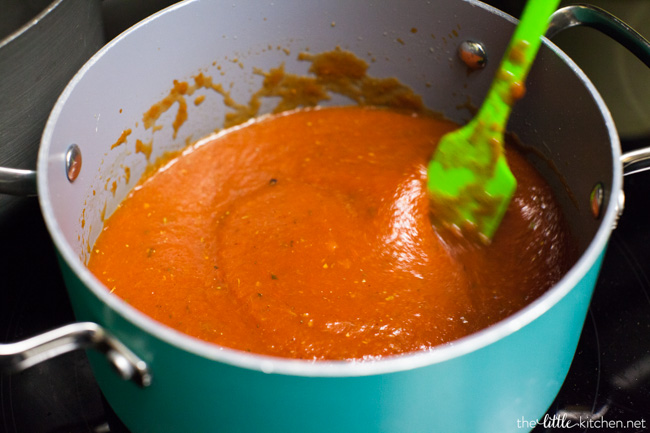 Once the sauce is all done.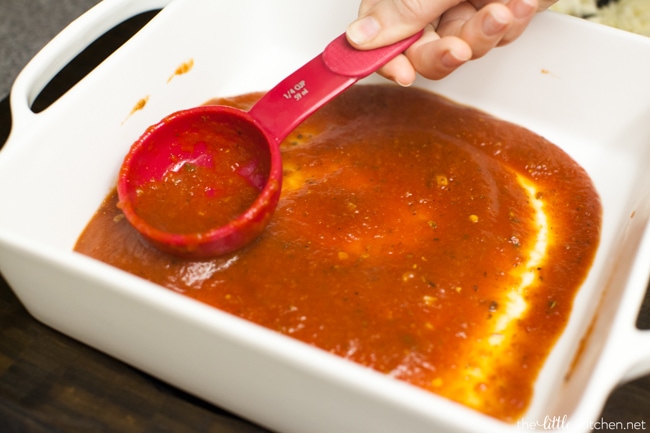 Spread 1/2 cup at the bottom of an 8-inch square baking dish. I love this baking dish so much…I use it so much!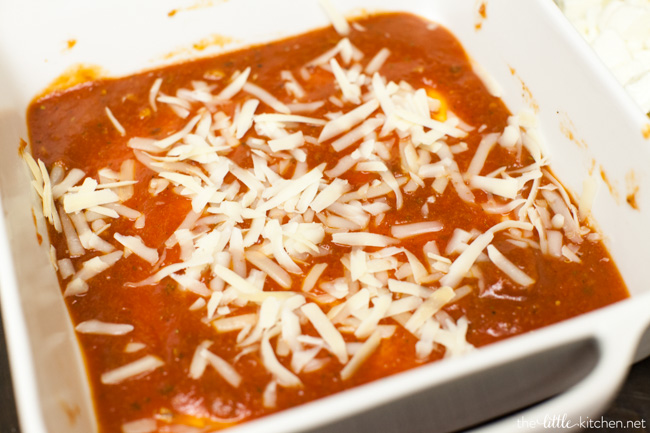 Add 2 tablespoons each of the swiss and the parmesan cheese.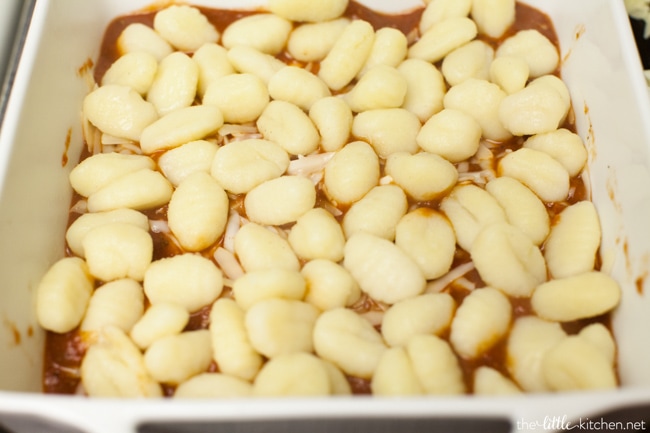 Then, add half of the gnocchi…spread evenly across the dish.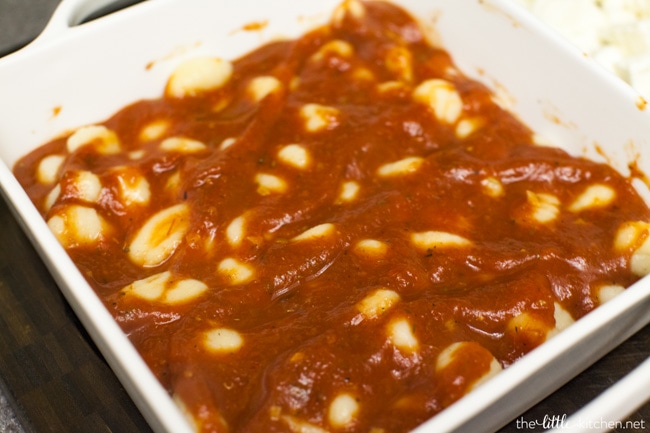 And then add half of the remaining sauce.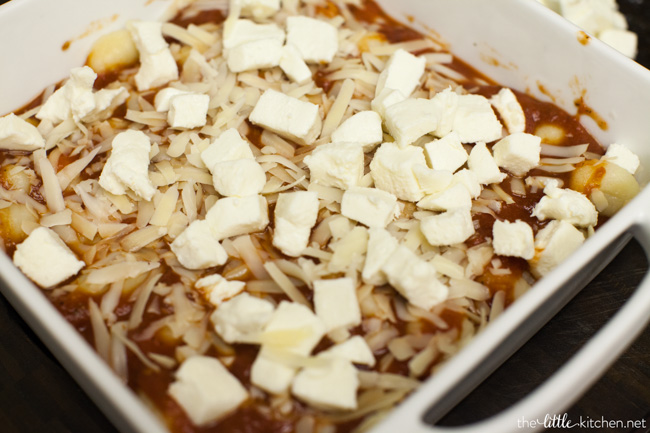 Then, add 1/4 cup of both of the swiss and parmesan cheeses and half of the mozzarella cheese…I love layering the cheeses. This is how we get the ooey gooey cheese!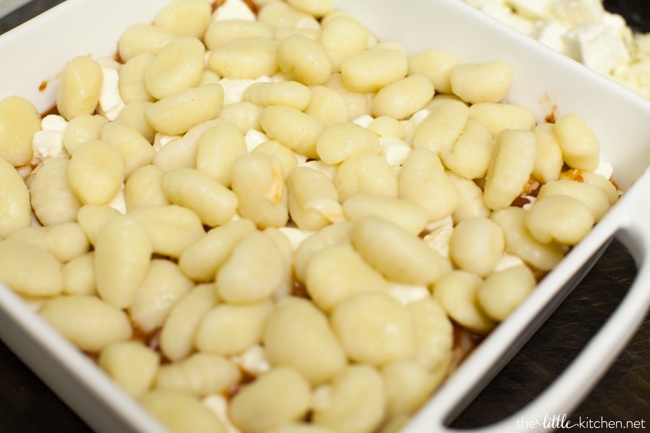 And then the rest of the gnocchi.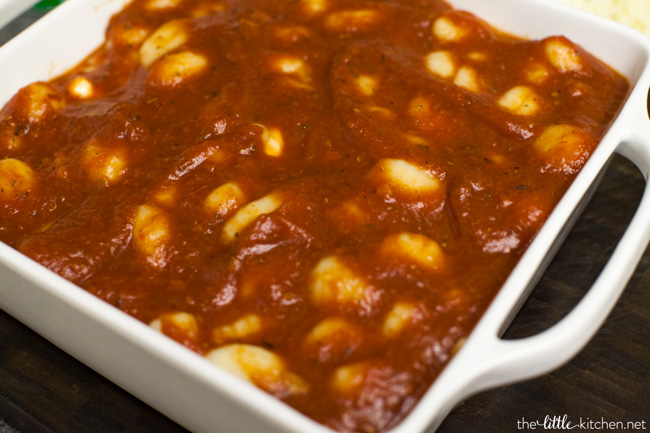 And then the rest of that gorgeous sauce!
And the rest of the cheese.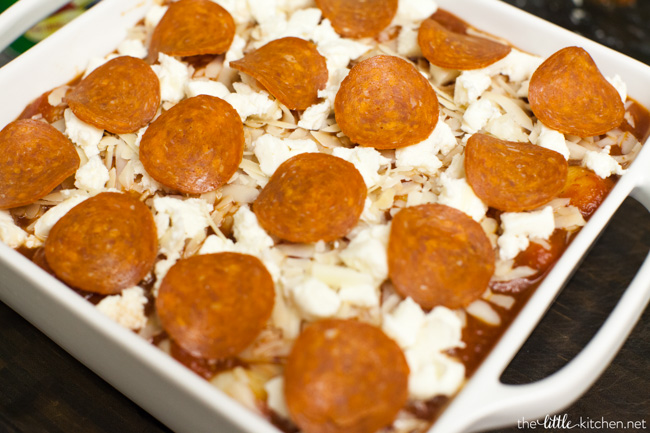 Top with 16 mini pepperonis…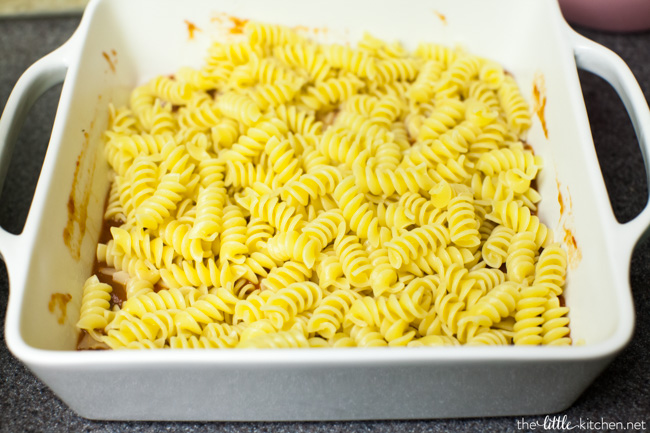 I even tested this recipe with 16 ounces of pasta twists.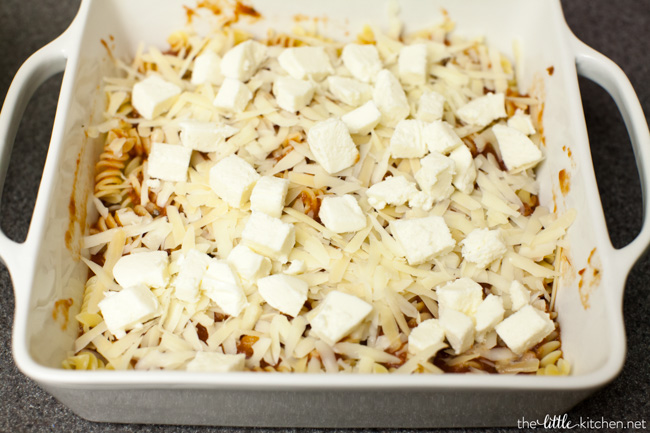 Layer the cheese and sauce the same way. Curtis loved the pasta!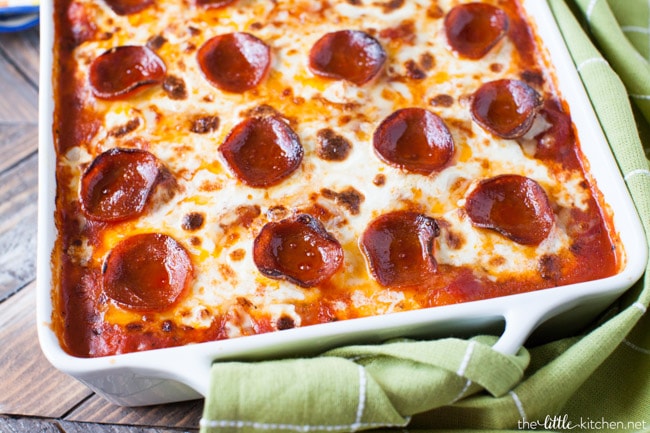 I can't get him to try gnocchi. You know how it is sometimes, you don't fight a losing battle. But at least he loved the pasta version of this dish!
I can't even begin to tell you how much I love this dish. In fact, the sauce gets richer the next day…so if you can make the sauce a day ahead of time, you'll thank me. I know it!
This recipe makes great leftovers too…I enjoyed it for lunch for a few days after I shot these photos. I can't wait to make this again soon!
Recipe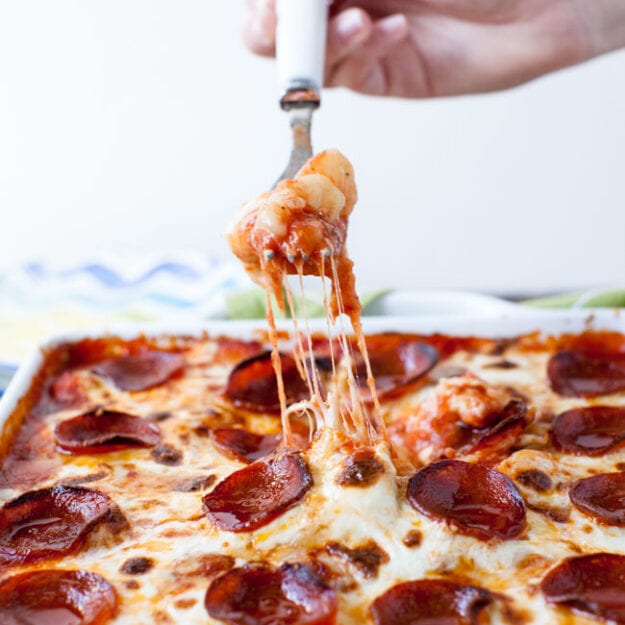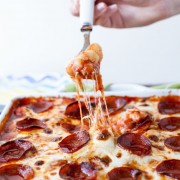 Print
Pin
Save
Pepperoni Pizza-Baked Gnocchi Recipe
Ingredients
1

teaspoon

olive oil

1

garlic clove

,

minced

1 28-ounce can Tuttorosso® Crushed Tomatoes with basil

1/2

teaspoon

dried oregano

1/4

teaspoon

dried thyme

salt and pepper

pinch

of crushed red pepper

2 16-ounce containers of gnocchi, uncooked (or if using pasta, you'll need just 16 ounces)

8

ounces

fresh mozzarella

,

sliced and then cubed

1/2

cup

plus 2 Tablespoons grated swiss cheese

1/2

cup

plus 2 Tablespoons grated parmesan cheese

16

pieces

of mini pepperoni
Instructions
Add olive oil and garlic to a medium sized pot and turn heat to medium high. Once olive oil is heated, cook garlic for 1 to 2 minutes (be careful not to burn the garlic). Add Tuttorosso® Crushed Tomatoes with basil, dried oregano, dried thyme, salt and pepper to taste and crushed red pepper. Cook sauce for 8 minutes.

While cooking the sauce, heat oven to 375 degrees F. Cook gnocchi according to package instructions.

In an 8-inch square baking dish, add 1/2 cup of sauce at the bottom of the dish. Add 2 Tablespoons swiss cheese and 2 Tablespoons parmesan cheese. Add 1/2 of the gnocchi.

Spread 1/2 of the remaining sauce on top the gnocchi and top with 1/4 cup of swiss cheese, 1/4 cup of parmesan cheese and half of the fresh mozzarella.

Repeat the last step and then top with the pepperonis.

Bake for 15 to 20 minutes and then turn on the broiler and broil the top for 4 minutes. Let the dish sit for 5 to 10 minutes before serving.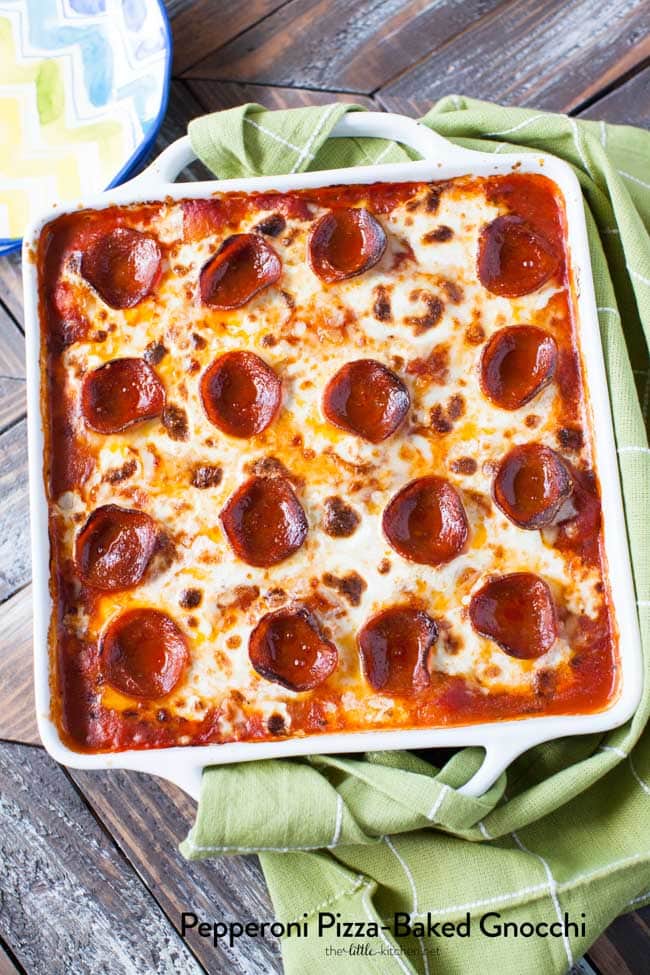 Disclosure: This post is sponsored by Tuttorosso. I only share with you brands and products that I love and always only share with you my own opinions.