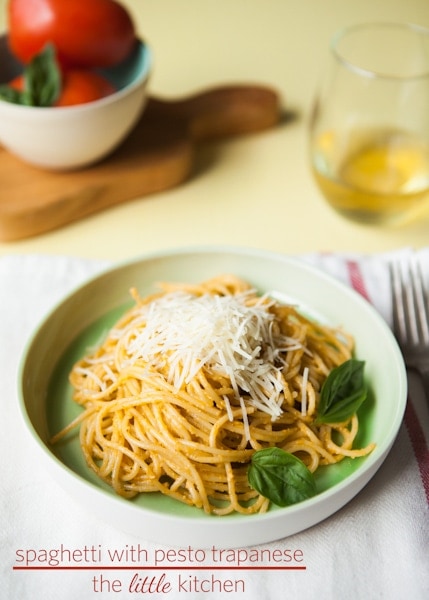 So I have been doing a lot of traveling lately, it's been fun and I have been eating a ton of good food including this Spaghetti with Pesto Trapanese dish. It's seriously wonderfully, easy (less than 15-20 minutes to put together) and I call it Italian comfort food. Thanks to Lidia Bastianich for this recipe!
But before I share the recipe, I want to share a little bit about the KOHLER Food & Wine Experience, where I had this wonderful dish. I was completely floored when I was invited to this event…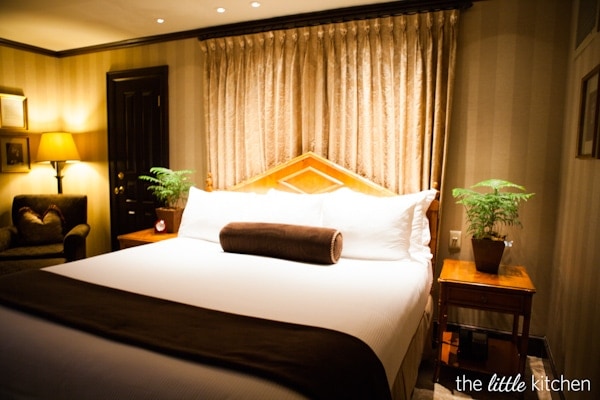 You know KOHLER? The plumbing folks – the company that makes those really neat faucets, sinks and even toilets? Yeah those people…well they have a Five Star resort in KOHLER, Wisconsin. Who knew? And yes, there's a town called KOHLER too!
The hotel rooms are very nice and remind me of an old world feel. The service amazing – everyone is willing to help you at the drop of a hat at The American Club and the attention to detail is amazing.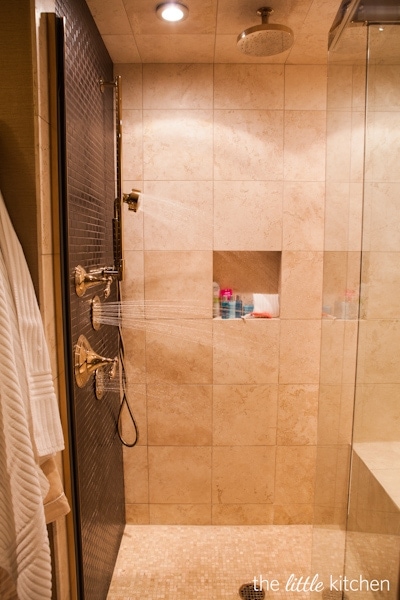 And since I'm telling you about KOHLER's resort, The American Club. I had to show the shower. I just love that body spray – I wish I had that in my shower at home. Can you see the rainfall shower head on the ceiling too?
Every October in KOHLER, Wisconsin, they hold the KOHLER Food & Wine Experience. Tons of amazing chefs gather to make amazing food for attendees and there is a LOT of amazing wine to be had.
I met up with Sommer, who was also invited, and we treked over to the main stage to see Lidia Bastianich's demo. This is where I had her amazing spaghetti with pesto trapanese. The pesto's main ingredient is tomatoes – not basil! If you ever get a chance to see Lidia speak, do it. She's incredibly warm and inviting. She's as real as real gets.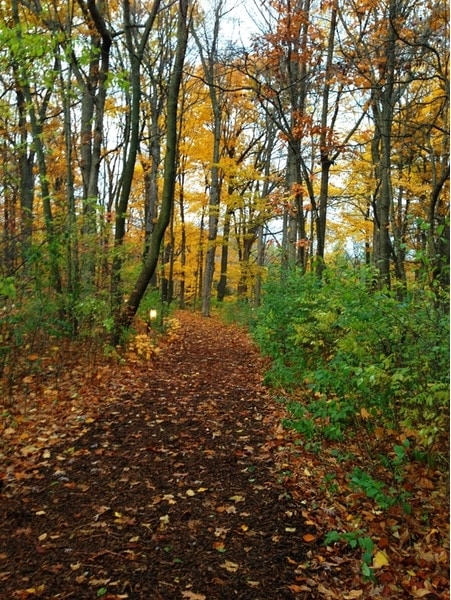 Then, we made the trek to go eat at the River Wildlife's Lodge – when I called to ask them for a reservation, they told me the directions to the lodge were park in the parking lot and then walk through the woods. Have you ever walked through the woods to go to a restaurant before?
It's a cute little place that has amazing food. My pictures kind of sucked so I won't share them with you but the stuffed beef tenderloin I had was to die for. I hope I get to return to this gem of a place soon!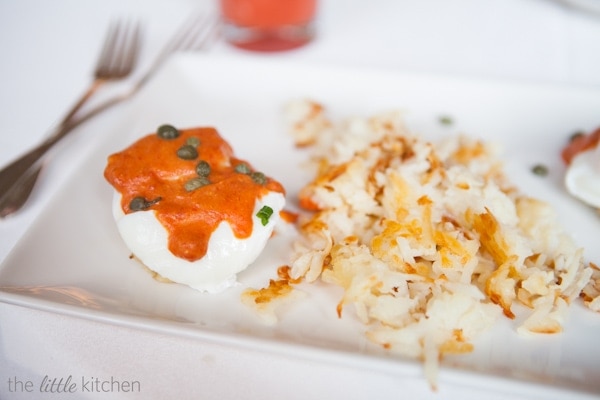 I had breakfast at The Wisconsin Room. The most amazing crab oscar benedict that had this light tomato caper hollandaise sauce. It was awesome! I totally want to recreate this at home!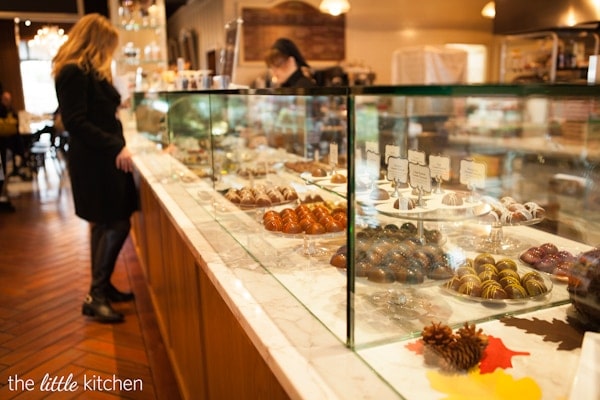 Next up, I went to the Craverie – a chocolatier cafe owned by KOHLER where they make handmade chocolates!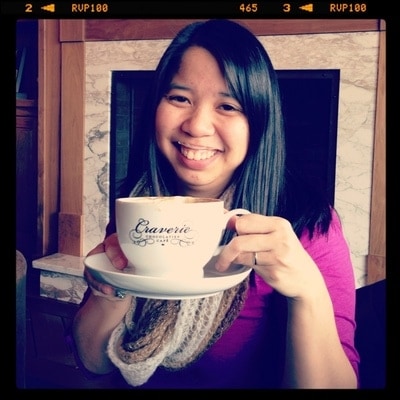 I had the world's largest sea salt caramel latte and I look like a goober right? Thanks to Sommer for taking this shot on my iPhone!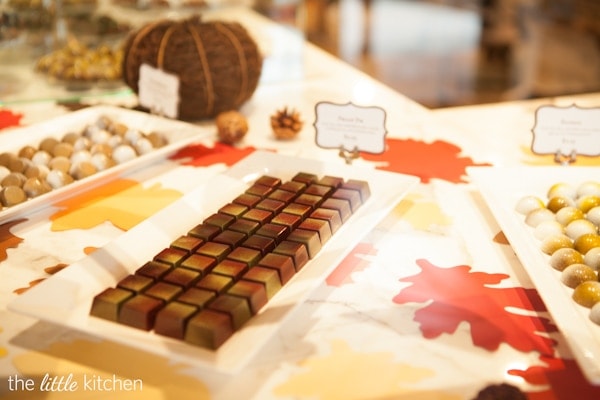 KOHLER has these new chocolates, eggnog, gingerbread and pecan pie. Just in time for the holidays. The pecan pie ones were my favorite!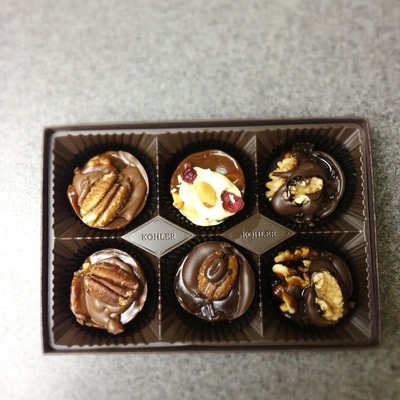 And I took home some wonderful terrapin chocolates with me. I can't even tell you which one was my favorite and…I didn't share.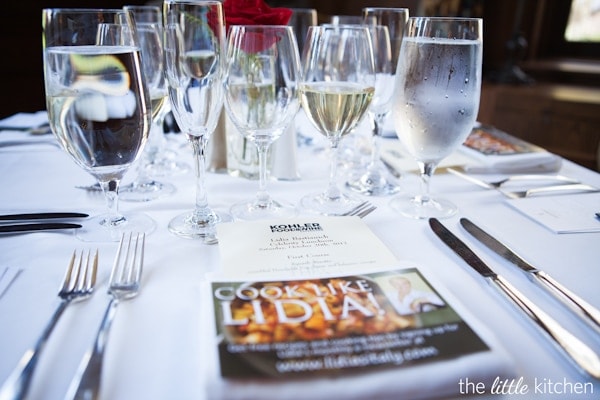 I was pleased to get to attend the Celebrity Luncheon with Lidia. She was amazing, she said these words (that I actually tweeted), "Food is not a job, it's the way I live." I believe it. She just tells you like it is and her food is amazing.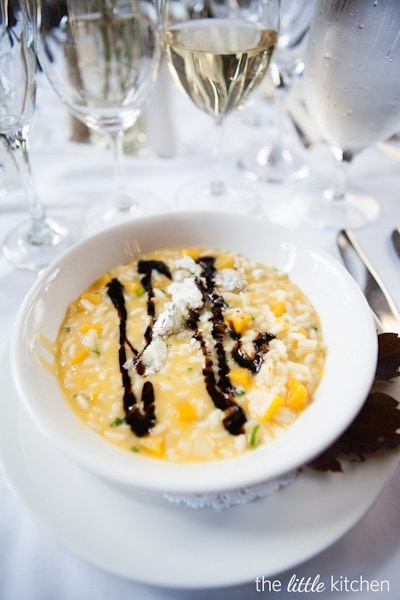 What a wonderful experience and an amazing meal. My favorite? The butternut squash risotto that had blue cheese in it and a balsamic glaze on it!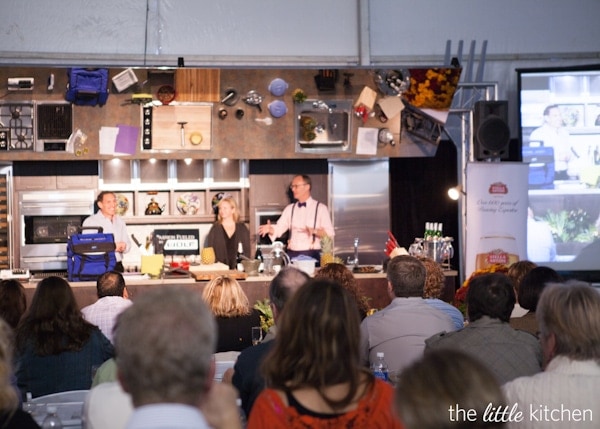 I really can't tell you about a favorite part of my weekend at KOHLER Food & Wine. It was a complete dream. I highly recommend this event…and I got to meet these guys!!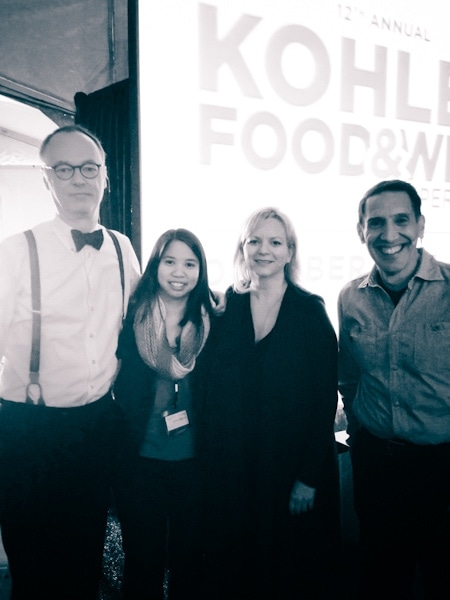 I was so excited…I'm not sure I really said anything of substance but they were so nice! Here's me with Christopher Kimball, Bridget Lancaster and Jack Bishop of America's Test Kitchen. If you don't already watch their show on PBS, watch it!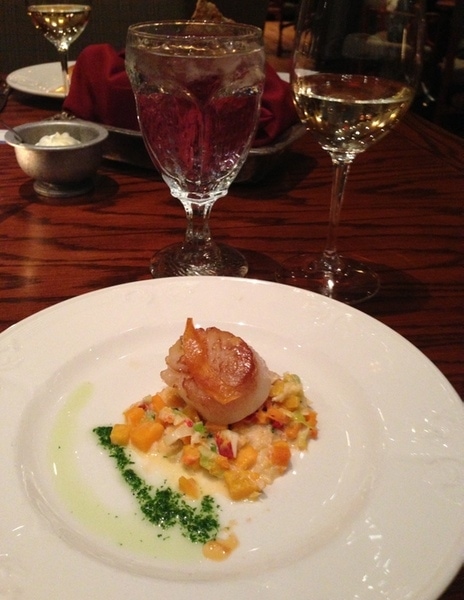 And the grand finale for me – to cap off the weekend was the Champions Dinner at Whistling Straits. The dinner, each of the five courses and the wine pairings were out of this world. I would say one of the top five meals I have had in my life. Chef Dan Dries of Whisting Straits and the guys at Lancaster Estate did an amazing job. The wines were amazing, I'm adding them to my list and I hope I can find them at my local wine store here in Florida.
My favorites of the night were the seared sea scallop – perfectly cooked and my favorite wine? The Roth Sonoma Coast Pinot Noir (2009), I'm not usually a red wine person but this wine might have just made me one! And did I mention one of the courses included a housemade duck prosciutto? To die for.
And the event was assigned seating, I had no idea who I would be seated with it was great company with great conversation.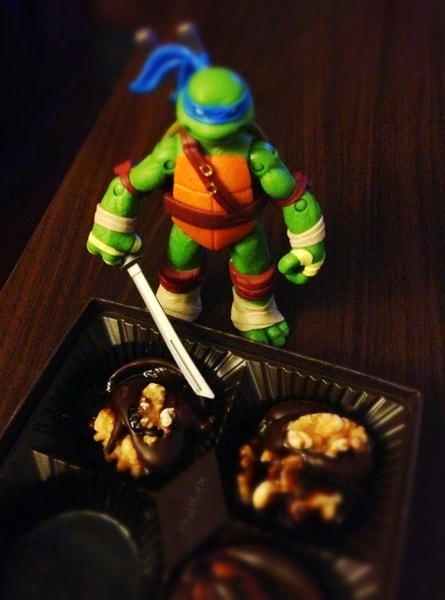 All I can say is I miss KOHLER, Wisconsin and the American Club. I hope I get to make it back next year for the KOHLER Food & Wine Experience! (Yep that's a Mutant Ninja turtle eyeballing my terrapin chocolates!)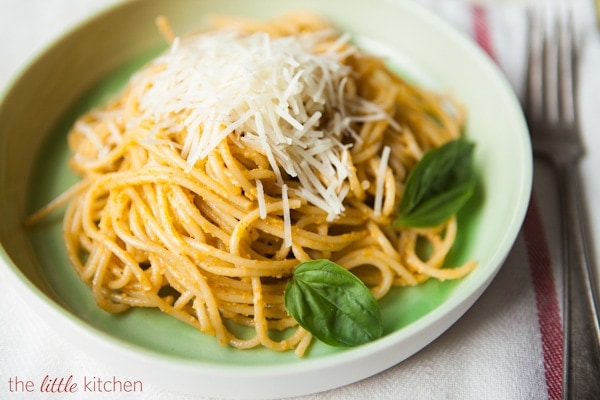 I knew when I came home, I had to recreate Lidia's pesto. It's made with tomatoes and almonds and just a little bit of basil – not the regular basil you're used to but it's full of flavor and completely amazing. Add this to your list to make this year!
Recipe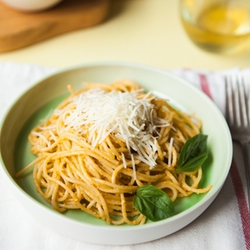 Print
Pin
Save
Spaghetti with Pesto Trapanese Recipe
The beauty and delight of this dish is that it is so fresh and clean-and it is a cinch to make. It's important to make the pesto with the best ingredients then just toss in the hot cooked spaghetti to coat it and enjoy. Recipe by Lidia Bastianich
Ingredients
¾

pound

cherry tomatoes

,

very ripe and sweet

12

leaves

fresh basil

⅓

cup

whole almonds

,

lightly toasted

1

garlic clove

,

crushed and peeled

¼

teaspoon

peperoncino

½

teaspoon

kosher salt

,

plus more for cooking the pasta

½

cup

extra-virgin olive oil

1

pound

spaghetti

½

cup

Parmigiano-Reggiano

,

freshly grated
Instructions
Rinse the cherry tomatoes and pat them dry. Rinse the basil leaves and pat dry.

Drop the tomatoes into the blender jar or food processor bowl followed by the garlic clove, the almonds, basil leaves, peperoncino and 1/2 tsp salt. Blend for a minute or more to a fine purée; scrape down the bowl and blend again if any large bits or pieces have survived.

With the machine still running, pour in the olive oil in a steady stream, emulsifying the purée into a thick pesto. Taste and adjust seasoning. (If you're going to dress the pasta within a couple of hours, leave the pesto at room temperature. Refrigerate for longer storage, up to 2 days, but let it return to room temperature before cooking the pasta.)

To cook the spaghetti, heat 6 quarts of water, with 1 tablespoon salt to the boil in the large pot. Scrape all the pesto into a big warm bowl.

Cook the spaghetti al dente, lift it from the cooking pot, drain briefly, and drop onto the pesto. Toss quickly to coat the spaghetti, sprinkle the cheese all over, and toss again. Serve immediately in warm bowls.
A note: to toast the almonds, place them in an ungreased pan on medium heat for about 8 to 10 minutes.
Disclosure: Thanks to KOHLER Food & Wine for inviting me and sponsoring my trip to the event. I had a blast and of course share with you my honest opinions! And there's an affiliate link in this post.