Peanut Butter and Brownie Milkshakes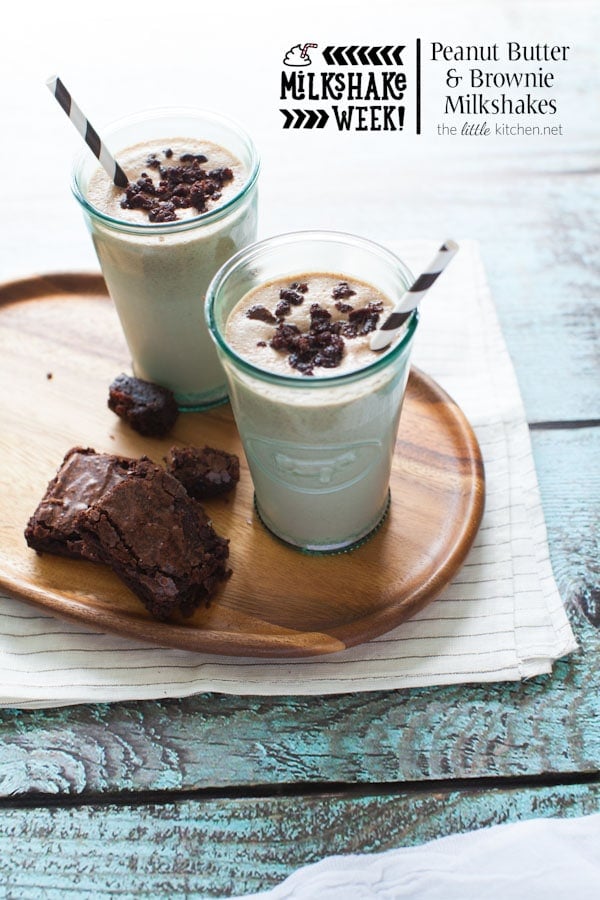 It's officially milkshake week! Lindsay and I have been working on this for a while…queue the evil laugh. This milkshake, it's crazy right? But not really, chocolate and peanut butter go together so well…but with fudgy brownies, it's so perfect.
Don't forget to enter in our milkshake week giveaway!
And check out Lindsay's Bourbon Salted Caramel Milkshakes too!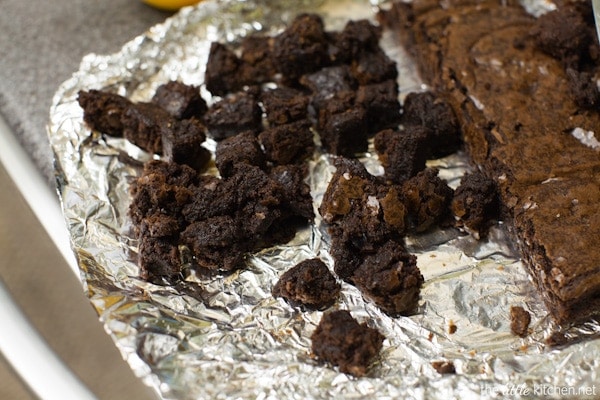 I cut up brownies that are completely cooled into cubes. Crumble some of them for topping the milkshakes (really small too, you want them to be able to fit through a straw).
Add the brownies, peanut butter, ice cream and milk to the blender.
Pulse until completely blended. By the way, I love the KitchenAid Diamond blender for making milkshakes. Creamy and rich and thick just like milkshakes should be!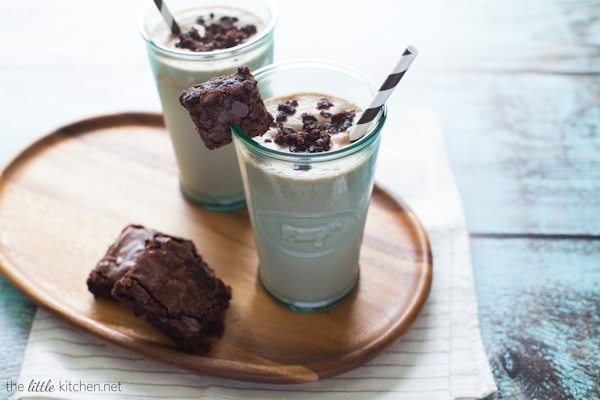 These milkshakes are super rich and are amazing. You can't go wrong with the peanut butter and the fudgy chocolateyness of the brownies are just perfect.
I even made these again this past weekend because our air conditioning went out…perfect for the super hot weather we were getting here in Florida. I know you'll love these if you make them! I can't wait to share more milkshake recipes with you this week!
Recipe
Yield: Makes (2) 10-ounce shakes
Prep Time: 5 minutes
Total Time: 5 minutes
Use box or homemade brownies for these milkshakes for a rich and creamy treat!
Peanut Butter and Brownie Milkshake Recipe
Ingredients:
3/4 cup brownie bites, plus additonal crumbled for topping
1/4 cup creamy peanut butter
6 big scoops of vanilla ice cream
3/4 cup milk
Directions:
Add brownie bites, peanut butter, ice cream and milk to a blender.
Pulse until completely blended. (If using the KitchenAid Diamond blender, turn power on, press the pulse button and then press the chop button a few times until completely blended.) Serve immediately in glasses topped with some of the crumbled brownies and a straw.
We love that you love to share our recipes with others. If you have a blog or website and want to repost the recipe, we just ask that you reword the instructions (easy peasy) and link back to give us credit and to use your own images at the same time. Please ask us permission before republishing our recipes and images. And here's a great article on how to properly attribute a recipe.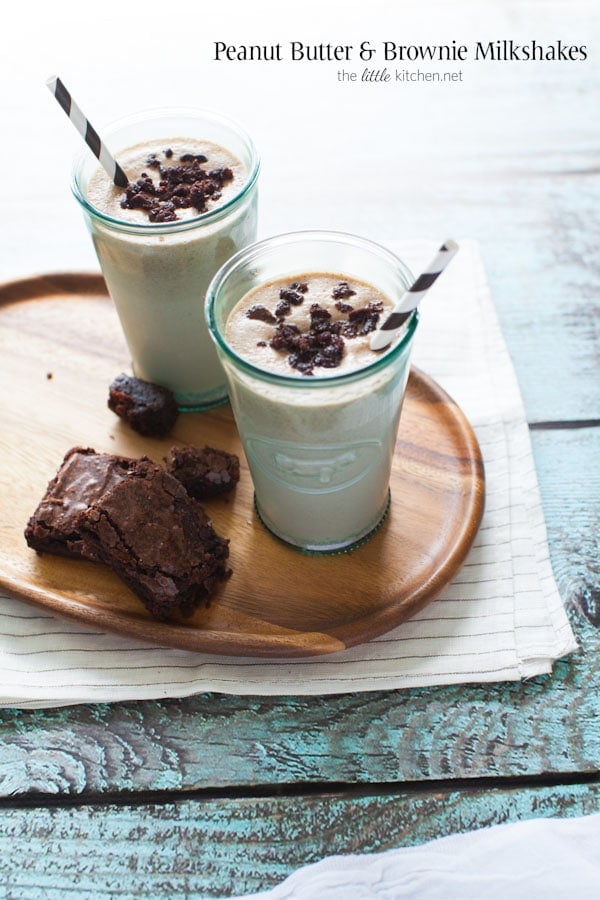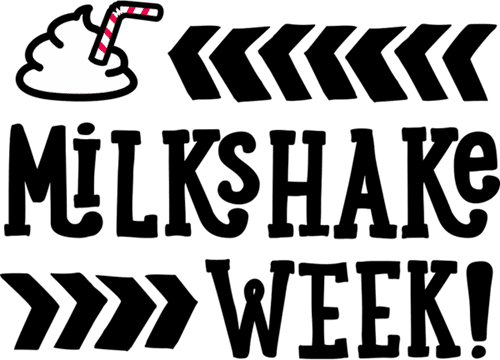 Be sure to check out my Fried Banana Milkshakes and my Cappuccino milkshakes too!
#MilkshakeWeek wouldn't be fun without friends! Check out the wonderful recipes below that friends are sharing this week!
Disclosure: I received a KitchenAid blender for the purpose of review, all opinions are my own and I only work with companies I love. There are affiliate links in this post.